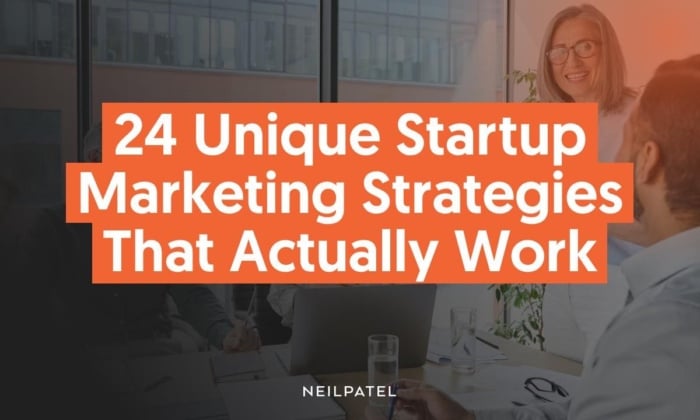 Are you looking to build a huge audience for your startup?
Of course you are.
Everyone wants more signups, users, and subscribers. But the problem lies in how to get them quickly and without paying too much.
Thankfully, the secret to getting a huge launch for your new company isn't to outspend everyone else.
Instead, you need to get creative with your marketing and make a big splash with out-of-the-box thinking.
This will provide you with bigger results than huge spending will ever be able to do.
This kind of creative, unexpected growth is often termed growth hacking. It's a way to promote your business not just through marketing, but through all channels of your business.
It's a guaranteed way to build massive success for your startup. Here are 24 ways to start growing your new business like never before.
1. Launch a referral program
If you want to develop a huge following very quickly, you need to look into referral marketing.
This is a basic strategy where you allow customers to help promote your product for you. It's a simple concept, but it isn't used nearly enough by most of the startups I've seen.
It's especially critical to use since 88% of people trust personal recommendations more than all other forms of marketing.
You want to get your customers excited to share the news of your startup with their friends and promote it heavily.
To do this effectively, don't build a referral program from scratch. After all, other companies have done the hard work for you.
I recommend using a tool like Ambassador. It will handle all the difficult details of the referral program, allowing you to focus on the product creation and promotion.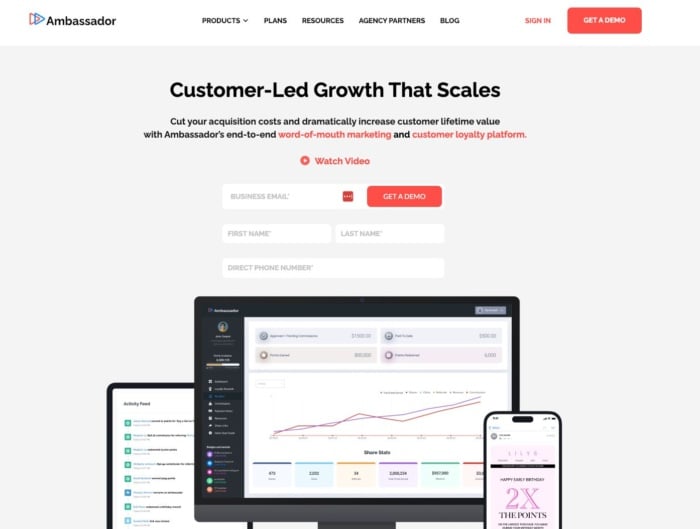 This is a great way to build a viral interest in what you have to offer.
2. Influence the influencers
In the world of startup marketing, leveraging the power of influencers can be your game-changer.
Let's face it, as a startup, it can feel like a herculean task to build a large and engaged following from scratch. So, why not borrow someone else's?
Around 51% of social media users report that brand posts sway their purchasing decisions moderately or greatly. That's the power of influence.
Let's imagine a faux startup as an example, that wants to tap into the health and wellness niche. They could aim to connect with a highly engaged fitness influencer or a well-known nutritionist on platforms like Instagram or TikTok. If this influencer genuinely vibes with the faux startup's mission and shares it with their followers, it's a safe bet that they will see a spike in both followers and traffic.
But remember this: the realm of influencers is vast, and it's not limited to the dazzling world of celebrities. Health practitioners, community leaders, and even niche bloggers can have just as much sway. They are often easier to reach and have highly-engaged audiences who trust their advice.
So how do you find these influencers? Start with a deep dive into your market. Look for popular hashtags relevant to your startup and see who's making waves. TikTok, Instagram, YouTube, and even LinkedIn can be goldmines. Check out who these influencers follow and engage with, and make a list. There are also specific influencer marketplaces and agencies that are specifically designed to connect influencers to brands.
Remember this cardinal rule of startup marketing, though: follower count isn't always king. Instead, focus on the quality of the influencer's interactions with their audience. Look at the comments, shares, and overall engagement. The connection an influencer has with their audience often beats sheer numbers when it comes to effective digital marketing for startups.
3. Turn your product into a challenge
One of the biggest problems with viral marketing is that it's often difficult to tell exactly what the company has to offer.
If you create a video that everyone loves, you might suffer a lack of recognition. A clever video might not necessarily explain your product or even direct viewers to buy.
So, what's the solution? Make your product the focal point of the viral marketing campaign you decide to run.
GoPro does a fantastic job of turning their product into a challenge every chance they can get with the help of user-generated content. Their most recent challenge is the #GoProAwards, which invites customers to submit their wettest GoPro photos and videos of the summer to the "Get Wet, Get Paid" challenge.
Not only does this give customers a fun way to use their GoPro products, but the content they create (and share) is one of the most organic ways to spread brand awareness through real-life use cases and reviews.
They even go one step further by offering GoPro subscribers double award dollars. Talk about any easy way to rack up subscribers!
While GoPro may not be a start-up, a business of any size can certainly create a UGC challenge to get people talking about their product.
4. Start with an exclusive beta
It's a part of human nature: We want what we can't have.
By using a beta when you open your startup to new users, you can create a sense of exclusivity about your product, and get raving fans to sign up first.
This has been used by a huge number of startups to get their first users. Back in 2013, the Slack homepage indicated that you had to get an invitation to use their product.
This is a strategy that's also been used with other startups like PayPal and Pinterest, and it's one you can start using easily to promote your product.
5. Attend trade shows
If you're not afraid to go offline, you can build a huge following by connecting with influencers at conferences and trade shows.
To give this some context, let's use the Ruby programming community as an example.
The Ruby community is a global network of developers and programmers who utilize and innovate with Ruby, a dynamic, open-source programming language. Within this community, there are several live events such as RubyConf and RailsConf. These events are crucial meeting points where Ruby enthusiasts gather to discuss the latest developments in their field.
Enter Mike Perham, an eminent figure within the Ruby community, known for his significant contributions to the Ruby ecosystem. Perham leveraged the relationships he had previously established with fellow developers to promote his new software, Sidekiq, at these conferences.
Sidekiq, an efficient background processing tool for Ruby, was distributed as promotional swag at these events, directly reaching its ideal audience. This put Sidekiq swag into the hands of ideal customers and helped them grow into a huge company. This strategy was instrumental in propelling Sidekiq from its infancy into a well-established tool within the Ruby community and helped it evolve into a massive company.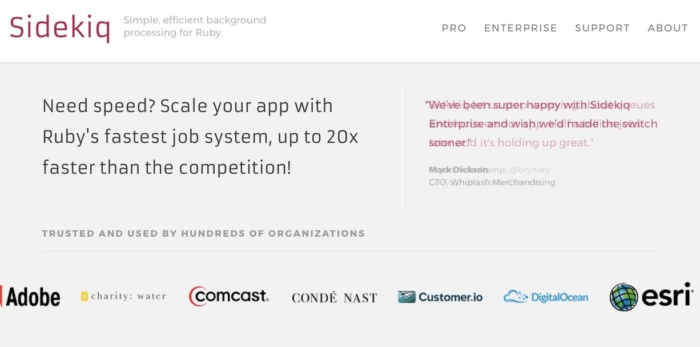 This strategy was instrumental in propelling Sidekiq from its infancy into a well-established tool within the Ruby community and helped it evolve into a massive company.
6. Give away decorative stickers
While it might seem ridiculously simple, you can actually create a giant user base by giving away free stickers and placing them where people can see them publicly.
When he launched the community site Reddit, Alexis Ohanian spent $500 on stickers. This was the only investment the company made in marketing.
He traveled around the country, putting them in visible places and even giving them away to strangers. This unique marketing tactic was how Reddit grew into the site it is today, with a user base of 50 million people as of 2022.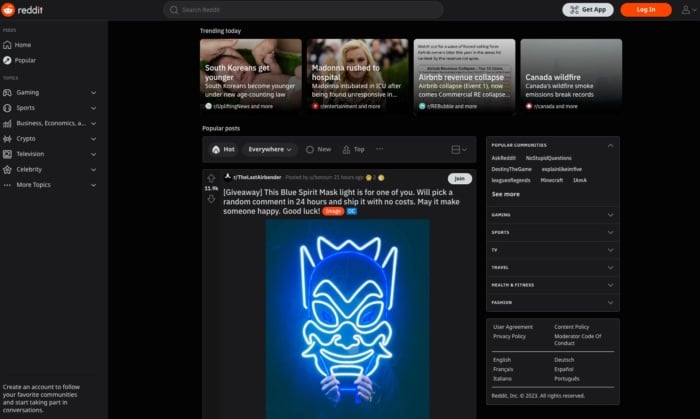 If you're going to create multiple stickers to give away, I'd recommend using a company dedicated to printing custom stickers in bulk.
A site like StickerMule offers big discounts if you're going to print hundreds of stickers, just as the founders of Reddit did to promote their startup.
This can be a cost-effective way to stand out and create a massive movement of people interested in your startup.
7. Reach out to forum posters
If you want to target people who are likely to share the product or service your startup has to offer, look no further than users who post on related forums.
This was how Zapier helped build up their brand when they first started.
The Zapier team emailed influencers like Andrew Warner, who had posted feature requests on forums like StackExchange.
These kinds of requests usually went unanswered, and Zapier knew forum posters were desperate for answers.

They emailed the posters, letting them know that Zapier had created the feature they requested. This resulted in major influencers promoting them heavily.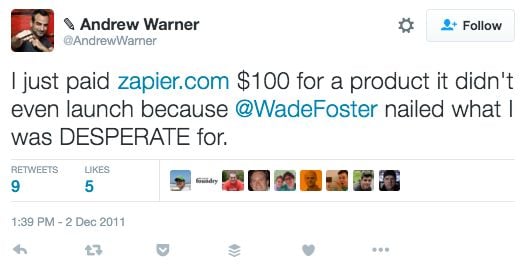 If you're looking to create a huge audience of raving fans, you can help by alleviating the public pains people have expressed online.
To do this right, you'll need to look at forums related to your product, create a solid solution, and promote it to the people most interested in the solution you've created. You may have to spend some time digging deep to find the right forums because they aren't as common now. And the search will be worth it, because those forums are typically filled with highly engaged and educated users.
You can also think of other things that fill the role of forums in some ways like subreddits on Reddit and communities on Quora.
It's a great way to provide value and get promotion from that value.
8. Set up your blog
Setting up a blog in today's digital world can be a walk in the park, thanks to platforms that make the process straightforward and user-friendly. For instance, WordPress is not only free but also offers an array of incredible plugins that can enhance your site functionality and visibility.
Take Yoast SEO, for example. It's a must-have tool that helps your content get discovered and ranked by search engines like Google. It gives you a complete breakdown of how your content will perform and tips on what you can do to improve it.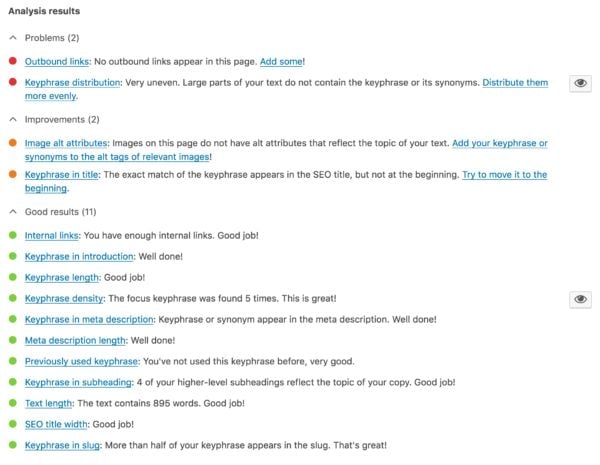 There are plenty of other handy plugins, too, such as Akismet for spam protection, the Events Calendar for scheduling, and Featured Image for managing your posts' primary images.
Now, once you've got the technical aspects in place, it's time to consider the aesthetic appeal. How is your blog going to look to the visitors? If graphic design isn't your strong suit, consider hiring a professional to give your blog a sleek and modern look.
Don't just stop there. Once your design is ready, invite some friends to offer feedback. After all, design plays a vital role in user experience. But remember, while a well-designed blog is a joy to navigate, it's your compelling content that will keep your audience coming back. Your design should not be overwhelming; instead, it should complement and enhance your readers' experience.
Now, beyond looking good, your blog needs to be functional. Consider these questions:
Is your blog easy to navigate?
Is it mobile-responsive?
Is your content easy to read with a clean, readable font?
Are social share buttons readily available?
Is your call to action clear?
And while I've mentioned WordPress (due to its popularity and extensive features), remember that it's not the only player in the game. There are many other blogging platforms out there, like Squarespace, Wix, and Blogger, that may better suit your startup marketing strategy. Each comes with its unique set of features and advantages. Choose the one that fits your needs best.
9. Get featured in a major publication
If you want a massive spike in traffic, get featured in a major publication. Project management software I Done This grew into a large brand using this very strategy.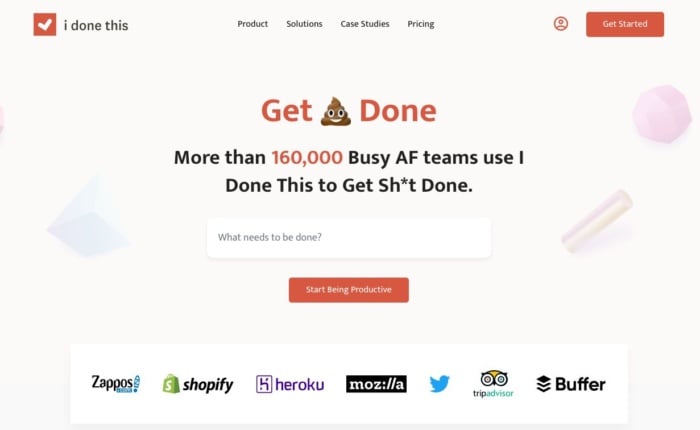 When they were featured in Lifehacker, their traffic spiked. Along with the increase in visitors came plenty of new users that helped the company grow even larger.

Building relationships with major publications is crucial for this strategy. Engage with their content, interact with editors, and avoid being overly promotional. As your relationship develops, you may have opportunities to announce features that can result in significant traffic surges when spotlighted.
Public relations (PR) for startups can be challenging but can also offer immense rewards. Here are a few key strategies to consider:
Craft Meaningful Positioning Statements: Think of your product as a solution to a problem and articulate its value in clear, concise positioning statements. These statements should describe what the product is, how it will benefit others, and who will care about it.
Define Your Startup Sensitivities: Understand your product and your competitors well. Your product's unique value proposition should outshine the competitors in areas where they fall short. Emphasize the strengths of your product when pitching to the media.
Identify the Right Writers for Your Media List: Understand who will care about your product and find the writers who are the best fit. Engage with these writers via social media, respond to their posts, and build a relationship over time.
Create a Press Kit: A well-prepared press kit is essential for successful media engagement. It should include a media advisory, logos and screenshots, founder bios and photos, and key company details. Make it easily accessible to journalists by sharing it via a personalized Dropbox folder or Google Drive.
Engage with Journalists: Interact with writers before pitching your story. This engagement builds a relationship and increases the chance they will be receptive to your story when you're ready to share it.
PR doesn't have to be a mystery. By building relationships with major publications and journalists, crafting compelling positioning statements, and preparing a comprehensive press kit, you can make a significant impact on your startup's visibility and success.
10. Reach out to a specific community
If you want to build a user base fast, you need to have a clear understanding of what your ideal customer looks like.
You can then create a piece of content specifically targeted to this community. The more specifically you can target this group, the more effective your campaign will be.
This is the strategy Dropbox used to go from 5,000 to 75,000 people on its waiting list overnight.
The founder created an explanation video of Dropbox's key features, replete with references to memes and inside jokes that only the Digg community would understand.
When he posted this to Digg, the Dropbox explainer video went viral, launching the software into the stratosphere of success.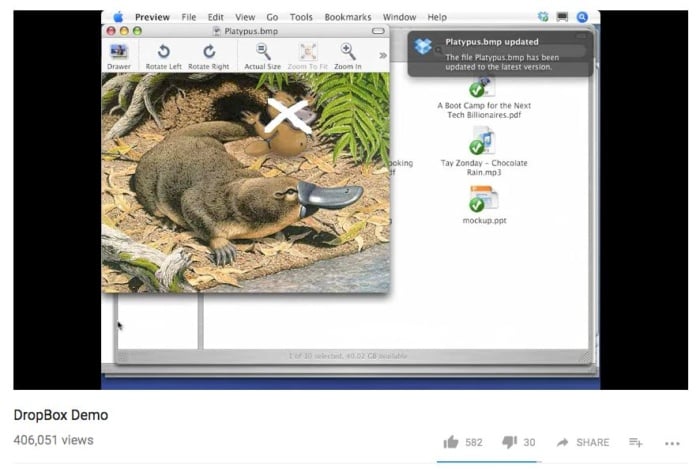 If you're in tune with a large online community, this can be a great way to promote your startup in a viral way.
11. Guest post on a popular blog
Guest blogging remains a powerful tool for startup marketing in today's digital landscape. Not only can it elevate your brand's reputation, but it's also a reliable way to drive traffic to your website.
Here's how you can make the most of it:
Look for guest blogging opportunities: Start by searching for high-authority blogs that cater to your target market. Many of them openly welcome guest posts. Often, they'll have a page dedicated to guest post submissions or guidelines. If you're struggling to find this, reach out to the blog owner or editor on social media platforms like LinkedIn or Twitter.
When you pitch, ensure you present a high-quality, unique idea that aligns with their blog's tone and subject matter. Your proposed content needs to be 100% original and should provide value to the blog's readership. This not only increases your chances of acceptance but also positions your startup as a source of useful information.
Invite influential guest bloggers: As your reputation grows, it'll be easier to persuade influencers to contribute to your blog. You can create a dedicated page on your site inviting guest posts or approach potential contributors directly via social media or email.
Remember, an influential guest blogger can boost your traffic significantly. When the guest post goes live, ensure that you notify the contributor, encouraging them to share the post with their network. It's a win-win situation – they get to showcase their expertise, and you get to tap into their audience.
Guest blogging offers an effective way to build your brand, engage a broader audience, and bolster your digital marketing for startups. Keep it ethical, keep it unique, and watch your online presence grow.
12. Become your product's biggest user
If you've just started a company that involves user input, you'll probably notice the site struggles to gain traction with few users.
This "chicken-and-egg" problem is difficult to escape. A small user base means little content, which discourages more users from joining.
To break out of this cycle with his startup Quora, founder Adam D'Angelo became one of the biggest users of the platform.
He answered a ton of questions in the early days, leading to more in-depth responses and setting the stage and expectation of quality content for the new site.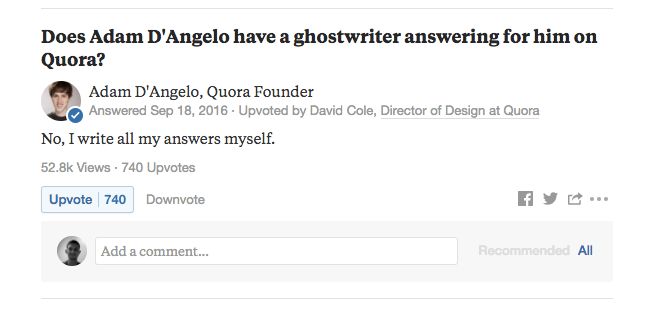 If you're struggling with the same problem, the answer is the same. You should become the biggest user of your startup's product.
13. Host a contest
If you want explosive growth with your startup, consider running a contest.
While we often consider contests to be an artificial way to get new users, it's the exact strategy used by some of the most successful new ventures in the last decade.
YouTube grew to the biggest video-sharing website in the world by offering a free iPod Nano each day to users who uploaded videos and invited friends.
If you're looking to grow your startup fast, this is a great way to begin.
The difference is that contests are much easier to run with the tools available now that didn't exist when YouTube was starting up.
In today's social media environment, Facebook is one of the best places to host a contest that will skyrocket your growth.
14. Experiment with different types of content
You can leverage numerous types of content for your startup marketing strategy. Each carries its unique pros and cons, and the effectiveness of each depends on your target audience and objectives. Just don't try to do everything at once. Start with a focused approach, and then expand based on your results and learnings.
Ebooks/Guides: Information-rich products like ebooks and guides are powerful tools for lead generation. You can offer a free ebook in exchange for a visitor's contact details. The person who downloads your ebook is likely interested in your product or service, providing you with a qualified lead for further engagement. Follow up, seek feedback, and use the opportunity to build a conversation.
Webinars: Hosting webinars allows you to connect with your audience in real time, providing an opportunity for interactive learning. Cross-promote your webinar on your blog and social media platforms. During the webinar, live-tweet key points with a dedicated hashtag to increase reach. At the end of the webinar, don't forget to share your contact information – it's a simple, engaging way to generate new leads.
Newsletters: Despite rumors to the contrary, email marketing is very much alive and kicking. Make subscribing to your newsletter easy and enticing. Avoid overwhelming your subscribers with too many emails, as this can lead to unsubscribes. Ensure each newsletter delivers value, whether it's industry insights, a discount code, or exclusive content.
Video Content: They say a picture speaks a thousand words; if so, a video speaks volumes. Incorporate video content into your startup marketing strategy to catch attention and enhance engagement. This could be an explainer video, a product demo, or a simple introduction to your brand. Though it might feel daunting, remember that today's audience often prefers watching over reading. Host these videos on your website, blog, or social media platforms for maximum reach.
15. Convert users of a competing product
How can you identify users you know will love your product?
The answer might be as simple as targeting individuals who are currently using a similar product but not getting very good results.
When Airbnb launched, it had a number of competitors in the same space.
To ensure they got a hefty number of new customers, they chose to reach out to people they knew who would benefit from the service.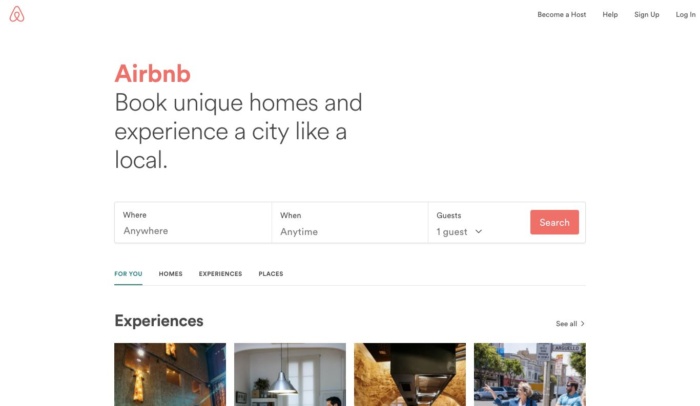 To acquire new users, they ran an email campaign targeting people who posted their places to stay on Craigslist.
These emails appeared to be from a friendly Craigslist user interested in letting them know about the site.
This type of email campaign is how Airbnb grew and received the acclaim it has today.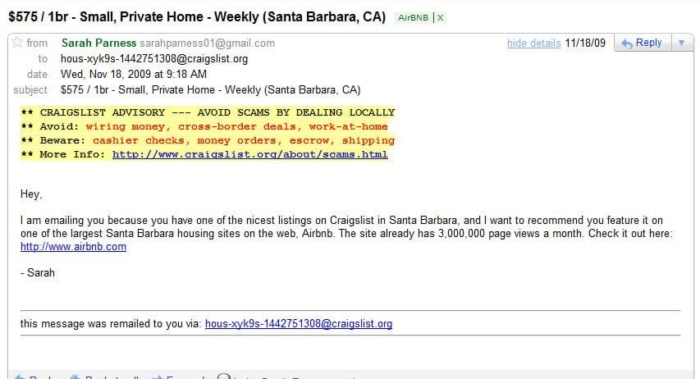 Sometimes, a stealth email campaign is the best way to acquire new customers.
16. Bribe new customers with cash
Chances are, you're already spending money to acquire each new user. But instead of that money going directly to the users, you're spending it on ads or marketing costs.
What if you gave that money directly to each new customer?
That's what PayPal did to grow its user base. When it was just a startup, PayPal offered new customers $10 and existing customers $10 for referrals.
The total cost was $20 in cash for each new customer.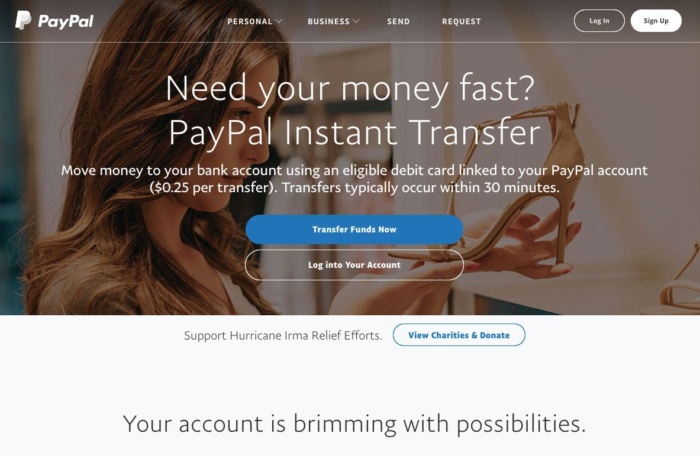 While it was certainly an expensive way to attract new customers, it was highly effective.
If you're hoping to boost the user base at your startup, consider spending your marketing budget directly on user acquisition in this way.
17. Connect with another brand
If your startup is too small to draw a large audience by itself, the answer to building a huge group of loyal fans might just be to partner with another company larger than you.
With the release of Android 4.4, the Android developers created a partnership with the candy company KitKat.
Android's promotion with KitKat helped it reach new customers through the collaboration. In turn, KitKat customers learned about the phones and tablets.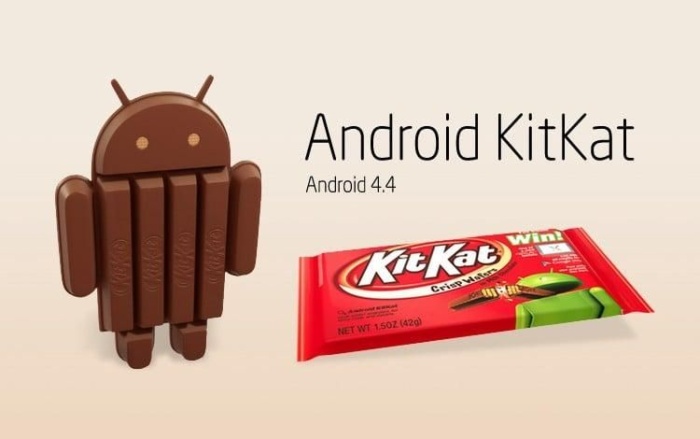 Even if you can't partner with a company as large as KitKat, look to find a strategic partnership that can help your brand gain visibility in the marketplace.
18. Give out free tee shirts
It might sound too simple to be true, but giving away free tee shirts is a great way to increase your brand awareness.
Similar to the stickers that helped build Reddit into a huge website, tee shirts create an identification with your brand that others will begin recognizing.
Use a company like UberPrints to get a set of tees in bulk. You can then use these shirts as gifts to customers and users, or even as marketing materials.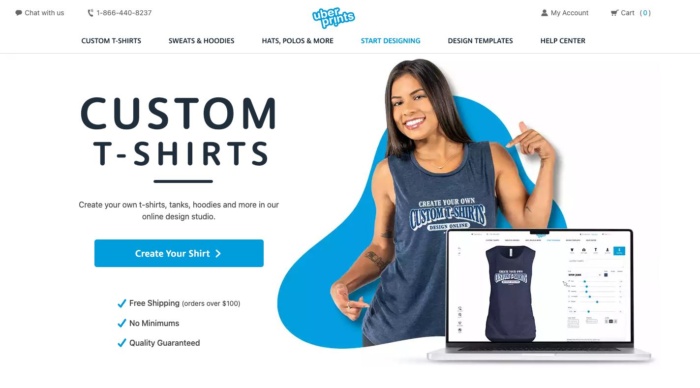 If you like, you can even give away the shirts for free so the wearers will provide free marketing for your startup.
The options for customizable gifts and gear have expanded significantly in recent years. Alongside stickers and shirts, you now have a variety of options to choose from that can be tailored to your specific target audience.
This allows you to explore alternative promotional items that align with your brand and resonate with your potential customers. Whether it's customized hats, tote bags, water bottles, or even tech accessories, you can find a wide array of choices to effectively promote your startup and make a lasting impression on your audience.
19. Use your product for a social cause
If you're looking for something highly creative that will skyrocket your brand to success, consider using the product itself for a social cause.
What does this look like? It means that customers are able to interact with your physical product in a way that helps a greater purpose.
Beer company Ambev used this strategy in Brazil, allowing drinkers to scan the cans for a free train ride.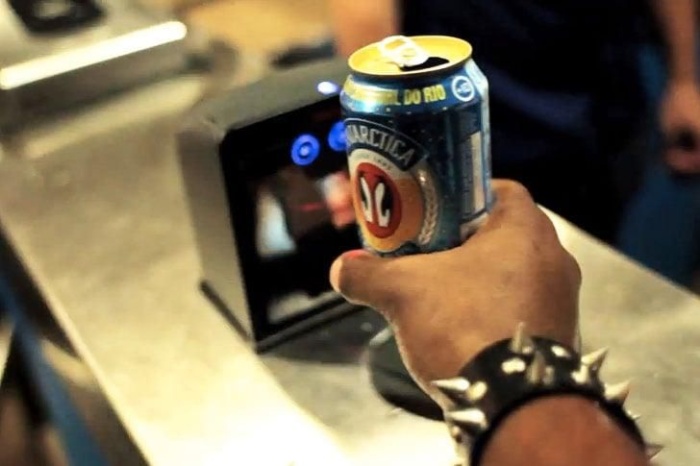 This had the dual purpose of reducing litter, while also encouraging people to use public transportation more often.
Not to mention, it caused a big splash in the news and brought the company plenty of name recognition.
20. Build a shocking brand plan to create a buzz with publishers.
Let's talk about Allbirds, the footwear company that not just made a footprint but left a trail in the sneaker and apparel market. After hitting the market, these folks stormed their way to $100 million in total revenue in just two years. By September 2020, the company had an eye-popping valuation of $1.7 billion. All this from a sneaker startup launched by two rookies with no shoe biz experience. So how did they pull it off?
The Allbirds folks decided to do something unexpected – they went big on brand marketing, pouring nearly 20% of their initial budget (around $400,000 to $500,000) into marketing and PR.
Before their first pair of sneakers even saw a sales receipt, Allbirds had the public talking. The company was making waves on Instagram even before its official launch, posting photos regularly with teasers for the big day. They gave their followers a handy hashtag, #weareallbirds, creating an online buzz that kept growing.
Their PR campaign and social media marketing strategy led to a blossoming community of Allbirds fans eagerly waiting to slip into their shoes. Allbirds didn't stop at photos, though. They used video marketing to tell their brand story, adding a pinch of humor and plenty of focus on their eco-friendly mission.
Source: Optin Monster
The unconventional approach paid off when Time Magazine gave them a shout-out on launch day. It just goes to show — sometimes, you've got to shake up the startup marketing playbook to make national headlines.
You can learn a lot with a highly creative marketing strategy.
Look for inspiring examples of companies that launched uncommon marketing tactics, and see what you can learn from them.
21. Offer a free gift with every product
We all know that offering a free gift encourages people to buy your product.
But why limit it just to the occasional offer?
Instead, you can provide a free gift with every single product you sell. This may sound like a surefire way to bankruptcy, but it's an effective method for a number of companies.
One such model is how Diamond Candles offers a ring in every candle. This is a promotional method that's promoted heavily on their website, and it's featured in their name, too.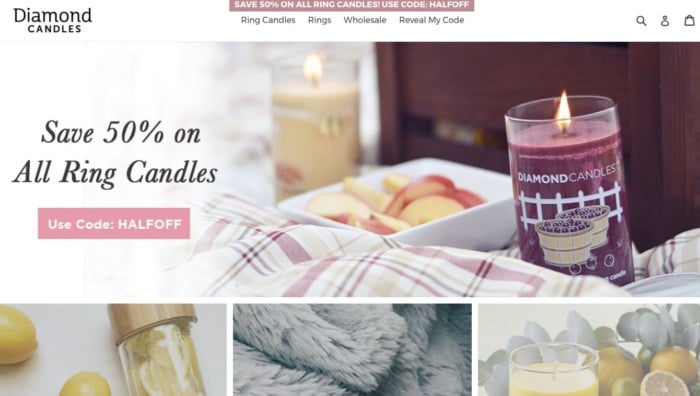 While it sounds like Diamond Candles is losing money on the deal, the answer is quite the opposite.
Every candle has a $10 ring, every 100 candles has a $100 ring, every 1,000 candles has a $1,000 ring, and every 5,000 candles has a $5,000 ring.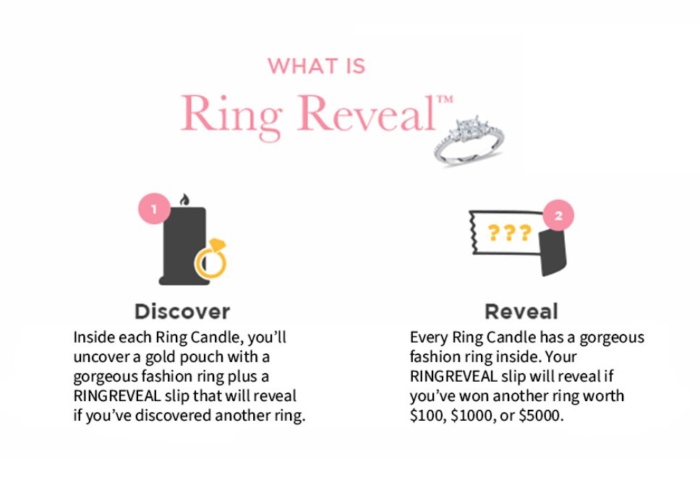 This means the rings cost the company, at most, $13 per candle, but the prices of the candles are almost twice that.
Considering they almost certainly pay a discounted price for each ring, it works out to be a highly profitable campaign to sell more products.
If you're struggling to find a unique selling proposition for the product you have to sell, consider offering something "free" with every purchase.
22. Create a viral explainer video
Looking to generate massive traffic while encouraging people to buy more of your product?
Look no further than a hilarious explainer video that paints your product in a humorous light. This has worked for dozens of brand-new startups in the past, and it can work for you, too.
Poo-Pourri created a cringe-worthy promotional video that went viral, resulting in the product developing significant name recognition and market share.

To date, their primary explainer video has gotten almost 40 million views.
But this isn't because they paid for massive advertising. The video is so unusual and clever, people recommend it to their friends by word of mouth.
Another great example is Squatty Potty. They are able to leverage viral videos to generate seven million in revenue.
Have you seen the unicorn rainbow ice cream poop video?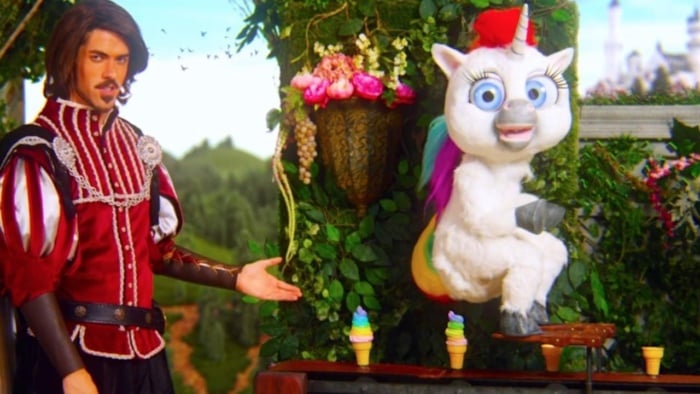 Yup, that's them.
To make this work for you, create a unique angle through which you can promote your startup, and film a short video promoting it.
23. Distribute bumper stickers
If you don't think offline advertising works for an online business, think again.
To promote the site offline, The Penny Hoarder created bumper stickers promoting its most popular article.
The article was on how to get paid to buy beer. Rather than link to The Penny Hoarder, they bought the domain iGetFreeBeer.com and made a bumper sticker with it.

As people were intrigued by the bumper sticker, they visited the site, which redirected to the original article.
Since all the visitors were tracked, The Penny Hoarder could easily monitor the success of their offline campaign using traffic stats.
If you're going to try this out, be sure to create a perfect call to action on each sticker to drive conversions.
24. Book a flash mob
If you're looking to do something crazy to promote your startup, you should look no further than using a flash mob.
If you're not familiar with a flash mob, it's when a group of people in a crowd suddenly start doing a choreographed song and dance.
While they appear to happen spontaneously, these kinds of performances require extensive preparation and planning.
But all that planning makes for a fascinating spectacle that's sure to go big.
Ever hear that Freddie Mercury, Queen's lead singer, used to be a baggage handler at London's Heathrow Airport? Well, in 2018, British Airways took this fun tidbit and turned it into a flash mob that surely turned heads.
For Mercury's birthday, they partnered with the celebrated choreographer Lyndon Lloyd, known for his work on Strictly Come Dancing and The X Factor. Here's the awesome part: they got real-life baggage handlers to learn a dance routine to Queen's "I Want to Break Free."
They dressed up in yellow military-style jackets and fake mustaches, reminiscent of Mercury's iconic style, and rocked out in the Terminal 5 baggage claim. As for the travelers? Some lucky folks even got hand-drawn fan posters to hold up during the show. How's that for a baggage claim surprise?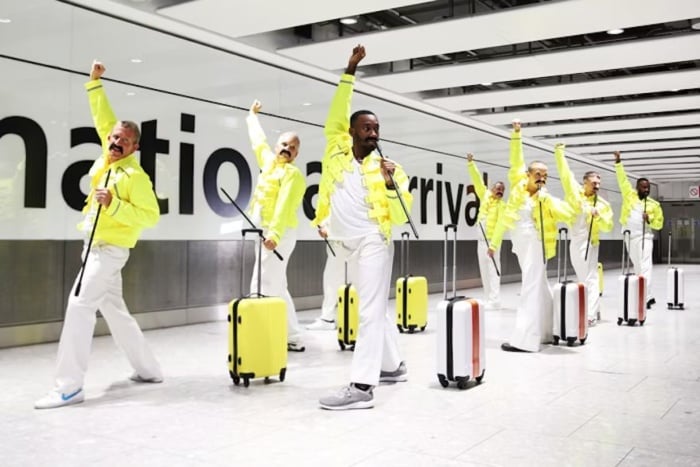 Source: Joseph Pippen
If you're not sure where to get started creating this kind of promotional event, you can hire a flash mob to do all the work for you.
A site like BookAFlashMob.com is a great way to get started if you're unsure of where to begin.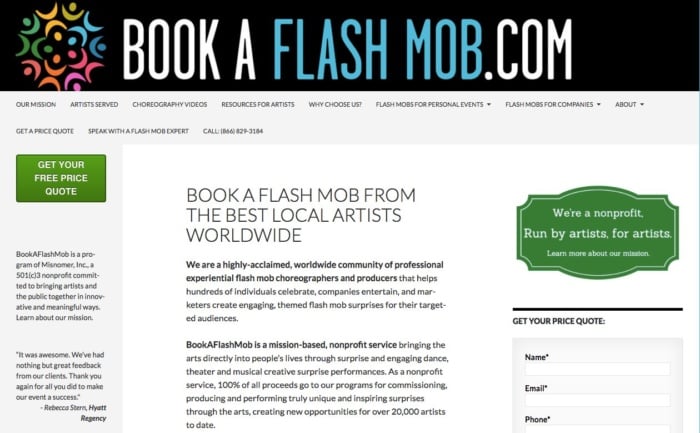 This is a unique and unexpected way to draw interest for your startup, and the traffic it generates with a viral video can serve your company for years to come.
For best results, look to have the flash mob center around your product, service, or branding in some way.
FAQs
What is startup marketing?
Startup marketing is all about driving growth for a fledgling business. It's a unique beast that requires a different approach compared to traditional marketing. Unlike established companies, startups usually have limited resources, tight budgets, and an urgency to grow quickly. The goal is not just to promote the startup but to build a customer base, increase awareness, and achieve sustainable growth. It often involves a mixture of creativity, innovation, and data-driven strategies to effectively reach and engage the target audience.
How can digital marketing help a startup?
Digital marketing can be a game-changer for startups. With the right strategy, it can provide an enormous platform to reach a global audience, something that traditional marketing often can't achieve, especially with a startup's budget constraints.
Through tools like social media, SEO, content marketing, and email marketing, a startup can connect directly with a targeted audience, building relationships and brand loyalty. Startups can harness the power of data available through digital channels to understand customer behavior and refine their marketing strategies for better results.
As your startup grows, your digital marketing efforts can expand accordingly, ensuring you're always reaching new customers while keeping existing ones engaged.
Conclusion
In the journey of growing your startup, traditional marketing might not be enough. The secret lies in blending creativity with strategy. If you're bootstrapping, remember you're the star of your show, be active, and create engaging content that highlights your product.
Struggling with user engagement? Attract them with incentives — contests, special bonuses, or other perks could be your game-changer. To level up, craft a piece of content that people can't resist sharing. And don't underestimate the power of classic techniques — promotional items like T-shirts or stickers can still turn heads.
Don't hesitate to reach out to potential users, influencers, and others who might love your product. Collaborations with other brands and publications can significantly widen your reach.
Here are some best practices to keep in mind:
Promote the solution: Highlight what sets your solution apart. Customers are looking for the perfect answer to their problem.
Share your journey: Everyone loves a good story. Your startup journey, including both triumphs and challenges, makes you unique.
Utilize your resources effectively: Whether it's your enthusiastic team, a trending topic, or a major holiday, make the most out of each marketing opportunity.
So, what's the most unique strategy you've employed to market your startup?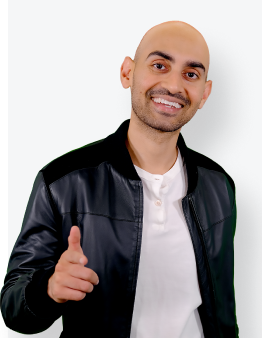 See How My Agency Can Drive More Traffic to Your Website
SEO - unlock more SEO traffic. See real results.
Content Marketing - our team creates epic content that will get shared, get links, and attract traffic.
Paid Media - effective paid strategies with clear ROI.
Are You Using Google Ads? Try Our FREE Ads Grader!
Stop wasting money and unlock the hidden potential of your advertising.
Discover the power of intentional advertising.
Reach your ideal target audience.
Maximize ad spend efficiency.