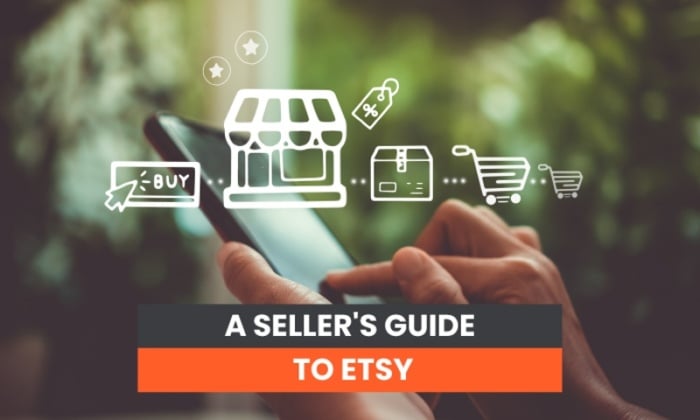 When Etsy first launched, its primary focus was independent crafters. However, Etsy gradually changed its approach and allowed larger businesses to join.
Now, you'll find suppliers of packaging, materials, and other business essentials on there.
If you've visited Etsy recently, you may also have noticed sellers specializing in antiques and collectibles. Printables are popular, too.
With all these changes, it's fair to say Etsy has gone from strength to strength. In 2019, it had over 45 million buyers, a notable increase from 2018.
Although these figures are impressive, it still lacks Amazon or eBay's audience share. However, it's affordable and easy to use, and most importantly, Etsy is a niche site, placing sellers in front of their ideal customers.
Anyone new to Etsy is bound to have a multitude of questions. This article aims to answer many of them. By the time you've finished reading, you'll have all you need to get started.
How to Prepare for Selling on Etsy
Before you begin selling on Etsy, you've got some work to do. Like any sales platform, Etsy works best when you research the competition, understand your buyers, and focus on a niche.
Research also helps you discover selling strategies and potential areas where you can outperform your competitors.
Research the Competition
The quickest way to find the top sellers is Etsy's bestsellers page. Here, you'll learn plenty just by taking a glance. The page features a diverse list of items in a variety of categories.
For instance, the page might display sustainable and educational items marketed toward children, seasonal clothes or accessories, and personalized and bespoke jewelry.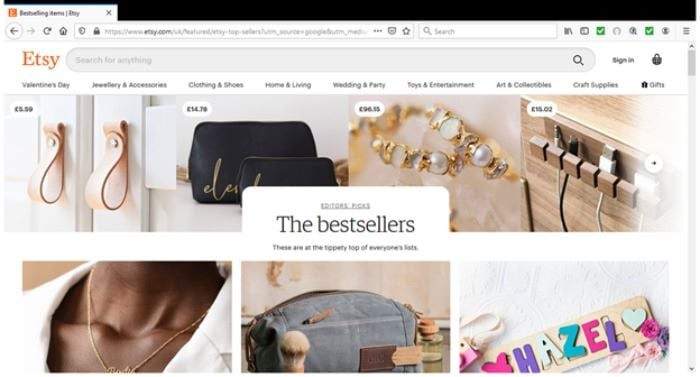 Click on any one of these bestsellers, and you'll learn even more. When you're checking out your competitors, focus on:
The kind of feedback they're receiving
How they brand their store
Whether they're offering free shipping or special discounts
If the products are personalized
The information included in descriptions
The amount and type of images they use
Their shipping and return policies
How they integrate keywords
Delve Into Etsy Data
Now that you understand the basics of a good listing, you might want to go deeper. With some data to inform your decisions, you'll have greater confidence you're targeting the right products.
You'll find there are some great tools to get you started. For instance, Marmalead uses machine learning to help you:
Discover trends
Analyze pricing
Find keywords
Optimize listings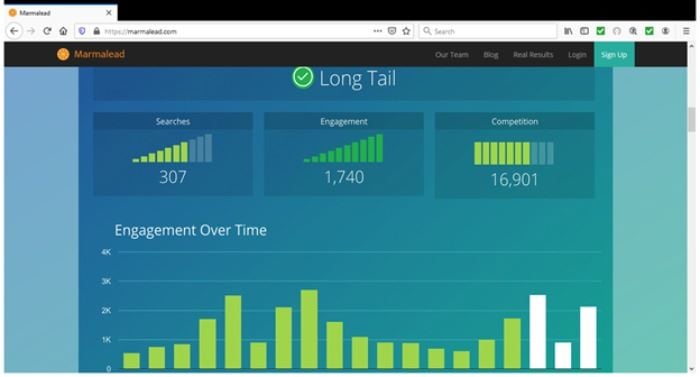 Marmalead costs $19 a month, or $15.83 if you pay for an annual subscription upfront.
Identify Your Etsy Niche
One way of getting started is listing various items to see what sells. However, you're likely to get off to a better start if you trade in a niche. Selling this way makes it easier to market to your ideal customers.
What should you look for in a niche? Ideally, you'll want something that's a popular seller and something you're also passionate about. Further, when you're selecting products for your niche, focus on profitability, ease of shipping, and items that have high demand but low competition.
There's more to it than that, though. You'll also want to focus on creating a unique style: something definitively yours that others will have a hard time copying.
Understand Your Buyers
Before you can sell to your customers, you need to understand them. Start by looking at Etsy from your customers' perspective. If you were buying, what would you expect to see from a product? What search terms would you use? What instills confidence when you read a product listing?
Now refine this to more specific questions. Etsy has a great list of the top 20 questions buyers ask, which can help you get inside your buyer's mind.
How to Create an Etsy Account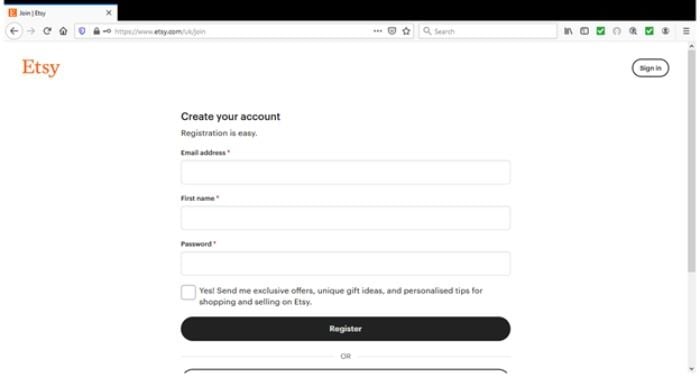 It's free and easy to set up your Etsy account. Just follow these steps:
Go to Etsy's website and click Register at the top of the page.
Fill out your email address, first name, and password.
Click Register.
Wait for the confirmation email to arrive (it'll take a few minutes), and then click the confirmation link.
That's it! You've created your Etsy account, and you're almost ready to list your first item. However, before you can do that, Etsy will want some financial information.
Etsy wants two things from you: a PayPal account so you can receive payments and pay for your listings, plus your bank account details if you're in a country that can receive Etsy payments.
How to Set Up a Listing on Etsy
Once you've submitted your financial details, your account should be ready to go, and it's time to start listing items. To do this, look for the Shop Manager button at the top of the page.
Scroll down to Listings. You'll find it on the left side.
Click on Add a Listing at the top on the right side.
Start by adding a photo. Etsy allows up to 10 pictures.
You also have the option to upload a video that shows the product in closer detail. Videos must be 5 to 15 seconds long and in high resolution.
Etsy Listing Details
Listing the item is the most time-consuming part due to the multiple drop-down options.
Start with your item title and remember to include keywords. There's plenty of free tools you can use to get ideas, like Ubersuggest.
Next, you'll see a drop-down menu labeled "Who made it?" There are three options to choose from. Etsy just wants to know if you made the item yourself, a member of your team or shop made it, or it's from a manufacturer.
Now, you'll move on to the "What is it?" drop-down menu. You'll find two choices here: a finished product or a tool to make things.
Finally, there's the "When was it made?" drop-down menu. Etsy gives you a list of dates to choose from: Recently, Vintage, and Not Yet Made for made-to-order items.
For the next step, fill out the Category box. Enter up to three words, and you'll see a list of categories appear. Find the most suitable one by clicking on the drop-down menu that appears.
Fill out your renewable options. Here, choose from Automatic or Manual. Etsy recommends the Automatic choice, which costs 20 cents per listing and lasts for 4 months.
Complete the Type section. This indicates whether your listing is for a digital or physical product.
Your next step is the Description. Now it's time to get creative. Like a Google snippet, Etsy buyers will see just the first few lines. Make sure to include the item's unique features and keywords. Etsy suggests including the process behind the product or your brand's story too. However, if you want some more inspiration, Etsy has an article on writing great descriptions.
You can now add these optional details:

Sections: This allows you to group related items.
Tags: Think of them as keywords to help shoppers find your items.
Materials: Detail the materials or components.
Now it's time for the inventory and pricing. You should have a good idea of pricing by now from looking at similar products. Fill out the boxes and remember to account for your labor, material costs, and shipping. Next:
Quantity: Enter the amount you have for sale.
SKU: You can also enter an SKU, but this is optional.
Variations: Here's where you'll list different colors, designs, sizing.
Personalization: Select the "On" option on the right side. You'll then see a box labeled "Instructions for Buyers." Add any personalization instructions.
You're almost there! You've just got to select your shipping options.
Etsy Shipping
The final step is shipping. There are four boxes for you to complete:
shipping options
origin
processing times
fixed shipping prices
At the bottom of the page on the right side, you have three choices: Preview, Save as Draft, and Publish. Publish will list your item live on Etsy. However, it's always a good idea to preview it first.
Tips for Selling on Etsy
There's more to a good Etsy listing than SEO keywords. It's best to have clear descriptions, strong branding, good customer reviews, and an up-to-date bio. Let's discuss these.
Write the Perfect Description
This article has already covered the essentials of writing strong product descriptions. However, as they are such an essential part of your Etsy business, there's space for more. Aside from detailed, keyword-rich, honest descriptions, you should also use:
your brand voice
short, punchy paragraphs
bullet points
creativity
Brand Your Etsy Shop
Branding builds confidence and loyalty. It gives you a unique voice that buyers recognize, helping you get noticed in a crowded market.
Begin branding by identifying your unique selling point. Then:
Detail the story behind your business and integrate keywords.
Use your understanding of your customer demographics to appeal to them.
Create a tagline or statement. Make it something memorable.
When you've decided what you want your brand to look and sound like, start working on its cohesiveness. Ensure your Etsy shop, packaging materials, and everything in between has the same look, style, and tone. Most importantly, make sure it's uniquely yours.
Keep Your Shop Bio Current
Don't just use your bio to tell buyers who you are. Use it to make shop announcements, offer discounts, and highlight sales and new listings. If there's anything else worthy of including in your bio that will differentiate you, include that too. For instance, if you've gained a further diploma in art or jewelry making, shout about it.
You could also add your latest or best reviews, any publicity you're picking up, or any changes you've made to order processes, returns, and disclaimers.
Encourage Etsy Reviews
It's no secret that getting reviews encourages customers to buy. However, getting your first bit of feedback isn't always easy, even if the customer is happy.
That said, there are some ways you can actively encourage your customers to leave a review. You could:
Put a note in with orders: Include a polite message with each order you send out asking your buyer to leave feedback. Remember to invite your buyer to contact you directly if they're unhappy in any way.
Use your listings: In your listings, explain the importance of feedback to your business and ask customers to leave feedback once they receive their items or to contact you directly if they have any questions.
Get friends and family to buy an item: OK, so it's cheating a little bit, but one way of kicking off your feedback is to ask people you know to purchase an item and give an honest opinion.
Advertise Your Etsy Shop
One way to advertise your shop is Etsy Ads. Etsy's PPC feature works pretty much like any other PPC advertising campaign. Once started, these ads give you better visibility on Etsy's search engines, and Etsy will show your ads through a mix of its properties.
To sign up:
Sign in and choose Shop Manager.
Choose the Marketing option.
Click Advertising and select your budget. The default amount is $1 daily.
Check your advert and then choose Advertise.
In addition, don't forget to make the most of free advertising opportunities. Consider posting on social media, encouraging word of mouth, or joining an Etsy Team.
Provide Excellent Customer Service
Regardless of your seller status, you can always offer stellar customer service, such as emailing customers to confirm orders and shipping. They will get notifications from Etsy, but customers always appreciate a personal touch.
Remember, excellent customer service starts before the customer orders. You can achieve this by writing detailed item descriptions, having clear shopping policies, and using quality images.
You could also focus on building customer relationships by inviting customers to sign up for your newsletters, following up with customers post-sale, and encouraging future purchases through special offers and discounts.
Conclusion
If you sell in the arts and crafts niche, Etsy could be a solid option. It provides a ready audience of millions of customers every year, and it's easy and affordable to get started.
However, with so many sellers on Etsy, it's hard to differentiate yourself from the competition. That's why it's vital to do your research and find out what other sellers are doing before setting up shop.
Once you understand the fundamentals of branding, establishing a loyal audience, and creating a unique proposition, you have every chance of success.
Do you sell on Etsy? Tell us about your experiences.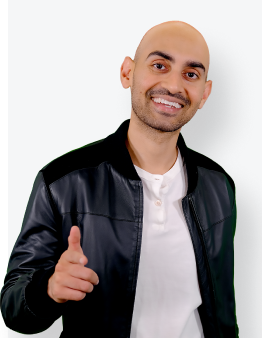 See How My Agency Can Drive More Traffic to Your Website
SEO - unlock more SEO traffic. See real results.
Content Marketing - our team creates epic content that will get shared, get links, and attract traffic.
Paid Media - effective paid strategies with clear ROI.
Are You Using Google Ads? Try Our FREE Ads Grader!
Stop wasting money and unlock the hidden potential of your advertising.
Discover the power of intentional advertising.
Reach your ideal target audience.
Maximize ad spend efficiency.