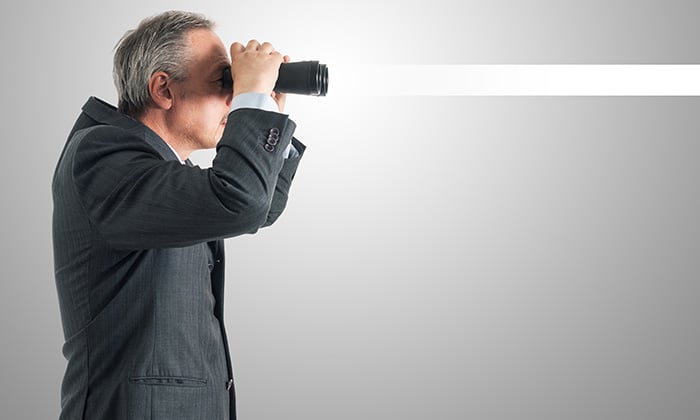 Everyone obviously wants to land as many website clients as they can.
But the problem is that 95% of first-time visitors aren't ready to purchase from a website in the first place.
It takes a few visits for prospects to even consider buying from you, so gaining new website clients can take a bit of work.
Opt-in forms are effective for converting visitors into paying clients, especially if you let them customize their experience on your forms.
But if you aren't getting much traffic, no one is seeing your opt-in forms.
Thankfully, there are a few shortcuts you can take instead so that you don't have to put so much focus on opt-in forms.
I'll cover these approaches in this article.
For example, blogging is a great alternative.
HubSpot's annual State of Inbound report proved that the more you blog, the more website traffic you'll receive.
More website traffic = more website clients, which brings me to my first point. You need to start blogging ASAP.
Start blogging (and guest blogging)
Blogging is one of the best ways to build relationships, prove your credibility, and gain clients.
But you've got to be consistent. You can't attract clients through your blog overnight.
If you do your research and put forth some effort, you'll see some huge results in no time. Just look at the comments and shares on one of my most recent blog posts: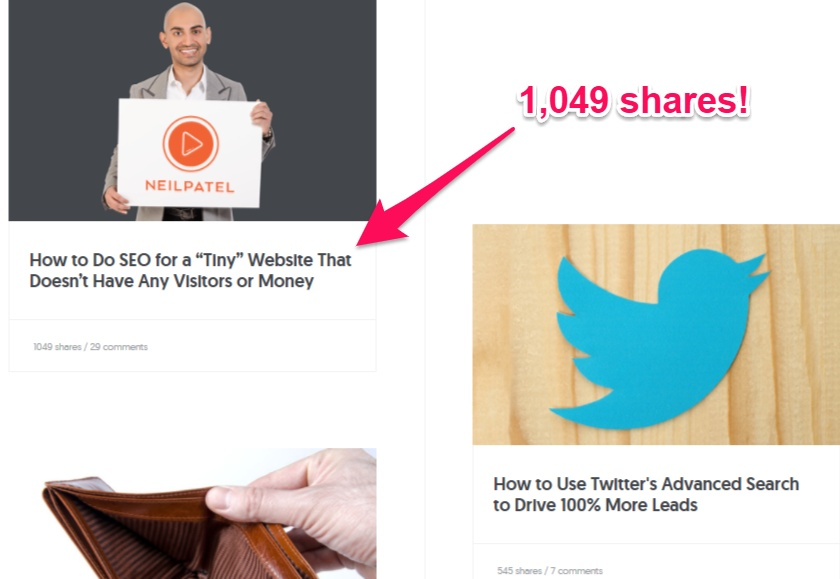 I already have 1,049 shares and 29 comments!
You can find the same success. And you'll be able to land new customers because of your trusted content.
Start out by creating a content schedule. Aim to post as often possible.
Begin by blogging about topics that relate to your services or products to build up an audience.
And be sure that it's quality content. Run your blog post through a tool like Grammarly before posting it online.
Readers will run the other way if they see grammatical errors. Would you want to buy something from someone who doesn't know the difference between "your" and "you're"?
I know I wouldn't.
But that's just the start.
Blogging also takes quite a bit of time, especially if you want to be consistent. And sometimes, coming up with ideas is the most difficult part.
You'll want to write about topics that your customers will find interesting, valuable, or useful.
A great place to start brainstorming is AnswerThePublic.
Aside from having a really entertaining homepage, AnswerThePublic is a great tool for finding content ideas.
All you have to do is enter a keyword, and the "Seeker" will suggest tons of content ideas for you to choose from.
Here are all the ideas I found just by typing in "SEO."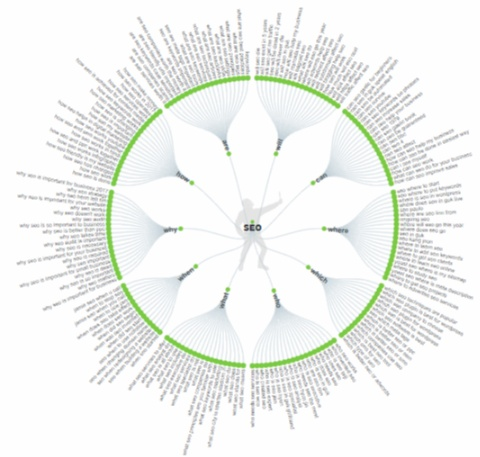 This way, you'll get tons of ideas in just seconds.
Buzzsumo works in a similar way.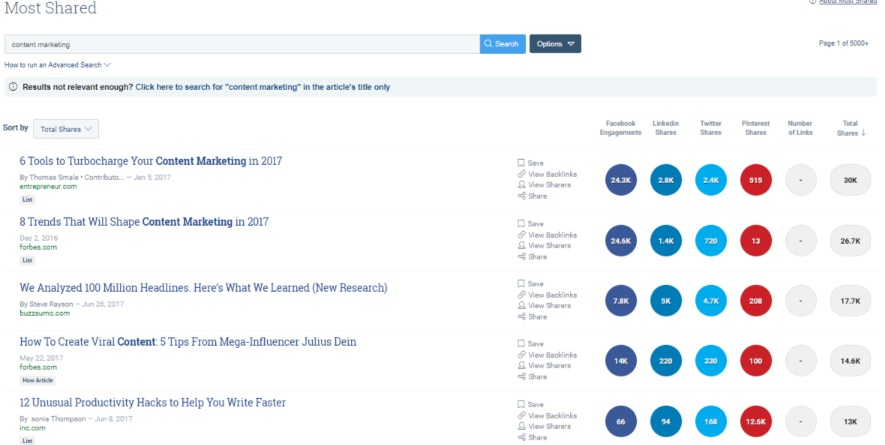 Just type in a keyword to find the most-shared content in your industry.
You shouldn't just focus on building up your own blog, though. You need to start thinking about guest blogging.
Guest blogging will bring you the same traffic and trust that blogs on your own site will, but you'll be tapping into someone else's audience that had no clue you existed before.
I post more than 100 guests posts each year for that very reason. It's one of the easiest ways to get exposure and new clients.
For example, at least 36,000 people have read this guest post I wrote for Search Engine Journal: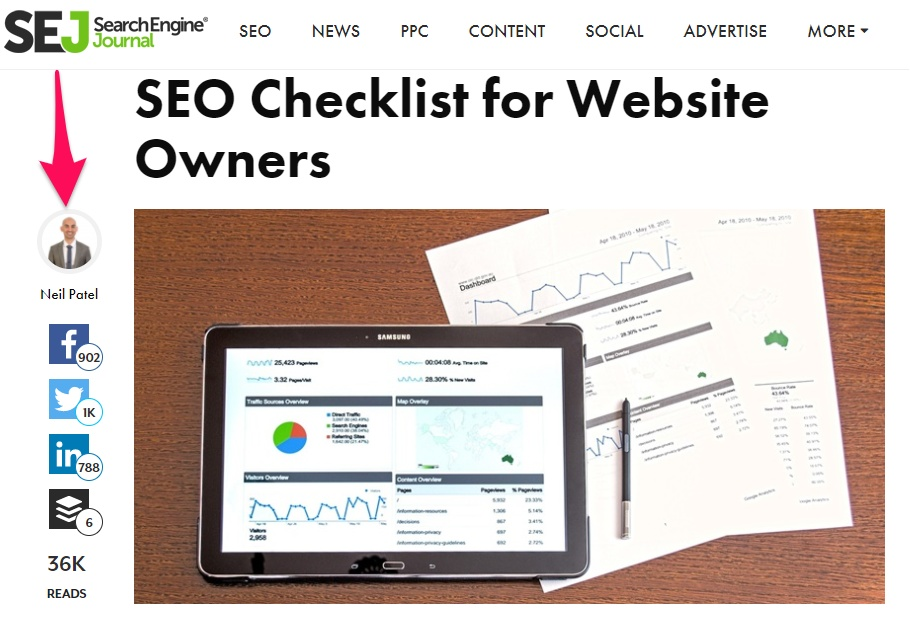 And you should allow people to write guest posts on your page.
When their customers come to your page to read it, they just might commit to your brand, too.
Try to create a guest-blogging schedule with recurring writers who complement your regular blogging schedule.
But guest blogging isn't the only way to gain exposure for your brand. Influencer outreach is another way.
Do some influencer outreach
Influencers are called influencers for a reason. People trust them.
They can persuade their audience to buy whatever they're praising or talking about. That's just what you need to land some new customers.
But you have to have a plan first. Don't just reach out to the next person you see and ask them to promote your product or service.
You can use Buzzsumo to discover influencers in your industry and see how much leverage each influencer really has online.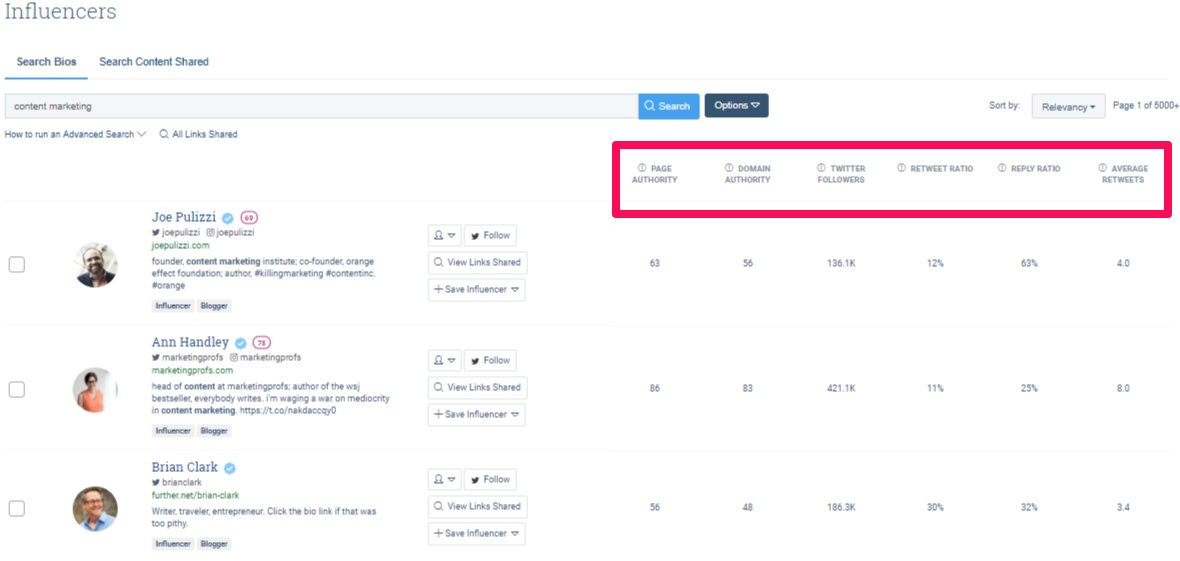 That way, you aren't blindly reaching out. You can get a sense of which influencers are relatively the same size as your business so that you aren't breaking the bank with an influencer like Kim Kardashian.
Kim Kardashian makes as much as $500,000 for one promoted Instagram post because she has an audience of 104 million followers.

Just check out this promoted post on her Instagram page for Diclegis.
It received 701,061 likes. And she linked to their website in her post, which probably brought the company a ton of new clients.
But you don't have to spend $500,000 to see huge results with influencer outreach, especially if you consider micro-influencers.
They have smaller, more concentrated groups of followers, meaning they're more engaged with their audiences than huge celebrities are.
No matter what you spend, you'll see some huge results. Influencer Marketing Hub found that there's about a $7.65 ROI for every $1 spent on influencer marketing.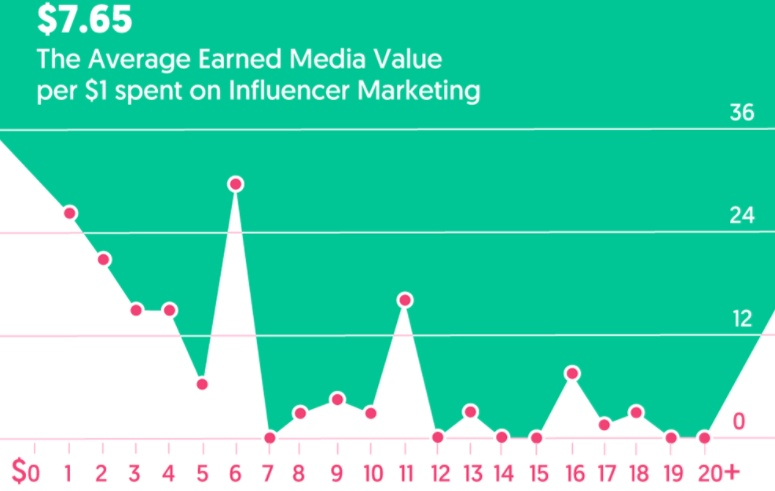 Since we've established that partnerships with influencers are valuable for gaining new clients, let's talk about how you can leverage your competitors for the same reasons.
Partner up with competitors
Having competition isn't a bad thing.
In fact, you and your competitors can (and should) build relationships and partner up to bring in new clients.
If you look at every competitor as some sort of rival you have to squash, you could be missing out on lots of new clients.
You can find competitors with a tool like SEMrush if you aren't exactly sure who yours are.
Just type in your URL and you'll be able to see live information about how many organic competitors you have and who they are.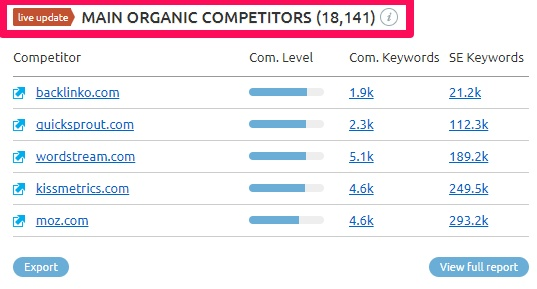 Once you've identified your competition, you should reach out to them. You'll both have a larger reach if you work together.
If you can't find contact information for your competitors online, you can use Voila Norbert to find anyone's email address.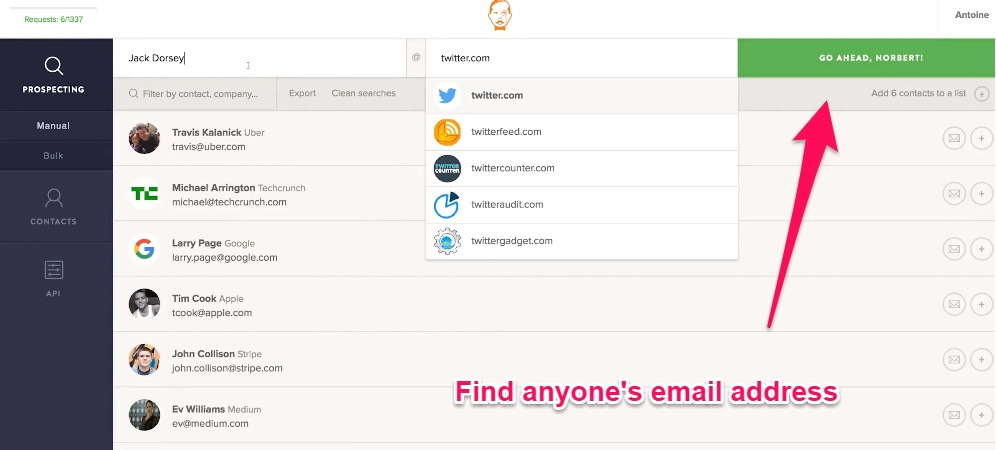 Then, send them a brief, friendly email asking if they would like to work with you.
And while you're sending emails, send some out to your previous customers to ask them for referrals and reviews.
Ask for referrals instead of waiting for them
Referrals are one of the most well-known ways to get new clients.
But if you're waiting for them to fall into your lap, you're wasting your time. People are busy.
Sometimes they need a reminder to go out of their way to sing your praises.
Send out an email to some previous clients who haven't reviewed your products or services yet.
Check up on them and ask them for a referral or review, but keep it short, like Nordstrom did in this email.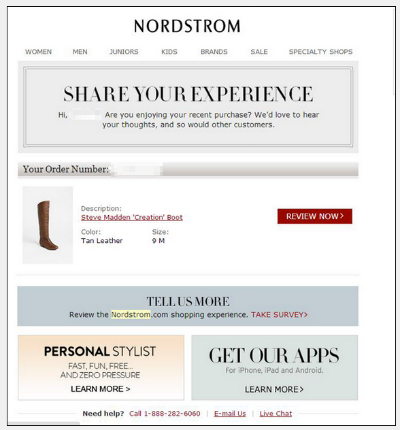 Amazon does the same thing with their thank-you emails when you purchase one of their products.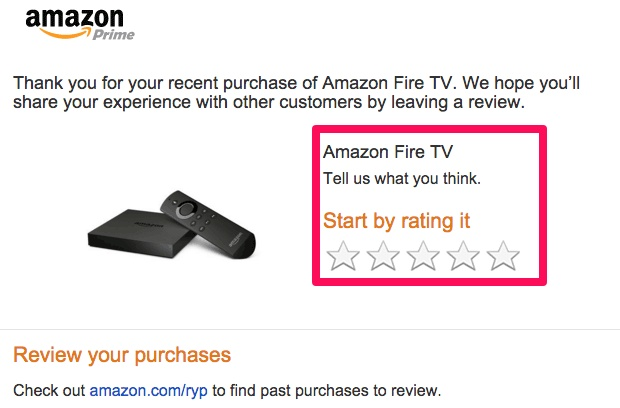 That seems easy enough, right?
Next, if you want people to view you as an industry leader and gain more clients in the process, you should think about writing an e-book.
Write an e-book
According to Statista, Amazon sold an average of over 517,000 e-book units every day at the beginning of 2016. And that's just in the United States.
E-books are big, so you should use them to your advantage.
Not only can you make some extra money by charging a small fee for your e-book, but you'll also give people a reason to trust you.
That means they'll buy more of what you're selling.
First, you've got to plan out your e-book. Outline each chapter and be sure that whatever you're writing about will be valuable to your readers and your industry.
If you're not sure what your readers will want, just ask them.
Send out a quick survey to find out which topics they're most interested in. You could even run a poll on Twitter or Facebook.
Then, once you have ideas and an outline, start writing. Put it online when you're done and watch as new clients pour in.
It helps to make sure that your e-book is visually appealing by adding some interesting colors and fonts, too.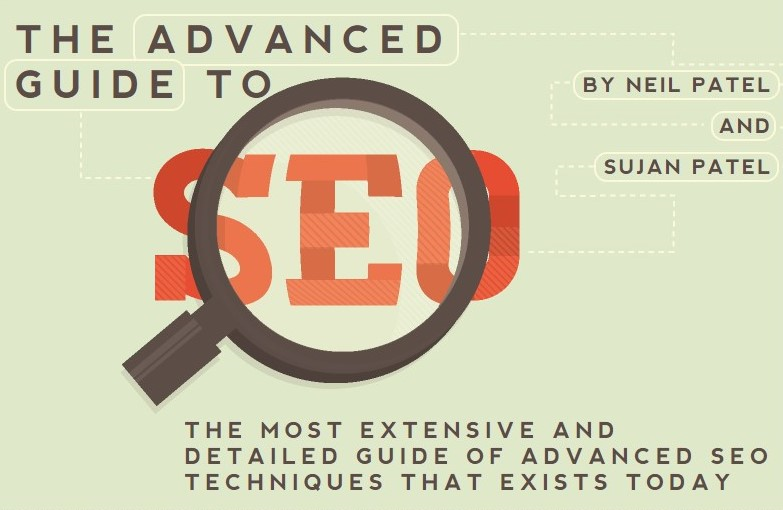 Don't write about something you don't know, though.
And then you can expand on it and create a course that relates to your e-book.
Create a course
Do you have a favorite teacher from high school or a favorite professor from college?
The chances are good that you do. And they were probably your favorite because they offered you guidance, constructive criticism, and made you think.
That kind of relationship isn't just limited to classrooms. You can be the teacher that people trust.
Tons of people pay to gain access to online courses on websites like Kajabi.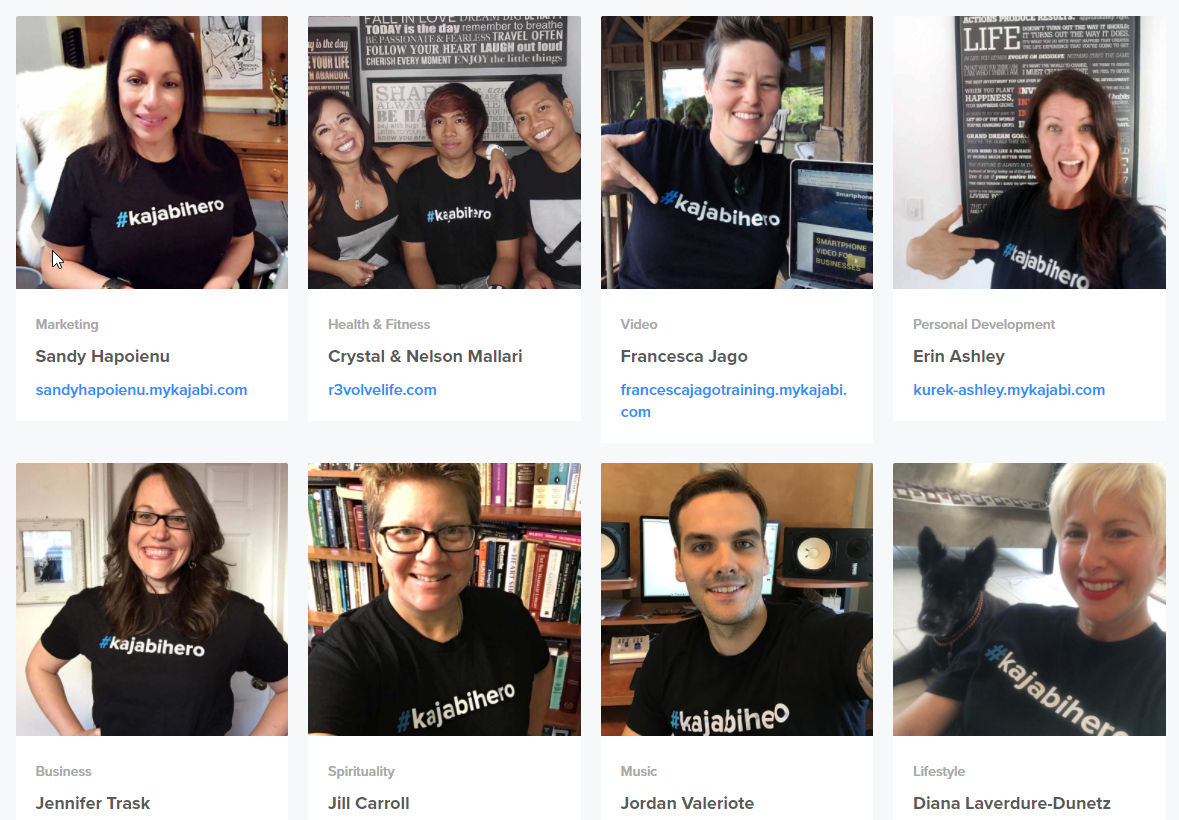 Selling a course online is a sure-fire way to get new clients who will want to work with you directly.
By creating a course, you'll be providing the same kind of valuable information that an e-book can bring.
If you've already written one, why not create a course centered around your e-book to widen the reach of what you have to offer?
Lynda is another online learning platform where you can post your course on.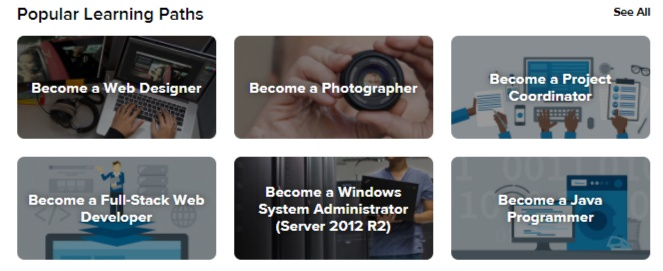 In order to become an instructor with Lynda, you'll have to fill out an application.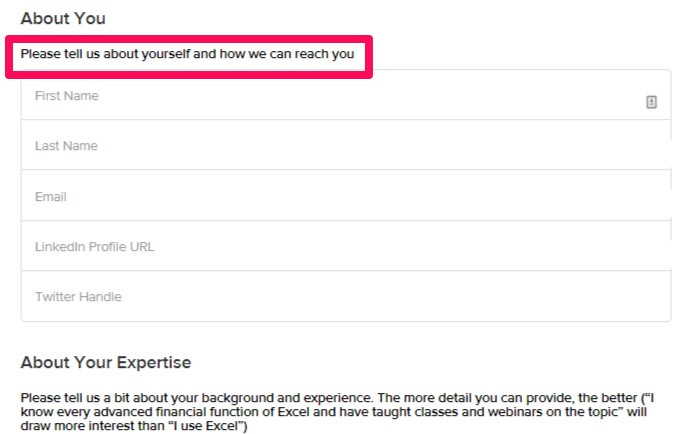 Once you provide some basic information about yourself and what you have to offer, you'll be able to post valuable courses that will bring in the new clients you want.
Next, think about investing in your image as another way to bring in some new customers.
Invest in your image
It might seem obvious that your brand's image can make or break you.
But have you actually invested time and money into making sure that you've designed your website with users in mind?
If users don't think that your site is easy to navigate, they're not going to stay on it. That means you're not going to earn their money.
Your homepage is the first impression users are going to have of your company, so you have to encourage users to stick around.
Try adding some high-quality imagery to make your site more visually appealing, like Mint has done with their homepage.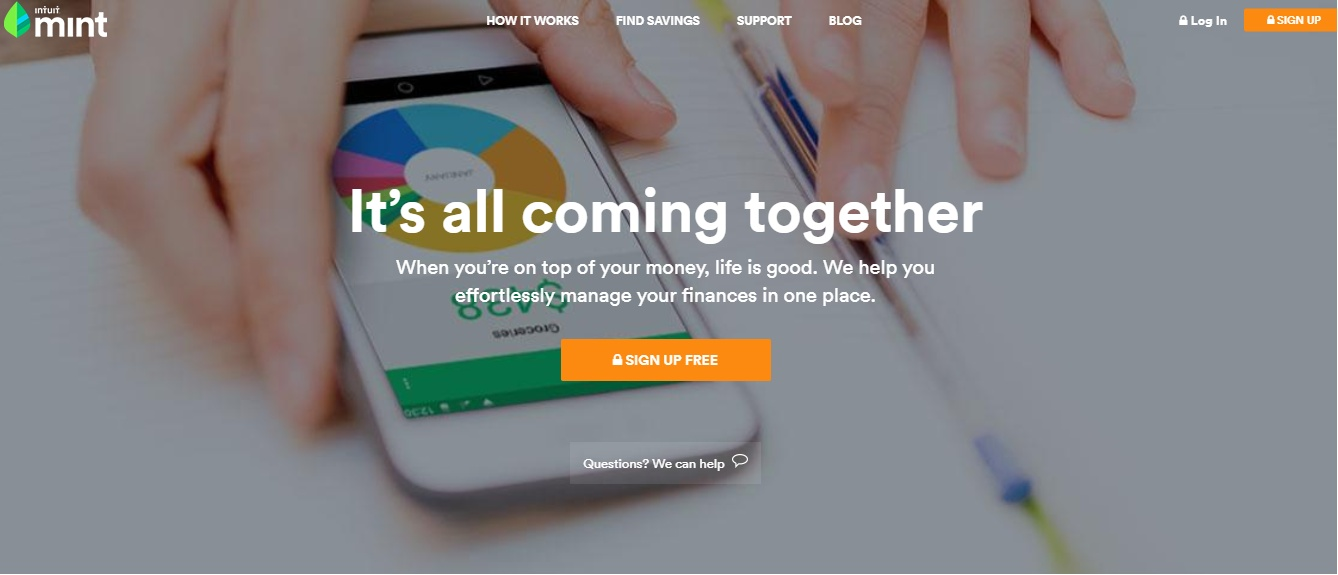 Keep it simple, too. An excessive amount of links, CTAs, and clutter are going to overwhelm your website visitors.
Whitespace is your friend. Make sure that your text is easy to read, that sections are labeled clearly to make navigation simple, and that there's plenty of whitespace.
Less is more, and minimalism isn't a bad thing. We Were Sofa is a great example of using whitespace in the right way.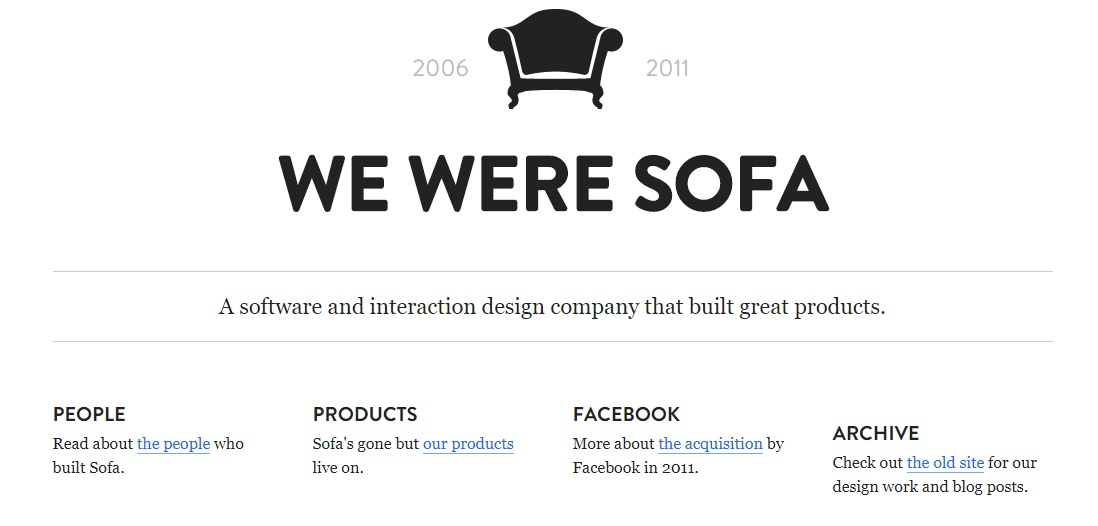 You should also try and keep important information above the fold.
Everything "above the fold" refers to the part of your web page that is immediately visible within a user's web browser when they visit your page.
If they have to scroll to find vital or intriguing information, they're going to click off.
If they click off, you've lost a potential new customer.
Experiment with your design choices and test them against one another before you commit to any changes by using a tool like Optimizely.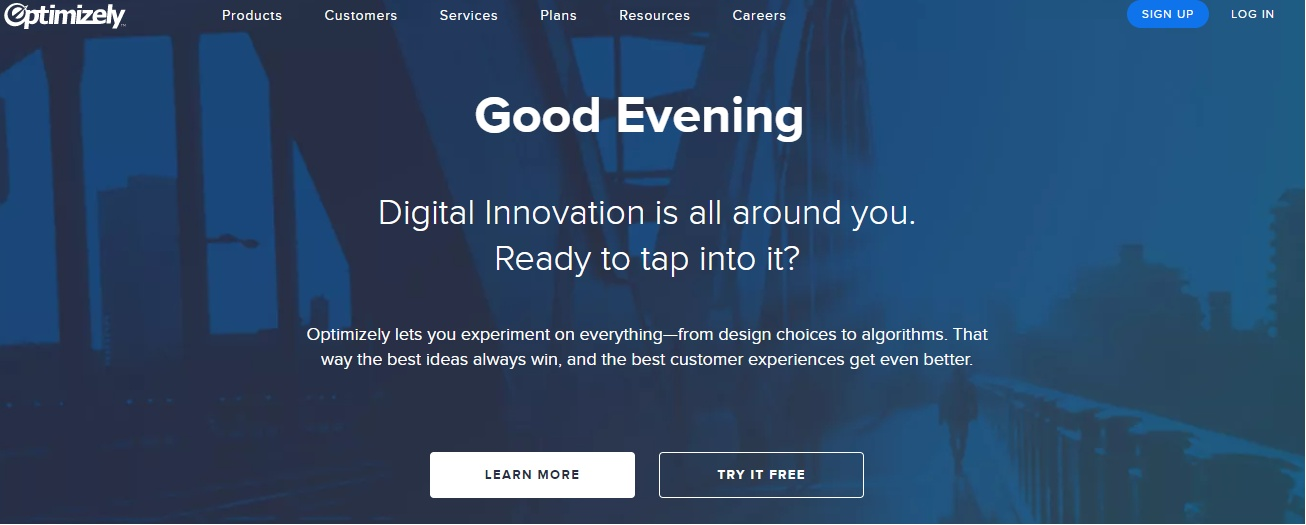 Invest in a web designer to make these changes for you, or choose a cleaner, minimalistic template if you built your website yourself.
You shouldn't just pay attention to your online image, though.
If your company hands out tangible marketing items, like pamphlets or business cards, make sure they are just as visually appealing as your website.
It helps to get creative, too.
If your business cards are as memorable as Tok&Stok's, people will actually go to your website and look at what you have to offer instead of just shoving them in their wallet to forget about forever.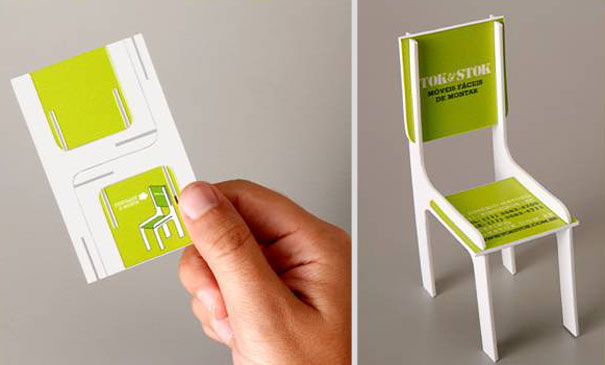 People will be impressed with your attention to detail and creativity. And they'll probably show your cards to their friends or post them on social media.
That means that even more people will hear about you and what you have to offer.
If you're clever enough to have a unique business card, people will think you're clever enough to create products and services that they need to succeed.
But don't stop there. You also have to target social media ad campaigns at people who have never heard of your services and products before.
Run social media ad campaigns
I run ads on social media because they bring in tons of new customers and readers to my site.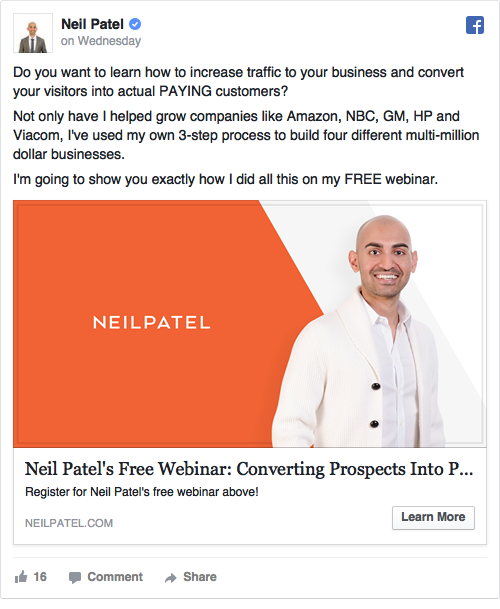 Advertisers rely on them to bring in revenue. At least 61% of advertisers use Facebook to run ads each month.
Facebook and Instagram Ads work in the same way since Facebook bought Instagram in 2012.
And you don't have to spend more than the budget you set, so it doesn't matter if your budget is $10 or $10,000.
You can even target ads to go right to certain audiences.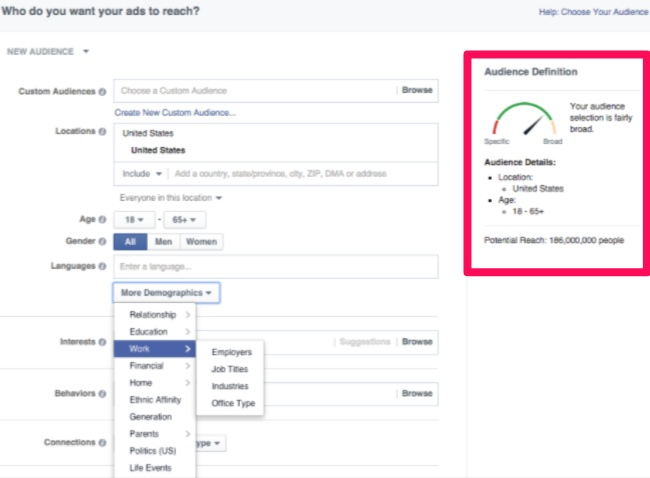 You'll be able to see audience details and a potential reach number.
If you target ads to people who have never bought from you before, you'll drive new clients to your website right from the ad.
Plus, carousel and canvas ads allow you to post more than one image in an ad on Facebook and Instagram, so you'll get even more bang for your buck.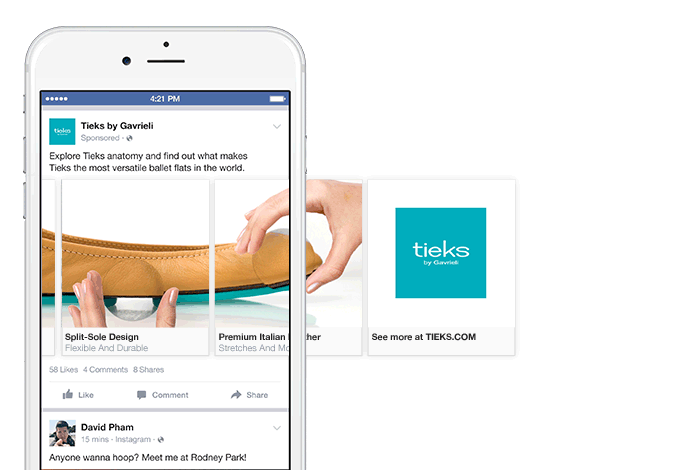 If you want to target visitors who go to your website and leave, you can do that when you set up your Facebook or Instagram Ad campaign.
Or try using a retargeting service like AdRoll or Perfect Audience.
Conclusion
You don't need a single opt-in form to land new website clients.
Most people who visit your site for the first time aren't ready to buy anyway.
And if you aren't getting a ton of website traffic, no one is seeing your opt-in forms.
That's why you should focus on getting your name out there and beefing up your brand's image instead.
When more people see your company and trust what you have to say, you'll score new clients in no time.
Blogging frequently is a great place to start. Make sure that your content is valuable to your industry and your readers. And double-check for grammatical errors before posting it online so you look credible.
Reach out and do some guest blogging for other companies. When their readers see your name and content, they'll head to your site to check you out.
Reach out to influencers to see if they'd be willing to promote your products and services. This will increase your reach, too.
Partner up with your competitors instead of avoiding them like the plague. You'll both gain more new clients together than you will alone.
Write an e-book to share insider industry information. This will build trust with readers so that they feel comfortable buying from you.
Turn your e-book into a course by using Kajabi or Lynda.
Invest in your image, especially your website's appearance. If people can't find where to buy products and services, they're going to bounce off the page.
Finally, be sure to run targeted ads on social media sites like Instagram or Facebook. Target your ads to users who have never bought from you before.
How do you land new website clients without opt-in forms?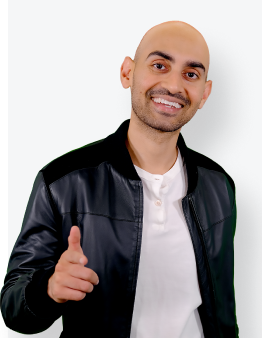 See How My Agency Can Drive More Traffic to Your Website
SEO - unlock more SEO traffic. See real results.
Content Marketing - our team creates epic content that will get shared, get links, and attract traffic.
Paid Media - effective paid strategies with clear ROI.