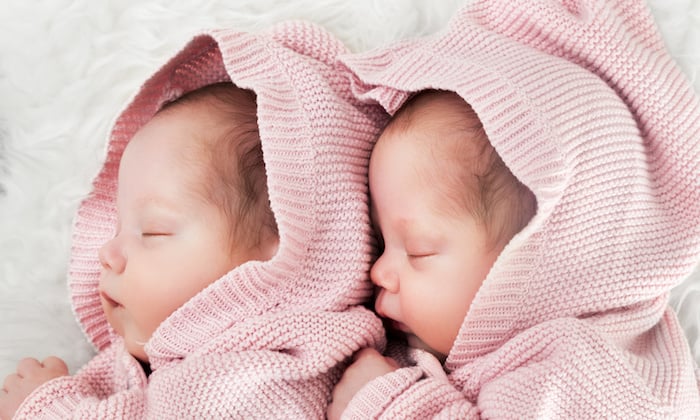 Are you struggling to bring in traffic and conversions through Facebook ads?
If so, you're not alone.
In 2017, WordStream found that most Facebook ads have a dismal 0.90% click-through rate.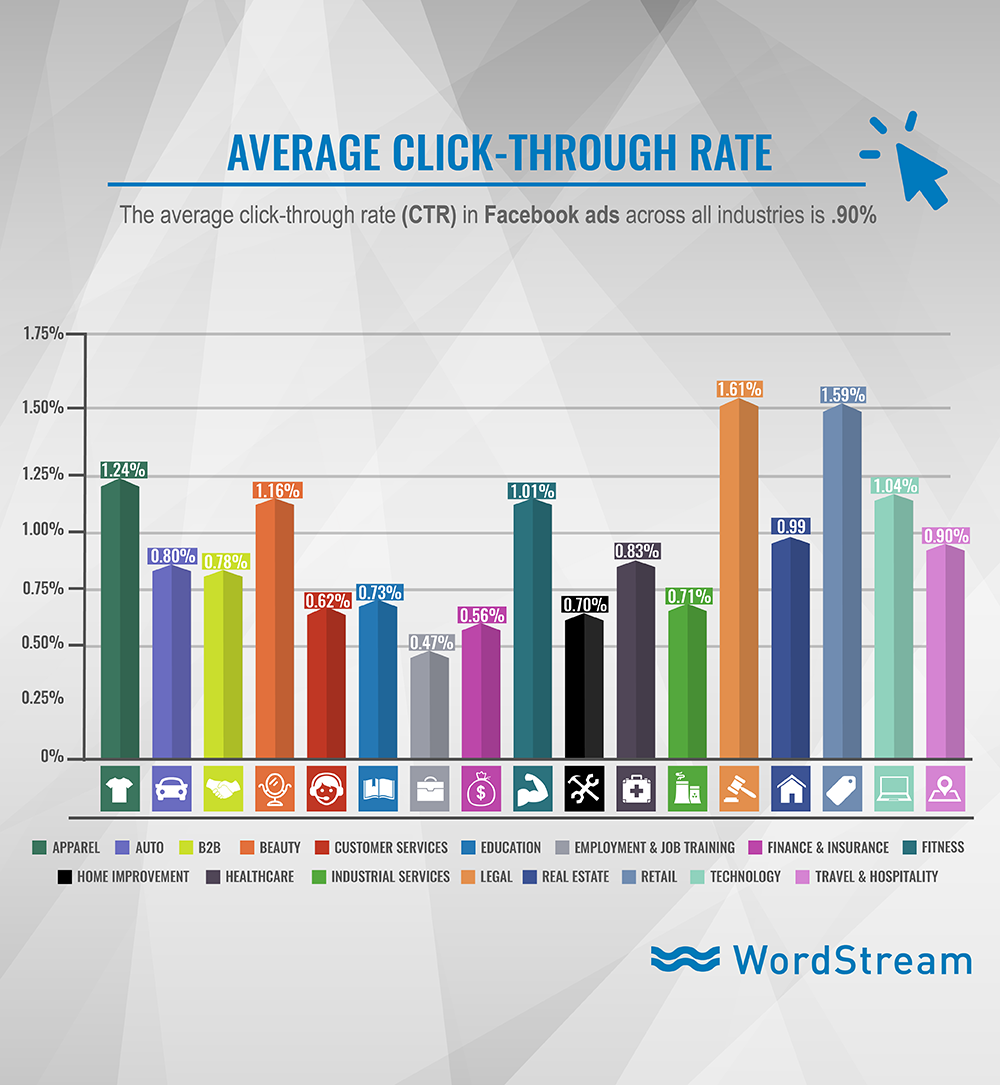 Why the low rates?
The ads themselves are probably fine.
You're probably just showing your ads to the wrong people.
Facebook has added a lot of new advertising features in the past few years.
You'll continue to struggle if you're not taking advantage of the new ways you can target potential customers.
The most common technique I see for targeting Facebook ads is to create a custom audience.
This works, but it's not the strongest way to improve your campaigns.
My solution? Facebook lookalike audiences.
I've created Facebook lookalike audiences for my campaigns and achieved stellar results.
I'll show you how to do the same.
But that brings us to a basic question. What is a lookalike audience?
What is a lookalike audience?
Chances are, you're familiar with creating a custom audience on Facebook. This allows us to specify a lot of factors about our audience.
For example, let's say you've created a workout tracking band.
You might create a custom Facebook ads audience of 30-50-year-old men who are interested in fitness and gadgets.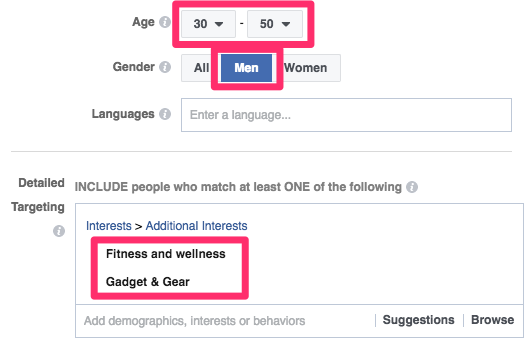 This could work great, or it could be a complete flop.
It might turn out that while your target user is a 30-50-year-old man, the actual purchasers are women who buy the tracker as a gift for their husbands and boyfriends.
There might also be a helpful factor you didn't expect. Perhaps the biggest purchasers of this device are actually people who follow Olympic runners like Usain Bolt.
If you knew this, you could target the 19 million potential customers that like his page, but without that knowledge, your campaign lacks focus.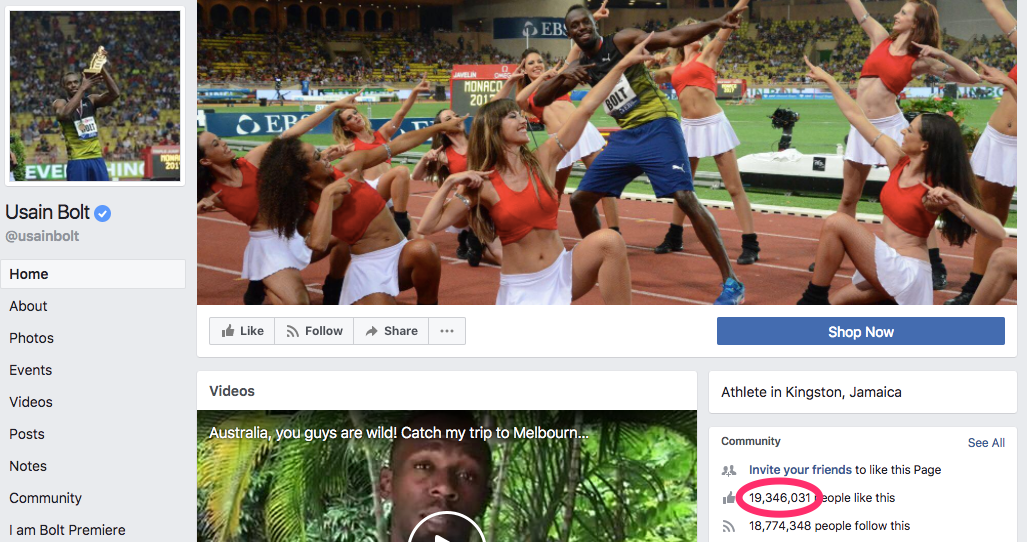 At its core, Facebook's lookalike audiences are just audiences created with Facebook's algorithm to find unexpected commonalities.
For example, I had never heard of Wealthsimple. I had never been on their website, or seen an ad from them before (that I remember). But this ad just showed up on my news feed: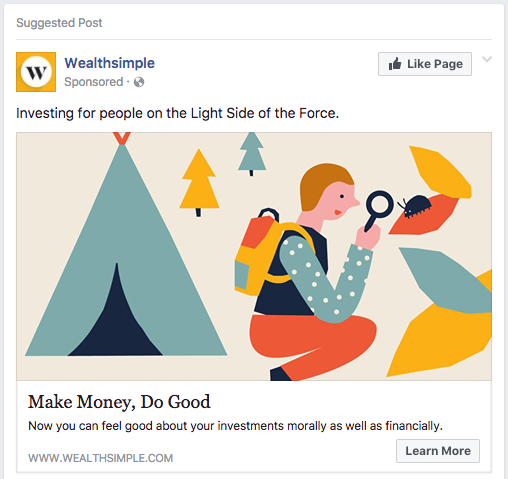 This ad references investing and doing good, both of which are relevant to me.
I've learned a lot from my investing mistakes and done projects with large donations to charity. It also makes a Star Wars reference, which I also used in my SEO guide.
Okay, so how does Wealthsimple know about me?
They don't, but they've likely used Facebook's lookalike audiences to find hidden similarities in the people who become customers.
That functionality gives you all kinds of power.
The benefits of a Facebook lookalike audience
To see the benefits, you'll need to have a solid grasp of Facebook ad custom audiences. You can learn about them in my simple guide to Facebook advertising.
Lookalike audiences have a few advantages over custom audiences.
When you target lookalike audiences, they're more likely to buy from your page. You can find an audience of people like your current customers to increase sales.
Since you'll be able to target the secret (and unexpected) commonalities among your audience members, you can customize your user experience.
Since personalizing your campaigns leads to an 89% uplift in conversion rates on social media, this is something you need to start now.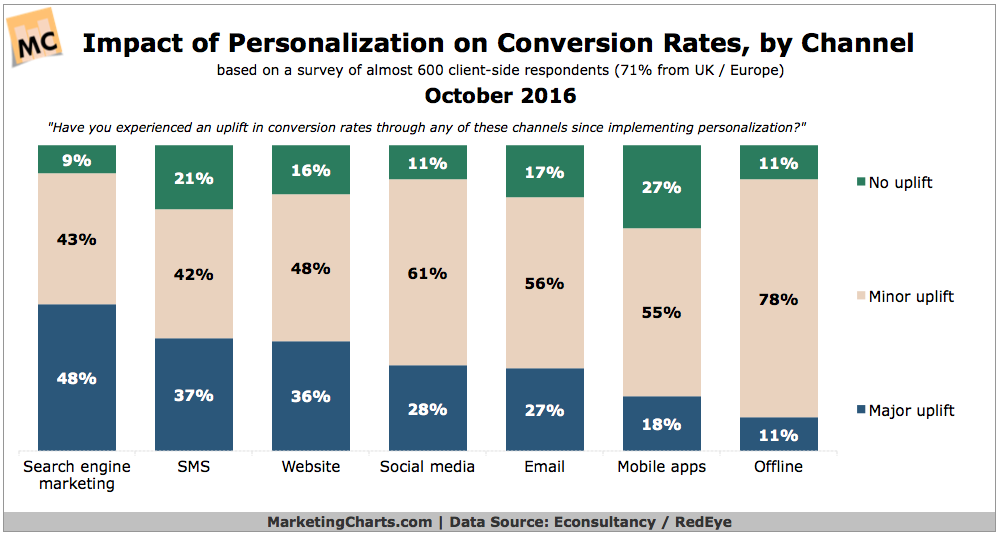 This message match—pairing the right message with the right audience—can make a huge difference.
When Brad Smith worked with a client to improve the client's message match, they saw a 212.74% increase in conversions.
You'll also find that the people you target are more likely to subscribe to your email list.
In fact, you can even create an audience similar to your current list (we'll cover that in a minute).
This targeting has direct results that will improve your campaigns.
About 90% of the time, lookalike audiences will average a higher click-through rate than other audiences.
But the best benefit is really creating a virtuous cycle.
As you build a larger audience through your ads, Facebook becomes better at predicting who's more likely to buy, subscribe, and convert.
As your audience grows, so does your ability to build a bigger audience.
Here's how you get a lookalike audience set up.
Create an audience blueprint
Before you can create a lookalike audience, you need to create a custom audience. This will serve as the basis, a blueprint, that Facebook will use.
To get started, we'll create a new ad. On Facebook's drop-down, click Manage Ads.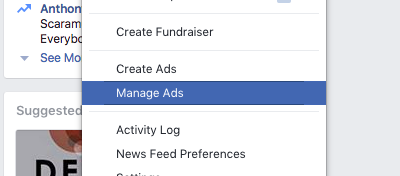 In the upper-left hand corner, click the drop-down menu and select Ads Manager.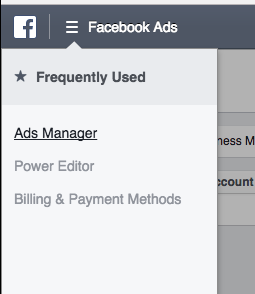 You'll need to create a new ad for this:
Choose your marketing objective and name the campaign: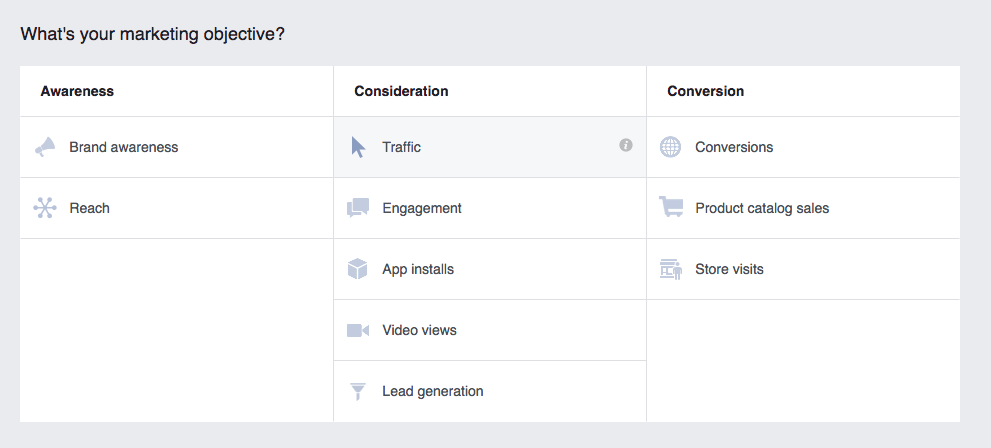 Now we'll to create a new audience.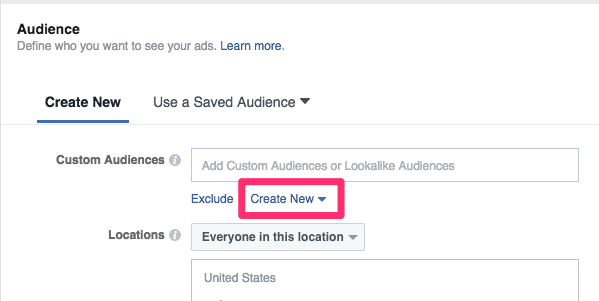 Select Custom Audience from the drop-down menu. Don't worry about the lookalike audience option right now. We have to create a custom audience first.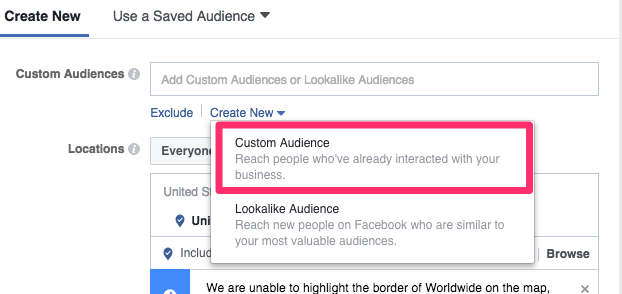 You'll be presented on this screen with the four possibilities for creating a custom audience.
I'll go over how to use each one.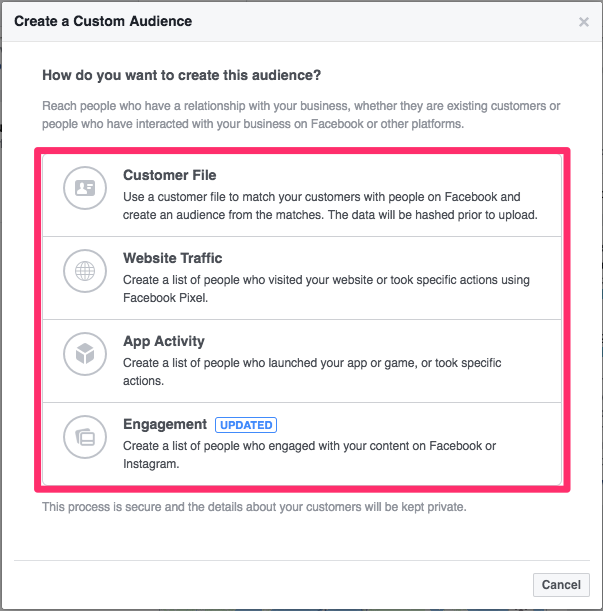 Customer file
To start, click on the first option on the custom audience menu.
If you're using MailChimp, you can choose to import the contacts directly. If not, select the top option. (I'll cover LTV in a minute.)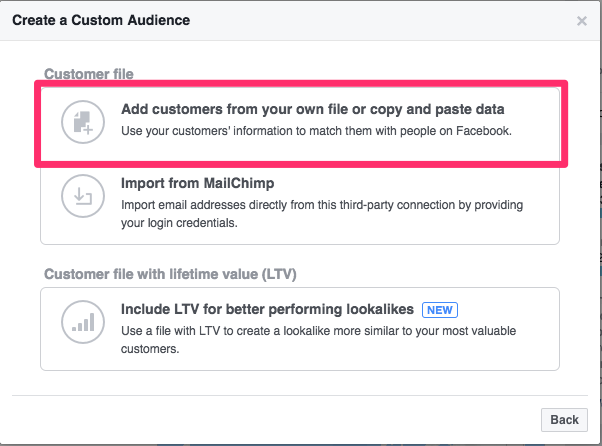 We'll need to create a CSV file that we can drag into the uploader. Facebook will match the contact information you provide with registered accounts, which you can then target.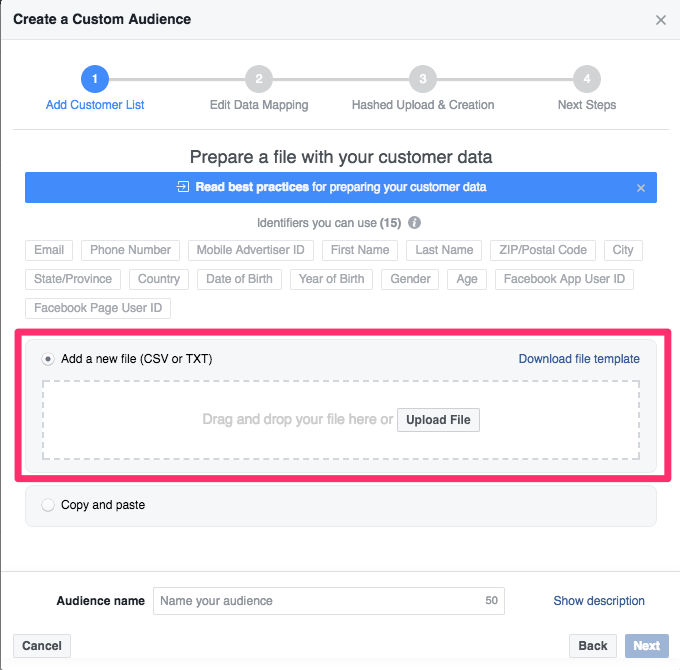 To get started, export the contacts from your CRM into a CSV file. Depending on the CRM you use, you'll have different data.
Facebook will only be able to use columns that match their 15 recognized identifiers:

If they check out, drop it into Facebook's uploader box and hit next to help Facebook map the data.
Make sure the identifiers are correct.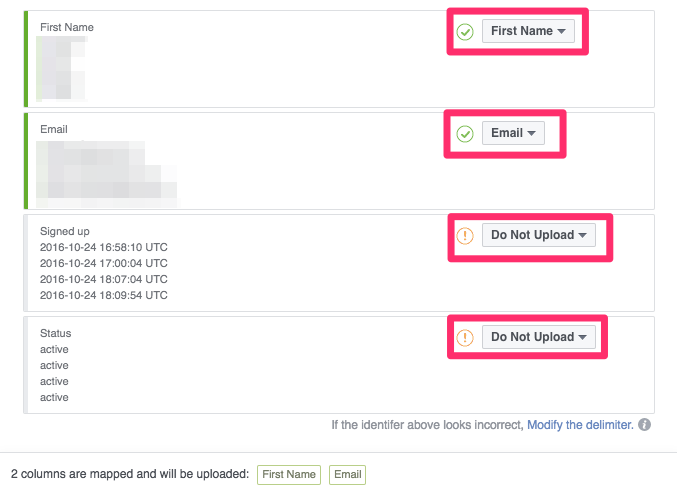 Once everything is correct, hit Upload and Create.
Once it finishes, select the Create a Lookalike Audience button.
I'll show you how to use this audience later in this article.
Using the upload tool, you can also calculate the lifetime value of each contact.
Customer File with Lifetime Value
If you know each customer's lifetime value, you can include this data in your custom audience. To do so, just start with the LTV option:
Click through Facebook's explanation and terms.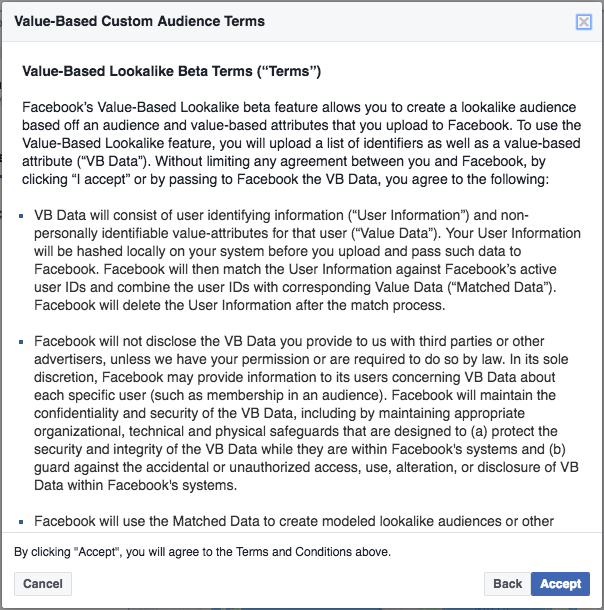 Include a lifetime value column in your CSV. Make sure the numbers don't have commas as thousand separators.
Again, drag the file into Facebook's uploader.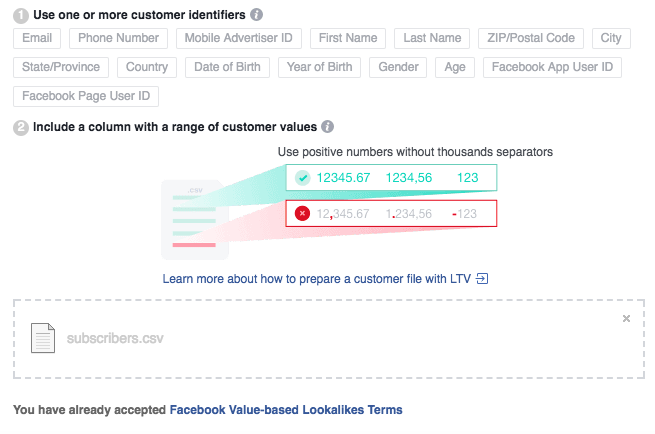 Select the LTV column in your data.
The rest of the process is the same as uploading other customer files.
Website traffic
You can create a lookalike audience to target people like your current website visitors. Just click on the Website Traffic option: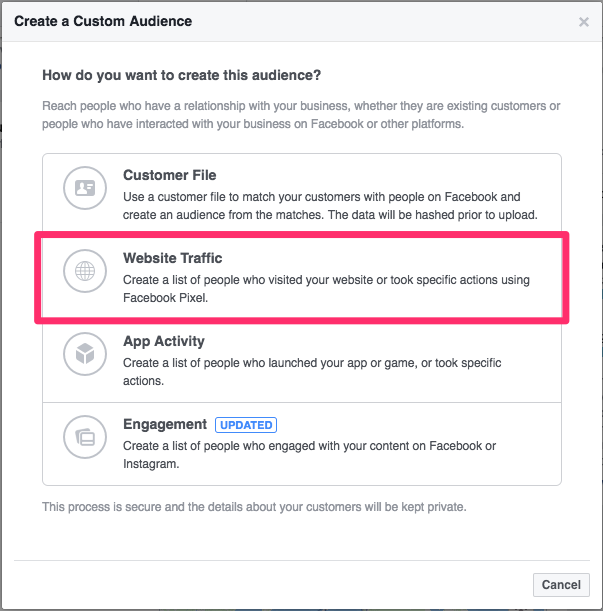 You'll need to have a pixel installed for this to work. Select the installed pixel you'd like to target and name the audience.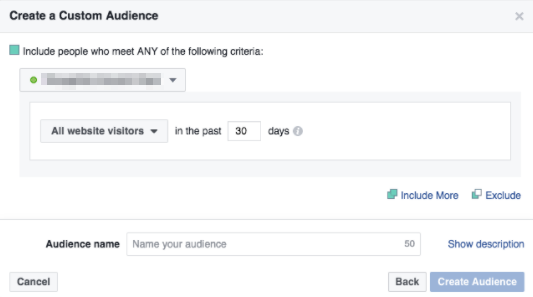 Once Facebook generates the audience, hit "done."
Remember the name of this audience. We'll be using it to create our lookalike audience later.
App activity
To target people similar to those who have interacted with your app, select App Activity on the custom audience menu.
Enter the information Facebook requires for this step, including a name for your audience and actions you want to track.
Again, remember the name of this audience. We'll be creating our lookalike audience from it later.
Engagement
To build a lookalike audience based on engagement with your content, select the Engagement option.
You're then presented with a ton of options based on what engagement you'd like to track.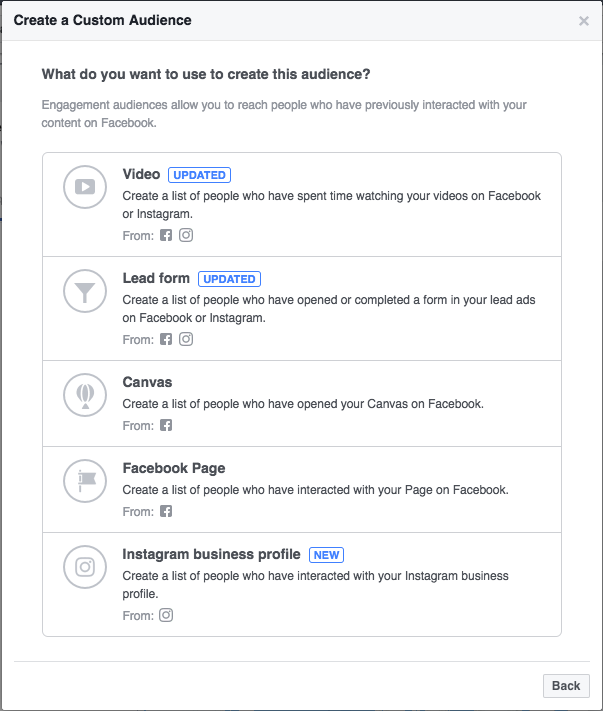 The exact options are different for each type of content. For a Facebook Page, the options look like this: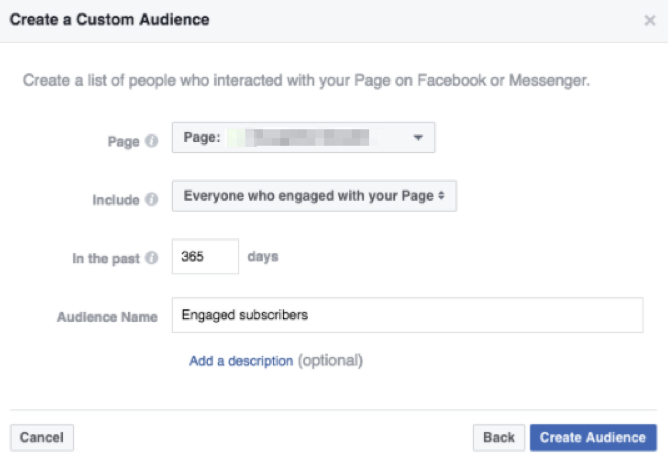 Select the type of engagement you'd like to track. Select Create Audience.
Now that we've created the custom audiences we need, we can get started creating lookalike audiences with them.
How to create lookalike audiences
To create a lookalike audience, we'll need to head back to the audience section of the Ads Manager.
Click on the "create new" dropdown and select Lookalike Audience.
Where it says "Source" on the next page, find the name of the audience you created earlier.
You can also select a page you manage. Facebook will generate a target audience based on the people who have liked the page.
This option has fewer features and is less reliable (I'll explain why in a bit), so I recommend using a custom audience.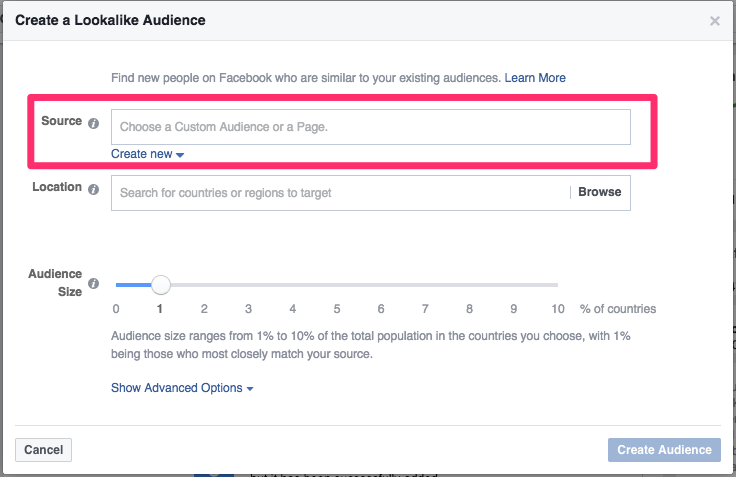 Select the location of the audience you'd like to create.

Beneath that, you'll need to choose the audience size. This represents the total population of the region you've selected, based on how closely they resemble your blueprint audience.
If I select the United States as my target region, 1% equals a lookalike audience of 2.1M people.
While it may be tempting to increase the size of your lookalike audience, your conversion rate and cost per conversion will suffer.
Danny Sauter of Bamboo Marketing found that 1-2% lookalike audiences drove the best CPA performance 67% of the time.
Audiences as high as 10% were just too different to be worthwhile.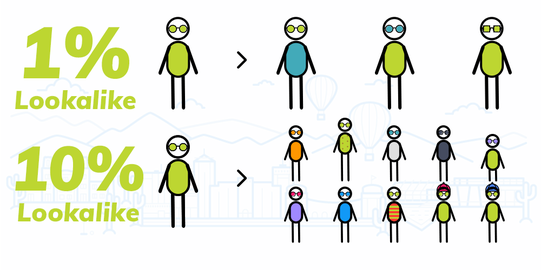 AdEspresso found the same thing when they tested different percentages in 2017.
According to their experiment, the 10% lookalike audience cost 70% more than the 1% audience.
If you want to test it for yourself, you can click on "Advanced options" and run up to six different lookalike audience sizes at once to compare.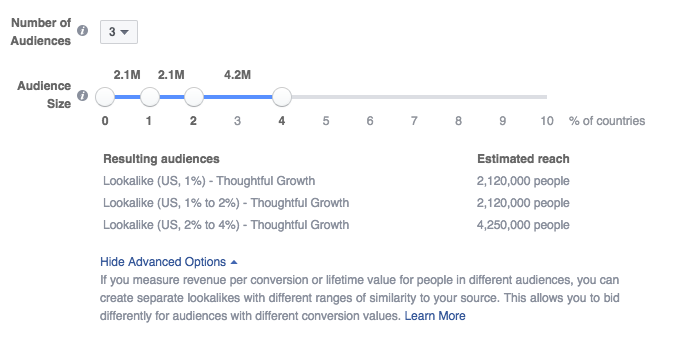 If you're just starting with lookalike audiences, however, I don't recommend this.
Start with the basics. Too many variables at the same time can be overwhelming and confusing. Besides, it probably won't improve your ad performance.
When you're finished, create the audience. It will appear in the "Custom Audiences" box of the ad manager.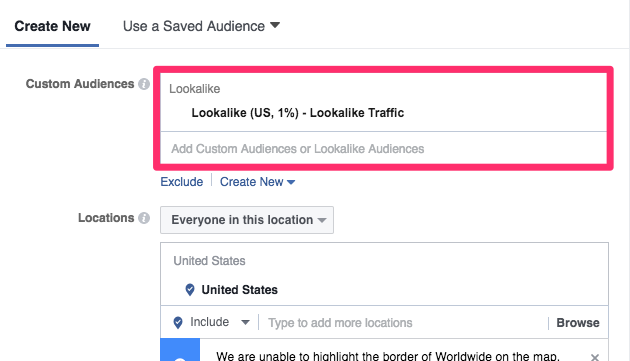 Once you've added your lookalike audience, you can still narrow things down. Targeting to millions of people, even if they're part of a lookalike audience, is too broad.
Just as before, you can control the location, age, gender, languages, and interests of your audience.
You're looking to keep the final audience you target between 10K and 200K people, though feel free to adjust as you see fit.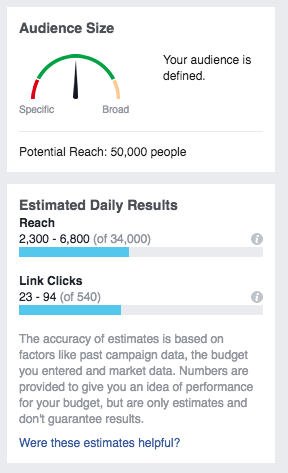 There's one more thing to decide before we move on.
If you want to bring down your cost per click, select the option to allow Facebook to expand interests.

Now you know how to create a lookalike audience, but let's tackle two final questions.
First, what audiences should you target?
And second, how can you use this to improve your overall marketing strategy?
How to know which audiences to target
The number of options Facebook provides you with is overwhelming.
Which of the choices should we use to build our lookalike audience?
That, of course, depends on your particular situation, but here are a few factors to keep in mind.
If your goal of Facebook ads is to increase sales, you're probably best served targeting individuals who resemble current customers (as opposed to subscribers or visitors).
You have a 60%-70% probability of selling to an existing customer, so why not find more people like them?
The LTV tool really comes in handy for this, because you can target individuals most like your highest value customers.
This is an excellent strategy for B2C businesses, but beware if you're advertising B2B products and services.
The problem is that a lot of the data in your CRM won't transfer to Facebook.
The sales manager at a blue chip corporation probably doesn't have his company email linked to his Facebook account.
As a result, your match rate—the percentage of contacts Facebook can match with an account—may be as low as 20% for B2B contacts.
Understanding how your contacts use Facebook is critical to creating a profitable Facebook advertising campaign.
I also recommend against creating a lookalike audience using a Facebook page:
The main reason I recommend against it is that you end up with a mediocre audience.
Facebook likes aren't correlated with an engaged audience or even one that is more likely to buy from you.
They might have liked your page because they liked your logo or an image you shared, or because their friend likes you, or even because they confused you for another brand.
As a result, you get a lookalike audience based on a fairly random selection of users. Facebook just doesn't have much to go on.
But there are some upsides.
First off, this is one of the cheapest ways to find audiences interested in what your company has to offer.
I did a video on how to increase Facebook fans without spending a dollar on advertising:
Another benefit is that your lookalike audience will automatically refresh every 3-7 days, as your audience expands. (This happens with pixels as well.)
A better alternative to targeting lookalike fans is targeting lookalike engaged users.
While fan lookalike targeting might target people who forgot about you, engagement finds individuals most like those who interacted with you previously.
If you're going to target engaged fans, the biggest opportunity is probably users similar to those who watched your videos.
Facebook users spend 100 million hours per day watching video, and this number is growing quickly.
Videos have the fastest increasing click-through rate of all content. 31% of Facebook ad budgets are now focusing on video, according to Salesforce.
If you include video marketing on Facebook, show a video ad to a lookalike audience based on users who engaged with the video previously.
Now you have your lookalike audience, let's talk about how you can use the data to improve your marketing efforts.
How to use lookalike audiences to improve your marketing
As I said earlier, one of the neatest benefits of using a lookalike audience is that it continues to grow.
The more people that like your page, subscribe, or purchase, the more easily you can target them. This creates a cycle that continually gets better.
But you can't get lazy.
Introduce new ads to the audience as it becomes more and more targeted, and see what works best.
Target different types of high-converting Facebook ads to this audience, and make sure you're using the most recent ad types.
Testing with this data is incredibly important. Compare the ads that perform best using the most important metrics for a Facebook campaign.
I've had lots of success with clients by testing their Facebook ads. One increased sales by 71% and another had a 5X increase in ROI from the campaign.
The good news is that when I've used lookalike audiences, I've found the accuracy increases the longer the campaign runs. Which is how it should work!
If you want to take things to an even higher level, conduct a survey on the new leads you acquire through your lookalike audience campaign.
I'd recommend asking what type of content they want to see. Just create a simple one-question survey on SurveyMonkey asking leads what they want to learn about.
Send it to the new subscribers you've converted throughout the campaign.
Their answers will help shape your content marketing strategy moving forward.
Facebook has the power to find your ideal customers. Don't let it go to waste!
Conclusion
Facebook's lookalike audiences aren't difficult to create.
You can get them up and running in just a few minutes, and they'll bring a steady stream of users similar to your most valuable customers.
Instead of randomly guessing at the hidden factors behind your target audience, let Facebook do the heavy lifting.
What lookalike audiences will you create for your ad campaigns?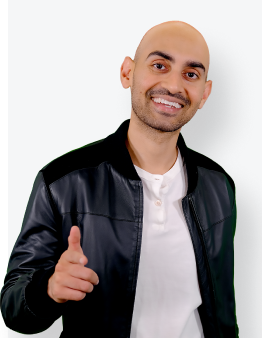 See How My Agency Can Drive More Traffic to Your Website
SEO - unlock more SEO traffic. See real results.
Content Marketing - our team creates epic content that will get shared, get links, and attract traffic.
Paid Media - effective paid strategies with clear ROI.
Are You Using Google Ads? Try Our FREE Ads Grader!
Stop wasting money and unlock the hidden potential of your advertising.
Discover the power of intentional advertising.
Reach your ideal target audience.
Maximize ad spend efficiency.