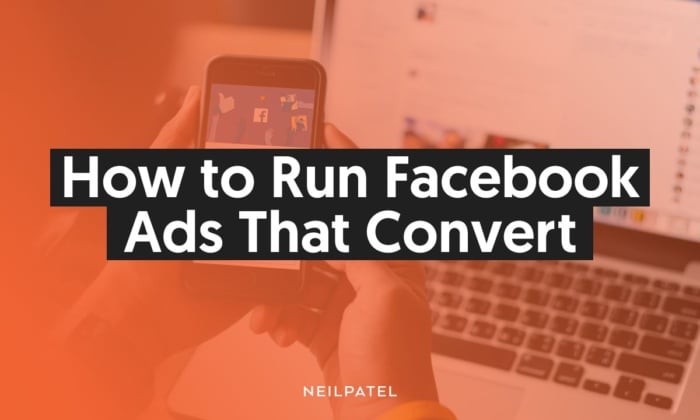 Getting traffic is easy with ad copy. Improving your conversion rates? Not so much.
Boosting your click-through rate requires improving ad copy and laser-targeting it to your audience. However, with so many online options, where do you go to find potential leads?
These days, if you're looking for one of the best platforms to reach your customers, then Facebook could be your answer. It's a huge, ready-made market, with nearly 3 billion active monthly users, according to DataReportal.
Driving customers—not just visitors—to your landing page is the best way to make sales. A great way to start is with a conversion-based Facebook ad campaign.
With Facebook's advertising platform, you've got access to an audience that shows actual interest in your offer. However, if you want to be successful, you need to know how to craft Facebook ads that convert.
That's what I'm talking about today. Ready? Let's begin with interest-based targeting and work our way down the list.
Step #1: Interest-Based Targeting
Facebook ad targeting is unrivaled in its versatility. You can target your ads based on factors such as user location, age, gender, interest, relationship status, and education.
For example, let's say that your organization recently introduced a new coffee brand. You could target Starbucks fans with your ads and maybe entice them to give your product a try:
You've got a lot of potential when running a Facebook ad to get the conversion rates you dream of. When you target users on their interests, you'll likely notice an increase in the number of email subscribers, Facebook fans, brand advocates, and buyers.
Overall, it's likely that you'll convert more users into customers. Once they're customers, they are likely to become your advocates, and you can then use them as social proof.
Once you define your ad objective, the next step is to select an audience based on one or more interests. These people are usually pre-qualified leads because they're already interested in your topic.
However, knowing how to use Facebook ads that convert isn't enough on its own. To maximize your leads, you need to set up a lead nurturing system because most of your prospects aren't ready to buy your product yet.
As part of your Facebook conversion campaign, you have to educate and persuade them first if you intend to boost your conversion rate—and to do that, you need a system in place to communicate with them regularly.
Sounds easy enough, right? And it is … if you know what you're doing.
Because audience target is the most important aspect when creating Facebook ads that convert.
Don't believe me?
Check out this test AdEspresso ran. They took the exact same campaign with the exact same ad and budget and ran it to two different audiences.
One had admittedly "poor targeting" (of the audience), while the other was laser-focused on custom audiences.
The result?
The "poorly targeted" one delivered 278 website clicks costing $0.142 apiece.
While the one with good audience targeting delivered 1,103 website clicks at only $0.03 a piece!

See?! Not even close. The only difference between the two was the audience they were targeting. And that allowed them to basically get free website clicks (c'mon—three pennies?!).
Unfortunately, at the start, you don't have access to custom audiences like this. You'll have to build those over time as you get more site traffic.
There are a few additional tricks to improve your success with interest targeting, though.
I'll go ahead and assume you already know the basics here (age, gender, location, etc.). Layering in that demographic data helps you filter out all of the people who aren't likely to buy.
However, let's say your audience is still too big. You've dropped in a few interests, like brands they follow or celebrities they've liked, and you're still pushing many, many millions.
If that sounds familiar, here's what you should do next.
First, split your audience down into multiple customer segments or personas. This sounds obvious, but it makes a huge difference.
You can start with something as simple as the industry your prospects are in. For example, let's say you're targeting other business people. You can easily segment those people by:
Industry (like accounting vs. consulting)
Location (big cities)
Job title (middle managers vs. VP and C-level).
After segmentation, you can also use an interest intersection and exclusion feature to further refine whom you're reaching out to.
Going back to our B2B example, let's say we're trying to target self-employed accountants.
That's a critical difference.
Why? because most accountants are risk-averse. Most are happy with their day job and wouldn't be interested in our marketing or coaching package.
Self-employed ones would be, however.
Except, how are you supposed to find one interest that gives you a nice cross-section of those two almost opposing criteria?
You don't. You go with two separate ones, and then you use an interest intersection that ties them together.
For example, start with Accountant and then select that it "MUST ALSO" match Self Employed.
Now your ads only reach a small sliver of your initial audience because we're looking only for self-employed accountants.
Wait a second, though.
What if that's still too general? What if that's still too big of an audience?
Not only can you "include" other interests like this, but you can also exclude them as well.
For example, what if you only want self-employed accountants who are not tax attorneys? You can pencil in "legal," "law," "lawyer," "attorney," and more to further refine who's gonna show up.
The actual size of your audience should then vary depending on a few things.
For example, if you have at least some basic experience advertising with a good budget, you can probably afford to target up to a million—2 million people (assuming your targeting here is good).
What if your budget is small or just getting started? You can go anywhere from the 10,000-people range initially on up to half a million once you gain some experience (and read the rest of this guide, of course).
Once you get a steady stream of incoming traffic, you'll be able to switch over to using custom audiences. These are like remarketing or retargeting audiences that just visited your website, engaged with you on Facebook, or even recently joined your newsletter.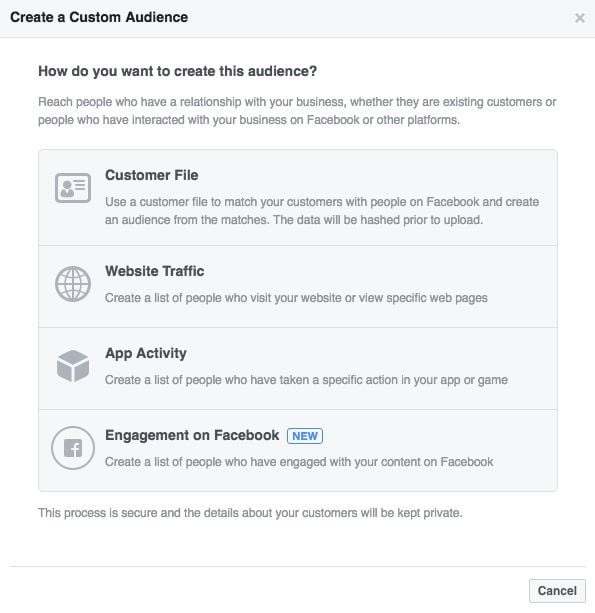 Once you find an audience that's working, you can even create "lookalikes" of said audience. Basically, Facebook combs through all its users to find people that are pretty close to your existing targets. (That way, you can stretch those ad dollars a little further without wasting money on untargeted people.)
Facebook also gives you two controls when you're setting up a new 'lookalike' audience:
Location
Percentage of people you want to target (e.g., 1% vs. 5% vs. 10%)
After this, the next step is to start generating traffic and your first few leads. Here's how to do it.
Step #2: Find The Right Placement for Your Ads
Creating high-converting Facebook ads is a delicate balance, where you have to weigh so many different objectives, ad types, placements, and sizes to get the creative just right.
One of the first places to start is the platform and device placement.
Here's how to choose between the three options.
Placement #1: Desktop News Feed
The standard Desktop, News Feed placement is your first go-to option.
Generally, the priority placement here gets you better-than-average conversion odds.
It gives you more room to make your case, with a larger image, longer copy, and additional link description area.
The only problem?
It's competitive, and it's relatively expensive.
You're paying for the extra emphasis; while that's great if your goals include engagement or generating leads and sales, it's not so great for discovery and brand awareness.
Placement #2. Desktop Right Column
Right Column ads typically take a back seat to News Feed ones because they're slightly out of sight, out of mind.
Not to mention, your ability to captivate with a smaller image and little to no text area becomes a little diluted.
However …
If someone already knows who you are and what you have to offer (i.e., you're retargeting previous website visitors or past customers with custom audiences), your ads can grab their attention at a more cost-effective price point (per impression or click).
Just make sure you're creating ads specifically for the right column placement and not simply regurgitating and force-feeding News Feed ads into the smaller placement. Otherwise, this will happen: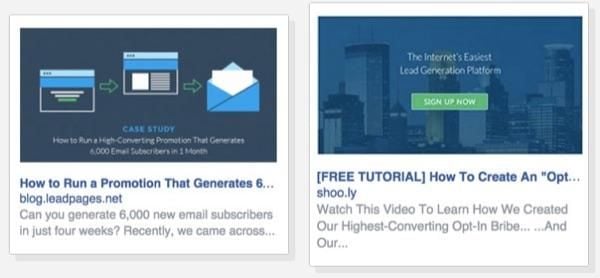 These ads are from the Right Column but written and designed for the News Feed.
So good try, but wrong placement.
That means the design objects and copy in the image are too small to be legible; their ad text headlines and descriptions get truncated, too.
This then means they end up paying more for this ad, overspending, and wasting precious ad dollars because they got only one of the variables wrong.
Placement #3. Mobile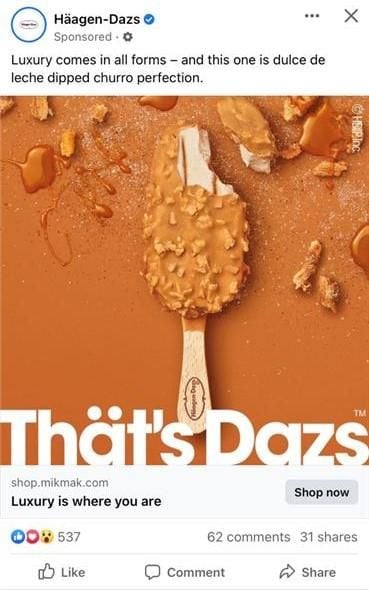 Contra-competitive timing refers to sending email messages, for example, over the weekends when you have less competition to go up against.
Similarly, you can start audience-building on Facebook by specifically targeting mobile devices, where discovery and initial engagement can often be had for much cheaper (than desktop).
According to Massimo from AdEspresso, "Users will discover your product on their phones… then buy it the next day on their desktop."
Perfect. That's what we want. Use mobile awareness-building campaigns to create an audience that we can later target based on previous website visits or Facebook page engagement.
(There is one caveat, however. Facebook's Lead Ads, which integrate with most major email marketing services, can deliver great conversions on mobile. As always, test for yourself.)
Step #3: Craft a Compelling Lead Magnet
As I'm writing a piece about how to run Facebook ads that convert, I can't leave out the lead magnet.
It's an integral part of getting prospects to hand over their email address or other contact details.
Your lead magnet can be anything you want it to be. Checklists, eBooks, whitepapers, webinars, and templates are just a few ideas you could try. Alternatively, why not offer a free trial or free shipping?
If you need inspiration, here's how one of the pros does it.
SaaS proposal building application Bidsketch uses a unique style to ask for your email address before you start the free trial:
When it comes to figuring out how to run Facebook ads that convert, the key is to dig deep. You have to find out what really makes people tick. What motivates them? What scares them?
For example, this HubSpot eBook is about maximizing ad spend on Facebook and Instagram.
My main lead magnet is a webinar. My video landing page converts 56% of the people who visit. And there's only a single video!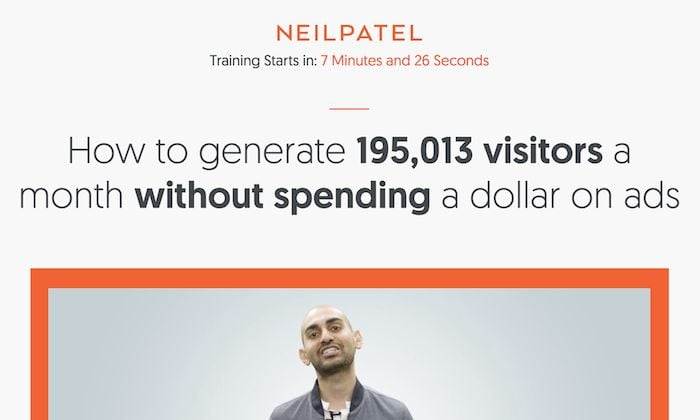 Generally speaking, the type of lead magnet you use depends on the level of commitment required.
For example, if someone just visited your site for the first time, they might not be ready for an hour-long webinar. Maybe they just want a simple checklist instead.
However, will they visit on the second, third, and fourth time? They will if your landing page does a good job converting them (instead of scaring them away).
Here's how to do that.
Step #4: Build High-Converting Landing Pages for Facebook Leads
The moment you create a landing page, your mindset should shift toward conversion rate.
To get the best from your landing page, include some elements you can A/B test. I'm talking about things like:
Headlines
Subtitles
Calls to action (CTA)
Color schemes
Length
Giveaways
CTA position
Test them, improve them, and then optimize them for the best results.
There's more to an effective landing page than a CTA, though. The page should focus on conversions, with persuasive copy that's relevant to the readers.
You see, it doesn't matter whether you're doing search engine optimization or running a PPC ad with Facebook or Google Ads, you need a high-converting landing page.
When you come to a well-designed landing page, essential elements include:
Headlines
Subtitles
Bullet points
Images
CTAs
However, the real concepts that produce a high-converting landing page always evolve.
Your target customers often see old techniques and advice. They want something simpler, straightforward, and interesting. Follow these tips for creating a Facebook landing page that converts.
Borrow credibility
If you lack credibility online, it'll affect how people perceive your brand, product, and advice.
For example, if you're an author, you'll find it much easier to trust Seth Godin's publishing advice than mine. He's got more credibility and experience in that field.
On the contrary, when it comes to digital marketing techniques and strategies, such as SEO and building profitable blogs, more people trust my recommendations since that's my specialty.
However, what do you do when you don't yet have enough credibility to persuade potential customers?
Simply borrow credibility from other trusted sources to positively influence your own conversion rates. Here's how:
Showcase Customer Logos
To make your landing page trustworthy and professional, leverage other people's credibility.
An effective way to borrow an expert's or brand's credibility is to showcase their logos on your landing page, assuming that you've worked with them in the past. Doing this reassures a potential customer who's still skeptical about your brand.
You might hear this called the "Halo Effect."
The concept is simple but effective: If customers associate your brand with something they consider valid and trustworthy, they're more likely to have a favorable opinion of your products and services.
Brands have used this strategy for centuries, and it remains one of the most influential tactics in marketing today.
Add Testimonials
Another way to build credibility is by including testimonials.
The typical Facebook ad landing page contains at least one client testimonial. Testimonials are how the social network succeeds. Here's an example from Ontraport.
Testimonials show how current customers have benefited from your products and service, giving prospects the confidence to buy from you.
Use Real Images
Whatever you do, always get real photos instead of stock ones.
B2B companies make this mistake all the time. They've got a GREAT testimonial. However, when they pair it with a cheesy stock image, it immediately loses all credibility.
When used correctly, images can make a massive difference, according to research from Visual Website Optimizer. VWO tested both generic images and artist images.
Here are the first pictures: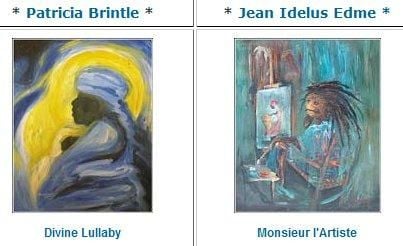 Here are images of the artists. The result? A 95 percent increase in conversions.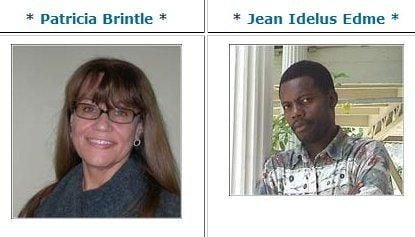 Give Your Landing Page a SINGLE Purpose
What's your primary motivation for setting up a landing page for your Facebook clicks? If you answer "to drive traffic, get email sign-ups, and make sales," you're making a big mistake.
There is no way that you can successfully accomplish multiple objectives with a single landing page. Instead, you should create multiple landing pages, each appealing to a select group of your ideal customers.
Another benefit to single-objective landing pages is the relative ease of communicating and testing your value proposition to your target audience.
Ryan Deiss, the founder of DigitalMarketer.com, knows how to define the purpose of his landing pages, inviting prospects to sign up for the free newsletter and build the marketing career of their dreams: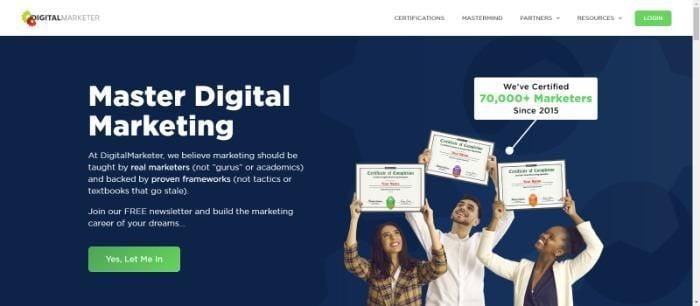 Presenting people with fewer options actually ends up improving conversions. You're reducing the number of decisions someone has to make and channeling their focus on one particular goal.
In summary, keep it simple, stupid. Don't clutter up your landing pages with a ton of "extra" stuff that distracts people from their primary goal.
Optimize Your Landing Pages for Conversions
If you want to run Facebook ads that convert, you have to remember that lead gen is the ultimate purpose behind running any type of ad.
Even if you're sponsoring a blog post, you still want to convert more visitors into blog readers. So, conversion is the ultimate by-product of any pay-per-click (PPC) ad in the social network.
You'll also want to continually optimize for conversion rates. Optimization is a pretty simple concept. It boils down to two things:
Do more of what works.
Quit doing what doesn't work.
There's plenty you can do to optimize your landing page:
Keep it simple. Make sure that your landing page features a clear and concise headline that communicates what users should expect from engaging with you or purchasing one of your products/services.
Use eye-catching visuals that capture attention and compel visitors to take action. Inserting videos or animations into the mix can also make for an engaging experience and provide more information about your business and its products/services.
Have a strong CTA to take the desired action on your website.
Above all, you should remove every distraction on your landing page. Make it easy for your site visitors to find exactly what they want. Use explicit cues to guide users to your offer or CTA.
Marie Forleo uses a white arrow to direct users to her email subscription box. It helps the visitor avoid getting lost on the page.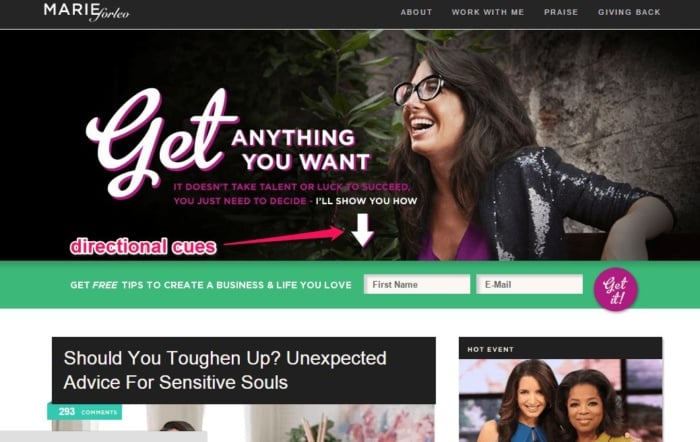 Removing navigation from your page is another way to optimize and achieve higher conversion rates with your landing page.
For example, Career Point College removed the top navigation on its landing page and modified the form layout. The result was an increase in conversion rate of 336%.
Removing navigations on your landing page will lift your click-through rate and conversion rates. Many authors, information marketers, and public speakers are doing exactly that.
Before we wrap up landing page optimization, we have to address the call to action. If you're using a CTA button on your landing page, the ad copy words you use either persuade people to act or chase them away.
Make your CTAs engaging.
If you still use the word "submit" on your button, you're doing yourself a huge disservice. Instead, clearly describe what your target audience stands to gain by taking the action and clicking through.
Here's some guidelines for great CTAs:
If someone has never visited your page before, and you need to capture their attention quickly to provide the right information before they bounce, you should keep simple things (like "Contact Us").
Use visual hierarchies. For example, using typeface weight and pairing (e.g., a bold, blocky headline with smaller, minimal subhead) can establish a visual hierarchy to direct reading the right content at the right time.
You can also use visual cues—little devices or tricks—to call visitors' attention to your CTAs.
The thing about effective optimizations, though, is that you need to make sure they are actually effective. This means test, test, test! Be sure to have a testing plan for your optimizations so you can confirm they are working. If they don't work, reevaluate your plans and implementation.
One more tip: Once you've got an effective landing page, don't stop there. Do what the smart marketers do and create a new landing page to target a different audience and its specific needs.
Step #5 Build Compelling Ad Creative (With These Tips)
Creating a Google Ads ad takes minutes. Throw in a ~25-character headline, add another line or two, and call it a day. Time for happy hour.
Unfortunately, creating high-converting Facebook ads isn't quite so simple. You've got longer headlines and text to create. Not to mention selecting the picture-perfect image that jumps off the page for viewers.
It's not easy, so let me help you out with a few tips:
Here's what an image ad looks like:
Optimized for Placement: Takes advantage of larger images and longer copy on Desktop News Feed
Strong Value Prop Angle: Answers the nagging question "why" someone should click
Short and Sweet Headline: Direct and to the point in five words or fewer
Visceral, Communicative Image: Includes bright colors that jump out, with a realistic view of what this ad is selling
Evidence of Social Proof: If your peers like it, so will you
Action-Oriented CTA: Uses a verb to hint at what you'll get when you click
Step #1. Start with a Strong Value Prop Angle
Your Facebook ad creative all starts with the value proposition, but not for the reason you might think.
Sure, the objective is critical. If you're going for discovery, something attention-worthy is critical. While if you're looking for conversions, subtlety and understatement are key.
However, there's something else to consider first.
Audience targeting is more important than ad creative when it comes to creating Facebook ads that convert.
In other words, better audience targeting with an average ad will almost always outperform an amazing ad creative with average audience targeting.
The reason comes down to Facebook's Relevance Score, which acts much like the Google Ads Quality Score: determining, filtering, and suppressing ads with little to no relevance to a particular group of people (based largely on their interests).
So your ad's value prop construction should begin with those oft-mentioned and equally oft-ignored buyer personas.
If you're going to waste time A/B testing anything, it should be macro-elements like which messaging appeals to which audiences (and not the stuff you'd immediately rush to, like CTA copy).
For example, your app, tool, product, or service probably caters to at least two or three different buyer personas. Chances are, they buy or hire for very different reasons.
That's where you start. Even though your widget offers the same solution (more or less), it should come across very differently in both. Startups are obsessed with growth, while agencies care more about saving hands-on management time.
From there, the rest of the ad should begin taking care of itself.
Start with your angle. If facts tell and stories sell, your angle is the compelling narrative.
The simplest place to start is the old Problem-Agitate-Solution (PAS) copywriting formula. For example:
Problem: Facebook ad creative design is difficult and time-consuming.
Agitate: Making simple mistakes can waste hours of prep work and thousands of ad spend.
Solution: This cheat sheet will cut your time in half AND double your return on investment (ROI).
Sound familiar?!
Here's how that fits into the hierarchy of successful ad messaging:
Headline: This is the big, bold promise you solve for customers.
Supporting Copy: These are the benefits that add context to your offer, explaining how quickly, how easy, or how effective it is.
CTA: This is the action (or verb) someone takes to attain the value you're promising.
Just remember: Keep things short. No one came to read on Facebook. They came to browse, look, and procrastinate.
The Right Column and Mobile placements barely give you a line or two, while the News Feed gives you a little room to work with. The median ad post text is only 14 words long, while the link description is around 18 words, according to one study of 37,000+ Facebook ads.
Step #2. Images
Facebook users upload millions of images every day.
It should be obvious why.
On Facebook, images are everything.
After your audience targeting and value prop, they're the most important single aspect of a Facebook ad.
Your Facebook images need to tell the entire stories themselves—without relying on extra words or context to tell the story for you.
Here are a few tricks:
No, not their crazy OCD policies. I'm talking about their ad creative that showcases beautiful products on stark backgrounds.
Turns out, stimulating contrast is "very important" to 67% of consumers, according to MDG Advertising, which outranked supplementing ad photos with additional information, descriptions, or ratings.
Tip #2. Authenticity Reigns Supreme
Authentic images are preferable to overly polished, cold, "professional" ones.
That's especially true for hero images, which attempt to showcase the "thing" that someone gets. This is the end result and outcome of the product or service you're providing.
If possible, raise realism with cultural elements that can evoke an emotional connection or sensory currency that shows people doing something with their hands.
Tip #3. Showcase Microexpressions
Microexpressions are those fraction-of-a-second expressions that sweep across our face as an involuntary, subconscious response to something. The seven strongest of which, according to Science of People, include:
1. Disgust
2. Anger
3. Fear
4. Sadness
5. Happiness
6. Surprise
7. Contempt
Substituting these onto the faces of your "hero images" can immediately translate an emotion to people without using any copy or text.
Step #3. Headlines
Want to increase conversions? Like … instantly?
Change the headline. Case studies show a great headline can increase conversions by up to 326 percent.
The other good thing about headlines? The best ones follow tried-and-true formulas. No need to reinvent the wheel. Especially when you combine it with a solid value prop angle and image, too.
Fortunately, there are already a few proven formulas to lean on.
1. Value Proposition: Highlight how you uniquely solve a difficult customer pain point.
The relatively straightforward "value prop" headline highlights the primary benefit along with evidence of what they're gonna get (or save).
One PPC multivariate test performed by Marketing Experiments showed that the winning headline incorporated a specific, too-good-to-be-true number ("Dental Plans for $8.33 a month. Acceptance Guaranteed.").
2. Listicle: "Hacks" or "secrets" promise simplicity in a chaotic world.
List posts offer the promise of quick results, whether it's a huge list to reference, a fun distraction, or specific, step-by-step shortcuts to solve a painful problem.
When it comes to grabbing attention (for discovery and other top-of-the-funnel campaigns), list posts reign supreme in almost all tests of headline effectiveness.
3. Cliffhanger: Give them a teaser, but hold back the rest to get them to click.
Do you know what the best-performing headline phrase is? Well, it depends on which study you read. However, what they all agree on is that effective headlines usually include cliffhanger-esque three-word phrases, like "Who else wants," "This will make you," or "Can we guess."
One final reminder, though.
No matter which headline approach you choose, keep it short and sweet.
The median length for headlines on high-converting Facebook ads is only five words. This means you need to get your point across fast and get out of the way.
Step #6: Drive Qualified Traffic
Facebook PPC advertising is a great source of traffic for your landing page. Smart content marketers leverage one of the top social media platforms to generate high-quality traffic with website conversion of visitors into customers.
If you've got the requisite marketing budget for both organic and PPC traffic, you'll likely see better results compared to using one platform alone (such as PPC or organic search).
Glen Allsopp, founder of Viperchill.com, received thousands of qualified clicks at a cheaper rate using Facebook ads instead of Google Ads.
He spent $2 with Facebook to acquire a customer, whereas Google took $40 to get the same client to his site. Of course, there are ways to get a cheaper CPC on Google Ads, but many marketers and PPC advertisers prefer Facebook for a more cost-effective click-through rate.
Your success (or failure) in Facebook advertising hinges on this cost per acquisition. So you literally cannot afford to get this wrong. However, when you get this right in your own business, magic happens.
Below are some tips to help you create high-converting Facebook ads:
Set Up Conversion Tracking
Since conversion is the ultimate goal, you've got to set up website conversion tracking properly.
From your Facebook ads setup, you can optimize and track conversions by placing a conversion pixel on your site and then adding it to a Facebook ad. This is a simple and effective way to know exactly which ads are converting the most in lead gen.
If you use WordPress, you can download and install the Facebook Tracking Pixel plugin, which adds the Facebook conversion pixel code to your WordPress landing pages to determine the conversion rates.
You can also use optimized CPM (oCPM) to target your ads to the right audience, so that you don't waste your clicks or your money. Optimized CPM is an integral aspect of conversion tracking best practices:
Here are the simple steps to set up a Facebook conversion pixel:
Step #1: On your Facebook Ads Manager, click the Conversion Tracking tab on the left side.
Step #2: From the drop-down menu, give your conversion pixel a name that's easy to remember. Then, select a category that best describes the type of conversion rates you want to see.
Step #3: Click Create Pixel.
Step #4: Copy the code that appears.
Then paste it within the opening and closing <head> tags of your web page:
Got it all set up? Good!
One word of caution, though.
Conversions can be confusing. Here's a common scenario that plays out as an example.
You set up conversion tracking, and early data starts rolling in. So far, so good!
Now you start reading some blog posts about how to improve that conversion rate. Maybe you start by reducing form fields on the landing page to drive conversions.
Be careful not to over-prioritize the wrong metrics (like leads) at the expense of letting in unqualified people who might ruin the metrics that matter (like sales).
Craft a Powerful Facebook Ad Design
Is it the job of the landing page or the Facebook ad to convert clicks into leads? Well, I think they both play a vital role.
When you're creating an ad design, consider the experience of the user. Check out this comment from Filip Galetic:

What the person making the comment needs to understand is that none of these elements (landing page, cost per click, click-through rate, amount of traffic, conversion, and ad) will function independently of the other. They should all work together to generate the best lead gen results.
Throwing money at Facebook to drive visitors to your landing page will only work if you're smart. I know many people who have lost money running Facebook ads in everyone's news feed. Yet others, such as DigitalMarketer founder Ryan Deiss and Jon Loomer, are seeing great results from Facebook advertising.
When writing your Facebook ads, be clear and concise about your offer. You won't come off as being too promotional in news feed social network environments if your ad itself delivers value.
This means that if your brand is not yet known by your target audience, you should not use it in your ad copy. Amazon, eBay, Seth Godin, and Guy Kawasaki can use their brand names, because you and I are familiar with them.
When writing your Facebook ads, make sure that you include the four elements below:
Visual
Visual information is valuable in the Facebook algorithm. In the ever-evolving News Feed, visual information will engage your target audience's news feed more than straight text.
However, you also have to know the difference in picture quality and composition.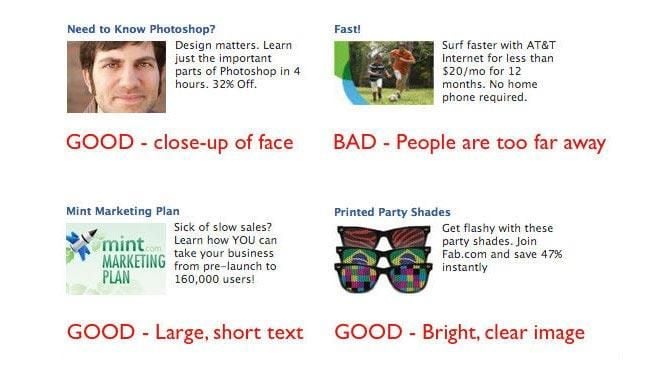 Since your Facebook ad is going to appear on the right side of a user's home page, make sure that your images and photos are attractive, easily understood at first sight and aligned with the ad copy.
Relevant Ad
Depending on your settings, you'll spend money when someone views or clicks on your ad. Make each view count in the click-through rate by making your headlines, visuals, ad copy, and call to action relevant to your audience.
You can do this by using Facebook's relevance score as a guide.
If you can do that, Facebook will give your ads higher priority, which ultimately means more highly targeted users being sent to your landing page, increasing the chance of website conversion.
Value Proposition
Promote value in your ad. The value proposition sets your product or offer apart from the competition. This chart explains it better:
If you claim that your latest book is useful, not many people will simply give you the benefit of the doubt. However, if you give away a few chapters for free, it's easier for people to draw their own conclusions and then offer you the social proof to increase the click-through rate.
In the same vein, offering a 30% discount on your meal plans if you're a fitness trainer can quickly boost your credibility and change how people perceive your ad.
A Clear CTA
There is no shortcut to getting people to act. You must include a call to action.
You need a CTA button on both your ad and your landing page. Without it, you'll waste your best headlines, relevant (and professional-looking) images, and compelling ad copy.
Yet, many Facebook advertisers totally ignore that ad CTA.
Here's a Facebook ad with a strong call to action:
Whether you're running a video ad or photo ad, what matters is that you persuade users to click and visit your landing page. From there, you can follow up with the leads who indicated an interest in your ad and persuade them to buy.
Step #7: Low-Friction Conversions
Improving your conversions is the ultimate goal of every PPC ad campaign. Conversion rates help you understand your audience, enhance your strategy, lower your cost of acquisition, and boost your SEO.
Many people are using Facebook advertising the wrong way. If you haven't created a way to capture and nurture your audience, you'll waste a lot of money.
Low-friction conversions are the best approach when running a Facebook conversion campaign. Smart Facebook PPC advertisers don't come to Facebook to make sales. Instead, they offer a high-quality lead magnet to their users to get them to subscribe to an email list.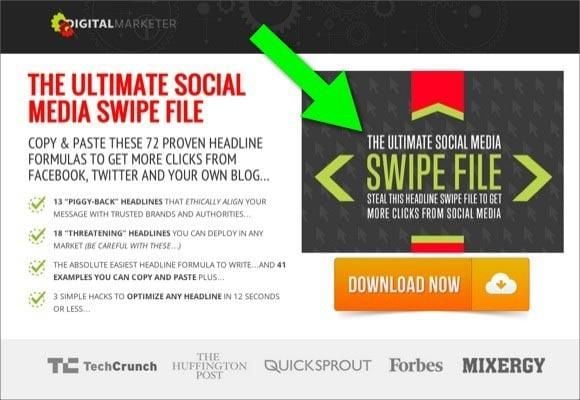 From there, it's much easier to offer great value, eliminate pushback and give users exactly what they're asking for: education.
Of course, if you're an e-commerce store owner, you could simply send people to your product pages and convert them to sales there.
However, for information marketers, business consultants, freelancers, and others who aren't selling a physical product, you've got to get people onto your email list first. That's why autoresponders exist.
Your landing page visitor didn't come to buy a product. They came to learn about you. What matters is the environment that you'll create for them.
Will that environment inspire them to buy from you or repel them from your offer, due to excessive pressure or greed?
Your Facebook ads will yield the best results if you set up a conversion funnel, then create useful content that your leads will benefit from. Then, nurture your leads on a regular basis, before asking for the sale.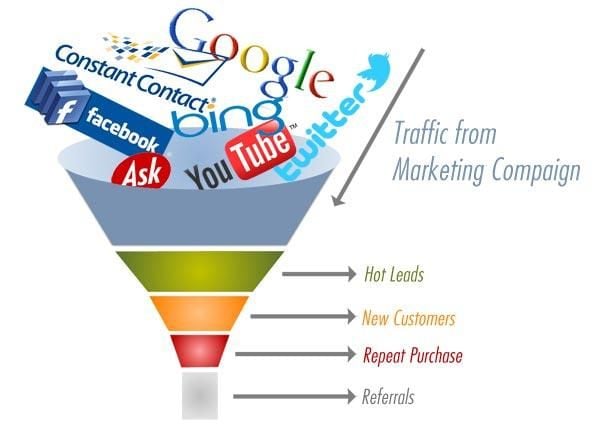 Remember, you need to continually test your performance to determine what's working for you and what's not. The terrain is always changing and you've got to adapt to it and create Facebook ads that convert.
Step #8: Constantly Monitor, Tweak, and Refine Campaigns
Facebook advertising isn't hard, per se.
That doesn't mean it's easy, either.
It takes a lot of hard work, and there are a lot of moving pieces to organize to transform complete strangers into loyal customers.
Where do you start? We've covered much of the tactical stuff already, so let's look at the big picture to ensure you've got the boxes ticked before spending a single dollar.
For example, each Facebook ad campaign you run should have a singular purpose. That means it's:
Going to bring in brand-new visitors.
Nurture those people you've already made contact with.
Convert them when they're ready and willing.
That starts by making sure you're using the proper audience targeting (you know, that stuff we discussed ALL the way at the beginning of this guide).
For example, that should look something like:
Awareness: This aims to draw in brand-new people you've reached through interest-based targeting. You can also use interest intersections and exclusions in order to further refine that audience.
Consideration: Now, you can target previous website visitors or people who've engaged with your brand on Facebook (e.g. liking one of your posts) to bring them back and show them lead magnet offers.
Conversions: This targets custom audiences of people who've visited your website or already downloaded a lead magnet previously. If you've got a high-priced product or service, start with a tripwire to give them a low-priced alternative with little to no risk.
These Facebook campaigns don't have to exist on their own, however.
There's been some compelling evidence from Facebook itself about combining ads with email.
Beyond the standard ad types we've already covered (like the basic photo or video ads), Facebook has introduced a few new concepts that might be worth a try, too.
For example, Facebook's Canvas ads are built on their Instant Articles infrastructure, so they deliver beautiful, interactive ads in fractions of a second. These are the perfect alternative if you're trying to reach people on mobile devices but your own website's mobile experience isn't up to par.
Branded Content is another ad type alternative that lets you work directly with influencers.
Here's why branded content is so important. It lets you partner with influencers in order to have them promote sponsored messages on your behalf.
When the post goes live, it resembles a typical post that people have become accustomed to seeing already.
Typically, tracking the ROI on your influencer marketing spend is tough to identify. But Facebook's platform makes that easy because they treat it like a standard ad unit. So you're able to look back at the results generated from each sponsored message through their Branded Content ad unit.
All these tips so far have been designed to deliver a steady stream of traffic to your site.
Once you've got that "pipeline" up and running, we should turn our attention to message match.
That means making sure that the same thing you used to get someone's attention (and click) is repeated seamlessly on the page they're taken to. That way, they're not distracted or feel like their expectations were broken at the last second (like a classic bait and switch).
Let's get more specific now that we've got some of the other big-picture stuff out of the way.
Hootsuite brings us a perfect example of what your Facebook ad creative should look like:
Here's why this one rocks:
The messaging is simple and specific ("free 30-day trial").
The image doesn't have any words, but instead immediately conveys the emotion that you should have while using their product (i.e., fun, enjoyable, etc.).
They manage to incorporate social proof into the ad copy (e.g., 10 million+ professionals) that immediately adds credibility to their claims.
And last but not least, the CTA is perfect ("Sign Up").
See? Advertising doesn't have to be hard. That Hootsuite ad is pretty straightforward. It nails the essential ingredients perfectly—and that's why it works.
Step #9. Not Working? Check for these Common Problems
Successful ad campaigns can start off great, only for results to fall off a cliff after a few weeks. What's happening?
The first thing to look for is ad fatigue when your audience sees the same ads too often.
You can monitor your "Creative Fatigue" in the "delivery" column. It appears when Facebook feels your audience is getting tired of your ads.

When ad fatigue kicks in, it can reduce engagement and lower your sales. The answer? Mix it up!
Facebook advises that you:
Reach out to a wider audience and get your ad out in front of people who haven't already seen it.
Use dynamic experiences to automatically create variations of your ad and personalize them.
Create a fresh ad with new videos and images.
The good news is that you don't have to go crazy with tweaks or changes. If you want to optimize your ROI, then Facebook has an excellent PDF guide available.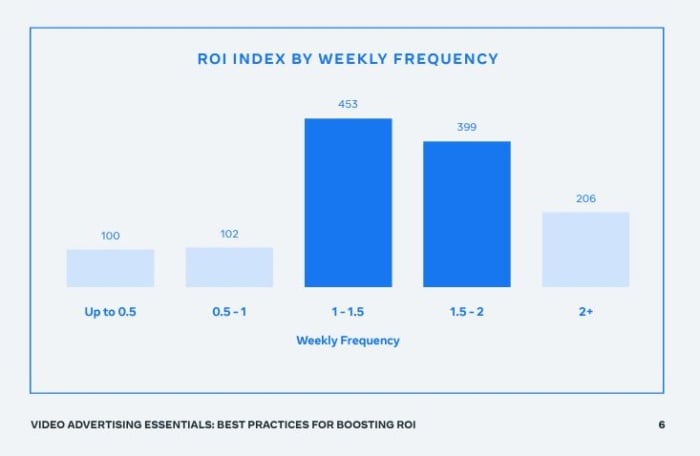 We're talking simple, easy changes.
For example, you can take the same basic ad template and merely switch up the images you're using as Shopify does.
You could also use:
Dayparting (ad scheduling) to help you identify what days and times work best.
Sequencing ads, where you schedule the right ad to your ideal audience at the right time.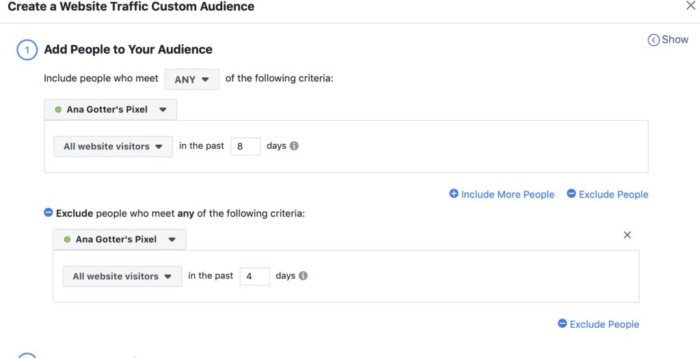 So they saw one lead magnet the first three days after joining. But then that offer changed for the next few days, and so on.
Finally, don't forget to do split testing.
Divide people into groups of different customer segments; when you do this, you're bound to have these people respond to different offers or incentives.
One group might like an eBook rather than a checklist. They wanted detailed information on a specific subject.
Or another might be interested in hearing about Twitter ads instead of Facebook ones.
Once again, though, you're not sure until you try and test it. That's the only way to see what works and what doesn't.
Or identify which audience is profitable—and which one isn't.
FAQs
Why are my Facebook ads not converting?
Common issues include page speed, poor targeting, and a bad bidding strategy. Next, look at your messaging for each ad campaign. Is it clear, concise, and tailored to your target audience? Finally, ensure that you've optimized the landing page for conversions. That means ensuring it's easy to navigate, contains relevant content that resonates with customers, and it's consistent with your brand.
How long do Facebook ads take to start converting?
It can take up to a week, although it's possible you could see results within 24 hours. However, seasonal changes can affect your ads performance. For instance, while the fourth quarter is often the most expensive time for advertising, it can also be the most profitable.
Should I use traffic or conversions for Facebook ads?
Both approaches have their pros and cons, as you can see from the case study below:
The case study concluded that conversion ads are more effective if you want to generate leads and make sales.
Conclusion
If you create (and edit!) Facebook ads, you need to set up an ongoing system to review and analyze your ads. Then, you can effectively make tweaks to your Facebook conversion campaign. This is how you pin down what works best for you.
However, if you abandon your ad and lose focus, you may drive the wrong people to your blog and waste your money in the process.
In addition to careful targeting, you must ensure your Facebook ads are cohesive. The landing page offer, the landing page itself, the ad copy, the image, the call to action, they're all vital. They all work together to help you reach your target audience by creating Facebook ads that convert.
What other strategies do you use to help your Facebook ads convert?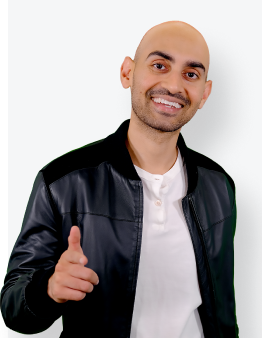 See How My Agency Can Drive More Traffic to Your Website
SEO - unlock more SEO traffic. See real results.
Content Marketing - our team creates epic content that will get shared, get links, and attract traffic.
Paid Media - effective paid strategies with clear ROI.
Are You Using Google Ads? Try Our FREE Ads Grader!
Stop wasting money and unlock the hidden potential of your advertising.
Discover the power of intentional advertising.
Reach your ideal target audience.
Maximize ad spend efficiency.