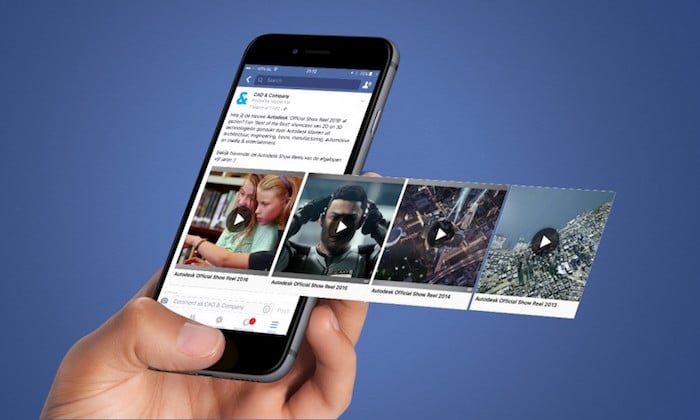 Video consumption on Facebook is rapidly rising.
In fact, there has been 50% growth in the amount of video that is being consumed on Facebook.
If you're a savvy marketer, there's a good chance that you're already aware of the power of using video, as a means of reaching your ideal customer on Facebook.
So much so, that you may even be currently running some Facebook Video Ads.
However, after running your Video Ads for a period of time, you might be interested in what can be done to generate even better results from your campaigns.
Whatever state your campaign is in, there are some strategies you can put into action to maximize your current results.
In this article, we're going to go through what those strategies are.
We'll examine how you can dissect your Facebook Video Ad campaigns, so that you can figure out what is holding them back, and what can be done to propel them to new heights.
By the end of this post, you'll have a great sense of confidence when it comes to knowing how to get better results from your Facebook Video Ad campaigns.
Let's begin.
Understand what's causing a low ROI
Though there are some steps we'll cover later in this article, that will help you squeeze even more out of your campaigns, first we need to take a step back and figure out what might be dragging our ROI down.
In order to do this you need to consider a couple of common issues that might affect a campaign.
Keep these issues in mind, when you are reading this article. In doing so, you'll know what to take action on.
Now, in general, if you find that your ads are generating very little in terms of views, then it can be a case of your targeting being poor. It can also mean that you're not bidding enough.
If you find that your ads are generating enough views, but not enough clicks, it could mean that your video is not persuasive enough.
The same might be true if you find that not many people are viewing your ad right to the end, or at least until a call to action is displayed, or voiced.
If your Video Ad is generating a lot of views and clicks, but you're not generating leads/sales, it may mean two things.
One, that your ad makes promises your landing page doesn't deliver on.
Two, that your landing page simply isn't persuasive enough to get people to engage in your offer.
If you find that your Video Ads are being affected by all of the above, then you'll need to go back to the drawing board, and make a better Video Ad, that is targeted effectively.
Improve targeting by using Facebook's advanced features
Facebook is amazing, because it provides us with ways to target our potential customers, in ways that are hard to achieve elsewhere.
However, Facebook has a lot more to offer, that what is initially obvious.
If you look closely, you'll find that you can layer your targeting methods to create even more highly targeted campaigns, than what is otherwise possible with Facebook's basic features.
One such example of this is the use of Custom Audiences.
With Custom Audiences, you're essentially creating an audience based on people who've interacted with you previously.
Now, if you've spent some time with Facebook Video Ads, you might already know about Custom Audiences.
But did you know that you can create Custom Audiences, based on 'Video Engagement'?
With this technique, you'll be able to show ads to people who have viewed your Video Ads already, but did not take a desired action.
This method is incredibly powerful, because you're showing your ads to people who have already had some level of exposure to your brand – meaning they're more likely to convert this time around.
Here's how you can set up Custom Audiences, based on Video Engagement.
Go to the Facebook Ad Manager, and then go to the Audiences section.
Then click on 'Create Audience' and select 'Custom Audience.'
Then select the 'Engagement on Facebook' option.
Then select 'Video.'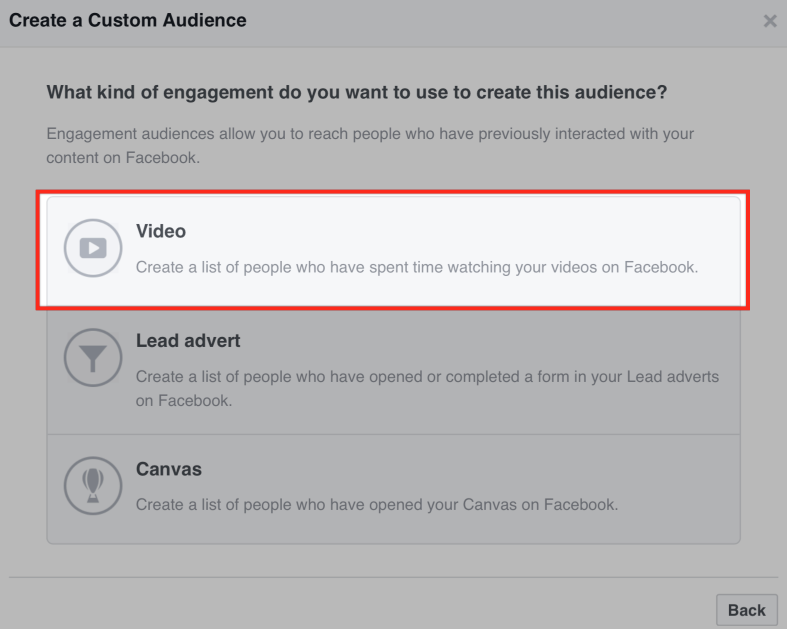 Right, now this is where it gets interesting. As you can see below, you can determine what kind of 'Engagement' you want to track, in relation to how long people have viewed a video of yours.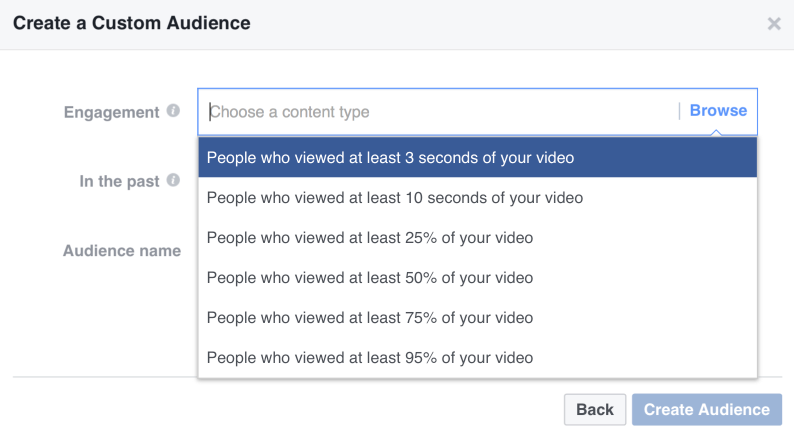 One way to approach this, is with the notion that the more someone has watched of your video, the more of a qualified lead they are.
After all, they have a better sense of what your ad is about, and what your company provides.
If someone watched a great deal of your video, but didn't take action, there's ultimately a reason that they stuck around, and didn't decide to engage in the 1000 other distractions on Facebook.
As a result, you might want to think about why people might not engage with your ad, even after having watched it for an extended period of time.
Maybe you asked for too big an action, at the end of the video.
Then again, maybe you didn't make it clear what people had to do next, in order to benefit from your offer.
Maybe your offering didn't come with free shipping.
It all depends on your ad, and your offer.
Either way, you'll need to review your video to figure out why someone might watch a large proportion of your Video Ad, and then not engage with your brand.
Doing so is important, because when you're 'retargeting' these people in the future, you can address these objections in your subsequent Video Ads.
If you effectively address the objections, it will be easier to win these people over, and get them to engage with your offer.
Note: Even if you can't figure out objections, just think of ways in which you can entice people to engage – such as offering a coupon, or payment plan.
On the other hand, targeting people who have only watched three seconds of your video, might be less cost effective, as these individuals might not resonate with your offer at all.
Similar to above, there's probably a reason they only watched 3 seconds.
Showing them the ad again may not do much.
Though, as with many things in marketing, this is something you will want to experiment with, and test in the long term.
In any case, for now, consider selecting the option of 'People who viewed at least 75% of your video.'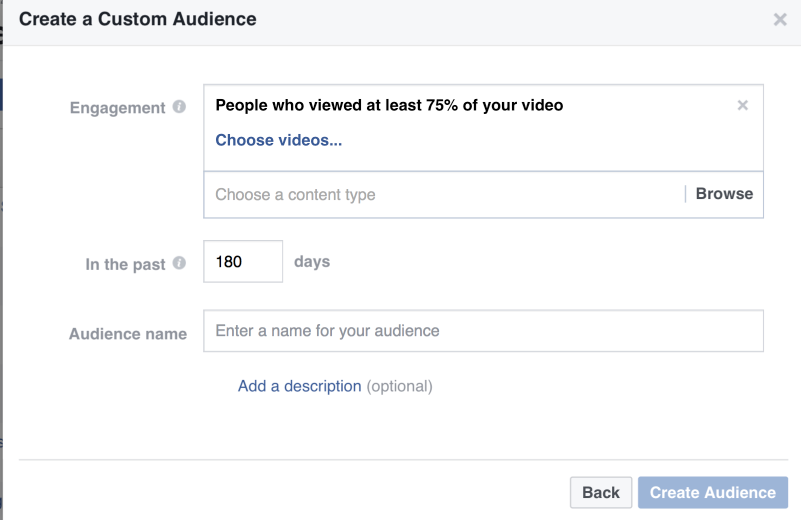 When you've done that, you then need to choose the video you want to use as the basis for developing your Custom Audience.

You then need to set the time frame and provide an 'Audience name' and a 'Description.'

When you're done, click on 'Create Audience.'
Now let's take a look at how you can target these individuals, when creating a new ad campaign.
First, go about the normal process of setting up a Video Ad campaign.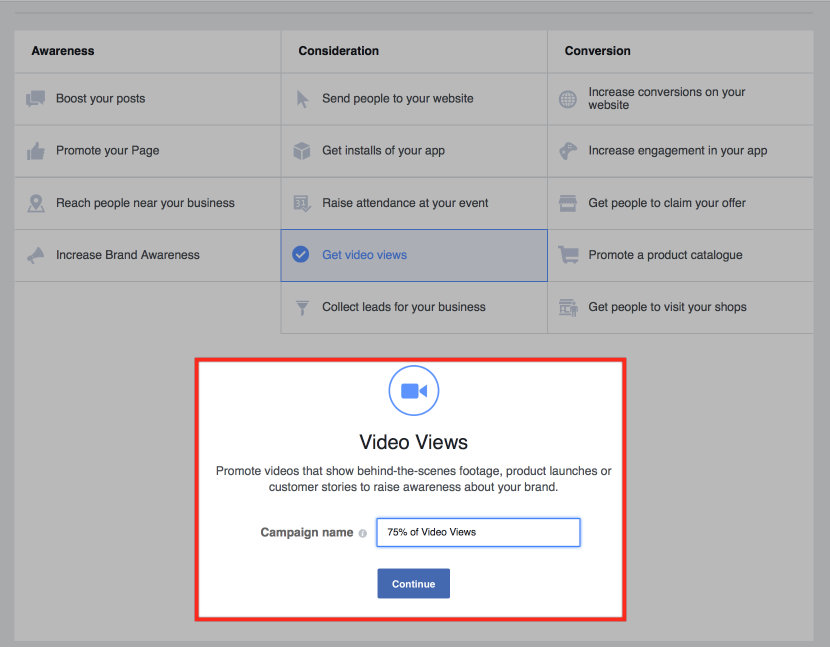 Then right at the start of the process, click 'Custom Audience' and select the audience you have created.
This ad campaign, will now target the individuals who watched 75% of your video.
Note: Another thing you might want to experiment with here, is creating a lookalike audience, based on those who have watched 75% of your video.
There's a chance that the people who take the time out to watch as much as 75% of your video, have something in common.
Let Facebook figure out what this 'something' is, and allow the platform to create a 'Lookalike Audience' based on this trait.
You can create a Lookalike Audience by going back to the Audiences tab, selecting 'Create Audience' and then choosing 'Lookalike Audience.'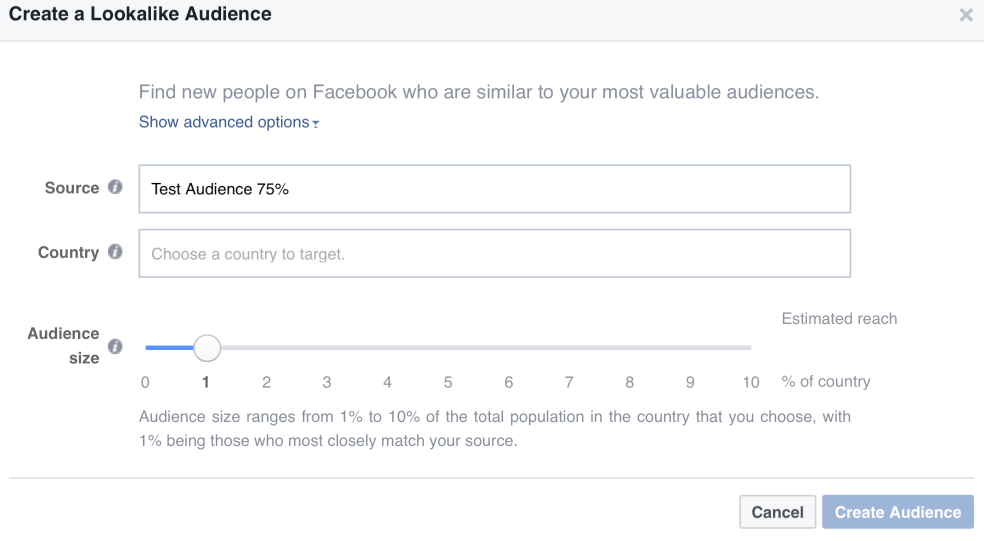 You then just need to select your 'Custom Audience' and decide which country you want to target, and how much you want the targeting to match the 'Custom audience' that Facebook is using as inspiration.
Split test your advertising approach
Aside from improving your targeting, it can also be a good idea to split test other approaches you're using, when creating a campaign.
The most important thing you'll want to split test, are your actual Video Ads.
If you're not having much success at the moment with your ads, and you're sure that your targeting is accurate, then your videos are likely to blame.
For those interested, I've covered how you can create compelling Video Ads here.
You can never be entirely certain what is going to resonate with your target audience.
For instance, longer videos might do better than shorter videos – or the other way around.
Wistia found that business videos are watched by 80% of people, if they're shorter than 30 seconds long.
Yet even if there is data to support the use of short videos, split testing will let you know if higher views on a short video, amounts to better leads and conversions, than less views on a 'long' video.
Of course, video length isn't the only thing to split test.
For your market, videos that are educational, might do better than those that are entertaining.
The best way to figure out what is going to work, is by creating multiple styles of Video Ads, and then creating multiple variations for each of these styles.
For instance, if you're creating an 'educational' Video Ad that is designed to drive leads – you might start it with a certain 'hook.'
This hook is what gets people interested in the video and can let them know that it's relevant to their needs.
You want to split your 'hook.'
Imagine you have a sales training program.
You could consider creating one video that voices a problem your target audience might be dealing with – 'Are you struggling to generate sales over the phone?'
Or you could use another hook that states a significant stat that draws attention – 'We've been able to help salespeople generate x% more per call – this video will explain how.'
Which one will work best? Using split testing, you will know.
Though the following, doesn't specifically relate to split testing, you also want to ensure that your videos are easy to understand, without sound.
Facebook flits back and forth, in terms of auto playing videos with sound, but there was recently a stat that suggested 85% of videos are viewed without sound.
Therefore, you need to account for this, and make sure you're using closed captions for your videos.
If you do, people will often watch more of your videos. In fact, Facebook has suggested that the use of video captions can increase view time by an average of 12%.
When split testing your Facebook Video Ads, try and give each video it's own Ad Set, in order to keep your data neat, and to stop videos from competing with each other.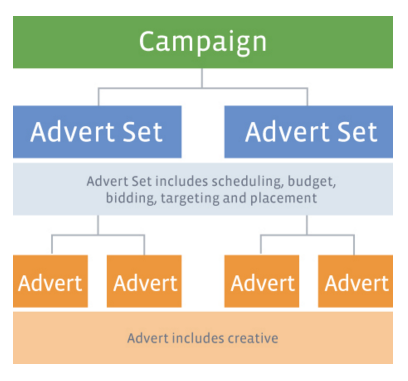 If you're going after a relatively small target audience, you might end up raising the general cost of your ads, as you're bidding against yourself.
However, for most people, the above strategy can be helpful, and can provide insights after four to five days, in terms of what works and what doesn't.
Think about what happens after the click
We touched upon this lightly above.
If your ads seem to be generating great results, but you find that you're still not generating leads, then it might be time to review your landing page.
Landing page optimization, is of course, a huge topic.
But there are basic steps you can take to generate better results.
The most obvious step is to review the headline.
Does the benefit promise in your landing page headline, match up with what was communicated in the video?
You'll also want to consider if your landing page is too distracting.
Remember, people on the internet are easily distracted.
Only give people one thing that they can do on your landing page, and make it clear what that one thing is.
If you really want to reaffirm the value that was pushed in your Video Ad, you might also want to provide some social proof on your landing page.
Testimonials are an example of social proof, and the use of them can dramatically ramp up the persuasive power of your landing pages, or any other page for that matter.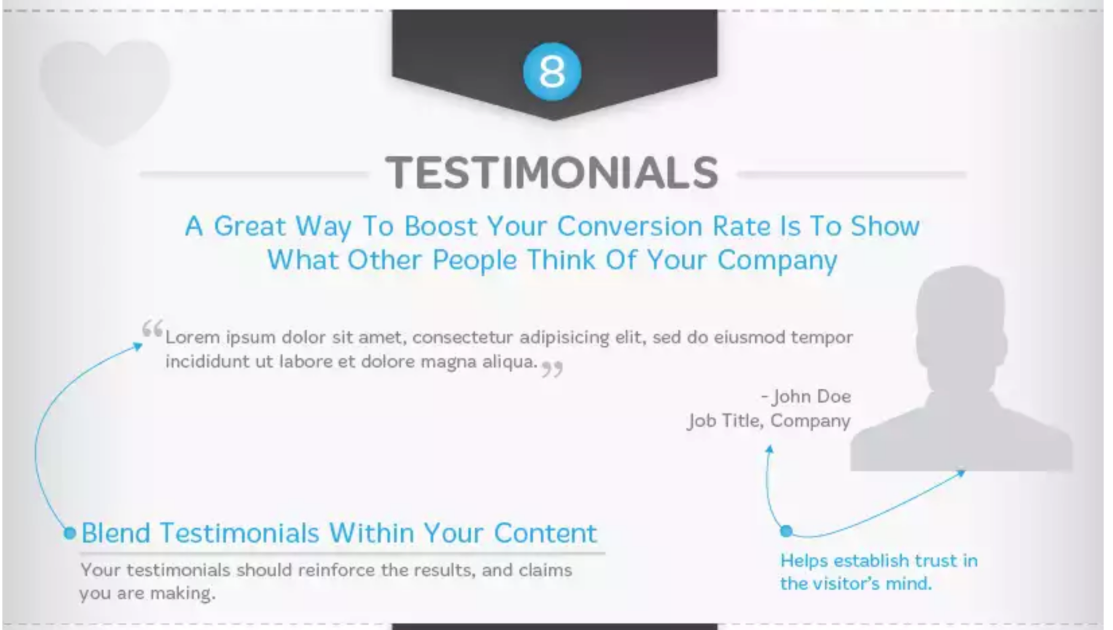 One company managed to boost sales by 6% when implementing social proof on their sales page.
The addition of a success story on their order form, also contributed to a 33% rise in sales.
Of course, as with everything else, you need to split test your landing page, in order to find out what works for your market.
One individual, for instance, managed to lift results by 20%, by actually removing social proof.
Conclusion
A Facebook Video Ad campaign can dramatically improve the bottom line of your business – if you know what you're doing.
If you find that you're currently experiencing 'so-so' results with your campaigns, it might be time to give them a once over, to figure out what can be improved.
You may be able to improve results by making use of Facebook's advanced targeting features.
Or you may need to change your approach when it comes to creating the actual Video Ads.
Inspect your campaigns now, as very little is likely going to improve, unless you take action on what you've learned.
Best of luck!
Do you have any tips to share when it comes to improving a Facebook Video Ad campaign? Please share these tips in the comments below.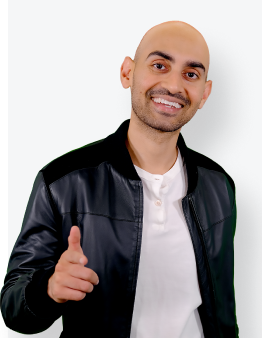 See How My Agency Can Drive More Traffic to Your Website
SEO - unlock more SEO traffic. See real results.
Content Marketing - our team creates epic content that will get shared, get links, and attract traffic.
Paid Media - effective paid strategies with clear ROI.