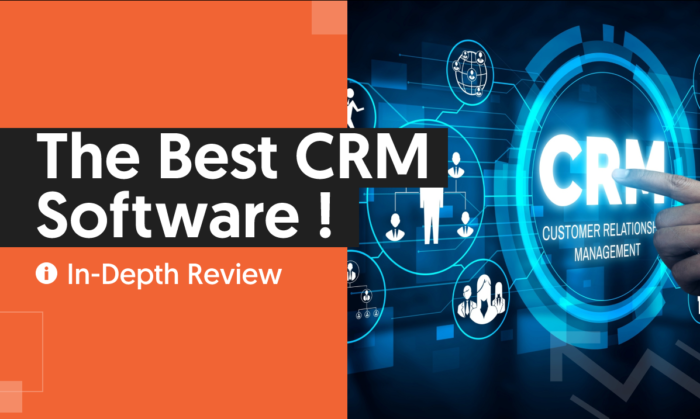 Disclosure: This content is reader-supported, which means if you click on some of our links that we may earn a commission.
The best customer relationship management (CRM) software captures valuable insight into what your clients really want. It simplifies everyday tasks by automating the busy work and tracking interactions.
Employees can focus on customers and deliver a five-star experience–every time.
Over the years, I've used a lot of different CRM software. In this post, I've reviewed my top ten CRM recommendations:
There's almost no other type of software that can save your business more time than a CRM. Keep reading for in-depth reviews of my top picks and a brief buyer's guide of CRM software.
#1 – Nextiva Review — Best All-in-One Sales CRM and Communication Suite
Nextiva offers a powerful sales CRM that's packed with the features your team needs to succeed. It's designed to give you more insights into your leads and sales pipeline while simplifying customer communication.
First, you can customize your sales pipeline into logical stages—making it easier for your reps to move deals through the flow.
You can also set up automated and personalized messages for leads in each sage. This reduces busy work for your team so they can spend more time closing on leads who are ready to convert.
But here's where Nextiva really shines above the crowd. All of the sales CRM tools come standard with its Enterprise Business Communication plan. This means that you're getting a VoIP phone service, video chat, conference calling, call recording, and so much more, all under the same roof as your sales tools.
Other perks include:
All calls, emails, and notes are viewable from the same workspace
Admins can use real-time analytics to identify top team performers
Integrations with Salesforce, G Suite, and other popular business tools
Easy to manage tasks, deadlines, and deal progress
Total transparency for the entire team
Customizable pipeline tagging
Thanks to Nextvia's simple and highly visual pipeline, you'll always know who is working on what in real time—meaning leads and deals will never slip through the cracks.
Plus, your team can instantly call new leads through the exact same platform where their pipeline and information are organized.
Plans start at $32.95 per month for teams of 20 or more with an annual contract. Get started with a demo today.
#2 – Salesforce Review — The Best Overall CRM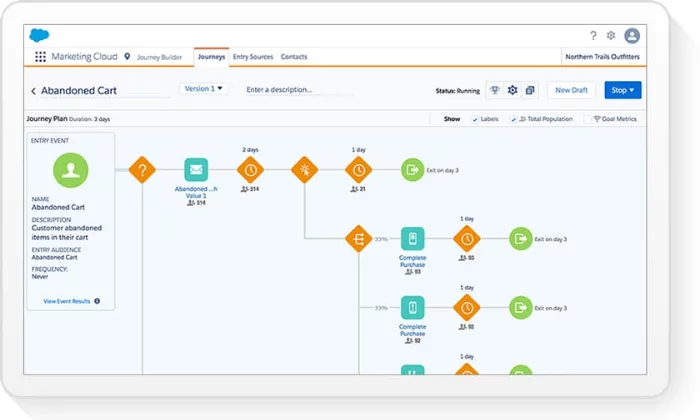 Salesforce is my top recommendation for CRM software. I'm hardly the only person who says this–Salesforce has set the standard for CRM software, and it keeps getting better every year.
Whether you're a small business owner or a sales, marketing, IT, or customer support team, Salesforce has the perfect CRM solution. Known for its versatility, they offer specialized software that adapts to meet your needs.
More than 150,000 businesses, including T Mobile, Adidas, and Yeti, rely on Salesforce to help them build strong relationships with their customers.
They also offer specialized solutions for 14 different industries, including:
Financial services
Healthcare
Manufacturing
Consumer goods
Energy
Communications
Nonprofits
The system is so versatile because you can pick and choose which apps you need to build a complete CRM solution customized to match your business.
From marketing automation and ecommerce sales to call-center software and self-service portals, Salesforce is dedicated to providing everything you need for unprecedented customer relationships.
Their business plans include:
Essentials — $25/user per month (basic sales and support)
Sales Professional — $75/user per month (complete sales solution)
Support Professional — $75/user per month (complete service solution)
Pardot Growth — $1,250 per month for up to 10,000 contacts (marketing automation)
However, you can add additional features and applications depending on what you need. They also offer other plans for sales, customer service, commerce, and marketing CRM packages with varying features.
Start your free trial to take Salesforce for a test drive today.
#3 – Monday.com Review — The Best End-to-End Sales CRM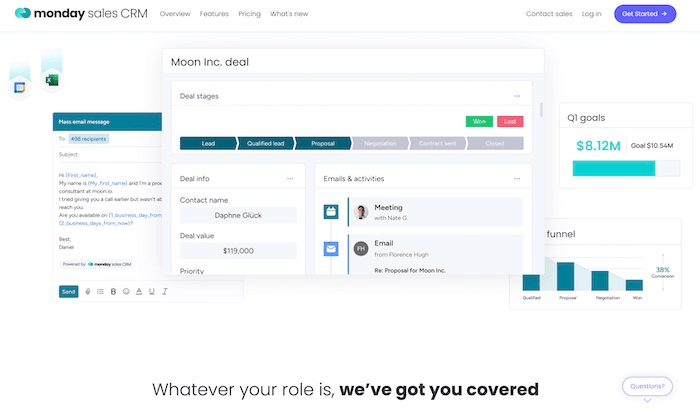 Monday.com is best known for its project management solutions, but it also offers an exceptional sales CRM that I can recommend with confidence.
Unlike some CRMs on the market, Monday Sales CRM has the ability to manage every phase of the sales process within one interface. From capturing leads to closing deals and post-sales management, it's truly an end-to-end solution for sales operations.
Monday Sales CRM also seamlessly integrates with over 200 tools and apps, many of which you're likely already using. If you want to extend the platform's capabilities by syncing Monday.com with the rest of your tech stack, you can do so without having to bounce between screens.
Utilize these integrations to keep all of your sales data and customer data in a centralized location while improving your sales workflows through the built-in functionality of Monday Sales CRM.
All Monday Sales CRM integrations can be set up and customized with just a few clicks—no coding required.
Integrations aside, Monday Sales CRM is powerful enough on its own. It's packed with all the features your team needs to ensure success, including:
Email sync and tracking
Activity management
Sales forecasting
Lead capturing
Duplicate lead alerts
Call logging
Contact management
Instant deal views
Lead scoring
Custom automations
Best of all, Monday Sales CRM has dashboards to support every role. It accommodates the needs of sales teams, account managers, sales leaders, and business owners alike with the visibility it provides users and its detailed reporting.
There are four different Monday Sales CRM plans to choose from:
Basic CRM: $10 per seat per month
Standard CRM: $14 per seat per month
Pro CRM: $24 per seat per month
Enterprise CRM: Contact sales for custom pricing
If you're looking for a sales-specific CRM, you really can't go wrong with the one offered by Monday.com. Try it out for free for 14 days.
#4 Pipedrive Review: The Best CRM For Newcomers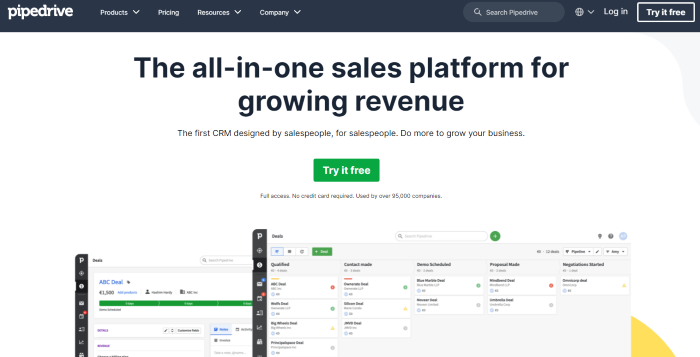 If your team is experimenting with CRM software for the first time, or if you're just looking for the smallest barrier to entry, Pipedrive is the choice for you. Out of all the options on this list, I consider it the easiest to use without compromising on features or quality. According to data on their site, they help teams sell 28% more on average.
What makes Pipedrive so easy to use? To start, the pipeline-focused setup (hence the name) makes it easy for your team to get a quick visual understanding of where your leads are in the sales process. It also has a drag-and-drop interface and custom fields to make the tool fit with your existing processes. See below for a potential option for your dashboard's appearance:
From there, you can quickly click any lead and see the last actions for that account, any related emails, or even use live chat and listen to recent calls based on the other systems that you connect to it.
On that topic, another key benefit of Pipedrive is its compatibility. Not only is Pipedrive an industry-agnostic platform, but it also can connect with other standard industry tools like Slack, Zapier, Outfunnel, and others to set up automation triggers and workflows. Whether this means creating new activities, sending emails, or creating alerts, use all the automation you need to move your prospects through the funnel.
Of course, all sales teams know how important data and reporting are to their roles, and Pipedrive is a standout here as well. The platform moves beyond just dashboards to build out customized full reports and pipeline metrics, as well as establishing goals at the individual and team levels.
Other notable features include:
Leads inbox
Sales pipeline
Sales assistant
Calendar/email sync
Mobile CRM
When it comes to pricing, Pipedrive keeps that accessibility theme in mind by being one of the more affordable options available, starting at $14.90 per month per user at the baseline Essential plan. Even upgrading to the Enterprise level, it's still an affordable option at only $99 per month per user. Here's a breakdown of all the pricing tiers:
Essential: $14.90 (per month, per user)
Advanced: $24.90 (per month, per user)
Professional: $49.90 (per month, per user)
Enterprise: $99.00 (per month, per user)
If you're ready to give this a try and take full advantage of the feature suite, you can get a 14-day free trial of Pipedrive with no credit card required. If you're looking for a simple but effective way to streamline and unify your sales activity, you'd be hard-pressed to find a better option.
#5 – Zoho CRM Review — The Best Budget CRM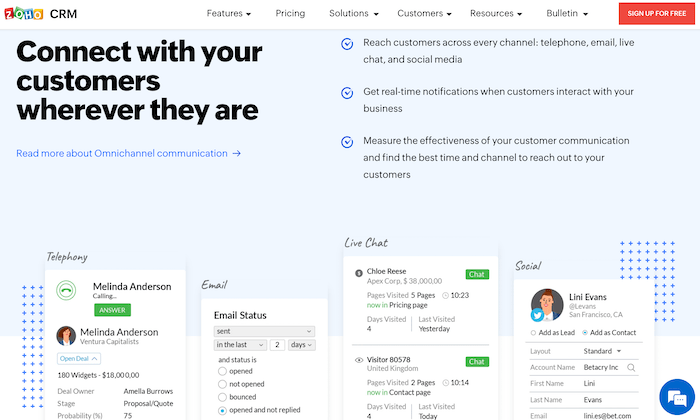 Zoho CRM is a very approachable CRM software that lets you build just what you need within the platform. I like it for companies that want a CRM they can customize, but not one that requires a massive contract to maintain.
All of your employees can use this CRM, allowing you to get the most out of the software. There's not much of a learning curve, so your staff can start leveraging the robust features and functionality on day one.
Zoho CRM is really flexible and accommodates different needs. It's easy to create custom dashboards and multiple pipelines for unique customer journeys.
Want actionable and insightful reporting information? That's just a click or two away.
Other top features of Zoho CRM include:
Real-time sales insights
Prospect scoring
Mass email capabilities
Inventory management
AI assistance
Advanced customizations
Online and offline blueprint business management
For such a powerful tool, Zoho CRM is surprisingly affordable. Plans start at just $14 per user per month. If you want more features and functions, upgrade to one of the higher-tier plans, starting at $23, $40, and $52 per user.
Best of all, Zoho CRM has a free forever edition that supports small businesses with up to three users.
Start your 15-day free trial to see if Zoho CRM is right for your business.
You can also check out Bigin—Zoho CRM's newly launched sales-centric platform, designed specifically for small businesses. Bigin starts at just $7 per month.
#6 – Freshsales Review — The Best Off-the-Shelf CRM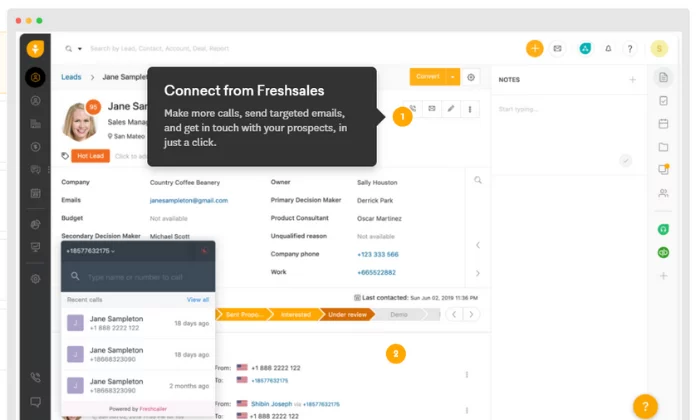 Freshsales (formerly Freshworks CRM) is specifically built for sales teams and lead management. From cold leads to customers, Freshsales helps you make better relationships while saving time with automation.
This is my top recommendation for businesses that are not looking to geek out on their CRM. You can't customize every little thing in Freshsales–the payoff is that it is way easier for teams to start using on day one.
It's a very powerful tool, don't get me wrong, but it doesn't need as much handholding as many other CRMs.
Once you bring your data into the platform, Freshsales helps you find the best leads, get in touch with them via their preferred method, and close the sale.
And Freshsales includes a built-in email and phone system to help simplify the process.
They have a customer base of over 40,000 businesses, including some big names like Dyson and Best Western. So, despite being newer to the industry, they're not inexperienced by any means.
With this platform, you get:
Lead, contact, account, and deal management
Tasks and appointment management
Website visitor tracking
iOS and Android mobile apps
Organizations of any size can leverage Freshworks CRM's detailed lead scoring and sales pipelines, allowing for better clarity and efficiency in your workflows.
It's especially potent as a single dashboard for wrangling all your sales conversations. Team inboxes and email forwarding make sure that messages are always directed to the right people and teams can see track every interaction without them getting buried in a bunch of irrelevant emails.
Plus, Freshsales allows you to schedule emails, utilize many email templates, and set up alerts. That way you can whip up fresh messages in a snap and always be able to respond or adjust on the fly.
Aside from an impressive set of features, they also offer industry-specific solutions for 15 different industries, including retail, ecommerce, manufacturing, logistics, healthcare, and more.
Their free forever plan includes access for an unlimited number of users with limited features. However, it's a great way to try it out before investing.
Freshsales' paid plans are more robust, yet still affordable for businesses of all sizes. Their premium plans include:
Growth — $15/user per month
Pro — $39/user per month
Enterprise — $69/user per month
Find out more about Freshsales and how the CRM is helping companies deliver value to their customers. Sign up for a free 21-day trial of Freshsales, no credit card required.
#7 – HubSpot Review — The Best Free CRM Software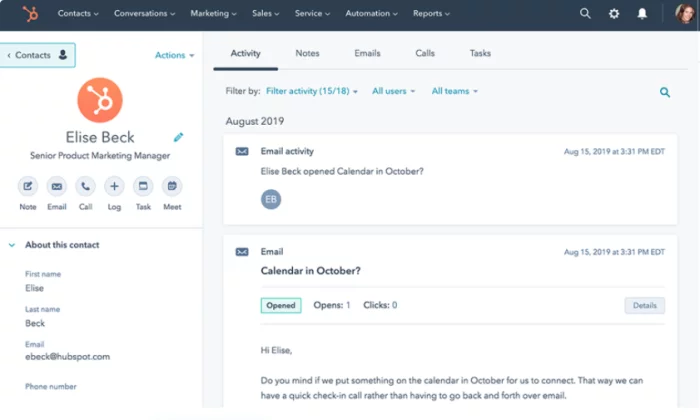 If you're in the sales or marketing industry, you've probably read HubSpot's blog or taken one of their free certification courses. However, they also offer a robust and free CRM software to streamline your customer relationship management process.
With HubSpot, you can gain unprecedented insight into how your audience behaves.
Need to monitor when contacts open your emails so you can optimize your open rates? No problem. Maybe you want to see how a contact behaves on your website. With HubSpot, it's easy.
Furthermore, they offer a wide variety of solutions, depending on your role within your company.
These position-specific solutions include sales, marketing, customer service, operations, and owners.
The free plan includes a robust set of features. You get all the essentials of contact management, deal tracking, and reporting that you need from a CRM.
Combined, that gives you an incredible level of insight into your sales pipeline. And HubSpot allows you to organize and utilize that insight into creating your next great strategy or campaign.
That's just the tip of the iceberg. HubSpot's free CRM also includes:
Scheduled emails
1:1 live chat
Meeting scheduler
Website activity tracking
Task management
Document sharing
These features are hard to beat on any other free plans on this list. However, HubSpot's paid plans are well worth their price as well.
The Starter Plan starts at $40 per month, paid annually. However, if you want to bundle all of HubSpot's CRM software, you can get starter access to all four for $50 per month if you commit to a 12-month contract.
So, for $10 extra dollars a month, you also get software specialized for marketing, sales, and customer service.
However, keep in mind these prices are based on 1,000 contacts. The price increases for every additional 1,000 contacts you have.
The free tier works especially well for small and medium sized businesses, although the paid tiers also have strong features for SMBs. What I find is that quite a few small companies start with the free tier of HubSpot before advancing to a paid tier that fits their needs as they grow.
For large enterprises, HubSpot will provide basic features, but it may not have the flexibility and customization options that such businesses need. Having said that, quite a few large organizations count themselves among HubSpot's customers. It just depends on what they need from their CRM software.
Sign up for a free plan to get started with HubSpot today.
#8 – EngageBay Review — The Best CRM for Startups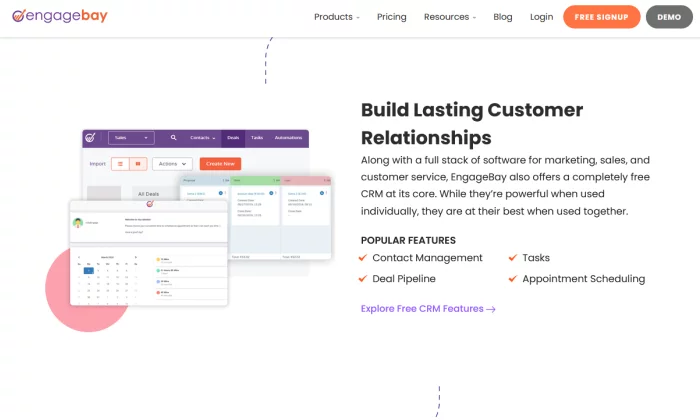 A lot of CRMs do the same things. They collect and organize your contact data, have some automation tools for sending emails and posting to social, and overall make your sales team's lives easier.
But not all of them cater to all three core departments—sales, marketing, and service. If you need an all-encompassing tool to boost all three, EngageBay might be the best solution for you.
You get a lot of the key features you need for customer relationship management. Set tasks, build a pipeline, and place automations for email sends, SMS messages, rep hand-offs, and more.
This all happens in an easy-to-grasp interface that lets you view your funnel, social media interactions and messages, email campaigns, and everything else in one place.
Plus, EngageBay syncs up with Gmail, Outlook, and Office with no pain or stress.
But what I really love is its suitability for organizations that value post-sale relationships as much as gathering, warming, and converting leads.
There's a whole service bay module of features and tools in EngageBay that makes your support reps' jobs a cinch.
On EngageBay's lowest-tier plans, you get a way to manage tickets and contacts together that carries over all the information you've gathered during each customer's sales journey. That way, no one's going in blind and your support team can really turn customers into lifelong loyalists.
But with an upgrade from EngageBay's free plan, you also unlock macros and canned responses.
I recommend their Growth plan, though, most of all. For $29.99 per user per month, you can apply the same robust automation capability—setting triggers and events that streamline workflows—that the marketing and sales teams get to customer service.
What's great about this is that email sequences can come back into play after a service interaction.
I can see this being a boon for SaaS and many B2B operations. Not only is ongoing support vital in those fields to building long-term clients, but you can use a new drip campaign after successful service interactions to warm an existing customer up for an upgrade or add-on.
There's a lot of potential to unlock in all three departments with a tool like EngageBay.
Get started on their free plan to get a feel for the platform and, when you're ready, move on up to the Growth plan to really have your sales, marketing, and service firing on all cylinders.
#9 – Salesflare Review – Best Lead Management Tools for Small Business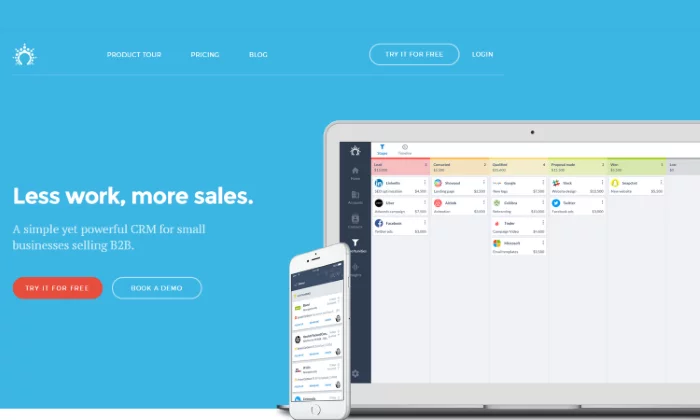 Any CRM worth its salt should definitively answer one question—how does this help teams sell better?
As you see on this list, different platforms have come up with different answers to this question. Salesflare stands out for pushing lead management tools to the forefront without being bogged down with superfluous features.
If your team could use some help guiding opportunities from lead to win—and, honestly, what team doesn't—Salesflare could be just the ticket.
It starts with the software's intelligent information gathering. Salesflare pulls contact info, company role, and much more detail automatically from emails, social profiles, and other sources. This information is stored both in a dedicated section for each account you're selling to and a universal contact book accessible by your whole team.
Salesflare automatically logs actions by your team—such as meetings, calls, and other touch points—and by the prospects and customers themselves, whether they open an email you sent, click a link, or visit a landing page.
In this way, Salesflare is very flexible for how your team approaches the buyer's journey. Whether you prefer one member of your team to guide opportunities from start to finish or if you have hand-offs at various points, the information is all there.
Anyone can step in and have the latest information plus the current state of the lead based on recent actions.
When you add in the platform's notifications for when prospects take an action or any other triggering event, your team will get really good at moving quickly on warm leads or prospects who have signaled their readiness to purchase.
The combination of simplicity and power inherent to Salesflare makes it a great tool for smaller B2B sales outfits.
Not only do you get useful automation and the tools to help really nail follow ups (and, thus, really encourage leads along the path to purchase), you get key features like:
Team-wide timeline view for tracking opportunities from lead to win
Personalized, scheduled, trackable email campaigns
Insights dashboard that can be segmented by team member, pipeline, or date range
That's all included at the base Growth plan for $29/user per month.
One step up from there is the Pro plan, for $49/user per month. With that you'll also get:
Custom email workflow builder for multiple simultaneous campaigns
User permissions, including view-only access
Custom dashboards
There is also an Enterprise plan for $99/user per month. The main benefits of that are the additional support you get, such as a dedicated account representative and custom-made training modules for your team.
Salesflare really shines for smaller B2B businesses and the lower two pricing tiers are quite palatable for that purpose. You can give it a try with Salesflare's free trial or request a demo today.
#10 – Creatio Review — The Best Enterprise-Grade CRM Software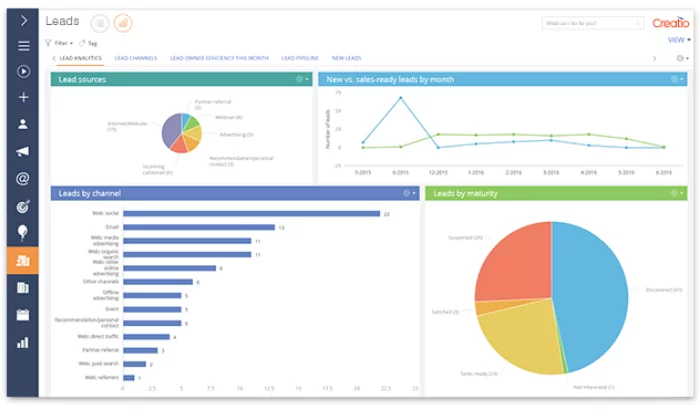 While some of the other CRM software on this list includes an enterprise plan, you may find them limiting if you're managing a large operation. However, Creatio is an enterprise-grade CRM software built with businesses like yours in mind.
They offer specific CRM solutions for sales, marketing, and customer service teams.
Marketing Creatio gives enterprise businesses everything they need to streamline their multichannel marketing campaigns and manage incoming leads. It includes features like:
Visual campaign designer
Website behavior tracking and segmentation
Advanced trigger campaigns
Personalized email marketing
Event tracking and response management
Pricing depends on the number of contacts and the number of emails per contact.
Sales Creatio is perfect for large sales teams taking over after marketing hands them over. It's an end-to-end sales management platform built to simplify the process and save you time.
It includes a wide range of features, including:
Opportunity management
Customer profiles and buying behavior insight
Field sales management
Performance and operations
Pricing starts at $30 per user per month.
Lastly, Service Creatio is for customer service teams interested in streamlining their processes and creating excellent customer experiences from start to finish. It includes features, like:
Account and contact management
Case and knowledge management
Omnichannel communications
Service catalog
Contact center
Pricing starts at $45 per user per month.
You can bundle all three CRM solutions if you need to. And you can use their online pricing calculator to estimate the total cost.
Get started with a free trial to see if Creatio is right for you.
What I Looked at to Find the Best CRM Software
With so many options and types to choose from, finding the best CRM software for your business can feel like looking for a four-leaf clover.
Start with this. All of these products have been built to respond to problems that businesses face every day.
Yes, there are a lot of parts to CRM software, but each has a purpose.
You know the problems you face. And by reaching out to your customer service agents, sales reps, IT team, and anyone who will be using the CRM software, you can get a rich picture of their daily challenges.
There is CRM software that will help everyone at your organization make the most out of every customer relationship.
Finding it is a matter of understanding where your company is, and where it wants to go.
Business Size
The size of your business plays a role in which CRM software is best for you. If you have separate departments for marketing, sales, IT, and customer service, you need more advanced functions than a business with five employees.
Furthermore, you need to consider who's going to manage the software. Choosing and paying for software isn't the same as using it to its full potential.
You have to set it up and take advantage of its features for the investment to be worth it.
For small teams, it may be a collaborative effort of everyone pitching in. However, large teams may have dedicated employees to set everything up and maintain the software moving forward.
The size of your business also plays a role in how much the software is going to cost. The more user seats you need, the more expensive the software.
Your Challenges
What's not working? What could be working better?
Consider what systems you want to streamline and improve. It may help to think about current inefficiencies and how a CRM can help.
Typically, CRM software helps with sales, marketing, IT, and customer service. Which of those do you want to improve, and do you have the capacity to set everything up and maintain it?
There are specific CRM solutions for particular industries.
These tend to be more expensive, but if they are the right fit for your situation, it's worth it. Teams will have to spend less time configuring such purpose-built CRM software, which is an ongoing savings.
Basic CRM Features
Most CRMs include a basic set of standard features. The CRM you choose should include them as well.
While the specifics of each feature vary from software to software, there should be a system in place to help you handle things like:
Contact and lead management
Document sharing and storage
Workflow automation
Interaction tracking
Mobile access
Look for these core CRM features before making any final decisions. It's probably also a good idea to watch some videos of how these users manage these features.
Something like contact management is handled differently in each platform. Which one fits best with the way your teams work?
Advanced CRM Features
It's also important to consider advanced CRM features that can have a big impact on your business.
The ability to automate routine workflows, process payments, and send invoices can save countless hours from every employee's day.
Really rich automation capabilities are only available with high-tier plans. There's definitely an added cost, but what about the benefit?
In the end, having advanced features for marketing automation and lead scoring can really drive revenue. Is the juice worth the squeeze?
Also, note that these advanced features are not distributed the same way by vendors. One may offer the high-end tools you need as part of a mid-level plan.
Third-Party Integrations
To really streamline and automate your business processes, your CRM tool needs to play well with the tools you're already using to run your business.
Make a list of the tools you use and double-check to make sure your CRM integrates with them. I'm talking about:
Email platforms
Social media tools
Internal communication software
Customer service tools
Calling/video chat software
Shopping cart (for ecommerce)
Contract/proposal software
Connectors (i.e., Zapier)
Analytics tools
Calendar
Once you have your list, you can use it to narrow down your choices to the right CRM software. You can also use it when speaking with a sales team to make sure they offer everything you need.
Summary
Having the right CRM software can make a huge difference very quickly. It makes staying organized easier and keeps customers happy.
Nextiva, Monday.com, and Salesforce, are my top recommendations for most businesses. Each one offers a wide range of features suitable for teams from all departments, including sales, marketing, and customer service.
However, the best CRM software for you depends on your business's size and the features you need. So, use the criteria we talked about above as you go through the process of making your final decision.
Which CRM software do you use?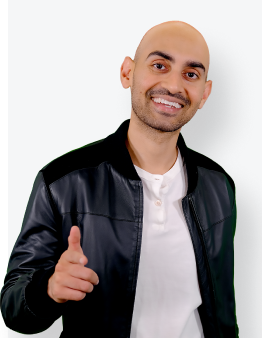 See How My Agency Can Drive More Traffic to Your Website
SEO - unlock more SEO traffic. See real results.
Content Marketing - our team creates epic content that will get shared, get links, and attract traffic.
Paid Media - effective paid strategies with clear ROI.
Are You Using Google Ads? Try Our FREE Ads Grader!
Stop wasting money and unlock the hidden potential of your advertising.
Discover the power of intentional advertising.
Reach your ideal target audience.
Maximize ad spend efficiency.