Did you know that, as of January 2016, there were more than 2.3 billion active social network users throughout the world?
That's a serious number, no matter how you look at it, and, when broken down by each social media platform, it's even more astonishing:
Facebook

had 1.09 billion daily active users on average for March 2016

Twitter's

monthly active user count has reached 310 million.

Instagram

has reached 400 million monthly active users.
Some people use these social media platforms for personal reasons. And, B2B and B2C marketers have come to find that Facebook, Twitter, Instagram and other social networks allow their small business to more easily reach their target audience.
Get this: Ad Age notes that a growing number of consumers say conversations on social networks influence them the most.
In the past, I've discussed a variety of ways for small businesses to improve their reach through social media marketing. From step-by-step marketing guides to advertising-based posts, I have done it all.
This time around, I want to discuss 13 social media management tools that can make or break your social media marketing strategy. With the right tools on your side, the sky's the limit. Without these, however, the content marketing campaign of any small business will be facing an uphill battle.
Here are 13 social media management tools you need to learn before going "all in" with your social media strategy: 
You won't find many "social media management tools" lists that don't include Buffer.
It doesn't matter if you are an individual marketer or part of a large agency, Buffer gives you the tools you need to share social updates and manage all of your campaigns.
With more than three million people already using Buffer, confidence shouldn't be a concern. All you have to do is decide if this tool has a place in your small business.
The primary benefit of Buffer is the ability to schedule your posts across various social networks for any time in the future. This allows you to focus on other areas of your small business, all the while knowing that Buffer is taking care of your social updates.
It's hard to go "all in" on a social media strategy without a management tool. With Buffer, you can schedule updates on all of your favorite platforms, including Twitter, Facebook, LinkedIn and Pinterest.
I have been a big Buffer fan for many years and have recently come to enjoy their iPhone and iPad app. With this addition, it's easier to manage your social media marketing on the go. And, with my busy schedule, that's something extremely important to me.
If you require a smarter way to share on social networks, it's likely that Buffer is one of the best solutions.
I've said it before and I'll say it again, measuring results is essential to marketing success.
This holds true with all forms of marketing, including on social networks. Crowdbooster can help you improve in this area, as it allows you to easily measure and optimize your social media marketing campaigns.
In addition to being fast and simple, there are other features of Crowdbooster that I enjoy. For example, I love the idea that you can find your most valued followers. The company puts it best by saying:
"We can help you find your biggest fan or most enthusiastic retweeter out of thousands."
Even as your audience grows, you are always able to pinpoint the followers who provide the most value. This is a big deal when it comes to growing your brand, networking with others and using influencers to drive results.
Something else I like is the alert feature. With this, you are notified any time you experience a growth spike. By quickly identifying these spikes, you'll find yourself in position to take advantage of the times when your content is most popular.
In addition to the features I've mentioned, Crowdbooster can do so much more. As you get started with this social media management tool, make sure that you look into everything it can do for your social media strategy.
What are people saying about your brand?
If you spend hours every week (or daily) trying to track brand mentions, both good and bad, you're wasting a lot of time, especially when you consider that Brand24 can do all of this work for you.
Rather than manually searching for mentions on social networks, this social media management tool delivers you real-time information, in regards to what others are saying about your brand. Taking this one step further, you can also use it to track your competition.
You can't get fully invested with social media marketing until you realize the importance of engaging with your audience. There is more to a successful campaign than sharing content and hoping for a positive response.
Brand24 allows you to better engage with customers and prospects, helping you to make the most of both positive and negative comments.
I am particularly fond of the ability to track social mentions over any period of time. In a recent case study, Brand24 shared this chart:
For this company, one question comes to mind: why did social mentions spike on July 21 – July 23?
By monitoring this data in real-time, you have the opportunity to engage with your audience when they are most interested, thus taking advantage of all potential sales opportunities.
There are other tools that offer similar features and data, but Brand24 makes it simple to track activity in real-time thanks to easy to generate charts and graphs.
You can tweet at any time of the day. Morning, noon and night, Twitter never sleeps. But, here is the problem with that: you never know if your tweets are reaching the largest possible audience.
With Tweriod, you can "start tweeting when others listen." Knowing when your audience is on Twitter is every bit as important as what you say.
This tool gives you a complete breakdown of the best times to tweet. By analyzing your tweets, as well as those of your followers, you will know the days and times when your updates will get the most exposure.
I am a big fan of Twitter. It allows you to connect with customers and prospects. It is a killer networking tool. And, of course, it can drive traffic to your website.
Unfortunately, entirely too many brands go all in with Twitter without knowing when to concentrate their efforts on this platform.
Tweriod helps fight against ignored tweets. Here is what you get after you run a report:
This makes it clear what days and times that your tweets will get the most exposure. With this data, you can schedule posts with a tool such as Buffer or Hootsuite and ensure that you get as much mileage as possible out of each update.
With this social media management tool, you can create a news feed based on what your friends are reading. From a small business perspective, you can use it to stay current with your industry and connect with others.
From the home page, run a search for the top news stories and feeds in your space:
After completing the search, you are provided with a variety of results. For example, here are the feeds results for the above search:
Along with this, stories are listed for your review. For this particular search, there were 29,312 story results: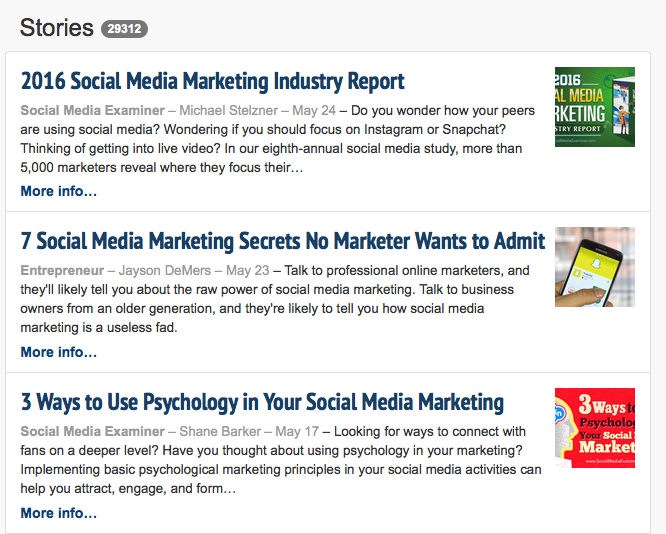 Nuzzel is one of those social media management tools that provides so much information that you could easily use it for hours on end, soon wondering where all of the time went. You don't want to take things to this extreme, but it proves just how informative and useful the tool can be.
But, don't just use Nuzzel to search for feeds and news. You should also sign in with Twitter, so that you can see top news stories from your audience. This adds another component to the social experience, as it helps you to strike up conversations with influencers in your space.
The tagline of this tool gives you a clear idea of what it's all about:
"Real-time social media search and analysis"
Learning how it works is as simple as running a basic search. Here is where you start:
You can search for any phrase. For the sake of this post, let's experiment with the phrase "social media." Running a search will result in the following:
Along with this information, all of which you can use to improve your social campaigns, there is also a long list of search results, similar to what you would find on Google:
As you dig through this information, you can answer questions such as:
How is the topic being discussed on social networks?

What are the top keywords associated with the search?

How often is the topic being discussed?
Answering these types of questions allows you to customize your social media strategy to take advantage of current trends. For example, if you find that a particular keyword is trending, you can immediately incorporate that phrase into your outreach.
Social Mention is fast and free, two things that should lead you to use it in the near future.
Similar in form and function to Buffer and Hootsuite, Sendible has a long list of features that attract individuals who want to make the most of their social media marketing campaigns.
In short, it allows you to schedule messages, better manage your networks, engage your audience and measure your return on investment. While this sounds standard, there is something else Sendible offers: an attractive, streamlined dashboard that provides all of your data in one place.
One of the top features of Sendible is the ability to analyze data across multiple channels and social media accounts. Thanks to a robust report builder, you can pull all of your data together by taking advantage of more than 200 modules.
Sendible may not be as well known as some of its competitors, but it has a long client list that features Amazon, Zynga and BBC Worldwide, among many others.

Do you need images for your social campaigns? Of course you do. Unless you have the design skills to do this yourself, you need a tool to assist you. This is where Canva can help.
Getting started is as simple as choosing a design theme. From social media to poster to Facebook Cover, you have quite a few options.

With the ability to search more than a million images, it doesn't take long to find one that matches your needs. From there, the image can be customized to ensure a powerful impact with your audience.
Since there are so many design features, it's a good idea to experiment with each one. Try out the different elements and backgrounds. Add and take away text.
In addition to creating designs, Canva can save all of the visuals that you have created in the past. This allows you to revisit the service in the future, if you want to reuse or customize a particular image.
Image creation and editing tools come and go, but Canva is here to stay. It's the best of the best and I consider it a must for anyone who wants to succeed with social media marketing.
If you keep current with my blog, you know that Buzzsumo is one of my favorite tools. Whenever I am listing out the top content marketing campaign or social media management tools, this one always comes to mind.
There is a long list of reasons why I love Buzzsumo, including the fact that it's simple to use, full of features and provides results that are easy to understand.
Your journey starts with a search, such as "social media marketing." From there, the results page is well designed:
While the results are important, it's the information in the right column that deserves most of your attention. Here is what you'll see: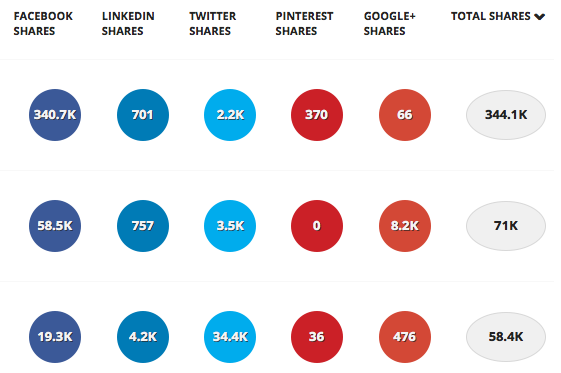 This is where you can see how each article is performing on social networks. At that point, you can formulate a strategy for creating content marketing campaigns that outperforms the competition. Since you have a good starting point, you won't find yourself "all over the place."
Content creation and distribution on social networks go together. Buzzsumo is a tool that lets you bring the two together, by analyzing the type of content marketing campaigns that perform best for a particular keyword or competitor.
In my mind, this is one of the most overlooked, yet powerful social media management tools on the market. Here's how Tagboard describes its service:
"Tagboard uses hashtags to search for and collect public social media within seconds of being posted to networks like Twitter and Facebook, just to name a few. Robust tools offer the power to select specific posts to feature on websites, in broadcast TV and on large displays."
With Tagboard, you never have to guess when a particular hashtag is being used. Instead, it only takes a few seconds to pinpoint this information.
You can get started on the Tagboard homepage:
A search for #socialmedia pulls up results for every social platform, including: Twitter, Facebook, Instagram, Google+, Vine and Flickr.
You can break down the results by platform, which leads you to a page that looks something like this: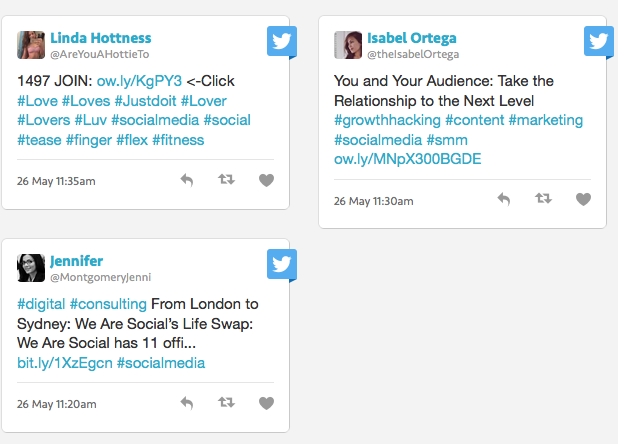 In an overall sense, you can use Tagboard to see what hashtags are trending. Taking this one step further, if the time comes, you can also use the tool to display information on your website.
The more you use Tagboard, the more you'll learn. And, the more you learn the easier it is to find new ways to use it to your advantage.
Do you spend entirely too much time searching for the social profiles of your email connections? Discover.ly will end this time eater once and for all.
With this free Chrome Extension, you can easily view the social media accounts of all of your connections, ensuring that you know how to best connect with your recipients.
Even more important is the ability to cross-reference between social platforms. For example, if you are viewing someone's LinkedIn profile, you will be presented with mutual connections on both Twitter and Facebook.
Discover.ly takes some getting used to, as you probably haven't used a social media management tool like this in the past. But, as long as you have access to the Chrome browser, it won't be long before you are using this tool to expand your social network and the reach of your overall content marketing campaign.
Let's put it this way: you must make sure that you are connected to the right people on the right social media marketing platforms.
With Discover.ly, this is easy to do. Furthermore, it's just as simple to reach out to someone you already know to get an introduction to another connection.
Think of this as more than a social media management tool. Think of it as an all-in-one social media marketing and networking tool.
When it comes to social media marketing, most companies care about nothing more than using it to grow their brand, increase sales and gain followers and engagement on social media platforms. Sounds about right, doesn't it?
But, here is something that you need to know: your social media profiles must be 100 percent secure at all times. Any security breach could be bad news for your small business.
SecureMySocial helps protect against security related issues, by providing real time alerts.
There are "business, legal, regulatory, physical and human risks" of using social networks. All of these things deserve your attention, because one mistake can cause irreparable harm to your brand.
With the ability to customize security rules on social networks, you will be notified any time something goes wrong. For example, you can customize for things such as: project names, employee names, intellectual property terms and internal keywords.
With no downloads or software to install, SecureMySocial runs in the cloud. This makes it simple to get started.
The last thing your brand needs is a security breach. With SecureMySocial, you can put an end to a potential problem, before it impacts your small business.
If you want to make social media marketing decisions with the assistance of real time data, SocialClout is the tool for you. The company explains its service as one that helps "Shape your business strategies inline with the real time feedback."
Social networks are all about making decisions for your small business in the here and now. If somebody asks a question, you don't want to answer them in three days. If you are receiving tons of traffic on a particular day, regardless of the reason, you want to know about it right away, so that you can capitalize on it.
Going all in with social media marketing means that you need to have a system in place for generating leads. When you combine this with the brand building power of social networks, you have something special.
SocialClout has some of the best lead generation features that you will find for your small business. You can monitor and respond to conversations in real time, allowing you to generate leads. Even better, the social media management tool claims that "responses to campaigns are mined scientifically to identify the probable leads."
This approach eliminates guesswork on your end, allowing you to focus on the leads that have the best chance of converting for your small business.
You can learn a lot about your audience by using SocialClout. Furthermore, my best advice would be to focus on this tool's lead generation features.
Conclusion
With 84% of B2B marketers using social media marketing in some form, you'll be the odd man out if you neglect to do the same.
But, rather than simply use social networks, it's time to take your game to the next level. When you implement the 13  social media tools detailed above, you'll feel comfortable going all in on social networks. You'll never again wonder if you are on the right track, as these social media platform tools will show you the way.
Would you add any other social media management tools to this list? Share your thoughts and opinions in the comment section below.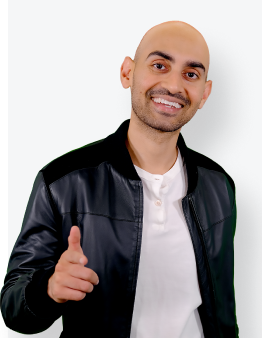 See How My Agency Can Drive More Traffic to Your Website
SEO - unlock more SEO traffic. See real results.
Content Marketing - our team creates epic content that will get shared, get links, and attract traffic.
Paid Media - effective paid strategies with clear ROI.