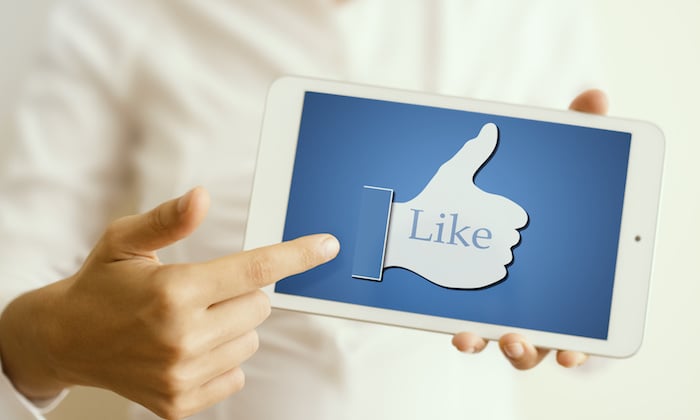 If you're starting from scratch, then building FREE traffic from SEO, social media campaigns, and content alone can take up 6 months or more. And, if you want to turn your efforts into profit, you might be staring at an 18 month-period.
I've experienced the difficulty of getting a new website off the ground recently without much success in my search marketing. Even after a wealth of internet and inbound marketing experience, I ended up generating only 200k visitors at NutritionSecrets.com in a year. Mike and I had put in a ton of effort that would have easily brought about 1 million visitors and much higher profit, 5 years ago.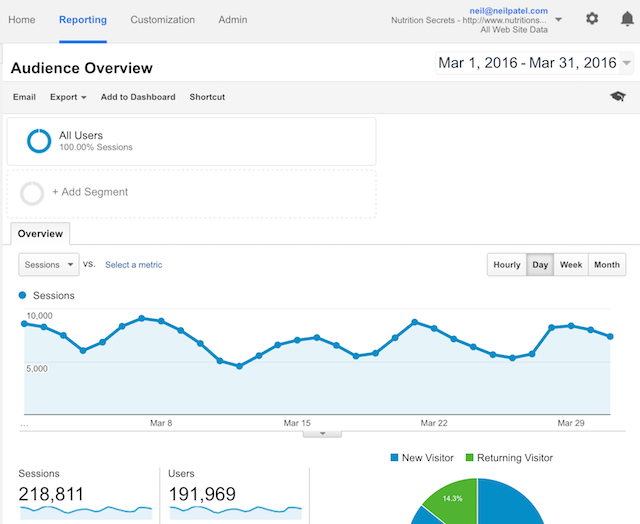 So:
Creating great content might no longer be enough for turning potential customers…especially if you're looking for fast business results with help from the social networks.
A quicker way to achieve decent traffic numbers, up your conversion rate and to generate revenue is by incorporating paid media marketing in your strategy. Here are 3 major reasons you should consider paid social media marketing:
1. The organic reach on almost all social media networks is dying. Not just Facebook's organic numbers are falling off. Even Instagram and Twitter have shown signs of diminishing reach when it comes to potential customers. No longer can you send out a tweet and hope for consumers to pay attention to your social media campaign.
By investing in paid social media marketing, you'll not just increase your engagement. You'll also get higher organic reach and better search marketing as a result of paid social media marketing.
2. With paid social media marketing, almost all social networks give you clear metrics to measure your performance: CTR, CPC and your overall ROI. You can even get clicks for 3 pennies from Facebook.

3. It's easy to reach completely new target customers with the granular targeting options inside most social media channel ecosystems. For example, Facebook allows you to choose from 1,500 data points.
Larry Kim targets influencers and journalists, using paid social media marketing on Twitter to get his content in front of them at the right time. This has helped Larry earn numerous media mentions and TV interviews which is awesome for growing his brand awareness.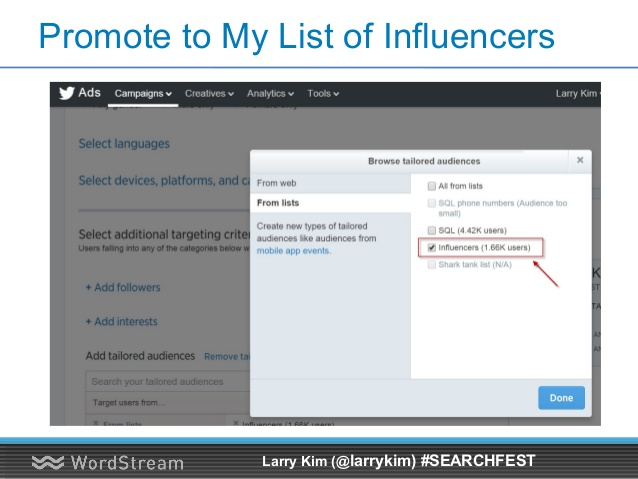 If you've read this far, then, hopefully, you're convinced to pursue paid media marketing. Without further ado, here are 3 actionable steps that you can use to implement paid social media campaigns in your content marketing.
1. Start the process backwards and brainstorm what works best with your budget
Jeff Goins recently mentioned how he has automated the launch of his product 'Intentional Blog,' via webinars and Facebook Ads.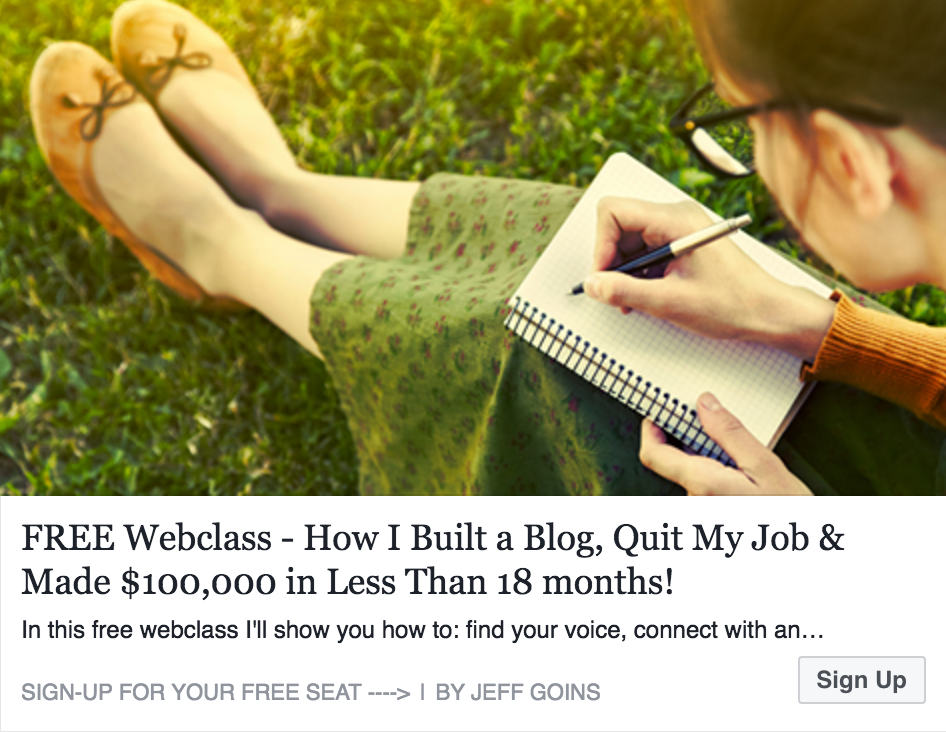 He pays $1,000 a day and ends up making $2,500, while adding thousands of new members on his email list.
That's a great ROI, right?
So, it's your turn now…..
GO GET STARTED with $1,000/day investment on Facebook Ads already!
Or should you?
People tend to forget the effort and time and inbound marketing skills it takes for businesses to automate their media marketing funnel.
Don't fall for the trap.
Jeff hasn't built his product and webinar in a day (or even a week). He thought of automation only after doing 'multiple launches in a year following the same script.'
So, the exercise for you (courtesy Kevin Gibbons) is to visualize the perfect digital media marketing strategy that incorporates all 3 aspects – paid, owned and earned media.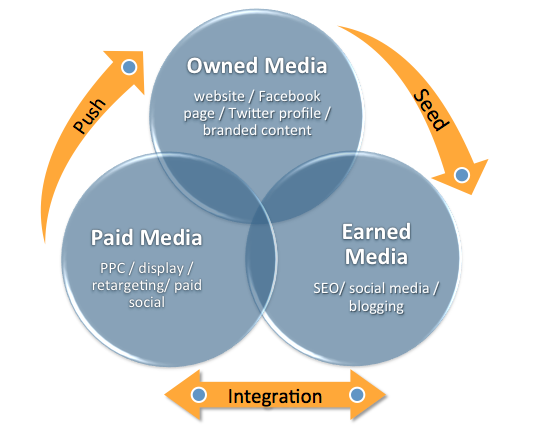 Then, work backwards from there and ponder over these key points.
1. What are the business goals that you want to achieve with your ad campaign? And, what is the budget that you can afford (think both short and long term) to reel in potential customers.
2. Which are the best social networks that can integrate together to help you achieve your goals?
I've written about understanding user psychology on various platforms here. You can also use the age chart below for help.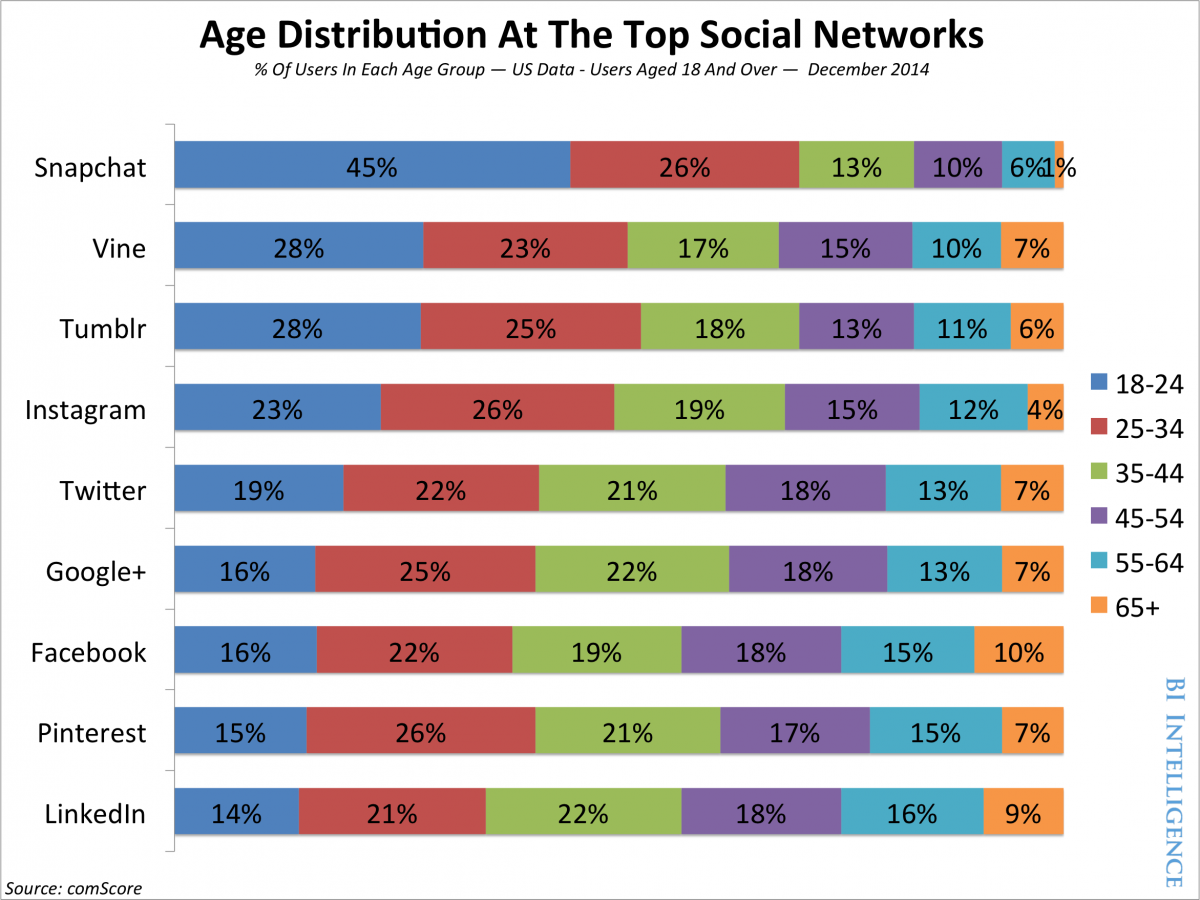 3. Look at the platforms where your competitors are hanging out and how they are performing their social and search marketing. Maybe they are getting a terrific engagement with their click-through rate and ROI from a smaller network (not among the big 3) that you can replicate.
If I can generate $332,640 in 3 months from Instagram, then you should probably also consider marketing on it (given you work in the same niche).
4. How many internal resources will you need to allocate to paid media marketing? Also, consider that the potential customers that roll in with paid media marketing needs to be engaged. Your brand will need to keep crafting high-value content to retain those click-through rates and keep that target audience sweet.
Once you've documented your strategy and set realistic expectations, it's time to move on to the next step.
2. Experiment with a few paid advertising platforms (don't forget to look at social platforms other than the big 3…)
After brainstorming, suppose you find a couple of platforms that suit your needs. Now, it's time to get your feet wet and test your assumptions.
I suggest that you start with a $100 budget on a new social network where you plan to advertise.
The most basic way to launch your first social media campaign is with Facebook.
In Aug 2014, Jon Loomer reported driving close to 251,000 monthly visitors to his website through Facebook (with just 70k fans).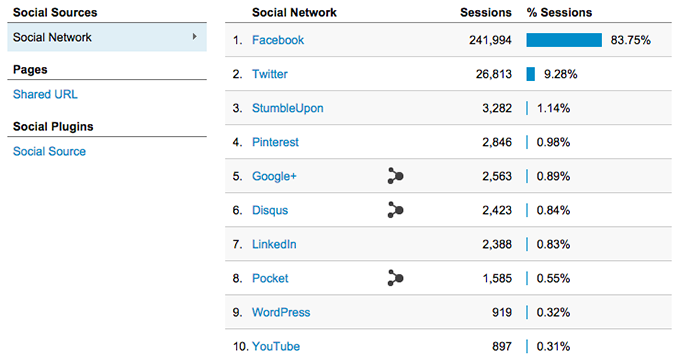 Here are 2 Facebook online advertising strategies that you can leverage.
1. I've already covered the basics on how to get started with Facebook Advertising. Navigate to Promote >> Ads Manager. Pick "Send people to your website."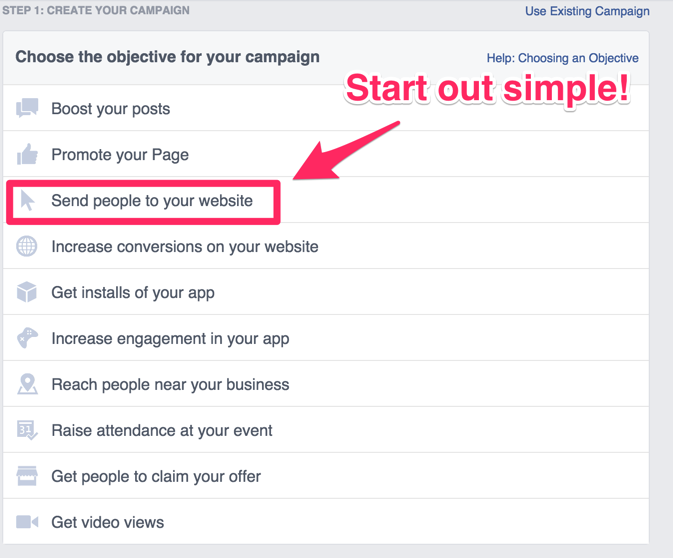 You can send traffic to your landing page. Alternatively, send people to an article that you wrote. Set the demographics appropriately – you don't want to cast a very wide net and not appeal to anyone, you still want to focus on your target audience.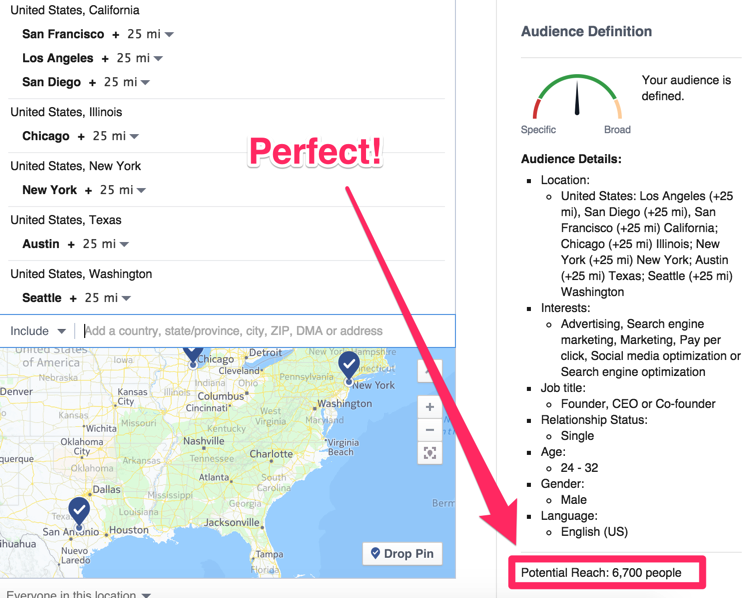 Jon Loomer generally follows these principles while advertising on a social network like Facebook (you should too):
i. Send out a post and let your target audience interact organically.
ii. Promote the post and boost the click-through rate with a modest budget of $10/day and target the fans (that aren't seeing the post in their feeds organically). He also excludes the audience members that have already read the post.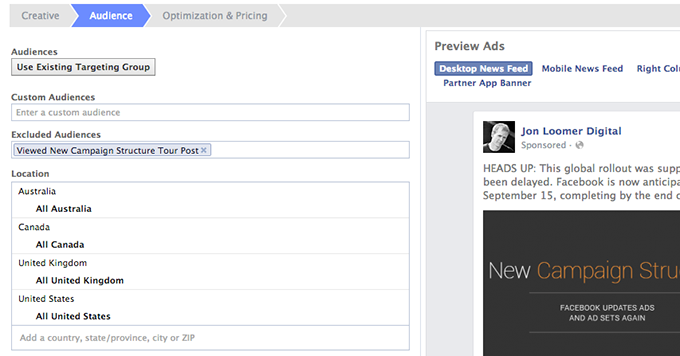 iii. Shoot for 10-15 cents/cost per click. If they cost Jon more than 20 cents/cost per click, he stops the ad. And, if they cost under 10 cents/cost per click, he increases his budget.
If you're writing about multiple subjects on your blog, then I recommend that you segment your target audience, based on the keywords in your URL.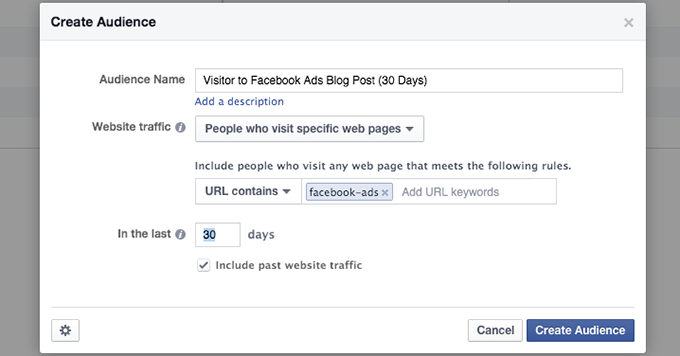 2. If you're a multi-author blog, then you can also publish a weekly roundup of the best posts. Share a lookbook image of all of your articles. This way, you can get a higher click-through rate to your content.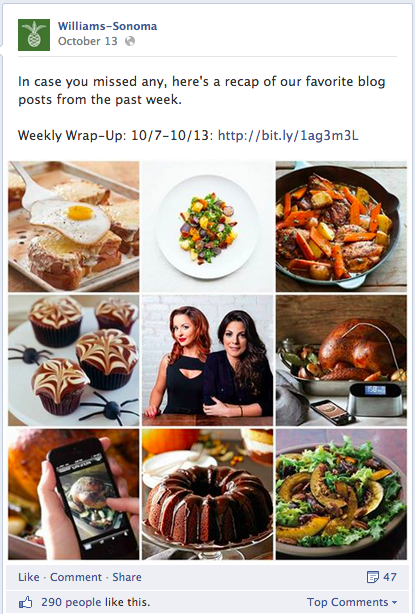 Next, let's talk about how to drive traffic to your blog, using a social media campaign that utilizes Twitter advertising. The basics of launching are similar to a social network like Facebook. First, you'll need to log into Twitter ads and launch a new ad campaign.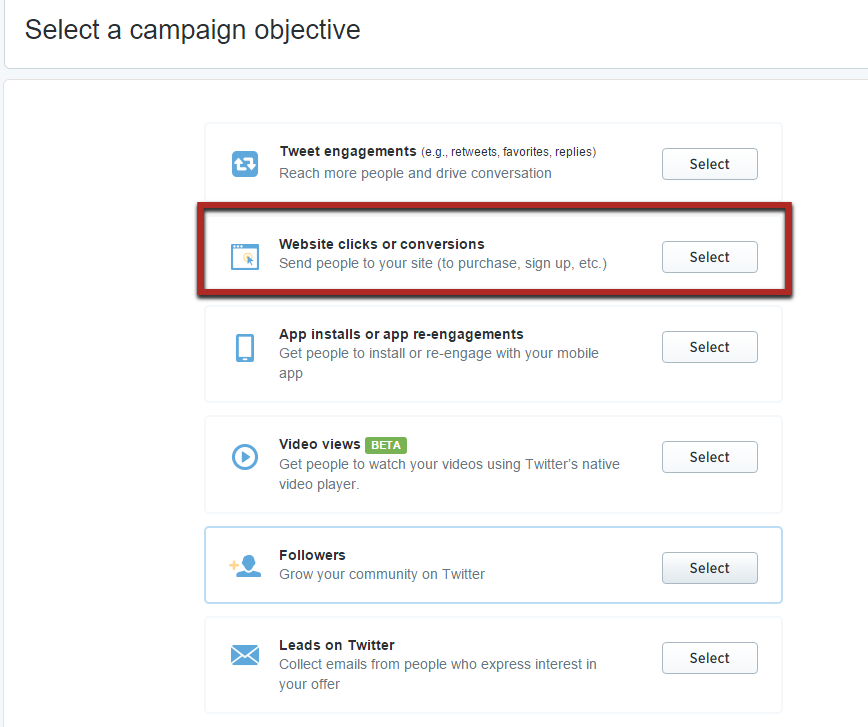 Next, I recommend that you promote Twitter cards, instead of the traditional 140-character tweet. Twitter cards have rich media (video or image) and generally get more engagement/attention which is good for inbound marketing and brand awareness.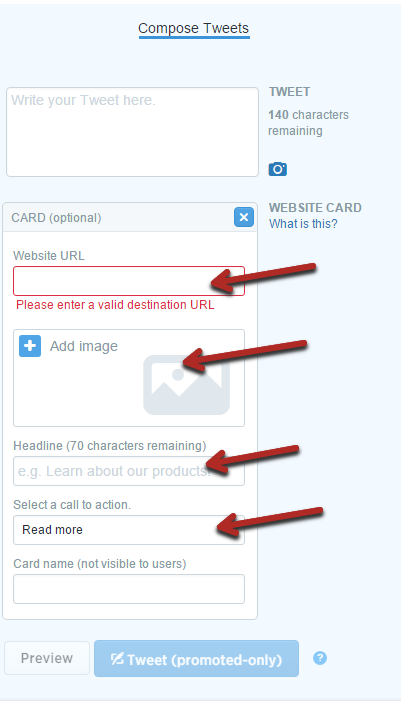 Now that you've picked up speed, here are two actionable ad campaign strategies.
1. A leeway that you can afford on the micro-blogging real-time platform is higher tweeting frequency (as long as you maintain quality).
Larry Kim advises you to leverage this characteristic to your advantage:
Tweet often, but only opt for paid social ads to promote your best content.
If you promote your good tweets with paid social ads, then you might dilute the impact of your best content.
So, send out a tweet organically and monitor the initial traction. If you get great target audience engagement, then promote it as part of your ad campaign.
For instance, Larry picked up news on Google breaking news stream, with photos and he turned the news into a standalone product. He packaged it with a catchy title, saw a great initial response and spent $250 on promoting the post to his target audience.
I know that's a lot of money….
But, they managed to get 1500 retweets and 100,000 visitors to the post that justify the cost.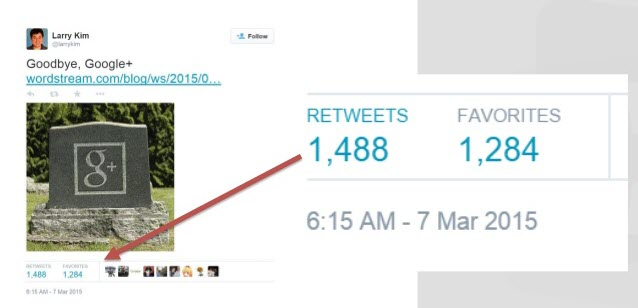 The influencer targeting on Twitter that I mentioned earlier in the article was also a part of this promotion.
You can find which tweets are getting the highest engagement from your analytics dashboard.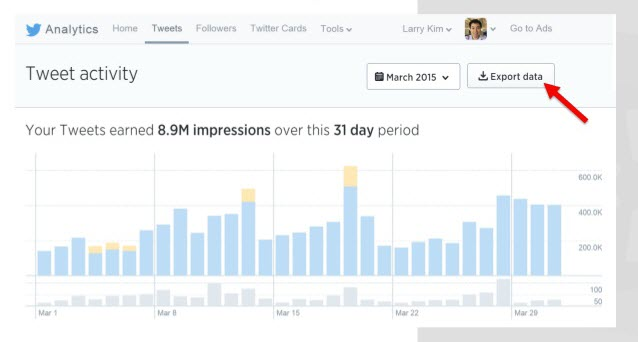 Then, promote them from the 'Select an existing Tweet' option, inside the campaign option.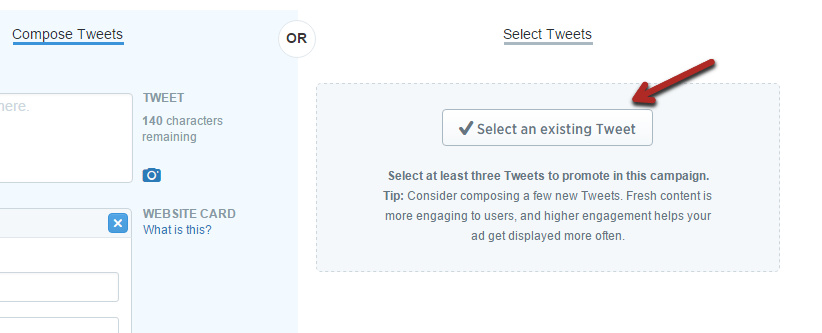 2. On Twitter, things move at a rapid pace. This means that your ads will get stale and lose engagement faster than they might on other social networks.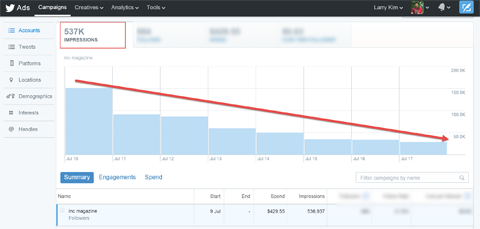 Keep a close eye on your cost per engagement. If you find that it's gotten really low, then quickly create a new online ad. Alternatively, start promoting a different piece of content.
The last platform on the big 3 social networks is LinkedIn. In my previous experiments with LinkedIn Ads, I've found that the lead quality from LinkedIn, for B2B companies, is high and its a great space for inbound marketing. But, you shouldn't expect a ton of volume for your search marketing, especially given that each lead might cost you $4.76 a click.
If you have a high average-customer-value (ACV) and have a product in the B2B space, then investing in LinkedIn Ads will give you a good ROI.
Here's a great article on how to set up your first campaign, by Kristi Hines. 9 clicks from a $50 spend prove that this isn't a platform for most small business owners.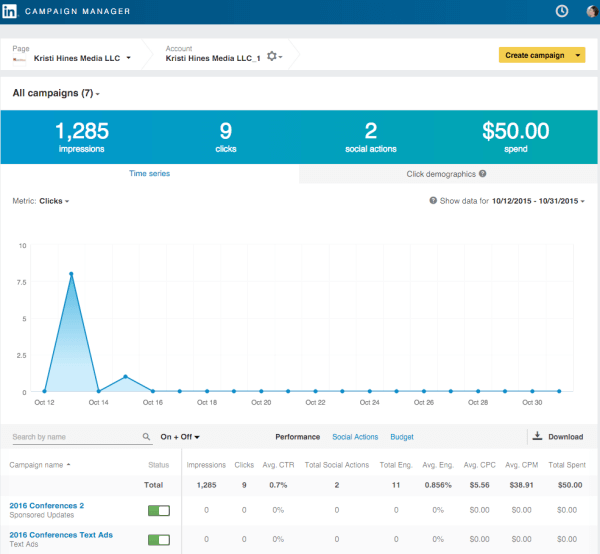 I hope that you've sincerely analyzed the social networks that your competitors are using in step #1 as part of their social media campaigns. You'll most likely find a smaller niche network (besides the top 3 we talked about) that's actively used by them. I would recommend that you experiment with them.
Here are 3 case studies to show you the advantages of smaller social networks.
1. Erza Firestone generated $41,254 in revenue through an ad spend of just $775 on Pinterest. Here's what his sales funnel looked like.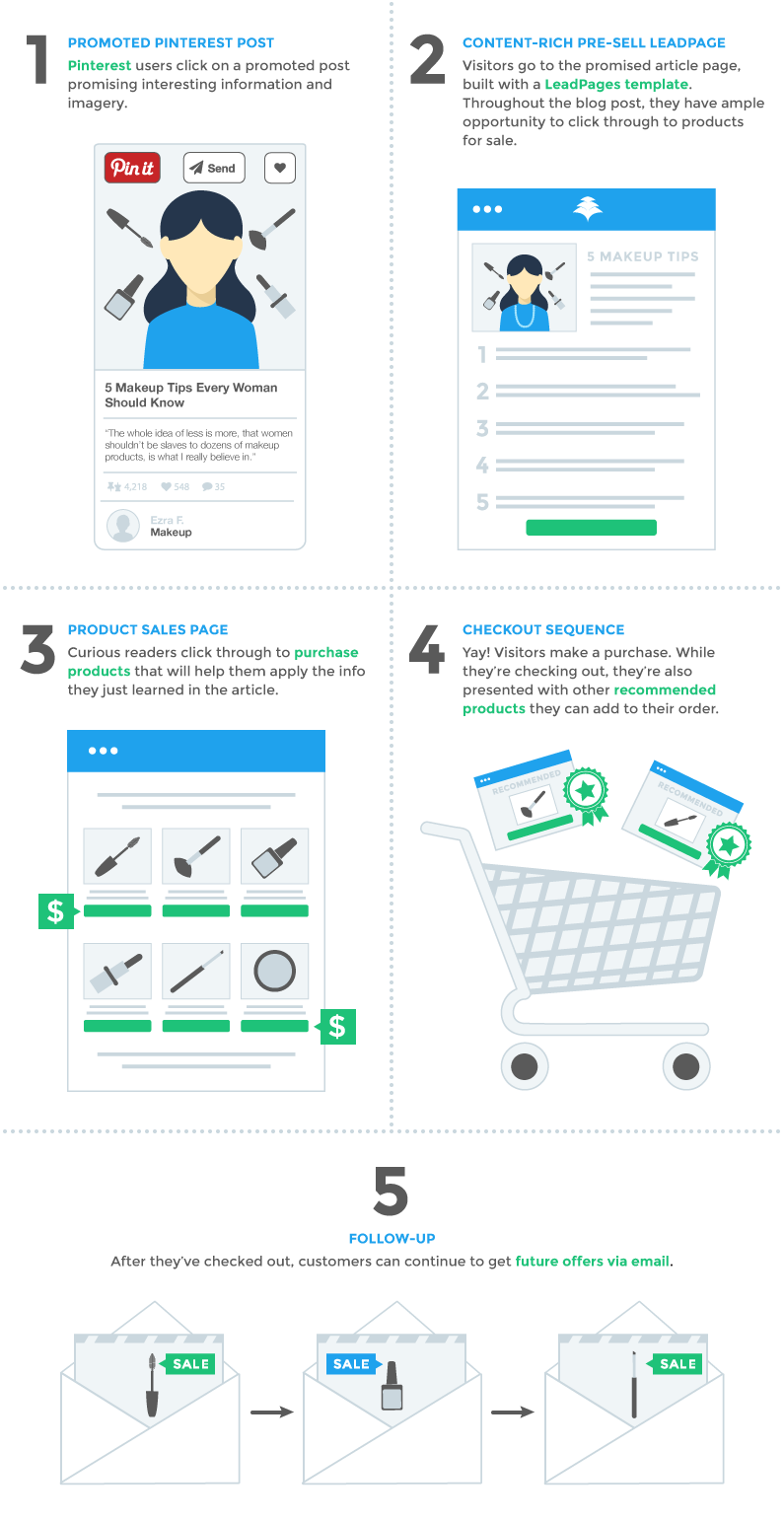 2. Foundr Magazine gained half a million Instagram followers in one year. They leveraged S4S (Share for Share) with similar Instagram accounts in their niche. They also conducting paid shoutouts – which is basically paying large Instagram accounts to help build your brand awareness via promotion.
And, Foundr didn't shell out thousands of dollars. They gained 10k followers and boosted their click-through rates within the first two weeks, just by spending $100 on shoutouts.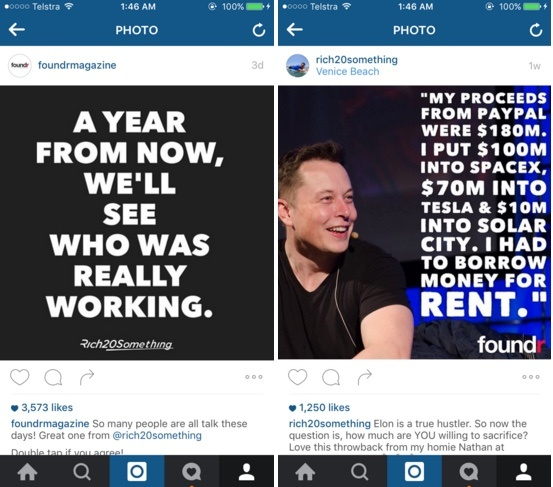 You can also try Reddit Ads and Stumbleupon Ads. Pocketderm managed to get 220% growth in customers, in 2 months, using Reddit Ads.

Note: I am only showing you the possibilities of other social networks. You don't necessarily need to experiment with paid social ads on every social network and get overwhelmed. Once you find a platform that yields a good ROI, then stick with it.
3. Pixel your visitors and try to earn media mentions
Now, you've got numbers rolling and might have declared the clear social media winner.
I want to mention a paid marketing strategy that can increase your inbound marketing success, improve your engagement and decrease your paid social network spends…
Remarketing…
I've already written in detail about it here.
But,  retargeting simply means adding pixels into your content so that you track people that interacted with your website, but didn't add to your conversion rate.
When you launch a new social media campaign (or publish a new post), then you can directly target these potential customers.
On Facebook, you can launch a remarketing campaign by creating a Custom Audience from the ad manager. You can even target potential customers of other pages, by leveraging Lookalike Audiences.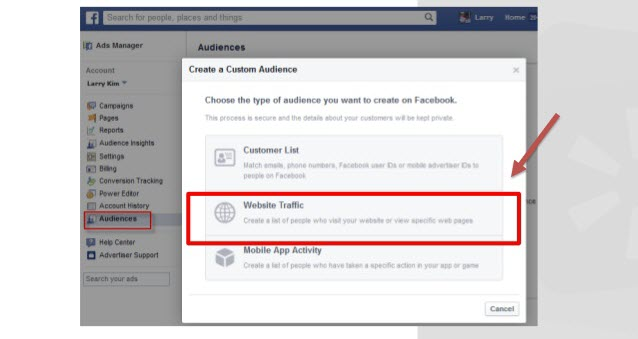 And, on Twitter, you can do the same using Tailored audiences.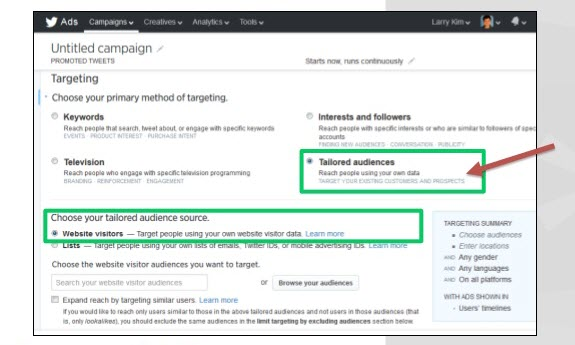 You can even create highly personalized custom audiences on both of these platforms by uploading your customer lists. You should expect a match rate of 20% – 50%.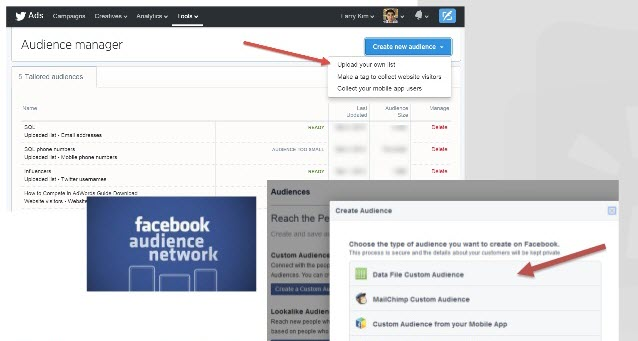 To launch each of these remarketing campaigns, you'll need to copy code to your website.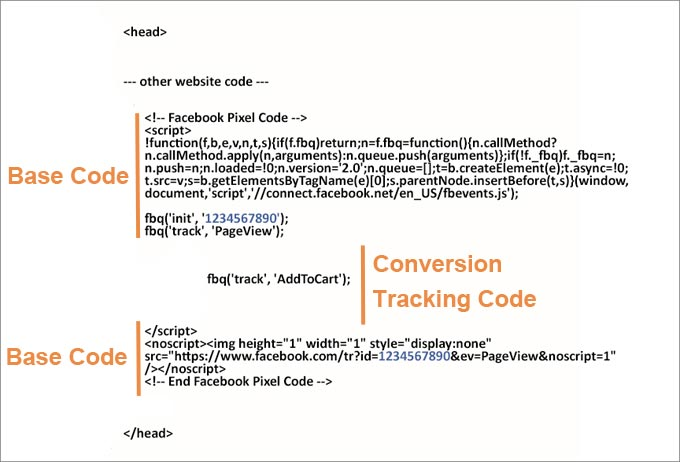 While optimizing your paid social media campaign, you should simultaneously also aim at media mentions. If you get your content placed on an esteemed media platform, then imagine the credibility and traffic you'll drive.
Forget huge media companies:
Even if you get your content in front of the right influencers and impress them, you can strike gold.
Here are a couple of ways to earn media.
1. Find the trending content formats that are written by media websites right now. David found that 'spiders' was the flavor for August.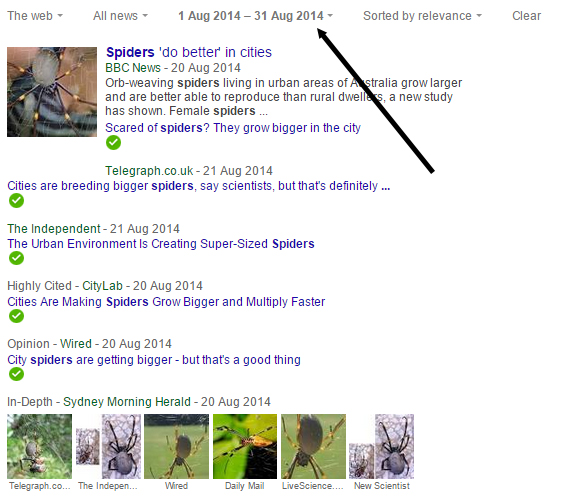 And, since the infographic on the health effects of Coca-Cola was getting a lot of attention, he went ahead and published an infographic on Scotland's national drink – Irn Bru.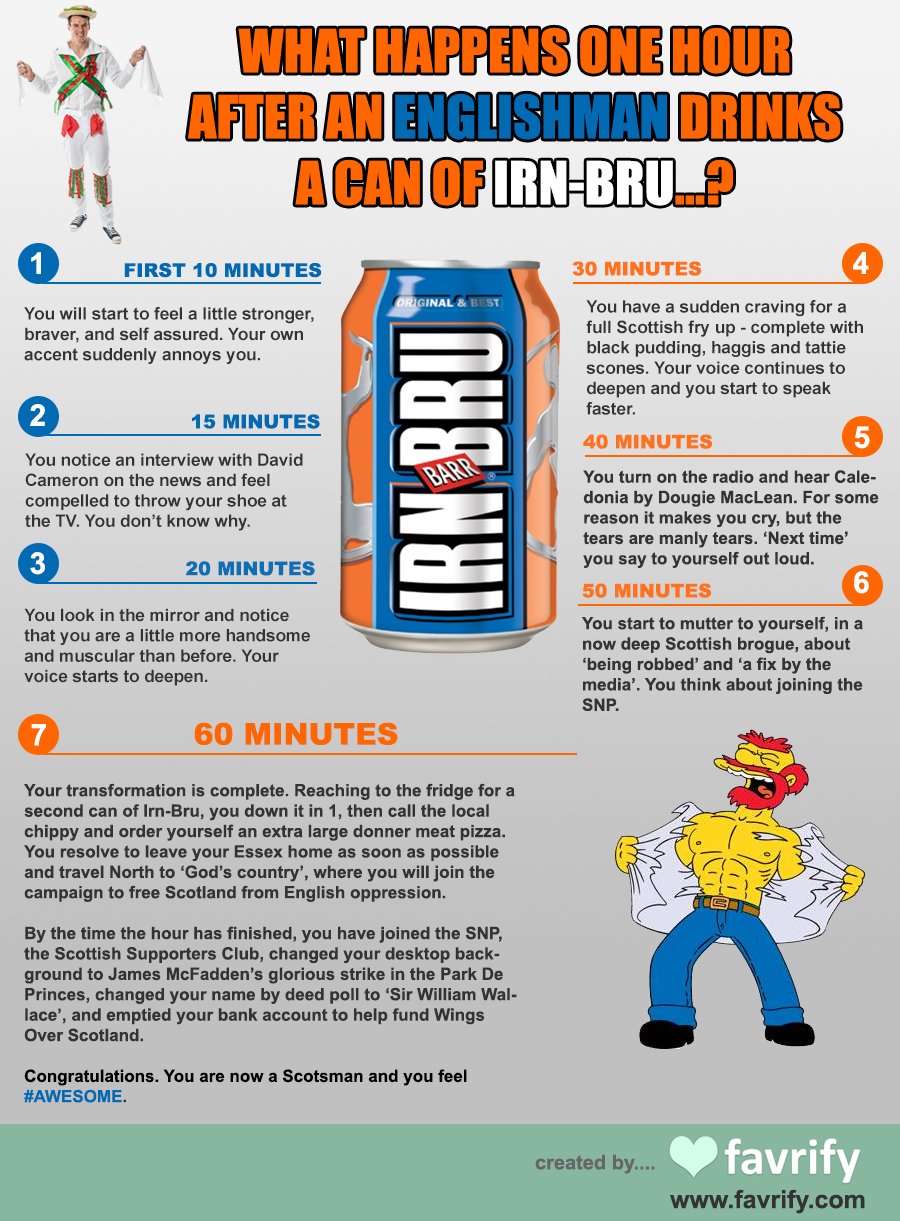 The result was 100,000 visitors in 48 hours, along with a lot of earned media and a huge click-through rate.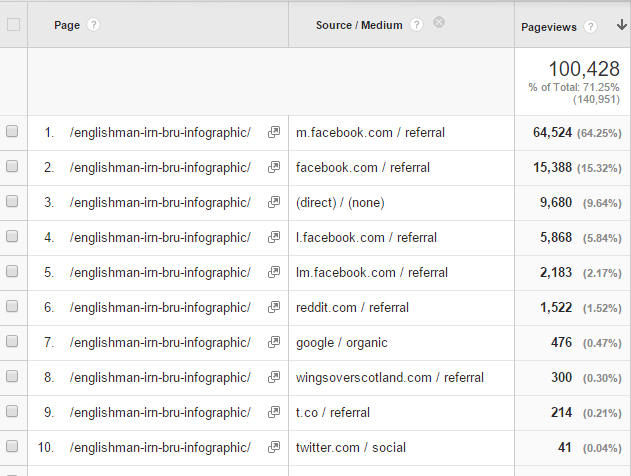 Right now, David mentions that maps are a trending content format that are picked up by many media houses. Care to give it a try?
2. Perform email outreach to journalists and influencers that recently shared a similar piece of content. You can find the sharers by using Buzzsumo.
If you fail to earn mentions from major media, then consider guest posting on authoritative blogs in your niche to promote the top 20% of your content.
Conclusion
Integrating paid social in your search marketing can catapult your reach and help you gain credibility. One great aspect of paid social is that the results are fairly consistent. It's especially helpful when you're starting from scratch and want to grow your traffic via inbound marketing and online advertising.

Don't be afraid of shelling out some dollars. The 3 simple steps in this article should help you to incorporate paid social in your content marketing.
Do you use paid social media marketing? I would love to hear your results.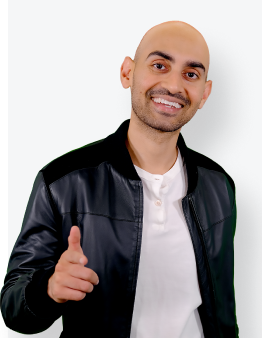 See How My Agency Can Drive More Traffic to Your Website
SEO - unlock more SEO traffic. See real results.
Content Marketing - our team creates epic content that will get shared, get links, and attract traffic.
Paid Media - effective paid strategies with clear ROI.
Are You Using Google Ads? Try Our FREE Ads Grader!
Stop wasting money and unlock the hidden potential of your advertising.
Discover the power of intentional advertising.
Reach your ideal target audience.
Maximize ad spend efficiency.