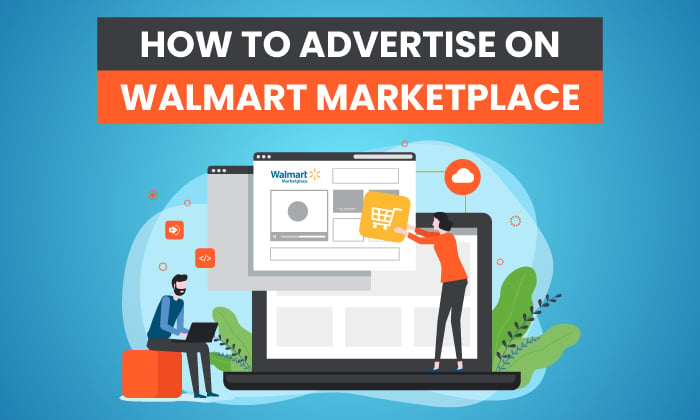 If a company counted roughly half of the U.S. population as customers, you'd be pretty eager to use that platform to advertise your business, right?
Well, that's exactly what Walmart Marketplace allows you to do. It gives you the ability to reach a huge market of highly targeted, engaged consumers, so why doesn't it get as much attention as other platforms such as Amazon?
If you're not on Walmart Marketplace already, then chances are you should be. Here's how you can use advertising to get the most out of it.
What Is Walmart Marketplace?
Walmart Marketplace is where third-party sellers can upload, manage, and sell their products on Walmart's website.
As the largest retailer in the world, it was only a matter of time before Walmart started to flex its muscles in e-commerce, and in recent years, it's seen tremendous growth thanks in part to Walmart Marketplace. With a large audience and millions of engaged shoppers, Walmart Marketplace could be a necessity for any online retailer in the same way that Amazon is.
Getting your products on Walmart Marketplace is a great step to take, but to maximize your sales, you should consider how you advertise. Marketplace offers lots of useful ways to reach your target customer, and you may find they can provide a very good return on ad spend (ROAS.)
Why You Should Advertise on Walmart Marketplace
Understanding your customers is the only marketing strategy you need. A big part of this is reaching your customers where they hang out. For 150 million Americans a week, that's at Walmart.
The stats behind Walmart are significant, and just by looking at the numbers, you can get a sense of why it's important to be on Walmart Marketplace:
the largest retailer in the United States
90 percent of Americans shopped at Walmart in the past year
150 million customers visit Walmart in-store or online each week
90 percent of Americans live less than 10 miles away from a Walmart store
Walmart isn't just about its physical stores, though. It's also got a large e-commerce presence, and many of its shoppers are engaging with it. The buyer journey is truly omnichannel in the modern world, with 35 percent of Walmart shoppers researching products on Walmart.com before they go to a physical store.
Amazon might have a bigger profile in the online world, but this doesn't mean Walmart Marketplace is some hidden gem where you can achieve easy success. There's a huge amount of competition on Marketplace, and while growing your profile organically is important, you've also got to make the most of the advertising options available to you.
These options may look very similar to other large online marketplaces, but there are some unique features on Walmart Marketplace you can use to your advantage.
Walmart Marketplace Features
In recent years, Walmart Marketplace has been rapidly growing and improving the seller experience. If you're familiar with Amazon Seller Central, then you will notice a lot of similarities, but some features differ slightly.
On Walmart Marketplace, you can:
upload your products
optimize your listings
choose your pricing
decide on your fulfillment method
assess your advertising
Every step in this process is important, so your Marketplace account is a key place you will visit regularly. Small details make a big difference when it comes to selling online, so it's important you write great product descriptions, choose the right price points (Walmart is quite sensitive about this, so be sure to read all the terms and conditions), and come up with an effective fulfillment plan.
Like with Amazon, you can send your products to a Walmart fulfillment center, but this feature works very differently, with sellers having a lot more control over the shipping process.
To get the most out of these features, you must understand your own business well and create a business plan for how you're going to maximize your sales on Walmart Marketplace.
Walmart Advertising: Sponsored Products
Advertising isn't one-size-fits-all. People go through a complicated customer journey when buying your products, so you need to be able to reach them in a variety of different ways.
Walmart advertising is particularly good at this, offering advertisers many different tools to help them reach their target audience.
With six different ad types, it allows you to reach customers at the awareness, consideration, and decision stages of the buyer process, establishing your brand in people's minds and driving sales.
To set up each type of ad, simply:
Log in to your Walmart Ad Center account.
Select "Create New Campaign" from the "Campaigns" tab.
Choose manual or automatic targeting.
Set your budget.
Choose your placement type (if you selected manual targeting).
Select bid multipliers (this gives you extra control over which ad formats you use).
Create an ad group and add the products you want to advertise.
Enter your keywords (for manual campaigns only; if you choose automatic, Walmart will do this for you).
Walmart Advertising Ad Type 1: Search In Grid
When we think of search engines, we think of Google, Bing, and Duck Duck Go. We don't think of social media platforms or big e-commerce platforms like Walmart Marketplace or Amazon.
That's exactly what these platforms are, though. They're search engines that allow people to find and buy products. This means the types of Walmart advertising you use probably look very similar to the PPC ads you run on Google.
Search in grid Walmart ads allow your products to be featured when a customer types a certain query into the search bar. For example, if your keyword is "nuts," your product will show in the search grid when people type that query.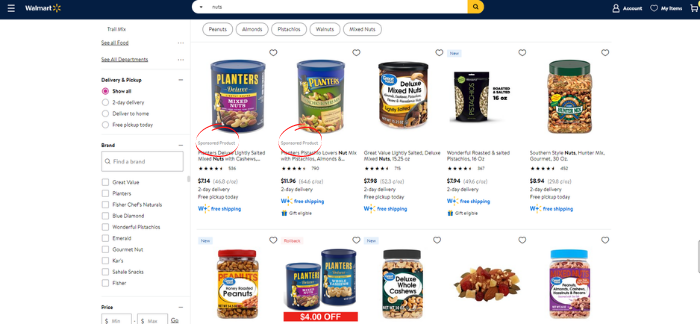 Like with traditional search engines, it takes time to build your organic presence on Marketplace, so search in grid Walmart advertising gives you the ability to feature at the top of the results more quickly.
To set one of these ads, your products must fulfill several requirements:
be in stock
win the buy box
be in the top 128 organic search results (top 3 pages)
same category as the search query
same product type as at least one top 20 organic result
Once you meet all these requirements, then search in grid ads are an ideal way to get your products in front of your target audience.
Walmart Advertising Ad Type 2: Brand Amplifier
Whereas search in grid ads are all about getting a certain product in front of your audience, brand amplifier ads are about showcasing your brand.
You might have a whole range of exciting products that people want to try, and in this case, a brand amplifier may be the right form of Walmart advertising for you. Rather than your product appearing in the search results, a brand amplifier shows a banner with your brand name and a selection of your products above the results.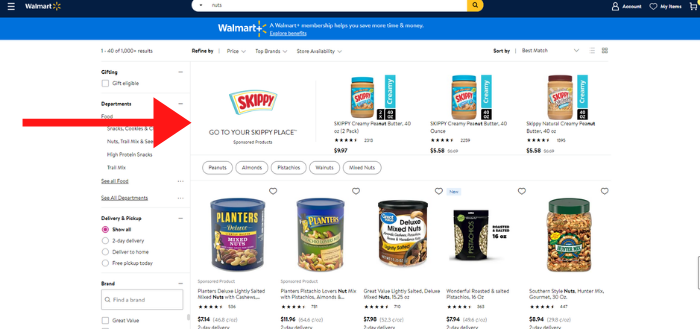 This is a great way to boost brand recognition and get people to engage with your products.
With an eye-catching logo, a customizable headline, and up to three of your products shown, this can help you grab people's attention and encourage them to explore your brand further.
Walmart Advertising Ad Type 3: Product Carousel
Sometimes people shop online and know exactly what they want, but in many cases, they want to compare products to find the best one. To help people do this, Walmart places product carousels that show customers different product options on search, category, and product pages.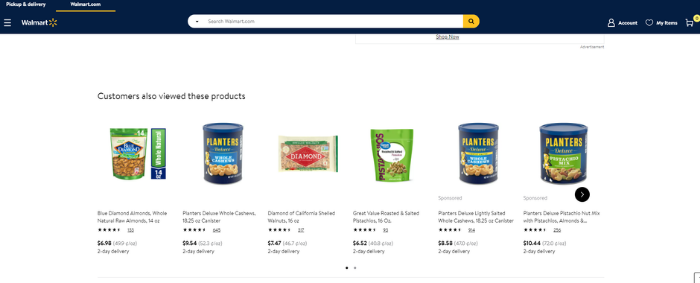 Some of the results on the product carousel appear organically, but some are paid ads.
This is another opportunity to reach a targeted audience with your products. If someone is already looking at a product page and comparing their options, chances are they're motivated to buy, and this is an excellent time to bring them to your product pages.
Walmart Advertising Ad Type 4: Buy Box
These different forms of Walmart advertising might seem very similar, but they each have their benefits. Another great option is the Buy Box.
The Buy Box appears on product pages and offers your product as an alternative to the one they're looking at, which makes it a great place for your product to appear. If the customer has any issues with the product they're considering, then the next option they're presented with is to check out your product.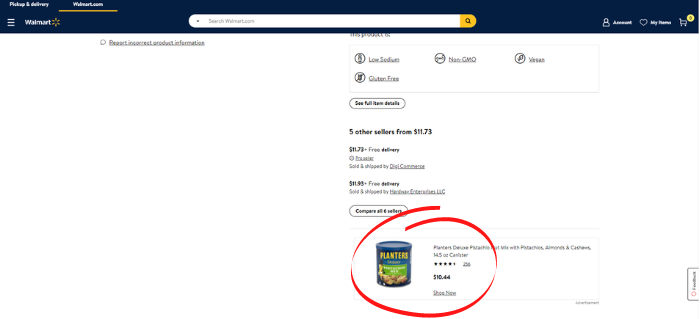 With the Buy Box, customers can quickly compare two products, so it's a perfect place for your ad to appear. It puts your product in the mind of the buyer and establishes it as a viable alternative.
Getting your product noticed at this late stage in the buyer's journey is a great tool to have.
Walmart Advertising Display Ads
Walmart advertising isn't limited to result-based product ads; it also offers options for more content-based advertising through its display ads.
Just as Google allows advertisers to display ads that pop up on websites across the internet, Walmart offers a similar feature. They allow you to reach customers at many different stages of the customer journey, whether they're on Walmart-owned properties or third-party websites.
Walmart Display Ad Type 1: Onsite Display
Onsite display ads are content-based ads that allow you to advertise across all of Walmart's platforms, including Walmart.com and Walmart apps.
Display ads are prominent features across the web, and they're a chance to grab people's attention and earn their clicks. To do this, you've got to be creative with your ads, and it's no different on Walmart.
One advantage you have with Walmart is that you benefit from the huge amount of data it has on people's shopping habits. This enables you to choose your ideal Walmart customer to target and make sure you're getting your ads in front of the right people.
With onsite display, your ads become truly omnichannel, reaching people however they interact with Walmart and allowing you to see your results all in one place.
Walmart Display Ad Type 2: Offsite Display
Just because someone has clicked away from your product page doesn't mean they won't purchase in the future.
They may have been doing some initial research and are thinking about coming back to your product later. When someone leaves your product page, you want to make sure your brand remains fresh in their mind.
Offsite display ads can be the perfect way to make sure people don't forget about your products.
Through retargeting, you can reach targeted Walmart customers across the internet. These display ads can show on social media platforms and third-party websites, making sure your product stays in the mind of your audience, and they're able to quickly go back and make a purchase.
Retargeting can be an extremely efficient use of your budget if you're using the right strategies, and Walmart gives you all the tools you need to do this.
Conclusion
To succeed in marketing, you need to make sure you're advertising on the platforms your customers are using. For 150 million Americans, Walmart is that platform. Of course, to make the most of your audience, you also need the right tools. With a rapidly growing online presence, that's precisely what Walmart can offer you.
Boosting your organic presence is a crucial part of being on any marketplace, but Walmart advertising also offers you an excellent platform to sell more products. If you can be targeted and creative with your use of Walmart advertising, you could expand your reach and boost sales quickly.
As ever with advertising, it's about finding the strategies that work best for you, and Walmart gives you more than enough tools to do this. Your customers are spending money at Walmart every week, so when are you going to start taking a piece of the pie?
Have you advertised on Walmart Marketplace? What was your experience?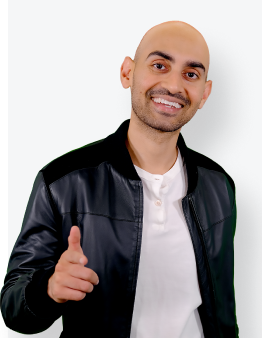 See How My Agency Can Drive More Traffic to Your Website
SEO - unlock more SEO traffic. See real results.
Content Marketing - our team creates epic content that will get shared, get links, and attract traffic.
Paid Media - effective paid strategies with clear ROI.
Are You Using Google Ads? Try Our FREE Ads Grader!
Stop wasting money and unlock the hidden potential of your advertising.
Discover the power of intentional advertising.
Reach your ideal target audience.
Maximize ad spend efficiency.