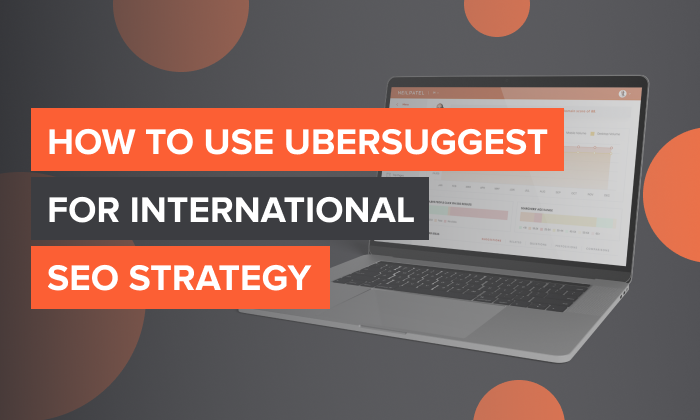 Thinking about going international, but wondering whether you'll sink or swim?
As your business has been continually growing, you've decided it's time to go global.
The problem is, you're worried about your pockets being deep enough for a global marketing budget.
What if I told you a global presence was possible for any business?
It's all about your strategy.
The global economy offers a wide net of opportunity. However, you'll want to be equipped before you cast your line out in such a big market.
Think about it this way…
You don't just have more competitors to face, you have a bigger audience waiting for you.
One essential, but neglected step here is assessing your SEO potential in your target locations and how to build your international SEO strategy.
Let's get you ready for global growth.
Does Your Business Need International SEO?
Millions of people are searching for a solution your product or business can solve. If you shoot for an international audience, that number can get even bigger.
Going international isn't a must for every business, though. Some companies cater to certain regions and still see major success. For example, Erewhon is a California luxury supermarket with locations only in Los Angeles. Forbes noticed them after they generated $2,500 in sales per square foot of the market. In 2019, this was four times what the average grocery store's sales were. They even remained in demand through the pandemic, bolstered by increased interest in organic supplements to fight COVID.
But, in some cases, going international takes businesses to the next level. Companies like Spanx and Whole Foods took international leaps. Today, they're household names that started off as small businesses.
If you have greater ambitions, international SEO is an ideal strategy to expand your business. It helps your content, products, and services appear in worldwide search results. This isn't as simple as firing up Google Translate, though.
It's essential to adapt each piece of content to the audience you are aiming for. This includes your keyword research, the topics you prioritize, and the content style you present. A solid international SEO strategy will help your company reach new markets and multiply revenue.
How Is International SEO Strategy Different Than Domestic SEO Strategy?
The foundation of your international SEO strategy is just like domestic, in that you need to follow a series of best practices. However, how you accomplish those best practices can differ.
The main differences between your domestic SEO strategy and your international SEO strategy include:
Language variations
Local audience requirements
Local competitors
Search engine popularity and variety
Website variations needed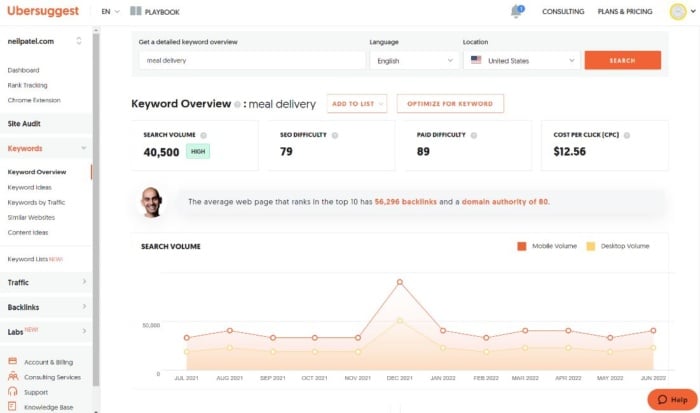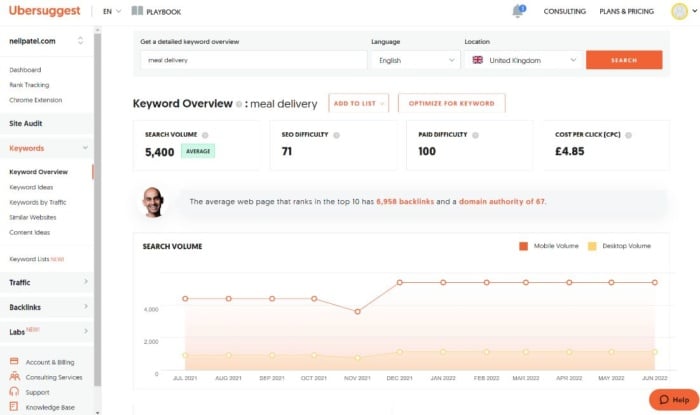 International traffic is available for the taking, but even in the same language, you can't treat two countries' audiences as identical.
In order to direct consumers to the page that best addresses their queries, search engines like Google and others consider location. This is why one of the key components of SEO is making sure user search intent matches. You'll need to research what adjustments to make for your international SEO strategy to assist in reeling in this new audience.
How to Build An International SEO Strategy
Now that you're ready to build an audience, you'll need a strategy:
1. Lock in your target countries or regions
Once you pick your target audience, zero in on your subsets within that market. So, say you want to expand into Canada – as I did with my agency. You should be aware of the market and their need for your product or service. If a country looks like a market with potential for growth, take the opportunity to expand.
Seeing who is searching for a brand like you and where they are will be a big help. For example, you wouldn't want to try to optimize for surfboards in a landlocked country! Dig a little deeper into the language as well. Subtle variations, like tire in the U.S. versus tyre in the U.K., can impact what your audience is entering in Google.
2. Assess your needs in the competitive international market
To be successful in this new territory, you should know who you're up against. Learn about the competition's digital presence and how they appeal to the audience in that area. The industry may be bigger or smaller in your country of origin, which would change how you approach trying to rank certain keywords.
3. Use an SEO tool to conduct international keyword research
You can use Ubersuggest to analyze the area and see what your competitors are ranking for. Let's use the keyword 'SEO' with 'English' as the language we want to optimize for in Canada.
You can see the search volume is high, and the paid difficulty for this keyword is easy. So, stepping into the Canadian market with SEO as a keyword to build around shouldn't be too difficult, since it's going to be a key focus for us.
Knowing data points on who's searching for these keywords will help you settle amongst or ahead of your competition. You can even note the keywords and content ideas competitors are having success with so you can optimize accordingly.
4. Localize for your global brand placement
Localizing will go a lot farther than just translation. Your international SEO strategy has to be adaptable. Your content needs to be in the right context for your audience to provide them with answers.
Depending on the consumer's needs, localizing will be your key to keeping prospects feeling like they've found the right solution during their buyer journey. I understand that localizing multiple sites will be a tough hill to climb. However, seamless integration can happen with proper planning.
5. Optimize content and technical aspects
For the international landscape, your content and technical aspects need optimizing for your target region. The attributes of your localized page versions should be language and region-specific.
You'll need to use hreflang tags to tell Google what the variation is for so the algorithms don't flag your site for duplicate content. Make sure you check all assets align with local expectations as well, so your content isn't misinterpreted. This way, you capitalize on the actionable data received through reporting.
International SEO Ranking Factors
While you can build a perfect strategy, outside factors can still affect your international SEO ranking.
But I'll make sure you're prepared.
To keep your strategy solid, be on the lookout for these variables:

Audience Response
A follower's comment or a customer's review are important forms of feedback. When your audience speaks about your brand, address the negatives and learn from them. The positive feedback is helpful as well. Both pipelines show how you can connect better with your audience. With direct information from customers, you can boost your reach and use keywords to continue to keep them in your target audience.
Link Building
I stand by link building because the more links I get leading an audience to my site, the more people I can help in their business development strategy. Having local support from blogs or even influencers from that region will show your credibility, even as an international business.
Mobile-Friendly Design
Having a mobile site that loads quickly and is easy to read matters. It will help with your search rankings and show you're able to deliver the ideal user experience at an international level.
Best Practices for International SEO
Doing international SEO right really depends on your strategy. If you can predict the needs of your audience, you can expand your reach even further.
To start things off right, these five best practices will be your guide:
1. Study the audience and market you're interested in
You'll be doing more of a multi-stage optimization. As you roll out your strategy, you'll need to know your audience and market well to gain insights on how to put in place an international SEO strategy. As you and your team grow more familiar with your audience, you can plan appropriate content to present.
2. Plan your international SEO strategy and approach
This step will depend on your business and target audience. Look at your products or services and determine how they will fit in various markets. Each region or country will have its own needs, and it's important to take note of where you will fit in. Keyword research will help you get a feel for the temperature of the market.
3. Prepare content translations for localization
Your URLs and domains need the proper structure so they can target your particular audience – even subdomains matter. This will be a crucial step, so you'll want to get it right the first time. This step also sets the groundwork for your link-building strategy in each market. When creating content, the hreflang attribution will need a design for the geographical region(s) intended to receive the content. This helps to avoid being flagged for duplicate content, hurting your strategy's strength.
4. Analyzing your competitor's rankings
They may be your future competitors now, but you'll need to gauge how they're performing. Get a glimpse of their standing with content and paid ads besides SEO. If you want to take on this market, international SEO will help you optimize. It's likely you'll find hidden opportunities your competitors are overlooking along the way.
5. Make content catering to local audiences
Any content you create should be relevant topics for the local audience. If you don't have a team based in the area, find an expert to make sure they can review your content. They will ensure your messaging and appeal are specific. You don't want your content to feel out of touch or like a translation of your existing methods in another region. Even if you don't speak the local language, you can engage with the right approach.
How Ubersuggest Helps With International SEO Strategy
Having the right tools in this transition will enable you to maximize your international SEO strategy.
Want to land well in your target markets? Use Ubersuggest to help support your international ambitions.
Let's walk through how Ubersuggest can help with international keyword research.
For one thing, the research stage for what's trending and needed in your target country can go much smoother using this tool.
You can test keywords to see how they measure in reach for this country or find new keywords to use for this audience. Reporting will show you how successful certain keywords will be to this region before you even ideate content.
I'd like to especially mention how you can see where you stack up against your competition.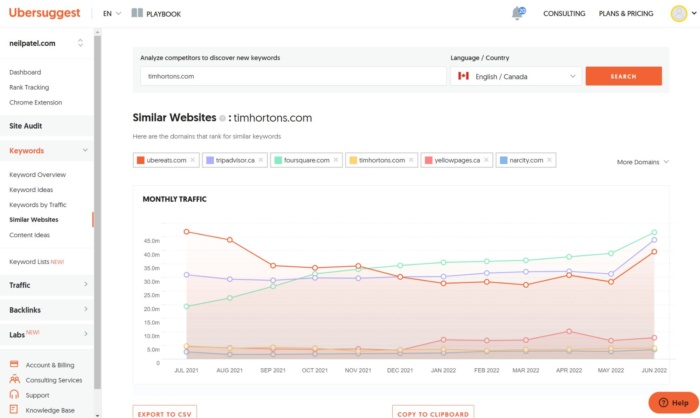 Here I took Tim Hortons, a popular Canadian coffee chain, and compared similar domains that rank for keywords that also align with their strategy.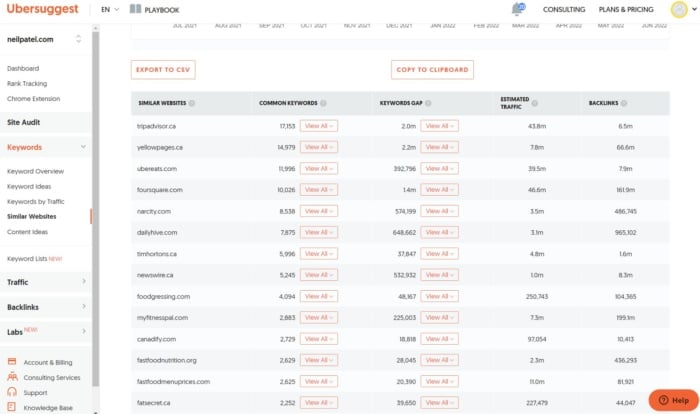 Seeing just how you compete with common keywords, traffic, and backlinks will help you set yourself apart. Remember, the goal is to shape your content around the needs of the locals.
Relatability and relevance to the audience in this region are most crucial for your strategy.
Thriving in this market will also depend on the potential traffic and backlinks you can rack up.
Using Ubersuggest for international SEO entails finding sites or pages that are seeing high traffic volumes.
However, the keywords give clues as to why.
If Tim Hortons is one of your competitors, you can see what locals are searching for to ensure your pages align with their specific demands and interests.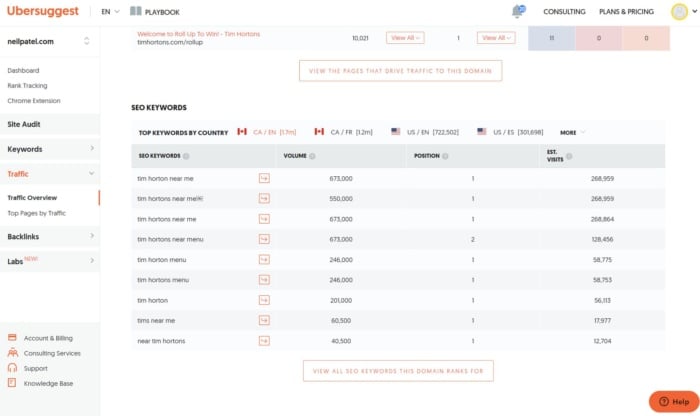 So, based on the data, you can see how locals are likely looking for accessible coffee shops and always want to know when one is nearby.
Other than keywords and traffic, backlinks can be measured as well.
Within the backlinks overview, you can see your domain authority. Domain authority references which pages have quality external backlinks. However, the number of backlinks shows how much reach you're getting with your content. If you can focus on referring domains, you can gain a lot of organic domains mentioning you. Like you can see below, Tim Hortons gets a lot of referring domains, meaning a lot of people are talking about them. Google recognizes this as many sites having confidence in their content.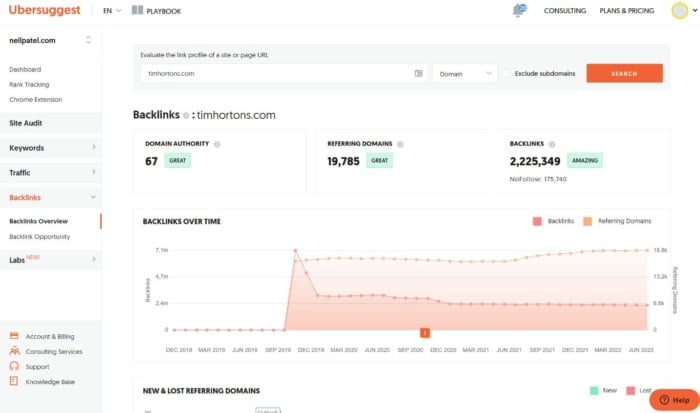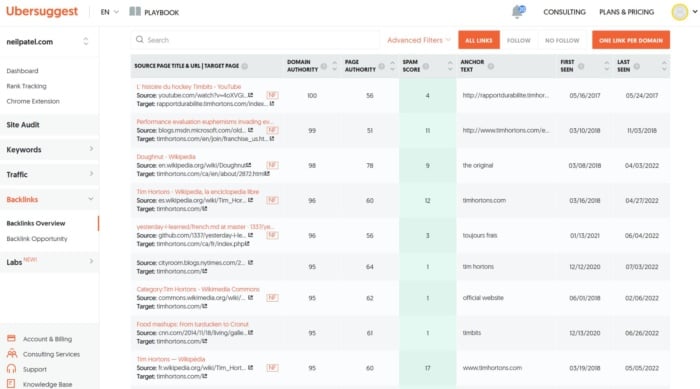 By getting referenced, your audience has the chance to widen.
It's likely those backlinking to your site have a common thread with your brand or share an aligning topic. Then, you can look at your competitors, research which of their pages landed them a backlink, and see if you can rank for the same topic locally.
Being able to customize your strategy based on research before you enter these new markets brings fresh insight. Using this information, you can make pivots before investing and branching into going global.
Think of Ubersuggest taking your SEO marketing to an advanced mode.
I've got you covered when it comes to setting you up for success in a new market for your business.
Conclusion
It's time to take things to a global level.
To make your international impact, international SEO is essential.
Why? It'll help make big strides as you branch out. From studying trending SEO tactics to scouting the competitive landscape, you're already increasing your chances for a positive investment.
But how do you ensure that your next big leap has a great landing?
Every region, every country, has its own little quirks and needs that you need to understand and master in order to get ranking in their searches.
This goes from the topics you cover to the way you describe different subjects and items, but it's a science you will grasp.
It's all about testing and understanding.
The numbers won't lie.
Now get to raking in that international revenue.
What countries do you want to target first? Make sure you test Ubersuggest to see where you currently stand in those areas and how well your competitors are doing in real-time.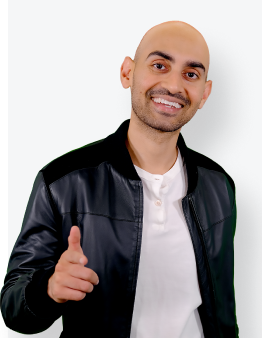 See How My Agency Can Drive More Traffic to Your Website
SEO - unlock more SEO traffic. See real results.
Content Marketing - our team creates epic content that will get shared, get links, and attract traffic.
Paid Media - effective paid strategies with clear ROI.
Are You Using Google Ads? Try Our FREE Ads Grader!
Stop wasting money and unlock the hidden potential of your advertising.
Discover the power of intentional advertising.
Reach your ideal target audience.
Maximize ad spend efficiency.