In the following post, you're going to discover a great way to target Twitter users that will save you a lot of time and effort. You also will learn about tools that can help you do this and how you can encourage users to share your content.
Twitter is an extremely powerful platform, but like everything in marketing, it's all about targeting the right people.
When you launch an ecommerce or SaaS website, getting traffic really isn't that difficult, but getting the right people on your site is a bit more challenging.
Getting back to Twitter, sure, having 150,000 followers would look great, especially from a social proof standpoint, but what if you could have the same level of engagement with a fraction of that number of followers (that would, in turn, take a fraction of the time to build and nurture)?
After all, time is money.
Why even do this at all? Because using the strategies and tools that I talk about means the following: more social shares, more links/mentions, more traffic, and ultimately more business leads.
How to target the right people on Twitter
When you set about targeting users on Twitter, you need to go outside the regular confines of looking at your target audience.
Every market you work in has a demographic of customer you want to reach. When you're at square one, without any established following or audience, it means there is a lot of work to do to get your business where it needs to be in order to compete in the market place.
Luckily, there are other businesses and even blogs that already have an established audience your target customer falls into, and this is where you need to start. With them, you can build a strong and active following that will share your content and help you generate more leads.
I like to break these businesses and blogs into 3 distinct types of users to target (and, of course, there will be some crossover among them).
1. Industry influencers
Industry influencers are the people and the companies that carry weight in your industry, and they should be your highest priority.
Industry influencers will send you traffic and ultimately influence the buying decisions of others.
Typically, industry influencers have all of these:
Large following on social media
Engagement in social media through retweets, Facebook comments, etc.
Clear signs of engagement on their blog such as shares and comments
Think about whose opinion you value in your industry and which blogs you subscribe to, and this will give you a good idea of who is an influencer in your industry. If you value someone's opinion, there is a good chance other people will, too.
Let's look at the SEO industry for an example. Immediately, the following names come to mind:
Danny Sullivan
Eric Ward
Rand Fishkin
Garrett French
Neil Patel
Kristi Hines
What about marketing in general?
Seth Godin
Guy Kawasaki
Brian Clark
Neil Patel
Chris Brogan
Julie Joyce
The better you know your industry, the easier this is, but what's important is that you don't just stop at the first 5 or 6 names, because these are what I like to call "trophy influencers."
You would love to have these people share your content or mention your business, but you need a much bigger list to work with. Don't think that just because someone has only 500 followers on Twitter, they won't be able to influence people, because they can.
So, as an ideal place to start, make a list of all of the blogs you read right away. Then dig deeper and expand that list as far as you can. When you actually connect with these influencers on Twitter, you will have a greater chance of your content, shares, or brand name going viral, which will cause your business or brand to be perceived as more of an authority in your industry.
2. Amplifiers
Amplifiers are Twitter power users, and you need to target them because they are:
86% more likely to send tweets
Twice as likely to follow more than 20 brands
54% more likely to use Twitter on their mobile
Most likely to retweet or share your status updates or content
The above statistics were taken from a survey compiled by Twitter and Compete last year.
3. Your target audience
Industry influencers and amplifiers often are part of your target audience, and they are a direct route to your target audience, but it's important to remember that you should attempt to reach out to your target audience directly as well and not just through influencers and amplifiers.
Connecting with your target audience comes down to their interests, what they like to do, what they need to learn, and all that fun stuff.
If you haven't put customer personas together yet, now is the time, because doing this will allow you to figure out the exact phrases you can use to search Twitter for your target audience. Then you can take the information outside of Twitter to find what media they consume elsewhere on the web.
It also will help you ensure that your content is laser targeted and tailored to answer the questions your target audience needs answered and that it provides the right media they want to consume.
Ellie Mirman published a detailed guide to developing customer and buyer personas on the HubSpot blog last year.
Your customer persona will highlight related industries and websites that you wouldn't have otherwise considered as an online hangout for your target audience.
Twitter Tools to help you get the job done right and save time
Maintaining your Twitter account can be very demanding in terms of the time required, but carrying out research to find your industry influencers, amplifiers, and target audience can be even more time consuming if you don't have the right tools.
The following tools will help you gather important data, discover the influencers and amplifiers that you need, help you connect with them, and save you time maintaining your Twitter account.
Simply Measured is one of the best when it comes to gathering relevant data from social networks. The reports look really good, too.
Simply Measured works with many companies and social media channels other than Twitter, but for the purpose of this post, here is an example report.
This particular Twitter report can give you an impressive amount of data you can examine to put together solid conclusions, but you also can export this to Excel and grab all of the raw data such as usernames, mentions, and a lot more.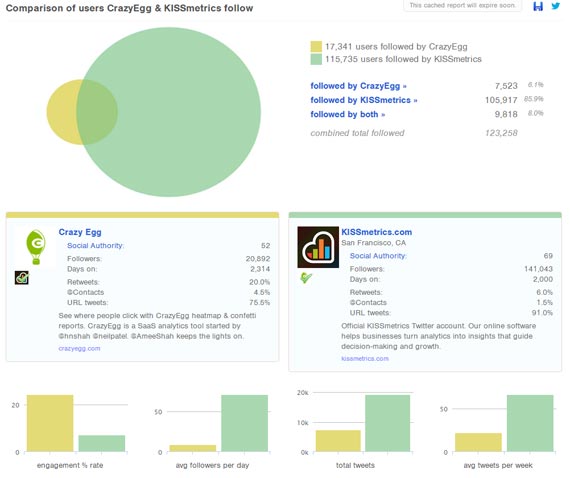 Followerwonk is a company that specializes in Twitter analytics. (It was acquired by Moz (formerly SEOmoz) last year.) You can compare users to see how they size up and export in-depth user data from Twitter searches.
Here's an example of one of the many ways you can use Followerwonk:
Map out a number of search phrases related to your industry and run them through the Twitter bio search in Followerwonk.
Export this data to Excel, add filters, and then sort by the highest percentage of retweets.
Including the time to generate, export, and sort the report, this will take around 5 minutes. Then you will have a detailed list displaying the following data points:
Screen name
Full name
Location
Followers/friends
Number of tweets
Bio
URL
Social authority
The URL and social authority can be particularly useful because you can use them to find Twitter power users that have their own blogs and those that have the greatest authority on Twitter.
Inkybee is a relatively new tool, and it's not a tool that actually specializes in much that is Twitter related. It's a powerful toolset that has a specific task – to help with blogger outreach.
So, why use it to help target users on Twitter?
Inkybee helps you find influential blogs and bloggers in your industry while pulling in extremely useful data, such as engagement metrics and average audience sizes, along with links to social accounts, including Twitter.
You can even manage the process of reaching out to these bloggers right from within Inkybee.
When you're developing your following on Twitter, all of your tweets can't be self-serving, but, still, you do need to promote your own content, and promoting old evergreen content usually works well.
The time-consuming thing is scheduling these posts at times that match with when your followers are most likely to share them.
You can use the Twitter reports from Simply Measured to discover peak times for your followers to retweet, and then use Buffer to schedule posts around these times by simply clicking "Buffer."
Triberr has been dubbed the "reach multiplier." It is a social networking platform that mostly focuses around Twitter and helps you connect with other like-minded social media power users through the use of tribes of related bloggers.
Your content will be imported into the tribe, and the idea is that other members of your tribe will share your content and you will share theirs.
Since Triberr has been growing in popularity, there are tribes for a wide range of different topics, and the majority of users have blogs as well, which makes it the perfect online hangout for you to connect with influencers, amplifiers, and, most likely, your target audience, too.
How to connect and get people to share your content
Most people instinctively think about following people first and end up leaving it at that. Sure, you could start there, but that's not the best way to do it. There are much better ways of getting on the radar of influencers.
Here are a few ways you can connect with influencers, amplifiers, and the rest of your target audience:
@Mention them – Actually, the first step is to engage in conversation. Further down the line, you can use this to recommend content directly to someone you think may enjoy it.
I'd recommend avoiding using direct messages (DM's) for this because they're overused by spammers, I personally don't read my DM's that much any more and focus on @mentions. The other benefit is that they show you are real.
Retweet their updates – This is a great way to get on a Twitter user's radar while sharing some great content with your own followers at the same time.
Write about something they tweeted – Writing a post about something a Twitter user has said can make a big difference, providing it's something that either helps them or portrays them in a positive light.
If they ask a question that you can't do justice in 140 characters or less, then it's time for a blog post. Be sure to embed their tweet and @mention them in order to let them know about it.
Share their blog posts and @mention them in the tweet – Everyone loves it when someone shares their content, but if you don't @mention them in the tweet, the majority of the time they won't even see that you've shared it. You will just be a number on a tweet counter and that won't help you.
Link to their blog posts, tell them about it, and ask them to share – Link building is either time consuming or costly if it's outsourced. So, when you link out to someone, chances are they're going to appreciate it.
If the link generates traffic, that's even better because your website will come up in their analytics under referrals, which, in turn, provides an incentive for that person to continue building a social relationship with you.
The important thing here is that you tell people when you link to them and ask them to share. While some people instinctively share posts they are mentioned in because they understand the impression it has when their followers see that more people value their opinion, the truth is that most people won't share, so you need to ask. I typically get around 20-30% more shares when I include a call to action asking the user to share.
Write a post about trending topics and share it with them – There are certain topics that drive people crazy, especially on Twitter. The topics where people need help solving a problem do work best.
For example, if something changes in the industry that has created a gap in the market and your product/service can't fill that gap, then make some recommendations of what can fill the gap.
This does require keeping your eye on trends and industry news. When Google announced that they were shutting down Google Reader, there were a few helpful posts about it initially. Then, in the weeks that followed, there was post after post that didn't add anything new to the discussion.
That being said, after another several months, there was a point where it was clear that people had done additional research and found some much better alternatives, which meant another round of posts on Google Reader alternatives. These actually added to the conversation, but the bulk of samey and rehashed posts had calmed down by that time.
Offer to guest post on their blog – If you have an opinion or know how to do something that will help your target audience, and the audience of an influencer's blog, offer to write for them. This will get the right eyeballs on you and your content; but, more importantly, it's more valuable than a tweet.
Connect with them on other social networks – When you connect with Twitter users on different social networks, there is a good chance they will recognize you, especially if you use the same profile picture and keep your branding consistent.
You will have a greater chance of getting your content shared and generating more traffic.
Most importantly, you are building the relationship and creating more channels you can use to promote your content.
Facebook and Google+ also work great for developing the conversation, and you can mention other users in status updates.
Connect with them on other online communities – There are plenty of other online communities where the people you're trying to reach hang out, and, often, these can give you a direct route to the people you need to connect with.
For example, if you're looking to connect with marketing professionals, a great place to start is Inbound.org. And, for those involved in the small business world, you can make some great connections by engaging with other users on BizSugar.com.
It just so happens that these sites also are great places to share your content if it has a marketing or business focus. These types of sites and other communities, such as forums, exist within most industries.
Connect with them in the real world – Despite our reliance on the internet, nothing helps build relationships more than face-to-face contact, which can be done by meeting at events and other meet-ups.
Summary
Whatever you do when you are using Twitter, remember this:
"The true power of Twitter is not to reach your own followers, but to reach the followers of influencers in your market."
What next?
Continue to create great content on your blog, share content that is worth sharing, and connect with influencers and amplifiers using the strategies and tools discussed.
Remember that, while marketing is a science, you need to build a tribe around you that will take your product to market. Building and maintaining relationships with influencers, amplifiers, and your target audience will do just that.
In time, your business will generate the traffic and leads that it needs to prosper while your "street team" effectively does most of the marketing for you.
About the Author: Adam Connell is an internet marketing and SEO fanatic in the UK. He is the Operations Manager of UK Linkology and can be found writing for his personal blog: http://bloggingwizard.com.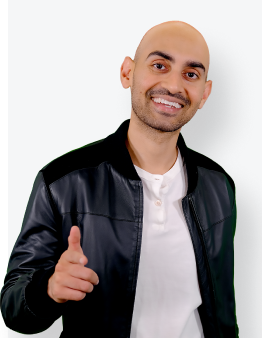 See How My Agency Can Drive More Traffic to Your Website
SEO - unlock more SEO traffic. See real results.
Content Marketing - our team creates epic content that will get shared, get links, and attract traffic.
Paid Media - effective paid strategies with clear ROI.
Are You Using Google Ads? Try Our FREE Ads Grader!
Stop wasting money and unlock the hidden potential of your advertising.
Discover the power of intentional advertising.
Reach your ideal target audience.
Maximize ad spend efficiency.