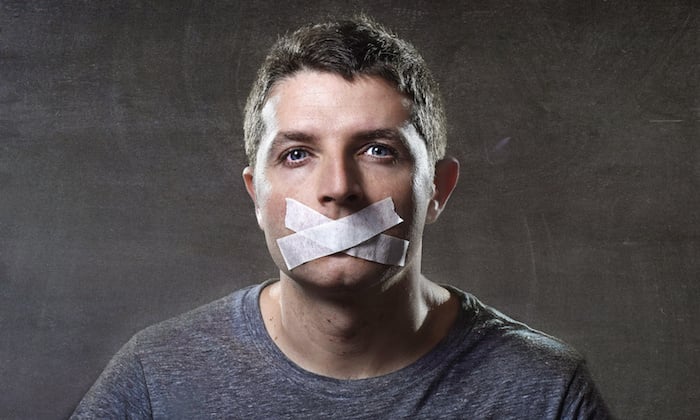 Writing great content is often not enough.
You need to know how to promote that great content, too.
If you don't promote, you're going to end up wasting a lot of the hard work that goes into the content of your awesome web site.
On top of that, people won't be able to take action on the advice provided in your blog posts!
To me, that sounds like a lose – lose.
Because of this, it's important to figure out a way we can stop this from happening to your blog posts.
Therefore, today, we're going to cover some of the steps that you can take to promote your blog posts, so that they reach and help your audience.
We'll examine how you can find people who will help promote your blog posts, and also the tools that you can use for content promotion.
By the end of this article, you'll know exactly how to maximize the exposure of your next blog post, get it in front of the right people and turn everything into a win-win.
Let's begin!
Before we get started…Why you need to build relationships before you need them
When you have the help of other people – content promotion is a lot easier.
Later in this post, we're going to talk a lot about reaching out to people who have audiences that are similar to the ones you're going after.
However, as you probably know, people don't like to to be pitched right off the bat.
In most cases, they are sick of being pitched to – there's evidence that 65% of bloggers are pitched several times a week.
Because of this, it helps to build your relationships before you actually need them.
Therefore, any of the advice you're going to read about outreach later in this post should be acted upon – even if you do not have a blog post you want to promote.
Use the strategies mentioned and then just reach out to people and let them know that you love the stuff they're putting out.
Even better…visit their social media profiles and blogs. Engage with their content and leave comments.
Naturally, when asking them to promote your content, there's a good chance that your content is going to be awesome, and hence it's going to make them look good if they share it.
But, you can increase the odds of them helping with your content promotion by building a relationship ahead of time.
Okay, so now that we've established that, let's take a look at how you can find people who will promote your posts!
Side note: If anyone comments on your web site content, make sure you respond.
I have found that people who have commented on my content, were 294% more willing to share the same content.
You can encourage comments by actually asking people to comment at the end of a post.
You can foster increased commenting by engaging with those who do comment.
This will also add fuel to the tactics we're going to later discuss.
Email Outreach
Though email can sometimes be a crowded channel – it can still be one of the ways to find someone who will be interested in sharing your content on social media sites.
One of the best ways to find the right individuals is by using a tool called Ubersuggest.
Ubersuggest allows for you to find content that is popular within a certain niche.

Our aim is to find people who have published content similar to what we have, and then let these people know that we have similar content that they (and their audience) might also enjoy.
You also politely mention that if they like the content, they should share it with their audience.
Okay, so let's go through exactly how you can use Ubersuggest to conduct some email outreach.
First, go to Ubersuggest and sign up for their service.
Once you have done that, you should then see the following screen.
All you have to do is enter your keyword and click "Search."
For this example, I used the keyword phrase "Instagram marketing." Here is the results overview page: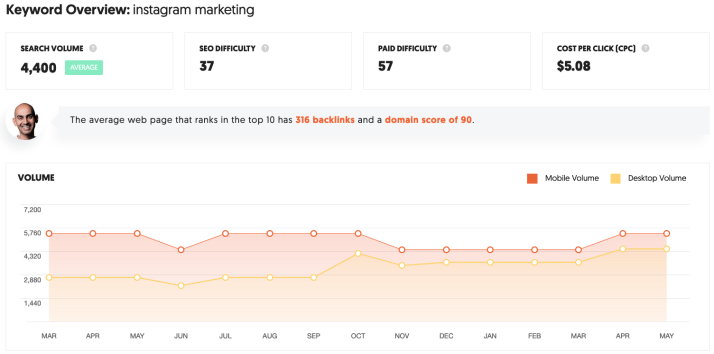 For the sake of this article, you next want to click "Content Ideas" in the left sidebar.
I'm now provided with a bunch of content that has been highly shared within this niche.

What we want to do now, is to go through the list and make note of any websites that may be willing to share your blog post. It will take some time, but it's much more efficient than searching Google without any real direction.
This tactic isn't going to work on everyone and many people won't be willing to share your content.
However, the few people who do respond and take action in helping with some content promotion for you will make all of this effort worth it.
In fact, for my Nutrition Secrets web site, this tactic has lead to social becoming one of the biggest drivers of traffic for me.

If you have included some experts within your post, then it can also be a good idea to reach out to them.
To do that, you can use a tool known as Contentmarketer.io.
Content Marketer has a feature, where it will scan a blog post to find people who have been mentioned within the content.
The tool will then identify the email addresses of those individuals, and allow you to send them emails within the platform.
Let's go through how you can use that tool.
First, create an account with Content Marketer.
You should then see the following screen.
On this screen, click on 'Scan a Post.'


Then enter in the URL of the post that you're trying to scan.
Once you've done that, let Content Marketer do its work.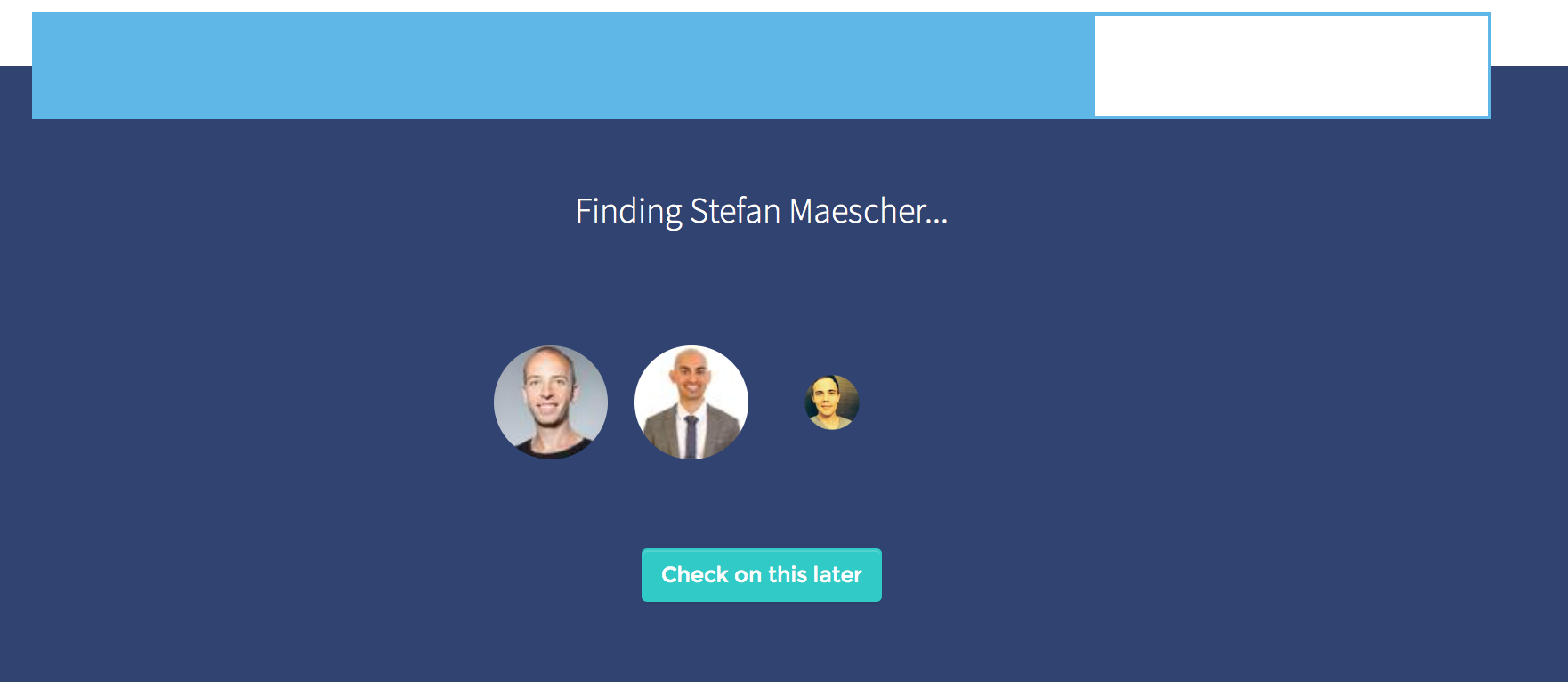 You'll then be presented with a list of experts from the post whom you can reach out to.
You then want to click on the 'Start Outreach,' button.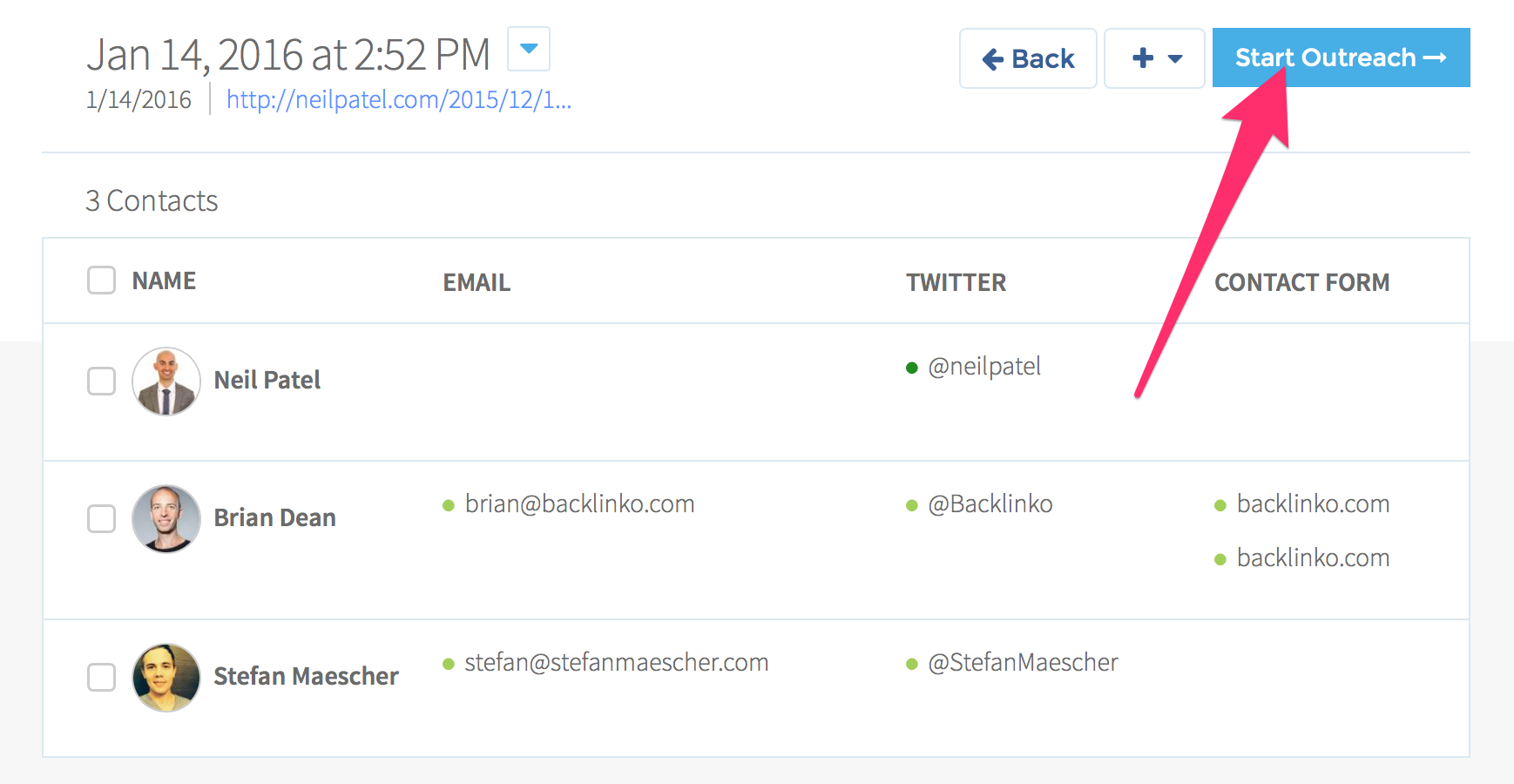 Within the Content Marketer interface, you can reach out to people who were mentioned in the post.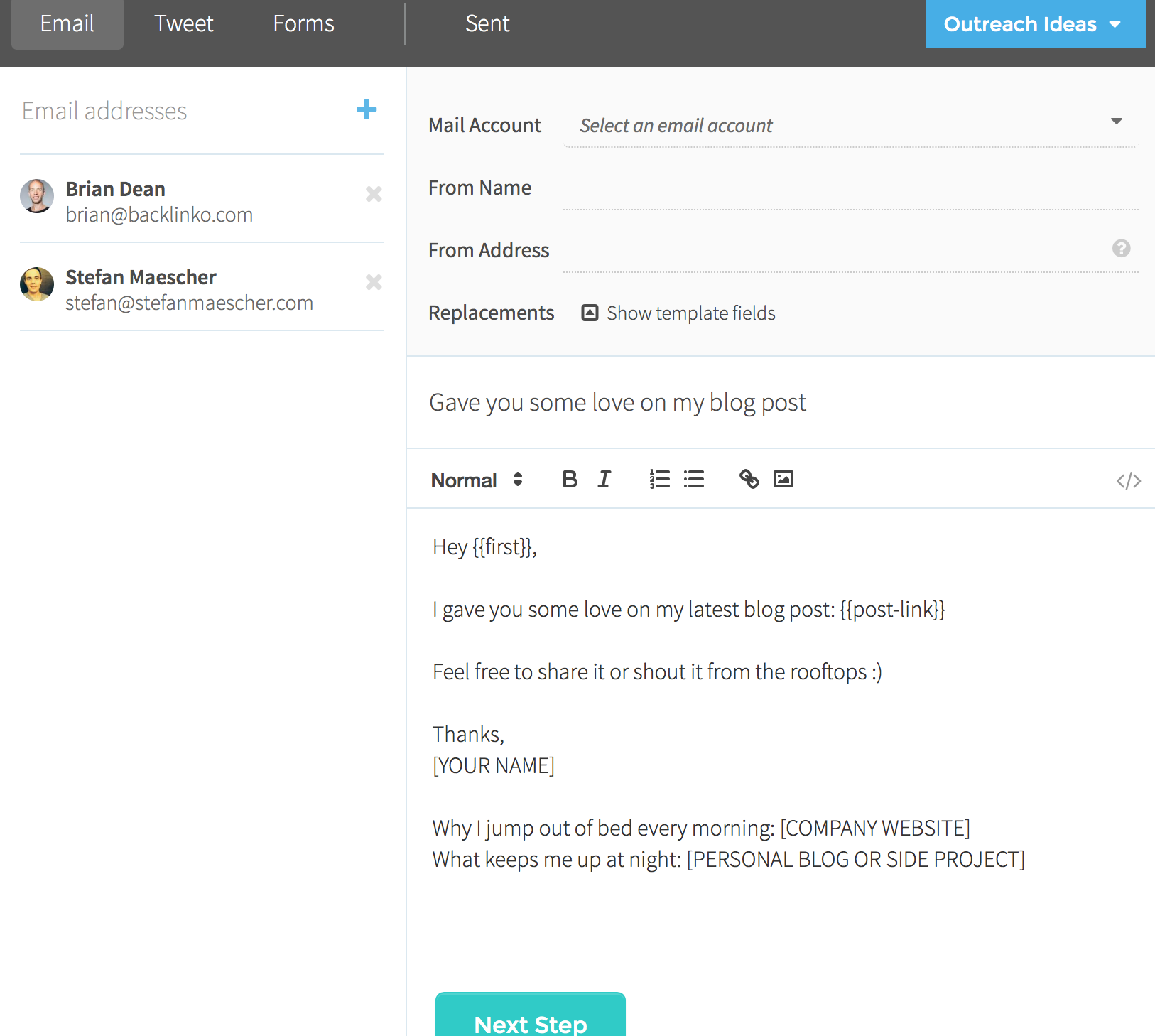 If you look at the top of the image there, you'll notice that there is also the option to 'Tweet,' people as well as fill in the 'Forms,' that can be found on their web site.
Now obviously, you don't want to bombard someone.
If your current form of outreach is not working for you, then consider using one of these other methods.
You'll also notice that there are some 'Outreach Ideas,' provided.
This will allow for you to come up with some text for your emails. It's a nice time-savings when you don't have to be concerned with writing copy from scratch.
When you get good at email outreach, you should be able to connect with at least 5% of the people you email, who will link back to your blog post and web site.
It's also important to remember to follow-up when you're conducting email outreach.
Sujan Deswal managed to achieve a 60% response rate with his follow ups.
As you might have guessed, such a response rate is more than a little awesome when you're trying to promote great content.
Paid promotion
There's also the option of using paid promotion to promote your blog post.
There's evidence to suggest that 4.5% of bloggers are using paid traffic to drive eyeballls to their content.
This method can be a little bit expensive if you don't know what you're doing. Let's quickly cover how to do this properly.
First, the cheapest form of paid traffic available and probably the most likely to convert, is Facebook – at the moment.
That's because Facebook provides you with some incredible targeting features that will ensure your blog posts are going to be shown to people who are most likely to engage with them.
When you're promoting your blog posts this way, it is key that you have a way of retaining visitors to your blog.
Ideally, you should have a way to capture emails from day 1 of promoting your blog.
If you don't have such a method in place – now is the time to start.
Eventually, you'll want it so that those who subscribe to your blog and purchase your offers are actually helping to fund the promotion efforts needed to reach more new people.
I've wrote in the past on what needs to be done when creating a Facebook Ad.
So let's cover some ways in which you can dial in the targeting so that your promotion efforts are likely going to bring a better return on investment.
First, we want to find pages that are related to the niche we're going after.
Let's say that we're going to promote a blog post that teaches people some 'social media tips.'
First, we need to find some companies/people that have popular Facebook Pages within this niche.
There are around 50 million Facebook Pages in existence, so finding one for your niche should be a walk in the park.
Using 'Graph Search,' which is the search tool provided by Facebook, we can find such Pages.
To get this done, I type in 'Social Media,' within the search box.

I'm instantly presented with some Pages that relate to this topic.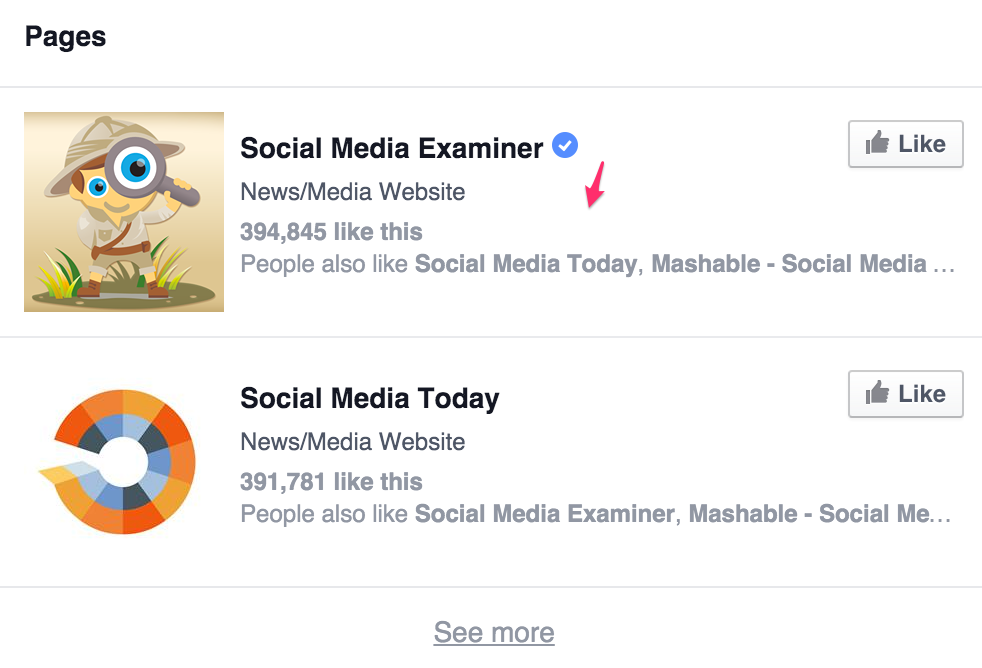 That's not enough, however, as we want to find more.
So let's click on the Pages tab.

And now we're presented with a bunch of pages that are related to the social media niche.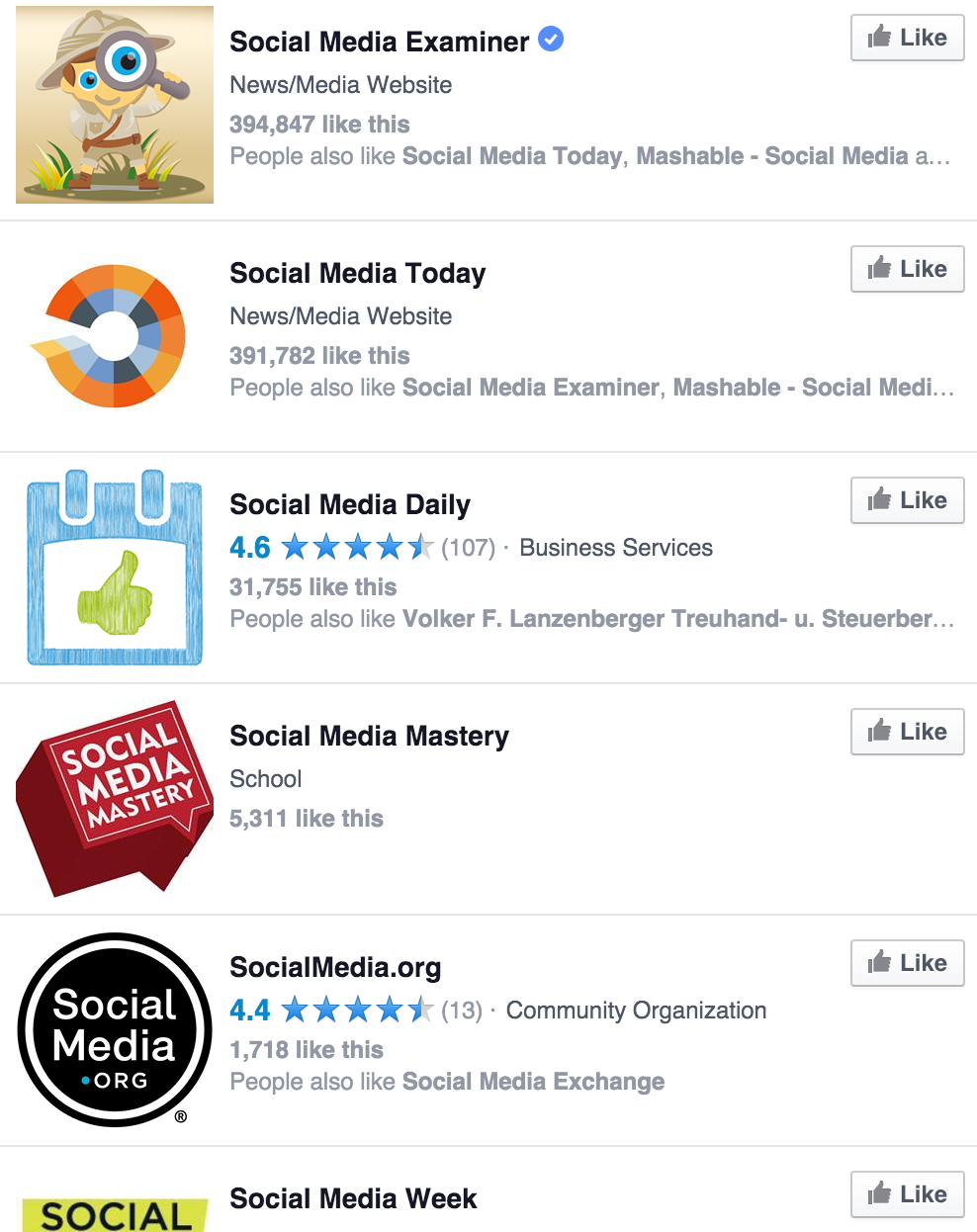 So, now what?
Well, first, we can target these pages when we're setting up our Facebook Ads.
However, what's much more important is that we can use the 'Audience Insights' tool to find out exactly what the demographics are of those who have liked this page.
To do that, simply head over to Audience Insights.
You'll then see the following.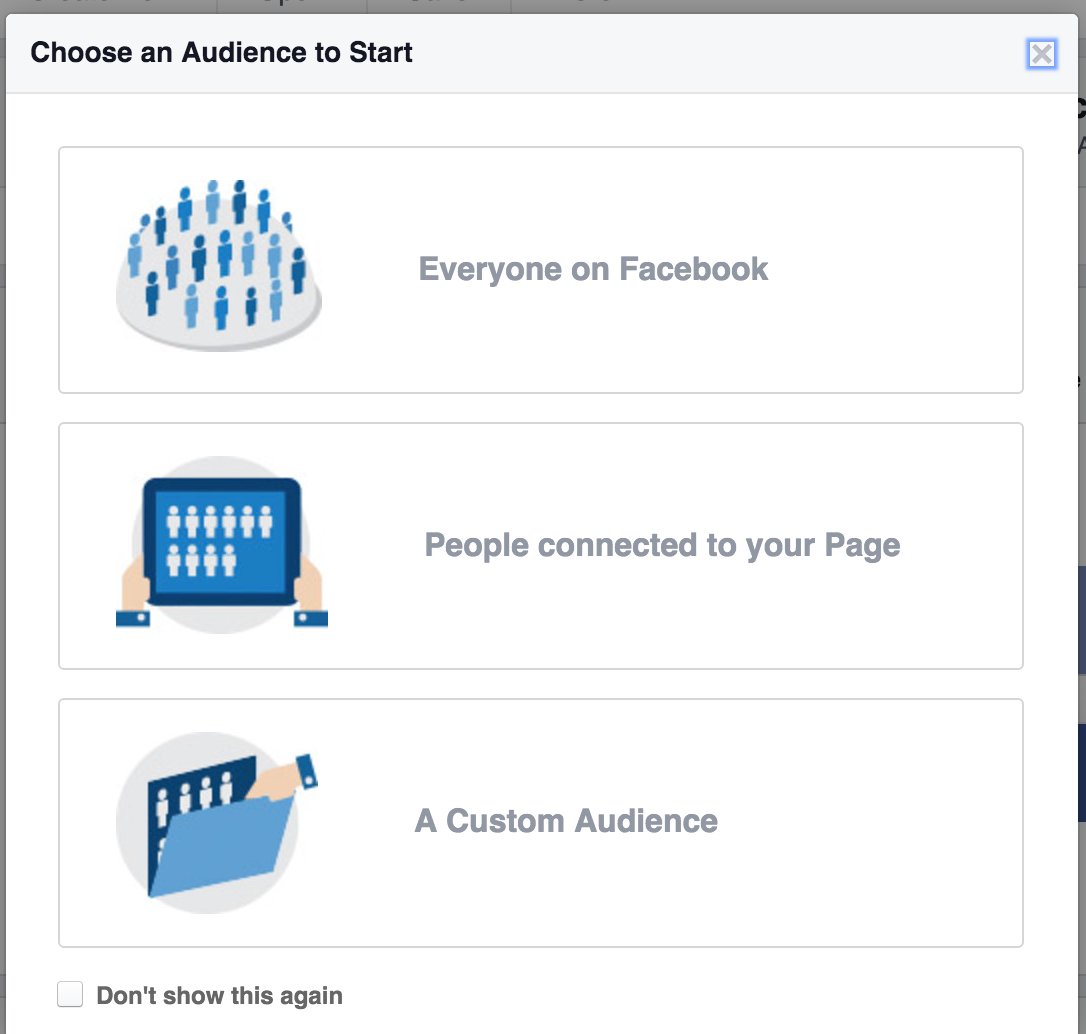 Now, in this post, I'm assuming that you're starting from scratch.
But, you can also adapt the following tips if you have an email list or you have a Facebook Pixel installed on your web site (this all comes under the 'A Custom Audience,' category).
Because we're assuming you're starting from scratch, however, we want to close this dialog box.
We'll then see the following screen.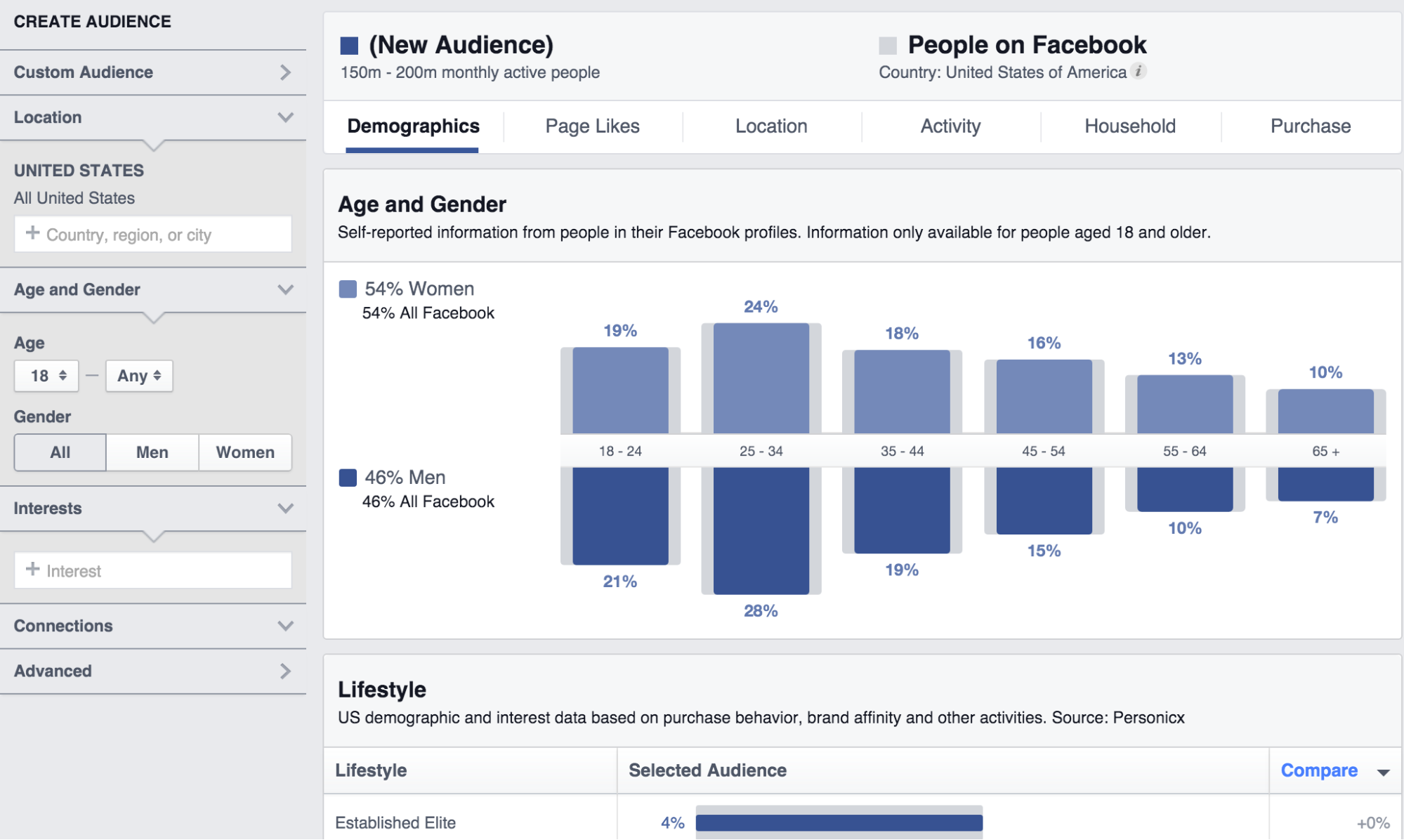 On the left hand side, I'll input a name of one of the Pages we discovered earlier.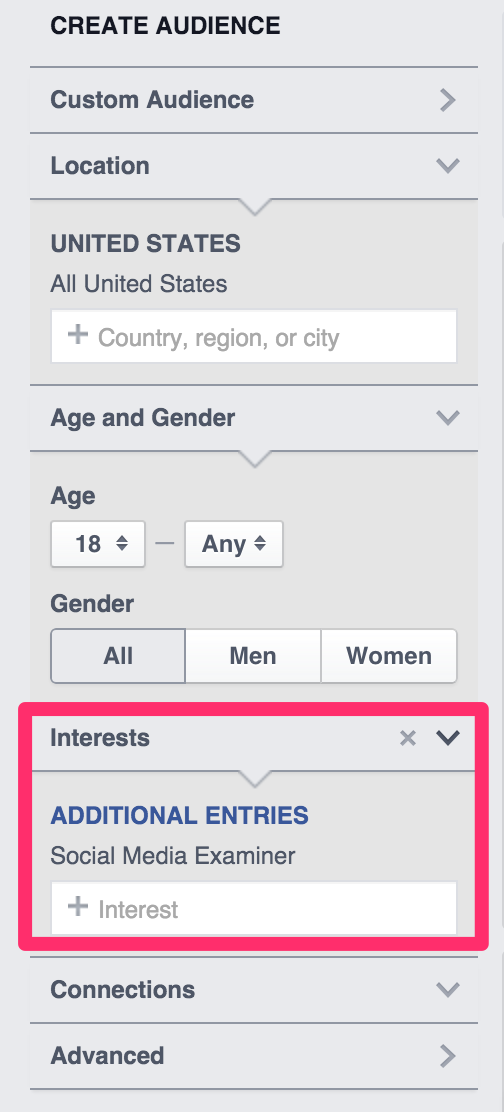 Once we've done that, we'll see that Facebook has provided us with the demographics of the people who like that page.
For now, we won't go through everything that is provided by the tool.
But we'll examine a few of the key bits of information that are provided – such as 'Age and Gender.'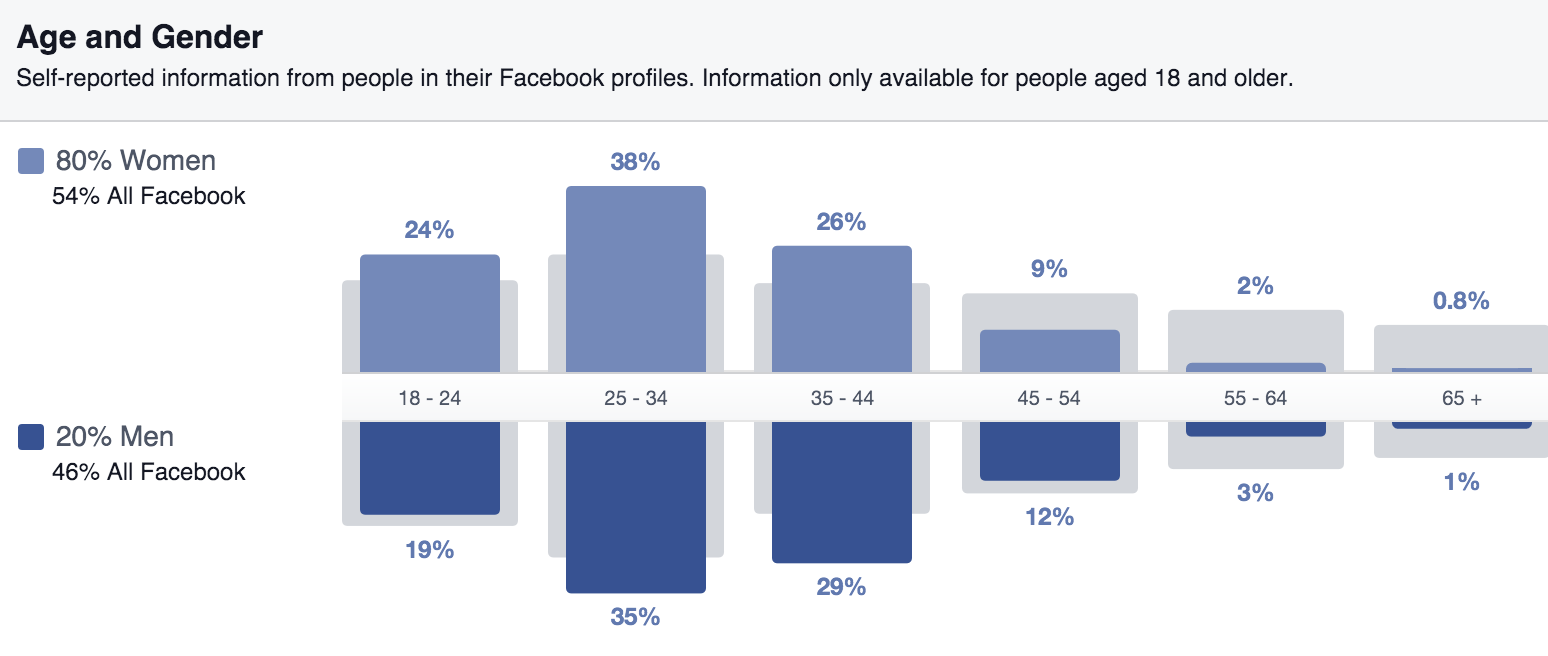 We can also see the 'Relationship status' and 'Education level' of those who like the 'Social Media Examiner,' page.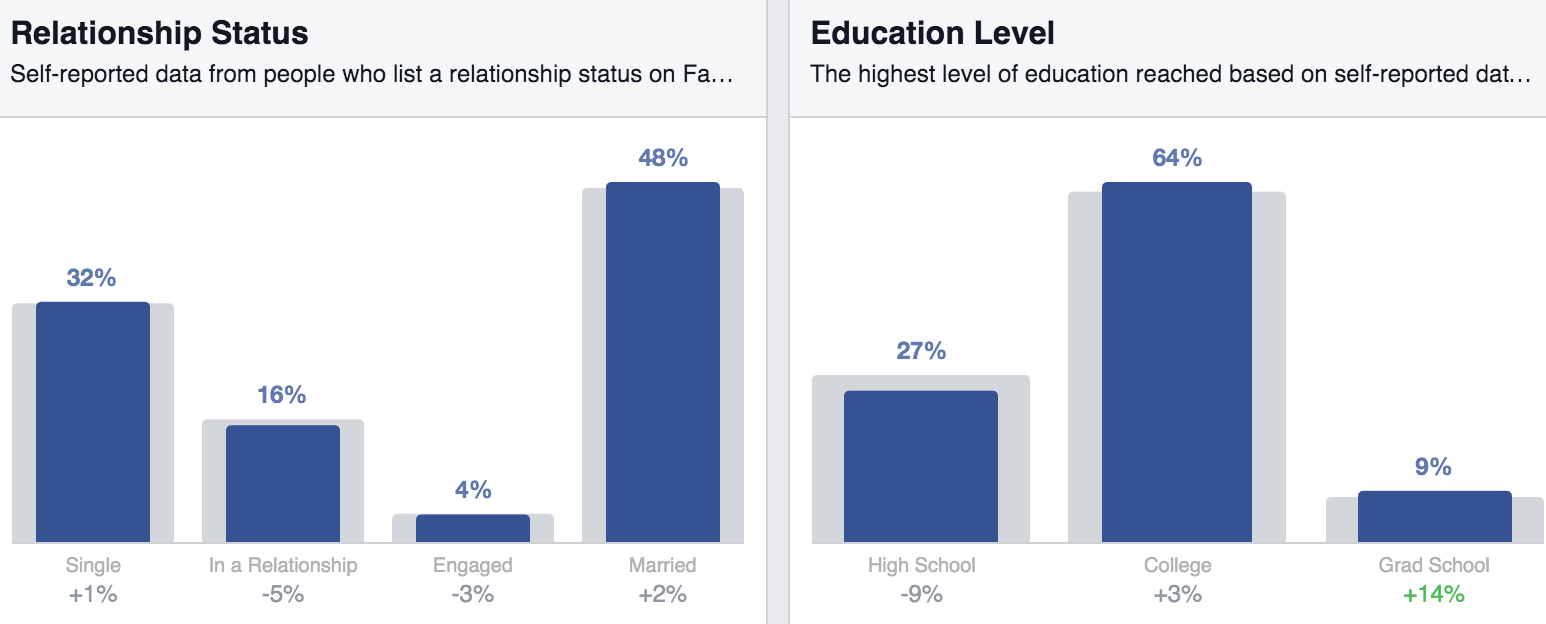 If we take a look at a little bit more information, we can see that there are some locations in which there are a disproportionate number of people present (in comparison to the rest of Facebook) who like the page.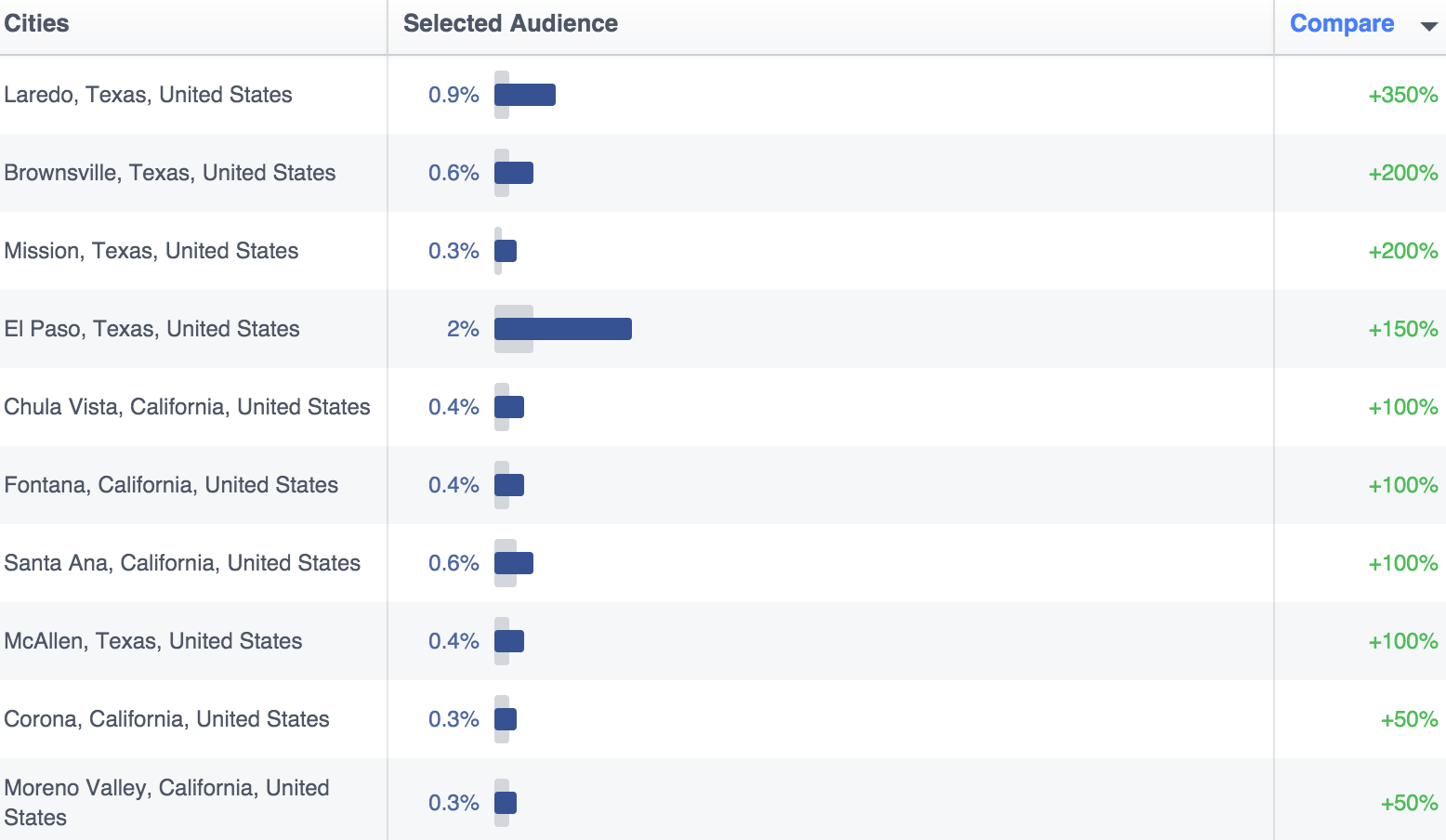 As mentioned, there's a lot of information to dig into here.
But if you study it, you can use it all to better refine the targeting of your ads and improve the odds of earning high levels of engagement.
Okay, so that's how you can get people initially interested in your content.
However, you can also use 'Retargeting' to get people interested in your future blog posts, or complementary blog posts.
This method is an extremely cost effective way of marketing your blog posts and web site, because the ads are so targeted.
You can do all of this by installing a Facebook Pixel.
Retargeting can seem a little complex, so let's explore how it relates to a blog post promotion strategy.
Say someone reads a blog post on your web site and they don't become a subscriber.
No problem.
Just show them a retargeting ad on Facebook a week later that promotes your next blog post.
If you want to get clever, you can even use this strategy to promote lead magnets and content upgrades.
It all comes down to how creative you can be.
However, there are only so many times that you can promote a blog post before you need to get people onto your email list.
After all, you need a way to pay for all of your efforts!
Use Google Alerts and Twitter to find people talking about related content
This is a somewhat more advanced tactic. But, if done properly, it can provide you with some great results.
The main idea is this…
You're going to find people talking about content that is related to yours and you're going to let them know that you've got something similar.
When it comes to Google Alerts, there are two ways you can do this.
One way is to participate in the comments section of someone else's blog.
The other way involves emailing someone.
And, of course, if you're using Twitter, you can 'Direct Message' someone or you can just 'Tweet" them.
Let's cover how you'd use Google Alerts to promote your content.
Start by setting up Google Alerts so that it sends you updates about content that is related to what you're looking to promote.
Let's say I have a blog post that covers the topic of 'email marketing.'
I'd head over to https://www.google.com/alerts
I'd then type 'email marketing,' in the dialog box.

And then, if I scroll down, I'll see some content related to the topic of email marketing.
You'll notice that the content is sorted in terms of 'News' and 'Web.'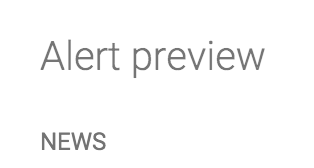 You can use both sections when it comes to this strategy.
Here are some promising posts in the 'Web,' section.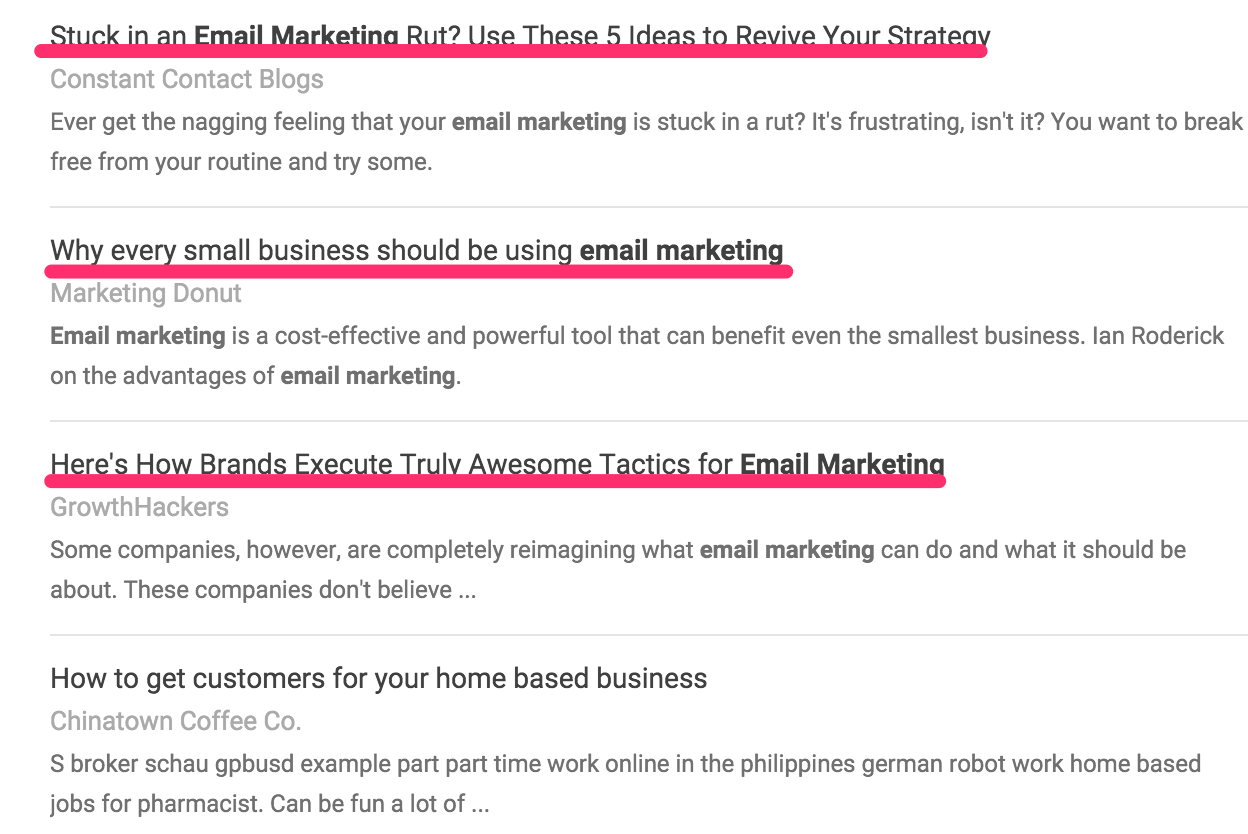 What we would do now is click through to each of these posts and leave a comment letting other readers (and the owner) know that we enjoyed the content and that we have something similar.
You can always consider emailing the person who wrote the post and letting them know you have something similar (like the Ubersuggest strategy above).
However, if you are going to do that, make sure that you have built some good will ahead of time.
You can often do that by commenting on their content without dropping links.
Alternatively, you can put a lot of effort into doing content promotion for them.
As discussed, you can also use Twitter to promote your content.
To do that, head over to Twitter and create an account.
Then, using the search box, enter in a term that is related to your content.
Let's stick to the topic of 'email marketing,' for now.

Note: You can also use a hashtag, to find content related to email marketing (or your topic of choice).

Whichever option you choose, pick the 'Live' option after having searched.

You'll now be presented with a list of people who are discussing the topic of 'email marketing.'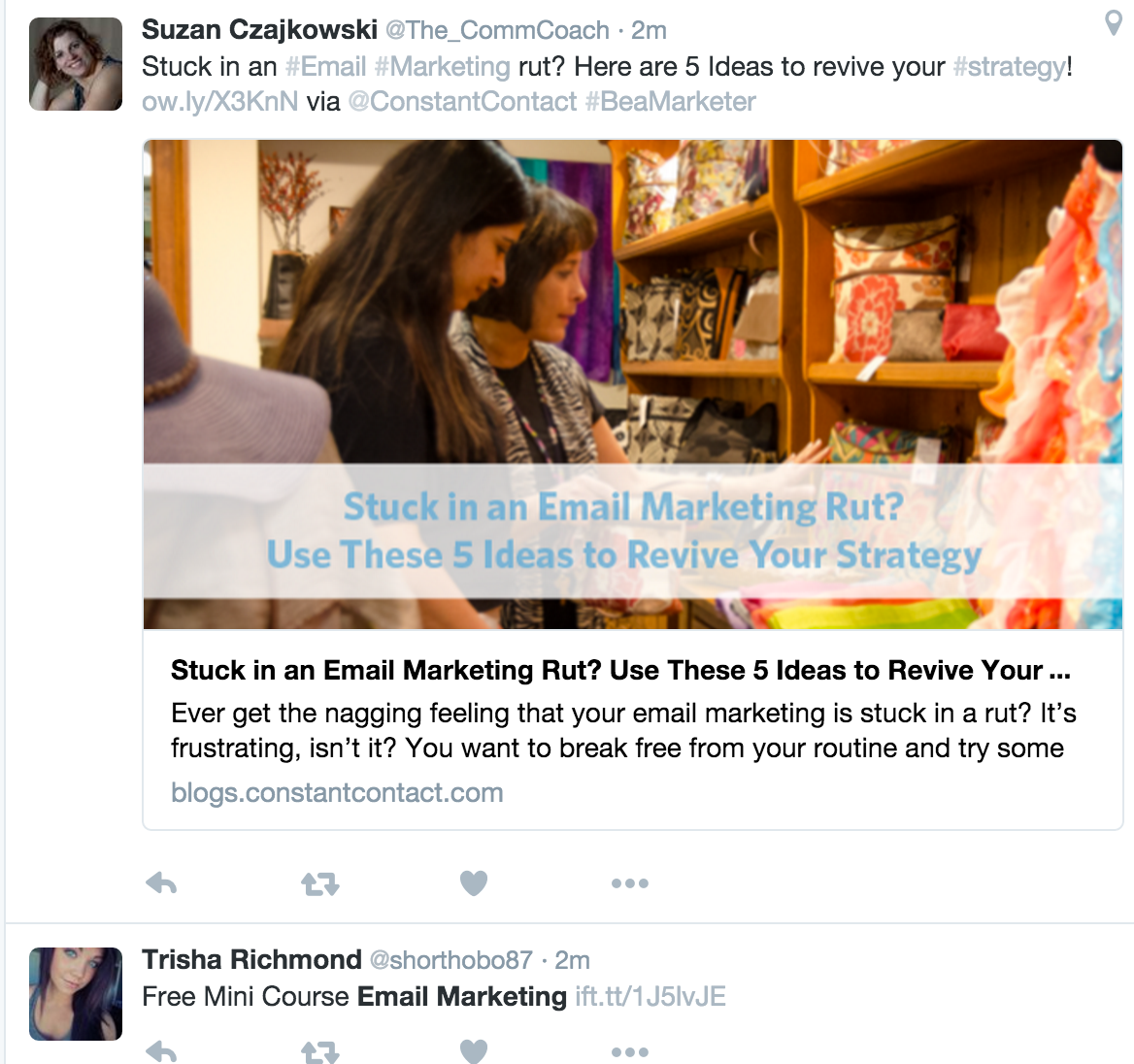 You can then message these people, and let them know that you have related content.
Alternatively, you could use this tactic in conjunction with the Google Alerts strategy mentioned earlier, so that you can find content to comment on.
You can also use a tool like Warble to help notify you about mentions related to your topic of choice.
To do that, head over to Warble.co, and then click on the 'Start Using Warble Now,' button.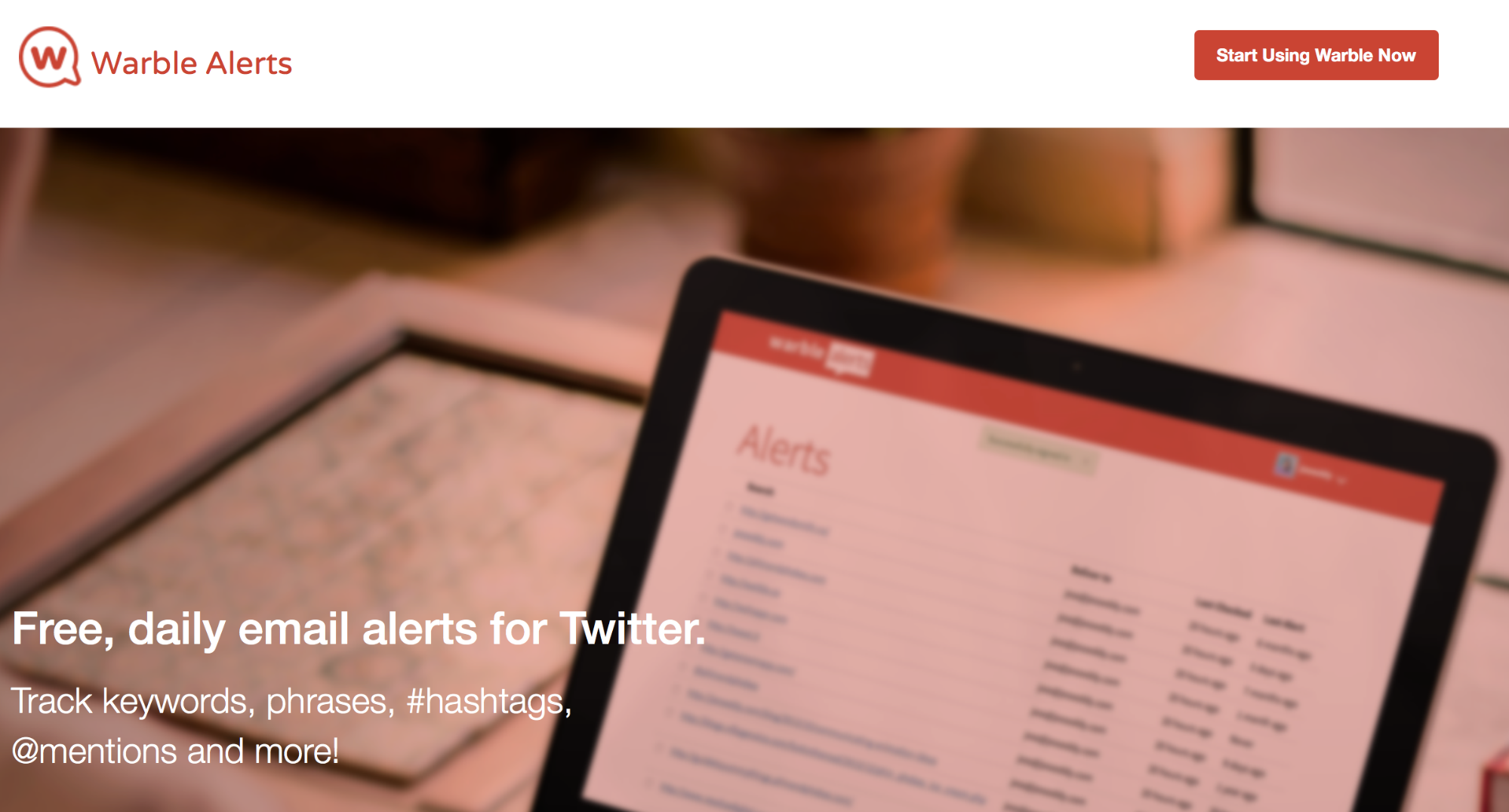 Then sign up to the service.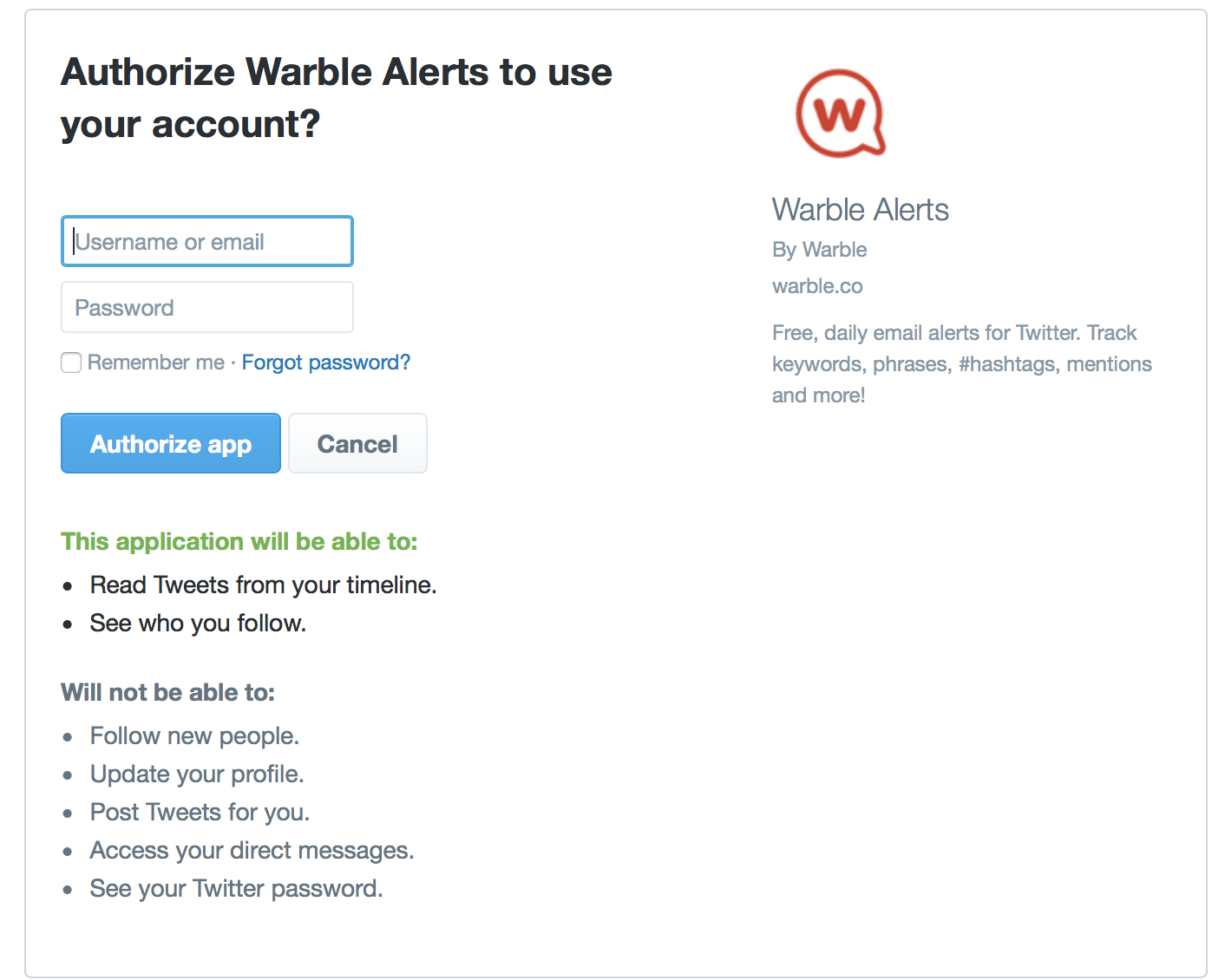 Once everything has been verified, click on 'Setup Your First Alert.'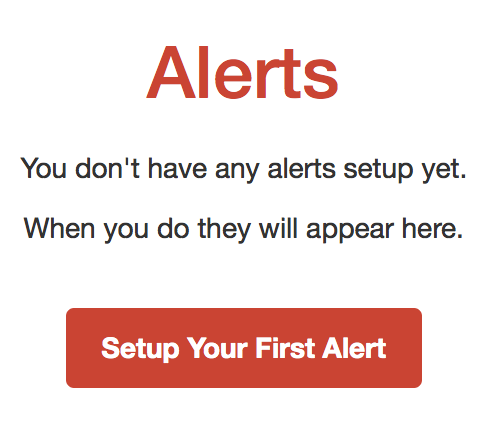 Enter in a keyword (or hashtag) related to the content you want to promote.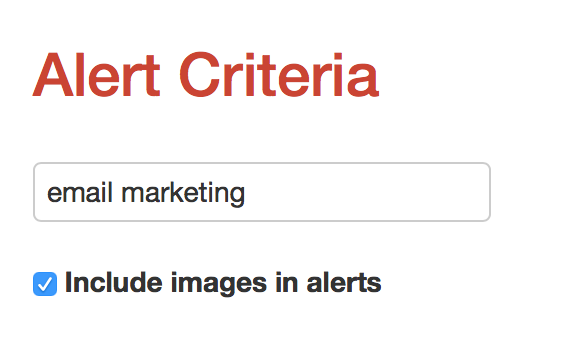 Once you've done all of that, you'll be notified when people are discussing great content based on your topic of interest.
Post to social media platforms
Another way you can promote your blog post is by posting it to social media sites.
According to Orbit Media, 94% of bloggers are using social media sites in order to drive traffic to their blog.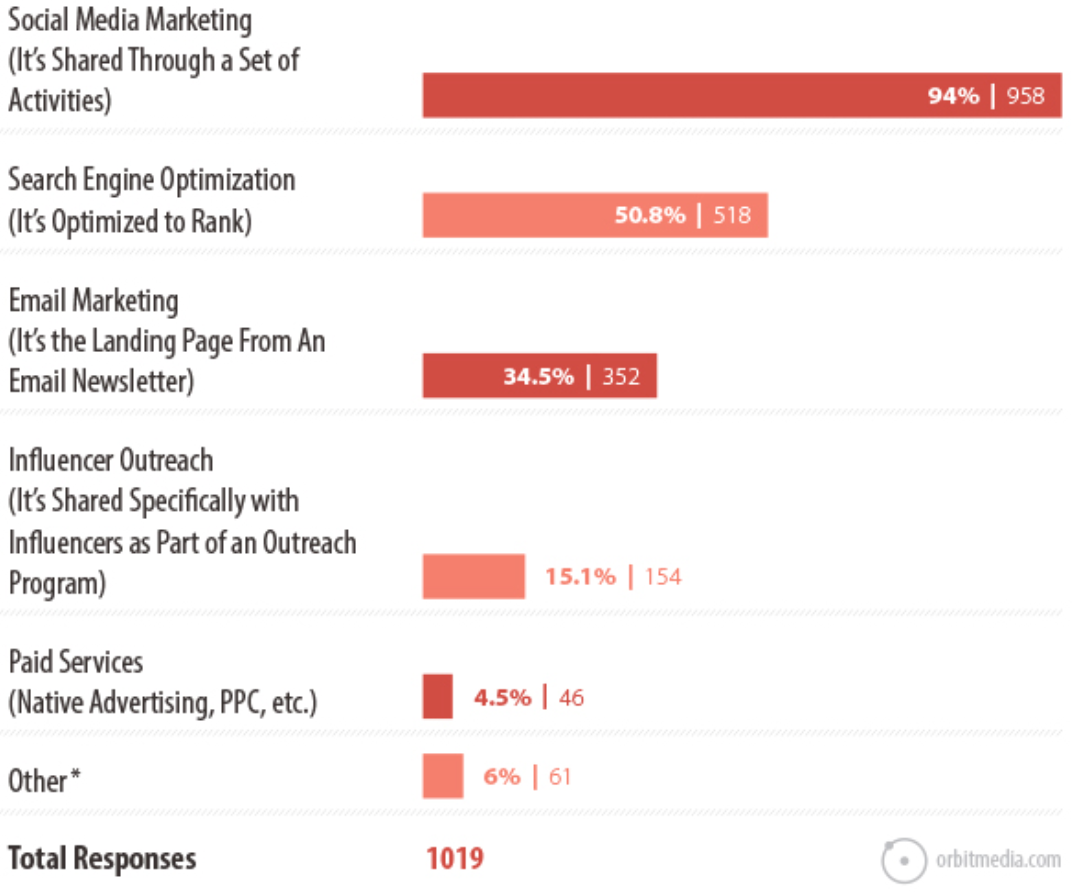 Now, you might be thinking that you need a large social media following in order for this to work out for you.
However, that's not necessarily the case.
Even though 50% of content only gets 8 shares or less, you can still generate results even if you only have a small following.
Those only earning '8 shares or less,' probably don't have a plan in place when it comes to content promotion.
And even if they do, they might be using strategies that aren't actually that effective.
So let's look at how you can avoid becoming part of that stat.
First, consider interacting with some popular Facebook Groups within your niche.
Imagine you're in the 'Yoga,' niche.
To find groups related to this niche, you'll search 'Yoga,' in the search box.

Then click on the 'Groups,' tab.

And then you'll be presented with a list of groups that are catering to the Yoga niche.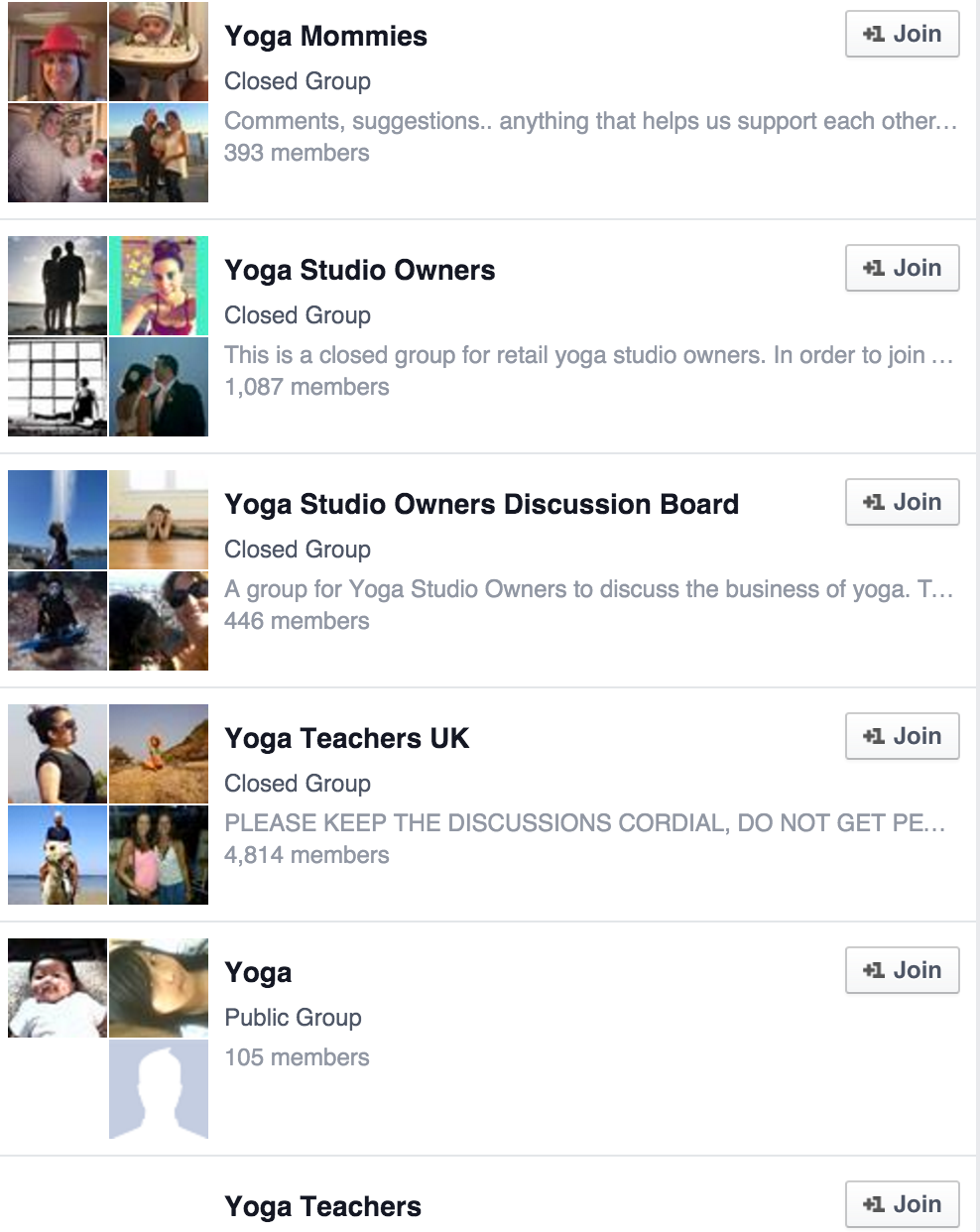 After having found these groups, you'll want to join them.
Keep in mind, however, that you may not want to join all of these groups.
That is because some of them are designed to help certain smaller niches that are within the larger niche of Yoga.
If you do not belong to this smaller niche, you might not have any great content that can benefit these individuals.
Either way, joining a Facebook group is not where the work ends, but rather where it begins.
You'll now want to focus on providing a lot of value for those in these groups.
This means you'll want to get in there and answer some questions and just generally help people out.
Over time you'll be seen as an authority within the group.
Once you have earned some goodwill, you can then think about referencing your blog posts where they can help with problems or are closely related to questions that are brought up.
Ideally, it should be the case that your content is able to solve the questions that come up in the group.
Though this is a long term strategy that will take some time to implement, it is going to bring you traffic that is more targeted and much more likely to convert.
That is because the right people already know that you're an authority on the topic.
At some point, if you want to put in the time and effort needed, you can even start a Facebook Group of your own to do content promotion through that channel.
Second, you can consider content promotion on your own social media profiles.
When it comes to posting to your own Fan Page for example, you might be a little bit worried because you don't have that many Fans – if any.
Yet that can easily be fixed.
Initially, in order to build a little bit of social proof, you can run some ads to your Facebook Fan Page.
You can target international countries when doing this, as this will keep the costs low while ensuring that the growth of your Fan Page is steady.
To run such ads, head over to https://www.facebook.com/ads/manager.
Then choose 'Promote your Page.'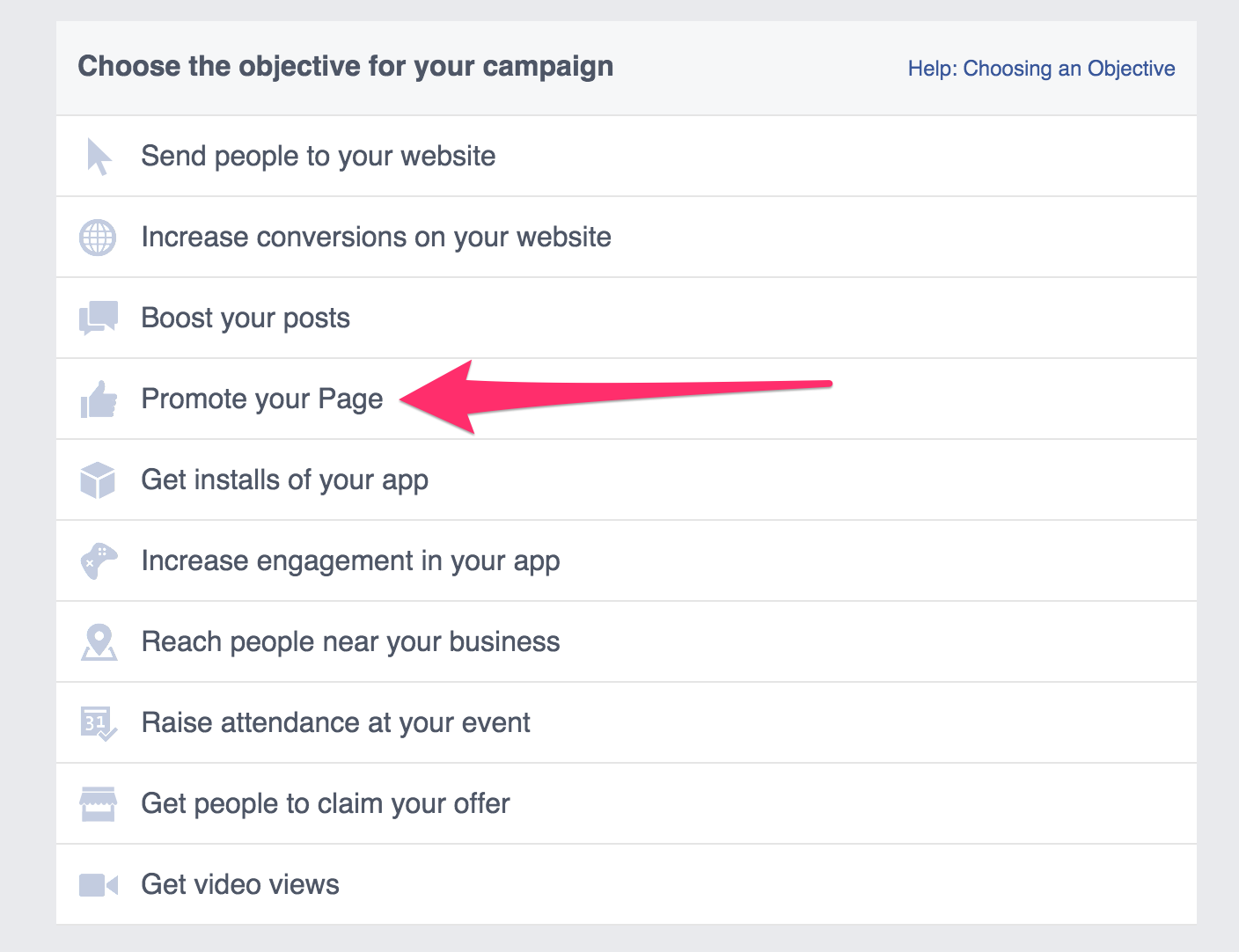 Then pick some countries that cater to larger and less competitive markets, such as some of the countries in Asia.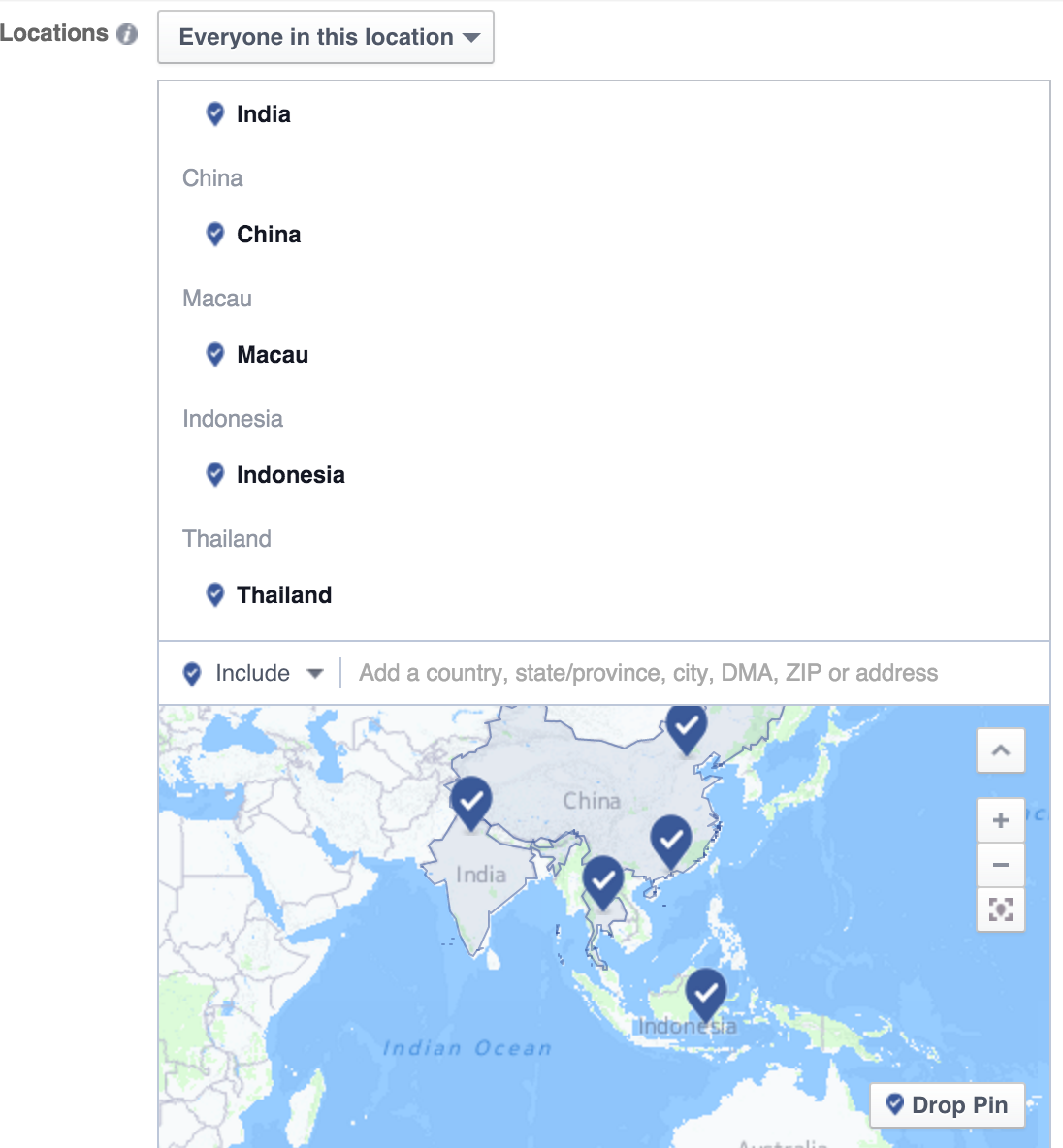 And then set the language to 'English,' so that you're going to be engaging with people who will be able to understand what you're saying.

And then, of course, choose an interest that is related to what you're trying to promote. To demonstrate this, I've stuck with the 'Yoga' example from above.

What you'll find is that you can run promotions to this page that won't cost you a lot of money.
In fact, for my Nutrition web site, it cost me $0.03 a like!

Once you've run some ads to your Fan Page, it shouldn't take long for you to build up a decent number of Fans.
That's not the end, however, as there's still more that we can do.
The next content promotion step you can take is to do something known as a 'shout out for a shout out.'
I did this a lot of the $100,000 month challenge.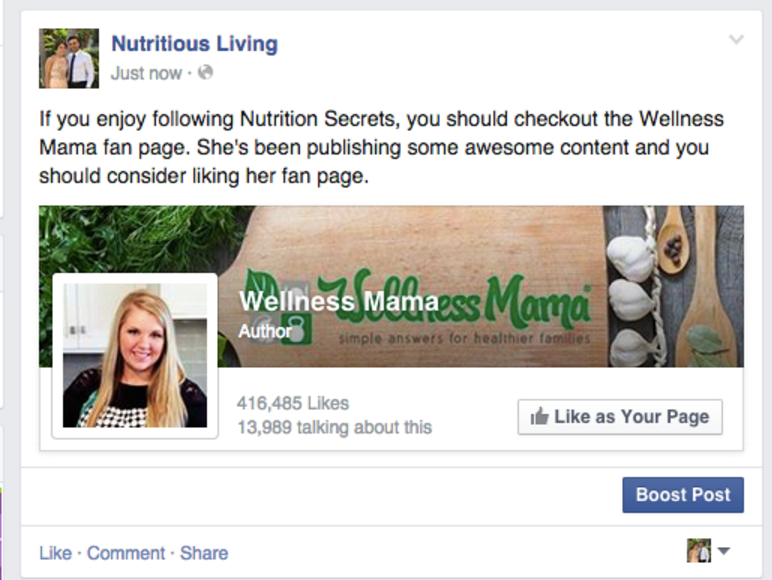 The idea is this – you post an update to your Fan Page that is about another Fan Page in your space.
You then get in touch with the other Fan Page and let them know that you're a Fan and that you're sharing their content on social media sites.
At the same time, you ask if they might be interested in posting a link to your Fan Page on their Fan Page.
Not everyone is going to bite.
But those that do will ensure that you grow your Fans while also helping other people in the same space to do the same.
You can always delete these updates to your Fan Page after a while, especially if they're not delivering the kind of results you're after.
Because the realm of a social media platform is a busy world, not everyone is going to see your content promotion the first time you post it.
As a result, you may want to post the same piece of content more than once.
If you want to automate the process, you can use a tool like Buffer.
If you're a little bit worried about spamming the world with your content – don't be.
Buffer recommends the following posting schedule, to ensure that your content promotion attempts are not considered spammy, but still reaches everyone it needs to.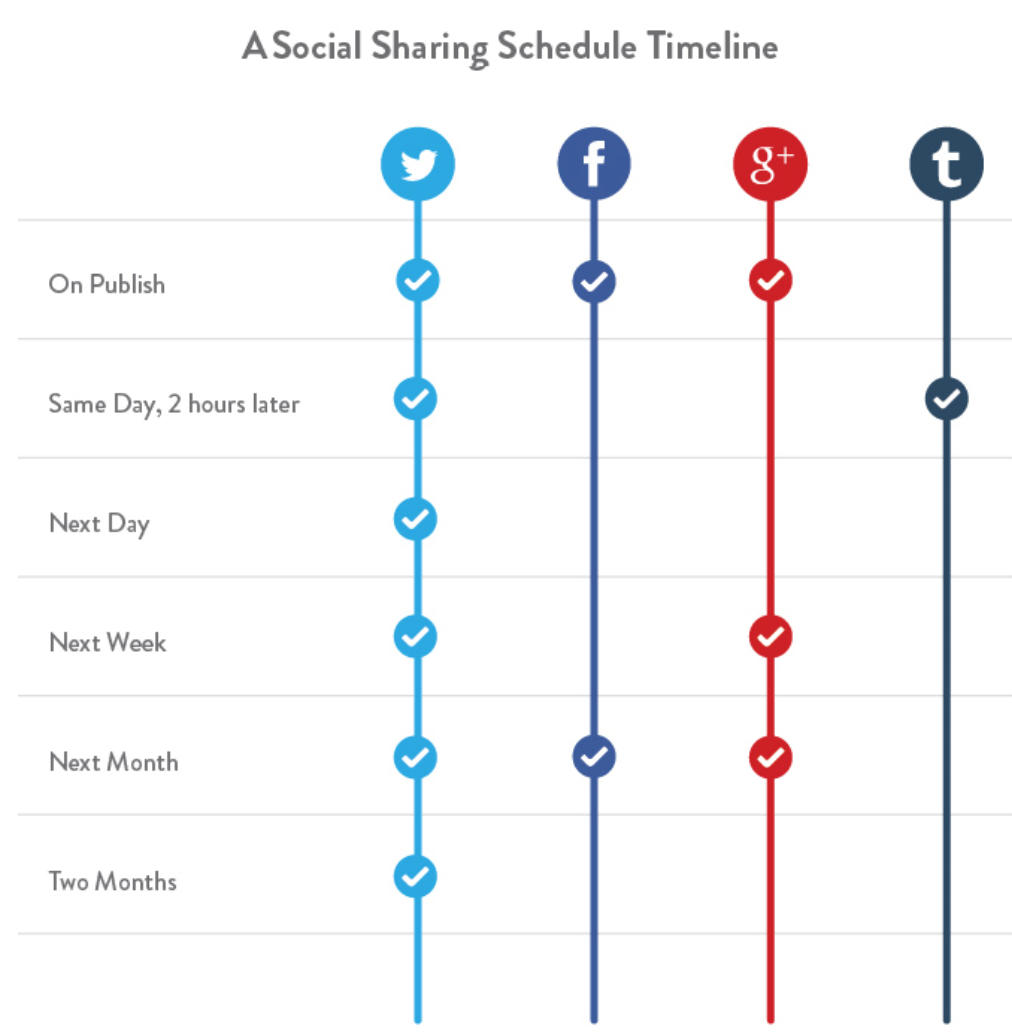 When you setup your sharing schedule, it will look like this.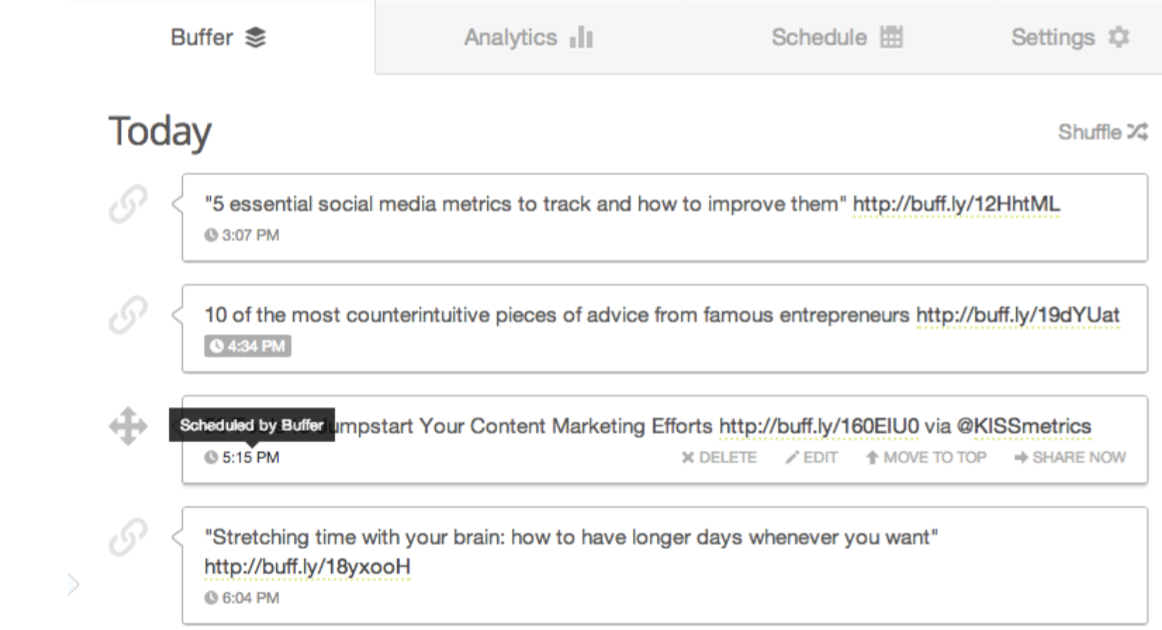 You can also use the analytics provided by Buffer, in order to see what content promotion methods and articles are performing best.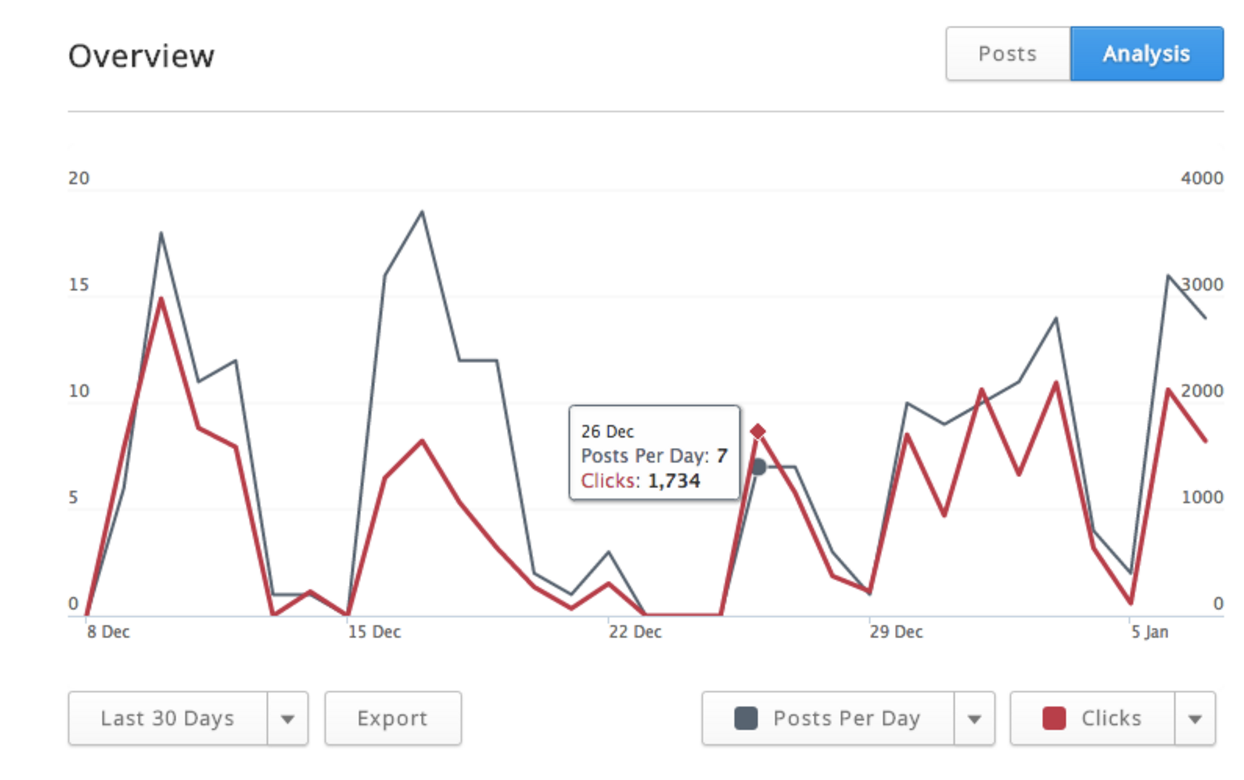 After a month or so of consistently posting content to Twitter and Facebook (at the very least), you should have a good sense as to which types of content tend to perform well within your niche.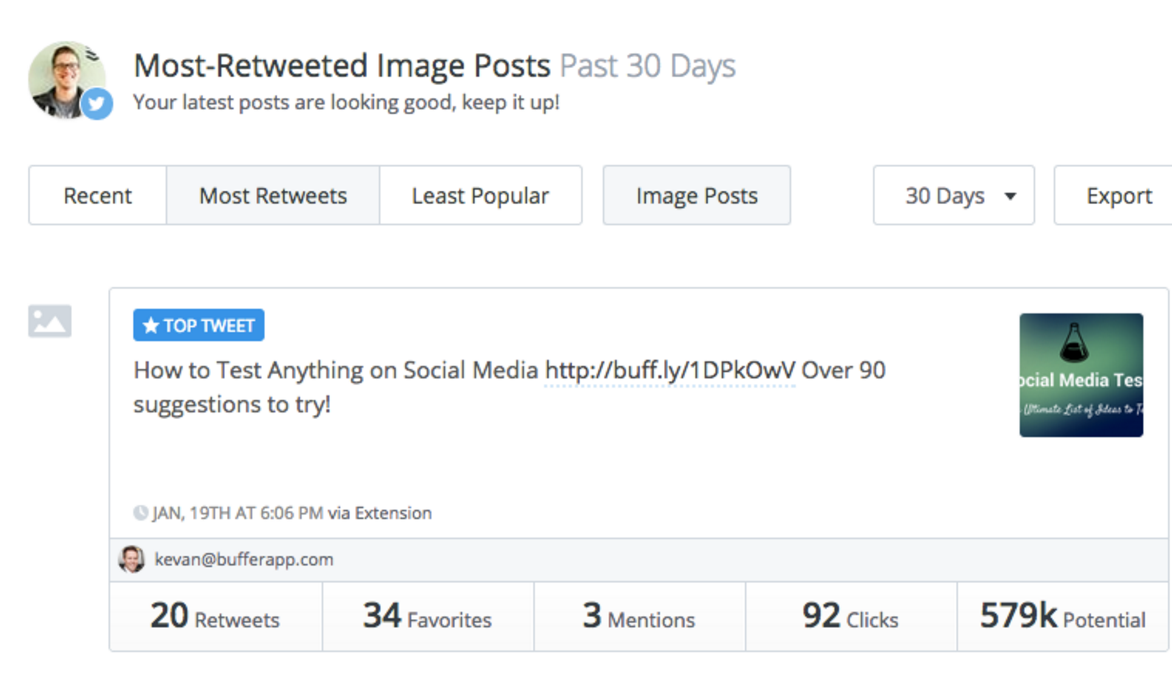 You can then use this information to inform your future content promotion and content creation decisions.
This kind of insight, coupled with the Ubersuggest tips detailed earlier, will give you a really powerful content promotion and creation strategy.
If you want to get really clever, you might think about delving into the data to find out which days are the best to post your content – as well as the best time of day, too.
Of course, it doesn't hurt to take a somewhat manual approach and examine what's working well for other people who are in your space.
If you see some other Fan Pages or Twitter profiles that seem to be growing quickly, take a moment to figure out what they're doing right.
Then question how you can implement some of their strategies into your own web site and blog post promotion strategy.
I also suggest that you experiment with different blog description copy each time that you're posting the same piece of content more than once to a social media account.
You're not going to be changing the actual content of the blog post itself, but you are going to be making some changes to the way you describe the blog post.
Say you were promoting content related to 'How to Build an audience,' and your social media update said just that. Then, the next week you'd want to change it up a bit.
For instance, 'What I Learned from the Experts When it comes to Promoting on A Social Media Platform.'
By using different kinds of description copy, those who previously ignored your content promotion methods might now engage with your content, because it now seems more appealing.
Email Marketing
In essence, you could argue that everything we've talked about so far was aimed at making your email marketing efforts stronger.
That's because when it comes to content promotion, you're ideally looking to get people to join your email list.
Email marketing can be one of the best methods of content promotion and 34.5% use it as one of the main channels for promoting content.
In fact, I believe that content promotion efforts via email marketing can lead to as much as 68% of your blog post traffic.

If your content is really compelling, people won't mind being notified of new content via email.
Because we're just talking about the basic content promotion of a blog post in this section, you don't need to over-complicate things here.
My email updates are pretty simple and I often just take the first intro paragraph of the post and ask people to click through if they want to keep reading.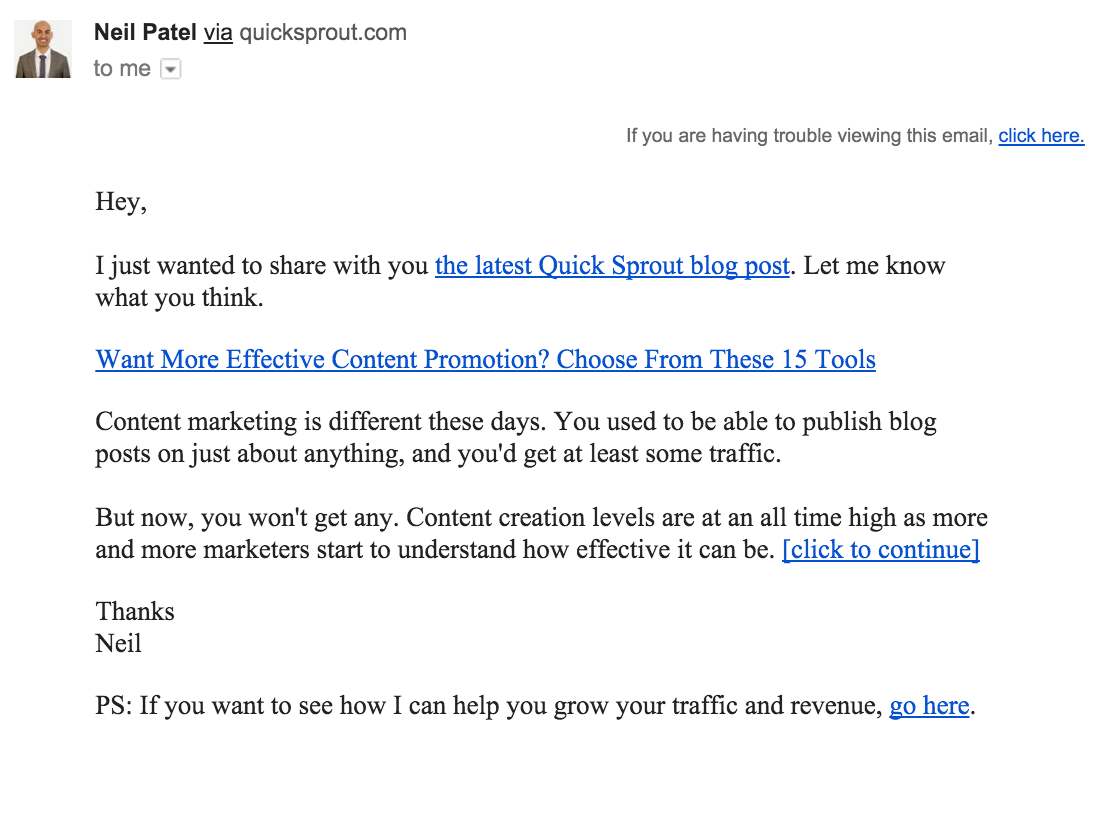 Yes, you can do something more fancy than this, but you'll often find that there isn't any need to do so.
It's really important to consider that minor changes to the subject line description copy can improve your email open rates.
For instance, consider the following scenario.
You email out your content, and 40% of those on your list open and click through.
So how do you get the other 60% to engage with your content?
Noah Kagan, found that by changing the subject line, he was able to take care of this issue.
Here's his strategy in a nutshell.

As a result of using this technique, Noah managed to earn a 11% increase in 'Total Opens.'
I've done something similar, using different text for each of the links, even though they all go to the same page.
Of course, this strategy will only work well if you can write great subject lines in the first place.
Writing great subject lines takes practice, but it is something that you need to pay a lot of attention to, as 33% of email recipients open emails based on subject line alone.
Conclusion
If you're new to the world of blogging, you might not know much about the promotion process.
However, after having read this post, you should now have a good sense of what can (and needs to) be done to for effective content promotion.
For example, you're now aware you can use email outreach and paid traffic to get eyeballs on your content. You're also aware of how to make the most out of those methods.
If you're looking to use a free promotion strategy, building relationships is key.
Trust can be an incredible force multiplier when it comes to content promotion, so do what you can to build connections ahead of time.
In any case, now that you know what needs to be done in order to promote content, why not put these tips into practice and see how well they can work for you?
What have you found to work well when it comes to promoting blog posts?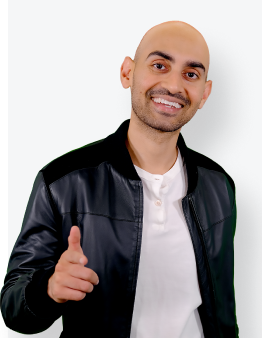 See How My Agency Can Drive More Traffic to Your Website
SEO - unlock more SEO traffic. See real results.
Content Marketing - our team creates epic content that will get shared, get links, and attract traffic.
Paid Media - effective paid strategies with clear ROI.
Are You Using Google Ads? Try Our FREE Ads Grader!
Stop wasting money and unlock the hidden potential of your advertising.
Discover the power of intentional advertising.
Reach your ideal target audience.
Maximize ad spend efficiency.