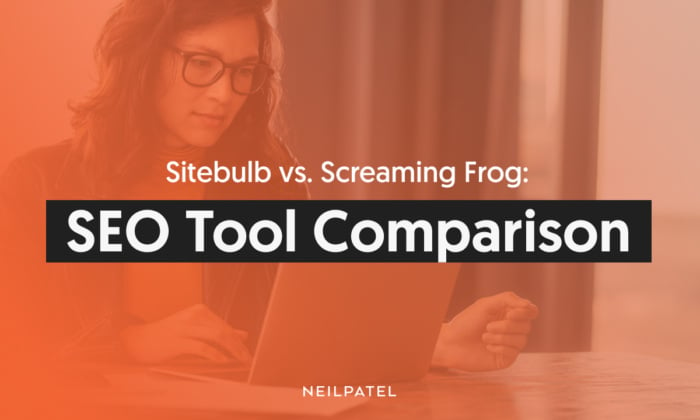 What's the first thing you think of when someone mentions SEO?
You might think of keywords, backlinks, and content marketing.
However, technical SEO is crucial, too. By optimizing your page loading speed, improving your website crawlability, and fixing technical issues, you can boost your site's search engine presence as well as the user experience.
Technical SEO can seem daunting to some marketers because it requires a different skillset to tasks like writing copy and keyword research. The good news? If you can't hire a technical SEO agency, there are free SEO tools out there that can help you optimize your site to perfection.
Join me now as I look at two fantastic technical SEO tools: Sitebulb and Screaming Frog. Together, we'll review the unique features, how much they cost, and which is the best option if you're an SEO or marketing professional.
Sitebulb vs Screaming Frog, which one is best? Let's get started!
Using Screaming Frog for SEO
Screaming Frog has been around for a long time—the company was founded in 2010 when SEO was a completely different landscape.
In fact, Screaming Frog was one of my favorite technical SEO tools when I was starting out in digital marketing.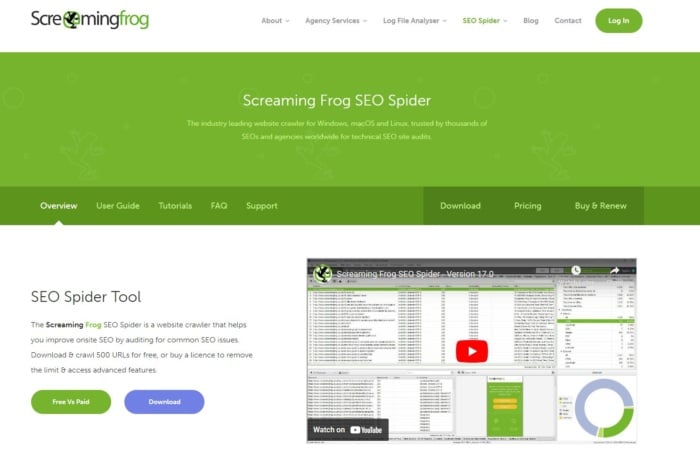 The tool is as powerful now as it was back then, with the ability to crawl large websites and a wealth of data you can use to improve your onsite SEO.
Screaming Frog Features
One of the key features of Screaming Frog is that it's wholly desktop-based. You install it onto your PC or Mac and run it from your computer.
Is this a good thing or a bad thing?
It depends on your personal preference. Some people like that they can load Screaming Frog on their desktop and get up and running without having to log into an online account. However, some people might prefer a cloud-based tool so they can share findings with their team.
(If you need to, you can run Screaming Frog in the cloud with an Infrastructure as a Service tool like Google Compute Engine. Screaming Frog has a guide that shows you how to do this.)
To get started, enter the URL you want to analyze, and Screaming Frog will conduct an audit, crawling your site the same way a search engine would. You can carry out unlimited crawls with the paid version, meaning you can analyze any website no matter how big it is.
You can also use custom configurations to manage your crawl more precisely. For example, you can crawl pages with a specific status code or that don't have a meta description. You can also use the JavaScript rendering feature to crawl all the instances of JavaScript on your website.
Once you've carried out your audit, you can:
Identify broken links on your website
Assess redirects
Analyze page titles and meta descriptions
Review header tags
Look at files and file sizes
Check for canonicalization of pages
Detect page loading speed
While Screaming Frog doesn't offer suggestions on how to tweak your technical SEO, the platform comes with a significant amount of data about each page it analyzes, as well as powerful filtering and sorting functionality.
Another feature I'm a massive fan of is the visualization tools.
As well as seeing the relationships between internal links and the hierarchy of links on your website, you can also see word clouds of your body text and anchor text. This is an easy way of seeing which type of anchor text you have on your website and if you're at risk of a manual penalty.
Screaming Frog Pricing
Screaming Frog pricing is super simple. You pay $259 a year for a license.
These licenses are per person rather than device, so you can use Screaming Frog on multiple devices as long as it's the same user each time. You can quickly transfer a license to someone else, for example, if someone leaves your company.
If you want multiple licenses you get a discount, with over 20 licenses costing $225 each.
Is There a Free Version of Screaming Frog?
There is. In fact, the free version of Screaming Frog is the standard, and you pay for a license if you want additional functionality.
The free version of Screaming Frog lets you crawl up to 500 URLs. Bear in mind that a URL doesn't just apply to a page link, but images, CSS files, and JavaScript files. If you have a small website with a lot of imagery or design elements, you run the risk of hitting the crawl limit.
With the free version of Screaming Frog, you can:
Look for broken links and redirects
Check page titles and meta descriptions
Identify duplicate pages
Generate an XML sitemap
What Do Customers Think of Screaming Frog?
"Overall, Screaming Frog helps me a lot in analyzing client websites and identifying top issues to solve. I can better understand a site's structure, SEO health, and usability status, which informs how I will approach a project to be the most successful."
-Five-star Screaming Frog review on Capterra from Lauren.
Screaming Frog is one of the big names in technical SEO, and it's amassed a wide range of fans from all around the world. Customers appreciate how easy it is to get started—download and install, enter a URL, and you're presented with a comprehensive data set.
They also love the affordable price point and how feature-loaded the platform's free version is.
Using Sitebulb for SEO
Sitebulb hasn't been around for as long as Screaming Frog.
However, in the six years it has been available, it's gained a reputation as a user-friendly and flexible technical SEO tool used by agencies and organizations alike.
Sitebulb Features
While Screaming Frog is desktop-based, Sitebulb offers you the best of both worlds. You can choose between a desktop and a cloud-based version. While the cloud-based version is faster and has more functionality, the desktop version is more affordable—we'll look at pricing in more detail later.
Like Screaming Frog, Sitebulb is easy to get started. You can either assess an individual link or create a project to audit the technical SEO of an entire website. You can set up your projects to focus on the elements of technical SEO most important to you.
Once you've run a report, you can review the overall findings or audit one individual page at a time. You can see the number of outgoing links, the technologies used on a page, page speed, and even grab a screenshot of the page in question.

One of the main issues with technical SEO is that it can be full of jargon. This can make it hard to understand if you're a marketer that doesn't have web development experience. Sitebulb offers a "Hints" system which breaks down the technical SEO of a page into plain English, suggesting ways you can make your page more efficient.

Like Screaming Frog, Sitebulb offers cool visualizations. Sitebulb's visualization tool lets you easily see the relationship between pages on your site, either the site hierarchy or internal links. It's a brilliant way to see how everything interconnects and if you need to change your internal linking strategy.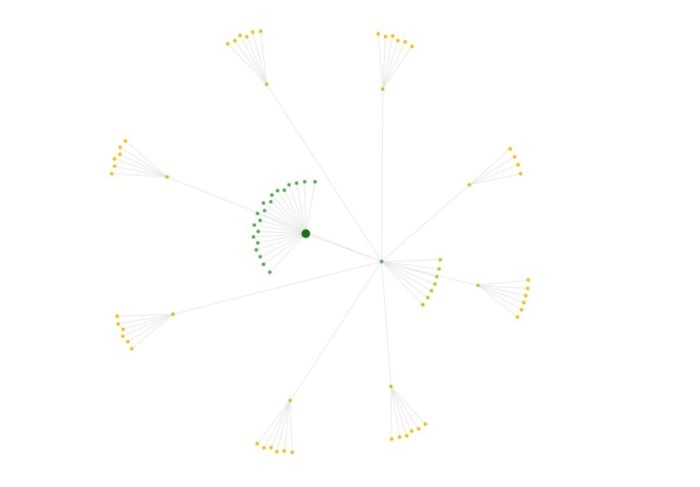 One final feature of Sitebulb that I like—the company is making a dedicated effort to become carbon-neutral. Sitebulb plants trees for every person who signs up for a trial or for the newsletter and offsets the carbon footprint of its paid users every month.

Sitebulb Pricing
When looking at the Screaming Frog pricing, there are only two options: paid and free. Conversely, Sitebulb has a range of different pricing tiers.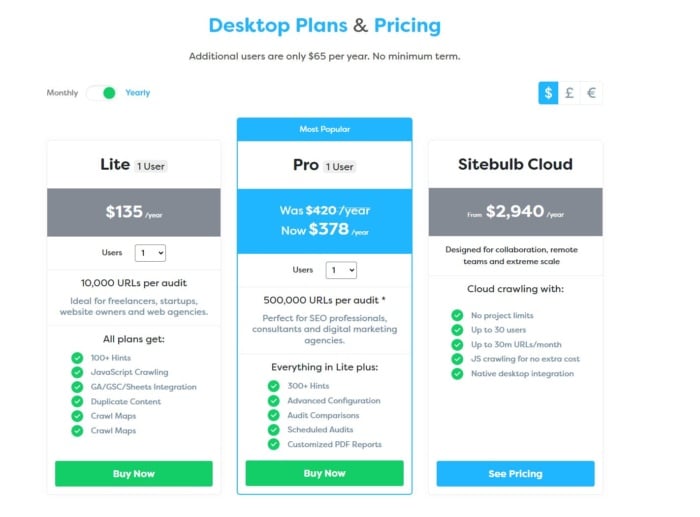 You can choose between the desktop version, which starts from $135 per year and the cloud version, which starts from $2,940 per year. While you can only pay annually with Screaming Frog, you have the option to pay monthly with Sitebulb, although you get less of a discount.
The prices may seem vastly different, but you get more functionality and power with the cloud version. For example, you can only crawl 10K URLs per audit on desktop, but 250K with cloud.
You also get Sitebulb desktop as part of the cloud package too.
Is There a Free Version of Sitebulb?
No. However, you can sign up for a free 14-day trial of Sitebulb Desktop—no credit card details required.
What Do Customers Think of Sitebulb?
"Sitebulb goes beyond the standard auditing software checks and really dives deep into your website. The customer support is second to none if you do have any queries."
-Five-star Sitebulb review on Capterra from Matt.
Sitebulb isn't the most well-known web crawler on the market; it has nearly six times fewer reviews on Capterra than Screaming Frog. However, the people who use it love it.
Customers are fans of Sitebulb's thoroughness, intuitive user interface, and ease of use. It shows that comprehensive reporting doesn't have to be hard to understand.
Sitebulb vs Screaming Frog: What's the Better SEO Tool?
Let's recap the differences and similarities between Screaming Frog and Sitebulb.
| | | |
| --- | --- | --- |
| | Sitebulb | Screaming Frog |
| Pricing | From $135 a year (Desktop) and $2,940 a year (Cloud) | From $259 a year |
| Desktop version | Yes | Yes |
| Cloud version | Yes | No |
| Free version available | No | Yes |
| Free trial available | Yes | No |
| Multiple pricing options | Yes | No |
| Crawl limit | From 1 million URLs a month | Unlimited |
| Save crawls | Yes | Yes |
| Integrations | Google Analytics, Google Search Console, PageSpeed Insights, Slack, Google Docs | Google Analytics, Google Search Console, PageSpeed Insights, Majestic, Ahrefs, Moz |
| Platform | Windows, Mac | Windows, Mac, Linux |
| Customizable reports | Yes | Yes |
| Compare two sites | Yes | Yes |
| Scheduled reporting | Yes | Yes |
| Free technical support | Yes | Yes |
| API functionality | Yes | Yes |
| Visualizations | Yes | Yes |
| Generate XML sitemap | Yes | Yes |
| JavaScript rendering | Yes | Yes |
| Export data | Yes | Yes |

Both tools are fantastic if you want to audit your site for technical SEO issues, making it faster, more reliable, and safer. However, in my opinion, these tools are geared towards different types of users.
The main advantage of Sitebulb is that it's easy to use and provides you with friendly nudges to help you make the most of your findings. This makes it perfect for marketers with a basic knowledge of technical SEO. Plus, the cloud functionality is ideal for large marketing teams that want to share data wherever they are in the world.
Screaming Frog is more advanced but is extremely powerful, with unlimited crawl capacity and highly customizable settings. While non-specialists may struggle to capitalize on all of its functionality, it's a great tool if you want to overhaul your website.
Can You Use Sitebulb and Screaming Frog Together?
You can! It doesn't have to be Sitebulb vs Screaming Frog—you can use both together to supercharge your technical SEO strategy!
Let's say you want to identify duplicate pages on your website. You can use Screaming Frog to find duplicated or near-duplicated content by going to the configuration menu and selecting duplicates, then running a crawl.
Next, export your data to Sitebulb. Here, you can get a duplicate content score that will show you which pages you should keep, and which you should redirect.
FAQs
Screaming Frog vs Sitebulb: which would you recommend for website crawling?
Both tools are great if you want to audit your website and assess your technical SEO. However, each tool has different features, so it ultimately depends on your budget, the size of your website, and what you want to achieve. 
What other Screaming Frog competitors are there?
A good Screaming Frog alternative is Sitebulb, which is well-loved for its thorough reporting abilities and ease of use. Other Screaming Frog alternatives include Lumar (formerly known as Deepcrawl), OnCrawl, Botify, and Visual SEO Studio. 
Xenu Link Sleuth is also good if you just want to analyze broken links.
What are some of the pros and cons of using Screaming Frog as a website crawler?
The advantages of Screaming Frog are that it provides a wealth of data and has comprehensive reporting tools. It also has a great free version with a lot of functionality.
The main disadvantage of Screaming Frog is that it can be slow, especially when crawling larger sites. It's also not cloud-based and can be hard to get your head around if technical SEO is new to you.
Conclusion
So if you're conducting a technical SEO audit, which website crawler should you choose? Sitebulb vs Screaming Frog, which wins out?
It depends on whether you're interested in depth or range of insights. Sitebulb has a broad range of fantastic features and is easy to use. It's awesome for marketing teams that want to audit their websites and make significant changes.
Screaming Frog is more technical and enables you to take a deep dive into your website, with advanced features like custom data extraction and HTML debugging. If you use a technical SEO consulting agency, the odds are that they'll use Screaming Frog.
So for depth, I'd say go for Screaming Frog. Range, give Sitebulb a try. Screaming Frog has a free version, and Sitebulb has a free 14-day trial, so you can give both a spin and see which you prefer.
Whichever one you opt for, you're one step closer to drastically improving your technical SEO!
Screaming Frog vs Sitebulb; which one do you use to keep your technical SEO on track? Let me know your thoughts in the comments!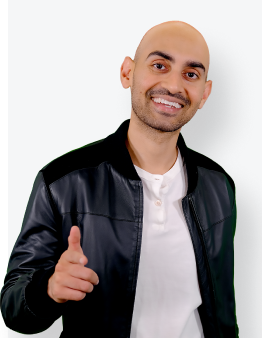 See How My Agency Can Drive More Traffic to Your Website
SEO - unlock more SEO traffic. See real results.
Content Marketing - our team creates epic content that will get shared, get links, and attract traffic.
Paid Media - effective paid strategies with clear ROI.
Are You Using Google Ads? Try Our FREE Ads Grader!
Stop wasting money and unlock the hidden potential of your advertising.
Discover the power of intentional advertising.
Reach your ideal target audience.
Maximize ad spend efficiency.