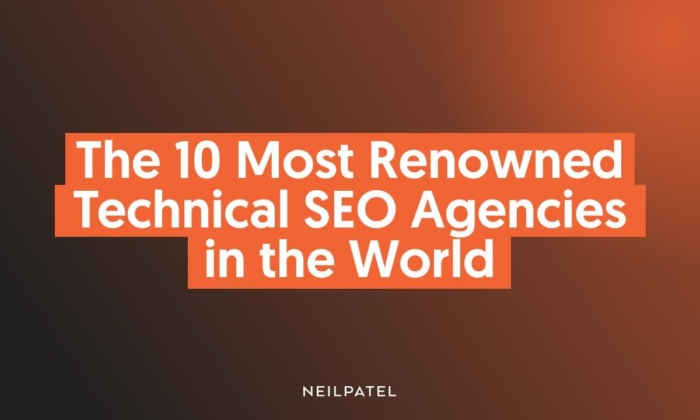 Do you know the importance of technical SEO? As a website owner, it's seriously something you want to think about.
You see, no matter how great your website content is, your hard work could amount to nothing without proper technical SEO.
That's because technical SEO gives your site structure, makes it super-easy for search engine bots to crawl and index, and helps Google understand what each page is about.
Then there's URL structuring, robots.txt, redirect codes, canonical tags, .htaccess files, load time, and many other areas. It all matters.
That might all sound like another language to you, but you don't need to concern yourself with the technicalities.
A technical SEO agency knows this stuff inside and out, so you don't need to try and understand it on your own.
That's where this guide comes in.
Our team at NP Digital researched, reviewed, and listed the top technical SEO companies on four criteria:
Outstanding customer reviews.
Awards, impressive clientele, and a long history of delivering stellar technical SEO work.
Thought leadership—consistently publishing insightful articles and trends on the topic.
A strong reputation amongst other SEO professionals.
From these criteria, we found ten technical SEO agencies you can trust and detailed what they're good for:
The 10 Top Technical SEO Companies in The World
However, before I get into the list, let's discuss why you might want to work with a technical SEO company.
How Technical SEO Companies Can Help
When should you turn to a technical SEO agency? You shouldn't need them for the basics. Even without technical expertise, you've probably got title tags, meta descriptions, and minor optimizations covered.
However, suppose it's something more complex like hreflang, redirect chains, indexation issues, page speed optimizations, or Javascript SEO. In that case, you might want to call in a technical SEO or a freelance SEO specialist.
As the chart from Ahrefs shows, plenty of other areas require the input of a technical SEO expert, like website structure, fixing broken pages, or duplicate content issues.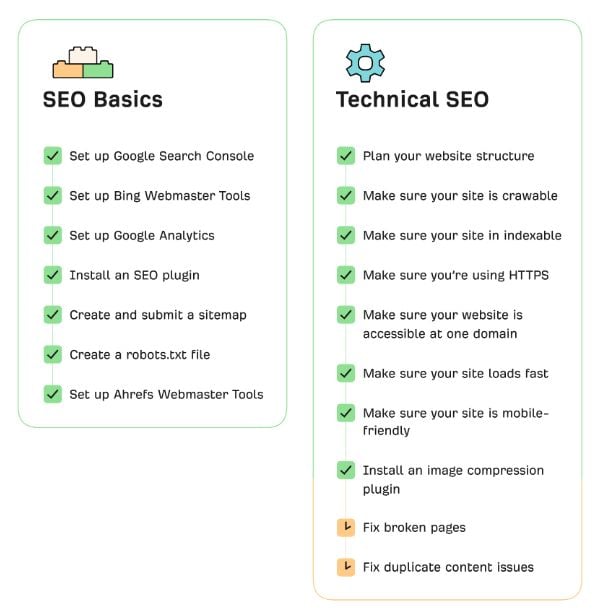 The 10 Top Technical SEO Companies in The World
Now you know why you need an expert, let's get into the list of the ten best technical SEO agencies around.
1. NP Digital – Best For Technical Content Structuring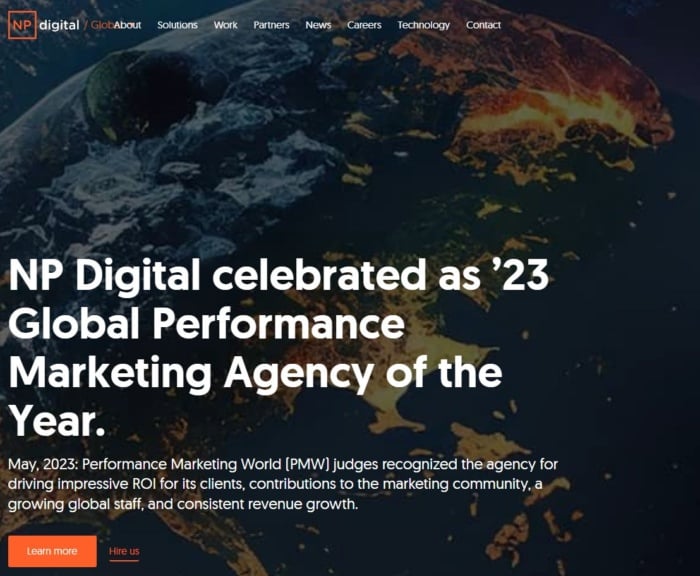 Content marketing is essential to online success. However, what many people overlook is the importance of content structuring.
NP Digital is the go-to SEO company for excellent content structuring.
Don't take my word for it. Let me explain why.
From our years of extensive search engine optimization experience, we found that content marketing must have the right structure to power a long-term SEO strategy.
This is a key piece of our comprehensive SEO program, and the results speak for themselves.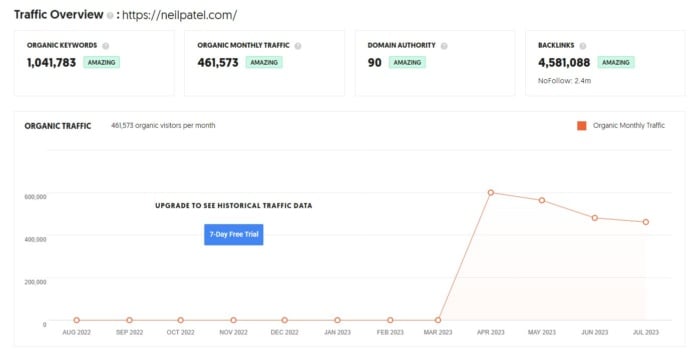 Over one million organic keywords, a domain authority score of 90, and over four million backlinks. All built from scratch.
Content was a huge part of this, but the site wouldn't be nearly as large without the proper structure and technical SEO.
You can access this vast technical SEO expertise by working with the NP Digital team.
Today, we've developed a content marketing program with content structuring (in the form of content clusters) to help clients get technical SEO right from day one.
2. Webris – Best for Technical SEO Audits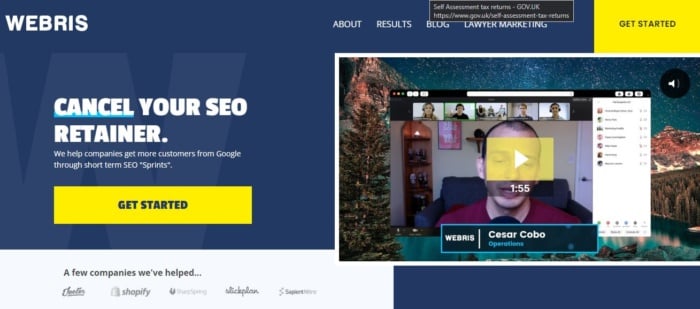 Almost all great endeavors begin with taking an in-depth audit of existing content.
Technical SEO is no exception.
To optimize your site for search engine bots' crawling and indexing, you must first do a proper technical SEO audit of your site's structure.
After careful consideration, we'd recommend Webris for this.
Founded by Ryan Stewart, the core strengths of Webris are technical SEO audits and conversion-focused UX. This company boasts an incredibly talented team of advanced technical SEO consultants, and it's worked with major brands like Shopify and Accenture.
If you do a quick Google search for "technical SEO audit," you'll find this excellent content piece by Webris on the first page of the SERPs: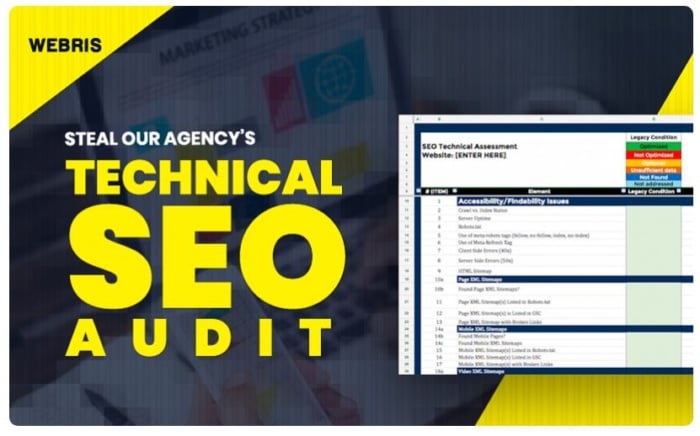 Ranking on Google's first page for this search term is another way of saying that it's earned its stripes on this list.
This proves that Webris walks the talk when it comes to technical SEO audits and is a reliable option if you're just getting started.
3. Salt.agency – Best for Enterprise Technical SEO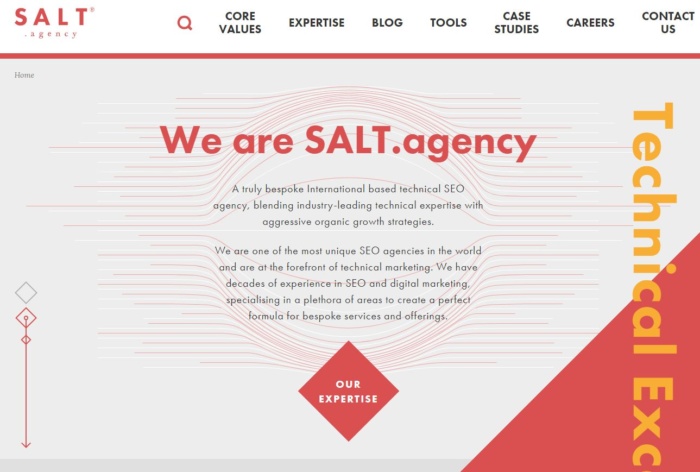 Salt.agency prides itself on "Technical Excellence," and for good reason. This technical SEO company has a proven track record in this field.
Massive enterprise sites can have all sorts of crazy technical problems, and it takes a technical SEO expert to figure it out.
If you're running one of these sites, you need a team that's worked with that type of complexity before.
In this case, Salt.agency is the best option.
With offices in Boston, Leeds, and London, Salt.agency's clients include Cloudflare, Hartley Botanic, Brex, Travel Supermarket, and many others.
4. Orainti – Best for E-commerce Brands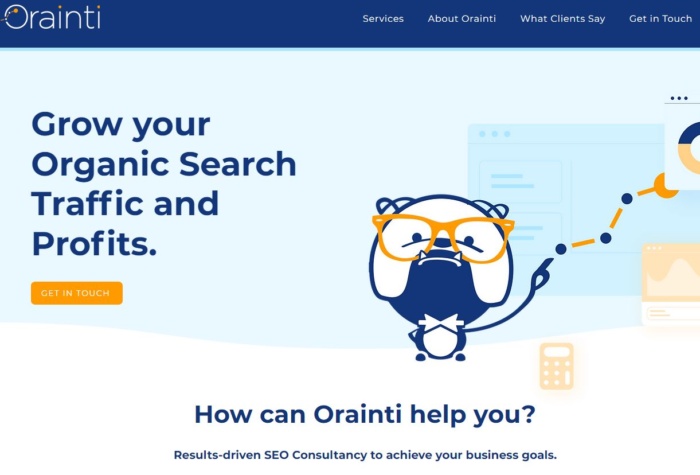 International e-commerce businesses have tons of unique challenges, like dealing with multilingual sites, getting product and category pages ranked properly, and avoiding duplicate content.
Orainti comes highly recommended for this.
The boutique technical SEO company specializes in providing technical and strategic SEO services for brands in competitive industries.
This company approaches digital marketing and search engine optimization with a technical mindset, which justifies its inclusion in this highly-vetted list.
It works mainly with international e-commerce brands like Trade Republic and Les Roche.
5. Thrive – Best for Local Brands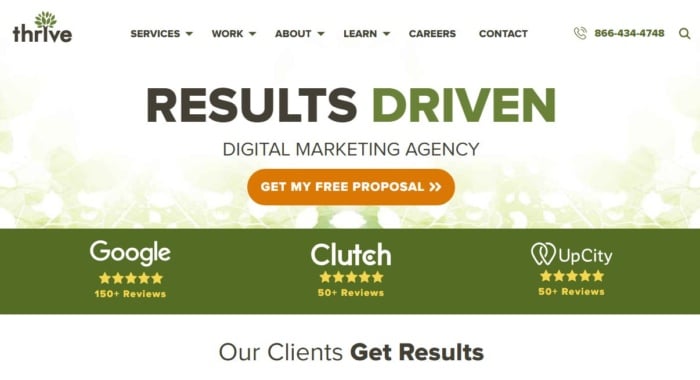 Thrive offers a whole host of services, including digital marketing, link building, and local SEO. It can also help you out if you need a technical SEO expert.
After performing a technical SEO audit, the agency provides short- and long-term solutions to enhance the visitor experience and boost Google rankings.
Key areas the agency works on include speed optimization, structured data markup, and backlink analysis.
With 25 years in business, Thrive has a long track record and has a presence in 25 cities throughout the United States.
6. Onely – Best for AI Integration
Everyone is talking about AI, so it wasn't long before some technical SEO agencies integrated it into their services.
With 12 years of experience, Onely works with top brands, including Ikea, LiveChat, and Realtor.com, and calls itself the "nerdiest and friendliest technical SEO agency in the world."
Aside from technical SEO, it provides angular SEO (optimizing websites/web applications using the Angular Javascript framework for added visibility), link audits, and structured data.
Onely is also Google AI-ready, so if you want to gear up for Search Generative Experience (a new Google search feature powered by AI), this is the one for you.
The technical SEO agency's audit analyzes eight crucial factors to see which areas of your website are ready for AI-powered search and which aren't.
7. ROAST – Best for Tech Innovation
Digital marketing agency ROAST uses cutting-edge technology to understand Google's algorithms and optimize websites accordingly.
In addition to its other services, ROAST performs technical SEO audits and has a best-in-class technical SEO department.
The technical SEO company focuses on on-page and off-page technical SEO, such as domain infrastructure management, reporting, and insights.
The agency customizes its technical SEO services around the business's goals, combined with marketing know-how for the best results.
8. WebFX – Best For Data-Driven Approaches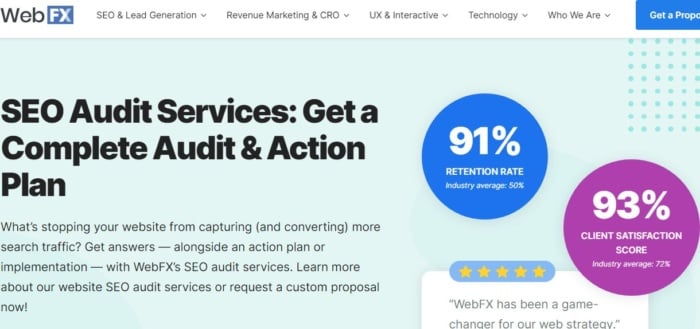 WebFX employs 500 staff and boasts 1,000 satisfied customers, including Subway and Verizon. It works with multiple niches, including finance, food and beverage, and legal.
In addition to its website development, SEO, digital marketing, and social media services, WebFX can help you out with common tech issues like site speed, and it conducts technological SEO audits, too.
While it's not strictly a technical SEO agency, it offers a good range of technical SEO services. For instance, as part of the technical SEO audit, WebFx identifies problems like 404 error pages and sitemap issues.
The agency takes a data-driven approach and prioritizes conducting custom SEO audits, starting at $8,600 monthly.
9.StraightNorth – Best For Cutting-Edge Reporting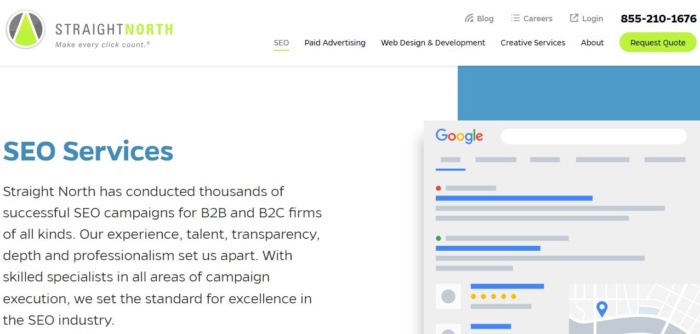 StraightNorth has a 95 percent retention rate and over 100 experts; with 25 years of experience, you know you're in good hands.
While StraightNorth emphasizes its paid advertising, creative, and website design services, it can also help you with technical SEO issues.
The agency conducts an audit to find any indexation and usability problems that may negatively impact your website's SEO.
It can also help with speed optimization, diagnose common (or uncommon) technical SEO issues, and improve search engine accessibility.
If you're "ready to make every click count," contact StraightNorth to see what it can do for you.
10. SmartSites – Best For Large-Scale Campaigns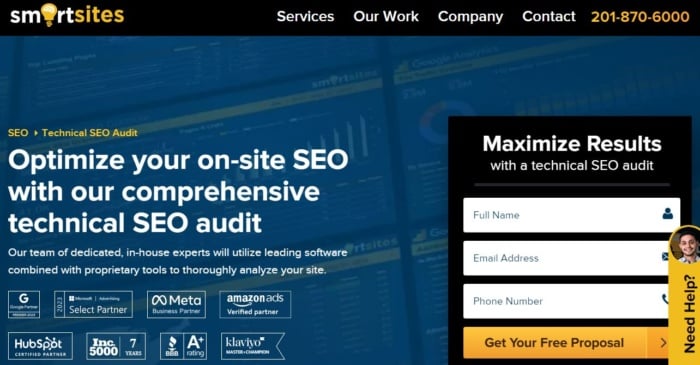 SmartSites is an award-winning digital marketing agency offering results-driven marketing.
It has a team of over 100 digital marketing experts and has worked with over 500 companies.
The agency's technical SEO services benchmark websites against best practices and pinpoint and fix any issues.
In addition, SmartSites uses top-of-the-range tools for page speed and site map analysis, compatibility analysis, and structured data.
5 Characteristics That Make a Great Technical SEO Company
What separates good technical search engine agencies from great ones? What would you specifically look for when choosing someone to work with?
Here's my advice:
1. A Complete Implementation Process that Includes Technical SEO
Technical SEO brings structure to your site. It helps search engine bots crawl, index, and rank your website correctly, which is essential for driving traffic.
Also, it helps to boost your site's load time.
However, even if your technical SEO works well to begin with, that won't necessarily always be the case. Technical SEO takes work. That's why the best technical SEO companies have a complete SEO program, including manual site review, technical SEO implementation, content strategy, and others.
If you're really good at SEO already and just need a quick SEO audit to double-check everything, you could get value from working with a specialist. However, for everyone else, I recommend working with someone that understands the complete SEO strategy. It's the only way to build a site with tons of traffic.
2. Thought Leadership
Implementing technical SEO strategies that move the needle takes lots of experimentation. Technical SEO companies that embark on this kind of excruciating work always like to document their experience and findings.
Working with SEO thought leaders increases the odds of a successful project.
After all, if someone can successfully teach technical SEO, they can also help your business directly.
Publishing cutting-edge content about technical SEO is a great sign that they know what they're talking about and they'll deliver amazing results.
3. An Impressive Client Portfolio
An excellent way to see if the expertise and processes used by a technical SEO company works is by looking at its client portfolio.
There is nuance here.
Having a ton of major brands is great. However, that doesn't mean an agency you can get help with your exact situation.
Ideally, the technical SEO company has worked with similar companies like your own. Look for case studies that highlight this.
Below are just some of the clients NP Digital works with: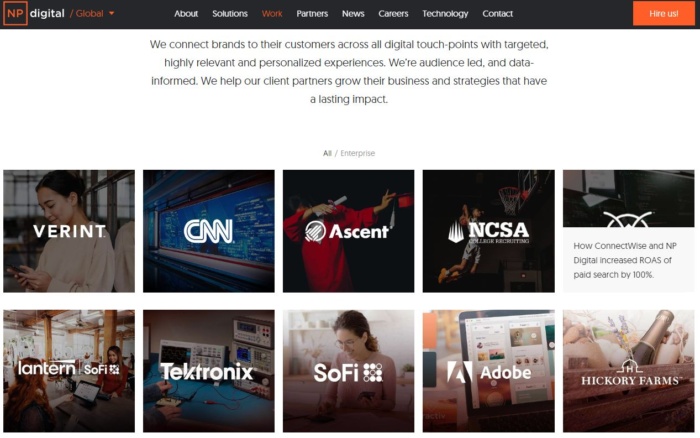 4. Real Life Results
The nice thing about technical SEO is that it's relatively easy to fix when you have the expertise. Technical problems come up that can tank traffic. Then, technical SEO experts fix those problems.
Simple.
That's why any great technical SEO company should have plenty of case studies where they turned around a site after it got hit. The more obscure the technical problem, the more likely they can find the quirks on your site.
Sometimes, you'll see these case studies on their site. However, a lot of companies don't like sharing the best stories.
In that case, how do you know if your technical SEO expert has the skills to fix your specific problem? A discovery call is your opportunity to ask. They should be able to give you plenty of examples when you have the initial chat.
5. A Diversified Team
Covering every last technical SEO requirement is way too big of a task for a single person. You'll need a fully-staffed team to do it all, especially on major sites.
Go through the company's team pages and LinkedIn employees, then look for lots of depth and expertise across the entire team.
Specifically, look for a technical SEO company with a team that has expertise in coding, analytics, server administration, and other technical areas.
You'll also want a team that keeps up with industry changes and with diverse backgrounds and experiences so they can work together to get the best results.
What to Expect from a Great Technical SEO Company
If you're like most people who only realize the need for technical SEO late on, you'll probably wonder what you should expect from one.
Here are some of the most significant things to expect:
1. A Discovery Session
After you reach out to a technical SEO agency, they'll likely want to get on a call to understand what you're looking for.
It's the only way to understand the goals that you have for your site.
If a technical SEO company wants to jump straight into an audit without even getting on the phone, it's a sign they're running an "audit mill" and won't spend much time on your project.
Find a company that wants to go really deep and understand the full picture.
2. A One-time Audit Proposal
Most technical SEO companies perform a one-time audit for a flat fee.
Since this is a standard part of their practice, they can usually jump into this right away.
Assuming their fee works with your budget, you could have someone get started within a week. That's how easy it is to get going.
Before starting the audit, ask them for everything it includes and get it in writing. Your quote should include everything like canonical problems, indexing issues, duplicate content, other Google Search Console errors, everything.
Get a few quotes and see which is the most comprehensive; don't just go on price.
3. Completing The Audit
Once you've agreed to move forward with a technical SEO audit, it's time for the technical SEO company to get to work.
These usually take a few weeks to complete, depending on the size of your site.
Of course, you'll need to give them access to your Google Analytics, Google Search Console, WordPress account, and possibly your web host.
There shouldn't be much work for you or your team during the audit. The technical SEO agency performing the audit may have questions, but they can do most of the work independently.
4. Implementation Proposal
Most technical SEO audits only cover the discovery of site issues. The project doesn't usually include the work required to fix any problems.
This is because most technical issues don't have easy fixes.
For example, if your site has terrible site speed that's impacting your rankings, you'll need to do a ton of front-end work to fix it. That also involves your marketing team and possibly other technical search engine agencies.
Once the audit is complete, expect to see a proposal that includes implementing any solution.
Something to watch for here: the best technical SEO companies know the limits of their expertise. When they find problems outside their capabilities, they'll tell you and advise you to work with someone else on fixing them. Site rebuilds and content marketing are good examples of this.
If a technical SEO agency tells you it can fix every single problem, double-check and ensure they truly have real expertise in those areas.
FAQs
What is a technical SEO agency and what services do they provide?
A technical SEO agency keeps your website's backend in tip-top shape. This enables the search engines to crawl and index your site easily. The services a technical SEO expert offers include identifying errors, optimizing structure and speed, and managing code. 
How can a technical SEO company help improve my website's search engine rankings?
When you work with technical search engine optimization agencies, they'll focus on mobile-friendliness, site speed, and overall performance. Addressing these key areas can positively impact SEO, thus improving your website search rankings. 
What are the key factors to consider when choosing a tech SEO agency?
Choosing a technical SEO agency company needn't be difficult. Start by looking for agencies that have experience in your niche. From there, create a shortlist of technical SEO agencies and look at their testimonials and case studies. Ensure they have a solid track record of enhancing online visibility and keeping up with trends and algorithm changes.
Also, don't forget strong communication is a must. Test them out with a few questions by phone and email to see how quickly they respond and assess their expertise.
What are the benefits of hiring a technical search engine optimization agency?
Hiring a technical SEO agency can boost your website's visibility in search results, drive more organic traffic, and improve user experience. For you, that might mean more prospects and extra conversions.
The other bonus is you can free up time to concentrate on the day-to-day running of your business while the technical SEO expert does what they do best. 
How does a technical SEO expert differ from a regular SEO specialist?
A regular SEO specialist deals with the front end. This includes areas like content, keyword research, and general strategy.
A technical SEO agency looks at the backend, like site speed, coding, and crawlability.
Can a technical SEO agency help with website speed optimization and performance improvements?
Yes! Technical search engine optimization agencies can optimize images, compress files, clean up code, and suggest improvements that make your website load faster. That's good news because visitors and search engines love speed.
What are some common technical SEO issues that agencies can help resolve?
A technical SEO company can fix and optimize numerous issues like:
broken links
duplicate content
poor site structure
mobile responsiveness problems
XML sitemap optimization
schema markup
robots.txt
What are some best practices for finding and selecting the best technical SEO agencies?
Looking for online reviews for technical SEO agencies is a good starting place. Once you've seen a few you like, you can hone in on case studies and testimonials.
Ask them a few questions to test their expertise and responsiveness, and if you feel like you could work with them, arrange a discovery call and ask how they can help you with your specific tech issues.
Getting a few quotes and a comprehensive technical SEO checklist of the services provided is also a good idea.
How much does it cost to hire a top-rated technical SEO agency?
The cost of hiring the best technical SEO agencies varies considerably, as no two projects are the same. Your chosen technical SEO agency needs to factor in things like website size and technical complexity.
Then there is the agency's pricing structure (retainers, project-based work, etc.), existing SERPs position, and niche expertise. Get a few quotes from different agencies, and remember to compare like with like.
Ahrefs says $75-$100 an hour is the most popular rate. Its survey also notes that agencies charge more than a freelance SEO consultant.
Conclusion
Should you take technical SEO seriously? Absolutely!
The fact is, when it comes to this aspect of digital success, there's a lot to think about.
Conducting a technical SEO audit can seem complex if you don't know what you're looking for or why to start. However, it's necessary.
Yes, you need to focus on content, off-site, on-site, and local SEO, but you can't overlook the technical side.
Technical SEO is like the framework of your site. You must have a sturdy structure. Otherwise, as things add up, and you have hundreds or thousands of pages on your site, something will break.
Search engines have a harder time crawling your site, content isn't indexed, and your site speed slows way down.
Even if you start with a great foundation, you need a healthy rebuild every few years.
If you haven't done a deep technical SEO audit recently, now's the time.
Don't feel daunted by it.
You don't have to do it on your own. I've got a technical SEO checklist to get you started, or you can speak to a technical SEO consultant.
Do you work with a technical SEO agency? Tell us how you work with these experts below.
Aleyda Solis is the Founder of Orainti. She is a veteran SEO practitioner, speaker, and author who has earned recognition and awards for her technical SEO expertise from organizations such as Forbes and the European Search Awards.
Orainti boasts an impressive portfolio of top brands, including Zillow, Under Armour, Sage, Eventbrite, and others.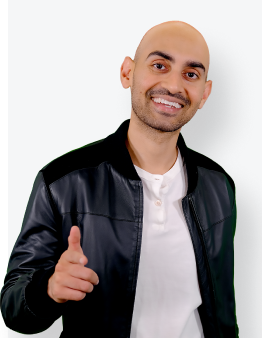 See How My Agency Can Drive More Traffic to Your Website
SEO - unlock more SEO traffic. See real results.
Content Marketing - our team creates epic content that will get shared, get links, and attract traffic.
Paid Media - effective paid strategies with clear ROI.
Are You Using Google Ads? Try Our FREE Ads Grader!
Stop wasting money and unlock the hidden potential of your advertising.
Discover the power of intentional advertising.
Reach your ideal target audience.
Maximize ad spend efficiency.