As an entrepreneur, you're forced to adapt and improve on a daily basis.
Chances are, you expect your employees, business partners, and clients to adapt as well.
But what about your social media?
Do you expect that to adapt?
LinkedIn has proven without question that they intend to remain a relevant part of the go-getters' success.
I believe that content marketing on LinkedIn is more important now than ever.
And the best way they've shown this is with the addition of native video on their platform.
They're adapting to capitalize on the biggest marketing trends at the right time, and so should you.
I want to share some easy-to-implement ideas that will inspire you to start using Linkedin video.
Better yet, these ideas are designed to help you skyrocket your engagement and drive more business through your LinkedIn profile.
But before we get started, let's talk about just how powerful these videos can be.
Is LinkedIn video worth it?
Video marketing has been on the scene for years, and it's proven to be profitable on any platform and for just about any reason.
A staggering 84% of buyers reported that they had been convinced to buy after watching a brand's video.
And that same study found that 97% of businesses believe that their video has helped increase user understanding of their product or service.
That means the right type of video will help you sell and engage more.
And the overall mobile video consumption trend is unignorable for modern brands.

When more than two-thirds of internet users are watching and expect to watch more, it's clear that video is a winning format.
If you need even more proof, it's been discovered that a significant percentage of online buyers prefer content that is short, easy to access, and in video format.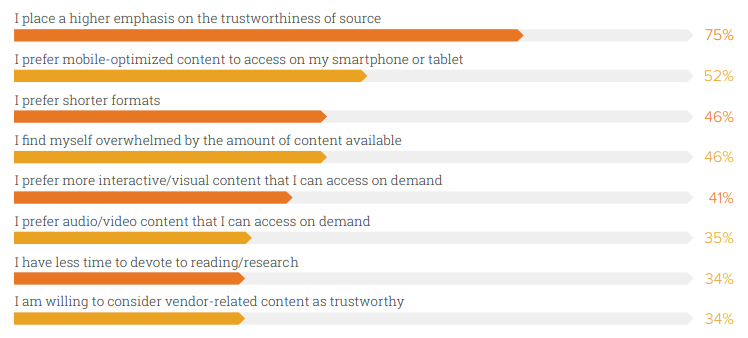 This means that your audience, even the users on LinkedIn, are looking for video content that's engaging, entertaining, and educational.
But where does LinkedIn actually play into these statistics?
For businesses, there's no better social site for content promotion than LinkedIn.
As you can see above, LinkedIn is second only to email as the favorable channel for sharing business-related content.
And numerous studies have shown that LinkedIn is the best place for B2B companies to find and convert leads.
So the signs are plain taking advantage of LinkedIn's native videos is a great way for brands to engage with their audience.
Even though native video on LinkedIn is relatively new, it still packs quite a punch for B2B marketers, brand advocates, or business owners.
For right now, there are still only a few places you can use video on LinkedIn.
Your first option is to include a video in a blog post that's uploaded through the LinkedIn Publisher.
To get started, click on the "Write an Article" button on your LinkedIn feed.
This takes you to the LinkedIn Publisher, where you can start writing your content, adding images, and now video.
On the left side of the publisher, there's a small button that you'll need to click to include media in the post.
Clicking this button brings up a small toolbar, which you can see now has the option to include a video.
At this point, share the link of the video you want to share in the window that pops up, then save the video to your post.
From what I've seen so far, links from YouTube, Vimeo, Ustream, and Brightcove show up the best in posts like this.
If you're in the habit of including video in your posts (like I am), this is great news.
Being able to vary your content allows you to provide more insight and greater depth to your LinkedIn audience without having to push them to your website's blog.
And while you should still try to convert visitors to your website, it removes a little bit of the friction that marketers used to experience on LinkedIn.
But posts aren't the only place you can share video.
You can also now upload and share video directly on your updates feed.
Simply go to your feed, and just to the right of the "Write an Article" button you'll see a button that says "video."
This option allows you to directly upload a video that's between three seconds and ten minutes in length directly to your update feed.
That means your audience can immediately start watching your content.
Here's what a finalized post looks like: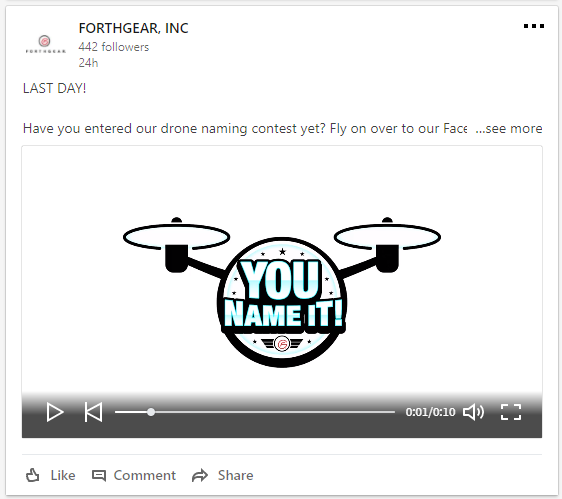 And if that's not enough for you, LinkedIn's app is also capable of letting you record and upload video straight from your phone
Once you post a video, you can see analytics like the number of views, likes, and comments your videos are receiving.
But you can also see audience insights: top companies, titles, and locations of your viewers.
You can find these audience insights in the dashboard section of your LinkedIn profile on both mobile and desktop.
All you have to do is click the drop-down that says "Me" and scroll down until you see "Posts and Activity."
When you click this, you'll be on a feed of every post you've ever uploaded to LinkedIn.
At the bottom of the post, you'll see a breakdown of the likes, comments, shares, and views of your post.

With this information, you can begin to understand if you're reaching the people and companies that matter to your brand.
And before you post, keep in mind all of the other best practices for boosting engagement on LinkedIn.
Post often, spread out your posts, and post different types of post throughout the day.
You'll see more engagement and help drive revenue for your business from LinkedIn.
Just remember that video is a great way to create powerful and personal touches that you can use to boost engagement with your brand.
But now that you know how to upload video, one question remains:
What type of native video can you create and share that will engage with your audience on LinkedIn?
That's what I want to share with you next.
I've found six of the best native video ideas on LinkedIn that you can imitate or improve on for your own brand.
And the first is something you can start doing right now.
Method #1: Tell everyone what's happening today
Simple, day-to-day updates are easy to shoot and upload without much fuss, but they're a great way to keep your clients and potentials in the loop for your brand.
It's especially exciting if you're working on a project that your audience has been anticipating, as frequent and consistent updates will help you hype a future launch.
Whatever it looks like for your business, engaging in this way is by far the easiest and least time-consuming.
One cool example of this was shared by Rutger Hofma, a freelance mooring and towing master who, in this video, was towing an upright wind turbine.
This is as simple as you can get with a video idea.
All it consists of is a timelapse of a sunrise behind a few ships.
But isn't it amazing?
Just watching a fully upright wind turbine being carried on a boat as the sun rises behind it speaks volumes about the way this professional feels about his job.
Without saying a word, he engages you and educates you about what he does for a living.
And the next time you need some specialized towing, who are you going to think of first?
My bet is on Rutger Hofma.
But I realize that not all of us have a job that affords us sites like that on a regular basis, so I want to give you another example that's a little closer to home.
This video comes from a welding company and showcases a rather special talent from one of their new hires.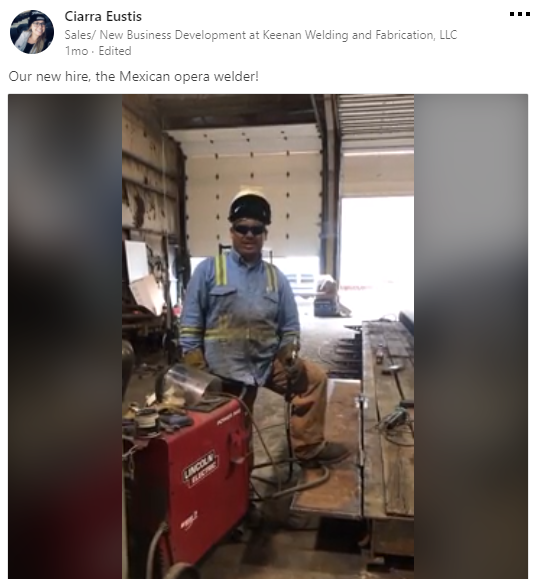 Probably not what you expected to hear from a welder, but that's the beauty of it.
Every now and then, a special talent emerges in the workplace that brightens everyone's day, like this talented welder and his angelic voice.
Videos like this humanize your brand.
They show the professionals on your LinkedIn feed that you and your employees are passionate, driven, and talented in a variety of ways.
Simple updates like this aren't time-intensive, but they're the perfect touch for brands that want to show a little vulnerability on their feed.
By opening up and connecting, you're asking others to do the same.
And that's one of the best ways to increase engagement with your brand almost immediately.
Method #2: Interview passionate people
Passionate people are the ones who drive business, make big waves, and are often on the frontline of your industry.
That makes them a valuable resource that can help your engagement and generate endless streams of video for your LinkedIn.
Whether they're part of your organization or not, they can help you create a simple video that offers value to anyone who watches.
All you have to do is find them, ask them a few questions, and then upload the video to your feed.
Like in this example, where Content Marketing Institute vice president Cathy McPhillips is interviewed by TrackMaven CEO Allen Gannett.
By creating a simple, 35-second video, Allen was able to tap into the passion and expertise that Cathy had to offer.
Taking the opportunity to connect and share her insight displays a few powerful points about Allen.
For one, he's interested in learning more about content because he's at the Content Marketing World conference.
Secondly, his audience is given insight from a passionate professional about repurposing their own content.
But more importantly, this video shows that Allen able to connect with others.
And in doing so, he wants to go beyond the surface of the information he's getting at the conference. He wants to dig deeper.
Do you see how that's conveyed in this video?
And it wasn't explicitly said. You just knew.
That's immeasurably valuable to a brand's image.
Another great example I saw recently of this type of video came from influencer Richard Branson, and it wasn't even made by someone in any company.
It was made by an eight-year-old for a school report.
Talk about the ultimate humblebrag.
When you get to the point where school children are creating videos about your life, you know you've made it as a global influencer.
But that's not so much the point here.
The point is that someone completely uninvolved with the Richard Branson is speaking passionately in favor of his accomplishments.
It's organic, natural, and undeniably cute.
Even though it's not necessarily relevant to an employee or project, it illustrates the degree of interest that he's drawn.
Even eight-year-old Oliver wants to share his message.
Don't just find the nearest school-aged child to talk about your brand.
But if someone in your community creates video content like this that shows you favorably, use it on LinkedIn.
It will engage, inspire, and attract more passionate people to your cause.
Method #3: Preview the next big thing
You're excited about what's on the horizon, so why not share?
It will make the perfect video to share with your LinkedIn network and hype your next big event.
This short, cute, and personal video by All Star Code CEO Christina Lewis was shared to give her audience a preview of an upcoming talk she was set to give.
I love this example because it's energetic, honest, and displays the perfect amount of personality and passion.
The main purpose, as you can tell when you watch it, is to give a simple preview of Christina's talk.
But you're also given a window into her bigger life, and connect with her on a deeper level.
The result is that it got tons of likes and views to help her hype her talk.
And as we've seen with our other examples, you can achieve this method in a variety of ways.
A more formal, produced example of this comes from Public Service Credit Union, who have an annual Suits for Soldiers event that honors current or former service members by helping them find a new suit when they leave the armed forces.
Even though this is an annual event, PSCU decided to create a promotional video this year to help spread awareness.
They gained more than a thousand views in just a few days.
While that might not sound like much, it means a lot to the military members that PCSU helps in the long run.
And that comes back to help their community and their brand.
If you're stuck on ideas, try this type of video out.
Just find the next big goal or event on your calendar and share it with your audience.
Method #4: Give an introduction — or go deeper
When you're growing your audience and engaging on LinkedIn, you want to ensure that the people you engage with understand you, your brand, and what you hope to achieve.
What better way to do that than with an introductory video?
It's the perfect way to engage and educate without asking for much of your audience's time.
And this doesn't have to be boring. In fact, some LinkedIn users have created some of the most engaging content when creating their introduction.
Ever try singing your resume to a potential hirer? Page Kemna has.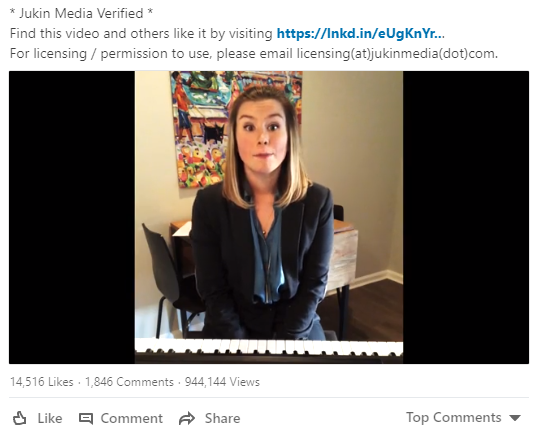 This video's gone viral with more than 14,000 likes and close to one million views, and it's both entertaining and a valid introduction to Page.
Even LinkedIn CEO Jeff Weiner chimed in on the video to say he was impressed.

Do you think Page will have a hard time finding a job? I doubt it.
So while you may not have the musical talent to make one of these for yourself, it's still worthwhile to show your face and give an introduction to your brand.
It brings new connections up to speed while reminding others in your network what you have to offer.
And then, once everyone knows what you do, you can take things a step further and show them how you do it.
Like Universal set designer Edwin Rhemrev, who provided a time lapse of the process he uses to do his job.
It's simple, short, and most of all, it's impressive.
Which makes it stand out from the other content that you see in your feed.
And it reminds his audience of the unique talent he gets to use every day.
That's good for his and Universal's brand.
Method #5: Share a moment
Sometimes a moment is just too good not to share.
When that happens, fire up LinkedIn and start recording for your audience.
Interviewing in the moment, sharing a presentation, or simply showing your audience what you're witnessing from your cubicle are perfect ways to share a little love with your LinkedIn connections.
LinkedIn marketer Viveka von Rosen did an exquisite job of this in a recent presentation of her own.
You can't get more meta than this.
She created a video on how you can use LinkedIn video while giving a presentation on how to use LinkedIn video.
She drew in her physical audience by pulling out her phone and recording.
And then she shared the moment with her online audience for good measure.
The result was a huge level of engagement and a firestorm of comments on her post.
It's a great example of teaching by example.
But you don't have to be giving a presentation to an audience to share.
Sometimes, a simple interaction is enough to prompt a quick video for your feed.
Like this touching moment between Dr. Dalal Akoury, MD and a recovering patient of hers.
Doesn't that warm your heart?
This interaction is one of many that Dr. Akoury has on a daily basis, but she decided to post it to help her LinkedIn audience see one of the many joys of her job.
It isn't a technical explanation of anything.
It's not a sales pitch.
It's just an engaging, perfect moment that makes you want to see more.
Method #6: Drop some wisdom
Sometimes you learn something that just has to be shared.
Mentorship is a way we all grow, and LinkedIn is a perfect platform to create business mentoring relationships.
And I know from experience that finding any type of mentorship goes a long way toward building success.
Take this hopeful message courtesy of Daniel Shapero for example.
It's is dedicated to the overwhelmed and hopeful students soon to enter the professional world.
And because of how impactful the message is, it's generated more than 180,000 views and more than 1,000 likes.
All it does is spread a single message that resonates with its target audience.
And it provides insight from someone who's on the other side of the equation.
Someone who's "been there and done that."
Your audience wants to see that kind of wisdom from your brand and its leadership.
The best way to achieve this is to find a clip from an impactful address that simply shows your expertise.
Even short videos like this can be impactful.
And if you don't have a clip like this, just make the video from your desk.
Tell your audience about the frustrations you've faced, and end with a nugget of insight that they can use.
You'll be better able to engage with your following.
With the added bonus of being seen as an influencer and thought leader in your industry.
Conclusion
While LinkedIn's native video is still young, it's already proven itself as a vehicle for improving engagement and building brand awareness.
Video marketing as a whole is profitable for B2B brands worldwide, and the inception of LinkedIn as a video platform has opened the doors wider than ever before.
You can share updates, interview passionate people, or give your audience a preview of your next big project.
Or, you can introduce yourself with flair, share a special moment, or spread your hard-earned wisdom to the masses.
Just start creating and sharing videos to help others engage with your brand.
Experiment with different methods and find what works for you.
And then use LinkedIn to drive skyrocket your engagement and start a share-worthy buzz around your brand.
How have you used LinkedIn's Native videos to increase engagement?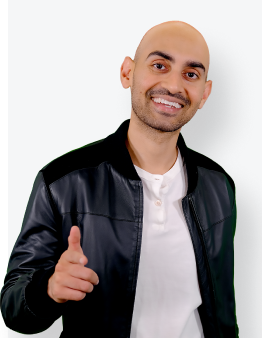 See How My Agency Can Drive More Traffic to Your Website
SEO - unlock more SEO traffic. See real results.
Content Marketing - our team creates epic content that will get shared, get links, and attract traffic.
Paid Media - effective paid strategies with clear ROI.
Are You Using Google Ads? Try Our FREE Ads Grader!
Stop wasting money and unlock the hidden potential of your advertising.
Discover the power of intentional advertising.
Reach your ideal target audience.
Maximize ad spend efficiency.