If you're looking for advice on business, management, leadership, and personal development, one person you will want to consult is former American Express CEO, Ken Chenault. Regardless of which industry you're in, he can provide some excellent advice.
Chenault has decades of experience, but he isn't your typical businessman. He didn't start a business in high school, create a product in college, or even start a business of any kind. Further, his academic background is in history and law. He practiced law for a few years before moving into the business world.
Chenault joined American Express in 1981, and, within a few years, he had taken the reins of the troubled merchandising operations. A top manager at American Express, Louis Gerstner, wanted to shut down the department. Chenault volunteered to take it over, and, in two years, grew the business from $150 million in sales to $500 million.
Through the years, he has climbed the corporate ladder. In 2001, he was appointed CEO, and, a few months later, Chairman. Chenault has guided the company through multiple crises, enduring 9/11 (which impacted the financial sector and reduced travel) and the financial crisis of 2008.
Chenault is well liked at American Express. According to Glassdoor, he holds an 88% approval rating. His company ranks #13 on the 2013 Most Admired List.
He also enjoys the respect of many of his business peers (some of whom are in tech). Google Chairman Eric Schmidt says Chenault "exemplifies the best leadership that I've ever worked with." Facebook's Carolyn Everson says Chenault is "a revered leader" and "he's an amazing leader that sets the vision from the very top."
Once he stepped down from American Express in February 2018, he joined the boards of Facebook and Airbnb. He also joined General Catalyst as Chairman and a managing director.
Clearly, many of the world's top tech companies are seeking his counsel.
In listening to Chenault, you can identify his unique traits. He's intelligent, thoughtful, articulate, and he can clearly express his advice.
This post is chock-full of Chenault's advice on leadership, business management, and personal development. Chenault says that, with all advice, "you've got to personalize it, and you've got to customize it to your own situation."
So read on and learn from one of the best S&P 500 CEOs around. There's something for anyone in any stage.
Leaders Need to Define Reality and Give Hope
If you want to have an inspired workforce, you need to make sure people understand you are grounded in reality. You also have to give workers the strategies, the ideas, and the values they need to be hopeful, according to Chenault.
"I think what's important for me about leadership (and I'm really passionate about leadership because I think it's critical, no matter what you do)…I follow a quote from Napoleon. And I always preface this with 'I don't want to end up like Napoleon.'

"But it's a quote, frankly, that I think about every day because I think it's what a leader has to do. The way I paraphrase the quote is: 'the role of a leader is to define reality and give hope.'

"When you think about that quote, it's very simple, but if you put it in a leadership context, what's very difficult about leadership is you'll have very well-meaning people who will try to sometimes distort reality. Not intentionally, but they may just tell you what you want to hear. And part of your job as a leader is, really, to find out what the real deal is.

"But that's not enough. Then you've got to put together a strategy that galvanizes people, that gives them hope that they can overcome the obstacles or achieve something that they didn't think was possible. So 'define reality and give hope' is, really, what I believe is most important for a leader."
Chenault expands on this:
"A very bright person can analyze a situation and say 'here's the problem'…it takes a winner to say 'here are the reasons why you should have hope. Here are the pragmatic reasons [and] here are the aspirational reasons why you should have that hope.' And I think to have a winning mentality and to be a consistent winner, you've got to have a basis in reality [and] you've got to have the ability to, in fact, envision what are your objectives.

"So for me, for our company, what I said is: 'I've got two aspirations for the company.' I want us to be one of the most successful companies in the world. A lot of people [can give that aspiration]…but we've defined it. So we took our financial metrics and we said 'how many companies have achieved those metrics over a 10 year period?'…we looked at 800 companies, we saw 2. So understand what you're signing up for – 2 companies, you know the odds of that happening? That's really tough. That's the aspiration.

"[The] second aspiration [is that] I want us to be one of the most respected and admired companies in the world. I think what you want is you want people to clearly aspire, but you also want them to know that you're going to measure how you're doing on that journey."
In a conversation with Sheryl Sandberg, Chenault adds more:
"If you think about any organization, any country, [and] any company, that's part of what we've got to try to do is…define reality, but then where does the inspiration come in? Where does the creativity come in? And that's the hope part, because part of what [you] have to do as a leader is you've got to create a vision that galvanizes people, you have to empower people to be change agents, you have to engage in this…constructive confrontation, you have to constantly attack the status quo."
Chenault adds that, when giving hope, leaders need to give people markers to let them know their progress on a very regular basis.
He says that during 9/11, he had to explain to the entire company the reality of the situation they were in but also give them hope for how they were going to emerge.
Try Constructive Confrontation to Bring Out the Best Ideas
At American Express, Chenault wants employees to have "constructive confrontation." He says that:
"at any level of the organization, I want people to have the ability to speak up and to speak out, because that's how we're going to understand what reality is all about, that's how we're going to get different perspectives. So I think it's important to have that level of constructive confrontation.

"However, once we decide on the course of action, I want everyone on the train. It is not the time, after we have decided on the course of action, to say 'I'm not going to go along'; that's a problem."
Chenault says he'll instigate confrontation. He'll take a view that certainly will stir things up. He says:
"There are a lot of terrific ideas at every level of a company. So you want to set up the mechanisms through every channel to [spread ideas]. But the tone has to be set at the top that you [the CEO] are the type of person that people feel comfortable arguing with on issues. I always then make the point, however, that once we decide on a course of action, we can't have people continuing to debate. We need to move forward."
Chenault says that being direct and honest are key and even raising your voice.
"The more you can get people engaged and talking through the issues [the better]. What it actually says is 'I respect you and your ideas and the fact that you are impassioned about those ideas and you're willing to take some risk.' Because that's what it takes in business. You've gotta put some risk out there. If you're going to be careful, then we're not going to move forward as a company. We're not going to be a leader."
He later adds that:
"some of the opportunities come from the biggest challenges."
The Four Things Leaders Need
When asked what he looks for in other people, Chenault says he looks for the following qualities in leaders:
Followership: Do people listen to the leader? Do they seek his or her advice and judgment?
Integrity: Is there a consistency between words and action? "You can't build a trusting relationship without integrity." Integrity is the foundation of leadership.
Courage: The ability to challenge, to speak out, to stand up for what you think is right.
Sense of humor: "The challenges we face in life are such that it's sometimes very good to have people around who can keep the spirits up because motivation is very important."
Integrity
On integrity, Chenault says:
"Integrity is critical. Because you can't gain a followership if you're asking people to take some risk. They have to have a level of trust. What's important is the leadership behaviors and the leadership values need to be understood by the people in the company, and the leader has to exemplify those values. And I believe in that to my core."
When Hiring Leaders
When asking interview questions probing a candidate's integrity, Chenault says a good question to ask is:
"What are some of the most difficult issues you've confronted?"
Chenault expands:
In an interview, Chenault will say
"'take me through where you felt you had to compromise your values.' That gets people into a discussion. Sometimes I'll say 'what are your values?' People are very uncomfortable talking about their values, but it is critical to understand [what the] leadership attributes [are] that person values.

"[The] second thing I look for, very importantly, is I want to make sure the person is intellectually curious and is open to a range of perspectives. Because to operate in this business environment, you can't just be a one trick pony [or] be a narrow thinker. And so what I'll try to do is find experiences and I'll ask them 'what are some of the things you have done that you think were out of your comfort zone?'

"People have a different way of talking about their comfort zone, but what you can start to glean is, from an intellectual standpoint, how open were they to different ideas and views, and you can challenge them on some things, and you can be contrarian and see how they will respond to that.

"Then what is also useful is I ask them 'if I were to talk to someone about you, what would be three areas that they would cite that would be instrumental in your success?' What I often find is that it's very revealing because people will then tell you either what they want you to hear or how they view the qualities that are most important for their success.

"You get a sense of whether they value followership. Some people will give you the list of what they did and they'll use 'I' a lot and 'this is what I did' and 'I had to do this' and they don't talk at all about what they were able to do to motivate and inspire people to accomplish the objectives."
Four Keys to Keep in Mind during a Company Crisis
As we've seen, Chenault has been able to lead and steer a company in and out of multiple crises. He's held dozens of other leadership positions, including heading the merchandising operations. So what advice does he give, specifically, for leadership in a crisis?
Be Visible: "The people you lead must see how you're doing and how you're reacting."
Communicate: Give people assurances. "You need to communicate on a consistent basis. Part of your job is to connect the dots."
Stay Calm: In times of crisis, leaders need to stay calm. They can be energetic and passionate, but cannot panic. He advises that you should maintain your composure; that gives people a level of comfort.
Take Action: Take action and give direction: "You cannot freeze up. You can't allow the circumstances to stop you from acting."
Are Leaders Born or Made?
Chenault believes some leaders are born but that the best leaders "are people who work at it day in and day out." He also believes that leaders can be trained, and he is a believer in self empowerment.
"I really do believe that people can make themselves into a leader. I think it's like someone who is a natural athlete. If you don't practice, if you're not disciplined, if you don't work hard at it, you're not going to be at the top of your game. So I really do believe that you can understand and work with and study how to become an outstanding leader, but it means you have to have a great level of self-awareness."
Leadership Reputation is Established during Times of Change
"Today, the stakes are incredibly high. The need for leaders to stand for something and act from principle is more important than ever. Things that were acceptable five or ten years ago will today cost you your career. You can make a few mistakes, not a lot…a few. But if your people believe that you have the right values, they will tolerate a few mistakes.

"In fact, they will stay with you. They want to see that you are decisive and compassionate, because you are asking people to take risks, to take chances. But don't confuse compassion with a reluctance to act decisively when necessary."

Chenault says: "There has always been a focus on the rational aspects of leadership and the intelligence required of leadership. I think it's absolutely essential. But what I have seen in companies throughout my career is that if you are not clear on who you are, on what it is you stand for, and if you don't have strong values, you are going to run your career off a cliff."
Chenault adds that many people talk about leadership, but few understand it. He says leaders must be introspective by asking themselves questions like "what are the gaps in my leadership that I need to improve and work on?"
Connect the Dots
Chenault says it's crucial for today's leaders to be able to connect the dots.
"You can't remain alone in your discipline. What you've got to understand is how things interrelate. What are the connections? And then what are the relevant value drivers for your business? The ability to take in a broad set of facts and knowledge and to see what the connection is to your particular business is critical.

"That means that at the end of the day awareness of what is going on in the world and trends and constantly saying 'what does this development mean for my business and my customer?' Because at the end of the day, if you want to be a market leader and innovate, you actually have to come to conclusions that most people don't. And most people don't because they take a conventional view of what they're working on. So, that ability to connect is critical."
A Challenge in Leadership
As discussed, leaders need to know how to be decisive and compassionate at the same time. Here's an example of how American Express (AMEX) needed to do just that:
After 9/11 Chenault saw that AMEX needed to change their cost structure. This meant that some people had to be laid off (11,000 people, over 15% of their workforce). Needless to say, emotionally, it was a bad time to lay people off. But Chenault said the future of the company may be at stake.
He said
"we have to do this in a compassionate way with our employees, but we have to do it. What I believe very strongly is one of the things you gotta do in leadership is you need to tell people both the truth, [don't] talk down to people, and explain to people the reasons why."
During the layoffs, AMEX surveyed all employees including the ones who were laid off. Surprisingly, AMEX received the highest employee satisfaction in years. Chenault credits this to the times (9/11) and the way in which layoffs were handled. He adds that many of the laid off employees have come back to, and received, employment through AMEX.
Find Mentors Who Give You Advice and Judgment
Chenault believes mentoring is one of the most satisfying aspects in leadership.
"What I really believe is that if you want to develop a true mentor relationship and you want to network, you want to network off of your performance. Just to meet someone is generally not that helpful…here's how the trade [off] works, at least for me.

"If I'm going to take on a mentee…I want to get something in return. I want to be stimulated by the ideas that they can come up with and the dialogue. I want for them to have the commitment that they're going to really improve in the areas that they need to improve on and that they're really capable of making things happen. That's part of the trade off.

"I think when you look at a mentor at different levels, sometimes you're looking for someone who can give you technical advice. That's not a mentor to me. That's an expert and that's very important to seek out that expert advice.

"What I look for in mentors is judgment. Because that, to me, at the end of the day, from a leadership standpoint, is really the toughest challenge….

"I've had a lot of mentors in a structural sense that have been at lower levels in the company. I also make this point – what you get with a mentor that is at a lower level in the company is an unfiltered perspective, in the sense that they'll tell you who the phonies are in the company. And it really is amazing because they've been there, because people take liberties with people that they don't think are senior….

"There are people at lower levels who have incredible judgment and incredible insight that [are] coming up through the company [and they] help me tremendously to say 'at the end of the day here are some people you should stay away from because you can't trust them for these reasons.' Or 'watch out for this situation.' Or 'you may be approaching an issue in this way, here's another way to think about it.' So I really encourage people to develop mentors at different levels of the organization."
He adds in another interview:
"The issue is not forming a strong personal relationship. That's fine if it comes, but the way to form a mentor relationship is to network off your performance. You don't want to be beholden to the mentor and have him control your life – because if something happens to him, you have problems. Choose mentors you admire and want to emulate.

"Look up and down in an organization for a mentor. Examine who seems to know what they're doing, who shows good judgment. Power is nice and it's useful, but in a mentor relationship, judgment is more important than power."
Become the Company That Can Put You Out of Business
Don't stay in your strategy too long. You may think you've found a groove of success, but if you stay with it too long, it will become a rut. Don't get arrogant about success.
Chenault says that he focuses on reinvention of the company and transformation. He says,
"the enemy of success is the status quo. What is most dangerous is sometimes when you're successful, you get comfortable, and that is a big problem in business. You've got to constantly focus on innovation."
This reminds me of an Andy Grove quote:
"Success breeds complacency. Complacency breeds failure. Only the paranoid survive."
Chenault isn't saying to reinvent the wheel or to turn your business 180 degrees, but rather focus on innovation. He says:
"you constantly have to challenge your status quo and you want to reinvent or invent the company that's going to put you out of business. That has to be the focus."
Chenault adds that it's critical for the company to know about innovation and change and why it's critical to business.
Focus On the One Thing You Can Control – Your Performance
When asked about the best advice he received, Chenault says it came from his father. He told him to not make excuses and focus only on what you can control. He says:
"If you're going to focus on anything, focus on what you can control. And the only thing you can control is your performance. If you think about that advice, and I think about it almost every day, it is a very empowering statement because what it says to a person is you can really make a difference. You can make a difference off of your performance. It also says that you can come up always with a lot of excuses and reasons why you can't do something.

"But if you can really focus on your performance, you can accomplish a great deal. I want to be clear, I'm not naive about the obstacles that are out there and never happen, but the reality is, I think, particularly for our young people, to understand that they actually do have more control than they may think. That control is really to be focused on performance. Whatever they do, focus on performance."
Don't run away from a problem, challenge, or barrier. Figure out a way to jump over it.
Innovations Need Balance and Support
Innovation requires risk. We all know that. Chenault says there also needs to be a balance in the company. He says they also require support and there are times when employees can screw up risk taking. He explains:
"I think it's a balance and what I try not to do is to have all the ideas funnel up to me. Because there's no way that I'm going to be able to evaluate every good idea out there. So part of what you've got to do is #1, for the company overall, I'll set out areas – so I'll give you one broad area that I said to the company five years ago.

"I said there's an amazing digital transformation that is taking place, this entire company is going to be involved in it. Here are some changes that we need to bring about and here are some areas that I want to innovate for the company…. [B]ut then what you've got to do is you've got to let different groups come up with ideas. What's critical is you've got to, in fact, not only supply the funding, but provide the support.

"Every great idea that we have been able to implement in the company, I can point to you areas of the company that were directly opposed to that idea. So part of what I have to do is provide air cover and say 'no, that idea, even though you may think it's [a] risk to the company (here are the rationale, here are the reasons), we're going to support that idea.

"What's critical is we've had a number of ideas, particularly over the last 10 years, come from some of our younger people in our company. What's critical is give them the support and encouragement to drive that idea.

"There [are] some big ideas that come from the top, but frankly most ideas really come from all levels in a company if it's running well. But the important role of top leadership is to make sure that those ideas see some light and that people feel they have some sponsorship…. I actually think if you're really going to innovate, you're going to have some failures. So what you need to make sure is you don't punish someone for a failure.

"Here's where I will have issues with people – if in fact they take risks and they weren't aware that it was even a risk. So here's my view of risk taking: understand at least if it's a small, medium or large risk. And I can deal with that, we can talk that through. But don't, after the fact, tell me, 'Ken I did not realize that this could have taken down the company, but I don't want you to do anything' (i.e., employee termination). There will be a consequence. Rest assured, there will be a consequence. But to have real innovation, you have to encourage risk taking."
Innovate in a Downturn
Innovating more than usual in a downturn can give you a tremendous competitive advantage. Chenault says, during downturns, companies need to be on the balls of their feet. He says many companies are on their heels, which is why they get pushed down.
He says that you shouldn't ignore the downturn and you should be focused on the short term, but says "part of the job of the leader is to have that balance between the short term and the long term and the moderate term." He adds "the way you're going to be a long term leader is through innovation."
Chenault expands on this in another interview:
"In the worst recession Apple was able to demonstrate that they can drive terrific sales because they innovate.

"We place a very high premium on innovation. We're doing a lot of that. Second, and here is where I think we have a tremendous advantage, and I will say this publicly – I don't think our competitors understand the importance of really providing terrific customer service…. [W]hen you talk to most people, every company says they want to provide good service.

"I will tell you in this downturn, we invested in our customer service infrastructure and our people and in the training, and the empathy they had for customers, and what we're seeing is the causality in customer loyalty and spending and performance is very strong. But [customer service] is something you've got to manage in a very detailed way. You've gotta have metrics across the organization and you gotta drive it."
Innovation in a Big Company
So how does a big company (62,000+ employees) innovate? How does this message come from the top of the organization on down?
"What you want to do is you want to really draw from what is core to your company. One of the things I've stressed with us is we've started off as a freight forwarding company. So we were not created in a dorm room or a garage, probably a stable. What we did was we transported goods from east to west [and] we built up a level of trust, we had a focus on service.

"But then we moved to travelers checks, to travel, to payments. One of the ways you drive innovation is you have to constantly reinvent yourself and you have to be willing to challenge the status quo. So you can't look at, for example, payments, narrowly.

"The reality is when I talk about why we can succeed in the digital marketplace, I talk about the brand, I talk about the service, and I talk about the information. One of the things I say is that, when the card was created in 1958, it was a platform to deliver services to the business traveler.

"So what you've gotta do is you've gotta expand the marketplace and you've gotta get people to be willing, and in my terms what I say is 'try to become the company that can put you out of business.' And constantly challenge your business model but do it from the standpoint of [customer needs]. Put the customer at the center."
Four Pieces of Advice for Startup Entrepreneurs
As a startup entrepreneur, Chenault says the following:
You need to understand the behaviors that are going to move your business forward. He says that, in anything you do, you must have integrity.
It's vital to always take a customer/client perspective. "What is it that the client needs? How can you make that person's performance or their life better? The reality is it always starts and finishes with the customer."
His third point is that entrepreneurs need to know what competitors are doing to serve the customer. What is it that they're leaving out?
His final point is to focus on what makes your business unique. He says this goes for both your business and personal life. "At the end of the day what is your proposition? Because if you want to stand out, people really have to see some uniqueness in the proposition that you're putting together."
The Three Types of Meetings
In all meetings, you need to state your objectives up front. Chenault says it's beneficial to communicate with people before the meeting and tell them what the objectives of the meeting are. He says there are three types of meetings:
Decide on a specific action – "Meeting A might be to broadly discuss a strategy and I am not asking for a resolution. What I'm asking for is an airing of different perspectives and viewpoints. So come prepared to do that."
Resolve an issue – "For Meeting B, I may say that we have to resolve an issue. Come to me with different perspectives on the issue, but you are accountable to give me a recommendation."
Garner Support and Constructive Confrontation – "[The] third type of meeting is where you want to elicit support. Then it's better to be direct and say 'we're going to have a meeting. I know that there are specific concerns and issues'…many leaders don't like to engage in what I call constructive confrontation. [This is where leaders say] 'we're going to have a meeting, we're going to have a debate, we're going to argue about it, here are the rules of the road for the argument and that at the end of it, whether you agree or disagree, we're going to decide on a course of action and then we're going to decide how we implement it.'
He goes on to say:
"The more you can be upfront and give people a heads up on what is expected at the meeting [the better]. Because what I don't want are just empty participants at a meeting. I like people to be aware of what the objectives are, therefore what their behaviors should be and what their accountability is for their role at the meeting. "
Time Management
So how exactly does the CEO of an $80 billion company spend his time? And can startups learn anything from it?
Chenault has discussed his time management. He splits it up in three segments:
Get the right talent in the company and get them in places where they most efficiently work.
Set key priorities and objectives, and monitor the progress throughout the year.
Spend time with customers and clients to keep company externally focused.
Here is Chenault, in his own words:
"What I try to always do in managing my time is to set a framework for how I'm going to manage the business. What are the key short term and moderate term and long term issues that I need to deal with? When should I make sure that the organization has the necessary context so that [we] can implement the actions in the best possible way?

"I spend a fair amount of time on making sure we're arraying the right level of talent and the set of skills that we need to accomplish things. So that range may be 20-50% where I am challenging my business leaders, understanding what the skills and competencies are so that I can array them in the appropriate way.

"Second, what I try to do, and I do this throughout the year, is at the beginning of each year, I set [some of] the key priorities [and] key objectives. You gotta be flexible enough, particularly in the world we live in today to make adjustments.

"I also believe you need to spend a good percentage of your time with customers and clients. Because that keeps you externally focused on the marketplace, and then what you're doing is you're making sure your organization is outwardly focused."
Don't Pursue a Job, Pursue a Way of Life
When asked how he's achieved his personal success, Chenault says:
"I think, at the end of the day, that it is a mistake simply to pursue a job. Instead, you should pursue a way of life. The opportunity for me is to make a fundamental difference in people's lives, both inside and outside the company. To lead a very successful enterprise, that is not just focused on achieving business success. That's a consequence of doing the right things for our employees and our customers.

"The challenge of operating a global company is a terrific, terrific opportunity. You cannot be successful as a CEO in the short, moderate or long term if you don't have a passion for what you're doing. Because the challenges and the issues are so substantial that if you don't have that passion, you're going to wilt. Fortunately, I think I've got that passion."
Chenault puts a focus on making a difference in people's lives, and being the CEO of a company helps him fulfill that.
Others find hobbies that they enjoy (such as building and creating) and they find a profession that ensures they can use their respective avocations.
Ken Chenault Quotes
On Using Your Own Product:
"You gotta eat what you cook."
On Adversity:
"You can lead people through adversity if you're honest and you give them the context of why the actions are being taken."
On the Soul of a Company:
"I think it's very, very important that a company understand what I call 'what their soul is, what their core is' and then they've gotta build from that. You can expand, but you've got to understand what you stand for."
On the Best Run Companies:
"The best run companies…are the companies that encourage their employees to, in fact, self-report and raise issues, and have that type of environment."
On Self Improvement:
"One of the things that I try to do really every year is think about 2 or 3 areas that I want to improve going forward in my own leadership."
What People Want in a Leader:
"What I think people want, from a leadership standpoint, is they want a leader who is resolute, who is going to say 'this is a core priority. I've got to reach across the aisle, but these are my key objectives. [A]t the end of the day, here are some principles and beliefs that I hold that are core.' People have to have a way to frame you and judge you."
During Times of Crisis:
"Leadership reputations are made in times of crises."
On the Social Responsibility of Businesses:
"Business exists because society allows us to exist. And in exchange for that permission to pursue profits, business must behave and act in ways that protect and enhance the world we live in. In other words, a business exists to serve its customers and the communities in which it operates. You can't just look at the bottom line. There is an impact on society that goes far beyond the products or jobs it creates."
On Facing Reality:
"What you learn through different crises is the importance that you need to communicate on a consistent basis, you need to be visible, and I go back to [define reality and give hope]. Which is really hard for any leader; is how do you define reality? How do you get it from your people? How do you analyze things?

"Because most people don't want to face reality. Most people want to rationalize parts of reality away. But it's not enough to analyze that, you then have to give people concrete reasons to hope. And the point I'd make is if they don't trust you, they're not going to have faith in you to take the risks that you need to take."
On Being Successful:
"I think to be successful in any endeavor, you've got to have a combination of humility, but you also have to have a level of confidence. You need to learn from experiences, you need to acquire those technical skills…I think you've gotta really have a belief in yourself, there's no substitute for confidence, but you can't let that lead to arrogance
." Chenault says you need to have a balance in knowing what you're good at and what you need to get better at.
On Being Passionate
"What you need to decide on, most importantly, what I would say is what are your passions? What is that you want to do? Then get the training to make that happen. But the most important thing is to keep your confidence and to keep your balance. Because I think when you're trying to break barriers it's all about keeping balance and focus. I think that the door has been opened enough…and what is absolutely critical is don't listen to someone who will tell you 'it's not your time.' The reality is, it is your time…. [Y]ou've got to push for those opportunities."
On Stepping Up During Times of Crisis:
"In volatile times, leaders are more closely scrutinized. Employees will look for constancy from their leader. If you cannot step up in times of crisis, you will lose credibility and followership."
On Your Network:
"[I try to] reach outside the company and I think I put together a pretty good worldwide network of people that I check in with a fair amount online. Some of it on the phone, some of it in person. [This network] really brings out some different perspectives so it may not be that they give you the brilliant idea, but they give you a different way of thinking about an issue that helps you come up with that idea."
Ken Chenault Tidbits:
To be successful in business, you always have to take a little bit of risk.
In managers and employees, don't just be concerned about the results they get, but how they get the results and how they manage people. Results aren't the only issue.
Chenault believes that corporations need to give back to the community. He says "Corporations exist because society allows them to exist; and that's something corporations need to understand. There's not any entitlement that corporations can exist on their own. Society allows us to exist, there needs to be a compact with society. And that means that corporations have to have a social responsibility to make a difference."
Chenault's three operating principles:

Provide superior value to the customer and clients that we serve
Do it in a way that achieves best in class economics
Everything we do should support and enhance the brand
He says that it's important to manage by principles, not rules.
Before he was CEO, AMEX acquired many brands. While Chenault was an executive at AMEX and working his way up, he went to the president and CEO and said that the businesses tied to AMEX don't support the brand. Chenault said:
"we have a number of business that I believe don't support the brand, they may be good businesses, but they're not going to support and enhance our brand.

"We actually started a program to divest these companies. It was not because I believed we'd have a financial crisis in 2008, but I just did not believe that those businesses supported our brand. I want to be clear, I did not think they were bad businesses. But obviously if we had owned those businesses in 2008, let me assure you, I wouldn't be sitting here today…there was a mortgage business, we had Leman, we would have been out of business."
Don't let the job define you – "I see too many CEOs who, in fact, over time let the job define them. Understand when you cease being CEO, you still got to live with yourself, you still got to be proud of who you are and what you've done."
As CEO of AMEX, Chenault has been very focused on what he wants his role to be.
Develop a global perspective. It's important to know about different cultures, Chenault says.
By taking risks, you'll be in a better situation, and you'll have a level of confidence that you can tackle the next challenge.
It's also important to understand digital. But that's not enough, Chenault says. You have to appreciate the convergence of offline and online. An example of this is Apple retail. "The physical retail experience has changed as a result of the digital. It's not either/or; and that's very important."
Find your priorities, scale it up, and get employees around it.
When you're in high school and college, you need to figure out what your core values and beliefs are. You then need to find an employer who aligns with those values and beliefs.
Chenault believes that if you can align a group's interests and values, you can have an "incredibly motivated group."
You can't shrink to greatness. Chenault says that some companies become too protective of their own brand so they don't expand. He gives the example of Diner's Club. He says AMEX could have become that. They could have stayed in travel and entertainment and high end. "How do you build that value? Don't compromise it, but be driven by what the customer needs are. Our customers had a range of spending needs and we wanted to gain scale and relevance around the world…the reality is you need to work with partners, you need to expand, and what you can't do is shrink to greatness. You've got to grow and you've got to use your brand to grow; but you've got to treasure that brand because that's your moat around your castle."
In customer service, hire people who like to serve people. It sounds obvious, but many companies don't do it.
Strong brands bring both a rational and emotional connection. "Anyone who studies brands knows the way you build the strongest brand is you have rational appeal and you have an emotional connection. If you're viewed as a company that doesn't have that emotional connection, you're missing out on a terrific set of business opportunities but [you're also] missing out on a strong brand."
Chenault says people make mistakes when "they use short term data to come up with long term conclusions."
In leadership, Chenault adds that it's critical to give people context that they can operate in. They should be able to evaluate their opportunity and success. They need to know what they need to learn, and they need a level of feedback.
What's the ultimate compliment to a leader? Seeing the leaders that they've developed. Chenault says that's his proudest accomplishment: People, previously under him, who went on to become great leaders either at other companies or with American Express.
When asked about competition, he says: "Don't let yourself be defined by the competition…. Don't let someone else define who you are. Really focus on how you can create what I call 'a great share of mind of your customer.' Because I think to have the best relationship, you've got to be connected, and you have to have what I call both a rational and emotional connection with your customer…. [B]ut what I think is most important is to have the ability to drive change in your organization."
About the Author: Zach Bulygo is a blogger, you can find him on Twitter here.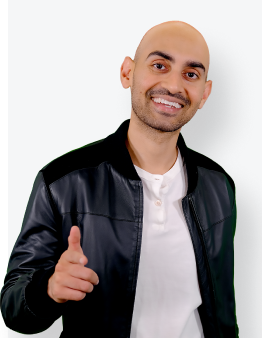 See How My Agency Can Drive More Traffic to Your Website
SEO - unlock more SEO traffic. See real results.
Content Marketing - our team creates epic content that will get shared, get links, and attract traffic.
Paid Media - effective paid strategies with clear ROI.
Are You Using Google Ads? Try Our FREE Ads Grader!
Stop wasting money and unlock the hidden potential of your advertising.
Discover the power of intentional advertising.
Reach your ideal target audience.
Maximize ad spend efficiency.