Picture this: You're at the helm of a growing business. You're committed to boosting your brand, striving for increased local presence, and eager to see a lift in sales.
Now, ask yourself this: Have you created a Google Business Profile (GBP) yet? If the answer is "no," or even "What's a Google Business Profile?" then you're missing out on a potentially game-changing tool.
Don't worry. I'm here to help you turn things around.
In today's digital-first world, online presence is not just an optional add-on—it's a necessity. It's the bread and butter for businesses looking to gain an edge in a competitive landscape. This is where your Google Business Profile comes in. Think of it as your digital business card on Google, but on steroids.
In this article, I'll teach you how to set up a Google Business Profile, manage it effectively, and make it work hard for your business. Whether you're a seasoned digital marketer or a business owner taking your first steps into the world of local SEO, you're in the right place.
Ready to get started? Let's dive in!
What Is a Google Business Profile?
Google Business Profile (known as Google My Business until 2021) is a free tool from Google that helps business owners and marketers like you manage their online presences across the search engine and its growing portfolio of platforms—think Maps and Search, for instance.
A Google Business Profile gives your business a public identity on Google's services. When potential customers search for a product or service, your GBP shows up with relevant details—location, hours, reviews, photos, and more. It allows you to effectively manage how your business appears on Google, making it a must-have in your local SEO toolkit.
Benefits of a Google Business Profile
Now that we've covered the basics, let's dive into the details: Why should you care about setting up a Google Business Profile?
Increased visibility: Your Google Business Profile makes your business more discoverable. When people search for your business (or businesses like yours) on Google Search and Maps, your GBP listing helps you stand out.
Boosts local SEO: Google Business Profile is a powerful player in local search marketing. By providing detailed information about your business, you're more likely to appear in local search results and the Google Map Pack—a prime spot for attracting nearby customers.
Enhances trust: When potential customers see a complete profile with reviews and relevant details, it instills trust and credibility in your brand. Remember, a well-maintained profile is an extension of your business.
Customer engagement: GBP offers multiple ways for customers to engage with your business. They can check your working hours, call you, visit your website, or even message you directly from your profile.
Insightful analytics: Last but certainly not least, Google provides in-depth insights about your profile's performance. You can see how many people are finding you, where they're coming from, and what actions they're taking.
A Google Business Profile acts like your online billboard, signpost, and receptionist all rolled into one. And the best part? It's free. So why not make the most of it? Let's take a closer look at how to set up a Google Business Profile.
Steps to Create a Google Business Profile
Creating a Google Business Profile isn't rocket science, but it does require careful attention to detail. Here's a step-by-step guide to setting up your GBP the right way.
Step 1: Sign Into Google Business Profile
To get started, you'll need a Google account. If you don't have one, take a moment to create one. Once you're ready, navigate to Google Business Profile and sign in using your Google account. You will then select "Create a profile."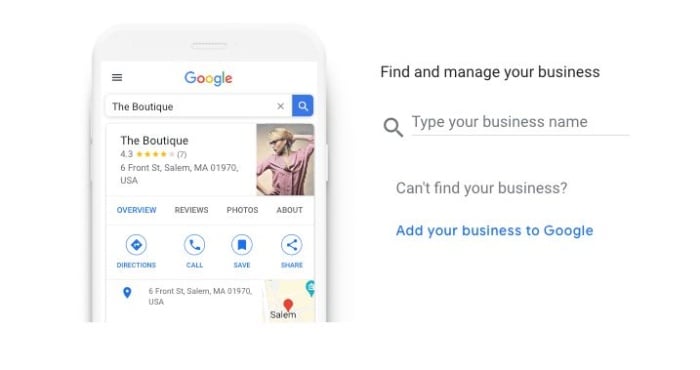 When prompted, you'll enter the name of your business. If you get a message that someone else has already verified your business, you'll need to request ownership of the Business Profile.
Step 2: Add Your Business Information
Adding your business information is crucial in creating your Google Business Profile. Let's break it down:
First, you'll need to identify your business category. Keeping your Google Business Profile category current is key, as it helps Google determine what kind of searches your business is relevant for. So, choose carefully, and then click "Next."
Next, Google wants to know if you have a physical location that customers can visit. If you have a storefront that's staffed during business hours, click "Yes." You'll then enter your business address or position a marker on the map to represent your business's location. Once that's done, click "Next."
If your business doesn't have a storefront that's staffed during business hours, click "No." Instead, you'll need to input the service area of your business. This could be based on the cities, postal codes, or other areas you serve. This section is vital for reaching your customers through local search marketing. As the Little Mermaid said, you want to be where the people are.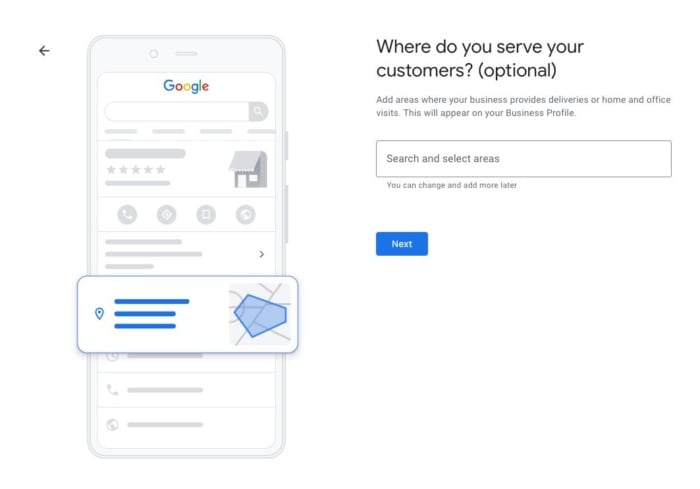 You can add up to 20 Google Business Profile service areas. Here's a tip: Keep your service areas within a two-hour driving distance from your business unless your business model warrants a larger service area.
Next, provide a phone number and your business's website URL, and then click "Next." If you don't have a website, don't worry. Google gives you the option to create one based on the information you've provided.
A tip for businesses with multiple locations: I recommend you enter the individual phone number or store page for each location, rather than a centralized call center number.
In just a few steps, you've crafted a comprehensive and informative profile for your business. Remember, the more accurate and specific your information is, the better Google can match you with potential customers searching for your products or services.
Step 3: Verify Your Business
This is a crucial step! To ensure the authenticity of your business, Google requires verification.
Before requesting verification, review your information one more time to make sure everything is correct. Trust me, you don't want to go through the verification process twice because of a typo or oversight.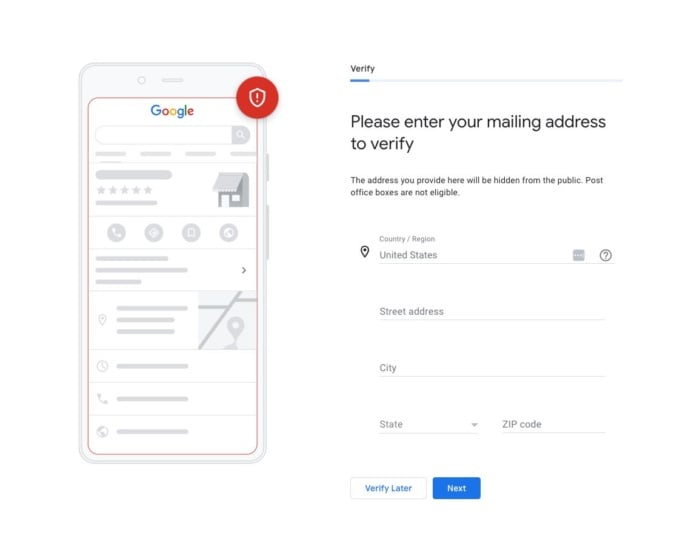 You'll need to enter a mailing address, as Google will mail a postcard to that address with a code you will provide once received. This is how Google will officially verify your business.
If you need some time, maybe to double-check your information or gather necessary documents, you can opt to verify later. Simply click "Verify later" and then "Later."
If you're part of a chain or franchise and not authorized to manage the Google Business Profile, don't sweat it. Find the person in your organization who has that authority and ask them to continue the process.
Remember, Google is all about providing accurate and trustworthy information to its users. That's why verification is a key step in setting up your Google Business Profile. It confirms your business's legitimacy and helps Google ensure that only the rightful owners and managers have control over a Business Profile.
Step 4: Optimize Your Business Profile
While you wait for verification, you can spend your time beefing up your profile. Here's where you can add more details like your business hours, business description, photos, and videos. You can also add the services or products you offer. Be thorough and update regularly; this keeps your customers informed and helps with your local SEO efforts.
You'll first be prompted to enter the services you offer. This will ensure your business shows up for the customers that are the best match. Keep in mind this step is optional but important.
Once complete, add in your business hours.
Keep in mind you can adjust these at any time, and Google will remind you to adjust them if necessary before federal holidays.
Google also gives you the option to add messaging for customers to message your business for free. This step is optional and is dependent on your ability to answer in a timely manner.
You'll also need to enter a business description. This is what customers will see in Search, Maps, and other Google services.
Do you have any photos of your business? These images give customers a peek inside your business. Keep in mind it's OK if you don't have any yet.
Once complete, Google displays a preview of your listing so you can check it for accuracy.
This is a great time to ensure everything is up to date and gives customers the information they need to help in their purchasing decision. Be sure to optimize your Google Business Profile for your target audience and local service areas to ensure the best customer experience from the start.
Step 5: Engage with Customers
This step is all about interaction and relationship building. Once your Google Business Profile is up and running, it's not just a static listing. Think of it as a dynamic platform for engaging with your customers and potential clients.
Source: Google
Respond to reviews: Users can leave reviews for your business right on your Google Business Profile. Responding to these reviews, both positive and negative, shows you value your customers' feedback and care about their experiences. A prompt and thoughtful response to a negative review can even turn a dissatisfied customer into a loyal one.
Answer questions: Google allows users to ask questions directly on your Business Profile. It's important to monitor these questions and provide timely, accurate responses. This not only helps the person who asked but also provides valuable information to others who visit your profile.
Google posts: With Google posts, you can share updates, offers, and news right on your Google Business Profile. Use this feature to inform your customers about what's new and exciting in your business.
Add photos and videos: Regularly updating your profile with new photos and videos can make your business more appealing to potential customers. Show off your products, your staff, or your happy customers. After all, a picture is worth a thousand words.
Use messaging: Google offers a direct messaging feature that enables customers to get in touch with you right from your Business Profile. It's an excellent tool for providing quick customer service and personalizing the customer experience.
Engaging with your customers through your Google Business Profile isn't just good customer service. It's good business. It helps build your online reputation, boost customer loyalty, and create a more interactive and engaging online presence.
Remember, engagement is a two-way street. The more you interact with your customers, the more likely they are to interact with your business. So, start engaging today and watch your business grow.
Step 6: Monitor Performance
Last but not least, take advantage of Google Business Profile's built-in analytics tools. Here, you can see how customers interact with your profile, track website clicks, calls, booking requests, and much more. It's all about understanding what's working and where you can improve.
Source: Google
Search queries: This shows the terms that users are searching for when they find your business listing. Understanding these queries can help you better tailor your business description, posts, and even your website content to match what people are searching for.
Customer actions: This metric highlights what users did after finding your listing on Google. Did they visit your website? Call you? Request directions? Understanding these actions can help you figure out what's working and where you might need to improve.
Where customers view your business on Google: This tells you whether users found your business through Google Search or Maps. Knowing where your customers are coming from can guide you on where to focus your efforts.
Customer reviews: The number and quality of reviews on your profile are important for your online reputation. Be sure to respond to reviews and solicit them from happy customers. Regularly monitoring and engaging with your reviews can improve your customer relations and boost your overall rating.
Photo views: You can see how often your photos are viewed compared with your competitors. If your photos are not getting as many views, you might need to update them or add more enticing ones to draw more attention.
Remember, the goal of monitoring these metrics isn't just to have numbers for numbers' sake. It's about understanding your audience better, improving your local SEO efforts, and ultimately, driving more customers to your business. Each metric offers a piece of the puzzle that, when put together, gives you a complete picture of your Google Business Profile's performance.
So, make sure to keep a close eye on these numbers and adjust your strategy as needed. You'll be amazed at how small tweaks can lead to big results.
Google Business Profile FAQs
How do I find my Google Business Profile?
Finding your Google Business Profile is easy. Just type your business name into Google Search or Google Maps. If you've properly set up and verified your GBP, your business listing should appear in the results, usually on the right-hand side of the search results page.
Alternatively, you can log into your Google Business Profile account and view your profile there. Keep in mind that it might take some time for your profile to appear in search results after it's been verified.
How to manage your Google Business Profile?
To manage your Google Business Profile, simply sign in to your Google Business Profile account and choose the location you want to manage if you have multiple locations.
Here, you can update your business information, respond to reviews, upload new photos, create posts, view insights, and much more. It's all about making sure your listing is accurate, engaging, and helpful for potential customers.
Can I have more than one Google Business Profile?
Yes, if you run multiple businesses or have multiple locations for one business, you can create separate Google Business Profiles for each of them. Just remember, you'll need to verify each profile independently.
How often should I update my Google Business Profile?
Regular updates are crucial for the success of your GBP. At a minimum, regularly edit your Google Business Profile's core information, like hours, addresses, and services, to make sure they're always current. Beyond that, adding posts or new photos every few weeks keeps your profile fresh and engaging. Regularly checking and responding to reviews is also a must for maintaining good customer relationships.
Is Google Business Profile really free?
Yes, it's free to create and manage a Google Business Profile. However, Google does offer paid services, like Google Ads, which can further boost your visibility. But the core features of GBP—creating a listing, adding information, and interacting with customers—are all free of charge.
Conclusion
Creating a Google Business Profile is a powerful, cost-effective way to turbocharge your business's online presence. It's your digital shopfront, open 24/7, always ready to provide key information and engage with potential customers.
Think of GBP as a free way to advertise your business so you can focus your marketing budget and efforts on other channels.
From Google Business Profile basics and benefits to the steps it takes to create and manage one, we've covered a lot of ground in this post.
Remember, though: Creating a GBP is just the beginning. It's all about regular updates, constant engagement, and ongoing optimization to keep your business at the top of local search results.
Be sure to monitor your performance, engage with your customers, and most importantly, stay ahead of the curve by adapting to core updates and new features as Google rolls them out.
How has Google Business Profile helped your marketing efforts? What strategies have worked well for you?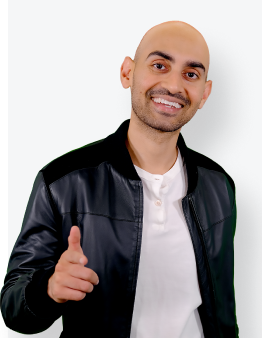 See How My Agency Can Drive More Traffic to Your Website
SEO - unlock more SEO traffic. See real results.
Content Marketing - our team creates epic content that will get shared, get links, and attract traffic.
Paid Media - effective paid strategies with clear ROI.
Are You Using Google Ads? Try Our FREE Ads Grader!
Stop wasting money and unlock the hidden potential of your advertising.
Discover the power of intentional advertising.
Reach your ideal target audience.
Maximize ad spend efficiency.