Mega corporations like Amazon and Google seem to dominate the market with their services, but did you know that the vast majority of jobs are made by small business owners?
In fact, small businesses (under 500 employees) make up 99.9% of all US businesses, and they account for nearly half (46.8 percent) of the US workforce according to the US Small Business Administration (SBA).
While large corporations move more money, they are more susceptible to economic headwinds. Local businesses, on the other hand, hire more people and have greater resilience to economic hardship.
However, in order to survive economic uncertainty, local businesses need to make the extra effort to demonstrate their value to customers. Despite Google's size, the search engine provides plenty of tools to help out the little guy.
If you're a local business itching for new customers, looking to Google Maps could help you grow your customer base. Not only will Google Map Pack improve your digital presence in your local community, but it will make it more likely that users find your business when they first begin their search.
Let's dig further into Google Map Pack to learn how it may be more useful for your small business.
What is Google Map Pack?
Google Map Pack is a set of the top three search results that appear on Google Maps when conducting local searches for businesses.
Google Maps is highly competitive and coveted since Google prioritizes Map Pack links over traditional search results, and filters through businesses to display only the highest quality options.
Considering the fact that, as of 2020, searches for "local" + "business(es)" increased over 80 percent year-over-year, it's safe to say that focusing on Google Map Packs is a good idea to get more exposure for your local business.
What Information Does Google Map Pack Have?
The information here will be crucial to executing a successful Google Map Pack optimization strategy. In terms of what you can expect Google to display to potential customers when conducting local searches, Google Map Pack shows the following information:
Visual Map
Google Map Pack highlights where to find your local business with a marker hovering over your business on a map.
For example, I searched for the "best coffee shops in Chicago," and this is what Google Local Guides showed me.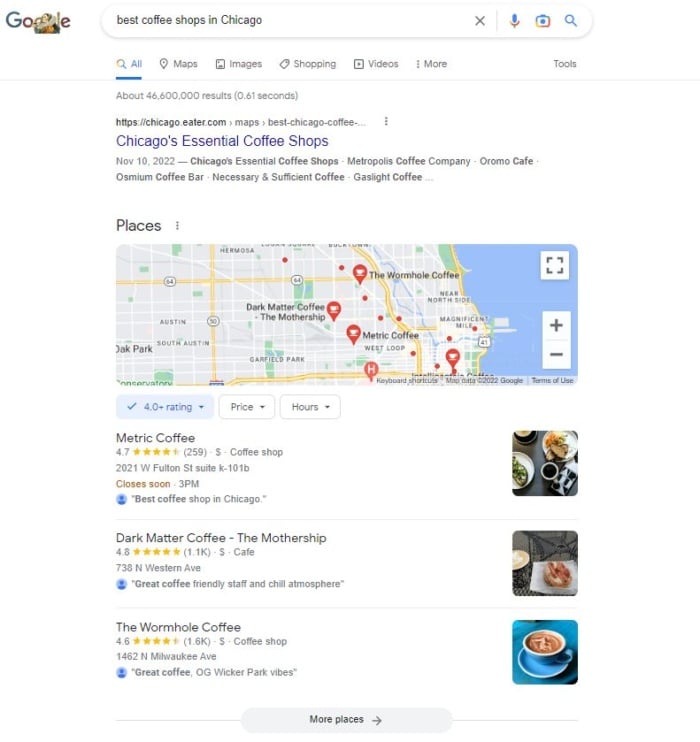 As a marketer for a small coffee shop in Chicago, I want to make it my goal to get my business on this list.
Business Name, Physical Address, and Phone Number
How many times have you seen a business listing pop up on Google that lacks information about its own operation? Did that lack of information make you want to do business with them?
Probably not.
Adding basic contact information to your business listing makes it easy for potential customers to connect with your business and will set you apart from other local businesses that fail to include this information.
Overall Ratings and Reviews
Hearing real thoughts from other customers about the business can go a long way in establishing (or destroying) trust and brand recognition.
The ideal review is not only positive, but detailed enough to give the reader more confidence that the product or service is legitimate and potentially useful for them.
Specific Industry and How Long the Business Has Been Open
This makes it easier for potential customers to see how much experience your business has in a given industry.
If your business is brand new or just opened up in a new location, you'll want to spend more time enhancing your local SEO to drive authority and bring attention to your business. Adding location pages to your website, auditing your internal link structure, and optimizing your site for mobile are just a few examples of ways to improve your local search rankings.
Hours of Operation
Knowing when a customer can do business with you could be the final push needed to move your potential customer through the funnel from just browsing to buying your product or service. Don't forget to adjust these hours for situations like holidays or vacations.
Price Range, Images, and Other Relevant Information
To ensure that you're capturing as large of a local audience as possible, be sure to include any other information that makes the customer's life easier. Price expectations, images from within the business's building, and other similar details help create a full picture of your business for potential customers.
Follow These 4 Google Map Pack Optimization Strategies So Your Local or Small Business Can Rank High on the SERPs
If you want to show up in Google's local search results, consider prioritizing these four efforts to grow your business's online presence.
1. Have a Killer Google Business Profile (Formerly Known As Google My Business)
Optimizing your Google Business Profile is the first thing you want to make sure is as high quality as it can be.
View Your Business Profile Through the Google Maps Mobile App and Google Search
Keeping tabs on your Business Profile using Google Maps or Google Search allows you to step into your audience's shoes and see what your business looks like online to them.
This ensures that you have included all the necessary information and lets you see where things can be improved for the reader.
Keep Your GBP Up To Date
Think of your online presence as an extension of your physical business. You wouldn't want your building to display old and outdated information, so why would you want your online business to? Imagine if a viewer calls the wrong number for your business based on outdated info. That could be a customer lost.
Keeping your Google Business Profile up to date, therefore, is crucial to making sure you and your customers are on the same page.
Use Consistent Spelling for All of Your Local Businesses
Establishing consistency throughout your businesses gives readers more confidence and trust. It's the small details like these that help garner the reputation of a successful business.
Use Appealing Images
To further enhance your online reputation, make sure that images of your business are high quality and visually appealing.
90 percent of the information that our brain processes is visual. We remember 65 percent of what we see, compared to just 10 percent of what we hear.
Without making fully developed visual marketing material, you can use images of your business to draw potential customers closer. While they may not remember the details about your business, leaving them with a quality visual memory can go a long way in creating future customers.
Use a Local Phone Number, Not a 1-800 Number
Using a local phone number helps to further develop trust between your business and your community, as it shows how your business lives among the community and lets people know that they will be communicating with a human in the area rather than a bot from a different region.
This allows you to deliver more personalized service, which further strengthens the reputation you're developing in the local area.
Write Exceptional Copy for Your Business Description
Writing is crucial to any successful business. If you want to do business effectively, you need to communicate effectively.
Not only will excellent copy garner trust from your community, but it can also convey authority to Google, making your business more likely to show up in the search results.
Be Incredibly Detailed With All Your Information
To write exceptional copy, you need exceptional detail.
Your business's online presence needs to give potential customers a perfect picture of your business. What it does, how it operates, its history, its value proposition – all these details need to be made as clear as if someone was interacting with your business in person.
Correct Inaccuracies
If your business presents inaccurate information to potential customers, it's going to damage your business's reputation and trust. Your business needs to be a place where anyone in your community feels safe coming to you with any questions about the industry you operate within.
2. Interact With Your Customers
Okay, so you may now have an optimized Google Business Profile, but to keep customers coming back, you need to leave a memorable impression on them. However, most businesses treat their customers as just that – a customer.
As a local business, go the extra mile to treat every customer as a unique individual versus a piece of a generic entity. This will give your customers a reason to come back to you for future business instead of larger, less personable companies.
Manage Your Reviews
As of 2021, 77 percent of consumers "always" or "regularly" read Google reviews when searching for local businesses. Most importantly, however, 89 percent of them are highly or fairly likely to choose a business that responds to all of its reviews online.
It goes without saying – if you aren't paying attention to what your customers have to say, you'll have a hard time improving the business, and an even harder time attracting new customers to do business with.
Respond to the Good, Bad, and Ugly Comments
Don't just thank people for them telling you how much they enjoyed your business. Put even more energy into interacting with the negative reviews. A customer's bad experience is an opportunity to improve. Find out where things went wrong, and make sure that it won't happen again.
Deliberate attention to feedback, both positive and negative, is what will set your local business apart.
Encourage More Reviews
Reviews are much more than just opinions – they're a crucially important analytical tool. The more reviews you collect, the more data you have to work with. You can pick up on common themes that people see with your business, or mistakes that seem to repeat too often. Having plenty of reviews lets you identify strengths to lean into and weaknesses to improve upon.
3. Create Citations
Okay, so now that you've created a personable and reliable online presence, it's time to look elsewhere to grow your business.
Local citations are a great way to further drive that reputable and authentic persona you want to create online. Local citations are any mention online of your business name, address, and phone number. They're found across the web on various websites, social media platforms, and more.
Not only do local citations help people find your business, but they can help boost your local SEO so that you show up in more search results.
Be Consistent Across All of Your Channels and Platforms
Regardless of the website your business shows up on, they should all have access to the same information so that you aren't leaving any potential customers without important information.
Social Media
Social media is one of the first places you should share your business citation. For example, here's a great citation on the Chicago-based Dark Matter Coffee's Facebook. It includes all the details about the business I need if I were planning to go visit it today.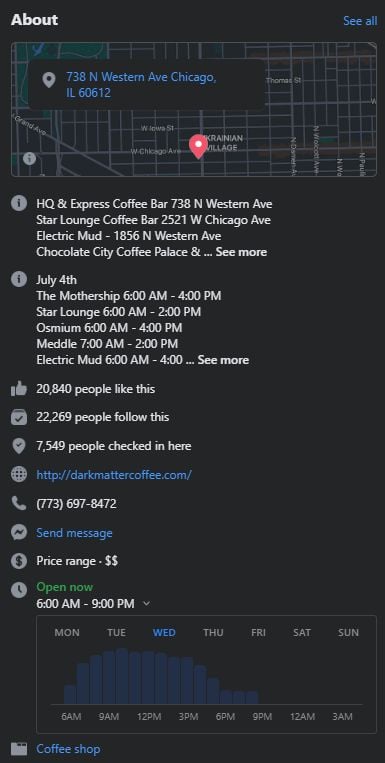 Social media is where you turn your business into a persona, so don't just stop at proper citations. Through constant engagement and interaction online, social media allows local businesses to bridge that gap between a mere business partner and genuine relationship, which inherently develops a greater sense of trust between you and your customers.
Review Sites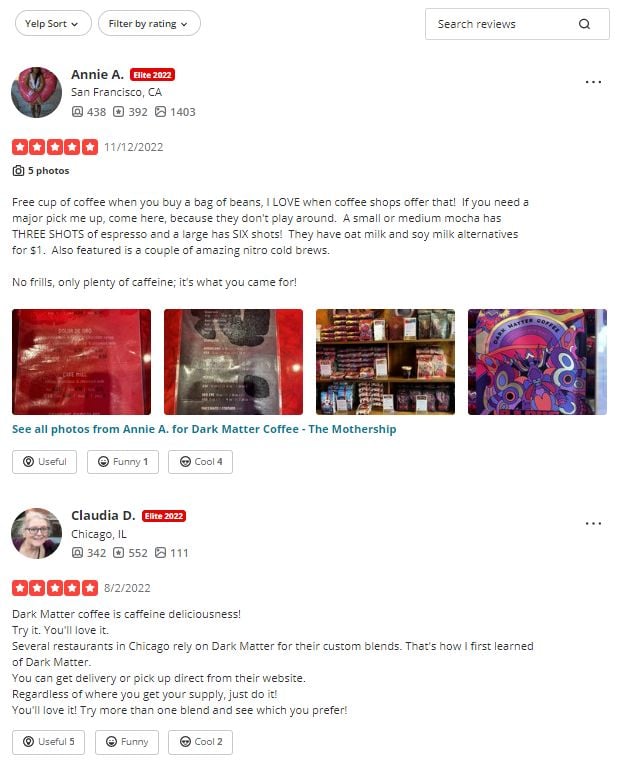 Show potential customers that you listen to your audience on review sites. 88 percent of consumers trust online reviews just as much as they do personal recommendations.
If they happen to stumble across your website while browsing Yelp, they'll be more inclined to reach out to your business if they see that you constantly engage with your customers and feel like someone they can always get in touch with.
While having a proper citation for your business listed across major online directories like Yelp is important for those using them, what's really useful to you is a stronger relationship with Google. If you appear in multiple directories with quality information, it signals to Google that your business is reputable and gives the search engine more data to help you show up in search results.
And of course, be sure to have the proper information available to them on review sites so they can find you easily in the future.
Blogs Associated With Your Business, Industry, and Local Setting
You wouldn't trust someone immediately after hearing them talk about how great they are. You'd ask around to hear from others to get a less biased perspective. So why should Google just trust your own words?
Backlinks are incredibly important for local SEO for this reason. We want our reputation to be built based on others' words rather than our own. You should be networking with others in the industry, building relationships with others online, and pushing for inclusion on relevant blogs to develop a robust profile of quality backlinks. That way, when Google goes to see who is worth sharing in the top search results, your business's name shows up from multiple different sources.
4. Incorporate SEO Best Practices for Your Website
For all the SEO talk we've touched on in this blog, we haven't yet dug into the foundation of what makes for good local SEO. It all boils down to creating a positive and trustworthy experience for potential customers.
Use Local Keywords
First and foremost: keywords. Strong keyword placement will help Google uncover exactly what your business is all about.
However, for example, if you're a small coffee shop in Naperville, just outside of Chicago, you don't want to just target "coffee shop" in your copy. You need to get much more granular with your keyword targeting to make sure locals in your area know that your business is nearby. Opt for long-tail keywords like "best coffee shops near Naperville" as they'll be less competitive and more accurate to your business.
Test Page Speed
Nothing leaves a bad first impression online like a painfully slow load time. Users want information fast, and if your website can't deliver that, they may look elsewhere for a better experience.
Faster page speed can create a better experience for users, thus increasing page views and conversions, and decreasing your bounce rate.
Use Local and High Quality Images
Using local and high-quality imagery for your website makes it more attractive and accessible for users. It also scores points with Google, helping the search engine recognize your website as high-quality. It also provides visitors with a clear picture of what to expect from your local business.
FAQs
Now that you have a good foundation of some Google Map Pack optimization strategies, here are some good questions others have asked that may help you in your Google Map Pack journey.
How does the Google Map Pack work?
Google Map Pack uses Google's algorithms to decide the businesses that appear in the Map Pack results. Google prioritizes Map Pack listings over traditional search results, making Map Packs a highly competitive field. 
Is Google Maps good for SEO? 
Google Maps can be incredible for SEO. It helps to grow your presence in local search results and establish your business as a local authority.
How do I increase SEO on Google Maps?
Here are a few steps you can take to improve SEO on Google Maps:
Enter complete and accurate information
Verify your business location(s)
Maintain accurate hours of operation
Manage reviews
Include local and high-quality photos
Include in-store products or services
How do I promote my Google Map?
You can start promoting your Google Map by turning on location assets for your Google Ads account. To ensure users see your local search ads, optimize your keywords, use location targeting and bid by location, and make sure your Business Profile listing is up to date.
Is Google mapping free?
The Google Maps Platform is not free. It offers four different plans at three different price points: 
Static Maps – $2 for 1,000 requests per month
Dynamic Maps – $7 for 1,000 requests per month
Static Streetview – $7 for 1,000 requests per month
Dynamic Street View – $14 for 1,000 requests per month
The monthly cost will increase with the number of requests. By comparison, Google Business Profile is free to use.
Conclusion
Do you want to start ranking in local search results? It's best to take advantage of Google Map Pack to let the community know about your local business.
Getting listed on Google Map Pack will make sure that searchers looking for your business will find you. Hopefully now, you have a much better idea of what Google is looking for to get listed.
Considering the fact that 80 percent of local searches lead to conversions, it's wise to focus your local business efforts on Google Maps.
Utilizing some of the Google Map Pack optimization strategies listed here will help to set yourself up for local SEO success. And with my Ubersuggest SEO tool, you can uncover the insights needed to land your first listing on Google Map Pack.
Are you trying to land a listing on Google Map Pack? Which tricks are helping you the most?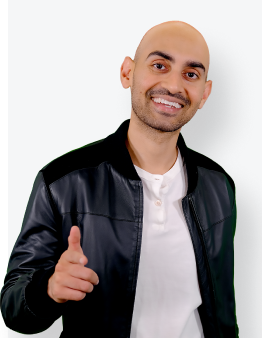 See How My Agency Can Drive More Traffic to Your Website
SEO - unlock more SEO traffic. See real results.
Content Marketing - our team creates epic content that will get shared, get links, and attract traffic.
Paid Media - effective paid strategies with clear ROI.
Are You Using Google Ads? Try Our FREE Ads Grader!
Stop wasting money and unlock the hidden potential of your advertising.
Discover the power of intentional advertising.
Reach your ideal target audience.
Maximize ad spend efficiency.