Learning how to use GIFs on Instagram Stories is a great way to give your audience exactly what they want: To know who you are and why they should do business with you.
GIFs get the point across quickly and save the small talk for later. In this guide, you'll learn why you should start using them and how to do so.
Why Should You Use GIFs in Instagram, Facebook, and Snapchat Stories?
Posting GIFs on Instagram Stories isn't just a fun or quirky thing to do. As marketers, we always have our ultimate goal in mind: To create conversions.
Believe it or not, GIFs are powerful marketing tools that you can use across all social media platforms.
Here are some of the ways that the best marketers use GIFs to their advantage.
Increase Brand Awareness
We all know the internet loves cats. A cat GIF is sure to show them how great your company is, right?
Not necessarily.
When it comes to GIF usage, context and branding matter. You can't just throw a GIF up and expect it'll draw people in. You still want people to recognize your brand and its personality.
If you work for a funeral home, it's unlikely a cat GIF will ever be appropriate.
However, if you work for a lighthearted company that sells hydration products for the morning after a night of partying, this cat gif from Corporation Cats could be perfect when posted with an amusing caption:
This goes double if your brand colors just happen to be yellow and pink!
Develop Brand Interest
While this point goes hand-in-hand, it's essential to understand the difference between brand awareness and interest.
If you're developing brand awareness, you're letting people know about you for the first time.
If you're building brand interest, you're trying to appeal to those who are on the fence about you.
Now you have warm leads, and you're trying to reel them in so they'll make a purchase. Take that GIF of the cats with the wine glass hats, and add a 25 percent off code.
By showing your brand's personality and giving an incentive to buy, you may go from awareness to interest to conversion, all through one very short video.
Deliver Your Important Message
As brands realize that their audience, particularly millennials, care about causes and make purchasing decisions based on brands' values, they have gotten increasingly on board with taking sides.
To draw extra attention to a cause your company believes in, you can use a GIF rather than a block of text or a static image. For instance, if global climate change is your company's focus, you can use a GIF about that to draw the eye.
If a potential customer's values align with yours and their eye is drawn to this GIF, they may be more likely to click on it to learn more about you and your beliefs.
Simpler Than Video but Better than Images
Visual communication helps you better communicate with your audience. In fact, producing visual content is becoming an industry standard.
Images generally draw the eye better than text.
Videos usually draw the eye better than images.
However, videos can be expensive to produce. GIFs? You can often find them for free! You just need to make sure your message gets across when you choose your short, moving image.
GIFs Communicate a Lot in a Short Time
GIFs are great for helping users consume a lot in a short amount of time. Plus, they usually loop. If they missed your message the first time, it'll come back around again.
GIFs could serve as the ultimate "pattern interrupt."
How to Use GIFs in Instagram, Facebook, and Snapchat Stories
In marketing, there's always a right and wrong way to do everything. In this case, we want to discuss some of the best ways to use GIFs on Instagram Stories, Facebook, and Snapchat.
Create Branded GIFs
While you may see similar GIFs over and over while scrolling through social media, this doesn't mean you're limited to those created by others. Instead, you can design branded GIFs that combine many of the factors we've discussed so far.
A great way to do this is with GIPHY. This tool allows you to create GIFs and add captions, filters, stickers, and more. Many of the GIFs you find on the internet are made using this tool.
The process doesn't take too long, and they provide many customization options for you to choose from.
Other, more advanced companies are also out there. Depending on what you want to do, you may need to upload images, and some premium features require a subscription.
How can you use a branded GIF to make a positive impact on your business?
By using these in Instagram or Snapchat stories, you're doing more than making a post or updating people on what you're doing—you're pulling back the curtain on your business.
It's an excellent opportunity for you to show people what you have going on and allow them to see some of the things they may not realize you do all the time.
Show Your Brand's Personality
What is it about your brand that differs from your competitors?
Do you have a unique process for creating your product or service? Do you have an interesting office policy? Do you let employees wear ugly sweaters for the entire month of December?
Whatever it is, show it off in your branded GIFs.
Humanizing your brand can make consumers trust you more and feel they're buying not from some faceless corporation but real, live people.
Speaking of which…
Introduce Your Team
A lot of data shows that more and more consumers prefer to do business with small businesses. This especially applies to millennials and other younger generations. This is in part because those businesses often have few workers who consumers get to know, whether in person or entirely online.
What if you don't have a small business? That's okay! You still have people who work for you, and you can introduce them. Don't just focus on the CEO and management teams—create GIFs introducing Betsy in accounting, Steve in sales, and Chris in the warehouse.
Or, show entire teams working or enjoying each others' company. Imagine how successful a GIF of you showing your team celebrating a birthday or a holiday together could be. With the right caption and CTA, that could be incredibly powerful.
Showcase a New Product
I think that pet brands do this best. They're great at showcasing products because pets are cute, cuddly, and capable of getting attention pretty quickly.
Even if you're not in the business of pets, you can still use GIFs to show people how great your product is.
For example, maybe you sell beauty products. You could upload GIFs of someone using a new product, smiling, and showing how great it is to your Instagram story. Then, if you write a great caption about how the product benefits people and include a promo code, perhaps you'll get a number of conversions out of that.
Next time you have a new product, consider introducing it to the public with a GIF.
Fit in Your Target Keywords
Never forget that keywords don't end with SEO. You need to use keywords for your Instagram marketing as well. Use keywords in your GIF, its caption, and in any other way you can.
When you post GIFs on Instagram stories, you have a unique opportunity to speak to your target audience.
What's the problem they have? What's a pain point that bothers your customer? How does your product or service solve it? Those are all keyword-related questions, and you can often answer them—and throw those keywords in—via a gif.
Let's say someone is searching for a local dentist who understands tooth sensitivity. A short GIF showing a tooth, say, walking through a snowstorm and getting increasingly uncomfortable, could indicate that the dentist understands just how it feels to have sensitive teeth.
It's done in a judgment-free way, as the viewer won't think, "Oh, they're saying it's because I eat too much candy."
Pair that with "Teeth sensitive to cold? Dr. Dentist can help!" and you've fit in tooth sensitivity, what the tooth is sensitive to, and the name of the dentist.
This could be comforting to someone who has been dealing with tooth pain but doesn't know where to go. Making that GIF has made you more approachable and could lead more people to do business with you.
Frequently Asked Questions About GIFs in Instagram Stories
Here are some of the most frequently asked questions about GIFs for Instagram Stories:
What tools can I use to create GIFs? 
Giphy and Kapwing are two of the most popular ways to make GIFs.
Where can I find GIFs to use on Instagram, Facebook, and Snapchat? 
A quick Google search will bring a lot of great results for GIFs. However, keep an eye on licensing requirements.
What drawbacks are there to using GIFs on social media? 
The primary drawback to using GIFs in social media marketing is the risk of some viewers disliking them—a risk you take with most marketing initiatives.
When considering using GIFs, it's essential to keep your target audience in mind. Study their demographics to discover what draws them in. Additionally, remember your business structure—if you run a somber brand, a GIF may not be appropriate.
Even if a GIF is perfectly appropriate for your brand and audience, some people just may not like them. As long as you don't exclusively use GIFs for communication, though, chances are you won't lose them.
How to Use GIFs in Instagram Stories: Conclusion
Using GIFs on Instagram stories is an exciting strategy that a lot of marketers overlook. Frequently, we see text, images, or videos alone, but GIFs combine all of this in an easily digestible way. This makes them able to generate a lot of brand awareness, interest, and, potentially, conversions.
I think the best use of GIFs for marketing is offering an inside look into your business, showing off your work and your brand's personality.
This type of marketing shows your consumers you're working hard for them and that you're a community of people, not just a set of products or a logo.
That's becoming increasingly important. In fact, you could say GIFs are really…moving.
What do you think is the most helpful type of GIF for your business?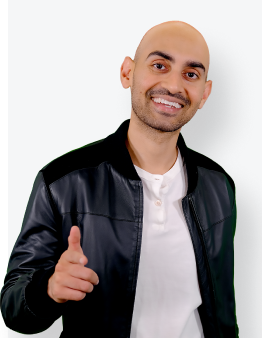 See How My Agency Can Drive More Traffic to Your Website
SEO - unlock more SEO traffic. See real results.
Content Marketing - our team creates epic content that will get shared, get links, and attract traffic.
Paid Media - effective paid strategies with clear ROI.