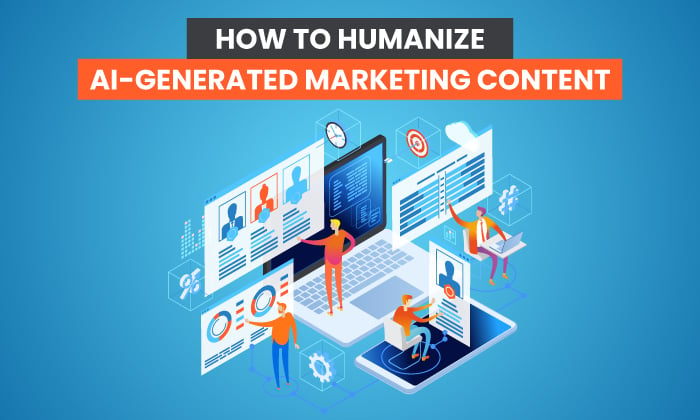 While future writers likely aren't robots, artificial intelligence (AI) has enabled robot-human hybrid systems to create and edit content.
However, there's no need to worry about your job as a blogger or writer.
AI-generated marketing content still lacks the human touch.
We'll still need writers and marketers to edit and revise content to fit our desired context and avoid misunderstandings in the online world. Instead, using AI can speed up the writing process and enable marketers to churn out more content for the sales funnel.
How do you humanize AI content? Here's what you need to know.
What is AI-Generated Content?
True to its name, AI-generated content simply means content written by AI.
Most AI technologies can perform activities that usually require human reasoning, intelligence, learning, or decision-making.
In terms of the content marketing process, AI is capable of creating a written narrative through "natural language generation (NLG)." This capability enables it to write business reports, predict consumer behavior, schedule content, and offer personalized product recommendations.
We bet you've been using AI-powered marketing tools without even realizing it.
Not only that, but you've also probably read content written with the help of AI.
The UK Press Association has utilized AI to write around 30,000 local news stories per month. Tech company OpenAI (co-founded by Elon Musk) launched the AI tool "GPT-3," which can write like a human. Researchers have allegedly used it to write stories, share philosophical knowledge, and answer medical inquiries.
Interestingly, Econsultancy reports 18 percent of North America-based marketers use AI for content creation. Meanwhile, 23 percent use it for creative and design work.
These statistics show AI-generated content has a place in the marketing realm.
AI Subsets Used for Content
AI can create content through its subset called "content intelligence."
Content intelligence leverages AI capabilities to help marketers create compelling posts and get research-backed advice on their marketing strategies.
This is made possible with a simple three-step process:
Data collection: AI gathers data from CRM, surveys, social media results, website visitor behavior, and other relevant sources of information.
Analysis: At this stage, AI analyzes and interprets the data to find trends and patterns.
Insights and recommendations: AI can develop insights to modify your content and make it more effective and valuable to your target audience. It may also predict trends so you can boost your content ROI in the long term.
To sum it up, content intelligence lets marketers interpret the data to make research-backed decisions and boost their content marketing results.
Why Is it Important to Humanize AI-Generated Content?
In recent years, we've seen AI automate a lot of processes, but it still can't act unsupervised. Even if AI can write thousands of words, the message must still be humanized to make a lasting impact on its readers.
Let's take a look at some of the benefits of AI you should consider.
1. Humanize Content to Boost Personalization
People don't want marketing messages that seem robotic and repetitive.
We see tons of marketing messages each day, so AI-generated content alone won't let you stand out in the online world.
An interesting study by Adobe found 67 percent of people surveyed believe it's crucial for businesses to modify their content based on context. When it's not done right, 42 percent get annoyed because the content is not personalized.
While AI can automate the writing process, humanizing its output is still necessary so you can communicate with your audience in an authentic and sincere way.
2. AI Is Still Not Perfect
AI can follow the basic grammatical structure, but its outputs aren't always perfect.
For instance, The Guardian commissioned the GPT-3 AI tool to write their content.
Here's a paragraph of the results:

Some of the outputs were concise and cleverly written. However, AI technologies may ramble, make nonsense paragraphs, and go way beyond the specified word count.
Though AI has impressive writing capabilities, its dense articles mimic what you would find in Wikipedia. Spam text could find its way in the draft, or it could include out-of-context words or disparaging remarks.
Even if it can string paragraphs, editors would still need to pick out the information that ends up in the final draft.
The bottom line? Marketers still need to humanize the draft and edit the content for human consumption.
3. Humanize Content to Maximize Data
Sure, AI can quickly analyze the data and figure out what works and what doesn't.
However, it still doesn't have the capability to truly understand and empathize with readers.
It can't work alone to create compelling scripts for your advertisements or video campaigns. You'll still need to edit its outputs to fit your brand voice, framing and narrative.
Even if you have the necessary data, it requires human input to ensure the content resonates with your audience.
Rather than making AI go it alone, add a human touch to get the best of both worlds.
7 Tips to Humanize AI-Generated Content
AI can bring a lot of benefits to your content marketing funnel. Now, how can you humanize the output to create effective marketing content? Here's how to do it.
1. Humanize Your Strategy
AI tools can conduct keyword research, suggest on-trend topics, and suggest blog post ideas based on your competitors' top-performing content.
Despite the long list of article ideas, you still need to humanize your content strategy.
Let's say you're planning to assign an article on "X Tips for YouTube Marketing" based on the suggestion of your AI.
For the best results, discuss with your team to pick out little-known advanced tips. After all, your AI tool may pick out generic strategies that everybody knows.
Some articles may be a sensitive topic, so it requires delicate framing and prior discussion. In other cases, you may need the input of your client-facing employees (such as salespeople) to humanize the output so it feels relatable to your target audience.
2. Consider AI-Generated Content As a First Draft
A big challenge for many writers is starting from scratch.
It can be difficult to get the ample motivation you need to write a 1000-word article when you're at point zero.
The good news is AI-generated content can act as an "ugly first draft."
The Washington Post has published 850 articles with the help of a homegrown AI robot named Heliograf that can write short reports and posts. The initial draft helps writers overcome their slump and get in the groove by simply modifying AI-generated content.
Tools like Articoolo can also write AI-generated content. Writers just need to insert the topic and choose their preference.
Let's say you're writing a brief article about a "content marketing plan."
Here's an example of how this might look: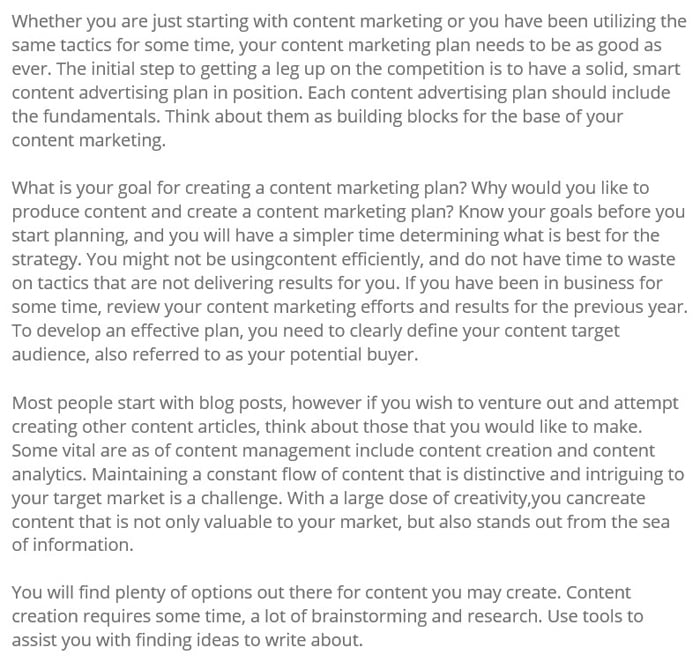 Safe to say, it's not perfect. However, a bit of editing could help you add a few introductory paragraphs or map out an outline.
As you write the article, you could use AI to generate drafts for more specific sections by placing more specific keywords like "content marketing benefits" or "how to create a content marketing plan."
3. Stick to Your Brand's Voice
Brand voice refers to the emotions and personality your brand wants to incite in your audience.
Are you supposed to be funny or approachable? If you want to seem more friendly and relatable, consider using a casual tone or a bit of slang. Likewise, if you want to exude a luxurious feeling, stick to a formal tone.
Here's a brand voice chart that can help you pick out the characteristics of your brand: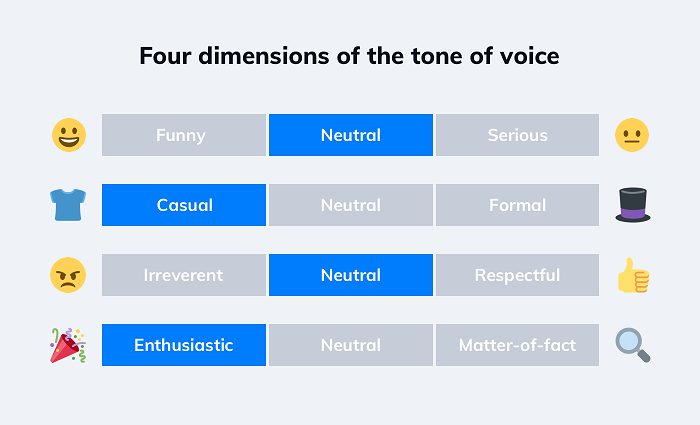 How does a brand voice fit into AI-generated marketing content? AI-generated content may be grammatically perfect but seem robotic.
By keeping your brand voice in mind, you can make AI output seem more personal and genuine.
4. Consider Context
One of AI's limitations is that it can't consider context just yet.
It can create generic text for a general audience but not for a specific target consumer.
This is why remembering buyer personas are important. Before writing or editing AI-generated text, answer the following questions:
Who are my target readers?
Why is my content relevant to them?
How do I want to communicate with them?
If you collaborate with a variety of writers or editors, you may want to create article outlines. Ideally, this should have notes for each section of the content or details about your target audience.
This way, when an editor revises the AI-generated content, they will ensure it aligns with the desired context.
5. Make It Concise
As shown in the previous example, AI-generated marketing content could look like a long paragraph with hundreds of words.
Of course, readers don't like to read long lines of text.
To humanize your content, consider breaking up a paragraph into two to three lines of text (60 to 90 characters). Make it conversational by asking questions now and then to mimic human conversation. You can occasionally keep sentences short or in a single line to make a point.
6. Personalize Content at Every Stage of the Sales Process
Eighty percent of shoppers are more likely to buy from brands that deliver personalized experiences.
Humanizing your sales and marketing funnel entails building personalized experiences. While this may take time and effort, AI technologies can speed up and automate the process.
With data-based personalization, marketers can enable consumers to view information that is directly relevant to them based on their behavior and interests.
Here are a few ways AI can humanize your sales funnel:
Deliver automated emails with personalized product recommendations or abandoned shopping cart reminders.
Utilize chatbots to answer customer inquiries or direct customers to the appropriate FAQ section so they can resolve the issue without waiting for customer support.
Show pop-ups based or send downloadable resources from previously viewed content.
Again, AI can identify data and automate the process, but you'll need human input to connect the dots. Maybe your sales teams will have to occasionally modify the chatbot scripts based on previous customer interactions in order to boost engagement.
For email marketers, you may want to look at the design and content of the top-performing emails. Conduct A/B tests to find out the most compelling CTAs, ideal text, or image placement.
With this process, you can humanize AI-generated content and make it relevant to your consumers.
7. Use a Mix of Tools
Just like humans, AI tools have specializations too.
Some are good at writing, while others are built specifically for editing or conducting plagiarism checks. Humanizing AI content involves finding the right tool for each step of the process.
Let's say you want to write a blog post. Here's a brief outline of how the process might look:
Brainstorm blog topics (30 minutes)
Research (2 hours and 30 minutes)
Write (5 hours)
Edit (1 hour)
Publish (10 minutes)
To streamline the writing process, try to find tools that can help you at each stage. Here are a few to get you started:
Conclusion
AI can power up your content creation process, but it still requires human input.
To ensure AI-generated content is correct and accurate, get it checked by a writer or editor. Make it concise and ensure it aligns with the intended context.
Keep your brand voice in mind to humanize the content and add a bit of personality.
There are a variety of AI digital assistants that can optimize for SEO, write a draft, or edit the content. Once you become familiar with these next-generation content writing tools, you can speed up and automate the writing process.
How will you humanize AI-generated marketing content?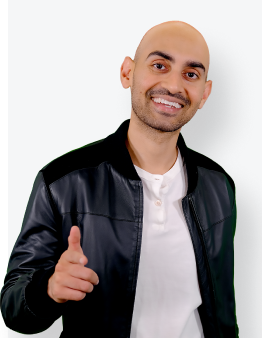 See How My Agency Can Drive More Traffic to Your Website
SEO - unlock more SEO traffic. See real results.
Content Marketing - our team creates epic content that will get shared, get links, and attract traffic.
Paid Media - effective paid strategies with clear ROI.
Are You Using Google Ads? Try Our FREE Ads Grader!
Stop wasting money and unlock the hidden potential of your advertising.
Discover the power of intentional advertising.
Reach your ideal target audience.
Maximize ad spend efficiency.