I was recently chatting with a close friend of mine who has just started her e-commerce business and is trying to grow her email list. This is what she said:
Neil, your tactics are awesome, but I don't have the budget of the multi-million-dollar businesses you've worked with. Maybe you could tell me what has worked for them that I could implement, too.
I thought for a moment about her many possible options, but it all boiled down to one word: Crowdsourcing.
Multiple definitions and applications of this word abound. However, people tend to agree that it involves broadcasting a problem to the public and asking for suggestions to solve the problem.
For example, you can crowdsource using 99designs. Just post a design project and designers will compete to give you the best custom design.
Arcbazar is another crowdsourcing site where you can launch architectural design competitions and get inputs from architects or interior/landscape designers from all over the world.
In both cases, you decide what is best for your project by choosing your favorite design.
The power to make that decision is vital, especially in the context of this post.
It's the reason some people see Wikipedia as a failed example of crowdsourcing, and by extension, an unreliable source of information.
With Wikipedia, anybody can edit the pages, and there is no gatekeeper to stop editing already accurate information.
Consider this, a man edited a band's Wikipedia page claiming to be related to one of the band's members, and he used that information to get backstage after their gig in Melbourne, Australia.
Although Wikipedia's efforts have fallen short, crowdsourcing works, and it can help your ecommerce business.
The question, like my friend asked, is how.
Though I gave my friend a short answer, this post is the long version of my response to her.
Let's get to this right away. I'll discuss three ways you can use crowdsourcing to grow your ecommerce company's email list.
Let's start with the product names.
1. Crowdsource Product Names
Ask your customers to suggest names for your products. Now, this doesn't mean that you're out of ideas, but even if you are, this is a benefit of crowdsourcing. More than that, in this case, you'll also get to:
Just last year, Trader Joe's ran a product-naming contest for this product:
Entrants were requested to fill in all required fields of the submission form, one of which was an email address.
The winner was notified via email and was later announced in the store's newsletter and on the website.
But that's not all.
The winner also got a $100 Trader Joe's gift card. Thus, the customer received publicity and a prize, while Trader Joe's got a lot of emails.
You'll find several of these "name our product and win" contests online, but you'll also notice most of them overlook getting customers' email addresses by accepting entries primarily on social media.
In 2014, food store Leda Nutrition asked fans to name their new chocolate biscuit. They only accepted entries via Facebook.
"Name it and win" entries on social media are fine, but if you're serious about collecting emails, then you need to think beyond social media. You can use tools like Sleeknote, Infusionsoft, WPforms, and others to create a form on your site, which can be synced with your email service provider to capture emails.
I can tell you right away that crowdsourcing product names isn't easy. No matter how much time you have, going through hundreds or thousands of submissions is tedious work.
Sometimes, depending on how much promotion your contest receives, it can be tens of thousands of submissions.
For example, Kraft Down Under solicited names for a version of Vegimite, and they had to select a winning name from 48,000 submissions!
Beyond the problem of limiting contests to social media, I see several businesses that make this common mistake with naming contests (and contests in general):
Offering the wrong prize. An iPad is cool, and I'd bet most people will enter any contest for the chance to win one. However, it's not the right prize for most contests.
If you run a contest for naming cat shoes on your store for cat supplies with an iPad as the prize, you'll get many entries.
But what happens after the contest is over?
When most of these new subscribers receive emails for special offers or discounts on cat shoes, they will either ignore the emails or unsubscribe.
Is it because they don't like special offers or discounts? No, because according to  Direct Marketing Association, 38% of people say that receiving special offers is the top reason they subscribe to an email list.
So why do they not open your emails for special offers on cat shoes?
It's simple. They either don't have cats or wouldn't put shoes on the ones they do have. They entered the contest and, by extension, your email list just to win an iPad.
Subscribed because of iPad or because of information on supplements?
Consider running the same contest, but this time the winner gets cat shoes as the prize.
Of course, I will not enter a naming contest for cat shoes unless I have cats. Most people won't, either. And, if your prize is the shoes, entrants are more likely to be cat owners—your ideal customers.
When you run a naming contest, it's best to offer the named product as a prize to the winning participant. Or, if that's not possible, offer something else in your niche.
That way, you set up the contest in a way that if an entrant is interested in your prize, they're likely your ideal customer. There are exceptions, but more on that later.
For example, this is a naming contest by Night Rider Jewelry.
I would not enter this contest because I wouldn't wear this ring for free, let alone buy it.
Maybe I'd enter the contest if it had another prize, but it turns me off because I'm not a fan of such jewelry.
Choose your prizes wisely by making them relevant to your niche.
2. Crowdsource Product Ideas
Crowdsourcing product ideas takes the guesswork out of deciding what products your customers need. It's also a good way to build your email list or build a community around your products.
With crowdsourcing, you can directly ask customers to tell you what products they want to see you selling.
Your potential and existing customers get to vote for their favorite among a few different products. Then you produce or order the product or products with the most votes.
The products that consumers want do not always have to be products in your niche or physical products they can buy.
For example, Dell's IdeaStorm website is a place where people can submit ideas. If an idea gets enough votes, and the Dell team acknowledges it, it might be implemented.
I've gone through several of the over 550 implemented ideas, and one thing stands out. Variety.
In fact, one user asked Dell to organize their sales page better. Dell implemented it.
Another user suggested creating products with a variety of colors, not just grey and black. It was also implemented.
Did I mention that before you can submit ideas you have to register with, among other things, an email address? Okay, maybe that's obvious.
Apart from getting new subscribers or new product ideas, you can get invaluable input on improving existing products.
Show samples of products not yet in stock and ask customers to choose which of them they'll prefer to buy.
You can let their votes guide your decisions during production or when you order your inventory.
Just remember to ask for an email address as an entry requirement.
With this strategy, items with plenty of votes mean items in high demand, and you can be sure they'll sell out when you produce or order them. Because you'll have the emails of interested customers, you can then tell them to open their wallets once an item is in stock.
LEGO has successfully built a community around customers suggesting ideas for their next sets.
That community, LEGO Ideas, allows customers to submit ideas for new sets. When 10,000 people like an idea, it goes into a review period where the LEGO team decides if production of the product is feasible. Of course, you have to provide your email address before you can submit an idea.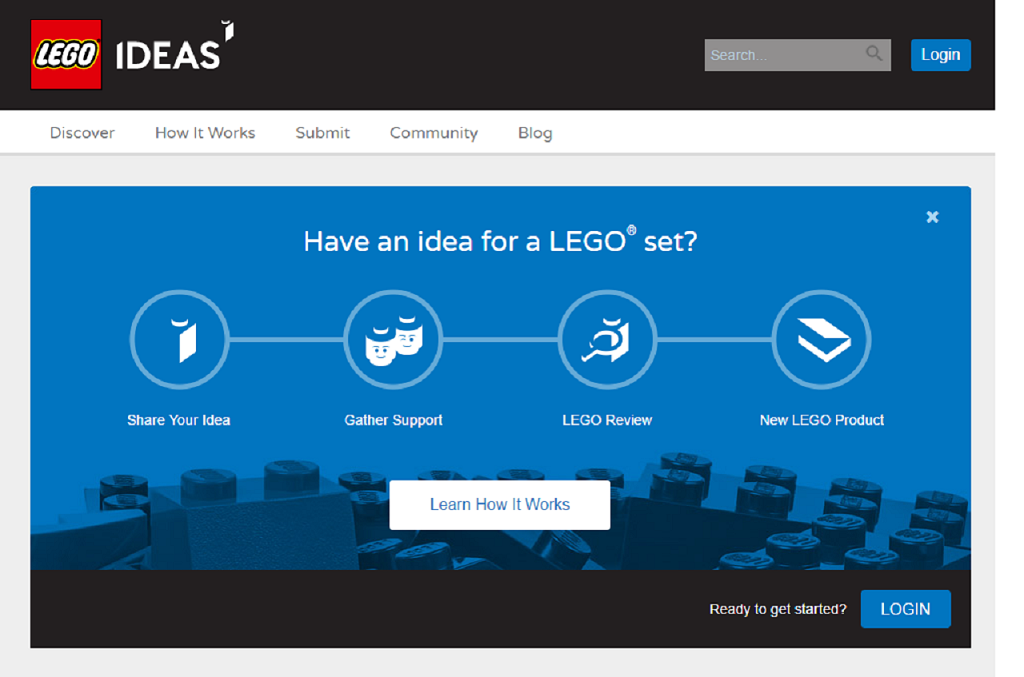 It gets even better.
According to LEGO, when a toy is produced, the customer who suggested it gets 1% of the total net sales of the product.
Here is one suggestion that became a reality:
You can see thousands of project ideas here.
Another way you can grow your email list through crowdsourcing product ideas is by creating the product and letting your customers choose their favorite.
LEGO has done this several times. The example below helped them to decide which of these three products would sell the fastest. A random contest participant won the winning LEGO set.
In this next example, a random entrant won a LEGO set of their choice.
Remember the point I made earlier about choosing the right prize? LEGO's prizes are perfect.
I want to stress here that when you show samples of your products and allow customers to choose their preferred product, you're in total control.
You don't have to worry about customers opting for products that are not in line with your company's values or objectives.
But, even if customers choose new products themselves, make clear guidelines on what your brand considers valid products.
For example, some brands will have nothing to do with any product that promotes or encourages gambling, pornography, smoking, or… You get the idea.
I've also rejected millions of dollars because of my brand. You can read more about that here. So don't go against your brand's values just because of a product's earning potential.
I also noticed from LEGO's example that customers do not just submit product ideas, they design them, too.
You can ask customers to submit designs for new products, or you can create new product samples with varying designs and have them choose their favorite. Think of a mutually beneficial way to reward customers (or potential customers) for their efforts. You could:
Produce the product with the most votes.
Give discounts to the first 50, 100, or whatever number of voters you're comfortable with.
Give a random entrant the finished product or product design that had the highest number of votes.
3. Crowdsource Market Research
It's simple.
Using surveys, ask your customers what features they would like to see in your products. Collect email addresses via the survey forms. Give a (relevant) prize to a random entrant.
Select Legal Systems, authors of LAWFUSION legal practice management system, put up a survey for legal firms.
They didn't give one prize, but 100!
Sure, Select Legal Systems isn't an ecommerce business, but their survey is a smart move any ecommerce business can copy.
Select Legal got the emails.
Okay. I mentioned the simple part. There's more.
Depending on the questions in your survey, you can easily segment your email list. I've written about email segmentation in the past.
Why is it important?
When MailChimp compared customers using segmented campaigns to customers using non-segmented campaigns, they found that the former fared much better.
Higher open rates, higher clicks, and lower unsubscribe rates occur because of segmentation.
Also, from an older study in 2010, when Lyris asked those using email segmentation in what areas they saw results, this was their finding: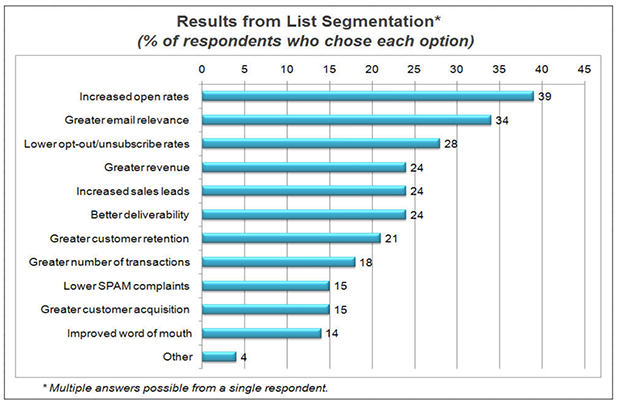 Increased open rates, greater email relevance, and lower unsubscribe rates are the top three results of segmentation.
I'm sure you've noticed (like I have) that the results of both reports, though seven years apart, are almost the same. Email segmentation is as powerful today as it was seven years ago.
For starters, you can segment emails according to:
Gender. This is important for stores that sell products specifically for men or women.
Location. So you do not send customers special offers about winter clothing when it's summer where they are. This may not apply to your business, but you get the point.
Frequency. Helps you decide whether you'll send daily, weekly, bi-weekly, or monthly emails to your customers.
Product Interests. Most ecommerce stores have product categories. Let customers choose to receive emails only about the products they are interested in.
How they found you/your survey. This gives insight into their interests. If a customer finds you via Facebook, for example, it may mean they're very active on the social network, or your Facebook game is strong. Evidently.
Email type. Some subscribers will be interested only in sales and special offers. Others will want to know about special offers and your latest blog post. Let them choose what they get.
At the barest minimum, I believe your survey should help you segment your list in the ways outlined above.
Other segments, like cart abandonment rates, email open rates, order value, purchase frequency, etc., can be taken care of some months after the survey.
Again, you should realize that there are serial survey participants who partake in every survey they can find online just to earn the rewards or incentives.
Unfortunately, offering prizes relevant to your niche will not always deter them.
Let's say you decide to run a survey on your clothing store, and some participants will win a dress. That incentive, although appropriate, may not stop serial participants.
After all, most women and some men wear dresses. So how do you carry out your survey to avoid or minimize such occurrences?
How to determine the validity of emails and data you get during a survey
Any or all of the following will determine the validity of responses you get during a survey, and in turn, the validity of the associated emails:
Timing: Some survey tools allow you to see how long it takes a respondent to complete your survey. Some tools even let you see how long a respondent spent on each page of the survey.
Generally, longer completion times mean more thoughtful answers.
Response Pattern: If you get the same answers for every question, it may be an indication that the respondent is just completing the survey for a reward.
Consistency: Include a repeat of a particular question in a different format in your survey. If the answers are different, the respondent is likely not immersed in the survey.
Fake answers: One-word answers to open-ended questions are an indication that a participant isn't interested in the survey. This can also mean they did not provide truthful answers elsewhere in the survey.
Trap questions: Include simple questions with obvious answers to determine who's completing your survey aimlessly. A question like, "Winter or summer, which is hotter?"
A wrong answer could indicate wrong answers from that respondent elsewhere.
You can use survey tools like SurveyGizmo, Campaign Monitor GetFeedback, and SurveyMonkey. There are a detailed comparison and review of several survey tools here.
Conclusion
Effective crowdsourcing involves mutually beneficial terms and conditions for both parties—business owner and customer.
You'll notice that there were prizes or rewards for winners of the contests in the examples above.
What reward you'll decide to offer is solely your choice. Strike a balance at what you're happy with and what makes your customer happy.
That's how you'll get their emails. That's how you'll grow your list. That's how you'll grow your business.
Statistics have shown that email marketing drove 25% of all Black Friday sales in 2015, and you earn $4,425 on average if you spent just $100 on email marketing for your ecommerce business.
The question is: Are you ready to reap the rewards of email marketing in your ecommerce business?
Sure! That's why you're reading this.
Use these tips, and see what works for your business.
What email strategies have you used to reach more clients for your ecommerce business?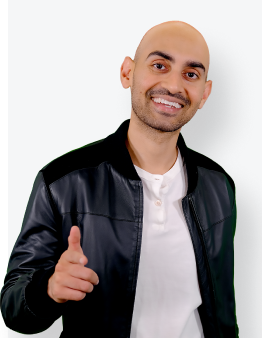 See How My Agency Can Drive More Traffic to Your Website
SEO - unlock more SEO traffic. See real results.
Content Marketing - our team creates epic content that will get shared, get links, and attract traffic.
Paid Media - effective paid strategies with clear ROI.