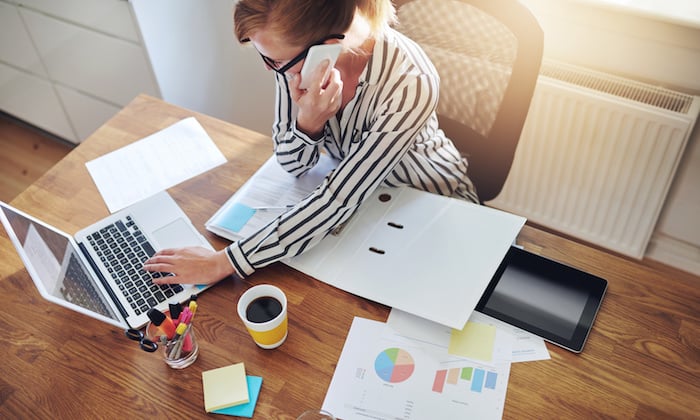 From PPC ads to promotional emails, there are many, many, many ways you can go about generating sales for an ecommerce business.
Successful online retailers know that one of the most reliable and profitable methods is email marketing.
Getting email marketing right, though, may be challenging. There are so many things in an email campaign that can cause failure. After giving it a go, you may find yourself quickly giving up on the idea altogether.
Yet, giving up would be a big mistake.
Email marketing accounts for approximately 23% of sales, rendering it one of the most effective marketing channels at your disposal.
Just like personalized ads and landing pages, personalized emails can have a big impact on your bottom line.
If you know a few things, ahead of time, you shouldn't find it all that complicated to create a profitable email campaign.
But first – what is email marketing?
At its crux, email marketing is about building trust with your existing and potential customers. To accomplish this, you may use a promotional email, a personalized transactional email, free shipping coupons and anything else that will encourage loyalty.
In this article, we're going to explore the specific steps you need to take if you want to get great results when running an email campaign. Use it alongside other online marketing strategies to grow your business faster.
We'll go through how you can achieve some fast and effective results. We'll also cover how you can develop the skills needed, so that you can consistently generate real results.
By the end of this post, you should feel comfortable with creating an email marketing campaign of your own, thus allowing you to drive real profitable results for your commerce business in the future.
Let's begin. 
Getting people onto your list
Email marketing is only going to work if you've got people on your list in the first place.
So, the most important question for an online retailer is – 'how do I get people onto my list?'
When it comes to marketing an ecommerce business, there are several ways that you can get people to join your list.
If your site is already generating sales, then you should already have a list of 'buyers.'
If you don't, there are some tactics that you can use to collect email addresses.
The first method involves creating a 'pop-up' that appears on your site and provides people with a coupon.
While a solid marketing strategy, what's important to remember here is that you don't have to ask for an email address right away when displaying your pop-up.
If you entice people with a discount coupon, they'll be more willing to buy from you. And, when they buy from you, they'll provide their email address. Ecommerce marketing pros know that this is a good way to generate leads and sales, without seeming overly pushy.
Another marketing strategy that you can use is to simply give away free content that relates to your product.  
So, for example, if I have a commerce business that sells cooking equipment, I might have some 'lead magnets,' such as recipe guides or tips on cleaning cooking equipment. This, too, is a smart, cost-effective marketing strategy employed by a number of online retailers.
You can have an opt-in box in your sidebar, or a pop-up, either of which notifies prospective customers that you have an item to give away.
If you have blog posts that are generating a lot of visitors, then it can also be a good idea to use 'Content Upgrades,' in conjunction with such content.
You might even want to consider running a contest.
Competitions can quickly help you to amass a large number of email addresses to get your email campaign going.
While competitions are effective at generating sign-ups, you also run the risk of generating a lot of irrelevant subscribers to your list, too.
People who aren't interested in the products that you provide may simply sign up to your email list, in order to get whatever is being given away for free.
When you send out a promotional email, these individuals may not ever engage with your offers. In any case, you're free to experiment, to see what kind of results you can generate.
If you're feeling confident, you may even want to require that people provide an email address in order to access your store.
It's something that you'll want to experiment with, of course, and it may not be an effective approach for some commerce businesses. But, it seems to be working for Huckberry.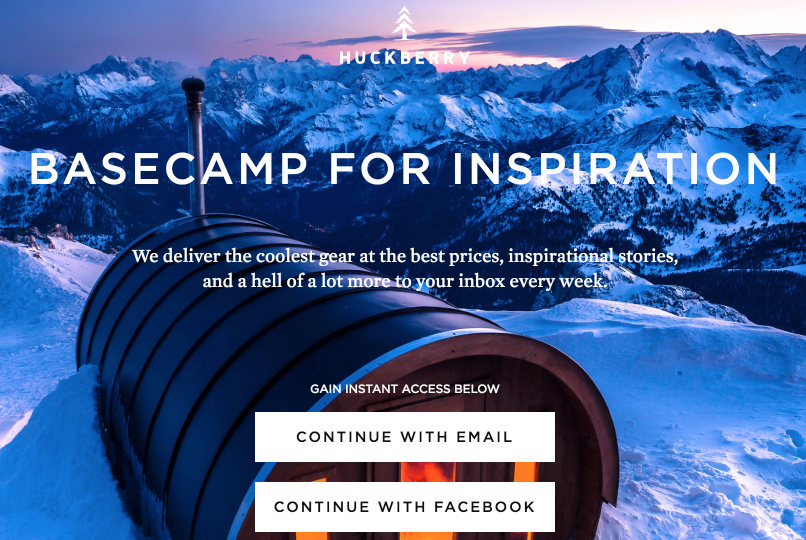 Another marketing strategy? Running ads.
There are a couple of things that you'll want to keep in mind here, however.
You can either run ads that are designed to help you sell product – or ads that promote a lead magnet.
Running ads that are designed to sell a product can be a good idea because you're going to be immediately generating sales and gathering email addresses as you do so.
The sales that you generate can then be used to fund your ad spend. Doing your marketing this way is a good idea if you're selling low-cost items.
On the other hand, running ads that promote a lead magnet is often ideal when you're trying to sell something with a higher price point.
As you may know, it can be hard to generate sales, right off the bat, if you're trying to sell something expensive.
If you get people to opt-in to receive a lead magnet, you can then send an autoresponder sequence that fosters trust and works towards building a lasting relationship between customers and your commerce business.
Note: Even if you sell high-priced items, you can run tests to see what happens if you sell low-cost items, using ads, in order gather email addresses and launch your email marketing campaign.
When people buy, they'll have given you their email address for transactional emails. You can then build a relationship and sell high-priced items later on.
Plus, if you do a good job at delivering the low-cost item, it'll bolster your customer's trust.
As mentioned, it's something that you'll have to try, to see how well it works for your market.
Campaigns that will help drive quick wins
Once you have an email list in place, you then need to get these people to buy.
In order to do that, you'll need to run some promotional email campaigns that engage people and get them buying.
One kind of campaign that you can run, in order to generate sales right away, is the 'welcome email' campaign.
There is evidence to suggest that subscribers read welcome emails 42% more than they would a regular promotional email.
You should make the most out of this stat, by using your 'welcome email' as an opportunity to encourage subscribers to buy something from you or to at least check out what you have to offer.
Here's an example of a welcome email, from Bonobos, that aims to do just that.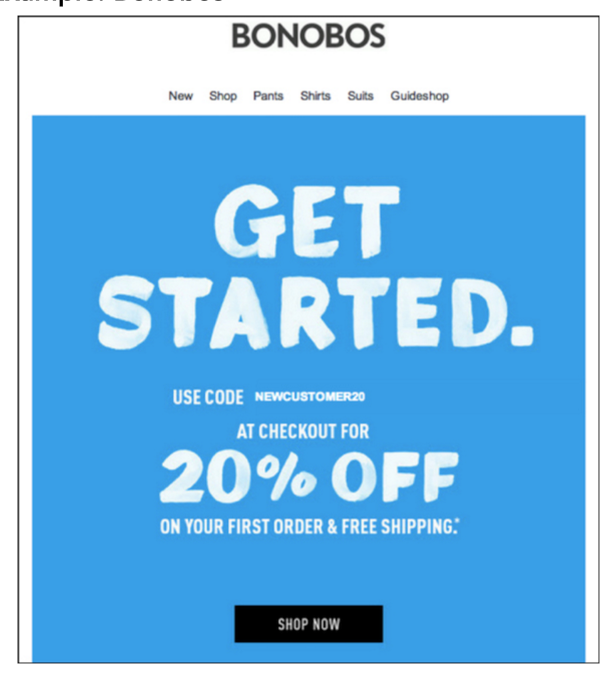 A welcome email that contains a coupon is an example of how you can influence people to make their first purchase with you.
Another marketing strategy you can try is an email campaign that relates to seasonal events.
Be it Christmas, Valentine's Day, Halloween or anything else – there's a good chance that you can craft an email campaign around these events.
It will take some creativity, but take a moment to question how your products align with certain events.  Then, create marketing campaigns, using that knowledge.
If you need some assistance on how this can be done, create a throwaway email address and then sign up to as many marketing lists as you can.
Over the course of a couple of months, you'll most likely see some masterful examples as to how this can be achieved.
Cart abandonment emails are another kind of email campaign that you can run.
These email campaigns tend to run continuously and rely on segmentation (something we'll touch on later). But, they can definitely bring some quick wins.
Cart abandonment emails are designed to contact people who signaled an intention to buy something from your site. You contact these people because they placed items in their 'basket.' But then, for some reason, they left the site without purchasing.
When implemented correctly, abandonment emails are powerful and something your ecommerce marketing plan will need, especially when you consult the stats.
68.81% of online shopping carts are abandoned and 29.9% of cart abandonment email clicks tend to lead to a recovered purchase.
So, running continuous cart abandonment email campaigns is something to definitely consider as part of your overall strategy.
Here's a guide that you can use to help create better cart abandonment emails.
If you want to bolster the results of your cart abandonment email campaign, consider adding a coupon code or offering free shipping to encourage people to complete their transactions.
You might also want to send emails to people, notifying them whenever you have some new stock.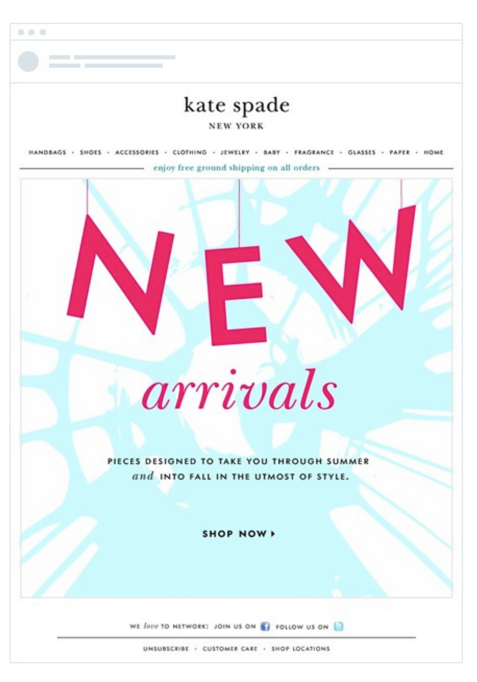 Of course, your ability to achieve quick and sustainable wins from this strategy will depend on how often your store gets stock and if new stock is something to shout about.
If your store only sells one thing, then new stock isn't really a big deal.
Segmenting your list
When it comes to email marketing, a 'buyer's list' is one of the best kinds of lists to have.
When assessing the characteristics of those who belong to your buyer's list, several insights can be discovered.
One, you know that these people are willing to spend money.
Two, you know that they have experience with your brand and trust it.
However, there is, in fact, a way to make a buyer's list even more effective.
And that is by using segmentation.
If you can create a segmented list, based on the interests that people have, the products that they have purchased or the actions that they have taken on your site – you'll be able to dramatically ramp up ROI.
At the very least, using segmentation will increase your open rate.
Why?
For a start, you'll avoid the issue of sending people emails that aren't relevant to them.
If you send emails that are based on the past behavior of a subscriber, you'll be able to increase the odds of only sending relevant emails – thereby also increasing your open rate.
People are tired of receiving irrelevant emails.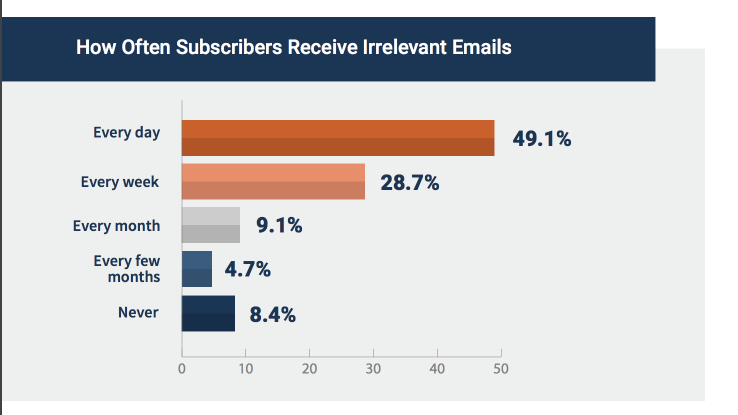 49.1% of people report getting irrelevant emails every day. 31.6% of people flag an email as spam because they find that it isn't useful to them.
Being flagged as spam is one of the worst things that can happen, as your email deliverability rates can drop.
However, if people only receive relevant emails from your brand, as a result of effective segmentation – being flagged as spam is much less of an issue.
If you do this consistently, your long-term open rates will improve. This means that more people can be exposed to your marketing, which can help improve sales, attract new potential customers and boost your overall commerce business.
If you do segmentation properly, people will always find that your emails provide them with offers and content that are tailored to their needs.
By using segmentation, you can hit all three of the top recommendations that are provided by people when they're asked 'how businesses could improve their email efforts.' And, as an online retailer, it's vital to stay on top of what consumers want.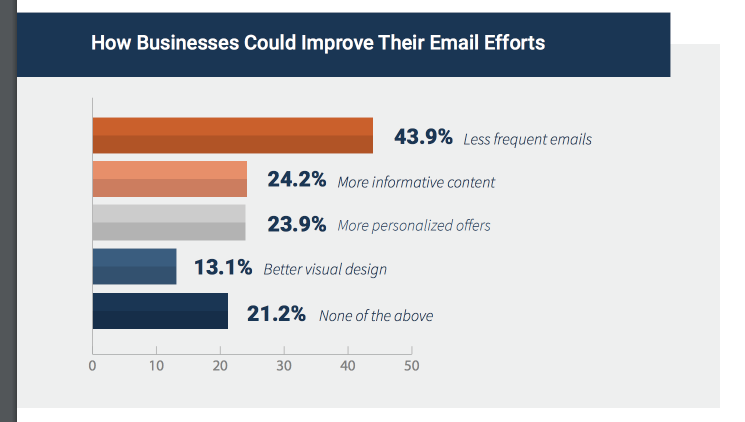 Knowing the above, how can you apply segmentation to your email marketing efforts?
One way that you can use segmentation is to reward loyal customers and re-engage old customers.
If someone has consistently bought products from you in the past 12 months, you can send them a thank you email and let them know that you're grateful for their business. Alongside this thank you email, you can also provide a gift card.
This strategy builds loyalty while also increasing the odds that people will continue to buy from you in the future.
If someone has not bought anything from your commerce business in the past 12 months, you can email them and provide a gift card that they can also use.
This gift card can be used as an incentive to get them interested in your brand again. (Noting the inclusion of the gift card in your email subject line will also increase your overall open rate.)
Howards Storage World is one business that managed to do this well.
They first segmented their customers into two groups – 'Super Members' and 'Semi-dormant.'
Super Members were regular shoppers and Semi-dormant were those that had not bought anything for the past 12 months or more.
The Super Members were sent $20 vouchers.
By sending this voucher to Super Members, the company boosted revenue by $105,000. The Super Members that received vouchers reported feeling 'surprised' and 'delighted.'
Overall, this proved to be a good email marketing strategy that also helped to improve brand perception.
The Semi-dormant group were also sent vouchers as part of the email campaign.
Interestingly enough, this group had an average spend that was 16% more than the Super Members. This group also produced a revenue contribution of $108,000.
In this case, email marketing produced more revenue when old and somewhat inactive customers were enticed with a gift card.
Segmentation that's based on website behavior is also very powerful. This form of segmentation is similar to a cart abandonment email – but not entirely.
The idea here is that your email campaign is based on what people were doing on your site, even if they did not add anything to a basket.
If you've used Amazon recently, you'll know that they're huge fans of this kind of segmentation. And, you've probably bought something, as a result of opening an email of this kind.
Here's an example of how Amazon sent someone an email, based on their on-site behavior.
Can you guess what they were looking at?
Such segmentation is a superb marketing tool, because you're encouraging people to continue their shopping experience.
In some cases, you can also do some basic segmentation, by asking subscribers, ahead of time, what kind of emails they'd like to receive. Email campaigns that directly address your subscribers' desires further builds trust for your commerce business. 
Though a basic form of segmentation, this strategy can be helpful, if you're trying to get subscribers to directly show you what they expect from your email marketing efforts.
How you set up segmentation in your own email campaign is going to depend on what client you use.
It may be worth your time to define how you want to segment your customers. Then, approach your ecommerce marketing support team to see how you can achieve your desired outcome.
More often than not, after speaking to them, you'll discover that creating an effective email marketing plan isn't as difficult as it may seem.
Conclusion
If you're an online retailer, using email marketing should be a top-level priority.
If you don't take advantage of these marketing strategies, you're going to be leaving a lot of money on the table.
Once you have a list of subscribers, you can experiment with some of the email campaigns described above.
If you really want to kick things into overdrive, you'll want to give segmentation a go as well.
Start implementing now and you'll soon see what's possible when it comes to email marketing.
Do you have any tips you'd like to share, in relation to promoting an ecommerce business using email marketing? Please let me know in the comments below.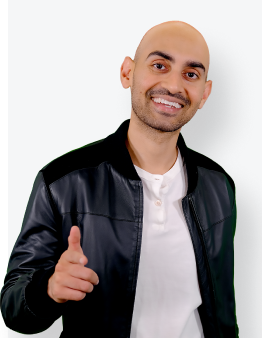 See How My Agency Can Drive Massive Amounts of Traffic to Your Website
SEO - unlock massive amounts of SEO traffic. See real results.
Content Marketing - our team creates epic content that will get shared, get links, and attract traffic.
Paid Media - effective paid strategies with clear ROI.