With all the hype surrounding social media in recent years, it's easy to forget that email remains the most potent channel for driving business today.
Why?
Because people prefer to receive emails from companies – more than any other form of communication. It sounds counter-intuitive, but it's true. A study last year from MarketingSherpa found that 72% of US adults prefer to communicate with companies via email – that's more than social media, text messages and phone calls combined.
More people are on email than social at any given moment, too. Radicati estimates the global email user base today to be 2.6 billion, while Facebook has about two-thirds of that. And Adobe recently found that we're spending 17% more time in our inboxes this year than we did last year.
Email remains a flexible and almost universal messaging medium. It transcends the walled digital gardens that are the social networks. It is direct and simple in its approach, and it continues to adapt amid an evolving marketplace.
Email marketing allows us to send longer, targeted messages to our leads and customers, no matter where they are situated in the buying lifecycle.
And, when marketers write about how much love they have for the new generation of marketing automation tools, we're almost always referring specifically to sophisticated functionality that allows us to send personalized, segmented and triggered emails.
When it comes to making sure that the right people see the right content at the right moment, email wins. Among companies that adopt email automation, conversions have a 77% chance of rising, according to Venture Beat.
Automated emails and email drip campaigns deserve a central spot in every marketing strategy. When your e-commerce business nurtures leads via triggered messaging, your average order value and conversion rates are likely to spike.
Let's take a look at seven automated email flows that every e-commerce store needs to set up and optimize, so as to keep audience members engaged and advancing along the sales funnel.
1. Welcome Series
Because it's become a nearly universal aspect of the e-commerce shopping experience, people have come to expect welcome emails in their inboxes as soon as they either subscribe to a new list or make a purchase from a given website for the first time. Your welcome email may be the very first point of contact between you and a new and/or potential customer, so the right messaging flow can make or break your relationship with this audience member.
More specifically, the welcome message can determine the likelihood or frequency that they'll open your subsequent emails, so it's important to get it right. Don't fall prey to the classic e-commerce trap of turning people off with hard sell messaging in the wrong context. Your welcome email is primarily transactional – it's meant to confirm that the audience member did indeed opt in and that you can indeed reach him or her via the inbox. Beyond that, it's an excellent opportunity to cultivate patterns of engagement.
This welcome email from NordicTrack strikes the right tone. It covers the basics without too much fuss – it confirms that the account has been successfully opened, provides some ways to get in touch and invites the recipient to engage with the brand on social media.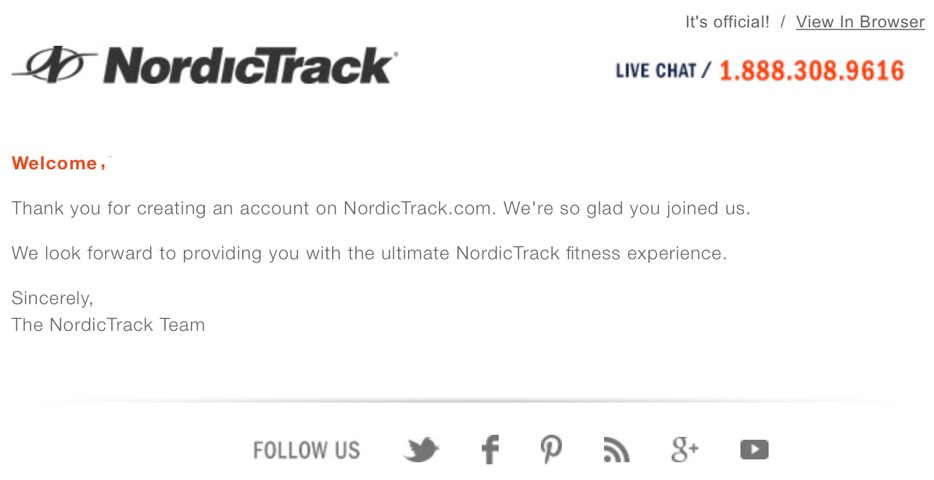 This one from Marcs Insight does a great job of encouraging the recipient to get started using the brand's rewards program. In essence, it's a sales pitch, but the message is positioned as the next steps in a transaction that's already underway.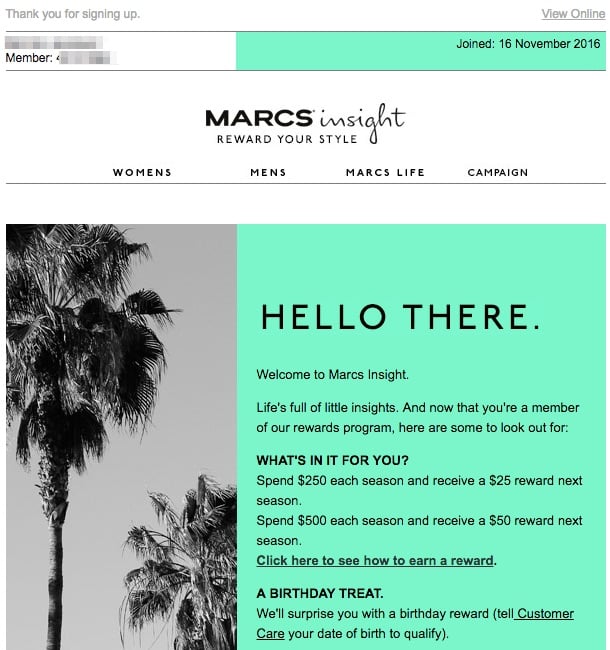 Here we see an example of an omnichannel e-commerce welcome email from Office Depot. The customer has made an in-store purchase, which the brand is using as a springboard for more types of transactions and engagement. The tone is simple and welcoming, even if the offers for discounts, free shipping and fast in-store pickup are a bit aggressive.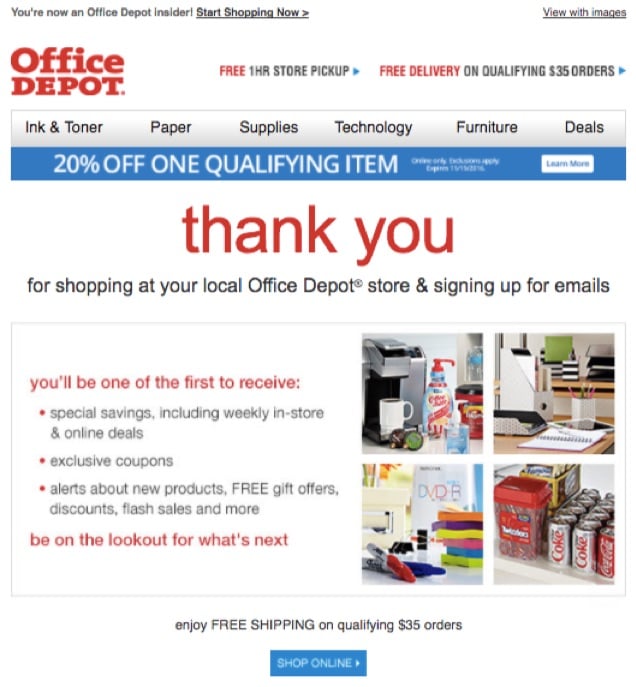 Many businesses will use a welcome email series, which sends multiple messages, instead of just a single email. The first email, for example, will thank audience members for subscribing, ask them to confirm having subscribed by clicking on a link (this is what makes an email list "double opt-in," the gold standard for lists), and set expectations for the rest of the emails headed their way in the series.
Once they confirm having subscribed, they'll get a second email thanking them again. This email may have an offer, a brief brand overview, links to especially spectacular evergreen content, or an invitation to contact the brand with questions. This builds familiarity early on, which increases the likelihood that they'll not only open your future emails, but also that they'll continue engaging.
Tips for crafting an especially strong welcome series campaign include:
Offer a discount or free trial as an incentive to subscribe, which can increase immediate conversions, also increasing the likelihood they'll open the rest of your emails.
Make sure your provider sends the autoresponder email immediately after a new user subscribes – while they're still interested and your brand is top-of-mind.
Include CTAs to follow you on social media or to check out your blog, so as to help build familiarity and cross-channel engagement.
Avoid spam trigger words, which can instantly get your message and domain flagged by leading email clients.
2. Abandoned Cart Reminders
Have you ever added products to your shopping cart and then clicked away from the site, either because you were unsure about converting or you got distracted? Most of us have, and an abandoned cart reminder keeps that almost-purchase fresh in our minds. Since adding something to our carts meant we were entertaining the idea of purchasing, that gentle nudge may be all that's needed to get someone to hit the checkout button.
Email automation software like GetResponse and MailChimp are ideal for ensuring that your autoresponders are sent out at optimized times. This high-value tool even has a built-in feature for the purpose of sending abandoned cart emails.
Here's a straightforward abandoned cart reminder prompt from Williams Sonoma. The layout is clean, the message is clear, and the call-to-action button is eye-catching. There's even a hint of urgency in the note that the recipient's cart will only be recoverable for the next month, a smart move on the brand's part, designed to trigger those fears of missing out.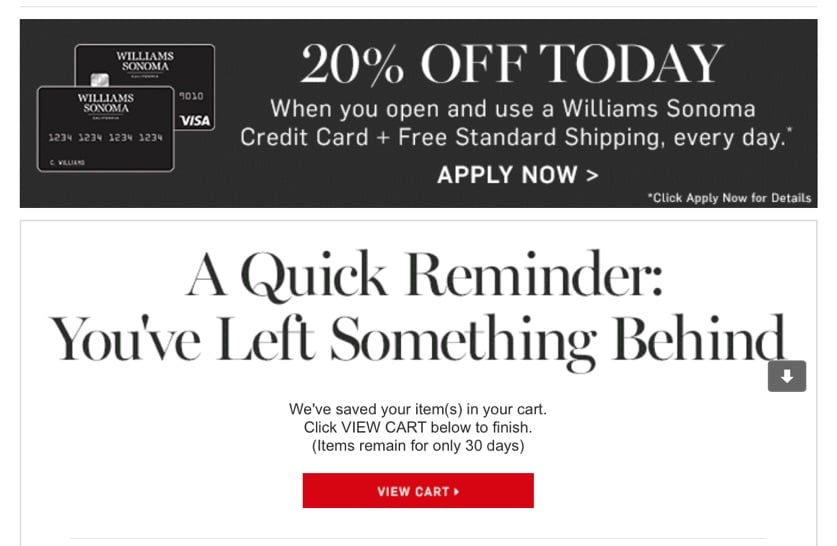 Below, we see TripAdvisor taking the abandonment concept to new levels, with a reminder to come back and book a hotel room for which the prospect never even demonstrated intent. Note that the email says the hotel is one that the recipient "originally looked at."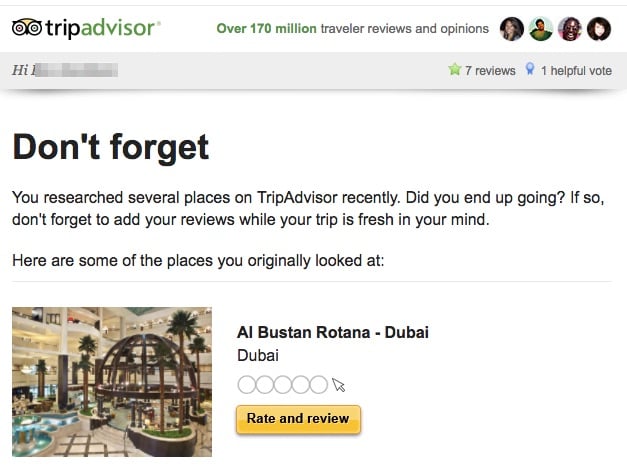 Finally, here's a classic abandoned cart email from Vistaprint. It tells the interested e-commerce shopper exactly what the details of the order are and sweetens the deal by offering a generous 25% discount.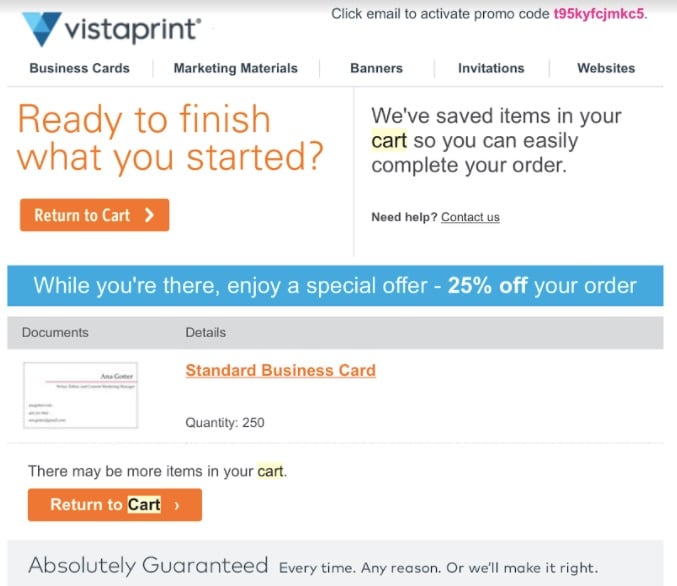 To maximize conversions with your abandoned cart reminders, you can:
Offer discounts for the product in the reminder message.
Use a curiosity-piquing subject line like "Did you forget something?"
Let users know that supply is low or that the amount of time they'll hold your item is running out
Add an authentic, positive user review
3. Post-Purchase Follow Up
Following up is a timeless sales technique, which lets the customer know that you appreciate their business and shows them that you still care about their satisfaction, even though you've already received their payment.
In today's digital world, it's a great way to both make sure you stay relevant and increase your client reviews, which are essential selling tools.
Here's a post-purchase email from upscale women's fashion brand White House Black Market that focuses on one thing: inspiring verified buyers to review the products they've recently received. The design has plenty of white space, and the headline is emotionally evocative.

Great post-purchase follow up emails may include these elements:
Ask for a review outright, and make it easy to leave one. A UGC marketing tool can be a major help with this.
At the bottom of the email, display a few products that are similar to the ones purchased, or products that go well with them.
Thank your customer once again for their purchase.
Include information like product care, product use cases, or a product FAQ.
4. Re-engagement Prompts
Most e-commerce businesses have large swaths of their email lists that have fallen into the "disengaged audience" category. These are audience members who haven't purchased from you, visited your site, or even opened your emails in several months.
All hope isn't lost, however – these are still people who are already familiar with your brand, so they're a "warmer" audience than strangers. You just have to use re-engagement prompts to get them back on your site and purchasing.
Automated re-engagement prompt messages often feature some sort of too-good-to-pass-up offer showcased in the subject or main title. Whether it's a free product, a discount, or a chance to win something, you want to feature the incentive prominently.
You can also go for a more relationship-focused approach, favoring phrases like "We Miss You!" to remind subscribers that they haven't engaged with you in a while.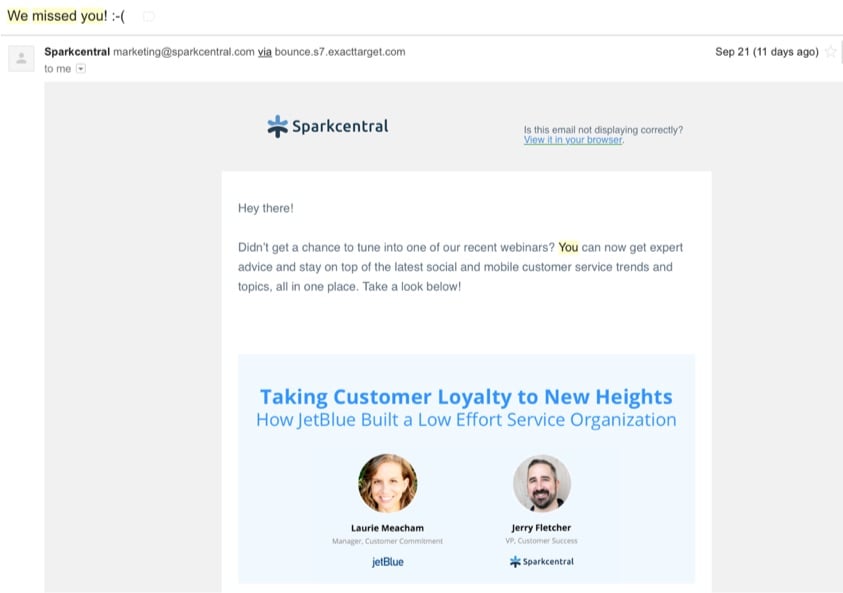 Some more tips to create effective re-engagement autoresponders:
Use easy-to-obtain incentives that even inactive users can redeem with minimal friction – offers like, "Come back, and we'll automatically give you a 10% discount off your next purchase!" can be major motivators.
Split test multiple re-engagement offers and tones to see what people respond to best.
Send re-engagement offers based on recipient's personal purchase history, which can improve results.
5. Upsell Offers
Getting customers to spend more by sending them upsell offers is a great way to increase revenue and establish powerful patterns of repeat purchases. Using automation and triggers to inform the content helps to maximize the relevance of your offer.
Penzeys Spices gets people to spend more by offering free products to customers whose transactions hit specified minimums. Here's an example where the qualifying shopping cart threshold is just $5, which can be a powerful offer for people already used to buying from this seller on a regular basis.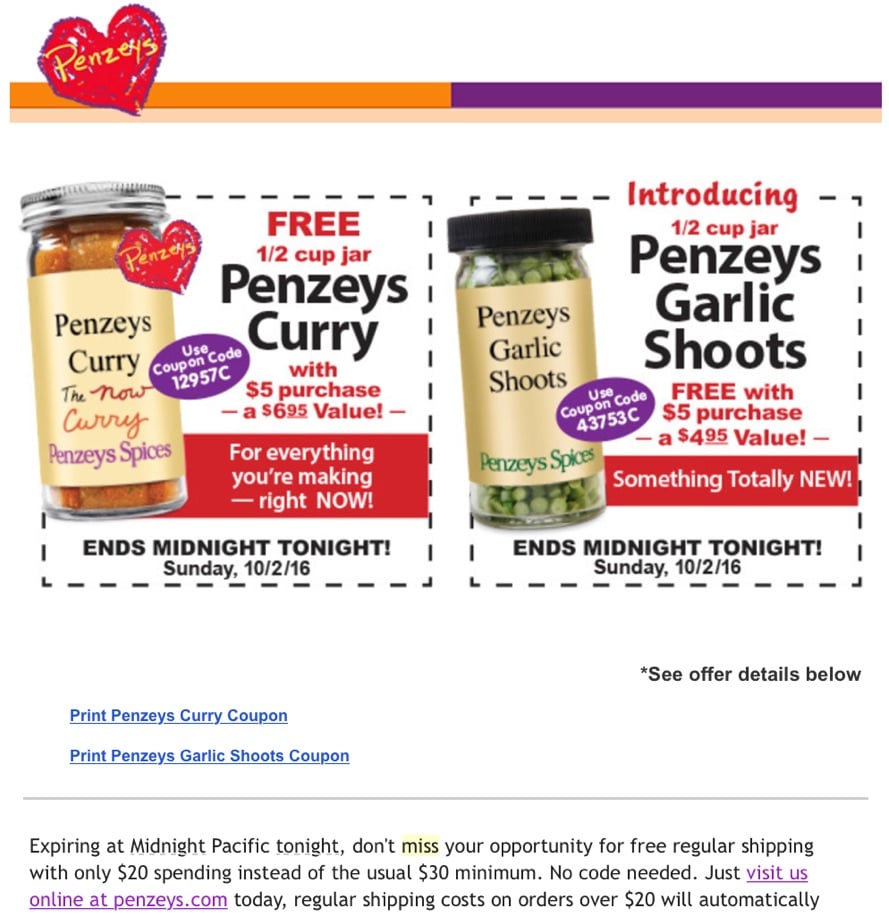 This next example, from a B2B company offering a cloud storage product, combines educational content (more on that in our next email type) with an upsell offer that promotes free premium support. Depending on your business model, offering temporarily free service upgrades may be an effective promotional strategy, because it reinforces the pattern of opt-in after opt-in, eventually getting people ready for the big ask.
Going back to Williams Sonoma, in this example, the personalization aspect of the message is what stands out most prominently. There's also a coupon code for free shipping, which can help tip the scales towards conversion.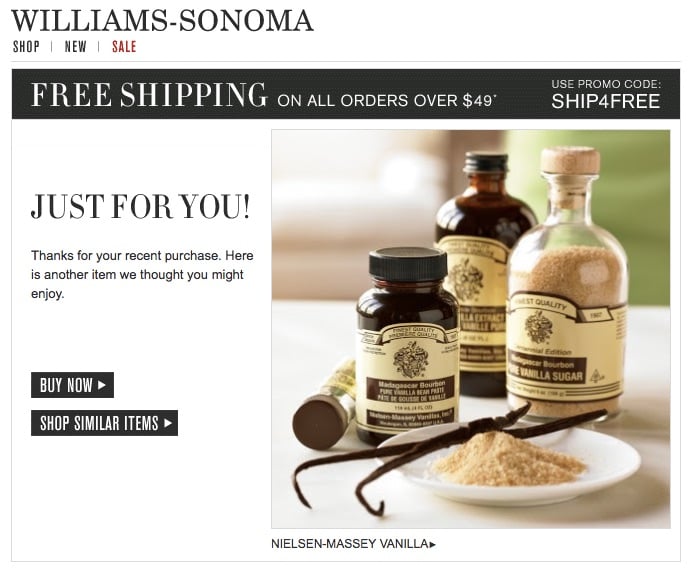 This type of personalized offer is easier to implement than you might think. The best email automation apps allow you to easily segment your audience into different sub-lists. You can use segmented lists of past purchase history or webpages viewed to send targeted messages to different groups of audience members. The more personalized, the better.
If you want to upsell via autoresponders, you can:
Feature several products that complement customers' past purchases, and advertise the product bundle as a "set."
Showcase only a handful of products. Don't offer so many that it becomes overwhelming.
Show products in an appropriate price range. If a customer has only purchased $25 products from you, you're probably best off skipping that offer for a $300 product.
6. Educational Content
Educational content offers value to your customers while building rapport – it helps cultivate the feeling that you're invested in their success and enjoyment, as opposed to just trying to make a quick buck.
This type of content, when centered around your brand, can help empower your customers to get the most out of their purchases. Product use ideas, maintenance best practices, or even less actionable information like the back-stories that went into their invention or production can all make a positive impression.
This type of email can be distributed based on customer interest and purchase history, which can give them more relevant messages that apply directly to them. In some situations, sending these emails as a series can be a highly effective lead nurturing and customer retention tool.
Here's an email that moon-inspired lamp company Luna sends to its Amazon customers, with basic FAQ support content to help people get started with enjoying their new lamps.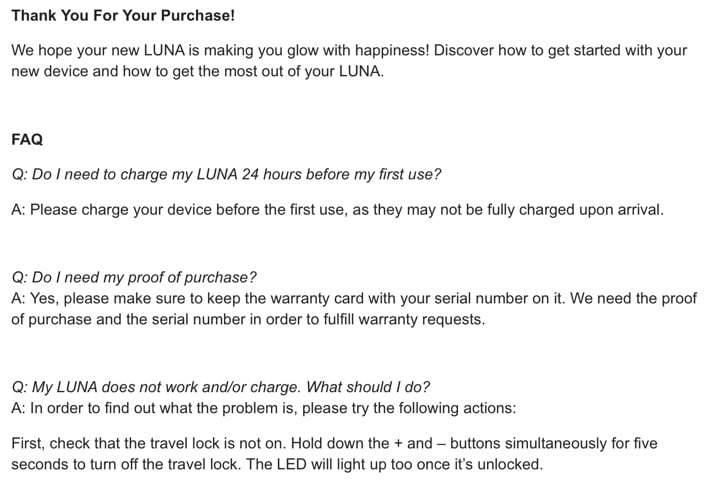 Below is a webinar invitation email from royalty-free image provider, iStock. Knowing that the lion's share of its audience members need help picking out the best photos to use with their own branded content, iStock empowers people with a free presentation on the importance of branding with color.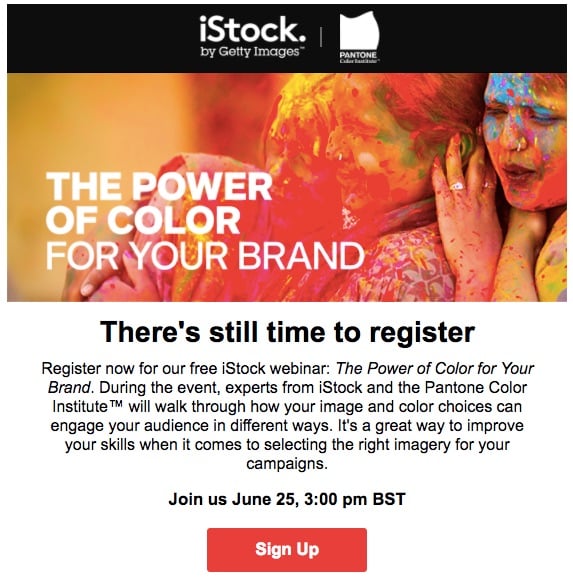 One of the most powerful entertainment brands in the world, Marvel is known for its rabid fan community. When Marvel unveiled plans for a new line of comic books this past fall, they released a print magazine full of preview content, explaining to fans what to expect in the following months. This is educational marketing at its best, because it builds anticipation for future product rollouts using a free product in a similar format.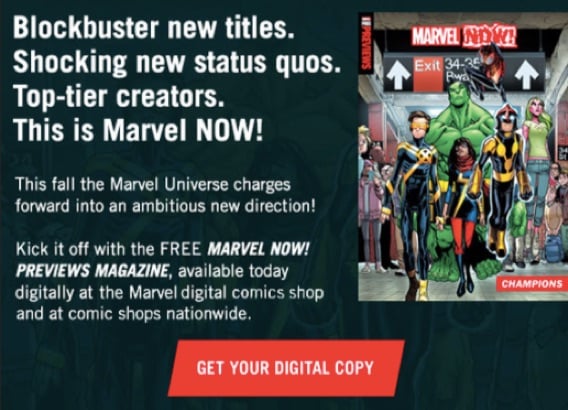 Some great ways to maximize results of educational content series include:
Send emails that provide customers with product information that they might not have thought of already on their own.
Offer value instead of trying to just sell, although you can also feature relevant complementary products sparingly.
Use different triggered educational messages to connect with users at all stages of the buying cycle.
7. Relevant Updates and Information
The most common reasons people subscribe to your e-commerce store's email list are to stay informed about promotions or sales and new product updates.
That being said, people only want information that's relevant to them. If they get too many messages that they aren't interested in, they may stop opening your emails or unsubscribe. Therefore, using your segmented lists to only send announcements to relevant audience subsets is key.
In the below example from ECCO shoes, which announces the rollout of their fall line, several opportunities for segmented targeting pop out. By syncing their list with purchase history data, it should be simple enough to send this message out to people who have purchased leather products in the past year, or people who bought boots two years ago and are therefore maybe ready for a new pair.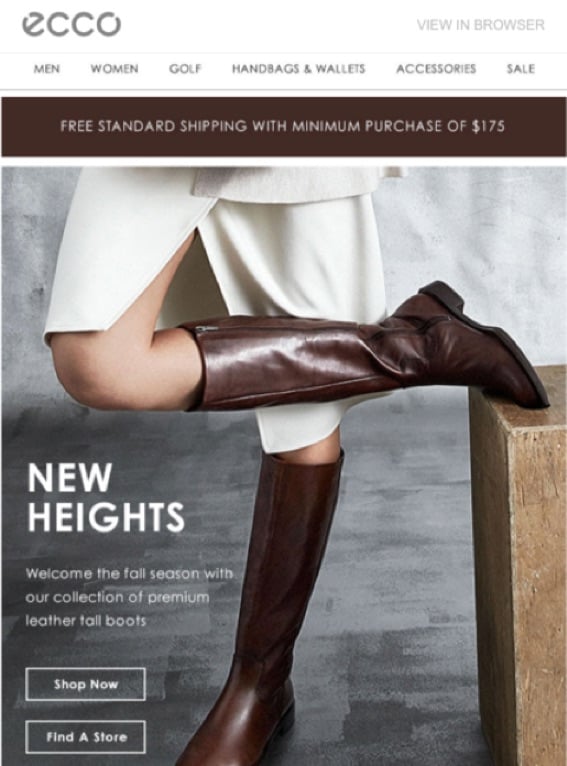 Aside from careful targeting, the best ways to send relevant updates and announcements to your customers include:
Use phrases like "New Line!" and "Flash Sale" in the subject to grab people's attention.
Let subscribers know why they'll want to read the email as soon as they see it.
Include a clearly placed CTA like "Learn More" or "Shop Now" in a prominent location to increase clickthrough rates.
Final Thoughts
Automated emails can take an enormous burden off of you. When combined with segmented email lists, triggered emails can ensure that highly targeted messages are being delivered to your leads and customers at the best possible moment to get results.
Whether you're welcoming them to your email list or sending them offers to increase their purchase value, automated email series can drive major conversions that would otherwise have been left behind.
About the Author: Nadav is a veteran online marketer and the Founder & CEO of InboundJunction, an Israel-based content marketing company. Nadav helps well-known brands in boosting their online visibility through PR, SEO and Social Media.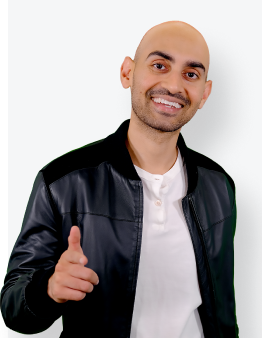 See How My Agency Can Drive More Traffic to Your Website
SEO - unlock more SEO traffic. See real results.
Content Marketing - our team creates epic content that will get shared, get links, and attract traffic.
Paid Media - effective paid strategies with clear ROI.
Are You Using Google Ads? Try Our FREE Ads Grader!
Stop wasting money and unlock the hidden potential of your advertising.
Discover the power of intentional advertising.
Reach your ideal target audience.
Maximize ad spend efficiency.