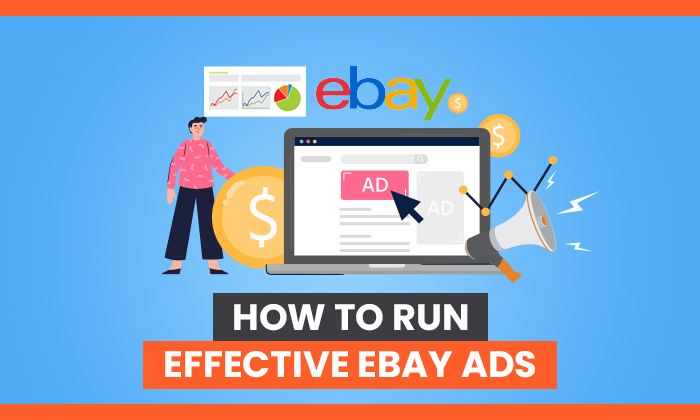 You want to get your products in front of the people who are going to buy them. When you get your products on eBay, you're putting them in front of an audience of 185 million people, but with competition from over 1.7 billion listings, how can you make sure you stand out from the crowd?
One way to ensure you're getting your products in front of the right audience is to make use of eBay ads. These are extremely easy to set up and can help propel you to the top of the search results, even in the most competitive categories.
How Do eBay Ads Work?
eBay ads can boost the visibility of your products by allowing them to feature at the top of the listings. With millions of products on the platform, eBay is a competitive place, and if you're competing against hundreds of sellers all selling the same product, it can be difficult to stand out.
This is where eBay ads come in, allowing you to pay for your listing to feature at the top of the search results.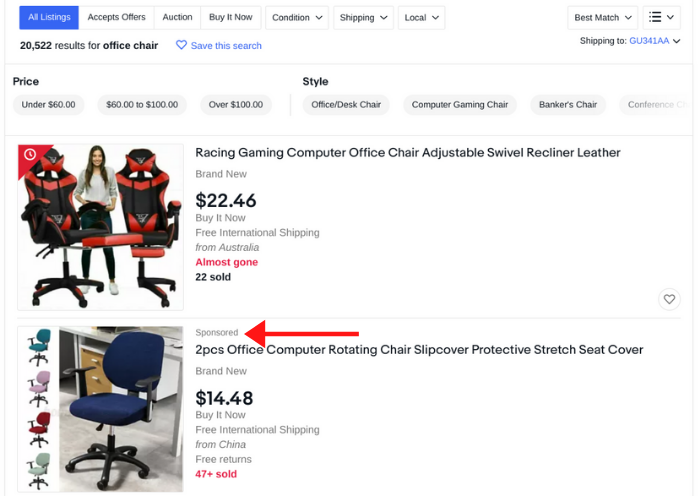 In this sense, it's a lot like advertising on Google. You set up your ads, and your product can be featured higher in the search results, based on the quality and relevance of your listing and how much you bid.
One interesting difference with eBay's main ad option, promoted listings, is you only pay if your ad is successful. Unlike many platforms where you pay every time your ad is clicked, with eBay, you only pay for your promoted listing if it results in a sale within 30 days of someone clicking the listing.
This allows sellers to get a clear picture of their return on investment (ROI) and is a big benefit of selling on eBay.
3 Types of eBay Ads
eBay offers a few different types of ads to suit your business needs.
Promoted Listings
Promoted listings are used by over 940,000 sellers and are the most common way of advertising on eBay. They're an excellent way to get your product listing to the top of the search results.
To be eligible for promoted listings, you must:
be in good standing (meeting eBay's terms and conditions)
have "above standard" or "top-rated" seller rating
have recent sales activity
One of the most important aspects of selling products online is getting people to view your listings, and this ad type is a great way to gain access to eBay's 185 million active users. By featuring at the top of the search results, you will bring more people to your product page, and then it's up to you to optimize your product page to make the sale.
eBay offers great analytics to help you get the most out of your advertising, and the nice part is you only pay for your promoted listings once you've sold an item.
Display Ads
eBay now runs display ads across its network, giving you another way to reach your target audience. Similar to the display ads you can run on Google Ads, eBay's display ads allow you to target users with interests in certain categories to drive more traffic to your listing:
business, office, and industrial
cars, motorcycles, and vehicles
clothes, shoes, and accessories
computers, tablets, and networking
garden and patio
health and beauty
home furniture and DIY
This expands your advertising options, meaning you're not just limited to reaching people through the search function.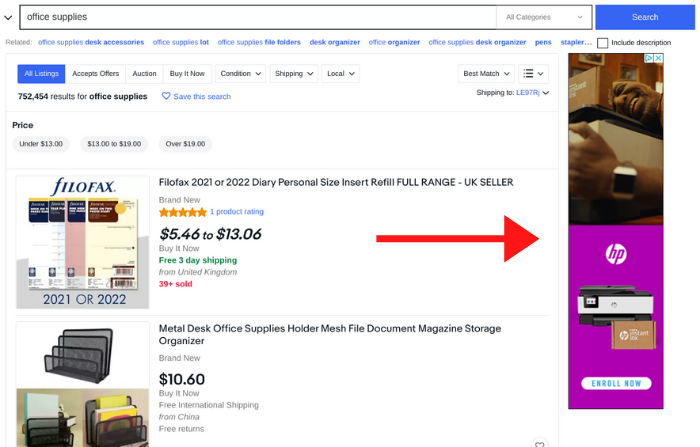 Display ads aren't available through the seller hub; instead, you can speak directly to eBay about this option.
Classified Ads
Classified ads are a good option for people who want to take advantage of eBay's reach but sell a product that isn't necessarily suited to selling on the platform.
These ads are available in several categories:
business, office, and industrial: $9.95 for a 30-day listing
specialty services: $9.95 for a 30-day listing
travel: $9.95 for a 30-day listing
real estate: $150 for a 30-day listing
Your ad is shown, the user clicks on it, and then eBay puts you in contact with the buyer to negotiate the sale outside of the platform. This means you're paying only for the ad, not the fees for selling on eBay, but it also means you don't get any of the protections you get as an eBay seller.
eBay Advertising for Large Brands
eBay also offers a more bespoke advertising service for large brands.
This option offers big advertisers branding solutions to help optimize their product pages and acquire in-depth insights into customer motivations to help brands get the most out of the platform.
This option might offer great benefits, but it requires a big commitment to advertising spend to be accepted. If you're a large brand looking to make eBay advertising an essential part of your marketing, then it's worth reaching out to the eBay team and exploring the option further.
How to Set Up Your eBay Ad Campaign
Setting up eBay ads is quick and simple. In just five steps, you can create promoted listings and boost your product's visibility at the top of the search results.
1. Log in to Your Seller Hub
Your seller hub is where all your product listings live, and this is where you can create your eBay ad campaigns. Go to https://www.ebay.com/sh/, select "Marketing," then "Promoted Listings" from the sidebar.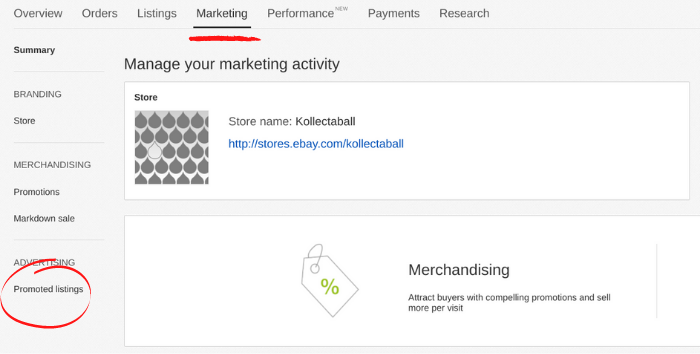 2. Click "Create Your First Campaign"
If you're new to promoted listings, you'll be brought to a landing page that explains what they are and how they work. Click "Create Your First Campaign" to get started.
3. Choose How to List Your Promotions
You have three different ways to list your promotions:
Simple listing selection: This allows you to promote your products individually, making good use of eBay's smart recommendations.
Bulk listing selection: This option is for people who want to promote lots of products with consistent stock and low turnover rates.
Creating rules: Rules allow you to automatically promote current and future products. This option works well for sellers with dynamic inventory and high turnover rates.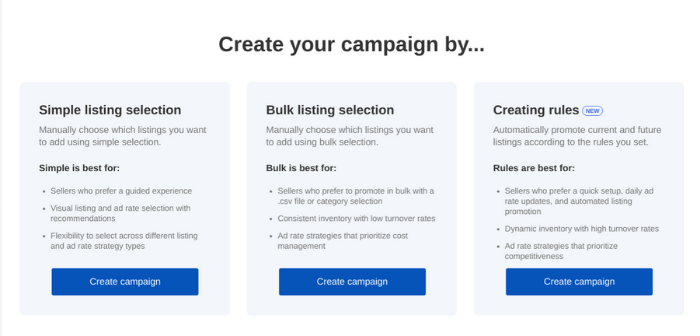 4. Apply Your Ad Rate
This is where you choose how much you wish to pay for your eBay ads. Represented as a percentage of the total sale value, you'll notice that eBay gives you a recommended ad rate for your product.
These are normally a good place to start, but if you want to change it, you can use the slider to set it to anywhere between 1-100 percent of your sale's value.
5. Review and Launch
Lastly, you need to name your campaign and review the details. You can also set a date for the campaign to begin and end. Once you're happy with everything, click "Launch."
Tips for Creating Effective eBay Ads
As with any form of advertising, it's important to have a good return on ad spend (ROAS), and the way to achieve this is through optimization. It doesn't matter how many people your ad reaches if you're not using the right keywords or your listing is of poor quality. There are several elements you need to get right.
Use Relevant Keywords
Choosing the right keywords to reach your target audience is extremely important. People don't always search in the ways you expect they might, so you need to understand your audience and do your keyword research.
As with Google Ads, it's important to match user intent with your ads, which means getting the right keywords in your titles, descriptions, and throughout your product listings. Slight differences in your keywords can make a big difference in the success of your ads, so make sure you're optimizing to meet the demands of your target audience.
While it's important to make sure you're using the right keywords, it's also important to remember not to keyword stuff. eBay's algorithms are smart, and they understand when you're using language naturally and when you're stuffing keywords solely for SEO purposes.
Include High-quality Images
It's proven that high-quality images lead to more sales than average images.
When someone walks into a shop and buys a product, they get to see it with their own eyes and feel it in their hands. When they buy online, they don't get this benefit. Instead, they're reliant on your images and words to give them a good feel for your products. This is why your images are so important and can make a significant difference in the success of your ads.
High-quality images are likely to get more clicks and help boost your conversion rate.
Promote the Items That eBay Recommends
eBay faces huge competition for your advertising money. If it doesn't deliver results, it knows you can easily go to Google, Amazon, Walmart, or any other number of advertising platforms to boost your sales.
To ensure this doesn't happen, eBay uses its vast amount of data to recommend which items you should think about advertising. These "handpicked" recommendations are the products eBay believes are most likely to benefit from a promoted listing and have a "Recommended" tag next to them in your campaign manager.
Perfect Your Listing Title
When someone sees your ad in the search results, they don't have a lot to go on. All they see is your title, a thumbnail image, pricing, and some details about shipping.
There aren't many opportunities to earn someone's click.
This means small details can make all the difference, and your title is a huge part of this. If you can create concise titles that match user intent, you can give yourself a much better chance of getting the right people to click your ad.
Sometimes people create product listings or blog content, and the title is an afterthought, but this is the first thing everyone looks at. They might just be a few words, but titles play a massive role in whether someone clicks your link and reads through your product listing.
Review Your Performance
One of the great things about advertising online is you have access to so much data. Information is power, and when you make the most of your analytics, you'll find ways to optimize your eBay ads.
Head to the "Performance" tab in your promoted listings dashboard and make use of metrics such as impressions, clicks, and sales to evaluate how your eBay ads are performing. If you're not getting the results you want, consider making changes to your titles, product page, bid price, and images. Make sure you keep checking the performance until you find the formula that works.
Conclusion
eBay ads give you an excellent opportunity to reach a targeted, engaged audience of buyers.
However, as with any e-commerce platform, there's a ton of competition, and you need to be able to find ways to stand out from the crowd. eBay ads give you this opportunity, but you've still got to be creative with your titles and make sure your product listings are perfectly optimized to create sales.
For most sellers, promoted listings are going to be the best option to allow them to reach more customers, and they're easy to set up and very effective. One of the nice things about this ad format is that you don't pay until you see results, so you've got plenty of opportunities to optimize your process and make sure your eBay ads are working for you.
If creating your own ad strategy and optimizing your product descriptions or website isn't up your alley, reach out to our agency. We can help!
Have you had success with eBay ads?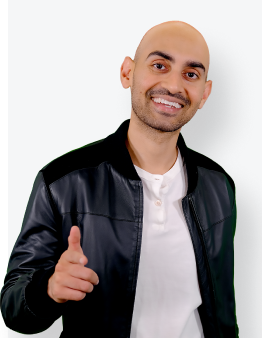 See How My Agency Can Drive More Traffic to Your Website
SEO - unlock more SEO traffic. See real results.
Content Marketing - our team creates epic content that will get shared, get links, and attract traffic.
Paid Media - effective paid strategies with clear ROI.
Are You Using Google Ads? Try Our FREE Ads Grader!
Stop wasting money and unlock the hidden potential of your advertising.
Discover the power of intentional advertising.
Reach your ideal target audience.
Maximize ad spend efficiency.