If you're building a marketing campaign and decide to advertise using Google AdWords, you might have noticed that there are a number of advertising options that you can choose from.
One such option is a Google Display Campaign. 
Display advertising on Google's display network can be a cornerstone of a strong marketing campaign.
Its display network has the power to reach over 90% of internet users from around the world, connecting you to potential customers through websites, apps, videos–essentially, wherever your AdWords ads can appear.
Despite its reach, some marketers are reluctant to put time and money into a display network campaign.
Why?
First, let's get some things out of the way.
AdWords has two platforms to connect you to internet users.
The first is Google's Search Network. The most common for PPC, a search campaign targets active searchers – that is, users who are looking for something, whether that's a service or a product.
A paid search ad campaign can be mighty effective in attracting leads because those leads are searching for something specific.
Running a marketing campaign on Google's display network, on the other hand, allows for more expansive reach because it extends beyond the user's search terms.
In other words, a display ad – usually an image ad – appears on sites you would regularly visit, thereby increasing your visibility.
As WordStream writes, "think of the display network as a more passive form of advertising. You're likely to see many display ads today, for example while perusing the Huffington Post or skimming your favorite blog. You may or may not have noticed banners or small boxes promoting a product or service, above and to the side of the articles you were reading – those are display ads."
Naysayers of display network campaigns argue that the people who encounter a display ad aren't in buyer's mode.
They're reading the news, checking out blog posts – basically, doing their daily internet activities.
But good marketing strategists understand the power to be had in display network advertising: impression and brand awareness.
If you're considering adding display advertising as part of your marketing campaign, you're in luck. Setting up a display network campaign is relatively simple.
To guide you through the process, in this post we're going to take a look at how you can go about setting up a display network campaign of your own – and use Google's huge display network to your advantage. 
We'll take a look at what you need to pay attention to in order to make your marketing campaign succeed. We'll also review what you can do to optimize your display network campaign in the long term.
By the end of this post, you should have the knowledge you need to go out and create a positive R.O.I-producing display advertising campaign. 
Ready?
Let's begin.
So…what is a Google Display Ad?
If you're new to AdWords, you might not be familiar with Google Display Ads.
An ad featured on Google's display network is, essentially, an image ad.
Below is an image ad, found on Forbes.com.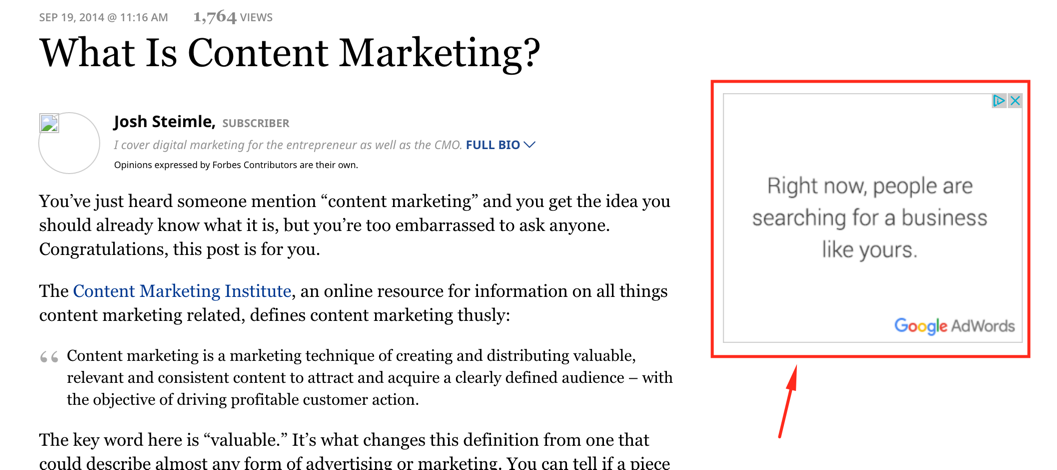 A display ad on Google's display network is often shown on sites that do not belong to Google – with the exception of YouTube.
Though you can have Google Display Ads that look like 'Search Ads' – most of the people running a display advertising campaign are doing so precisely because they want to run an image ad.
Google allows for you to run ads of various image sizes.
Defining your campaign
As with all other forms of paid traffic, you can't just rush into a Google display network marketing campaign. Doing so will most likely result in you losing a lot of money.
You'll want to do some groundwork ahead of time so that you can increase the odds of your display advertising plan succeeding. 
The first thing you'll want to focus on is your target audience. 
If you don't know who your target audience is, you won't be able to get your ads in front of the right people.
And, if you can't do that, your chances of making money from your ads is going to be very low.
So, what needs to be done?
Creating a buyer persona can be great place to start.
A buyer persona will essentially list the traits and characteristics of your ideal customer.
Having this information is important, because you can use it when you're targeting your ads.
For a display advertising campaign, you need to make sure that you have the following information – 
The websites your ideal customers visit – in other words, where does your ideal customer hang out?

Keywords typed into Google, in order to find a business like yours.

Keywords that are related to your product or offering

Location
You might also want to note some demographic information, too, in terms of the age and gender of your customers, though this tends to matter less for some businesses.
You can find keywords by using the Google Keyword tool.
The second thing that you'll want to focus on is where you're sending this traffic to.
You can and should absolutely send traffic to a landing page when using Google AdWords.
However, it's worth noting that the landing pages that get approved for Facebook ad campaigns often won't be approved for AdWords campaigns.
For AdWords, you'll need to make sure that you're using landing pages that are more 'long form.'
Rarely, if ever, can you just display a headline, some bullet points and an opt-in form.
Landing pages used for display advertisting campaigns need to provide more information.
It's also mandatory that you supply a link to your terms and conditions and privacy policy pages.
Leadpages provides a great template that you can use for AdWords landing pages.
If you want to increase the chances of your AdWords landing page succeeding, make sure that you provide as much contact information as possible, including a phone number and a physical address.
Also, consider providing a little bit of a backstory, in terms of what you have on offer and an explanation as to why you're providing it.
The goal is to improve user experience and Google, rightfully so, doesn't believe you can do that with a 'thin' landing page.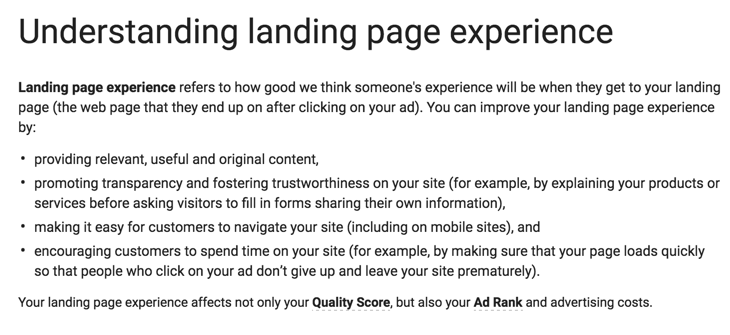 Now, let's go through how you can actually set up a marketing campaign using the Google display network.
Setting up your Ads
After you sign up for AdWords, you should see the page below.

Click on '+ Campaign,' and then select, 'Display Network Only.'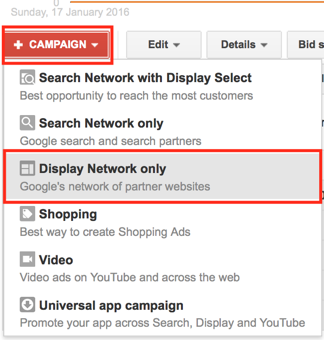 You then need to give your campaign a name.
You'll notice that there is also the option of choosing a 'Marketing Objective.'
Selecting a Marketing Objective can be helpful, if you're new to AdWords and you do not know your way around.
However, for the sake of this post, we're going to select the option of 'No marketing objective.' Once you select that option, however, make sure that you have enabled the, 'All features,' option, too.

After you've selected 'No marketing objective,' you're then given the ability to decide the settings for your campaign.
The first thing you need to decide on is the location targeting of your campaign. What you type in here is, of course, going to depend on what you came up with when creating your buyer persona earlier.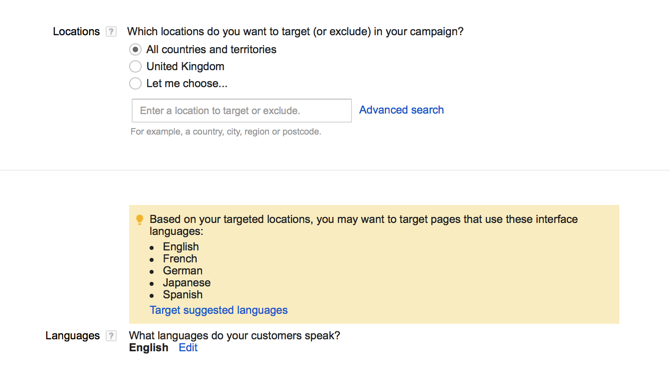 Note: If you decide to run a display network campaign in a foreign country that you suspect has potential, make sure that you set the language to English, to ensure ad relevancy.
Once you've set the location targeting of your ad, you then need to set a budget for your campaign.
The budget of your campaign typically dictates how much you are willing to spend per day, on your ads.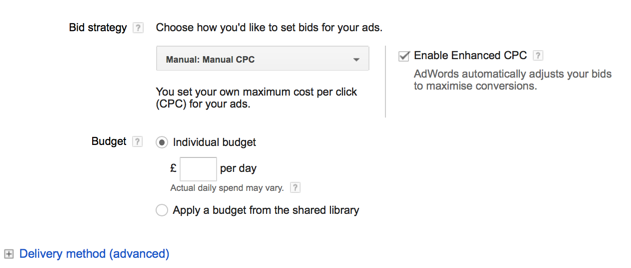 There's also the option of picking a 'Bid strategy.'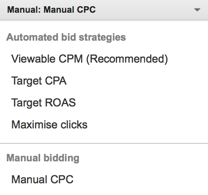 For now, it's worth picking the 'Manual CPC.'  You can then experiment with the others, after you have more experience.
This will give you a little bit of control to begin with.
Following on from the section above, there is the option to pick some 'Ad extensions,' and to also adjust some of the more 'Advanced settings.'
Again, this sort of stuff is worth experimenting with, once you have a little bit more experience with the Google display network.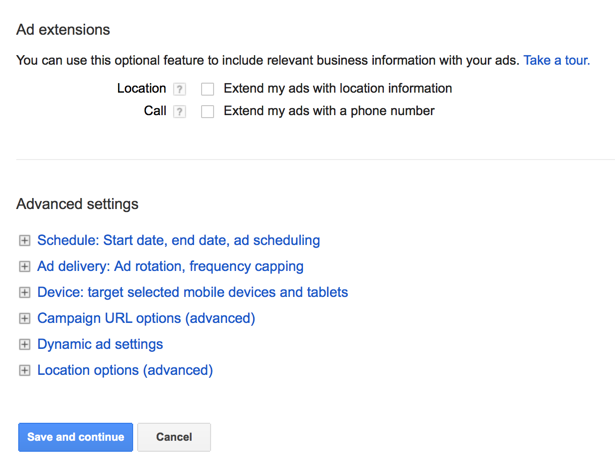 Once you click on, 'Save and continue,' you're then taken to the page below.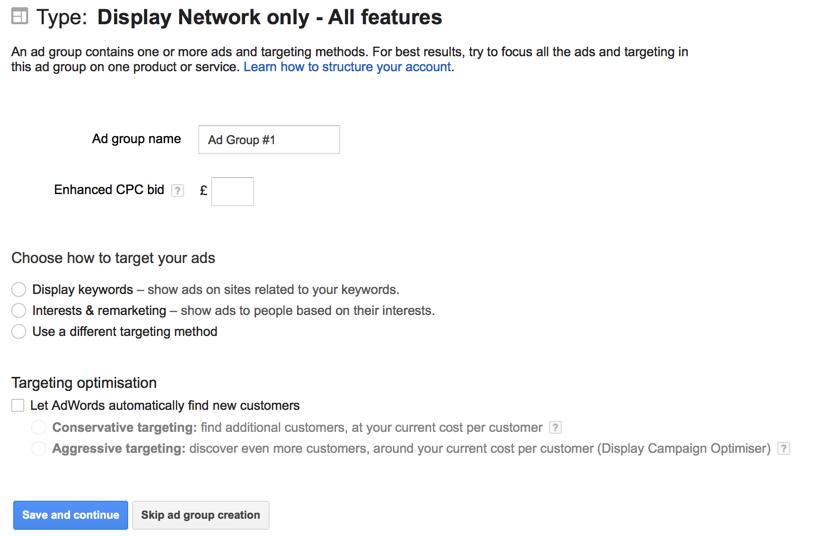 This is the exciting part, as it is where you can set up the targeting for your ad.
First, you need to give your ad group a name and you need to select a CPC bid.
(For more on what I mean by 'ad group,' go here.)
A CPC bid defines how much you're willing to pay per click for your display ad.
Because you have manual bidding enabled, it is up to you to decide the price here. To start with, you can bid low – around 10-20 cents per click.
You can always adjust later, as AdWords will tell you what you should be bidding, per your targeting options.
You then need to 'Choose how to target your ads.'
If you're new to setting up a display advertising campaign, you'll want to choose the 'Keywords' option. This option gives you a bit more control of how you're going to be targeting your ads.
In this section, you need to input the keywords that you came up with earlier while creating your buyer persona.
Note: You can not choose Match Types for Display Keywords. On the display network, keywords are treated as Broad Match.
You can also 'Find related keywords,' if you feel that you need to bulk up your keyword list.
Keep in mind, though, that the more keywords you choose, the lower your odds will be of targeting your ads to a high degree.
Aside from Keywords, it can also be a good idea to target your ads by Placements.
You can find the Placements targeting option by scrolling down and clicking on, 'Narrow your targeting further.'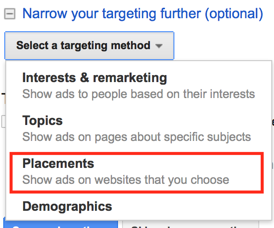 Here, you can set it so that your ads are shown on specific websites that relate to your offer.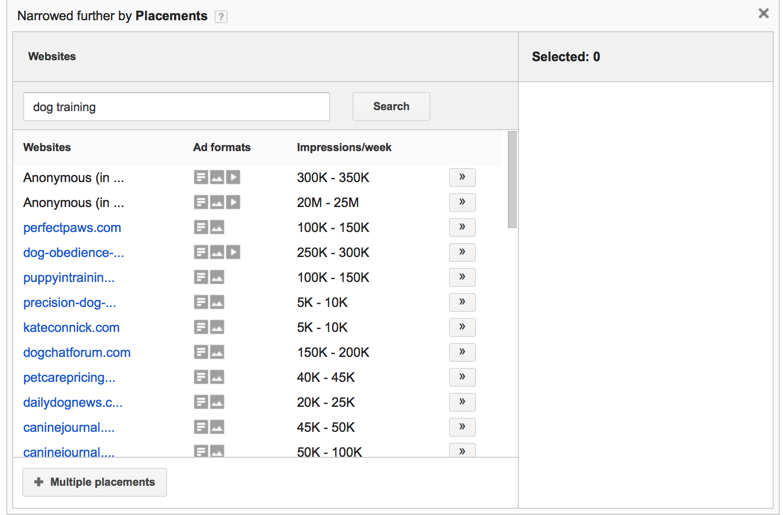 You can even make it so that your ads are shown on specific webpages.  You do this by clicking on the, '+Multiple placements,' option.
As you set up the targeting for your ads, you'll also be shown the available impressions.
This essentially lets you know how much inventory is available. Inventory is the total amount of advertising spaces that Google has available.  
A large number lets you know that if you create a successful display network campaign, you can easily increase your budget and not 'top out.'
Of course, the more precisely you target your ads, the less there is going to be, in terms of available impressions.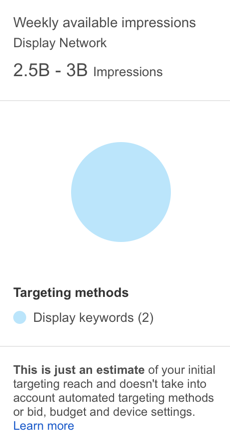 Note: In some cases, you might want to create separate campaigns for each targeting option. This will help reduce any overlap that could limit the potential of one targeting option.
You then need to develop the 'Creatives' for your ad.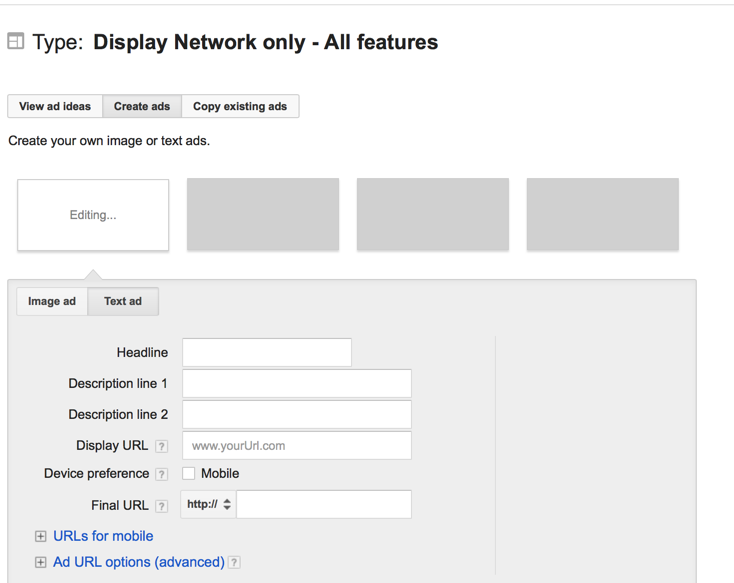 As I mentioned before, you can create a text ad for your display network campaign. However, in this post, we're going to concentrate on image ads.
If you have your own ad creatives, you can upload them by clicking on 'Image ad' in the 'Create Ads' section.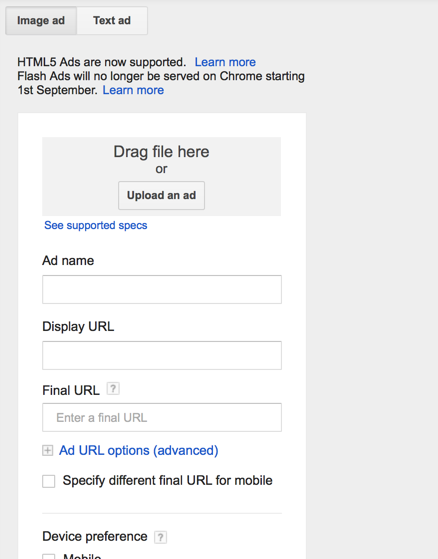 There's also the option of providing Google with your website URL, so that it can come up with some ad designs for you.
When you do that, you'll then be provided with some ideas that can be used for a display network campaign.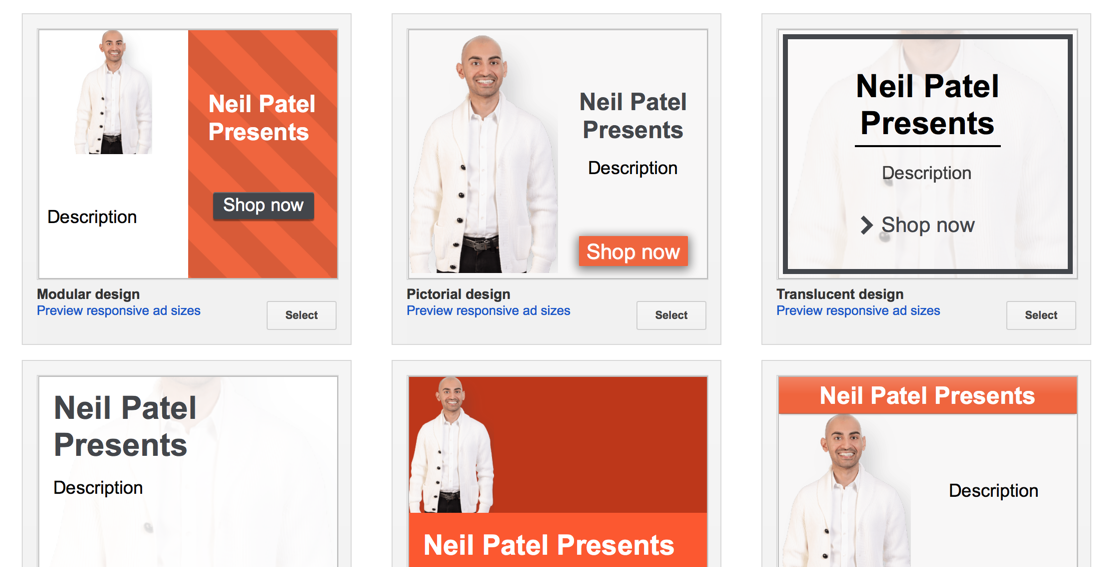 If you see an option that you like, but would like to customize it, simply hover your cursor over it and then click on 'Edit.'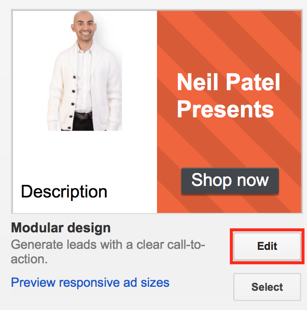 You can then adjust a lot of the elements of the ad, so much so that you can essentially create an entirely new ad.
The image ad example below shows how an existing ad can be customized.
You can view the ad in various size formats. To do that, click on one of the different shapes that can be found right above the ad preview image.
A few troubleshooting suggestions
In some cases, a display advertising campaign might not work as well as you'd like it to.
If you find that your ads are experiencing a low CTR, then it's possible that your ads are not appealing enough.
Note: You can use the display benchmarking tool to see if your ad stacks up to industry standards.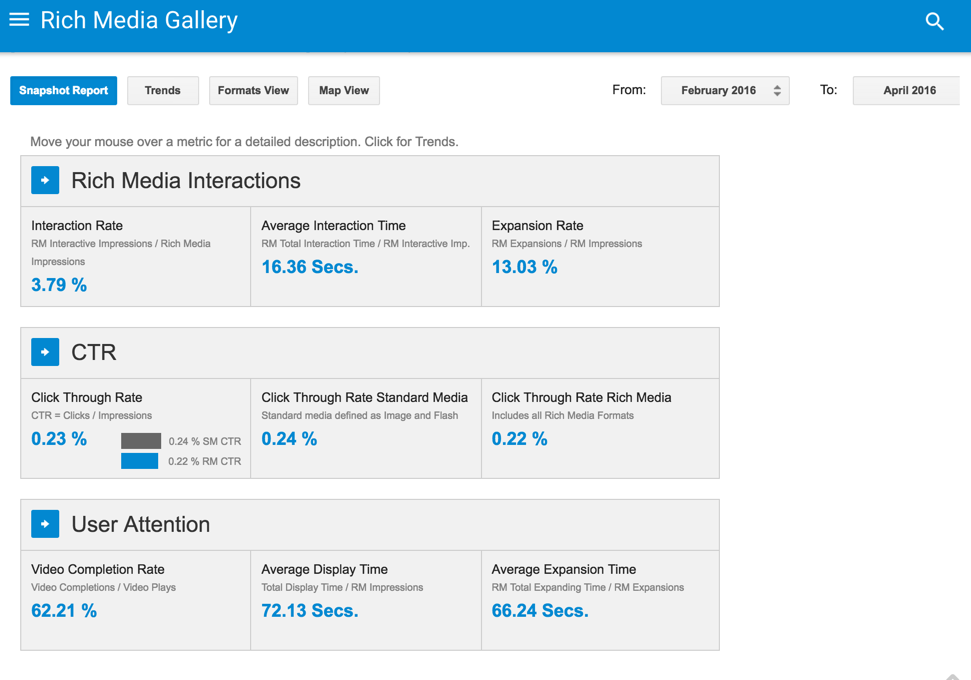 It's worth mentioning that, in most cases, Display ads will tend to have the lowest CTRs. This is generally because Display ads tend to have more impressions than other types of ads.
Display ads are also more susceptible to 'Banner Blindness.'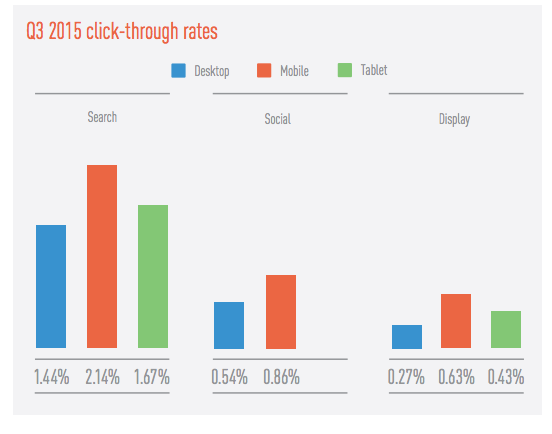 If you notice a difference between CTRs, when advertising in different countries, it may be the case that you aren't actually doing anything wrong.
That's because data has shown that CTRs can vary between countries.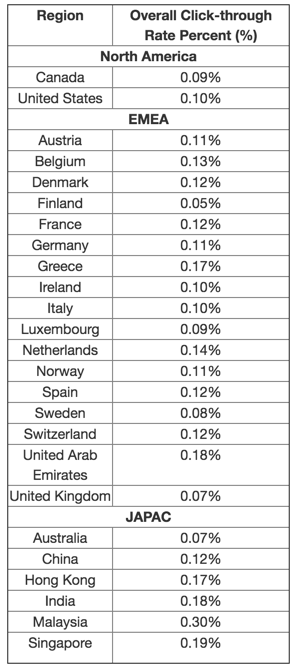 Consider taking a look at ads that you have clicked on recently, if you want some inspiration as to what makes an ad 'click worthy.'
Study what makes them successful and note if there is anything that that you can implement in your own display ad.
You may even want to keep a 'swipe file,' of any eye catching ads that you have seen recently.
You'll also want to split test your ads, so that you increase the odds of creating an ad that is going to generate you a positive return on investment.
If ads produce a low CTR, you might've also made a mistake when it comes to the targeting. Your placements might not be ideal or it may be that your keywords are not specific enough.
You might also want to take a look at the ad formats you are using. If you are relying on just one kind of ad format, there's a good chance that you might also experience a low CTR.
That's because different ad formats produce different CTRs.
The chart below shows how CTRs can vary, depending on ad format.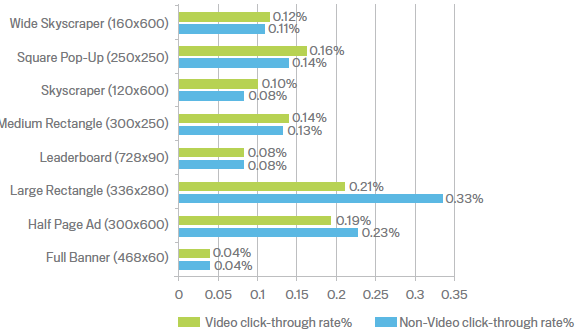 If you're generating a lot of clicks, but you're not seeing a great ROI, take a look at the page that you're sending your traffic to.
It may be that your offer is not appealing enough or that your copy doesn't encourage people to take the action you want them to.
If your ads are not generating enough clicks/impressions, it also may be that you're not bidding high enough.
This is something that can be easily fixed by raising your bids, incrementally by 10c. Keep doing that until you begin to see an upturn in results.
Conclusion  
A Google display network advertising campaign that has been properly set up has the power to take your business to the next level.
In this post, we've explored how you can set up a profitable display advertising campaign of your own.
We touched on how you need to prepare your landing page, but also how you need to base your campaign on your ad group. 
There was also a brief look at what can be done to optimize your ads over the long term.
In summary, a powerful image ad has the potential to make an impression that will ultimately lead to a boost in your revenue.
With this info in hand, why not launch a Google display advertising campaign of your own and see what kind of results you can generate? It can serve as a boon for your marketing campaign and bring you closer to the success you desire.
What have you experienced when it comes to generating a profit from a Google display campaign?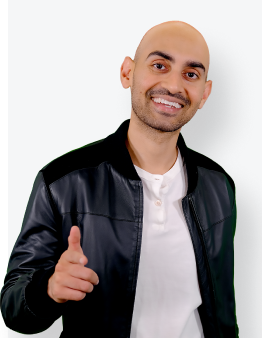 See How My Agency Can Drive More Traffic to Your Website
SEO - unlock more SEO traffic. See real results.
Content Marketing - our team creates epic content that will get shared, get links, and attract traffic.
Paid Media - effective paid strategies with clear ROI.
Are You Using Google Ads? Try Our FREE Ads Grader!
Stop wasting money and unlock the hidden potential of your advertising.
Discover the power of intentional advertising.
Reach your ideal target audience.
Maximize ad spend efficiency.