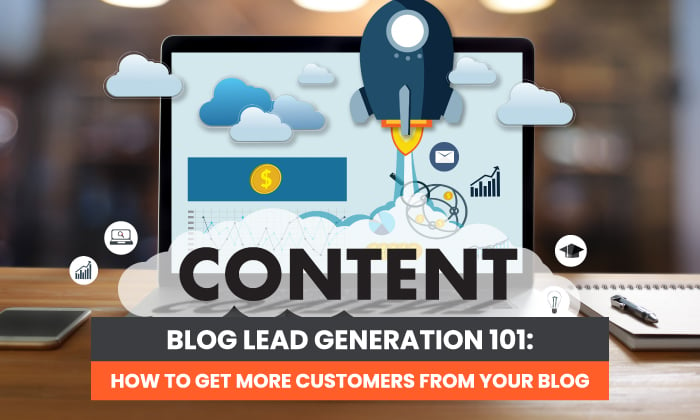 Is blogging important when it comes to lead generation?
It is—in fact, it's crucial.
Take a look at the stats to understand the importance of blogging when it comes to lead generation:
While your blog might already bring you a steady flow of traffic, likes, and comments, what about conversions? That is your main goal, isn't it?
It's only when your blog traffic leads turn into conversion prospects that your blogging efforts become worthwhile; everything else is just vanity metrics.
Focus on blog lead generation to increase leads and boost your conversions.
How do you convert visitors to leads?
Below, I'll walk you through six lead generation methods you can start using today. First, though, let's see why lead generation is so essential to business growth.
Why Does Blog Lead Generation Matter?
Most businesses understand the importance of online lead generation, with advertising spending on lead generation likely to reach 3.2 billion by 2023.
Getting blog traffic is just the first step in the conversion funnel. Ideally, you want to turn visitors into prospects, and prospects into customers.
When you use your blog for lead generation, it delivers organic, targeted prospects. In turn, your blog provides value to your readers and helps you attract fresh leads through CTAs and other methods.
That's where blog lead generation comes in. It helps you:
connect with your target audience
build a loyal customer base
increase your revenue
create quality leads
enhance your business visibility
familiarize prospects with your brand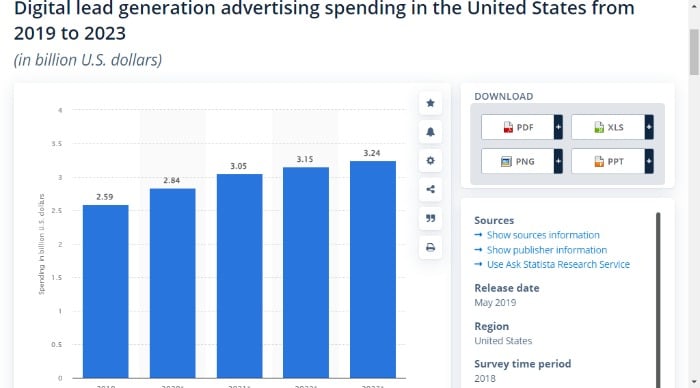 According to the State of Lead Conversion in Marketing and Sales report, only 12 percent of those surveyed say they're "very satisfied" with their lead conversion abilities, and 41 percent find following up efficiently on their leads is a challenge.
This means, most people know lead generation is important, but they aren't satisfied with the results.
What Are the Different Types of Lead Magnets for Blogs?
There is almost no limit to the type of content you can use as a lead magnet. However, the type of lead you'll drive varies based on the type of lead you want to generate. Here are a few types of magnets and the types of leads they tend to attract.
Downloadable books (eBooks): Use these at the beginning stage of the customer journey when a prospect is evaluating different products and wants further information to inform their decision. You can make this information educational or entertaining, whichever is most appropriate for your audience.
Whitepapers: These are more common to the B2B sector and are generally used to provide detailed information to help with the purchasing decision.
Checklists and cheat sheets: These are useful for condensing information at the start of the journey and getting your prospect to give you their contact details, ready for your nurturing campaigns.
Videos and webinars: Interactive and educational, these allow you to create a deeper connection with your lead while developing trust and helping to move customers further along the marketing funnel.
Product demonstrations: Use demos for customers who are past the searching stage and are almost ready to make a purchase.
Note that leads that are further in the funnel tend to be more valuable, so invest accordingly. For example, a customer who wants to sign up for a demo is much more likely to convert than someone who downloads a checklist.
What Is a Good Blog Lead Generation Rate?
Now you know the importance of blog lead generation, how do you know what to aim for?
According to Adoric, between two and five percent is generally considered a reasonable conversion rate, while the average falls between one and three percent.
However, there are some variations depending on the sector, and higher-priced items have a lower conversion rate.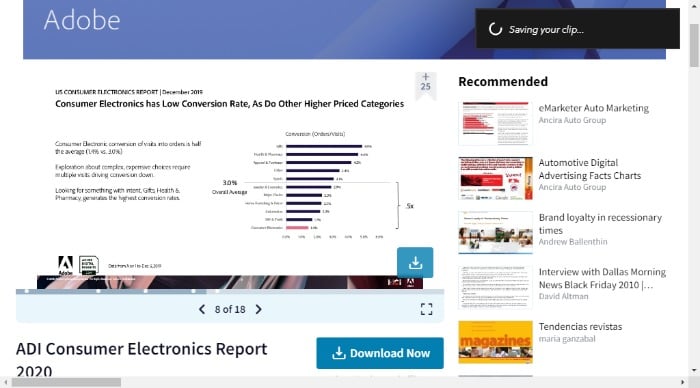 I've also found that conversions higher in the funnel tend to have a higher conversion rate than those lower in the funnel. For example, more people are likely to download a checklist then sign up for a demo.
Keep that in mind when testing and implementing new lead generation strategies.
How to Create an Effective Blog Lead Generation Strategy
A blog lead generation strategy brings in prospective customers through your blog. The process you draw up may depend on what you want to achieve, but below are some basic guidelines to get you started.
Understand your audience: You can gain a better understanding of your audience through surveys, forums, social media, and inviting feedback.
Define goals and outline how your content will help you get there: To do this, create a blogging strategy, so you write each piece with purpose.
Offer value: Aim to create a wide range of content that will resonate with your audience, while also providing value. To achieve this, use surveys, forums, and social media to understand common pain points and present your products/service as the solution. Include CTAs throughout your content to urge your reader to take the next step.
Increase your reach: Promote your content on social media to reach a wider following.
Test: Try different strategies by using A/B testing
Measure results: Track KPIs like click-throughs, conversions, and acquisition costs to understand what type of content resonates with your audience.
6 Powerful Ways to Get More Blog Leads
Ready to increase the leads from your blog and get to know your customers better? Here are six strategies to help increase the leads from your blog.
1. Use Natural CTAs in Your Blog Posts
Your blog posts need a call to action—every one of them. If you're ending your posts with nothing more than an invitation to leave a comment, you're doing it wrong.
You need to get your visitors to do something: sign up, download, click, read something else, subscribe, install, contact you, and so on if you want your blog lead generation strategy to be successful.
Are you asking? Are you giving them those opportunities to convert, or just hoping they'll decide to do so on their own?
Sometimes small CTA changes can make a significant difference. For example, retail giant Walmart implemented a responsive design on its Canada website to optimize the experience for mobile shoppers.
The result? A 20 percent increase in conversions across all devices and a 98 percent increase in mobile orders.
A strong CTA is action-oriented, persuasive, shows benefit to the user, and creates a sense of urgency.
However, it also needs to be easy to find. There are several places you could locate your CTA on your site:
at the top of the page
at the end of the post
within the post itself
in the sidebar
as a floating or scrolling popup
as a sliding popup
as a full-screen overlay
Select one or two that maximize exposure on your blog and resonate with your readers.
You do that by testing. Pick a few, set up an A/B test, and see what works best. Use VWO, Optimizely, AB Tasty, or a similar service to make it fast and easy.
Finally, consider using two CTAs. Invespcro.com found that when it included two CTAs on a client's site, conversions leaped 20 percent.
2. Use a Floating Bar (a.k.a. Hello Bar)
When someone arrives on your blog, they're at the top of the page, and there's no guarantee they're going to scroll down any further.
This is why putting your CTA right at the top makes sense
The floating bar, also called a hello bar, is a straightforward but highly effective tool that places your call-to-action in a thin, attention-grabbing band across the very top of your page. It's instantly recognizable, static, and stays there even if they decide to scroll down.
Here's an example from Blueland, a sustainable cleaning supply company:
See that free shipping bar? That's actually a hello bar.
Hello bars don't have to be static, they might also pop-up, slide-in, or use a (small) blinking feature to grab attention.
The results can be impressive: Hello Bar suggests users can see an 83 percent increase in blog lead generation, subscribers, and buyers.
Other platforms that offer the same features include:
SalesPanda
Sumo SmartBar
Sleeknote
OptinMonster
You'll also find several free WordPress plugins, but remember that you get what you paid for.
Consider adding a hello bar to encourage social engagement, increase email subscriptions, promote new products, or remind users about your free shipping.
3. Use Retargeting to Reach Back Out
Despite your best efforts, a sizable chunk of traffic will leave without filling out a form. It's just the nature of online marketing.
Maybe they were pressed for time, or your offer wasn't compelling enough, or they simply missed it.
That's where retargeting comes in. It gives you another chance to close the deal.
83 percent of marketers evaulate their retargeting technology monthly or quarterly. If you aren't getting the results you want from your retargeting campaigns, consider using services like ReTargeter, SharpSpring, or AdRoll.
Essentially, a tiny string of code called a pixel is placed on your website. This pixel drops a tracking cookie on every visitor's browser to your blog, and it then follows them around the internet.
It's a lot less creepy than it sounds.
Ever notice an ad for a product you were looking at on Site A in the sidebar of Site B or on your Facebook feed? That's retargeting doing its thing.
The pixel follows them and displays relevant ads to draw them back to your blog or landing page. You get a second chance to convert them.
4. Offer Exclusive or Upgraded Content
Another effective blog lead generation tactic is offering exclusive or gated content in exchange for contact details, and it can have a considerable impact on engagement and conversions. Just ask the digital marketing agency Whole Whale.
They experienced a 62 percent increase in conversions and a 100 percent surge in email sign-ups.
Either in or at the end of your post, offer some relevant additional piece of content. It might be a template, checklist, or blueprint that allows readers to put what they just learned into action with as little friction as possible.
You could also try registration boxes for upcoming webinars or courses you offfer.
How about a registration box for an upcoming webinar on a relevant skill or strategy? Really, the sky's the limit on what you can offer. Make it relevant, helpful, and irresistible.
Ask for nothing but an email address and maybe a name. Make it easy for them to say 'yes.'
In Whole Whale's case, it targeted visitors who were:
viewing specific pages
interacting with campaigns
new vs. returning customers
referrer detection to understand where its traffic was coming from.
5. Use Exit Intent Pop-Ups
Exit pop-ups appear when someone is about to leave your website or blog, and it will ask them if they want to subscribe or follow you on social media. This is an excellent way for bloggers who don't have many subscribers or followers to build their following by getting more leads from readers who like what they read.
The likes of HubSpot put the exit pop-up to use to get visitors to subscribe, and your pop-up could be a:
simple pop-up form
a custom offer or quiz
an eBook or course
a discount
When used properly, exit-intent pop-ups can reduce cart abandonment, create a sense of urgency, and significantly increase leads.
For example, by enticing readers with an exit pop-up offering 212 article ideas, Digital Marketer increased its time on site by 54 percent and gained 2,689 additional leads.
6. Focus on Buyer Personas
A customer or buyer persona is a fictional person that represents the needs and desires of your target audience. The purpose of a customer persona is to help you make design and content decisions for your product or service.
Creating customer personas is crucial because they help you identify what content will resonate with specific customers. It also helps you create a more personalized content strategy for each type of customer.
To create your buyer personas, think about the main characteristics and demographics of the leads you want to target.
For example, if you run a marketing blog, one of your personas may be a woman in her mid-30s who is a mid-level marketing professional. Do some research based on your own analytics tools or via social media to find out what someone in this demographic is interested in, spends their time doing, what they typically read on the internet, what motivates them, etc. Flesh out your persona with these details.
Marketing agency Amplify used buyer personas to maximize a robotic systems company, Genesis Systems.
Amplify used past data and surveys to identify ideal buyers, purchasing motivation, and specific pain points.
The result? Genesis used its new personas as a framework for success and noted a substantial increase in lead generation.
Blog Lead Generation Frequently Asked Questions
What is a lead in a blog?
A blog lead inspires readers to take action and share their contact details. A blog lead generation offer could be a simple CTA, a free trial, an eBook, or similar.
What is the lead generation process?
The lead generation process involves building a strategy to move readers through the sales funnel until they are ready to buy. It consists of several stages, such as building brand awareness, educating, and nurturing.
How can you quickly optimize a blog for lead generation?
Nurture your leads and personalize your blog with fresh content, offer free trials, ensure your CTAs stand out by using contrasting colors, add sign up forms to your most popular pages, analyze your conversion rates for various touchpoints on your website, and use A/B testing
What's the most common strategy for bloggers to generate leads?
There may be some variations across industries, but a broadly used tactic is the CTA.
Another strategy is to provide a giveaway in return for the reader's email address. This is an excellent way for bloggers to build up an email list, which they can use for future marketing campaigns and promotions.
Conclusion: Blog Lead Generation
There is a reason why many top brands like American Express and QuickBooks use content marketing: it works. When you use it properly, it can bring constant traffic to your blogs and other online content.
However, content marketing isn't enough on its own. Once you've got visitors to your site, you need to turn them into leads if you want to build a sustainable business.
An effective way to encourage leads is by giving away free content to get visitors to give you their contact deals. Then, nurture the leads until they're ready to become customers and your conversion rate increases.
That might mean giving out more free content, but it's a proven technique that stands the test of time.
Which blog lead generation methods do you use? And which are the most beneficial?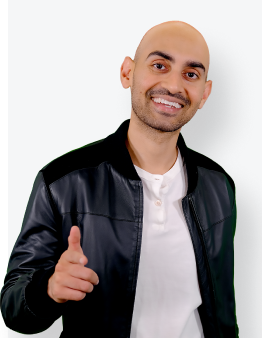 See How My Agency Can Drive More Traffic to Your Website
SEO - unlock more SEO traffic. See real results.
Content Marketing - our team creates epic content that will get shared, get links, and attract traffic.
Paid Media - effective paid strategies with clear ROI.
Are You Using Google Ads? Try Our FREE Ads Grader!
Stop wasting money and unlock the hidden potential of your advertising.
Discover the power of intentional advertising.
Reach your ideal target audience.
Maximize ad spend efficiency.