When targeting businesses vs. customers with your SEO tactics, there are different formulas that come into play.
But the answer is always the same: "Content matters."
This especially applies in the world of B2B, where it generally takes longer for a conversion to take place and your average customer has more knowledge of their specific niche.
The right keywords mean people can find you when searching for products and services like yours.
So, how do you know which keywords will lead to conversions? Or if they're even worth targeting in the first place?
That's where keyword research using a tool like Ubersuggest comes in.
It's the best tool I've found for B2B keyword research, and I'm not just saying that because I created it. It shows the related terms and long-tail keywords that people are searching for online every day.
Let's try it out and see how it works for you.
B2B vs. B2C Keyword Research
With both B2B and B2C keyword research, your ideal user or customer should be at the center of what you do.
With B2B marketing, you focus on various decision-makers, like a team lead, manager, or even the CEO. With B2C marketing, the only decision-maker you're worried about is the customer.
This is part of the reason why your typical B2B conversion takes way longer. There's a big difference between someone buying a pair of socks versus investing in a software suite for a whole company.
The difference isn't always that big, but still, B2B buyers have different behavior.
The good news is that in some ways, your best practices stay the same.
Know your product, then move to understand your market and competition to build the best B2B keyword list.
B2B keyword research helps you win over the decision-makers at hand, but this can be tricky.
There's a different drive to the transaction. You need to take a different approach to earn their buyer intent.
To hit their unique needs, you need to show your expertise not only in the niche, but in the pain points in that niche. That means picking the right keywords for your content and pages. To inspire your B2B keyword research, ask yourself:
What kind of businesses am I targeting? How big are their teams? Are they in industries I can flourish in?
Am I trying to reach businesses at the executive, manager, or employee level?
Of the decision-makers I'm targeting, what challenges are they up against? How is their current system failing them?
If you don't keep these questions in mind during your B2B keyword research, you'll have a tough time reaching your SEO goals.
Taking the time to get it right is critical to long-term growth.
How Ubersuggest Helps Your B2B Keyword Research Process
While there are plenty of ways to conduct B2B keyword research, let me get you started with Ubersuggest.
Here's how it works:
Let's say you're marketing an activewear brand and ready to create your B2B content strategy. In this case, your potential clients may vary. Maybe you're looking to get a local sports team or college athletics program to buy your product. Or, maybe a local business wants to get customized gear for their staff as an employee appreciation gift.
The right keywords make sure these B2B buyers see your listings first.
First, open up Ubersuggest. In the dashboard, click on Keyword Research. From there, we'll look at the Keyword Overview for "activewear."
Now that we have a sense of the search volume, let's see the traffic behind this and similar keywords.
This is how we'll do competitor analysis.
With insights into how your competition is performing, you'll see where they're missing on opportunities you can sell to your benefit. You can also identify where to add to your strategy if your competitors are performing well in areas your brand could also capitalize on.
If you're an activewear brand like Fabletics or Lululemon, Gymshark, and Nike are some of your biggest competitors.
Here, we see Gymshark's positioning and which keywords they're dominating.
This search shows us how Nike is positioned and the keywords they dominate.
Why is this relevant for the B2B world? Your goal, the same as B2C, is getting your pages and content in front of the appropriate clients. In this case, you see that a lot of the "basic" activewear keywords are dominated by some of the biggest names in the field.
Chances that you're going to compete with Nike or Lululemon to sell your hoodies and sweatpants are pretty slim, at least for now.
So instead, especially for B2B, you need to be more specific. A keyword like "customizable activewear in bulk" would put you in a better position to appeal to that business customer who wants jerseys with all their staff's names on them.
Knowing your unique selling points and where your competitors thrive will help you set up your B2B keywords. It'll also help you understand how to move with the B2B marketing and sales funnel.
Knowing what keywords to focus on, you can filter down through the keywords and link the topics that will go along with the buyer's journey.
Need some inspiration? Remember how each stage of the buyer's journey flows, from awareness to the final decision:
Source: HubSpot
I recommend this tactic—mapping your keywords and topics to the right stages—to increase B2B sales. It feels almost foolproof if you align with the right decision-makers at the right time.
So, with your activewear brand's pitch to the company looking for a bulk custom order, you could emphasize the importance of high-quality design and materials. These are the main pain points for this customer:
Making sure you get all the customized names right.
Making sure that they are getting custom gear that is built to last.
So, we know what your ideal customer is, and what they are looking for, as well as some keyword ideas that might work. What comes next?
See whom you can gather as early as the "general search," aka the awareness stage. After all, a B2B influencer performs an average of 12 searches before visiting a brand's site.
Source: Google
They'll probably find you through a mix of branded and nonbranded searches before engaging with your brand.
Set yourself up for success with B2B marketing keywords that pull your target decision-makers into the funnel. What sets a B2B keyword apart from B2C? Always think about that search intent.
Capture them with a mix of long-tail keywords and seed keywords. Seed keywords are the starting point to unlock long-tail keywords in the keyword research process (i.e., they're what you type into Ubersuggest to generate ideas).
To work smarter and not harder, make sure your B2B keywords are SEO-forward based on competition and search volume. That kills two birds with one SEO stone.
Look at some of these long-tail keywords built off the seed keyword "activewear." Depending on their SEO value, you could use these results to develop your B2B keyword strategy.
Using our example before, if you know that zip-up jackets are popular based on MSV, or have a high conversion rate due to search intent you can start building content and product pages showing customized zip-up jackets are part of your company's offerings.
Since these B2B keywords fall in a products or services keyword type, keep in mind that your interaction with your decision-maker will be mainly transactional.
So, you'll want a B2B keywords list that leads to conversions.
Keywords like "custom activewear sets," " custom activewear for men," or "custom activewear" will be relatable and likely convert the decision makers at these companies to, at the very least, look at your product pages.
To fill out your list of B2B SEO keywords, use the Keyword Visualization tool to find long-tail terms that fit your niche to influence the buyer.
As you can see above, you'll have almost limitless options to strengthen your B2B keyword strategy. Options are based on what real-life users are typing into Google.
So, based on the queries that apply to your niche, you can win over your prospective audience by being the solution to their pain points.
Notice that, with prominent terms like "women's activewear," "activewear shorts for women," and "women activewear tops," the queries above are more focused on activewear designed for women. With that in mind, you could gear a section of your landing page toward highlighting these kinds of items to capture shoppers' awareness right away.
This is like a lifeline from the search engines. Use the data strategically to curate your B2B keywords list.
Now you know how Ubersuggest can work for your research and content creation needs. It's time to start pitching to your decision-makers to close the deal.
What to Do After You Have Your Keywords?
Now what?
You know your keyword opportunities. It's time to put them to work.
Use them to make on-page optimizations in the meta description or body copy.
In addition, by implementing the keywords appropriately in areas such as schema markup like FAQs or price listings for e-commerce, you can both have a more optimized and useful listing. Use Ubersuggest or AnswerThePublic to pinpoint the questions your target decision-makers may have. (Hint: They're already searching for them, and these tools will show you what they are.)
As far as working more B2B SEO keywords into your content, make sure the content is directly related to your existing target B2B keywords.
Another quick way to optimize for your target keywords is to structure your internal links in a way that creates content hubs on your site for pieces relevant to your B2B marketing keywords.
Below you can see a user-friendly content hub touchpoint I have on my landing page:
Follow these steps for your B2B keyword strategy and become the answer for what matters to your buyer.
FAQs
Does SEO work for B2B?
Yes, SEO is a valuable tactic to use to win over buyers. Good organic visibility throughout the sales funnel is a tried-and-true technique to increase growth, and in turn, interest.
Why is SEO important for B2B?
SEO generates valuable leads and makes it easier for potential buyers to find you. When they're searching for products or services in relation to yours, you're more likely to show up in their search results thanks to SEO tactics like using B2B SEO keywords. 
How do I create a B2B SEO strategy?
If you want a solid B2B SEO strategy, follow these quick tips:
1. Conduct B2B keyword research. (Hint: Use Ubersuggest to help you get valuable results.)
2. Understand what matters to your target decision-makers and nurture them through your sales funnel.
3. Optimize your site to target your ideal audience via updating aspects like meta descriptions and internal linking.
4. From the B2B keywords, formulate content to position yourself as the answer to your audience's needs.
5. Promote your content and grow your audience and domain authority through backlinks.
Conclusion
Now that you know how to conduct B2B keyword research using Ubersuggest, you can unlock hidden opportunities for your brand.
Getting the lay of the land in your niche will help. From your competitor analysis on your target B2B keywords, ask yourself: Where do you stand? How can you satisfy buyers in a way that your competitors aren't?
The goal with B2B content tactics is to position yourself as the answer decision-makers need.
Your keyword research will show you what topics will reel buyers in, and the content you create will help land conversions.
Folding B2B SEO keywords into your strategy is a core step in gaining the attention and influence of the brands you're targeting.
If you've tried B2B content marketing, did you start with B2B keyword research?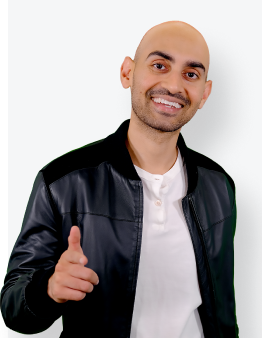 See How My Agency Can Drive More Traffic to Your Website
SEO - unlock more SEO traffic. See real results.
Content Marketing - our team creates epic content that will get shared, get links, and attract traffic.
Paid Media - effective paid strategies with clear ROI.
Are You Using Google Ads? Try Our FREE Ads Grader!
Stop wasting money and unlock the hidden potential of your advertising.
Discover the power of intentional advertising.
Reach your ideal target audience.
Maximize ad spend efficiency.