Did you know that 90 percent of Fortune 500 Companies use competitive intelligence to gain an advantage over their competition?
Competitive intelligence is the ethical collection and analysis of your competitors' information, best practices, and overall organization.
The phrase "spying" tends to have a negative association but it's really one of the best ways to figure out what the sites ranking above you are doing that's working.
When you're working on competitive intelligence, it's important to collect as much information about them as possible.
But how do you do it?
Ubersuggest is a research tool that not only helps you with SEO, but helps you find out what your competitors are doing and how to beat them.
How to Spy on Your Competition Using Ubersuggest
Spying is a great and perfectly moral way to see what the competition is doing to get ahead of you in the SERPs. It's important to understand that the first five organic results amount to 67.6 percent of all clicks. If you're not in the top five, you can't expect a lot of traffic.
You'll want to start by making a list of competitors to model after. Keep in mind they don't always have to be in your niche but you want to find sites that are ranking higher than you for the keywords you want.
To find your competition, do a manual search or use a tool like Ubersuggest to search for your target, highest-value keywords, and see who is ranking at the top of the SERPs.
Once you've got your list, you're ready to start sleuthing.
1. Search From Ubersuggest Home Page
One of the easiest ways to get started spying on your competitors using Ubersuggest is through the homepage. First, simply enter your competitor's main domain URL in Ubersuggest.
When you've done that, you'll want to look for the following metrics and take note of them:
Organic keywords – This is the number of keywords that a domain ranks for. It's important because if they're outranking you, they're likely ranking for more keywords than you.
You can use this data to find keyword gaps and see what keywords your competition ranks for that you don't. Perhaps they found a really low competition keyword that you're not going after.
You could then create a piece of content around that keyword and rank relatively easily.
Organic monthly traffic – Take notice of how much traffic your competition gets and compare it to your site.
You can use view your competitors' traffic as a way of seeing where and when things fluctuate. Google updates its algorithm frequently, which contributes to constant traffic fluctuations. USe your competitor's traffic trends as a benchmark for your own KPIs.
Domain score – The overall domain score from 0-100 is critically important to the success of a website. Sites with a higher domain score don't necessarily need to work as hard at producing quality content because Google tends to favor whatever it is they put together since the site is already trusted.
Backlinks – Backlinks are another highly important piece of the SEO puzzle. A backlink occurs when someone links to your site from their page. The more backlinks you have to a piece of content, the more Google looks at it with favor.
Use Ubersuggest's backlink checker to dig into the backlinks your competition is getting, and go after the same or similar links as part of your backlink strategy.
2. Track Competitors From Within Your Own Project
Once you've created a project in Ubersuggest for your website, you'll want to go to your dashboard.
On the very bottom of the dashboard there is a bar labeled, "my competitors." Here you can find opportunities to track what your competitors are doing and figure out information about their keywords, keyword gap, traffic, and backlinks.

The most useful feature I find with this is the comparison of common keywords to keyword gaps.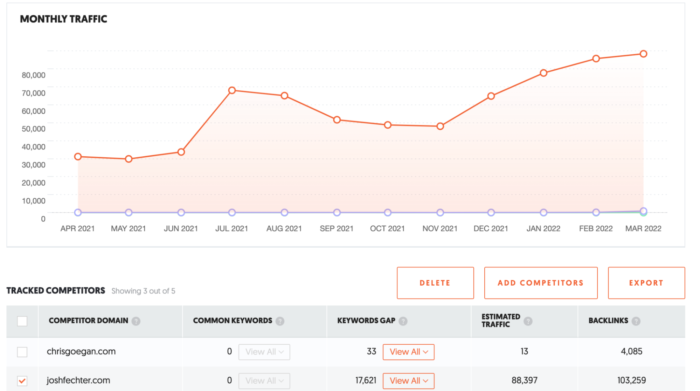 Common keywords are keywords that both you and your competitor rank for. You can use this to figure out which keywords they're outranking on, so you can start looking at their content to see what updates you can make to yours.
As for keyword gaps, you can use this to figure out what new pieces of content you should create around low-hanging fruit keywords that they're already ranking for.
3. Create a Competitor Project
One great feature of Ubersuggest is that it doesn't limit what websites you can add as a project, this makes it easy to spy on your competition. Here's how you'll do it:

1. Head back to the dashboard and create a new project for each individual competitor website.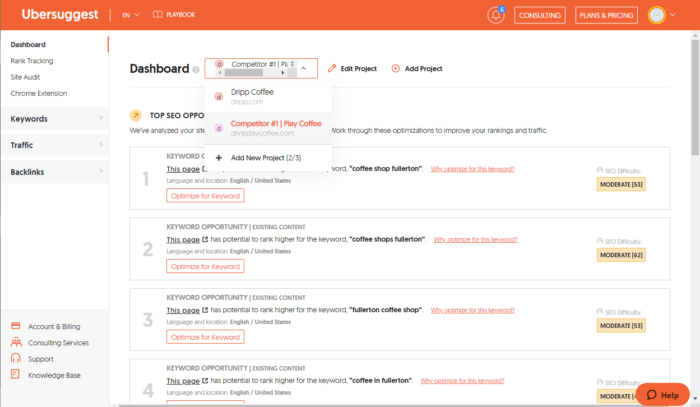 2. Add all the keywords that suggest you track (these are keywords your competitor is already ranking for… can it get much easier than that?) and feel free to add any others that you might be interested in or curious about.
3. Add other competitors to the project to see how they're measuring up against each other.
4. Go through the list of "Top SEO Opportunities" on the competitor project dashboard to learn from what they're doing wrong and find opportunities where you can improve your site in places where they're underperforming.
5. Scroll down the dashboard to get a view of how they're performing with backlinks. You can even click through on the link in the dashboard to get details on who's linking back to them to find websites to target with backlink requests.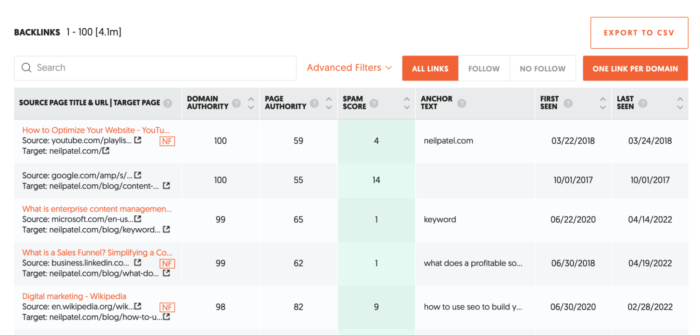 Even putting in a small percentage of this effort can make a huge difference on your overall SEO.
4. Track Their Keywords
You can also create a keyword list to start tracking the top keywords your competitors are fighting for. This is one of my favorite strategies.
Save keywords into lists using Ubersuggest so you can come back to them later.
Organize keywords into meaningful lists
See aggregate data for each list
Save your keyword research
Easily continue from where you left off
When choosing keywords to track, here are some tips:
Track keywords that you're not tracking but your competitors are
Use the Keyword Idea Report for inspiration
Track keywords that include their name or location
Track keywords that include specialty services/products that you don't offer

Example: If you're a coffee shop and your competitor offers a specialty latte and it has search volume, track it as a keyword.
The big question is, why? Why track all this information and will it really make a difference?
Let's face it, there are over 200 ranking factors that Google uses to determine who ranks where. There's no way we can get everything right.
Keyword research is one of the things we can control–and we can do it well with the proper procedures and steps.
You could also spend days, weeks, and months researching keywords on your own trying to figure out what you want to rank for. The result could be, nothing.
Instead, see what people are already ranking for. Piggyback on what others are doing right.
This is the fast track.
Of course, don't expect to hit a home run every time, that won't happen. You'll win some and lose some, but you'll be able to do it much faster by tracking competitor keywords instead of coming up with everything on your own.
5. Research Their Backlinks
Ubersuggest has a Backlinks Opportunity report as well. This tool allows you to enter your own website and multiple competitor websites to see where they're getting their backlinks from.
This can help you in the following ways:
1. Get insights into what content is popular for your competitors that you may be able to write about from a different perspective (or you may already have content written about).
2. Quickly create a targeted list of websites to go after to share your own valuable content with (if they liked your competitor's content, there's a good chance they'll also like yours).
3. Prioritize who you want to reach out to based on the referring domain's Domain Authority and relevance to your business.
Let's break down each of these points to help understand why they're important.
Figuring out what pieces of competitor content is popular can help you create something shareable, something that people want to link to.
The reality is, you can reach out to anyone you want but if the content you're sharing with them isn't amazing, they're not going to want to link to it.
From there you can create a targeted list of websites to go after with outreach. This is especially true if you're researching competitors in the same niche.
With the number one result in Google averaging about 3.8 times more backlinks than the rest of the positions on page one, it's safe to say that backlinks are still one of the most important ranking factors.
6. Download the Chrome Extension
Being able to have information at your fingertips is important and with the Ubersuggest Chrome Extension, you can. By downloading the extension, you can see keyword insights directly in the Google search results, YouTube, and Amazon.
Downloading it is simple and you'll receive all the data right on the Google search results page. Information like domain authority, keywords, and monthly traffic will all display right underneath the title tag of the website.
You'll also get traffic volume data and keyword difficulty information about the keyword you searched and related keywords.
BONUS TIP: Find Your Competitor's Mistakes and Avoid or Leverage Them to Your Advantage
One great way to get ahead of the competition is to figure out what they're doing wrong and how you can capitalize on it. Take a look at the competitor's Site Audit Report and check the health of their website.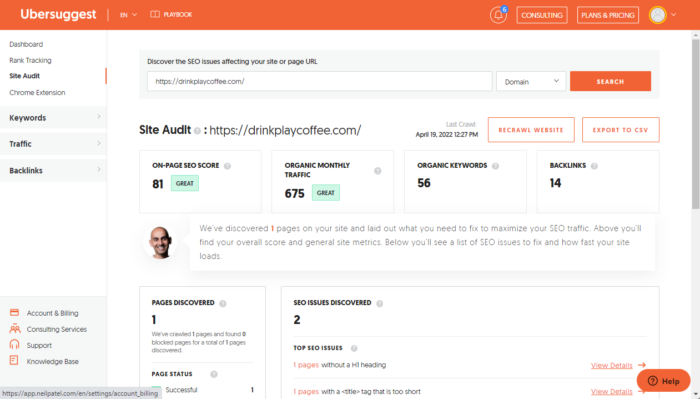 You can look through various SEO issues to see what's going on with their site and how you can capitalize on their shortcomings.
Maybe their site is a bit slow? You could ensure that your site runs fast so that it can't be used against you.
Maybe they're lacking proper meta descriptions and title tags on some of their content? You can create a competing piece of content and ensure it gets proper metadata.
Tips:
1. Find the websites that are giving your competitors backlinks and reach out to those sites with your own valuable content for them to link to.
2. Find the pages that have the most traffic on your competitor's website to see if you have a similar webpage that competes. If you don't create one! If you do, optimize it more with targeted keywords.
3. Are you fighting for the same keywords? Try and differentiate yourself by finding the missed opportunities. Look for long-tail keywords or keywords with lower search volume and lower search difficulty ratings.
Conclusion
Competitive intelligence helps you figure out what your competition is doing right and what you're doing wrong, it's really as simple as that.
If you can find out what they're doing and how they're succeeding, you can use that as a springboard for your success. To do so, you need a great competitive research tool.
Using Ubersuggest for keyword research provides versatility and simplicity to the SEO process. You need a tool that helps you do a lot of things without complicating it.
Click here to sign up for Ubersuggest for FREE today! If you want help with your keyword, SEO, or marketing strategy, you can also reach out to our agency for help.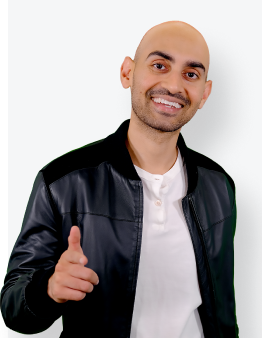 See How My Agency Can Drive More Traffic to Your Website
SEO - unlock more SEO traffic. See real results.
Content Marketing - our team creates epic content that will get shared, get links, and attract traffic.
Paid Media - effective paid strategies with clear ROI.
Are You Using Google Ads? Try Our FREE Ads Grader!
Stop wasting money and unlock the hidden potential of your advertising.
Discover the power of intentional advertising.
Reach your ideal target audience.
Maximize ad spend efficiency.