From social media to email marketing, you know that there are numerous ways to drive traffic and boost your business.
But are you familiar with the many digital marketing tools now available? 
There are hundreds upon hundreds of tools to choose from.
For example, here's a list of 75 tools that you should definitely review if you work in digital marketing.
Here's what you may not realize, however: there are many ways to use each tool to improve your marketing campaign.
For this reason, it's imperative that you spend the appropriate amount of time examining and experimenting with each tool.
In this post, I'm going to discuss the finer details of five of the best digital marketing tools.
For each one, I'll give you a better idea of how you can use it to your advantage.
Whether you're a small business owner just starting out in online marketing, or an SEO with tons of experience, this blog post will help you create a stronger marketing campaign overall.
Remember, accessing a digital marketing tool is just the start. If you truly want to achieve top results, you must know how to use it–and how, exactly, each tool will help your efforts.
Here we go! 
If you're familiar with my blog, you know this is one tool I talk about, time after time.
Here's why: it's one of the most versatile tools for content marketing professionals.
It's also an enlightening tool, thanks to its advanced social search engine. Even better, it only takes a couple minutes to understand what it offers.
A simple BuzzSumo search will uncover a bunch of information, all of which can be used to help you reach your goals. However, there are several ways, in particular, that you should use this tool.
1. Search by Topic or Domain
It all starts with the search button. You have the option to search by topic or by domain, with each one providing similar information.
For example, you could search the phrase "content marketing," "social media consultant," or "digital marketing." Or you could enter the domain "NeilPatel.com."
Either way, you're immediately taken to a page with in-depth information regarding the content that performs best for your keyword or competitor.
2. To Uncover Topic Ideas
Are you finding it difficult to come up with new ideas for content?
With BuzzSumo, you can enhance your content marketing efforts considerably. Not only can you generate fresh ideas, but you can also base your new content concepts off of those that have already performed at a high level.
For example, a search for "content marketing" shows the following: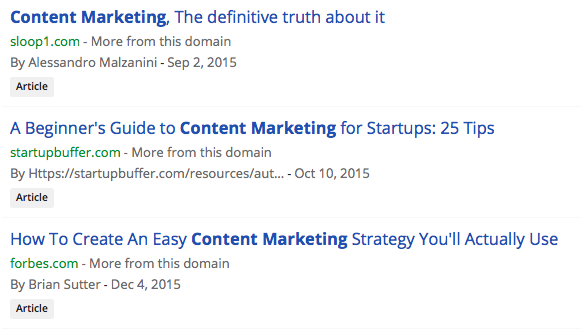 You know that these blog posts are performing well, in terms of shares on social media and backlinks. Can you create content that's even better?
3. To Better Understand Social Media Reach
Content marketing is about more than email marketing campaigns and newsletters. This you know. You also know that social media is one of the most effective and important ways to build a successful marketing campaign.
If you want to take full advantage of your social network potential, BuzzSumo allows you to better understand what type of content is resonating the most with your audience.
To go along with a list of titles, as you can see above, you're also presented with the following:
Doesn't it make sense to create similar content (only better), in hopes of achieving the same reach on social media, or exceeding it? 
4. Backlink Opportunities
Email outreach is a big part of building backlinks and showing others that you are an authority in your space.
But, here's the question: how can you most efficiently spend your time? 
With each result, BuzzSumo provides a link to a list of backlinks for each blog post. Once you create your content, you can then reach out to these sites and introduce yourself. Since you know that they're interested in what you have to offer, your chance of striking up a conversation and securing a link is much greater.
Hoot suite can improve your email marketing campaign while also helping you "get serious about social." If broadening your reach on social media is one of your goals, there are a few specific ways that you should go about using this tool.
5. Schedule Updates in Advance
One of the biggest problems with social media is finding enough time to create regular updates. Social media isn't something that you want to focus on today and then forget about for a few weeks. Its success is all about staying on track, day in and day out.
With Hootsuite, you can schedule social media updates, in advance. This ensures that your profiles across your social networks are kept current, all without having to lift a daily finger.
6. Collaborate With Your Team
Social media isn't always a one-man show. You may have many other team members working on this part of your marketing campaign.
With Hootsuite, it's easy to share ideas for different social media platforms, request approvals and reject updates that may not be the right fit.
Best yet, all of this information is available on the Hootsuite dashboard, allowing for a streamlined process.
7. Review Analytics Data
If you want to better understand your reach on social media, among other data points, Hootsuite can help you in a variety of ways. This all starts with creating a report:
From there, you can choose the type of report that suits you best. For example, a Twitter Profile Overview offers the following:
"Provides an overview of your Twitter account. Includes follower growth over time, keyword mentions and most popular Owly links."
If you've read a few of my blog posts, you know I enjoy digging through data in an attempt to better understand my business and where I stand on each social network. You can use Hootsuite to collect all of the most vital information as it relates to your social media platforms—thereby bringing you closer to your digital marketing goals.
8. Attach Media
There are many ways to make your social media updates stand out, including the use of media. From images to videos, Hootsuite has you covered in terms of visual content.
As you're scheduling updates, here's what you'll see:
From here, all that you have to do is compose your message, add your photos or videos and publish (or schedule) the update.
There are many programs for tracking website visitors, measuring your search engine optimization efforts and analyzing related data, but Google Analytics is by far the most popular.
Many people don't consider it a tool for online marketers, but that's precisely what it is. It allows for gathering data to better understand your audience. Get to know this tool. It'll super-power your digital marketing efforts.
9. Traffic Breakdown
You know that people are visiting your website, but you won't understand what they're doing, until you take a closer look.
This all starts with a high level overview of your traffic. It will look something like this:

When you use this data as a jumping off point, you'll better understand what you're looking at, as you dig deeper.
10. Where Are Your Visitors Coming From?
From a digital marketing perspective, this is the one question Google Analytics can definitely answer.
What you see here is a website that relies heavily on direct, display and organic search traffic.
While there's nothing wrong with this approach, the data shows where there is room for improvement. For example, the website owner may want to focus resources on social media and email marketing.
11. Site Content
If you don't know which pages of your website are most visited, you're missing out on some seriously powerful data.
Once you know which pages are attracting the most visitors, you can then adjust your marketing campaign accordingly.
For example, you may find that content around a certain topic is most popular. In this case, it makes sense to focus more time on this in the future. In other words, give your readers what they want.
However, there is more here than just the top visited pages. You should also review this data: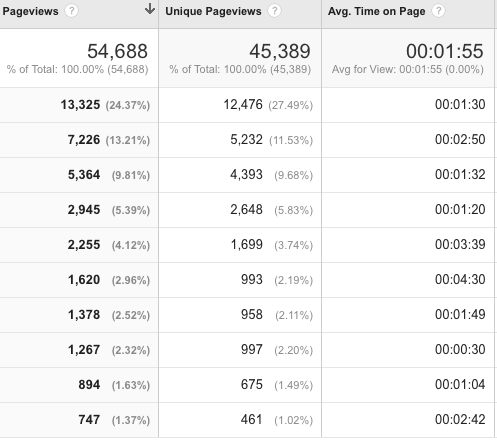 12. Review Top Keywords
Like most businesses, you probably dream of the day when your website reaches the top of Google for your target keywords. This isn't easy to accomplish, but it's a goal you've probably set.
Google Analytics can help you understand if you're on the right path. Consider the following: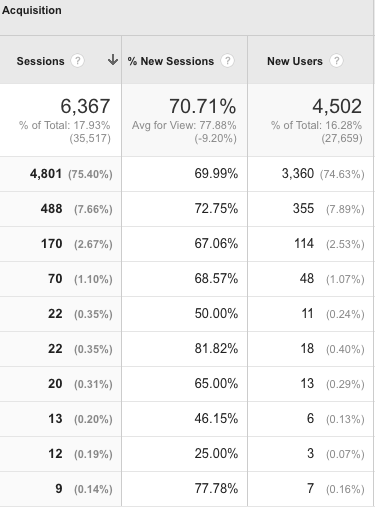 This shows which keywords are driving the most traffic, the % of new sessions and the number of new users.
Is your website built on the WordPress content management system (CMS)?
If so, you know that there are tens of thousands of plugins to choose from. While each one is worth considering, you'll probably rely on a select few to help you reach your goals.
All in One SEO Pack is one of the most popular WordPress plugins of all time. There are a few reasons for this:
It's free and easy to use.
It produces results.
It helps you to better formulate a sound search engine optimization strategy.
With all that driving your interest, let's examine a few ways that you can use this tool to your advantage.
13. XML Sitemap Features
Here's what the plugin's official download page has to say about this:
"Out of the box support for XML sitemaps for all major search engines, with automatic submission to ensure search engines can easily crawl your site. Choose between dynamic or static sitemaps for increased performance."
If you understand the importance of creating an XML sitemap, you'll realize that this is a big deal.
14. Implementation of SEO Modules
This isn't a feature that all users of the plugin rely on, but you definitely want to take a closer look.
From social media and meta tags to a file editor, new SEO modules are always being added. If you need any help with this part of your website – and you may – don't hesitate to experiment with each module, to see what it can do for you.
15. Custom Post Types Support
Is there more to your website than content-based blog posts?
If you answered yes, you'll enjoy the fact that the All in One SEO plugin offers out-of-the-box support for custom post types.
This is important in many cases, such as if you are using e-commerce software or have installed a forum.
With some plugins, you're limited to the type of support that is available. With this one, however, custom post types are treated the same as the rest.
16. To Quickly Edit SEO Data
As you probably know, there may be times when you need to edit your SEO data. This can be difficult, if you don't have a plugin in place to make your life easy.
This plugin protects against wasted time when editing your SEO data. Instead of jumping from page to page to make changes, everything is in one centralized location.
As you can see, it only takes a couple seconds to click the edit button, adjust the data and save it. It's features like this that make the All in One SEO Pack one of the most convenient plugins you'll ever find.
Collecting and analyzing data about your website and competitors is key to a successful marketing campaign–and the more data that you can collect, the better off you'll be.
SEMrush helps you achieve this goal with a number of intelligence tools for digital marketing, including search engine optimization, social media, keywords value analysis, PPC and more.
This is why it has become one of the best tools available. It doesn't matter if you've been doing content marketing for your small business for years or are just starting out in SEO: there's never an excuse for overlooking the mounds of data pertaining to your website, competitors and industry as a whole.
There are hundreds of ways to use SEMrush, but we're going to examine four of the best.
17. To Review Your Backlink Profile
Run a simple search on your domain and you're presented with a report that looks like this:
While every bit of data is important, you want to pay close attention to the number of backlinks. In addition to the total, the information is also broken down by referring domains and referring IPs.
Continue down the report and you'll find even more backlink data:
If you run a report for your own website, you can quickly learn more about the health of your link profile.
Conversely, if you run a report for a competitor, you can use the data to help you secure high quality links.
18. Who's Your Competition?
It doesn't matter what industry you're in–you know there is plenty of competition.
A search for NeilPatel.com shows the following competitors:
With SEMrush, you can click through to each competitor and examine the data associated with the site (more on this below).
19. An Understanding of Top Organic Keywords
Are you achieving success through your organic SEO strategy?
You can begin to answer this question by reviewing your top organic keywords.
Remember to review more than the keyword list. You should also focus on the four columns on the right side of the report. These show:
Position
Volume
CPC
Traffic
If nothing else, this will show you how you're performing in the search engines and whether or not you need to adjust your strategy to focus on a different set of keywords as you continue improving your marketing campaign.
20. Competitor Breakdown
Above, we talked about how you can use SEMrush to pinpoint your competition.
You may want to go one step further, by reviewing your competitor breakdown. This provides a long list of all your organic competitors, often numbering well into the thousands.
You may not have time to review each competitor, but you should see what the top 5 or 10 are doing. The report is broken down by:
Domain
Competition Level
Common Keywords
Search Engine Keywords
Search Engine Traffic
Search Engine Traffic Price
Ads Keywords
If you've learned everything you can about your own website, it's time to turn your attention to the competition. With a detailed report, you'll better understand what your competitors are doing and how you're stacking up.

Conclusion
Are you among the group of marketing professionals who devotes most of their time to digital marketing activities?
If you answered yes, then the right digital marketing tools can improve your efficiency and generate top results, from improving your content marketing strategy to broadening your reach on social media to getting top ideas for your next blog post.
With this post, it's my hope that you now have a better idea of how to use five of the most powerful digital marketing tools on the market.
What are your thoughts on these digital marketing tools? Do you have any other tips for making the most of each one? Share your thoughts in the comment section below.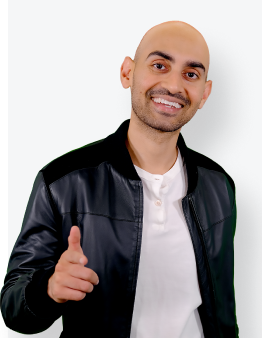 See How My Agency Can Drive More Traffic to Your Website
SEO - unlock more SEO traffic. See real results.
Content Marketing - our team creates epic content that will get shared, get links, and attract traffic.
Paid Media - effective paid strategies with clear ROI.