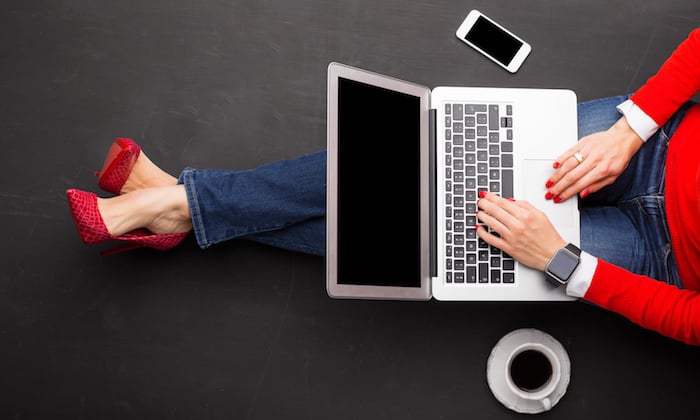 Are you ready to give your content marketing strategy the time, money and resources it deserves?
While your answer may be yes, it's never easy to get up and running with a new social media and content marketing strategy. There are questions to answer, challenges to overcome and various tasks that need addressed.
With 88% of B2B marketers currently using content marketing efforts as part of their overall strategy, neglecting to do so will put you in the minority.
As you get started, you'll soon find a variety of ways to better research, plan, create and distribute content on social media.
What I've created here is a list of content marketing tools that you'll want by your side as you roll out your first campaign.
These tools cover the most important details you'll need to address before you get started, as well as in the early days (and weeks) of running your campaign.
With these in place, it's my hope that you'll be able to save time and money. Even if you only utilize one or two of these tools, you'll experience positive results from day one.
Here's the list you have been waiting for! 
There are content marketing tools, and then then are effective content marketing tools that generate serious results.
BuzzSumo fits into the second category. That's why I put the tool at the very top of the list.
There are two things that this tool can do for you as a content marketer, as outlined on its homepage:
Analyze what content performs best for any topic or competitor.

Find key influencers to promote your content.
Getting started is as simple as entering your keyword into the search box. For this example, I used the phrase "content marketing." In addition to a list of top performing content, each piece is accompanied by the following social media activity data:

With this information, you can see what content performs best for your targeted keyword in order to know how to successfully create content, in future. From there, it's time to "do it better." By taking this approach, you always have a clear idea of what you need to do, from a content creation perspective, to compete with the top players.
I am also a big fan of the backlinks tool, as this shows you which websites are linking to the top content for a given keyword. Once you create your post, you can then reach out to these websites, in hopes of receiving feedback and a link of your own.
That's BuzzSumo in a nutshell, but there is one last thing worth mentioning: this tool is extremely easy to use. It only takes a couple minutes to complete a search and better understand what it will take to compete with the top social media and search engine performers in your niche.
There is more to an effective content marketing strategy than content creation. At some point, once you have a great piece lined up, you need to share it with the rest of the world on social media . In other words, simply creating high quality content is rarely good enough.
Buffer provides a better way to share on social media. It doesn't matter if you are managing one social media account or several, it's this type of tool that will keep you on track and allow you to generate meaningful results.
As you know, content marketing tactics are not something you do today and ignore tomorrow. If you want to achieve success, it's a must to stick with your strategy, day after day.
A tool, such as Buffer, can help you better manage your social media platforms. My favorite feature is the one that allows you to schedule posts for later. Buffer describes this as follows:
"Buffer shares your content at the best possible times throughout the day so that your followers and fans see your updates more often. Get the most out of each post."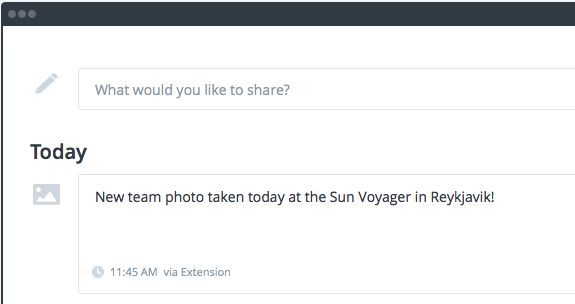 As you launch your first effective content marketing campaign, it's important to have a strategy for taking advantage of social media.
Since you probably never feel like you have enough time, using Buffer to schedule updates in advance is a good idea.
Pro tip: while content based social media updates are important, Buffer makes it easy to schedule images and videos as well. Be sure to take advantage of the power of multimedia content.
Buffer is simple to use, affordable and packed full of features. This tool is a good addition to any content marketer's toolbox.
Do you feel that the best way to have an impact online is to create and share high quality content on social media? If so, you're in the same boat as Klout.
By using this tool, you can do all of the following:
Receive suggestions on shareable content that your competitors have yet to cover.

Create a content strategy that piques the interest of your target audience.

Track the impact of your content strategy, such as retweets and likes.
Once you set up your Klout account, you'll be presented with two types of information. The first is "Explore/My Topics." This is displayed as follows:
On the right side of your dashboard you'll see a column for "Top Experts." These are recommended experts in your space that you should follow.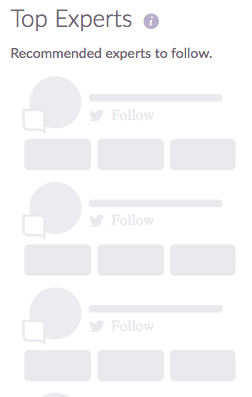 For a beginner, there is nothing more important than establishing a good strategic base. From a social media marketing perspective, this is exactly what Klout can help you do.
I enjoy all the features of Klout, but want you to pay close attention to the top experts suggestions. These are people in your space who can make a difference in the way you create content and share it on social media You want these experts on your side from the start.
Klout is a one of a kind tool that can give your first (and subsequent) content marketing campaign the boost it deserves.
Since its founding in 2006, HubSpot has continued to grow. The company really caught fire when the content marketing revolution started.
While HubSpot is used by content marketers of all skill and experience levels, I always suggest that beginners become familiar with its many tools. When you implement HubSpot early on, it can continue to provide assistance well into the future.
HubSpot is not a single tool that focuses on any one portion of your content marketing strategy. Instead, it's described by the company as follows:
"From attracting visitors to closing customers, HubSpot brings your entire marketing funnel together."
You gain access to tools that assist with 10 distinct tasks, including:
Blogging

Search engine optimization

Social media

Website

Lead management

Landing pages

Calls-to-Action

Marketing automation

Email

Analytics
Through HubSpot's blogging tools, for example, you learn how to create a search engine optimization friendly content strategy that converts.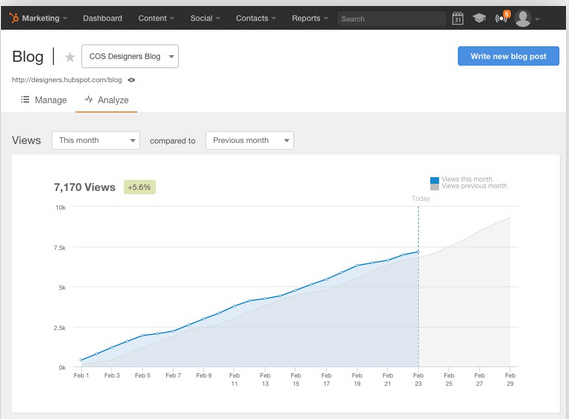 Some beginners feel that HubSpot is too advanced for them. They feel that they will be overwhelmed by all of the tools and features. Don't let this stop you.
Yes, HubSpot is more advanced than other effective content marketing tactics software and tools, but this is a good thing.
Once you have a firm grasp on how to use HubSpot, you can grow alongside the software as your content marketing strategy advances.
I field many questions in regards to blogging and effective content marketing efforts, but this one comes up time and time again: how do you generate unique titles for your blog posts?
This is an acquired skill. Over time, you'll learn what works, what doesn't and how to sculpt your titles to attract both readers and search engines.
In the meantime, as you attempt to get your feet wet, I suggest you become familiar with this tool.
With the help of Portent's Content Idea Generator, you'll never again find yourself searching for a unique title.
Type "content marketing" into the search box and you're presented with a variety of unique and intriguing titles.

If the first idea doesn't suit you, click the refresh button and you are presented with another. Don't be afraid to take a few minutes to collect several high level ideas.
Pro tip: use this tool alongside BuzzSumo for the best of both worlds. After running a content idea generator search, compare the results to the top performing content on BuzzSumo.
You aren't alone, if you're struggling to generate attractive blog post titles. While there is no replacement for practice, Portent's Content Idea Generator can help bridge the gap as you get started with effective content marketing efforts.
There is no way to reach your content marketing tactic goals without creating high quality content. It's not possible.
If you need help in this department, Hemingway Editor is a neat tool that can give you a push in the right direction.
This tool identifies problems with the writing of your blog posts, allowing you to fix issues as you create content, before posting. Here is an example that shows many different types of errors.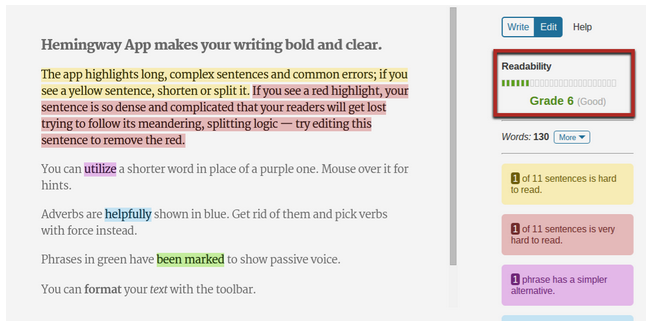 There's a lot to review, but pay close attention to the readability score in the right sidebar.
In a post I published last year, I broke down a passage from one of my most popular guides: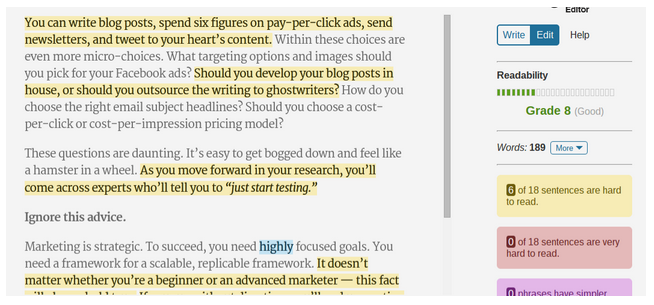 The blog post passage was far from perfect, but the readability score was solid. Also, the tool pointed out a few sentences that were hard to read. After fixing these, I felt more comfortable posting the content for the world to see.
Pro tip: don't wait until your blog post is complete to check it with Hemingway Editor. Instead, post small passages at a time, as this trains you to create better content over time.
The Curata Content Marketing Platform is one of the most powerful tools out there. It's designed for beginners, advanced marketing professionals and everyone in between.
With a tagline like this – Data-driven Content Marketing at Scale – you can be confident in what you will get in return for your time and money.
There are three primary functions of the Curata Content Marketing Platform:
To build a predictable content supply chain.

To streamline content production.

To analyze the impact of content on your sales and marketing pipeline.
My favorite feature is the ability to streamline a content supply chain, regardless of how many people are on your team. This is done through various features, such as:
A customizable content calendar.

The ability to incorporate data driven insights .

The opportunity to plan content programs, including creation and distribution, through numerous channels.
As you will see in this screenshot, the Curata dashboard is full of data to help improve your approach to content marketing: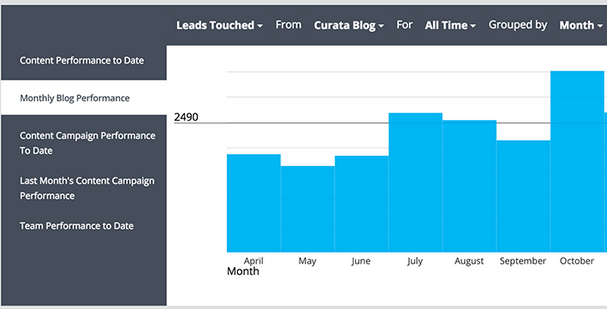 Maybe you want to review how your blog is performing. Or, maybe you want to focus on the outcome of a particular piece of content. The dashboard provides all this data in an easy to view and digest manner.
Curata definitely takes some getting used to, but just the same as HubSpot, getting acquainted early on will only benefit you as your content marketing tactics ramp up.
A favorite of mine, among many other content marketers, the Ahrefs tagline succinctly describes the tool:
"Track your backlinks, keywords, brand mentions and know what your competitors are doing."
But Ahrefs is more than just one tool. When you sign up for this service, you gain access to seven distinct tools, including:
Site Explorer

Positions Explorer

Content Explorer

Position Tracker

Crawl Report

Ahrefs Alert
I can't get enough of all these tools, but the one you should really focus on is the Content Explorer tool.
With this, it's easy to discover the type of blog posts that are working within your niche. For example, if you are a health and wellness blogger, you can use the tool to see what's generating the most conversation within your social media marketing strategy.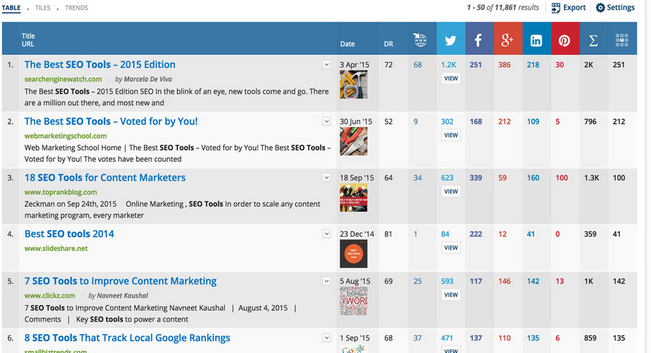 I am also a big fan of the Position Tracker tool. I'm not the type to "stalk" keyword or social media rankings, day in and day out, but this tool definitely makes life easier.
With this, you can receive accurate, up to date ranking data. This includes the ability to track keywords by language and country, while also seeing how well you perform on mobile devices.
Last, but not least, this tool shows your position history, so you can see if your rankings are moving in the right direction.

Ahrefs is always one of the first tools I recommend to new content marketers. With a free 14 day trial, you should give it a try to see how it impacts your campaigns. If everything checks out, you can upgrade and rely on all of its tools from that point on.
When it comes time to tie together all of your content marketing efforts – from content production to social media marketing and everything in between – Marketo can provide you with the type of service you require.
With a variety of ways to use Marketo, it's hard to say which features will best suit your content marketing campaign. One thing I do know, however, is that its Predictive Content tool is powerful enough to have a positive impact on your strategy and results. This feature works in four ways:
Pinpoint your best content, including blog posts, videos and anything else of interest on your website.

Put relevant content in front of your target audience.

Boost results and return on investment with predictive recommendations.

See what's working and what isn't with your target audience.
If you plan on combining your content marketing efforts with email, Marketo is also a solid solution.
You can use its email marketing software to engage with customers and prospects, helping drive results with personalized emails.
Marketo is not the type of tool that you sign up for, use a few times, and move on. It's got everything you need, so it takes some time to learn how you can best put it to use. If you are willing to take the time to learn, you'll be glad that you did.
Don't think of content marketing as simply words on a page. You can go so much deeper than this.
In my guide to creating visually appealing content, I discuss the many benefits of going beyond basic content. Here is a brief excerpt:
It's because these visual content pieces are generating more backlinks than any other form of content I publish, which—in the long run—helps increase my search engine rankings and overall readership numbers.
So, if you want to generate more backlinks and boost search engine rankings, you need to spend some time creating visually appealing blog posts. This typically comes in the form of an infographic.
For those who don't have the money to hire a design professional, Easel.ly is a tool that can fill the gap.
With thousands of templates to choose from, it's easy to get started. Here is an example of a drag and drop template that fits well within the internet marketing niche: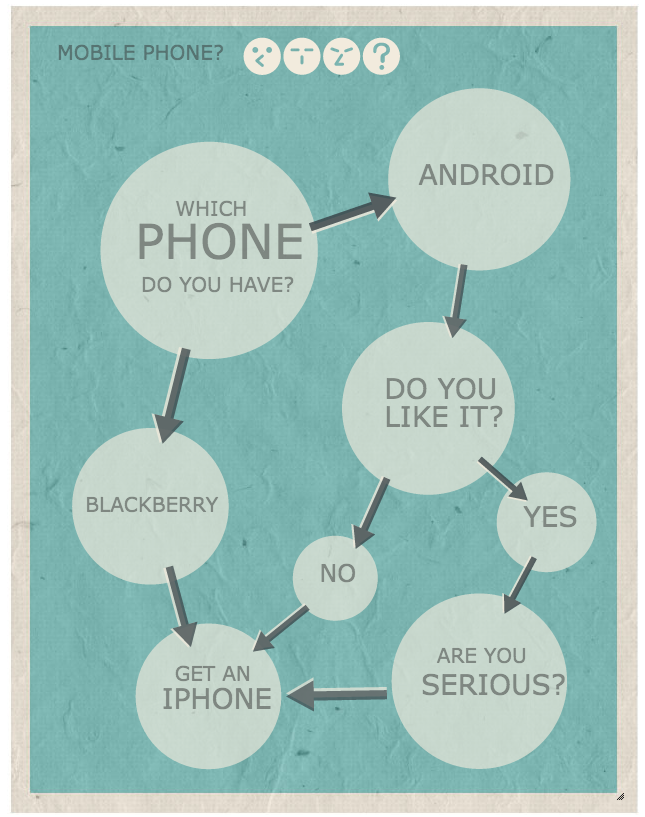 This one tool has helped content marketers create more than four million infographics. Not only does it provide drag and drop functionality, but customizations are a breeze.
Visually appealing content doesn't have to cost an arm and a leg. It also doesn't have to suck up all your time. Easel.ly allows you to create attractive infographics with the hopes of generating more backlinks and traffic.
As you spend most your time creating content, publishing social media updates and connecting with influencers, it may slip your mind that you need to track your progress. This is where Google Analytics comes into play.
With this free tool from Google, you can track many aspects of your content marketing campaign. It allows you to answer questions such as:
How much traffic is my content generating?

What types of content are performing best?

Where is the majority of my traffic coming from?

Which keywords are driving the most traffic?
All of these questions are important to answer, as the information you gather can help you adjust your approach in the future.
A "Channels" report will turn up something that looks like this: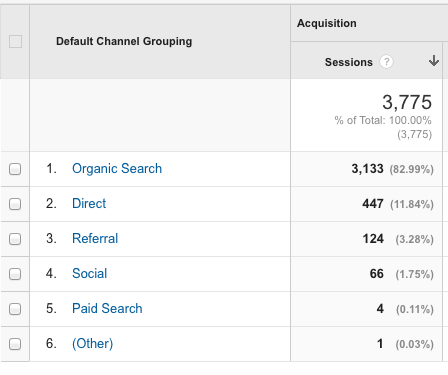 In this example, organic search traffic makes up a large part of the website's overall traffic. While this points towards search engine optimization success, it also shows that there is room for improvement in other key areas, such as social traffic.
I strongly urge you to spend a few hours familiarizing yourself with Google Analytics. This tool can provide you with loads of actionable data, but only if you know where to find it and how to interpret the results.
No content marketing campaign is complete with a content promotion strategy. Even with the best content in the world, it's not going anywhere if you don't actively spread the word about it. Mailshake is your best bet to do just that.
Mailshake allows you to send personalized cold emails en masse directly from your regular email address so they appear to be coming from you personally. This allows you to send dozens or even hundreds of emails at once to:
Folks that may be interested in your content
Journalists who cover your space
Other bloggers
Influencers with large social followings
You can track if your recipients open your email or click the link to your article, and you can organize and respond to the people that respond straight from within the app.
You can even set up automatic followups to send if a recipient doesn't reply.
Cold emailing is a great way to start conversations and build relationships with the people that can drive traffic and links to your content.  And at $19/month, Mailshake is a great value.
Conclusion
According to a 2015 Content Marketing Institute study, only 30% of B2B marketers said they were effective at content marketing. You don't want to be part of the other 70%.
While these tools are no guarantee of success, it is likely that one or more will help you successfully launch your first social media and content marketing campaign.
At this time, I only have one question for you: did I forget any tools that you have found useful?
I know I haven't included every tool on this list, so I would love to hear your feedback. Feel free to share any of your favorites in the comment section below.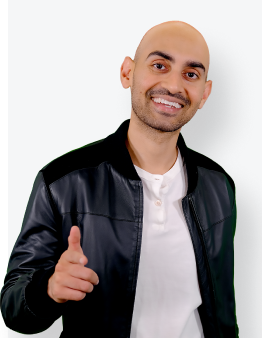 See How My Agency Can Drive More Traffic to Your Website
SEO - unlock more SEO traffic. See real results.
Content Marketing - our team creates epic content that will get shared, get links, and attract traffic.
Paid Media - effective paid strategies with clear ROI.
Are You Using Google Ads? Try Our FREE Ads Grader!
Stop wasting money and unlock the hidden potential of your advertising.
Discover the power of intentional advertising.
Reach your ideal target audience.
Maximize ad spend efficiency.