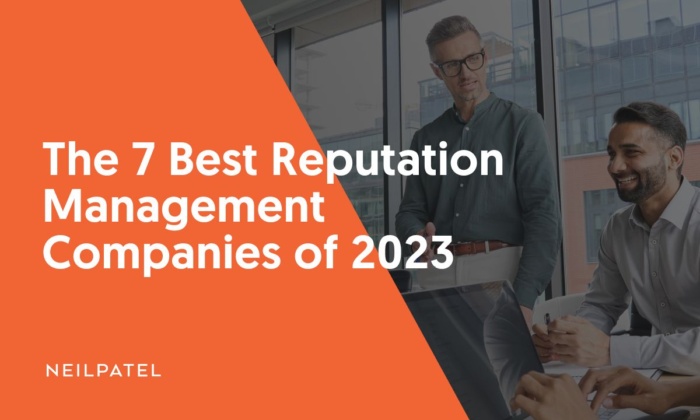 Consumers are creatures of research. We often don't believe something unless we see it for ourselves—or hear it from a trusted source. And with 97 percent of consumers searching online for local businesses, your online reputation is more important than ever.
Online reputation management usually translates into businesses trying to get as many reviews as they can without a plan or strategy to handle everything else that comes along with reputation management.
This is why it's important to get help.
If you have the right reputation management company, you'll have the help you need to improve your company's online reputation.
The 7 Top Reputation Management Companies in the World
Here's a shortlist of some of the best reputation management companies in the world. You can use review sites like Clutch.co, HubSpot Agency Directory, or Sortlist if you're looking for something more specific in the reputation management industry.
1. NP Digital – Best for Local SEO and Reputation Management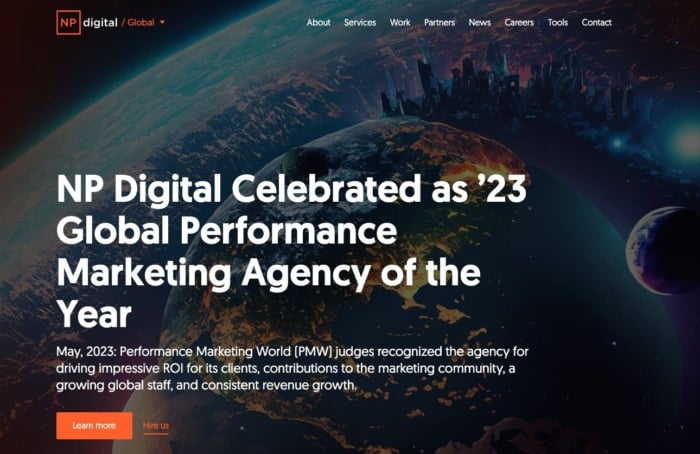 NP Digital is my agency. If you're familiar with my work, you know that I have a strong background in search engine optimization and digital marketing. I built an agency called Pronet Advertising more than 17 years ago, while I was still in high school.
It's hard to believe that I've been a marketer for more than 20 years! That's given me a lot of time to learn how reputation management integrates with local search, content marketing, social media marketing, and advertising. I took all of the lessons I've learned from the companies I built—Kissmetrics, Crazy Egg, Pronet, Quicksprout, NeilPatel.com, and now NP Digital.
My agency is a little bit different from other agencies.
NP Digital ties all of our work back to revenue. It's no different with our reputation management campaigns. If you're going to put a dollar into your campaign, you want two dollars back, right? My agency focuses on driving real business results, so your company continues to grow; our work has to make money for your business.
NP Digital's client list includes:
Facebook
Viacom
Google
GM
eBay
NBC
Thomson Reuters foundation
TechCrunch
Cheezburger
American Greetings
2. NetReputation – Best for Reputation Management Services
NetReputation is best known for its specific focus on reputation management. While many other reputation management companies multitask and offer other services or segmented solutions NetReputation places all of its energy on improving its client's internet reputation by offering full-service solutions.
As an expert online reputation management company, NetReputation uses its years of experience and team of experts to build a positive reputation for you or your business online. NetReputation is the fastest-growing reputation management firm to be featured on the INC 5000 2 years in a row.
NetReputation creates a unique strategy based on the client's needs. It offers guaranteed results and a realized positive impact in the first 30 days of service.
Services include:
Content removal: Complete removal of unwanted content from search engines.
Negative content suppression: Through content creation, optimization, and promotion the work to replace negative content with positive content to highlight your accomplishments.
PR crisis management: Effective communication and mitigation strategies for negative PR events.
Review solutions: Management of review acquisition, negative review removal, local directory listing update
Wikipedia editing and monitoring: Services to manage and monitor Wiki pages.
Brand building: Solutions to build your brand's authority and reputation online.
3. InboundJunction – Best for Reputation Recovery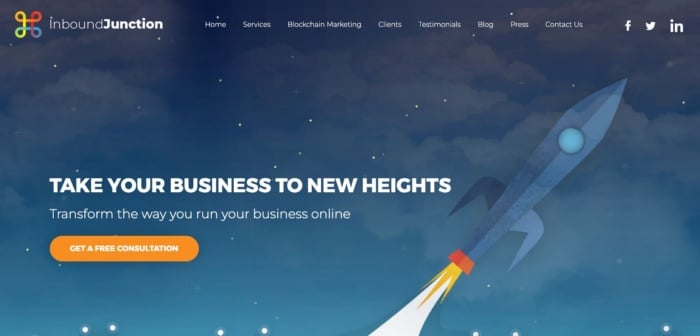 InboundJunction's online reputation management services are unique in the sense that they draw on the agency's prowess in digital PR.
InboundJunction's offering is geared toward complete control of a business' online presence and includes content marketing and amplification, thought leadership and influencer marketing, SEO, and review management. InboundJunction harnesses all these capabilities for its reputation management service.
They work on all fronts:
Promoting your brand with top-tier publications to land positive reviews and mentions of your brand to 'replace' in SERPs the negative ones
Monitoring your brand mentions to react immediately when a negative one emerges
Doing the legal legwork of de-indexing and removing content for legal violations
InboundJunction was established in 2013 and has served more than 500 companies, B2B and B2C, enterprise and startups.
The combination of rich experience and an extremely wide network of connections with publications, editors, bloggers, and influencers makes Inbound Junction a very powerful player in online reputation management.
As per compensation, InboundJunction works mostly success-based. As it says on their website: "If we succeed, you pay, if we don't, you don't."
InboundJunction's client list includes startups post-funding round (often Seed, Round A and B), high network individuals as well as established businesses.
4. Thrive – Best for Small Business Review Management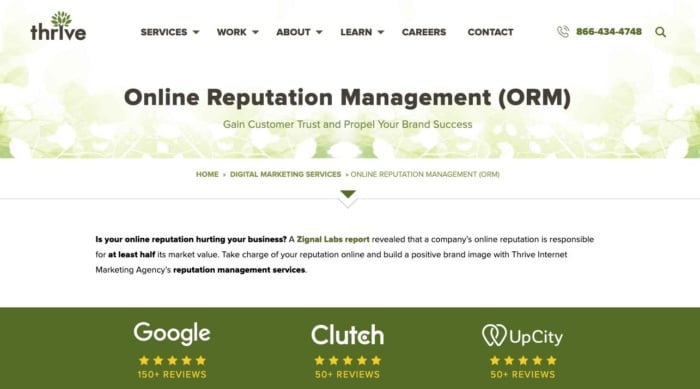 Thrive is a full-service agency that offers reputation management and reputation repair services. Thrive offers reputation management and repair services on their website; take a closer look at their website, and you'll find that they're really focused on the online review side of things.
If you're looking for a reputation management firm with the legal and takedown chops to protect your business, Thrive isn't the reputation management company for you. If you're looking for an agency that can generate a huge amount of reviews, Thrive may be a good fit. If you're looking for an agency that's oriented around small businesses, winning new customers over or burying negative press Thrive is a great place to start.
Thrive offers most of the services a full-service agency provides. If you're looking for a Jack of all trades, their agency has experience in several areas; this works especially well for inexperienced small business clients who need help with multiple services.
Thrive Agency's client list includes:
Nationwide Construction
Ready Seal
Bonds Ellis Eppich Shaffer Jones
Max Mechanical
Quick Roofing
5. Reputation Rhino – Best for Individuals and Small Businesses

Reputation Rhino is an online reputation management company that serves small and midsize businesses and individuals. They offer a number of reputation solutions for almost any scenario imaginable, including ones that cater impressively to an individual and their personal brand. Reputation Rhino's diverse client list includes colleges, reputation management companies, law firms, local businesses, retail storefronts, and tech companies.
You can benefit from using Reputation Rhino in a number of ways, including:
A personalized strategy to defend against smear campaigns
Suppressing negative online search results
Adding an extra layer of protection to your personal privacy
Eliminating news articles, forum comments, and negative content
One thing that's surprising about their business is the fact that they're able to remove negative reviews from online review sites like Glassdoor, Ripoff Report, Google Images, and more.
They're incredibly confident in their online reputation repair and protection services, so much so that they offer a 100 percent money-back guarantee, no strings attached.
6. Go Fish Digital – Best for Review Management

Go Fish Digital is one of the best reputation management companies because they really have a deep understanding of how important online reviews are for your business's revenue and reputation.
And guess what? They're not just about gathering reviews—they take it several steps further. They understand that managing your reviews is just as important, if not more so, than simply racking them up. They actively help you reply to reviews, maintain a positive online image, and even defuse any potentially damaging situations.
Think of them as your virtual lifesaver in the wide ocean of online reputation management. With a team of review management experts at the helm, you can rest assured that your online reputation is in safe hands.
You tap Go Fish Digital for a number of strategies, including:
Search suppression services
Online review improvement
Social media monitoring
Autocomplete strategy
Online reputation monitoring
And just so you know, Go Fish Digital doesn't just cater to big fish in the industry. They've got a diverse clientele, ranging from small businesses to large multinational corporations. You're sure to find a solution that fits your needs, no matter the size of your company.
7. Reputation Resolutions – Best for Crisis Management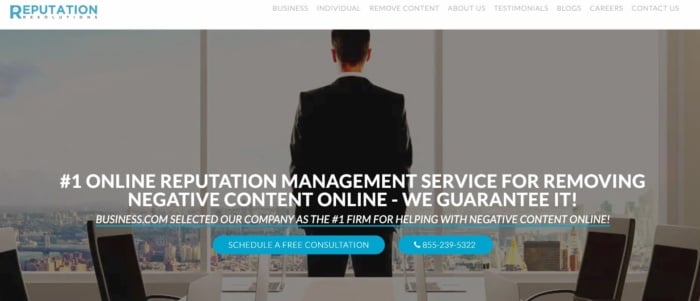 Reputation Resolutions is a reputation management company that you want in your corner when your business confronts a challenging public relations situation. With an impressive track record in crisis management, they truly are experts in their field.
The team at Reputation Resolutions recognizes that in the face of a reputation crisis, time is of the essence. They are always prepared with a swift response team available around the clock, trained to mitigate any crisis your business may encounter. Be it a misstep on social media or a high-level executive controversy, they are equipped with the necessary expertise to manage the aftermath effectively.
However, their approach is not solely reactive. Reputation Resolutions also emphasizes a proactive strategy, assisting clients in the development of robust crisis management plans. They dedicate time to comprehend your business, identify potential weaknesses, and prepare your team for any forthcoming crises.
Their strategy is anything but generic. Reputation Resolutions tailors its strategies to match the unique needs of your business. Their diverse roster of satisfied clients from various industries can attest to their customized and efficient approach to reputation crisis management.
Some of their available services include:
Negative content removal
Reputation monitoring
Crisis management
Review management
Cyber investigation
Employee branding
In this unpredictable digital age, having a company like Reputation Resolutions by your side can be the difference between sinking and swimming. Trust me on this one.
4 Characteristics of the Best Reputation Management Companies
When you're vetting an agency, you'll want to find a company that displays the right characteristics. The last thing you want is to choose a reputation management company that makes your reputation worse. When you're searching for the right agency, here are some attributes to keep in mind.
1. Their agency approach is proactive and reactive
The industry has matured quite a bit since reputation management of the 90s. Back then, agencies were focused on simply burying negative content. That's still doable, but it's much easier to guide the conversation from the start.
Asking customers to share their feedback via online reviews. Creating, claiming, and optimizing your review profiles, and responding to customer feedback—these are all proactive methods you can use to improve your reputation. Deleting or burying toxic, inaccurate, or misleading content, sending out legal takedown notices, and working with law enforcement are reactive strategies.
You need both, but these strategies don't provide a complete picture of online reputation management campaigns on their own.
2. They focus on building relationships
Old-school campaigns are focused primarily on silencing critics, enemies, and opponents. New-school agencies still have those skills if they need them, but they choose to focus their attention on building relationships with customers.
Helping you take care of your customers
Requesting reviews from customers
Building reviews up on the right platforms
Generating publicity and increasing visibility
Responding to unfair attacks
If you've made a mistake, they'll help you earn a fresh start. You need an agency that understands both sides of reputation management.
3. They realize reputation management is ongoing
This doesn't mean that your agency is trying to lock you into an unnecessary contract.
Online reviews are responsible for about 17 percent of search engine rankings for local businesses. Cashing in on those rankings means you need to have a system for collecting these reviews.
Customers want to see relatable and recent reviews when they're searching for a product or solution. Agencies realize the importance of customers needing to see consistent proof that your company is performing well. They know how important your online reputation is and how quickly a good (or bad) review can sway a buying decision.
They also know that reputation and reviews decay over time.
Your reputation management company should provide you with an ongoing service that's optional; they should provide you with the people, processes, and tools you need to manage your reputation well. They should have a team in place to manage outreach with customers, publications, and press.
4. They're local search experts
Your reputation management agency should have experience in running and managing local search campaigns.
You want this because local and organic searches together can be attributed to up to 69 percent of overall digital traffic. As far as Google is concerned, online reviews are part of the local ranking factors that determine your rank and performance.
When it comes to local search, your reputation management company should have expert-level knowledge. They should know how to increase search engine and social media visibility. The easier it is for them to integrate local search, the better your reputation management campaigns will perform.
What To Expect From a Great Reputation Management Company
Reputation Management Company Checklist
Here's a shortlist of the things you should expect from your agency.
They'll show you the plan ahead of time: Your agency will provide you with an A to Z plan, outlining the macro and micro level components of your campaign. You should know exactly what you're getting into—what your campaign costs, what their goals are, how long it will take to reach those goals and the reports they'll provide.
Openness and complete transparency: Your agency should answer all of your questions and concerns; this isn't optional or negotiable. Your agency isn't writing copy or designing a website. They're working with your reputation, so the impact on your business is huge. You need to know exactly what they're doing and how they're doing it.
Consistent communication: Your agency should provide you with constant communication, feedback, and reporting. You'll need to provide them with the decision-makers and influencers who need to be part of the conversation.
You should see evidence of this before you sign on the dotted line. If agencies hide behind proprietary software or secret processes, you'll want to walk away.
FAQs
What are reputation management companies?
Reputation management companies are your digital superheroes; they help safeguard your brand's online image. These companies work to promote your positive content, mitigate any negative content, and create strategies to build and maintain a sterling online image.
What are examples of corporate reputation management?
Corporate reputation management is a bit like public relations on steroids. Let's say, for instance, a company launches a new eco-friendly product line. The reputation management company might work to amplify this positive initiative across social media, blogs, and news outlets. Conversely, if there's a product recall or a customer service mishap, these experts would develop a strategy to address the issue openly and work to rebuild trust with the public.
What is one best practice for reputation management?
The golden rule of reputation management? Be proactive, not reactive. It's all about fostering a positive image from the get-go, rather than waiting to do damage control after a crisis. This includes encouraging and sharing positive customer reviews, promptly addressing complaints, and consistently sharing brand-aligned content.
How do I choose a good reputation management company for me?
Finding the right reputation management company is a bit like finding the perfect pair of shoes – it needs to be the perfect fit. Look for a company that understands your industry, aligns with your values, and has a proven track record. A great reputation management company will be transparent about their methods, provide clear reporting, and be excellent communicators.
Why is online reputation management important?
Imagine you're at a party and someone's saying all the wrong things about you, and you're not there to defend yourself. That's what's happening online without reputation management. Your online reputation dictates how people perceive your business. A strong, positive reputation can drive revenue, attract top talent, and even help you weather a crisis. On the other hand, a poor reputation can damage all of these areas. In this digital age, managing your online reputation is not just important, it's absolutely crucial.
Conclusion
Reputation management is easier when you have the right company behind you. Many businesses don't know what they're doing. Most know how to ask customers for reviews, but they're unsure how to handle the important aspects of reputation management.
If you feel the same way, it may be a good idea to get help.
Businesses that handle reputation management will see consistently large jumps in revenue. Completing simple tasks—claiming your review management profiles, responding to customers online, and requesting reviews—good reputation management leads to more revenue.
Use our guide to find the reputation management companies that are right for your business. Set your values, expectations, and needs ahead of time, and you'll find choosing the right company is easy.
Are you ready to get a handle on your online reputation?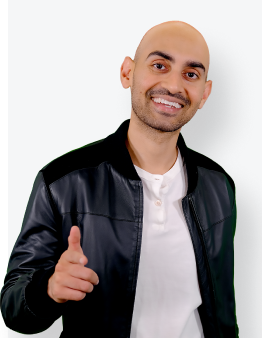 See How My Agency Can Drive More Traffic to Your Website
SEO - unlock more SEO traffic. See real results.
Content Marketing - our team creates epic content that will get shared, get links, and attract traffic.
Paid Media - effective paid strategies with clear ROI.
Are You Using Google Ads? Try Our FREE Ads Grader!
Stop wasting money and unlock the hidden potential of your advertising.
Discover the power of intentional advertising.
Reach your ideal target audience.
Maximize ad spend efficiency.