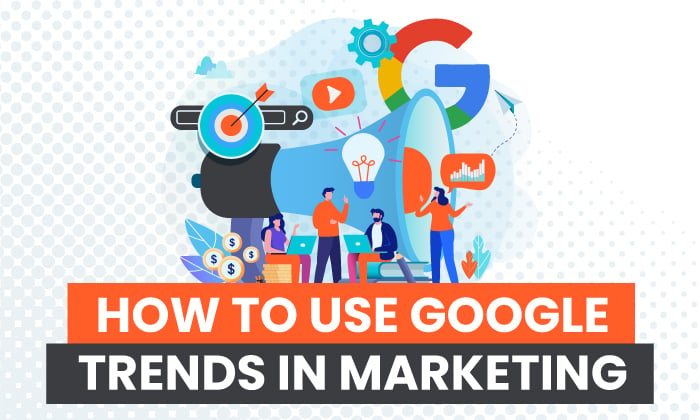 As marketers, our job is to capitalize on what's popular in the "here and now."
When big news hits, how does the data get interpreted? One great way to figure out what is popular is with Google Trends.
This tool identifies current and existing trends in search marketing. You can then take what you've learned and apply it to any (and all) of your marketing strategies.
This article will help you understand how to use Google Trends and the specific steps you can take to maximize your efforts.
What is Google Trends?
Google Trends is an incredible tool that helps marketers identify trending topics across varying industries. While initially created for journalists, the world of journalism and marketing have a lot in common.
Both the journalist and the marketer are vying for attention. Whatever it is they're trying to do, they want to get the attention of as many people as possible using information that is relevant and interesting to the audience.
In comes Google Trends. This resource will show you what topics are currently trending and how to use Google Trends to draw the attention of your chosen audience.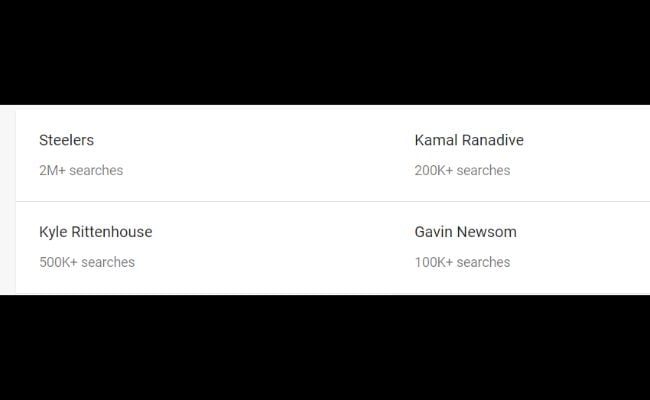 For example, in October 2021, the Pittsburgh Steelers are the number one trending search on Google. This could be due to a recent football game during the busy football season.
Google tells us this is a popular topic, so it might be a good idea to create some content around that topic. Of course, there are a million other factors that go into deciding what content to create, but Google Trends at least tells us what is popular.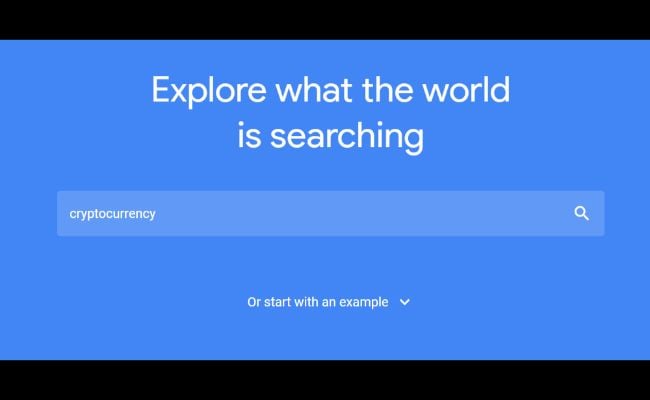 If you have a specific topic that you want to cover but aren't sure if it's trending, you can search for it in the search bar at the top.
For example, I decided to search "cryptocurrency" to see what Google had to say.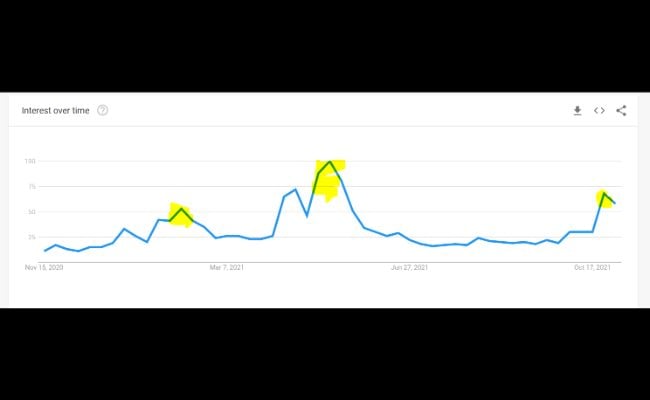 As you can see, you get a chart ranging from 0 to 100, with 100 being incredibly high interest and 0 being nearly no interest.
A few times across the last two years, cryptocurrency has spiked as a highly searched keyword on Google. This could be due to the release of new and popular coins or a lot more people getting established in crypto and keeping track of trends.
Why Should You Use Google Trends for Marketing?
Even if you aren't involved in content creation, you should know how to use Google Trends. Marketers who use this tool do so because they understand the importance of capitalizing on trends.
We're often very focused on producing the most evergreen content possible, but we should also work to maximize our efforts by finding the right time and place to put out a certain piece of content. Here's how to use Google Trends:
Find Interesting Topics
Whether you're a blogger, content marketer, or SEO professional, you need to find interesting topics people want to read about. In the SEO world, we're so focused on our keywords and technical SEO that we sometimes forget that people actually want to read about topics that interest them.
A great way to find what interests people the most is Google Trends. The tool will tell you how much interest surrounds a specific search phrase so you can determine whether or not it's worth creating content about it.
Keep in mind that not all popular trends are a good choice. To work, look for popular trends that are also related to your industry.
Inspire Creativity
Google Trends is not only useful for written content, but visual content as well. If you're trying to figure out what to do with your social media or how to improve a featured image on your blog post, Google Trends can help you figure out what your audience wants to see.
By creating a relevant and interesting image, you're not only generating attention for your content, but showing your target audience you understand them and know exactly what they want. This has many SEO-related benefits, too.
Identify (and Leverage) Seasonal Trends
If you're in the travel, e-commerce, or tourism industries, your business might be seasonal. Identifying when to stock up on certain items can be difficult.
For example, let's say you sell a piece of bass fishing equipment in your e-commerce store. You could use Google Trends to see when in the year bass fishing trends the most. Let's take a look for ourselves.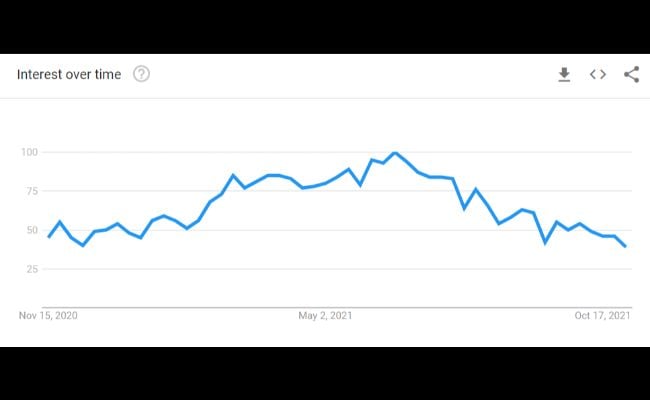 As you can see from the image, the interest in bass fishing gradually increases through the late winter and into spring. It peaks in early summer and then drops back down as you move into fall and winter again—at least in the Northern hemisphere.
This would tell an e-commerce store owner that it's time to really start pushing your marketing campaigns in the late winter, because this is when interest is trending. You may also want to increase your inventory to prevent backorders.
5 Ways to Use Google Trends for Marketing
Now that you understand some of the motivation behind how to use Google Trends for SEO, let's look at the actionable steps you can take to make a difference in your various marketing campaigns.
1. Get Ideas for Blog Posts
Google Trends is a great way to find new and exciting topics to write about. If you're a writer, you know how challenging it can be to produce content your readers will love and will rank well on Google. Google Trends is a sure-fire method to find good topics because they tell you exactly what is trending.
Best of all, they provide you with specific topics and queries around trending search phrases. Let's stick with the bass fishing example and scroll down a little bit. One is related topics, and the other is related queries. Here's what it looks like:

Now you can expand on the theme and write about related topics. Major League Fishing and Bass Anglers Sportsman Society were some top related topics. Based on that, perhaps they were trending since Major League Fishing launched in 2022. On top of that, it was Bass Pro's 50th anniversary, making a big year in fishing overall.
It's important to choose blog post topics based on trends if you're writing something that is time-sensitive. If it's not evergreen content, it needs to be completely relevant to your audience at the time you publish it.
2. Get Ideas for Social Media Campaigns
Google Trends searches aren't only for organic search marketing; you can use them for social media as well. Building a large social following and constantly coming up with interesting content to promote is a tall task. Google Trends can help.
We can use the related queries section to identify trending topics and build creatives and copy around that. For example, we see a few searches relating to a bass pro fishing tournament. If we run a fishing e-commerce store, perhaps we want to create a social media campaign on that topic. We could use the tournament to draw attention to our brand and maybe mention professional fishers using gear or lures we offer.
Another interesting query is "winter bass fishing lures." That is one of those seasonal examples I was talking about. Now might be a good time to create a social media campaign around our best fishing lures for the winter season. People are preparing to fish when it's cold and we can use that to our advantage.
3. Use It to Improve SEO
One obvious area to use Google Trends for SEO is in organic search. It can also help with keyword research. Not everyone is using Google Trends, so you can use it to identify relevant keywords and then use free SEO tools like Ubersuggest to decide if it's a valuable keyword or not.
Best of all, you can look at years' worth of data so you can plan for the future by knowing whether or not a topic is evergreen enough to put in the time and effort.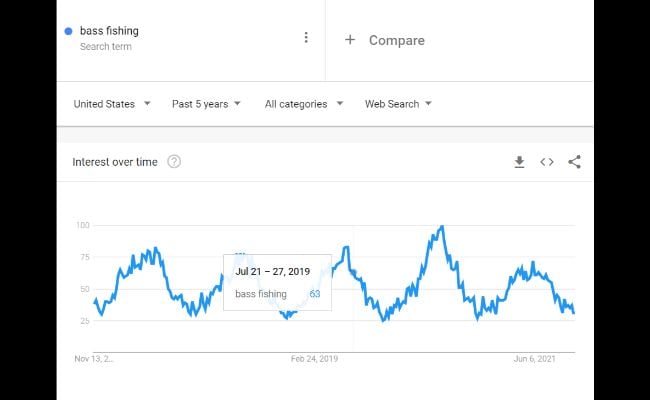 If we take the same bass fishing keyword and spread it out across five years, it becomes more apparent that the trend will continue for years.
Each year the volume rises and falls during the same months. This can fuel your marketing strategy and help you prepare for the months ahead.
4. Find Long-tail Keywords for Paid Campaigns
Finding the right keywords for your paid campaigns is crucial to your success. It's also important from a financial standpoint, because the sooner you find the right keywords, the sooner you can start capitalizing on paid ads.
If we narrow our bass fishing search down to 90 days, it tells us more about what is trending right now.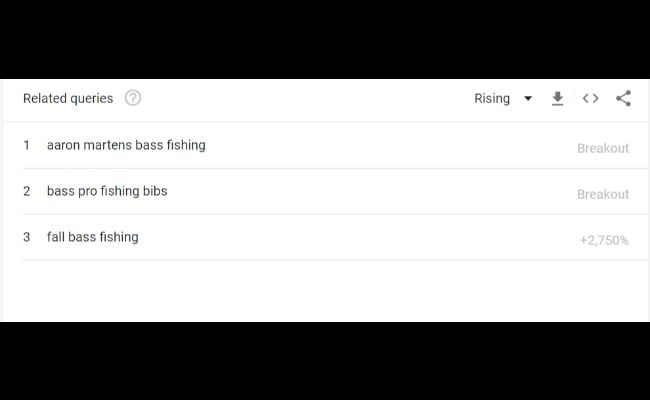 There are three long-tail keywords, with one of them being "bass pro fishing bibs". A bib is what fishers wear to cover their clothes when they get into the water. They also wear them when it's getting cold as opposed to waders. This tells us fishers are looking for gear to help them keep warm as the temperatures start to drop.
If we're not currently selling fishing bibs on our e-commerce store, this would also tell us that now is the time to do so. We may create a paid campaign around that type of product with an image of someone using a bib in a fall-like setting.
This would appeal to our target audience, and we know the term is trending, so there should be plenty of paid search volume.
5. Find Trending Topic Ideas for Webinars
When you're creating a webinar, you want to reach the right people (those interested in what you have to offer) at the right time. Google Trends can help you do just that.
Sticking with the fishing theme, perhaps you're selling a course on bass fishing and you're using a free webinar to draw people in and get them to buy the course. You'll want to use currently trending topics in social media and PPC advertising to get these people's attention. You also need to know what anglers are actively searching for on the internet.
In comes Google Trends. The tool lays it all on the line for you to start speaking their language. There should be no need to guess or take chances between proper keyword research and Google Trends.
FAQs
Is Google Trends free to use?
Yes, it is a free tool from Google. Google Trends takes a quick look at what's trending in the news, what people are currently searching for, and how things change over time. These searches can be based on season or geographic location.  
Can Google Trends be used for SEO?
Google Trends is an excellent tool that can support SEO through niche content planning. Put in the keyword you're curious about following and gain valuable insights into how many people are talking about that topic and other closely related topics. This allows you to curate a highly personalized SEO strategy. 
Conclusion
Being able to identify trends is important for all marketers. No matter what industry you're in, your target audience is actively searching for things on Google, and you need to figure out what those things are.
Google Trends is a great way to get started. Need more help? Reach out to our digital marketing team.
Do you think Google Trends is a powerful marketing tool? Why or why not?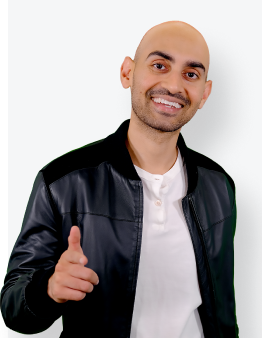 See How My Agency Can Drive More Traffic to Your Website
SEO - unlock more SEO traffic. See real results.
Content Marketing - our team creates epic content that will get shared, get links, and attract traffic.
Paid Media - effective paid strategies with clear ROI.
Are You Using Google Ads? Try Our FREE Ads Grader!
Stop wasting money and unlock the hidden potential of your advertising.
Discover the power of intentional advertising.
Reach your ideal target audience.
Maximize ad spend efficiency.