When it comes to creating link bait, there is no one more naturally successful at it than bloggers. Because one thing that bloggers believe in most is good content – if their content isn't interesting, then no one wants to see it, share it, or link to it.
Popular Types of Link Bait
Here are some types of link bait used by bloggers and marketers to draw traffic and links to their sites.
1. List Posts
Nothing gets more traffic, social shares, and bookmarks like a good resource list. The reason these generate such interest is they are (if done properly) a one-stop shop for information that people want to know. And the longer the list, the better.
You can generally be assured that if you see a list of the top 50 resources on Google Analytics vs. a top 10 list, the top 50 will probably contain everything you need to know vs. the top 10.
The best part about lists is that they can be made about virtually any topic. And if you want your list to do well on a particular social network, just focus your list toward that network, such as the 50 experts on Twitter or 25 of the best Facebook pages in your niche or industry.
What makes a list post successful?
If you want your list post to be popular, you really have to go the extra mile when creating it. One great example is a top 100 social media colleges list created by Student Advisor and HubSpot.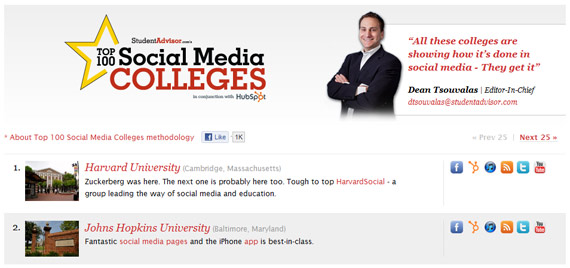 They went above and beyond by not just listing the colleges plus a few details, but also including great graphics and social icons linking to each college's social media profiles and blogs. In return, they have (to date) received over 500 tweets, 1,000 Facebook likes, and 300 backlinks.
What makes a list post go viral?
List posts are all about the promotion. Some great ways to promote your list include:
Adding blog posts to your list. Many blogs (especially WordPress) have a ping / trackback system that lets the blog owner know that someone has linked to their blog post. Hence, if you can somehow incorporate a blog post for resources in your list, those site owners will get pinged as soon as your list goes live.
Notify people they are on your list. There are many ways to let people know that they are on your list, including but not limited to:

Sending a tweet mentioning them. Depending on the length of your list, you could generate many tweets to promote it, such as "25 of the top social media bloggers including @person1 @person2 @person3 at http://bit.ly/yourlistpost" or similar tweets.
Tagging them on Facebook. Use the link sharing option on your Facebook wall and within your comment about the list, add several names that are in the list, linking your list to their fan page or personal profile wall.

Email them. As a last resort, it doesn't hurt to simply send a friendly email letting someone know that they are included in your list. It may prompt them to at least socially share your list with their network.
How can you get links to your list?
Links typically come naturally for list posts, but you can boost your backlinks to it by doing something as simple as creating a badge of honor for those listed to add to their websites. Social Media Examiner does a good job with this by creating a badge for their top 10 social media blog winners each year. Since they are choosing highly trafficked, authority sites, they are getting links back from sites that will send new visitors their way.
2. Infographics
Chances are, there is no one reading this that doesn't know what an infographic is. Some may know them as information graphics, others as data visualizations. But no matter what you call them, you've seen them.
What makes infographics so popular are the fact that they can make even the most boring information interesting with a little bit of good graphic design. They can make the most complex information easier to consume by presenting it in easy to read graphs and short statistics.
What makes an infographic successful?
Popular infographics have two things in common. First, they have great graphic design. You cannot skimp on this one – if you aren't a graphic design genius, find someone who is to create your infographic for you. Second, they present information that people are interested in, whether it is a general audience of people or people within a specific industry.
What makes an infographic go viral?
With infographics, it's about finding the right spots to place it and saying "Hey, I just created this awesome infographic about Facebook. Since you write about Facebook all the time, I thought you would want to share this with your audience." For example, LinkedIn created an infographic about how they surpassed 100 million users. When it was placed on Mashable, a post which drew over 4,500 tweets, 1,000 Facebook likes, and I'm sure a ton of traffic.
How can you get links to your infographic?
Infographics are very link building friendly. All you have to do is create a super easy embed code for others to use on their website. This embed code can generally include a link, and voila – you will have others coming to your site, grabbing your link code, and linking back to you. A great example is the Noob Guide to Online Marketing.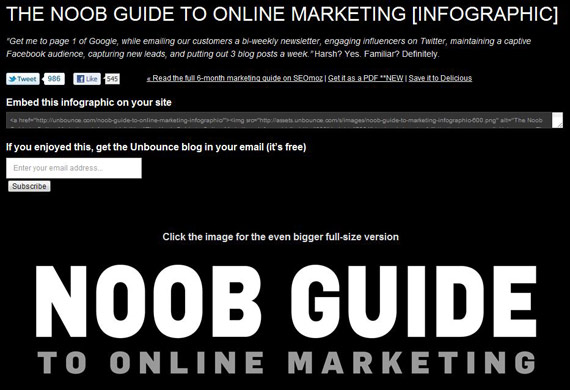 By adding this easy embed code, the infographic has garnered (to date) over 350 links and a significant amount of social sharing. Also, by going the extra step of adding their mailing list opt-in box, I'm sure they have done well in converting subscribers to their list as well.
3. Videos
So what about those people who don't want to read long posts or are not interested in catchy, colorful graphics? This is where video comes in. Bloggers have been hopping onto the video production train with everything including:
Video posts of themselves expressing their opinions.
Expert interview series that are recorded via Skype.
Tutorials / screencasts of how to use a product.
Webinar replays.
In a reverse move, bloggers even invite their readers to respond to a specific topic via video, or enter contests with video entries.
What makes a video successful?
For most blogs, a video's success can be directly related to the speaker themselves, or when it comes to interviews, the popularity of the person being questioned. The bigger the name in your industry, the more people will want to watch and share it.
What makes a video go viral?
Viral video, as is evident by the top videos currently on YouTube at any given time, is a random event. It just takes one person with a big following on their blog or social network to notice and share it to get the ball rolling.
The reason it's so easy for video to go viral is that it's so easy to share – if you post a link to YouTube on your Facebook, for example, the whole video will play right in other people's news feeds. They're easily embeddable just about anywhere. And with the right use of keywords, you can rank well in YouTube search as well as Google video results.
How can you get links from your video?
Popular video sites like YouTube and Vimeo allow you to add links to the description of the video. These links will get lots of exposure from your video if it goes viral, and therefore will lead to lots of traffic generation as people will want to get to know the person, blogger, or business behind the video.
Your Linkbait Successes
Now it's your turn. Have you created a piece of link bait that went viral, or at least produced some great results? Please share your thoughts in the comments below.
About the Author: Kristi Hines is a freelance writer, blogger, and social media enthusiast. Her blog Kikolani focuses on blog marketing, including social networking strategies and blogging tips.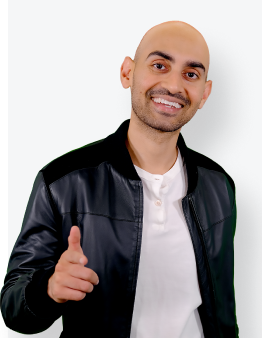 See How My Agency Can Drive More Traffic to Your Website
SEO - unlock more SEO traffic. See real results.
Content Marketing - our team creates epic content that will get shared, get links, and attract traffic.
Paid Media - effective paid strategies with clear ROI.