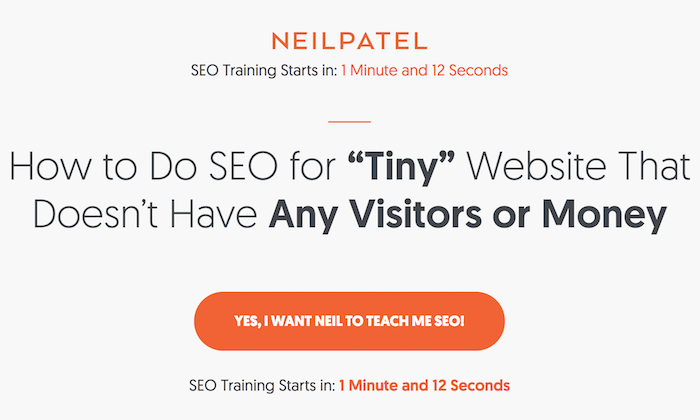 Currently, more than 60% of marketers are using webinars as part of their content marketing strategies.
Webinars have exploded in growth over the past few years.
And more marketers are starting to take advantage of them.
In fact, they are one of my favorite ways to convert traffic and subscribers into real customers.
Why? Because consumer behavior changes. And webinars help us change with it.
People love hands-on lessons and walkthroughs that can help them better build their own businesses.
They buy your product or sign up for your service because it will help them. Not because it's cool or hip.
Webinars show them just how much they need what you've got.
I've done countless webinars on Kissmetrics and for my own blog and have found great success with them.
For example, 2-3% conversion rates are common in the industry.
But I've been able to get that as high as a 22% conversion rate consistently.
I had 74,381 attendees in 77 webinars and converted 16,394 of them.
But if I'm honest, that's not because I am a webinar wunderkind. They weren't anything out of the ordinary.
That means that you can use webinars to boost your conversions, too.
I'll show you why webinars work, what I did to increase my webinar attendance, and how you can do the same.
Why webinars convert so many customers
Webinars are one of the best ways to hook in new leads.
They are great for teaching people the hands-on methods that you've used to see success.
Have you driven 45% more traffic by using a specific tactic? You can easily create a webinar out of it.
Have you averaged conversion rates on PPC that are 3x the industry standard? Make a webinar.
It's that simple.
If you've done something that nets great results, people want to know and they'll likely be very interested in what you have to say.
Webinars turn you into a trusted expert and a thought leader in almost no time.
It doesn't hurt that they're conversion machines.
The best webinars can generate conversion rate averages of 19%.
On top of that, 51% of people who discover your webinar's landing page will convert on the initial sign-up. Then around 36% of those people will attend.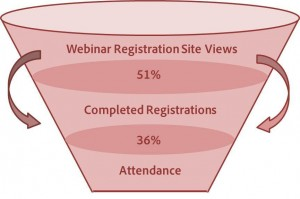 Those are pretty solid numbers when you compare them to the average conversion rates on standard websites or PPC ads.
I host webinars all the time on my own site because they work. I wouldn't be doing them if they didn't.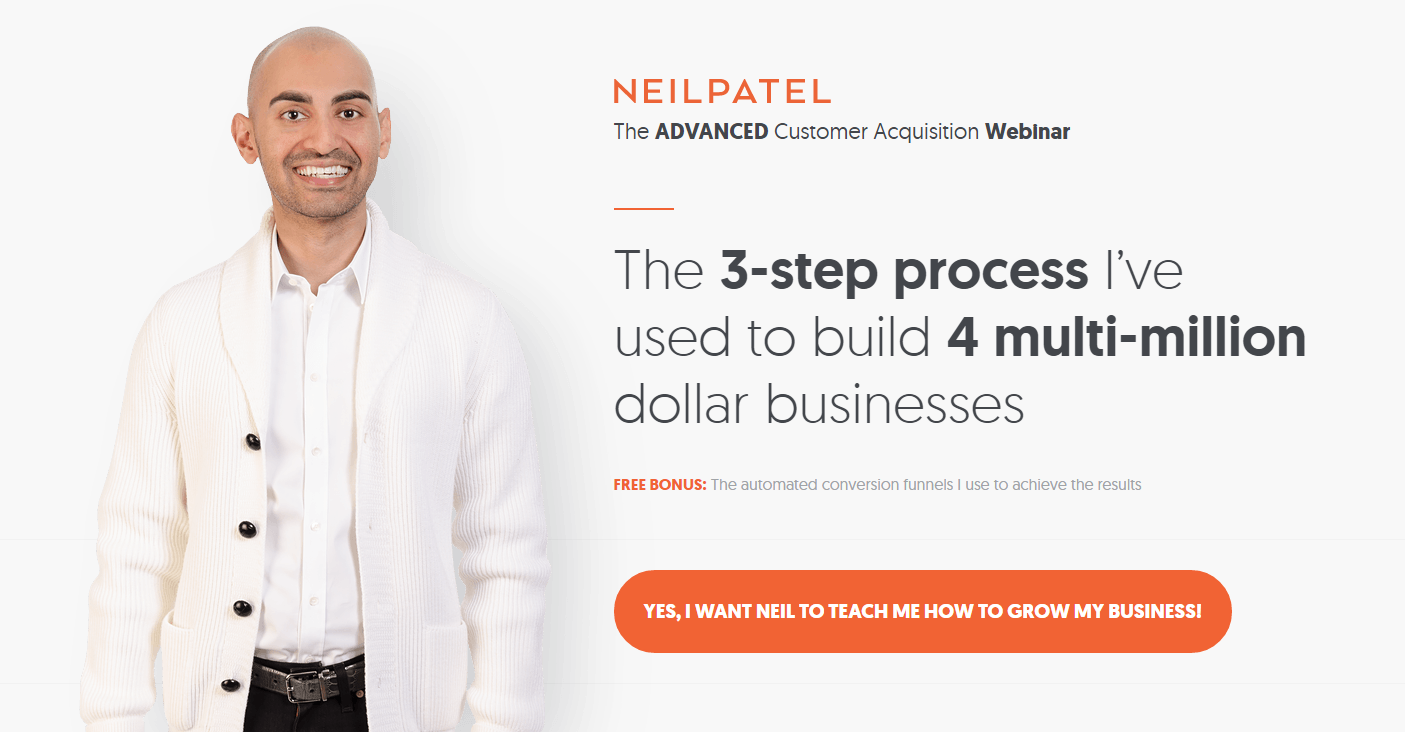 And the best part of it all?
The average webinar viewing time is 53 minutes!
That gives you countless opportunities to push CTAs and subscriptions to grow your leads and email lists.
There's no other marketing tactic that holds people's attention for that long!
Now that we are all on Team Webinar, let's look at the #1 tactic I use to boost my webinar attendance.
How I increased my attendance by using Facebook Ads
Before we go through how to replicate my success with Facebook Ads and webinars, we need to do a simple analysis.
A lot of people are hesitant to do webinars because of a lack of traffic.
When I run a webinar now, it's usually pretty easy for me to get enough sign-ups to make it worthwhile.
But it wasn't always that way.
For most people who have found success in webinars, success comes after lots of failed attempts. I prefer to get it right the first time.
The goal should always be to reach as many people as possible. You need as large of an audience as you can get.
Why? Take a glance at those industry standards we looked at earlier.
51% of traffic to your webinar page will convert, but only 36% of that 51% will attend, and only 19% of that 36% will become leads.
Your precious traffic starts to dwindle down fast.
So, let's jump into my strategy for increasing your webinar attendance fast.
Step 1. Start by promoting alike content.
AdWords and Facebook are vastly different platforms.
That means they don't convert customers in the same way.
When someone uses Google to search for a product or service, it's because they have a pretty high intent to purchase or are in need of more information.
But that's not why they are using or browsing Facebook.
So you can't simply push a webinar ad to the masses and expect 10% conversion rates.
The best way to ease people into converting on your prized possession (the webinar) is to warm them up with content and then retarget them.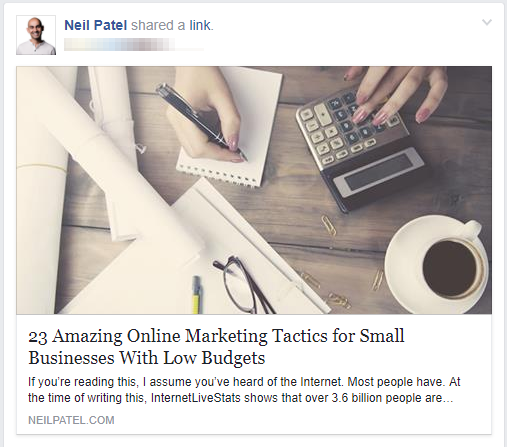 The trick here is to promote content that will be relevant to your webinar.
For example, I ran this webinar a few times: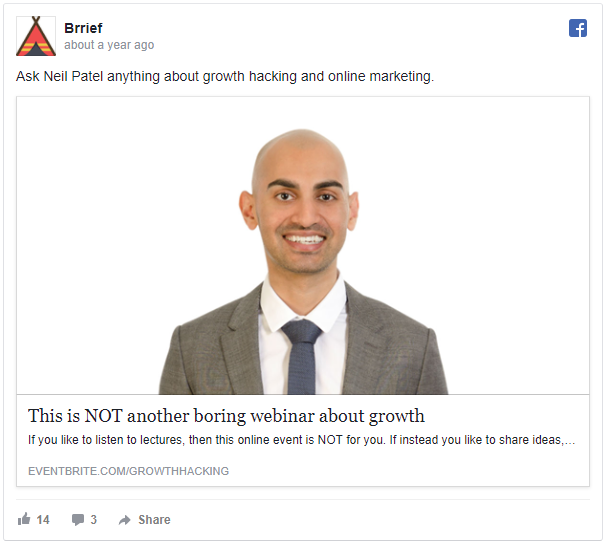 That content piece about marketing tactics to grow your business would perfectly resonate with people who are hoping to growth hack their online marketing.
How can you do this?
First, log in to your Facebook Business Manager account and navigate to your Ads Manager:
Next, we're going to set up an ad based on engagement objectives like shares, likes, and comments: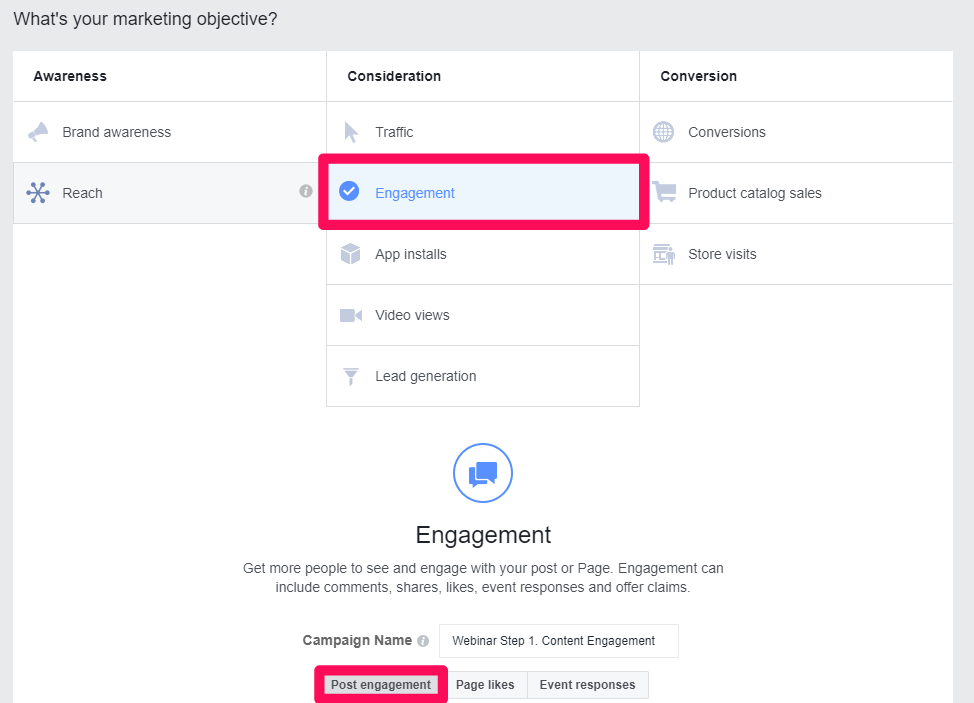 By using an engagement objective rather than simply reach or traffic, we can sort out those who are highly unlikely to convert on your webinar.
No one wants to waste time and money on reach ads for audiences that aren't relevant.
So, use the engagement objective to assess the targets that are interested in your content.
Next, select the post that you want to use for an ad: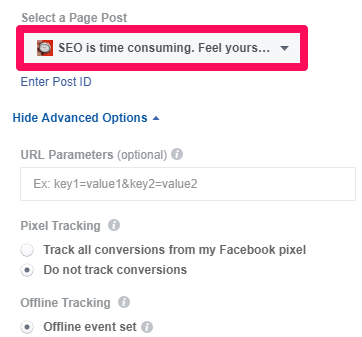 Remember to make sure that you boost posts that will relate to your webinar.
If your webinar is based on SEO tactics, run ads for posts about SEO.
If your webinar is PPC-based, don't run articles about SEO or content marketing.
You get the point. Your engagement ads should relate heavily to your webinar topic so that you'll know those people who interacted are going to be interested in the webinar.
Next, confirm your ad and start running it.

And then proceed to the next step.
Step 2. Now, run your lead-gen ads.
Once you have some quality engagement on your current ads, you're ready to bring the people to the well and drive webinar sign-ups.
Maybe you're asking, "Why not just start out with a webinar ad?
Your audience isn't primed to convert yet. It's much easier to convert sign-ups for your webinar if you have great audience targeting.
Plus, now that you've run engagement ads, you can simply retarget that audience to guarantee high sign-up rates.
I've used this strategy for nearly all my webinars, and it works.
Here's how to get started.
Go to the Facebook Ads Manager and create a new custom audience:

Make sure to select the custom audience option when you create your new audience:

The key here is to select engagement for your custom audience: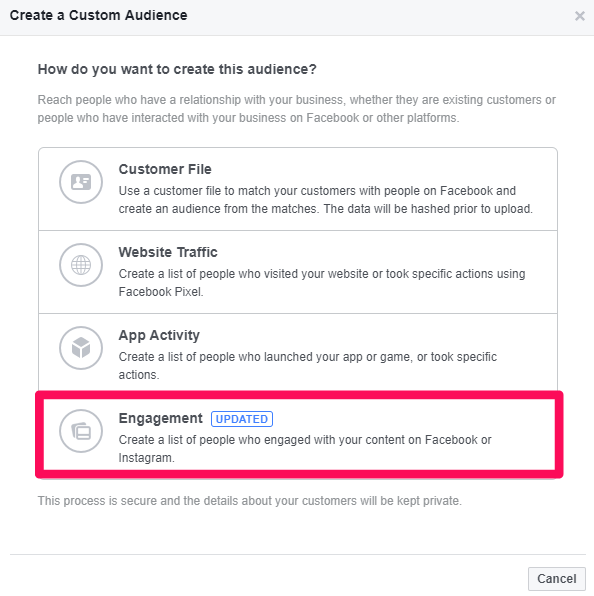 Using this type of custom audience will allow you to target people who engaged with your latest content ads on Facebook.
Essentially, it will make a remarketing list for you based on people who loved your content ads so you can remarket them with your webinar ads!
In this next step, you've got multiple options to choose from: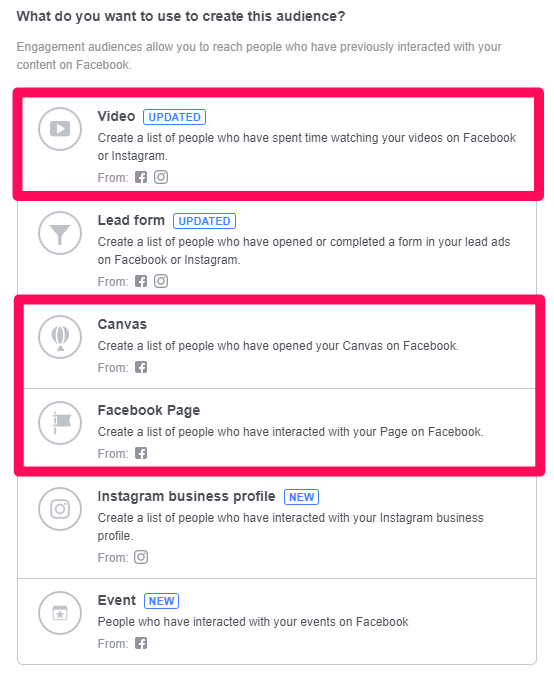 If you've posted a few videos based on your webinar topic, you can select video to target them with detailed options: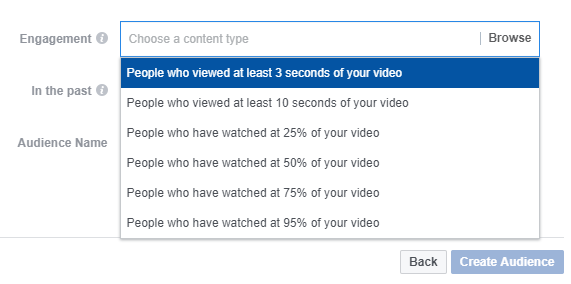 That way, you can run webinar ads to multiple audiences based on the time they spent watching the video.
The shorter their attention spans, the less 'qualified' the traffic is. However, the longer the attention span, the fewer people you can usually target.
So the ultimate decision is a bit of a balancing act, to be honest.
You're going to have to find that sweet spot of reaching enough people to pack your webinars while also making sure they're still somewhat qualified.
If you want to run a custom audience based on a Canvas ad, you can do that too: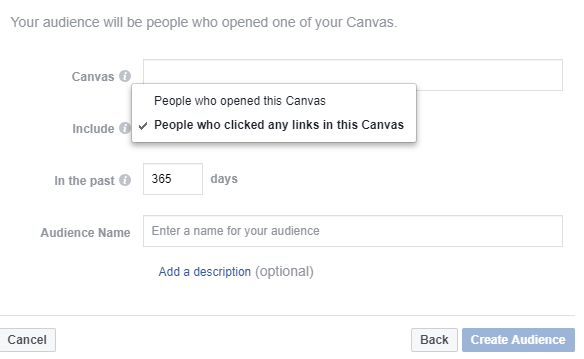 These are new mobile-specific ad units. They're interactive, so they're perfect for telling stories or getting people to engage.
They're also perfect if your own mobile site isn't that great.
Instead of risking 113% of your traffic bouncing, you can have them bypass your mobile site entirely with Canvas ads.
Or, if you ran a bunch of simple post-based ads, you can then make a custom audience that retargets those people who engaged with your posts:

Select "People who engaged with any post or ad" to remarket your ad to that list of people who recently engaged with your pre-webinar content.
You can customize the "days" counter to limit the timeframe to your recent content.
Next, click "Create Audience" to finalize it:

Now, you can run simple ads for your webinar, but instead of selecting a broader audience, you can select the custom audience you just created!
Try running webinar-style ads like this: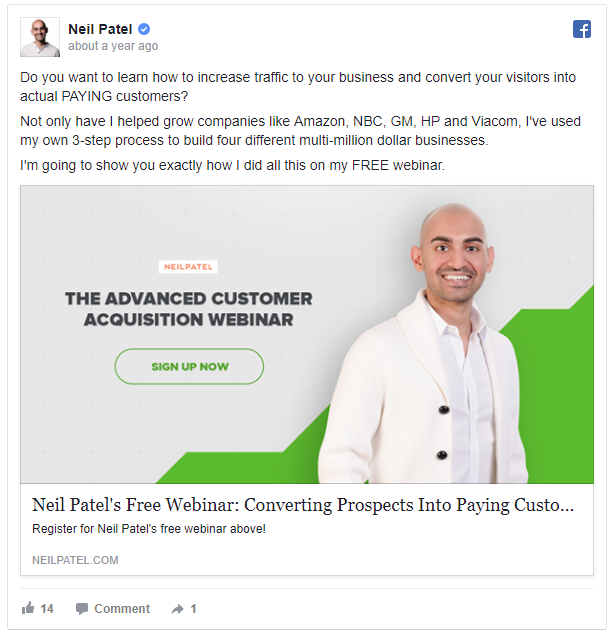 The key here is to use simple ads that will direct a click back to a landing page on your website.
Make sure to have an irresistible value proposition and a simple graphic to accompany it.
The trick is to focus on what people are going to get.
Most of your audience is busy. They can't waste an hour in the middle of the day.
So the entire ad's message should focus on the end result or outcome that attendees will walk away with.
There needs to be an ROI for the time they spend with you.
Otherwise, they'll never buy anything afterward.
You can also try using CTA buttons in your ads like this: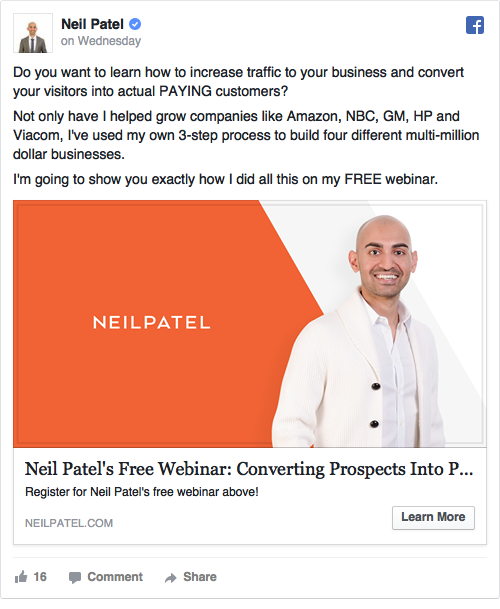 To get started running ads to your new custom audience, create an ad set based off of the "Conversions" objective: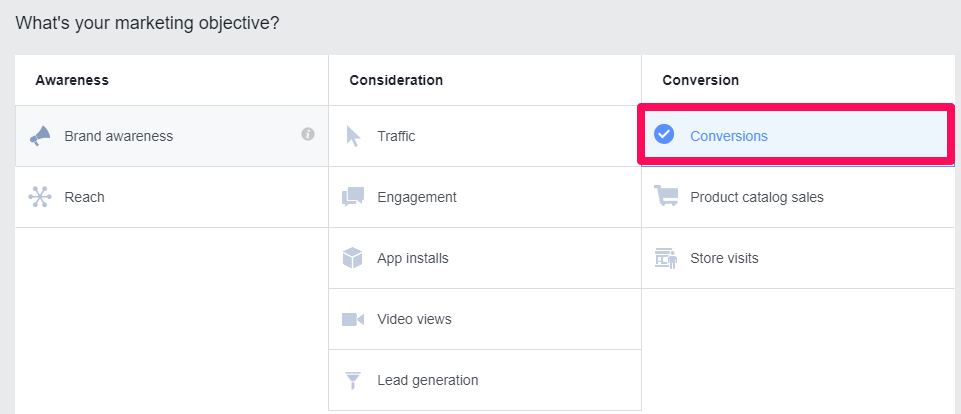 Next, under "Ad Set," click "Audience."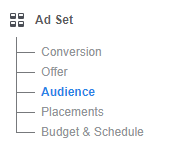 Here, you can select the custom audience you just created: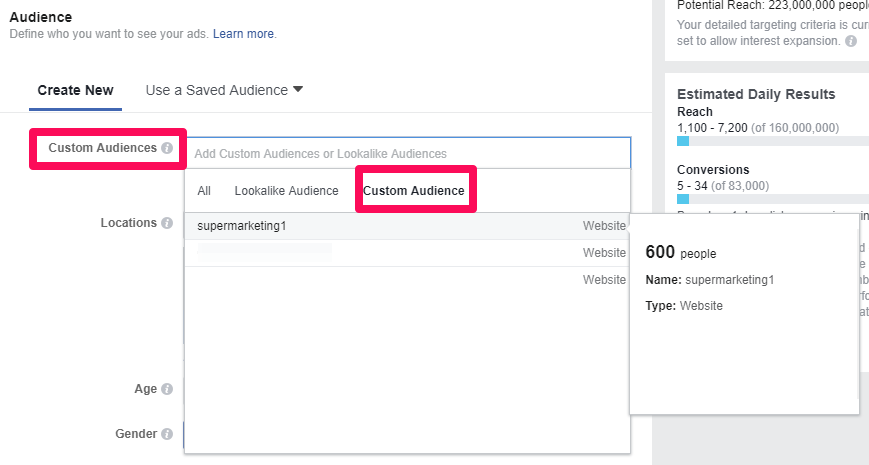 After you select your custom audience, create a single image-based ad:

This is my favorite type of ad format. It doesn't take up the user's time, and it drives conversions fast with a targeted CTA.
Next, scroll down to the "Links" section and optimize your ad for your webinar.
Here are some of the components you need to focus on: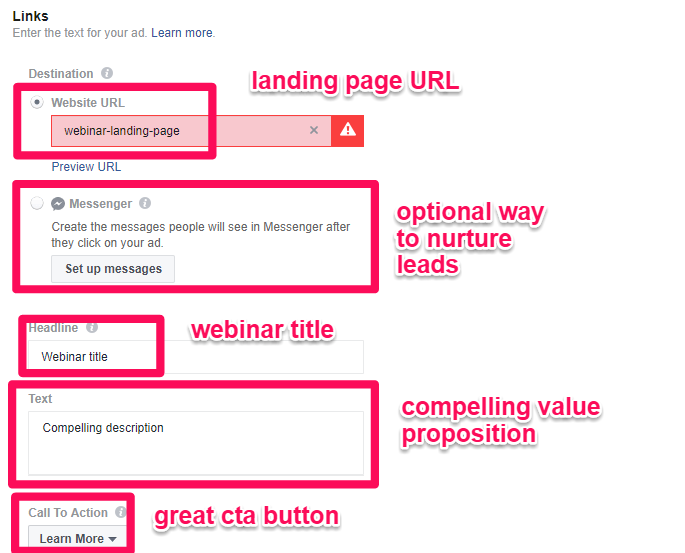 Make sure you have a great landing page that incorporates good message match with your Facebook Ad.
Consistency between ads and landing pages is crucial for driving conversions!
You can also set up Facebook Messenger to nurture leads who click on your ads.
Put some thought into the CTA button you put with your ads. You have tons of options:

I suggest using "Learn More" or "Sign Up."
When you're all done, your final ads should look something like this: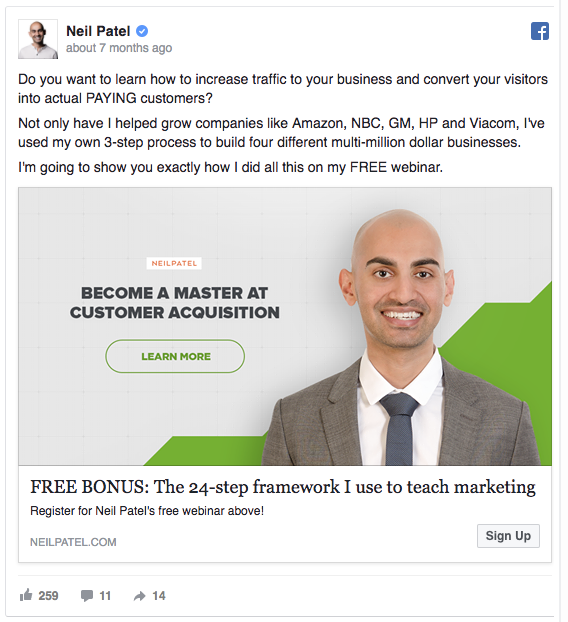 Now, it's time to break down the anatomy of a high-converting webinar ad to help you drive those attendance numbers even higher.
Let's jump right in.
The anatomy of a high-converting webinar ad
So you've set up two types of ads and a new custom audience or two based on those engagement factors.
Congrats! All the hardest work is done, and you're almost ready to sit back and watch your attendance skyrocket.
But first, we want to squeeze the most potential out of your ads.
And to do that, we need to focus on the techniques that will create the highest conversions.
Here are some of my past webinar ads that I've found massive success with, and a few others that work great, too.
Tip #1. Social Proof
Social proof is one of the best ways to drive conversions on a webinar sign-up.
People won't trust you without it. And they won't listen for an hour if you don't have a history of success or a proven method.
Have you guest posted for tons of top blogs? Then you should mention it!
That also applies to big, household clients or customers you've worked with.
Here's an example of one of my webinar ads: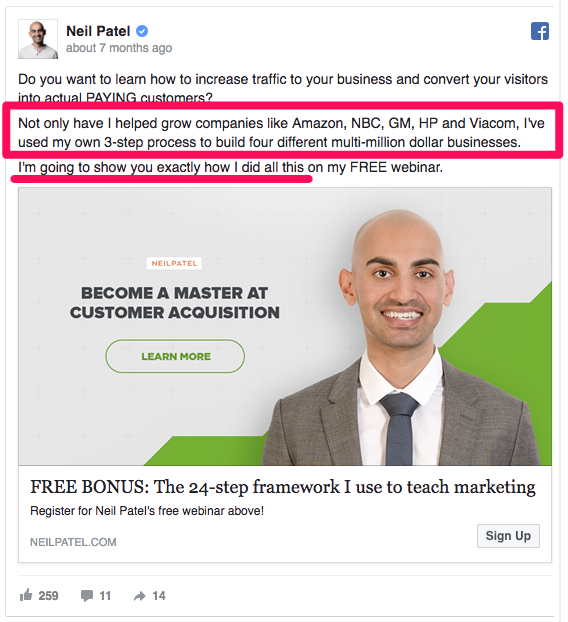 Notice how I use the concept of social proof by stating my accomplishments?
I show credibility and build trust with the user by illustrating my proven track record.
If you don't necessarily have a huge resume, you can still use social proof.
Do you have tons of clients? Can you mention any case studies? Did you help a client grow their traffic or rankings?
You get the point: Tap into any case study, review, or result to harness the power of social proof.
A legitimate, up-and-to-the-right graph speaks louder than words.
Here's another great example from Ashley Stahl: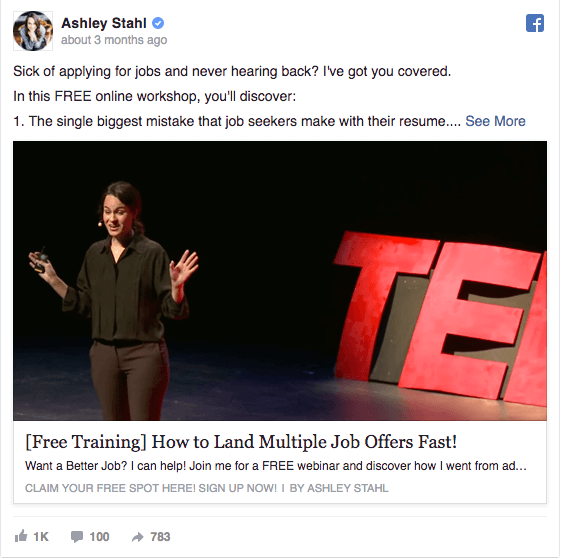 Notice that giant TED Talk image in the background? That's instant social proof without even having to say it.
You may have never heard of Ashley before. But now, that doesn't matter.
That giant red sign in the background does all the talking for her.
88% of consumers trust online reviews and social proof as much as personal recommendations.
So including social proof in your webinar-based ads is a necessity to driving higher attendance.
Tip #2. Value proposition and CTA
Another main component of your Facebook Ads should be a stellar value proposition and CTA.
If you just tout your accomplishments all day, people will quickly lose interest.
Social proof is meant to back up your claims and the benefits you are offering.
It's meant to be a credibility booster, but not the whole pitch.
Your value proposition needs to contain great benefits for the consumer, and your CTA needs to drive clicks fast.
Here's how I did this on my ads: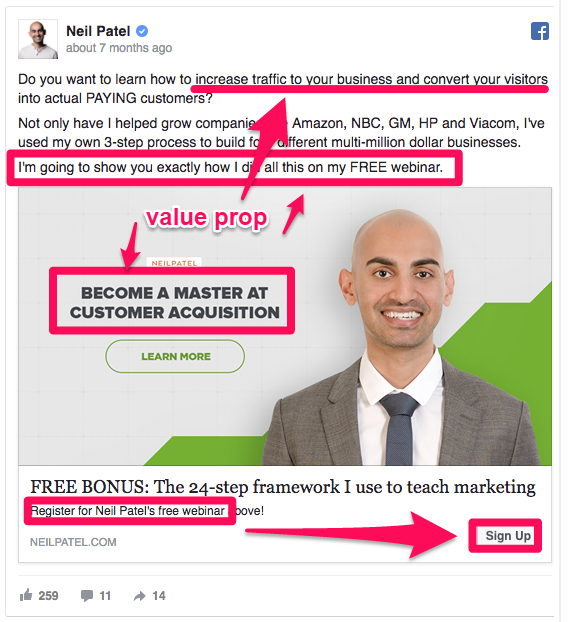 I communicated a clear value proposition.
I will teach you how to become a master of customer acquisition so that you can increase traffic and convert visitors, all for free.
Then, I provided a strong call to action: Register for the webinar now by clicking "Sign Up."
Those three components (social proof, value proposition, CTA) consistently help me get more webinar sign-ups and improve my Facebook Ads.
Webinars are one of the absolute best ways to convert more people.
However, nobody talks about the biggest problem: Filling them up!
The only way you're going to sell something is to make sure you're speaking to a few thousand people at one time.
And the best way to consistently get thousands of webinar attendees is through Facebook Ads.
You just have to build up awareness and interest first.
Then you can 'turn on the tap' to generate new webinar attendees as cheaply as possible.
Conclusion
The majority of marketers are currently using webinars in their marketing strategies.
On top of that, webinars have seen explosive growth in the past few years. Tons of professionals are starting to include them in their marketing arsenal.
And webinars happen to be one of my favorite types of marketing tools to get more leads.
I do them all the time because they work.
They have extremely high conversion rates in comparison to ads.
Why? People don't really need your product or service until you make them realize a need for it.
And webinars will drive home the idea that they need what you're selling.
In my own experience with webinars, I've seen conversion rates above 20%.
So you can leave behind those conversion-less ads and shift your marketing tactics to webinars.
Make sure to use Facebook Ads to drive more traffic to your page.
Then, remarket those active users who engaged with your content. That way you know that these visitors are interested in your content.
Make sure to include social proof, a great value proposition, and a clear call to action.
Then, watch your audience roll in.
What's your best strategy to consistently fill up webinars?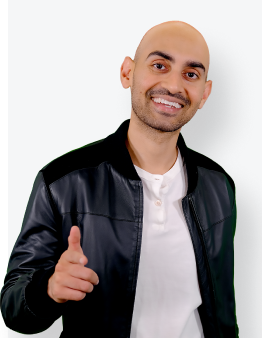 See How My Agency Can Drive More Traffic to Your Website
SEO - unlock more SEO traffic. See real results.
Content Marketing - our team creates epic content that will get shared, get links, and attract traffic.
Paid Media - effective paid strategies with clear ROI.
Are You Using Google Ads? Try Our FREE Ads Grader!
Stop wasting money and unlock the hidden potential of your advertising.
Discover the power of intentional advertising.
Reach your ideal target audience.
Maximize ad spend efficiency.