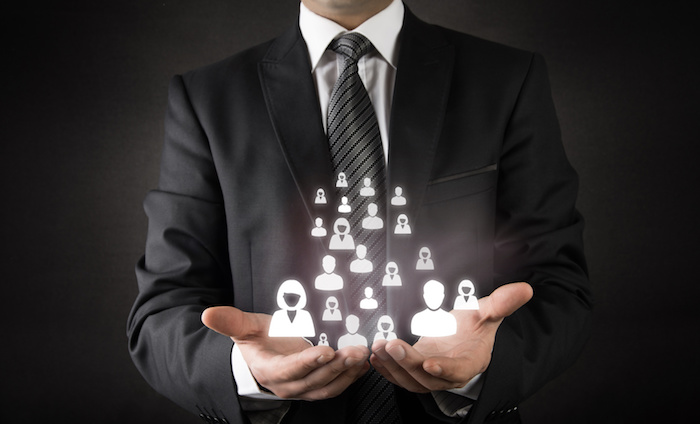 When it comes to getting your first customers, you might not know how to get the job done, especially without paying for ads.
Online advertising isn't a solution for everyone, especially for business owners that don't have big marketing budgets.
Thankfully, there are other ways that you can go about attracting potential customers without having to spend a lot of money on acquisition.
In this article, we're going to take a look at how you can obtain new customers without having to spend money on ads.
We'll look at a number of tactics for successfully marketing to your target customers that you can put into action right now.  You'll see a great return when executed properly.
By the end of this post, you'll know all that you need to, when it comes to attracting potential customers on a budget.
Content Marketing
Content Marketing can be an extremely effective way to attract potential customers on a tight budget.
In fact, the Content Marketing Institute found that 88% of B2B respondents are using content marketing as part of their marketing strategy.
Though content marketing can be expensive, there are forms of content where the only cost associated with the strategy is the time you spend on creating the content in the first place.
One such content form is a blog post.
81% of B2B companies use blog posts as part of their content marketing strategy.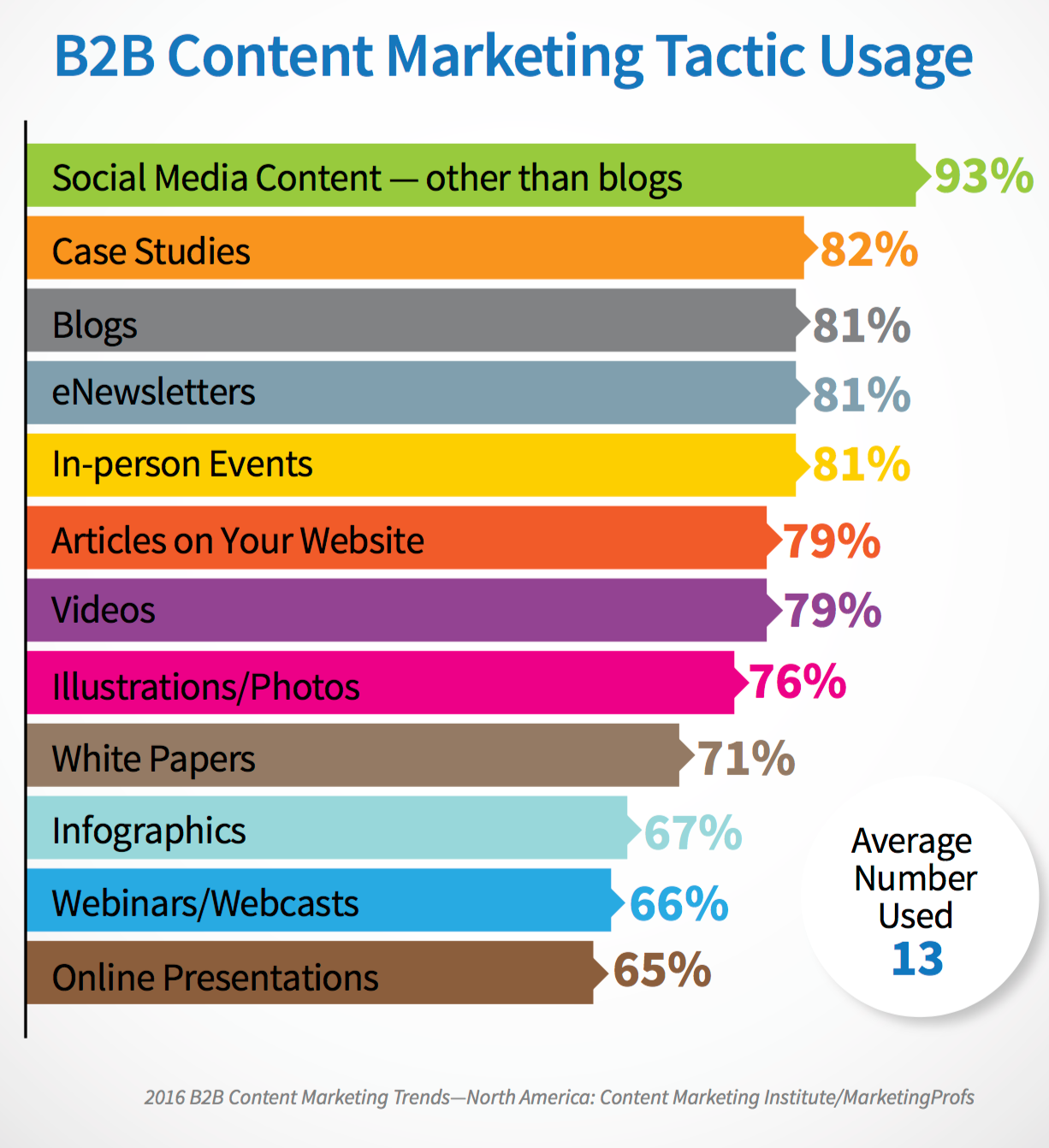 If you focus on crafting highly informative content that is 10x better than what is already out there, you'll be able to showcase your expertise in a niche which will directly appeal to the target base of your prospective client.
If you do a good job at promoting your content on social networks, you'll also ensure that new customers, can, in fact, get their eyes on what you've created.
In doing so, a percentage of these individuals will want to learn more about your small business.
There's a lot to be said about creating and promoting content that resonates with your target customers, prospective clients and social network audience.
I've covered the topic in depth here and here, but let's quickly review what can be done.
When you're first starting out, take a moment to assess what kind of content is already popular in your niche.
Once you know this information, all you need to do then is take a popular topic and create something better than what's already out there.
To find content that is popular within your niche and which may help in getting your first customers, you can use the Content Ideas feature on Ubersuggest.
If I were looking to create some content on the topic of "swimming" I would just type in 'swimming' into the search bar.
I'll then be provided with some content that is popular in the swimming niche.
However, what you will find with Content Ideas that it is better to pair your keyword with another word or phrase that will help return actionable content.
Such words and phrases include 'tips,' 'guide' and 'how to.'
Here's what came up for the phrase 'swimming guide.'
You now just need to take one of these content pieces and create something better.
When it comes to promoting your content on social networks, my guide, here, explains the process quite well.
But, in essence, you just need to find people who, in the past, have liked and shared content similar to what you've created and then let them know you've created something similar, but better.
If you're consistently using this strategy, then, over time, SEO will begin to help you along, bringing you a steady stream of visits to your site.
Guest posting
Another method for getting your first customers without paying for online advertising is by guest posting.
If you look at the chart below, you'll see that guest posting has driven a lot of traffic for the guys over at Groove.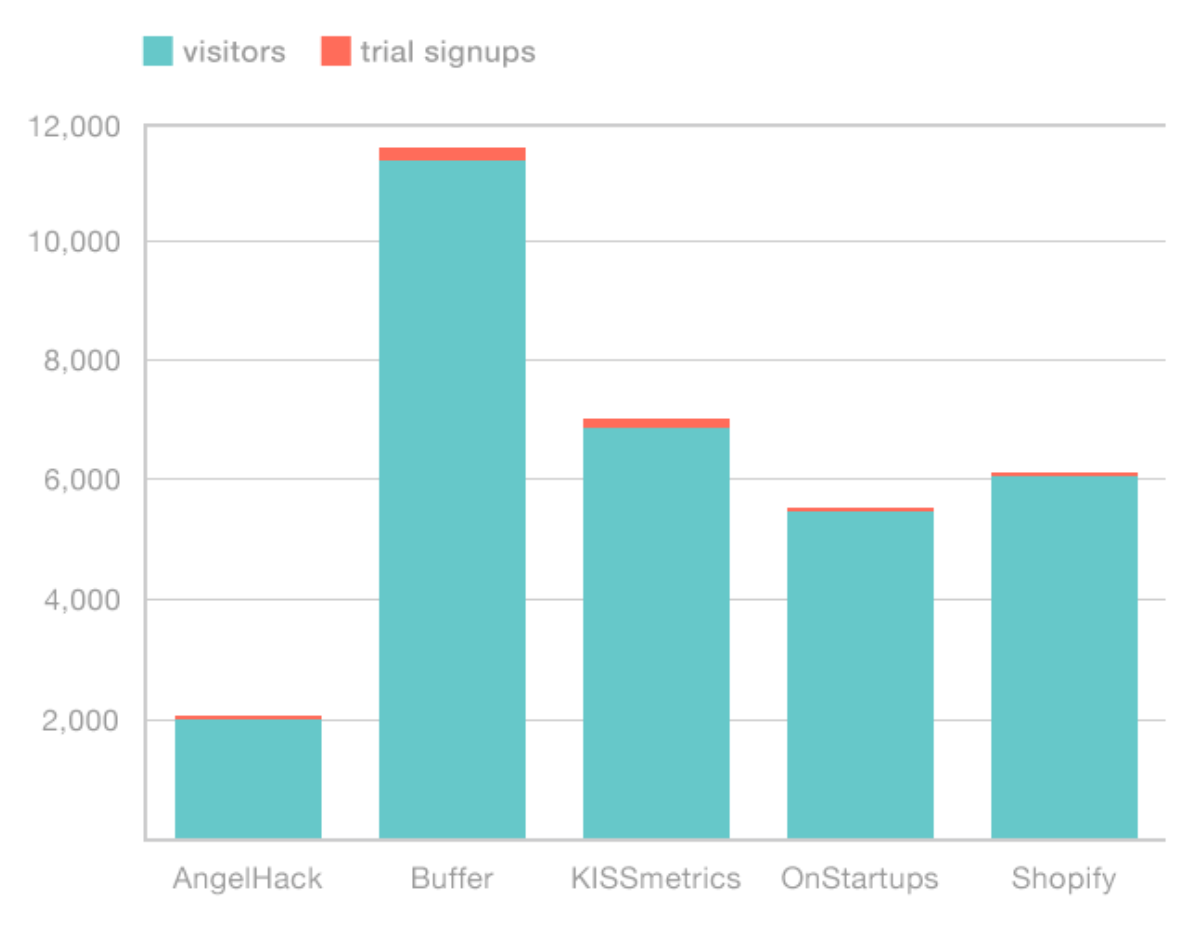 If you want to generate leads with the help of guest posting, you need to first figure out where your new customers and prospective clients are consuming their content. 
Finding guest posting opportunities is relatively easy.  All that you need is a little bit of clever searching on Google.
One great trick is to use the phrase – 'Niche' + in inurl:guest author.
Niche, of course, refers to your topic.
This is what happens when I use the phrase in relation to 'fishing.'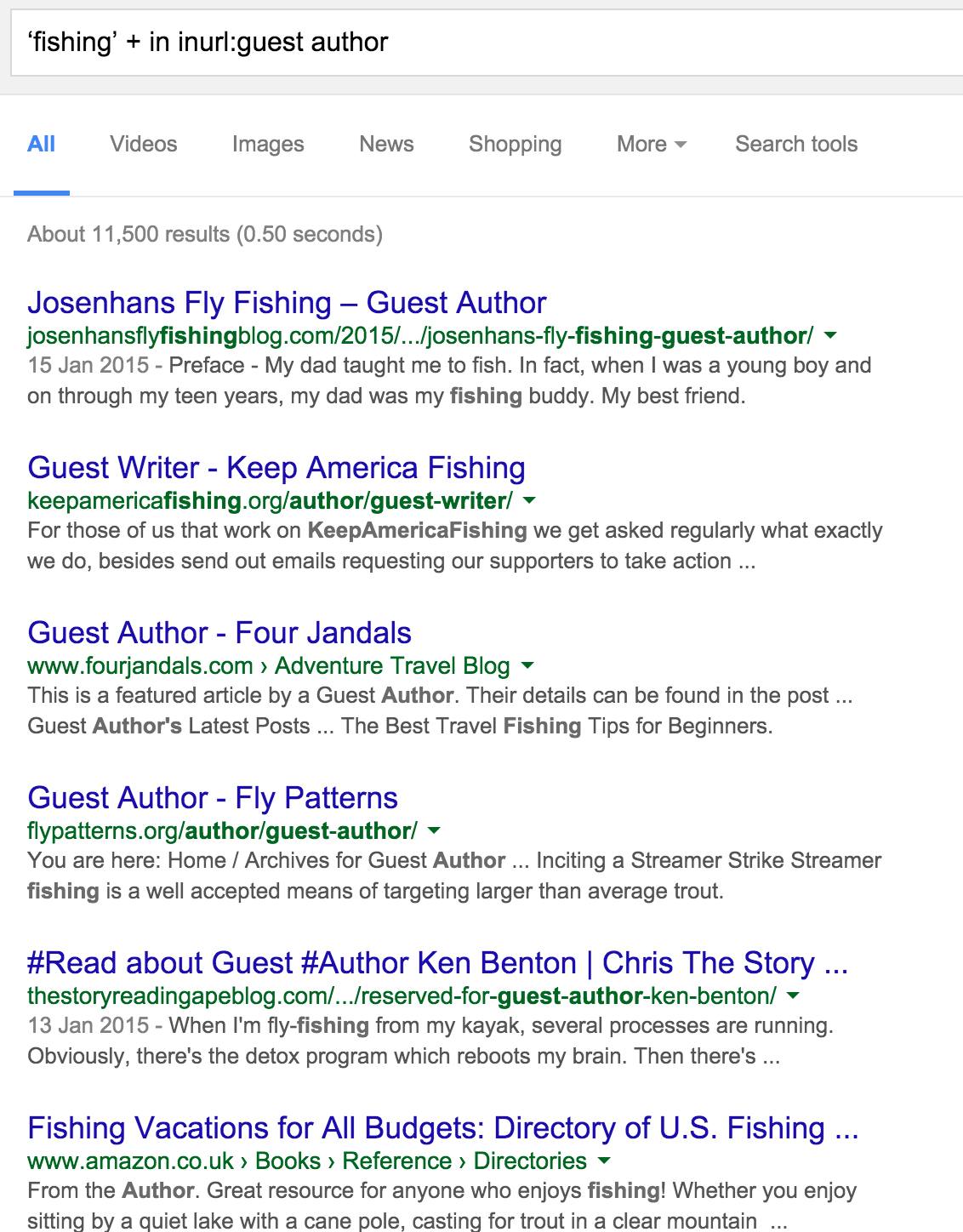 There are many more search strings that you can put into Google, but that one should get you some good targets.
When you find a guest posting opportunity, make sure that you stick to the rules that are provided by the editorial team of the blog.
Additionally, make sure that you put a lot of effort into crafting content that is going to impress any prospective clients.
If you create a good enough impression, a number of the people who read your content will feel more inclined to check out your website and what you have to offer. And you may well be on your way to getting your first customers by doing so. 
However, if you want that to happen, it is also important that you spend a decent portion of your time crafting a great 'author bio. '
Don't just say "Hi, I like to write about fishing. You can find me at this URL"
Be more descriptive and explain the benefits of visiting your site.  What should people expect once they get there?
Tell them that you offer a free report, or that you're looking to provide some more awesome content, based on the topic that they've just read about.
And, of course, when your post does go live on the site, make sure that you are actively engaging in any discussion that happens to take place.
Running joint webinars
Joint webinars have been the backbone of many small businesses based online.  If executed correctly, joint webinars can contribute massively to growth.
In fact, webinars have a 66% effectiveness rating, according to those polled by the Content Marketing Institute.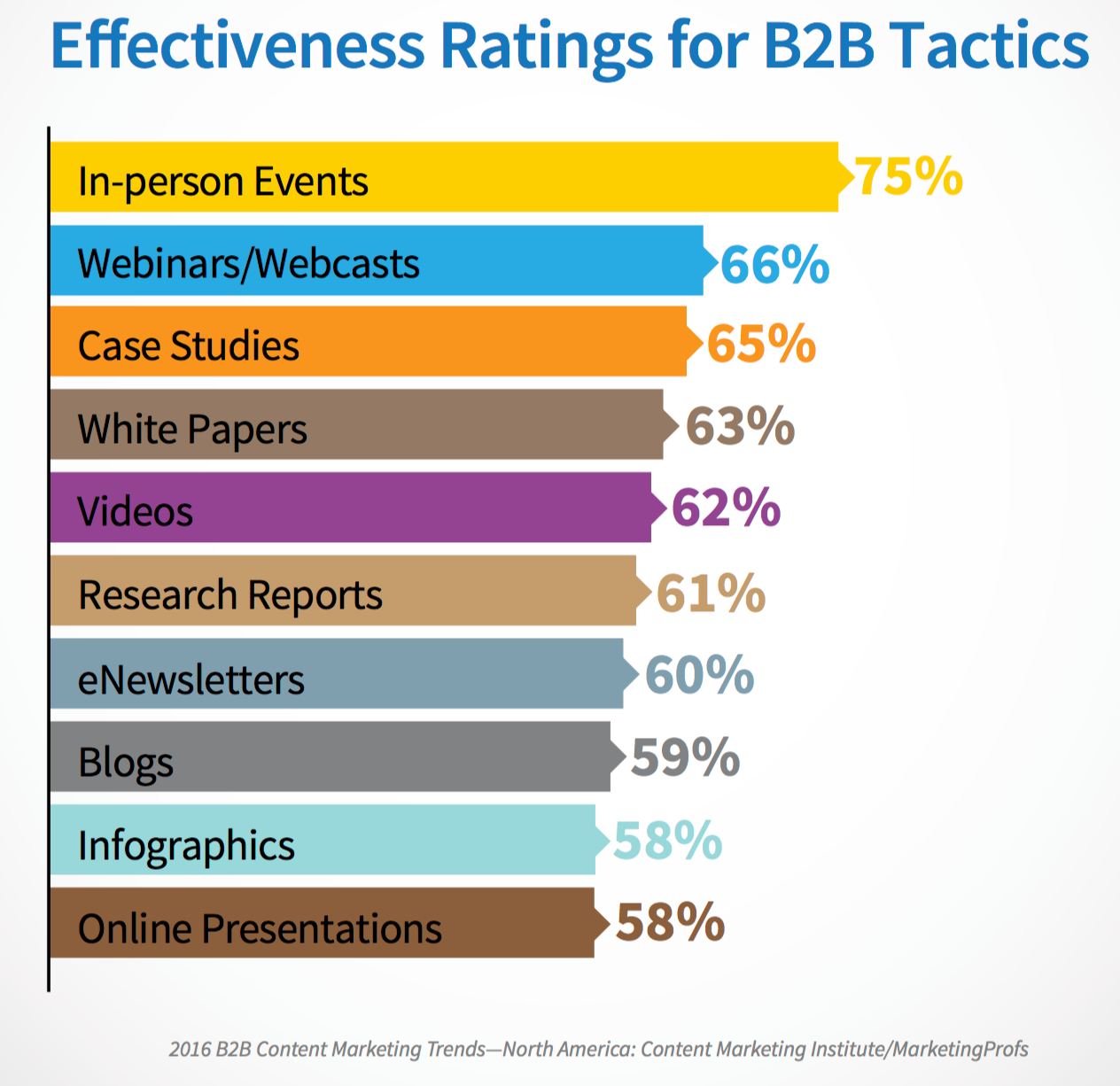 The key to running a successful joint webinar is finding someone who has the same target customers and established audience that you can provide value to.
Reach out to the person who has amassed this audience and ask them if they'd be willing to run a joint webinar with you.
If you're providing an offer at the end of the webinar, suggest that you split the proceeds 50/50.
Alternatively, you might want to consider offering more, if you have worked out the lifetime value of a potential customer or prospective client. 
After all, an initial $45 sale, for example, doesn't really matter, if the lifetime value of a potential customer is actually $1,000.
Working out the lifetime value of your potential customers is important. Knowing that figure means that you can be more generous when splitting the revenues from a webinar.
And, if you can be more generous, there's a good chance you'll be able to craft more joint webinar partnerships.
If you're not looking to sell something at the end of the webinar, that's fine.
Create a landing page, ahead of time, that has a giveaway associated with the webinar in question.  Direct people to the landing page at the end of the webinar.
The giveaway item might be a checklist or a PDF transcript that is to be supplied at a later date. It can even be a recording of the webinar.
By having a giveaway ready, you can collect email addresses, and market to webinar attendees at a future date.  You'll be sending them offers that will benefit the bottom line of your small business.
Guest speaking
Guest speaking is almost like running a joint webinar, except that you're now doing everything offline.
By 2015, I had spoken at over 239 conferences.
One of them even led to me closing a $100,000 a month deal.
If you have a lot of anxiety when it comes to guest speaking, consider speaking to small crowds first.
On top of that, become a master of the material that you're going to be teaching.
If you're teaching on a topic that you have a passion for and also have the relevant expertise to match, a lot of the nerves dissipate once you get into the flow of things.   
The first is to just list all of the events in your niche and then apply to speak for them. A quick Google search can help you here.
You may also want to speak to some of your industry peers.  See if they know of any opportunities that might work.
It might also be worth your time to take a look at some profiles of people in your niche on LinkedIn. There, you might see some mentions of people who have spoken at certain events.
You can also use sites like All Conferences to find opportunities. If you have some experience already, contacting speaking bureaus and seeking representation is a great idea. 
If you're new to speaking at events, it is worth taking the time needed to craft a great bio.
In doing so, you'll be able to make it easier for those in charge of the event to say 'yes' to your appearance on stage.
Host podcasts or be a podcast guest
Podcasts are growing in popularity.  So, there are likely some podcasts dedicated to the niche your small business occupies.
On top of that, 64% of podcast listeners have bought a product after having heard about it on a podcast.
As a result of this, you may want to reach out to these podcasts and ask if you can be featured as a guest.
The process for reaching out isn't too dissimilar to the process of asking to guest post on a blog or when applying for a speaking opportunity.
You can find podcasts by searching for them on Google, or by using a tool like Overcast.
When you find a podcast worth appearing on, you'll need to pitch the host and let them know why you'd be a good person to have on their show.
Communicate some of your past accomplishments. You should also let the host know what their audience can expect to learn as a result of listening to you.
If you don't want to be guest on another person's Podcast, you can instead host your own.
I've covered here, how you can get started with a podcast of your own.
Finding guests shouldn't be too much of an issue, as there will be people just like you who want to provide value in exchange for exposure to an audience.
The more listeners your podcast attracts, the greater the odds of you being able to attract high-level guests.
This isn't always true and there's nothing wrong with being ambitious when you're first starting out.
If you're struggling to get people onto your show, maybe you just need to do a better job of promoting it.
You can use the blog promotion tips I provided earlier to also promote a podcast.
Engaging with social media
Almost all businesses nowadays are using social media as a means of gaining new customers.
The best way to attract potential customers using social media is by providing value.
Examples of providing value on social networks include publishing links to content, posting competitions and linking to company news.
Providing value before you ask for anything is a great way to build trust and authority.
If done correctly, providing value should lead to you attracting more followers on your social media platforms.
This is particularly important when you consider that 53% of Americans who follow brands on social media are more loyal to the brand in question.
There's also the option of integrating Facebook Groups into your social media strategy.
I've explained how you can use Facebook Groups here.
You can find Groups by searching a keyword related to your niche and selecting the Groups tab on Facebook.
When you provide value within these groups, the member's will begin to see you as an authority and will then potentially reach out to you for further guidance.
If you have a lot of friends or followers on social networks, it might also be helpful to post client results on your profile, taking into account any confidentiality rules you need to follow.
In doing so, you'll showcase to others that you're in the trenches, working with clients and providing results on a day-to-day basis.
Conclusion  
In this article, we've explored methods for getting your first customers, or even obtaining new customers, using methods that don't involve paying for ads.
We've taken a look at using social media and have also looked at the option of joint webinars.
Additionally, we looked at how you could use Podcasts and guest posting.
As you can see, there are many options open to you.
You just need to ensure that you're doing all that you can to provide value so that those engaging with you will know that you're an expert.
Pick one and see how well it works out for you.
What have you experienced when it comes to obtaining potential customers without paying for ads.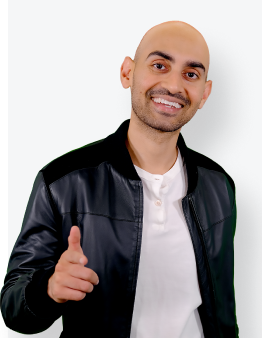 See How My Agency Can Drive More Traffic to Your Website
SEO - unlock more SEO traffic. See real results.
Content Marketing - our team creates epic content that will get shared, get links, and attract traffic.
Paid Media - effective paid strategies with clear ROI.
Are You Using Google Ads? Try Our FREE Ads Grader!
Stop wasting money and unlock the hidden potential of your advertising.
Discover the power of intentional advertising.
Reach your ideal target audience.
Maximize ad spend efficiency.