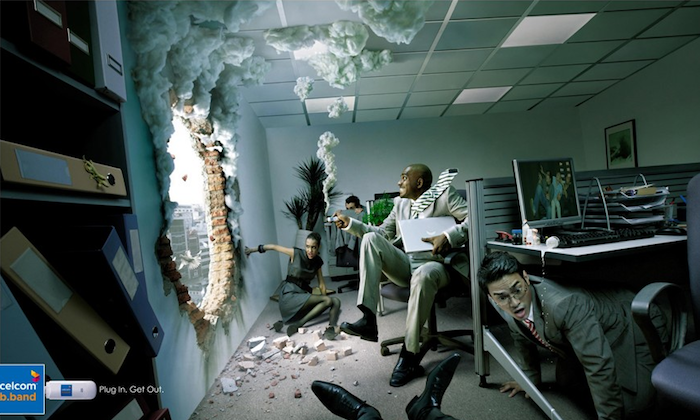 I've worked with numerous companies of varying sizes – startups to Fortune 500 companies. Do you know the common theme among them that prompted them to hire me?
For most companies, internal marketing campaigns fail within the first 3 months.
There are various possible reasons: not thinking with an ROI-based mindset while planning, not thinking about conversions or planning budgets quarterly and not looking at the bigger picture.
While your media campaigns might have a successful run, it's always inspiring to learn from the successful media marketing campaigns of other chief creative businesses.
So, in this article, I've compiled 3 iconic media marketing campaigns from large brands and 5 lessons that you can learn from them.
You'll probably be aware of the marketing slogans and even the campaigns – since you might have used one or more of these brands in your daily life. But, I want to deep dive into the media campaigns that played a key role in uplifting these brands.
I promise that you'll walk away with at least one sustainable marketing lesson. Let's get started with Nike. 
Campaign #1: Nike's 'Just do it'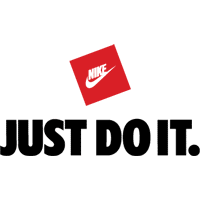 Undoubtedly, this is one of the catchiest headlines of the 20th century. It was coined in a 1988 meeting with an advertising agency and has grim origins in the last words of a murderer.
Here is one of the first ads from the media marketing effort.
Prior to launching this campaign, Nike was a struggling niche U.S. brand. And, with this new brand positioning, it targeted all Americans, irrespective of their age, gender or fitness.
Nike's desire to become relevant to a wider target audience was met with an unprecedented response. Nike raised sales by 1000% in the next 10 years – from $800 million (in 1988) to $ 9.2 billion (in 1998). It also dethroned its rival Reebok to become the biggest market player.  Nike has become a global fashion statement.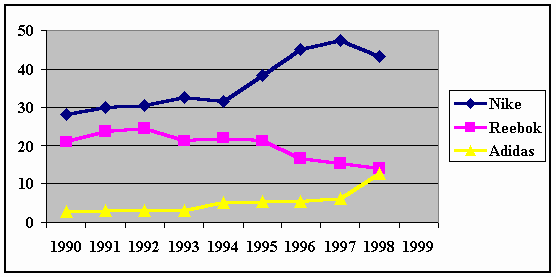 Here are two important lessons from the media marketing campaign.
Lesson 1 – Your brand positioning must be unique and inspiring
The tagline of the media campaign epitomizes everyone to push themselves beyond their physical and psychological limits. It addresses normal people as athletes (since they have a body) and motivates this target audience to get in shape.
Nike established its own unique brand character by launching this "deep campaign". You'll also notice that most of their ads focus on normal people. And, Nike is now associated with self-competition, individuality and aggressiveness.
To give you an idea of how Nike differentiates itself from its competitors:
Reebok is associated with fashion and street credibility and Adidas is focused on team/community achievements.
In the context of blogging, I've already written about eliminating your competition through positioning. You need to identify your differentiators and competition. Then plot them in a matrix to find a gap.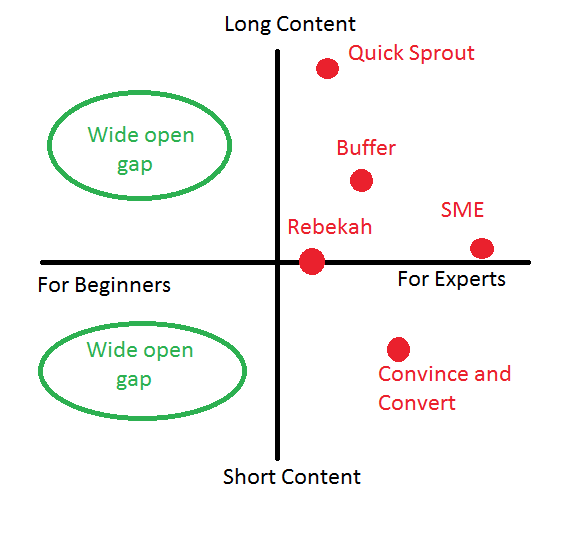 Lesson 2 – Scale your brand to serve a wider range of target audience, if it makes sense
With the launch of 'Just do it', Nike defined a new brand purpose and created its own original identity. The media campaigns and advertisements that it launched since then have only reinforced this brand personality.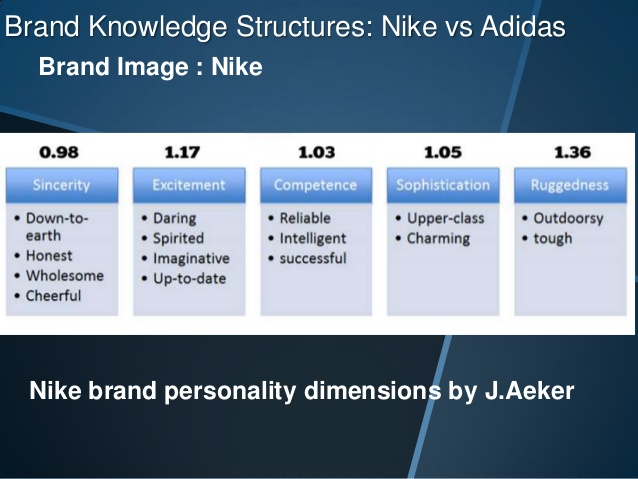 But, Nike was a niche Marathon gear supplier until 1988. How did it realize its potential to become a premier worldwide sports retailer?
The Wieden+Kennedy advertising agency, also based in Portland, Oregon, came up with the creative idea of Nike products appealing to a wider circle of consumers, including males and females, professional athletes, fitness ninjas and the young and old generations.
Jerome Conlon (Director of Marketing Insights and Planning for Nike Inc. from 1986 – 1996) believes that this new brand language "opened up new chapters of Nike's brand story for the next 27 years and running."
I've personally expanded my expertise and now write about everything in internet marketing. But, I had to build a strong foundation with limited subjects first. The third stage of scaling your traffic in this article mentions how you should change your media marketing efforts to increase traffic as you grow your blog.
Campaign #2: Apple's 'Think Different'
After the contentious departure of Steve Jobs in 1985, Apple had lost its shine. Its brand was diluted and it didn't receive any press mention for its products.  
In December 1996, Steve made a dramatic return to the company and rekindled innovation. In order to rejuvenate Apple's lost charm, he invited three advertising agencies to come up with new media campaign ideas.
Lee Clow suggested a new advertising concept, based around the slogan, "Think Different". Here's the 60 second advertisement that got numerous press mentions and played a vital role in "reestablishing Apple's counter-culture brand aura that it lost in the 90s."
These are the two important lessons you can learn from Apple's success.
Lesson 3 – Focus on 'the why'
Contrary to traditional marketing wisdom, Apple didn't talk about the features or benefits of its products (the how and what) in this campaign. Steve infused a new energy in Apple and changed the perceptions of their target audience with a media marketing effort focused on improved brand awareness. 
Instead of trying to sell to you on how awesomely engineered its products are, Apple talked you into its inspiring belief – People with passion can change the world.
It focused on core brand values and why Apple was doing its business. Such a purpose provides direction, focus and much needed motivation, even to your employees. Simon Sinek later coined the 'the golden circle' framework, based on these principles.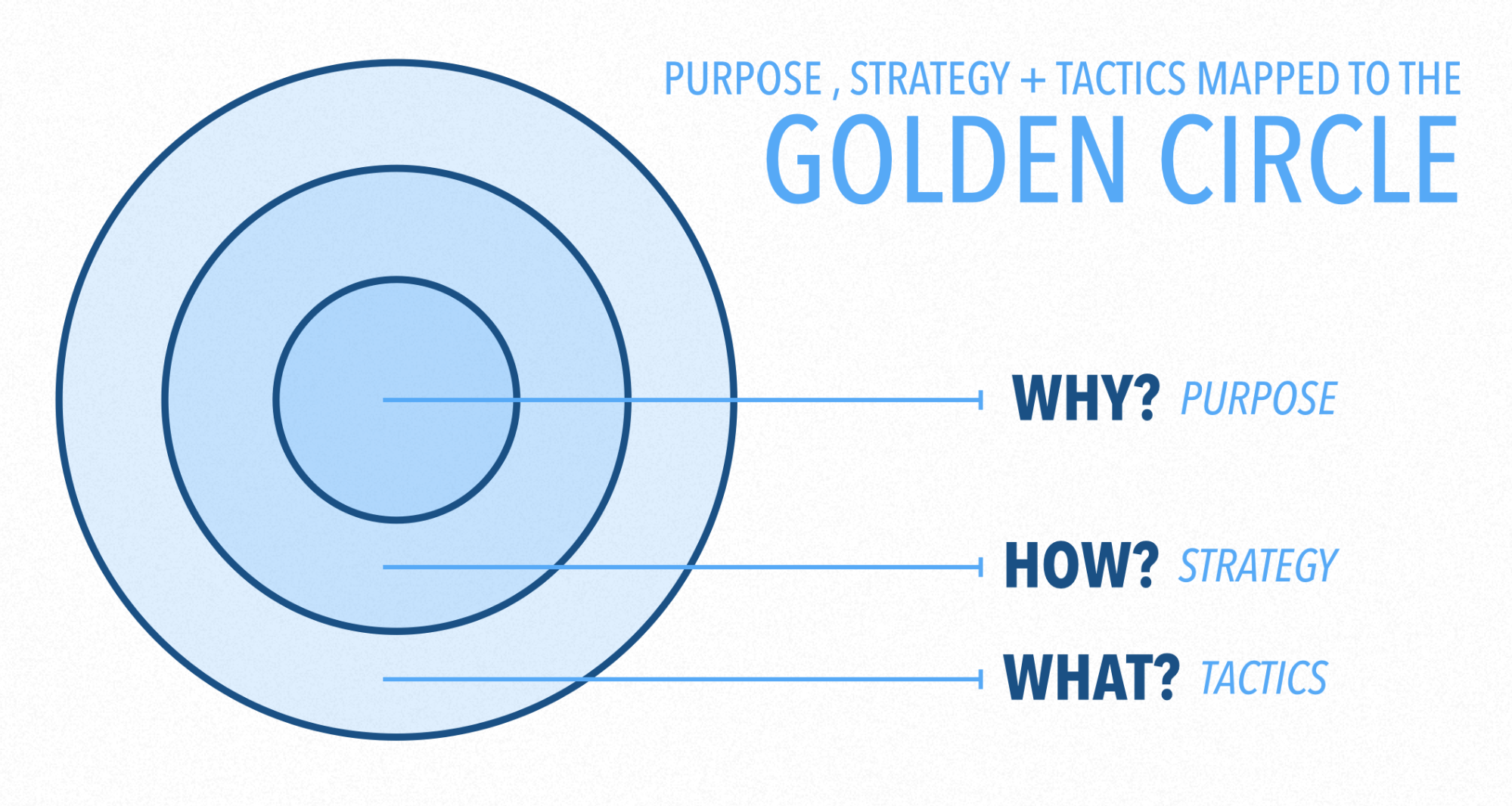 He illustrates it in the TED talk below, with the specific example of how Apple conducts its marketing, starting with the why.
In your media campaigns, you can increase your chances of success by infusing a purpose that's beyond monetization.
As I've mentioned before, "marketing by creating content that educates is a great way to help other people and generate sign ups at the same time."
I would advise you to share 'your why' on your "about" page. I share my purpose in a video on mine.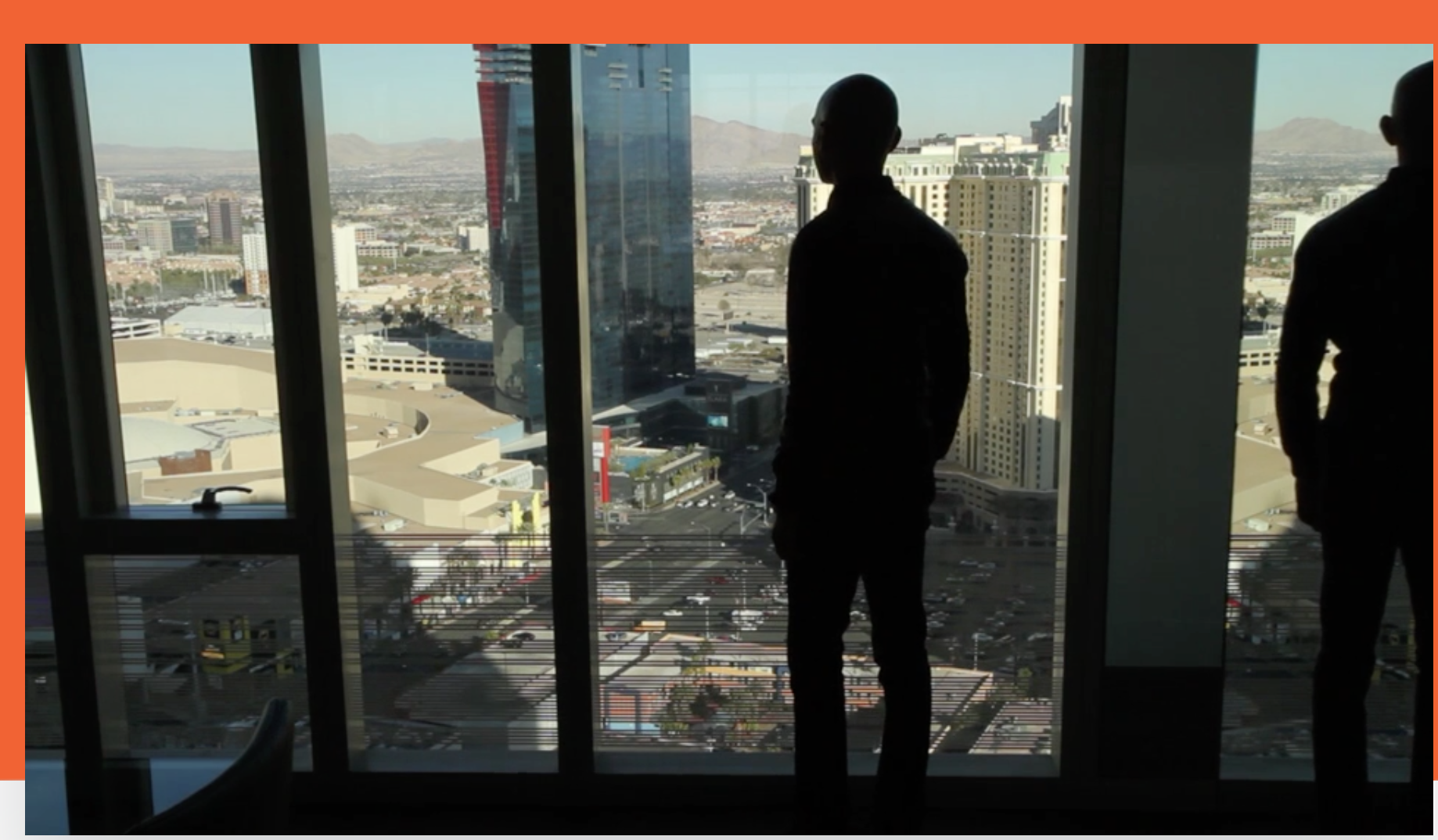 I would also recommend that you read my guide on creating your brand's own unique story. It talks about the importance of human to human connections and how you can leverage content marketing to build strong relationships.
Lesson 4 – First mover's advantage will only take you so far. Continuously improve the user experience to climb to the top
After launching the Apple II and the Macintosh, Apple had a sluggish late 1980s and early 90s. But, as soon as Steve Jobs came back to the helm and launched the 'Think Different' campaign, the company was back on track.
Apple has continued to revolutionize the industry with its new product innovations, including the iPod, iPhone, Macbook Air and iPad.
The Boston Consulting Group has ranked Apple as the most innovative company, every year from 2005 to 2015.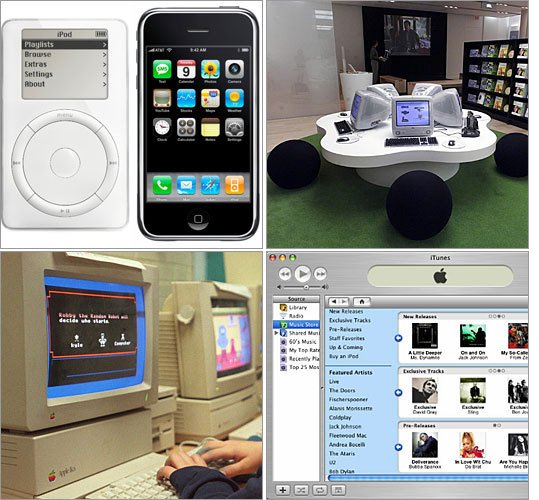 But, is Apple really the first company that came with the idea of a Smartphone or the mp3 player?
Not really.
NYU marketing professor Scott Galloway claims that Apple has mostly been second in bringing innovation to the marketplace. For example, Blackberry smartphones were the dominant force in the 2000s.
Apple borrowed the smartphone idea, improved the user experience and has been reaping benefits ever since. Apple's stock price has risen by 4,400% and Blackberry's has fallen by 86%.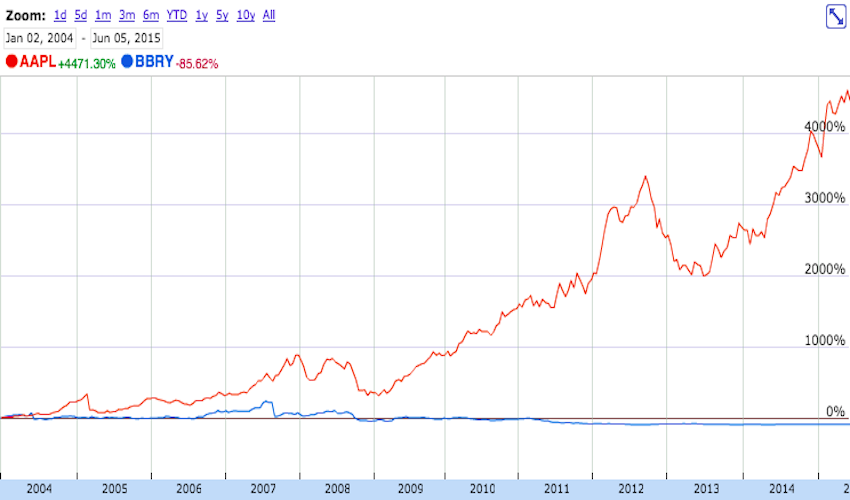 Similarly, Apple observed and took lessons, for a decade, from tablet PC failures before launching iPad.
As per Scott,
The true innovator – the guy, the gal that goes first – usually doesn't serve shareholders that well. It's the person that comes in second.
If you fear late arrival, this is good news for your business. First mover gets more press and media mentions. But, you can learn from these pioneers and extract insights from the consumer experiences of your target audience. It helps in developing a revamped design sans the flaws of the first product.
Google wasn't the first search engine and Facebook wasn't the first social network. If you can't be the first to pick a tech idea, then observe the loopholes made in implementation of the idea, improve the customer experience and execute the improved idea meticulously.
Note: I've written about first mover getting serious advantage in copying marketers. That's a different context, as marketing involves the users getting psychologically accustomed to a tactic. But, when launching a product, you can earn success by learning from past failures and not being the first.
Campaign #3: Red Bull Stratos
This last one is one of the most remarkable and innovative media marketing campaigns of all time.
Red Bull (an energy drink) wanted to be associated with daredevils and improve brand awareness on an international level. So, they took a big giant leap (literally) and sponsored Felix Baumgartner, an Austrian skydiver who was training with scientists to jump from space in 2005.
On October 14 2012, Felix jumped out of a hot air balloon from approximately 128,000 feet above the Earth and reached a high speed of 843.6 mph in his free fall.
He broke the sound barrier and became the first human in history to do it. Not only did his feat make its way into the Guinness Book of World Records, but it also received insane media coverage, including the live broadcast on the Discovery Channel.
Watch the gripping free-fall video of Felix below.
Lesson 5 – Don't be afraid of pursuing larger than life creative ideas that improve people's lives: They will leave your permanent brand footprint
The video saw over 8 million worldwide viewers on YouTube. Over 30 TV stations and 130 digital stations also covered the jump.
Millions of Twitter users also shared hashtags about Red Bull Stratos with their social media account followers. Half of the worldwide Twitter trends were related to this event.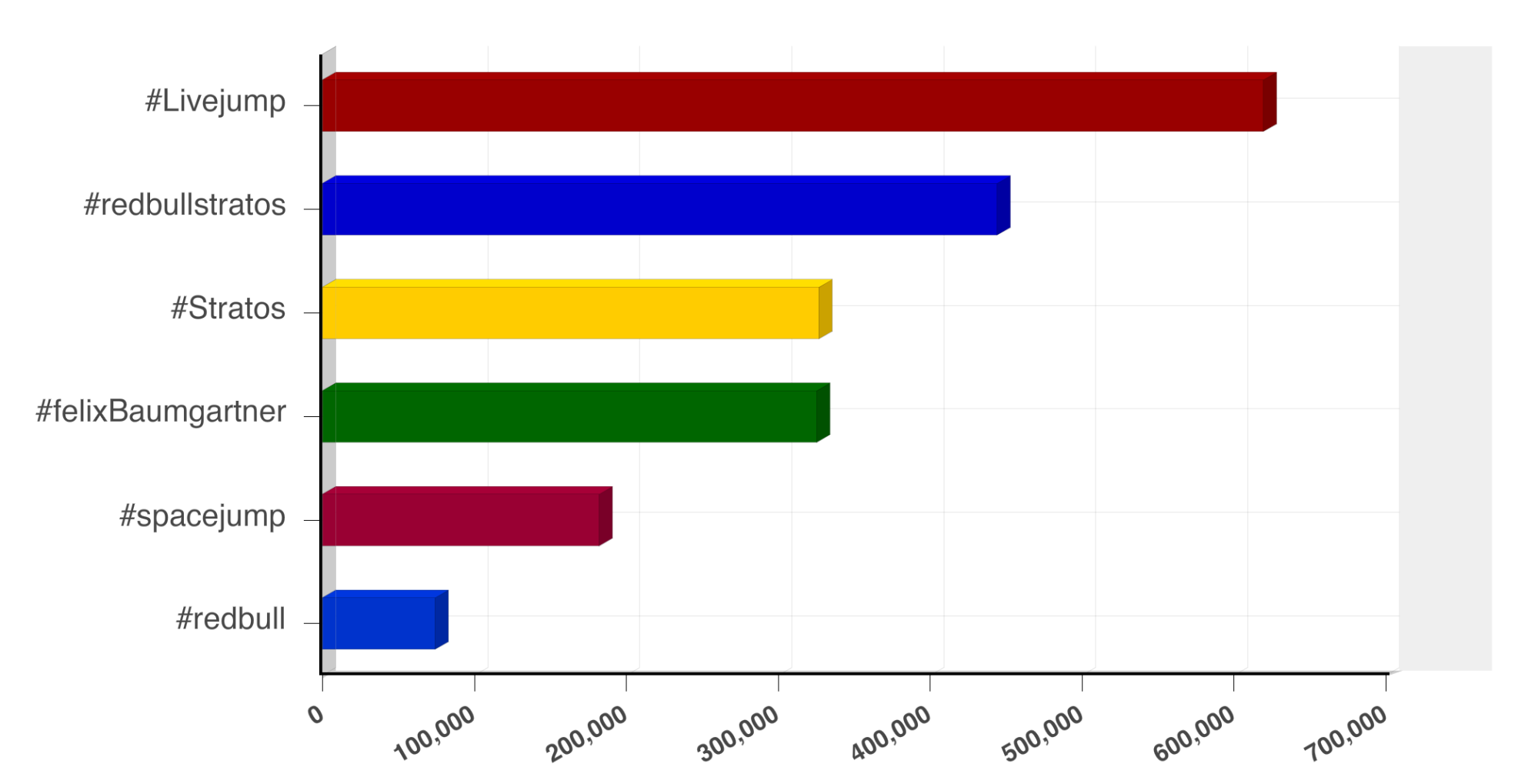 Sprinklr found that there were 2,000,000 unique customer actions associated with Stratos (half of them occurred on the day of the jump itself).
Indeed, 1% of all online conversations, for the day, on social media channels and beyond, were discussing this record breaking jump. Also, Baumgartner was covered by media globally and Red Bull's logo was everywhere that the event related story was published.
Ben Sturner estimated that this sensational stunt translated into sales of tens of millions of dollars for Red Bull.
How was an energy drink company able to leave such a tremendous brand impact? It's impossible to achieve such advocacy with any other broadcast medium.
Red Bull took the risk of cutting through the clutter and going big with their media campaign. They didn't think based from the traditional ROI, specific target audience mindset.
Rather, their media campaign tried to capture the imagination of millions of people and to connect with them at an emotional level. Also, the jump gathered valuable data for future space exploration and inspired people to follow their passion for science.
So, you need to think of product and content marketing ideas that create a priceless brand experience and truly empowers your target audience and consumers.
Business is all about adding value and serving people. Money is just a by-product.
I wish there was an actionable resource I could add to this lesson, but you'll have to believe in your own capacity for creative ideas in order to raise brand awareness and become a truly memorable, iconic company. 
Conclusion
Whatever type of business you run, the core marketing principles don't change. Studying successful media campaigns from businesses can help you to get new perspectives.
You learned 5 lessons from 3 awesome media campaigns in this post. Apple has built phenomenal products, but its smart marketing strategies have played a pivotal role in creating its raving fan base.
Similarly, it took Nike just one media campaign to expand its reach to a wider international audience and soon become a market leader.
Finally, Red Bull's innovative content marketing campaigns have been studied and written about extensively. They have gone beyond selling sugary drinks to become a globally recognized media company.
The creative campaigns by these 3 premier brands should inspire you to invest in creating something bigger than your brand.
I want to hear from you now. What is your number one takeaway from these 3 brand campaigns? I encourage you to share your own lessons from these campaigns in the comments below.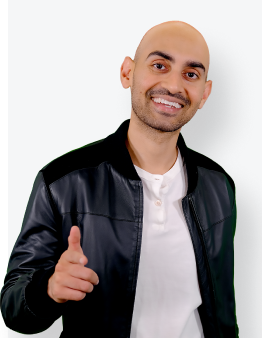 See How My Agency Can Drive More Traffic to Your Website
SEO - unlock more SEO traffic. See real results.
Content Marketing - our team creates epic content that will get shared, get links, and attract traffic.
Paid Media - effective paid strategies with clear ROI.
Are You Using Google Ads? Try Our FREE Ads Grader!
Stop wasting money and unlock the hidden potential of your advertising.
Discover the power of intentional advertising.
Reach your ideal target audience.
Maximize ad spend efficiency.