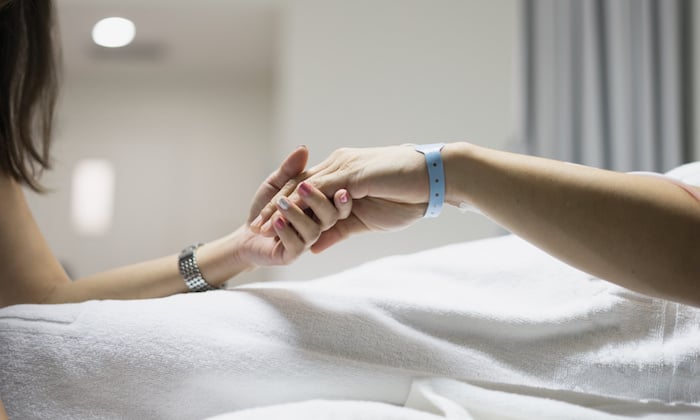 Everybody knows that you should "engage customers."
You can't read a social media blog post without seeing it mentioned somewhere.
But we seldom talk about "why" or "how."
It's not enough to know just the demographics of your customers.
Age and location data doesn't tell you what you really need to know.
Instead, you need to know your customers on a personal level so that you know what they want, why they buy, and why they don't buy.
Otherwise, you have only a superficial understanding of your customers.
I see this all the time when working with companies.
Nobody's buying, and the business can't figure out why.
However, it's obvious when you see that their messaging is off, and people aren't engaging with their campaigns.
Nobody cares. Why? Because the company doesn't understand their own business well enough yet.
If you fix that root cause, it can create a domino effect that realigns all of the other issues.
I'm going to break down seven steps you can use to personally connect with customers on a personal level.
It changes everything.
Step #1. Respond to customers ASAP
We're always on the lookout for some trendy tips or hacks.
But often, the simplest changes that are right in front of our nose can have the biggest impact on results.
I'll show you a perfect example.
People expect a timely response after sending you an email, right? Twenty-four hours seems to be the politically correct time frame point for most people surveyed.
This seems obvious when you think about it. A response within one day is still in the window of a time that feels right.
And yet, how many times have you waited…and waited…and waited…for someone to give you a simple "Yes" or "No?"
Many times a simple, "Yes, I received this and will review in-depth to respond soon" is enough.
However, most companies can't even be bothered with that, apparently.
Here's a study that underscores how something so small (like response time) is critical to your bottom line.
The Harvard Business Review found that your chances of qualifying a new lead fall almost 400% if you wait longer than five minutes to contact them back.
Now here's the fun part.
Guess when they conducted this review? 2011!
Has the world sped up or slowed down since then?
Exactly. It's only sped up with new technologies like live chat and messaging.
The best time to follow up with a lead is when they're white hot after reaching out. So why wouldn't you do the same for existing customers?
Otherwise, the next big drop off point is that 24-hour mark again.
Step #2. Go the extra mile
I have an experiment for you.
Get the customer service number from any one of your favorite companies and give them a call.
What happens next?
Assuming you get through in the next hour, it's most likely picked up by somebody reading directly from a script.
Now let's compare that experience to Zappos.
The company relocated to Las Vegas, a city with a lower average cost of living. That way, they could expand their in-house call center and keep everyone together.
Every page of their website features a phone number that a U.S.-based employee will answer every hour of every day of the week.

Zappos famously allows free returns. So customers can try many different sizes, sending the wrong fit back, before finally deciding on their selection.
And yet, Zappos views it as an "investment" with zero thought of ever outsourcing it.
Zappos also doesn't use scripts, upsell customers, or "hold reps accountable for call times," all of which are unheard of in the industry.
On paper, every single one of these decisions erodes their profit margins. It's like taking money and throwing it out the window.
So does that make Zappos smart or stupid?
It probably makes them stupidly smart when you consider how people discover new products today.
77% of consumers will read an online review before purchasing.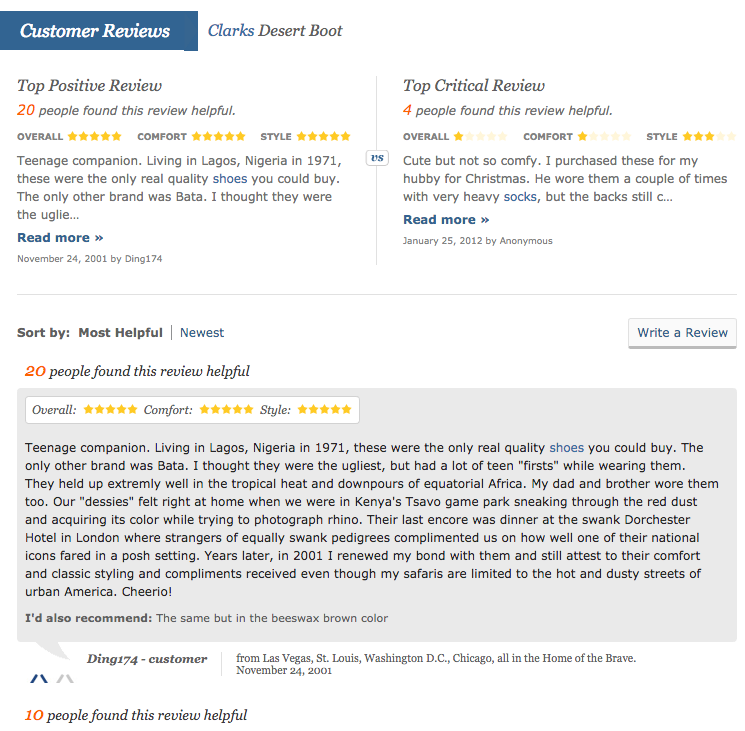 Now consider the flip side. In most cases, negative reviews are the fastest way to derail a new purchase.
A Zendesk study showed that 90% of positive reviews impact purchases and 86% of negative ones do also.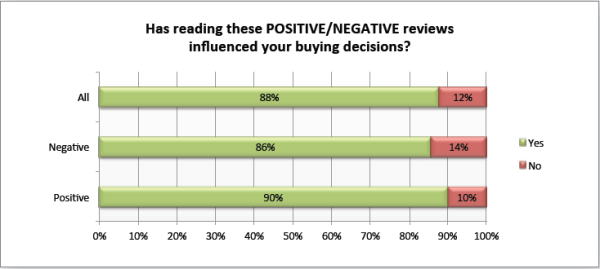 Another study showed that even a single negative review has the power to destroy 70% of purchases.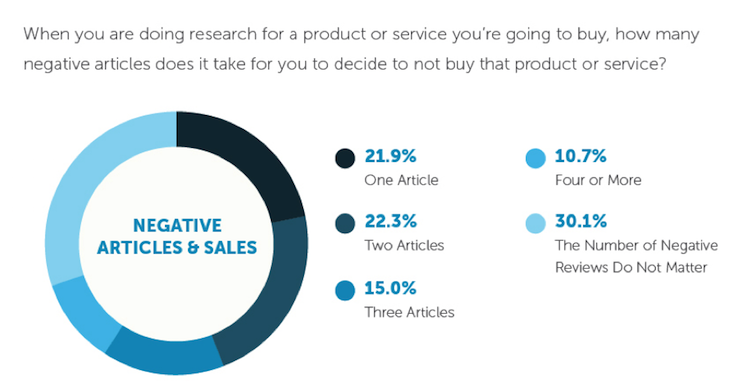 So what's Zappos' secret?
Their secret is that there is no secret.
They've organized almost their entire business model to compete on customer service.
So don't take shortcuts, no matter what that might do to the bottom line in the short term.
They even have upper management man the phones, doing up to six weeks of call center training so that everyone knows company expectations.
It's no wonder that Zappos is one of the few companies still growing and taking on new customers at a fast clip.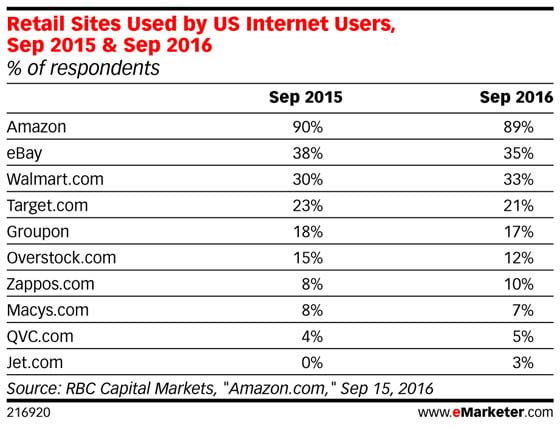 Step #3. Send emails your subscribers want to read
Email is widely cited as the top ROI producing channel.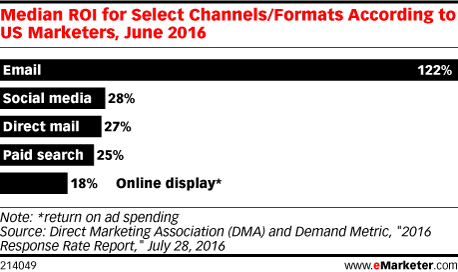 Those results aren't even close! The return for what you put in is four to five times better than its closest competing channel.
Do you want to make more money today?
Easy. Send more emails!
There is one catch, however.
You don't want to kill the proverbial golden goose.
You don't want to drive up your unsubscribes too much to effectively sabotage your potential future sales.
So let's dig into why people unsubscribe from newsletters in the first place.
There are obviously a few reasons, but the top three cited in a study by Constant Contact all relate to one problem: Irrelevant content.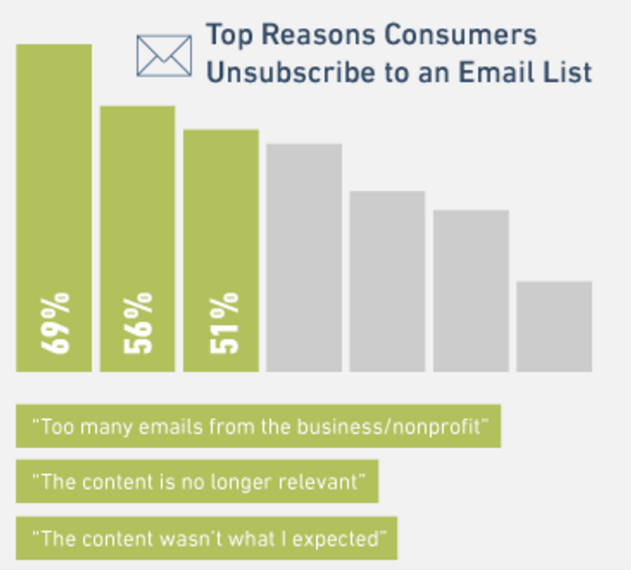 I'd argue that even "too many emails" is a problem with relevance.
I think if your content was awesomely relevant enough, frequency shouldn't be a problem!
The trick, of course, is to set expectations early and often.
You need to continually remind people why they signed up and what they're going to get out of it (instead of just blasting your latest product updates).
You should even go out of your way to set explicit instructions for when they can expect your emails to hit their inbox.
For example, Copy Hackers lets you know up front how and when they send you emails. So they're already priming you for what to expect before you even sign up!
Step #4. Meet your customers offline, in real life
Face-to-face requests are 34 times more successful than email ones, according to a study retold in a Harvard Business Review article.
In other words, people are much more likely to say "Yes" to your face (and more likely to say "No" in an email).
It's simple. There's no substituting face-to-face conversations to build a connection with customers.
That's why Ramit Sethi still carves out time to travel the country, organizing free events on his own dime, just to get his customers together.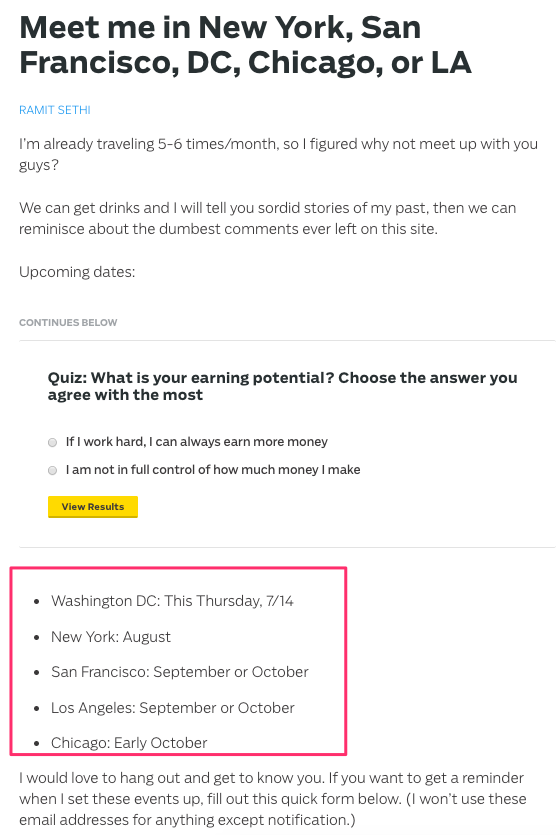 That's also why SaaS companies have started launching their own event series, like Unbounce's Call to Action conference.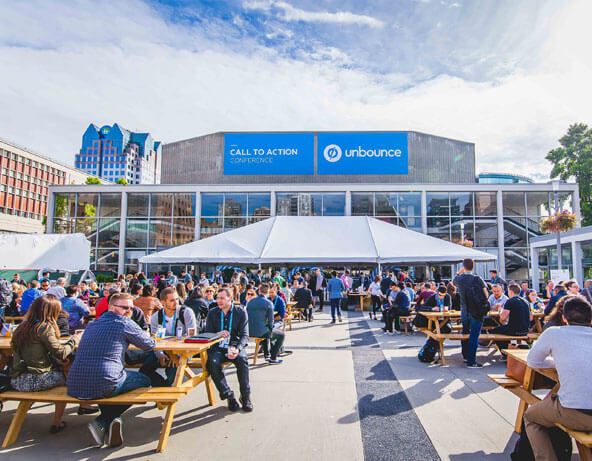 Sure, they might get some new clients and sales from these events. But more importantly, their goal is to get together current customers and partners to deepen the bond.
That's why you'll often also see these events have special pricing packages and discounts for current customers.
Their goal isn't necessarily to make extra money off those people, so they 'subsidize' the cost with sponsors to make sure as many customers as possible can make it.
Webinars and Hangouts are the next best thing to face-to-face meetings.
You can even use traditional, offline platforms like Eventbrite to create an online event that has all the look and feel of a real conference.
For example, I continue to run these virtual events, bringing together some of the best speakers from all over the world.
It's a win-win for everyone involved. We get the same benefits of an offline meetup, without the hassle (and cost) of flying, hotels, missing family or friends, and getting delayed at work.
Creating an event like this is incredibly easy, too.
All you have to do is create your account and then go into "Create An Event."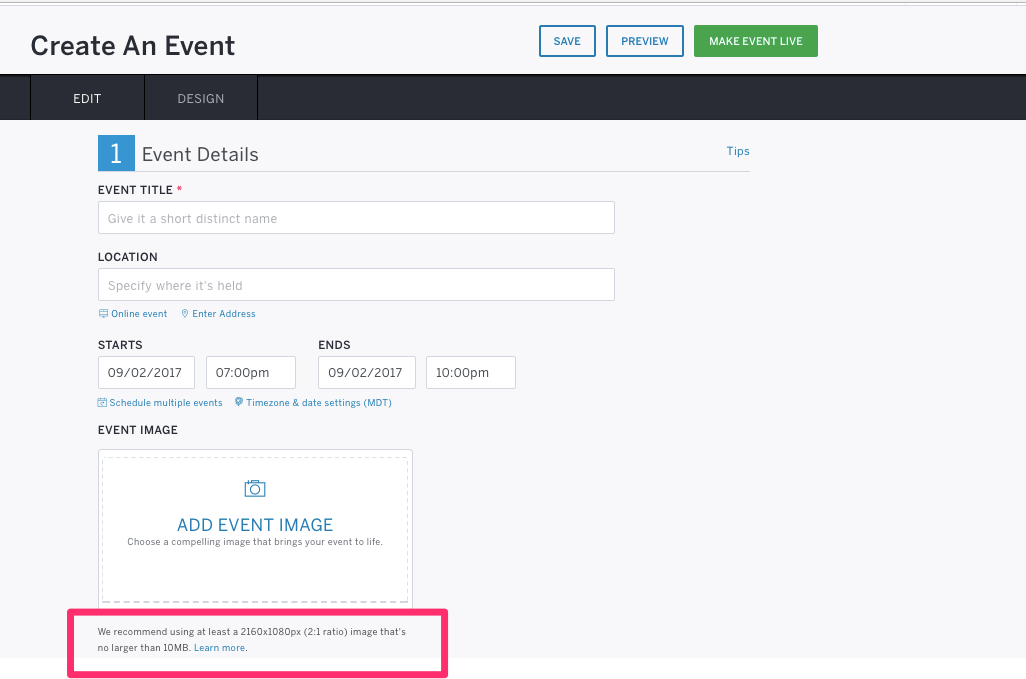 Make sure to fill out all the basics and give people a reason why they should attend.
Then you can even link it to your social accounts for ready made distribution when you're finished filling it out.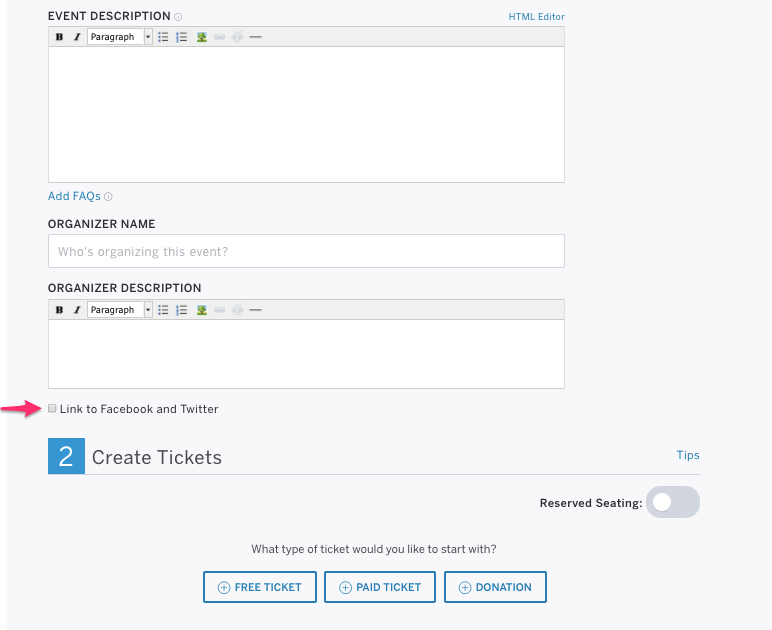 You can select between making it completely free, having people pay, or even allowing them to donate on behalf of a nonprofit.
The final step before pushing it live is to select if you'd like to keep this page private or open it up to the public so anyone can join.
If you're truly trying to connect with customers, I'd recommend just keeping it private so that it feels like it's an invite-only event with an added touch of exclusivity.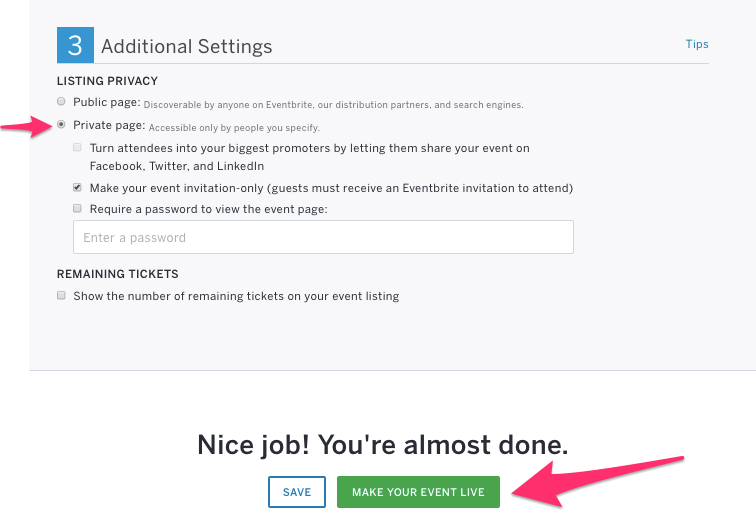 Step #5. Personalize your business blog
Meeting face-to-face is the best. People like other people.
Shocking, right?
That's why even the most boring and dry companies should at least give their blog a personal touch.
The reason my face is everywhere on this site isn't because I love myself, but because it helps me emotionally connect with readers.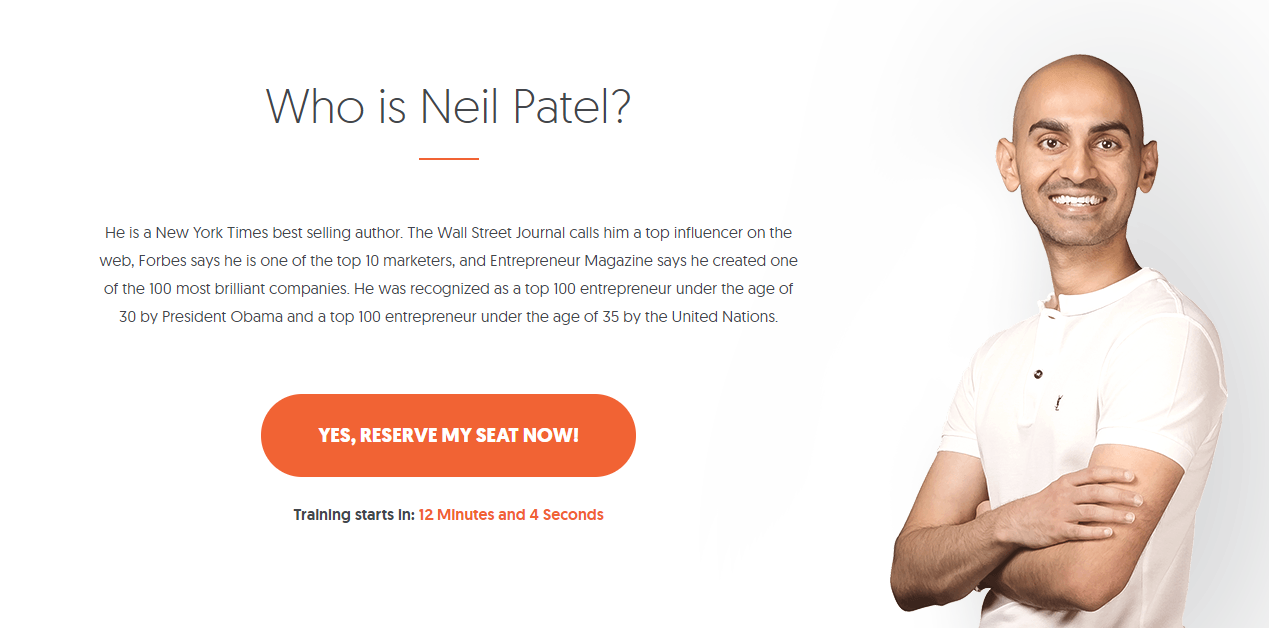 My whole goal with this site is to help people grow their companies.
So I don't want to hide behind some nameless, faceless, corporate veil that people might not trust.
Another one of my favorite strategies is to highlight your own customer stories so that they're doing the marketing for you.
Two of my current favorites are Calendly and Fullstory.
Instead of their blog just being about themselves or other dry topics, they're trying to highlight their customers and make them the star of the show.
Step #6. Encourage customers to create content for your business
One blogging report shows that content is getting both longer and more time consuming to produce.
That should come as no surprise to almost anyone reading this blog. Evergreen, long-form content consistently produces the best ROI.
However, that also means we need to realize that this type of content is getting more expensive to produce.
So what's the solution without breaking the bank?
Get your customers to help create the content with you!
For example, interviewing your customers is a simple way to quickly build up awesome content.
And the best part is that you can often leverage it multiple ways (from video to audio, blog post, and even driving traffic from SlideShare presentations).
HubSpot is one of the best at this, continually pumping out new awesome content in almost all industries imaginable.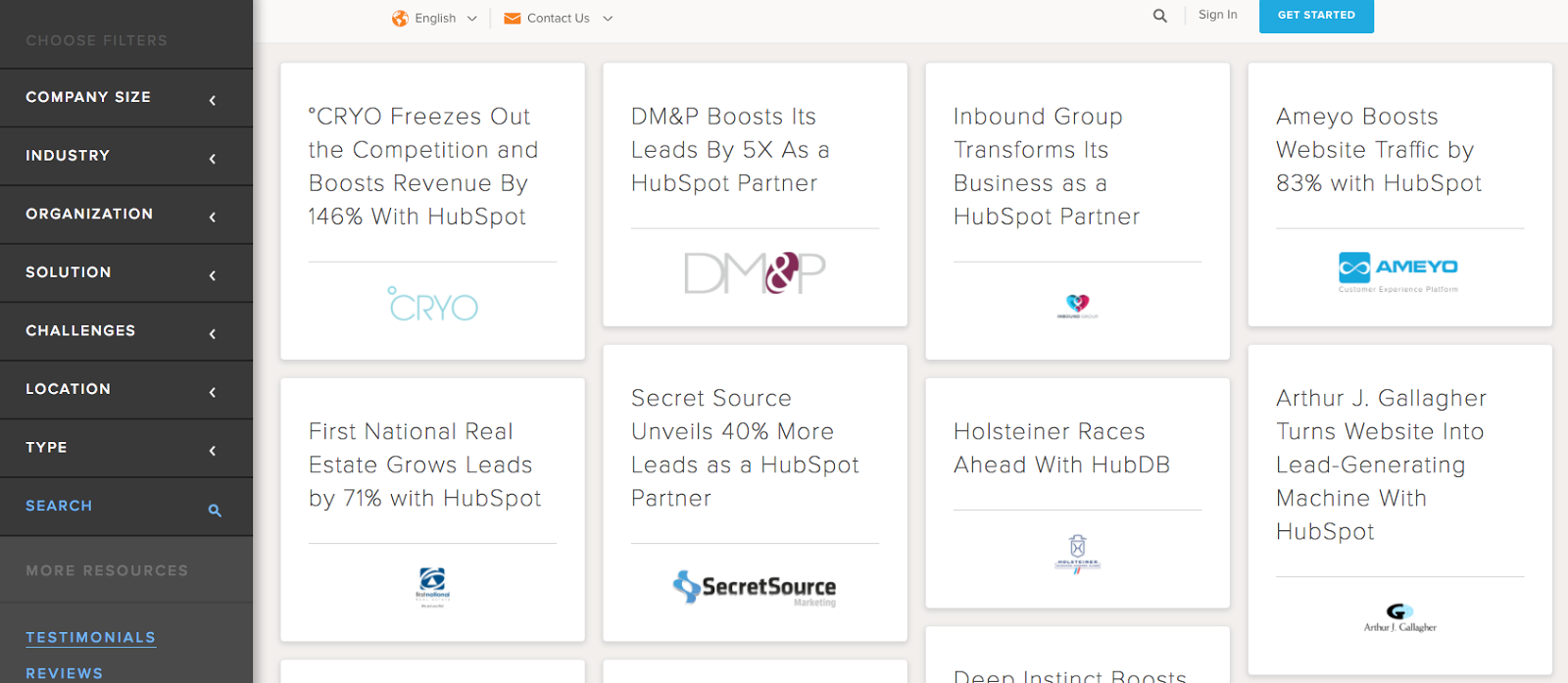 So not only do these case studies and interviews help lessen your content load, but they can also help other new potential customers overcome some objections (leading to more sales).
Another excellent example comes from an eBook co-creation project that New Belgium did with Reddit users.
Here's one of the example entries: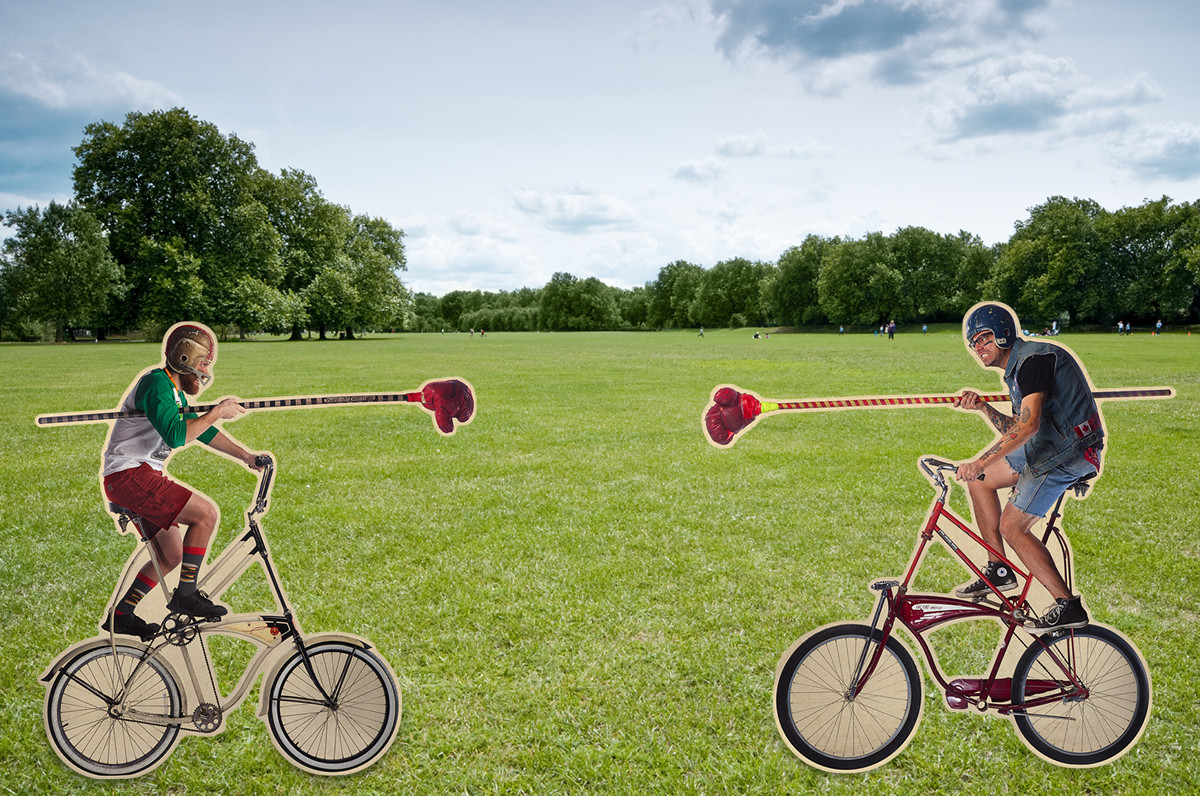 Yes, that was a real customer example.
It probably wouldn't work for you, but it was exactly what New Belgium was looking for (something quirky and whimsical that their audience would find funny).
This campaign worked so well because New Belgium went to where their customers were (Reddit), engaging them on their turf.
It's notoriously difficult to pull off excellent marketing campaigns on Reddit. Their audience won't hesitate to call you out and make your life difficult.
However, New Belgium took the time to understand exactly who these people were and what kind of outreach would (or would not) work for them.
Here's a completely different (yet still effective) example from Burberry.
They created a place on their site to source customer images. So not only did the customers do all the work, but they also saw sales increase 50% in a single year.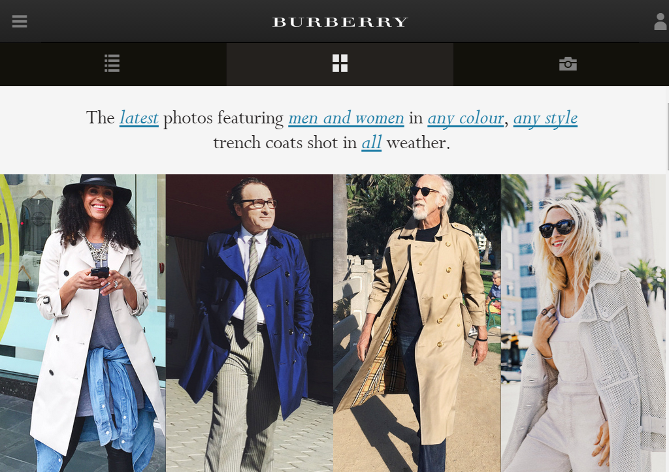 Not to be outdone, Coca-Cola saw their first sales increase in a decade after coming out with the personalized bottles featuring customer names.
Step #7. Reward your customers
We launched into the tactics in this article without ever addressing the first big question.
Why should you even care about connecting with customers on a personal level?
The short answer is that it's expensive to get new customers.
That also means it's significantly cheaper to keep your existing customers around longer (through connecting personally).
Your repeat customers often spend more money with you, too.
One study between Bain and Company and Harvard Business School showed that "a 5% increase in customer retention translates to a 25-100% profit increase."
New customers, on the other hand, are often unprofitable for the first few months.
Do you want to hear the most shocking thing about this example?
It's from almost two decades ago!
And yet the numbers haven't changed all that much.
It's still more expensive to get new customers than it is to keep your old ones.
It's a no brainer, considering that sales and marketing tend to be the most expensive line item for most businesses.
One of my last (but not least) ways to keep people engaged longer is to get them commenting on my blog. Just that simple, daily step makes a huge difference because it allows me to interact with them personally.
Here are my three favorite steps to get more blog comments:
Use the words "You" and "I": Writing with the words "you" and "I" reinforces that I'm writing to you personally. You want to have a conversation with your readers.
Ask a question at the end of a post: The final question at the end of a blog post acts like a mini CTA where you bring the audience 'up onstage' and give them permission to interact.
Use subheadings to help people scan: People don't always have the time to read a super long, in-depth blog post. Subheadings help break up the content into digestible chunks so they can scan it quickly to know exactly what it's about. Then they can decide to go back and read the whole thing if it seems good.
Conclusion
People buy from other people, no matter what business they're in.
They want to be able to trust the individuals on the other side of the screen and know that their best interests are in mind.
The best way to create that 'bridge' of trust is by establishing a personal connection with as many customers as possible.
That's not really an overnight process. However, you can start from scratch by keeping the golden rule in mind.
You can't just say that you care.
You have to show them by incorporating them more, not wasting their time, and getting them involved as much as possible.
Start with these seven tips listed here.
It's what I've done over the past decade to personally connect with millions of people.
What's your favorite strategy for creating a personal connection?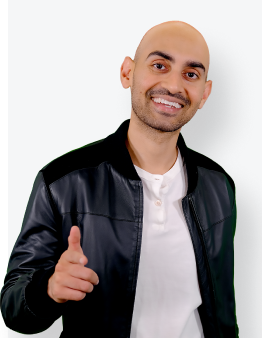 See How My Agency Can Drive More Traffic to Your Website
SEO - unlock more SEO traffic. See real results.
Content Marketing - our team creates epic content that will get shared, get links, and attract traffic.
Paid Media - effective paid strategies with clear ROI.
Are You Using Google Ads? Try Our FREE Ads Grader!
Stop wasting money and unlock the hidden potential of your advertising.
Discover the power of intentional advertising.
Reach your ideal target audience.
Maximize ad spend efficiency.