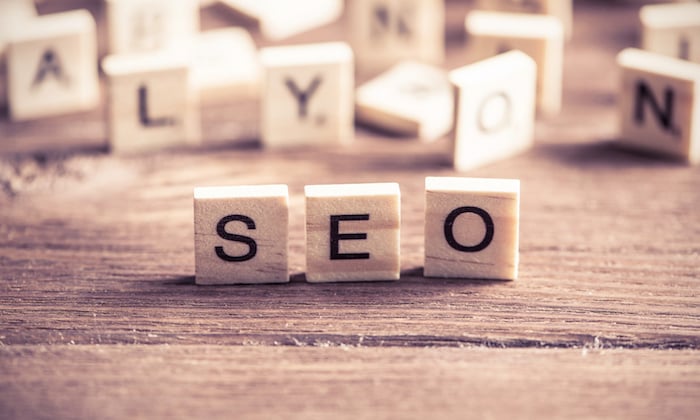 Many businesses frame and hang up the first dollar bill they ever earned.
It's a reminder that they were able to overcome the initial hurdles of opening a business.
For webmasters building a link strategy, their first authority backlink is the equivalent of that first dollar earned.
But anyone can get a backlink. Heck, you can even buy backlinks (although I strongly advise against buying links).
So a random backlink isn't really anything special.
But if you get a backlink from a site with a high Domain Authority ranking, then that's something to tell everyone about.
In most cases, though, a high-quality backlink is worth way more than a buck. Some businesses pay thousands of dollars to get a single DA 80+ backlink.
Domain Authority (DA) is one of the most important metrics when it comes to websites. Developed by Moz, the DA is a reflection of how popular and trustworthy a site is.
The higher the DA, the better the link.
While there's no official range for "good" or "bad" DA rankings, it's widely accepted that sites with a score of 80 or higher are in the big leagues.
We're talking sites like the NYtimes.com, HuffingtonPost.com, and Time.com.
If you earn a backlink from one of these authority sites, you'll get a ton of benefits.
Your own site's DA will go up, your SEO will improve, and you'll get more traffic.
But getting backlinks from big authority sites is much easier said than done.
I've seen people try their absolute hardest to get high-DA backlinks, but they ultimately fail.
If you haven't been able to get an authority backlink, don't worry. It's not your fault.
Many people don't know how to score a backlink from these sites, but once you know what to do, it becomes much easier.
I'm going to share my strategies for getting authority links. These techniques are repeatable and scalable, and you can use them no matter how little your site may be.
Which sites should you target?
Before you use any of these methods, you need to determine which sites to go after.
You don't want to chase every site in your niche with a DA of 80 or higher. If you get more specific with your targeting, you'll have a much higher chance of landing backlinks.
I recommend starting by getting a sense of which sites in your niche are getting the most attention.
A simple Google search often works. Start by searching for your focus keyword.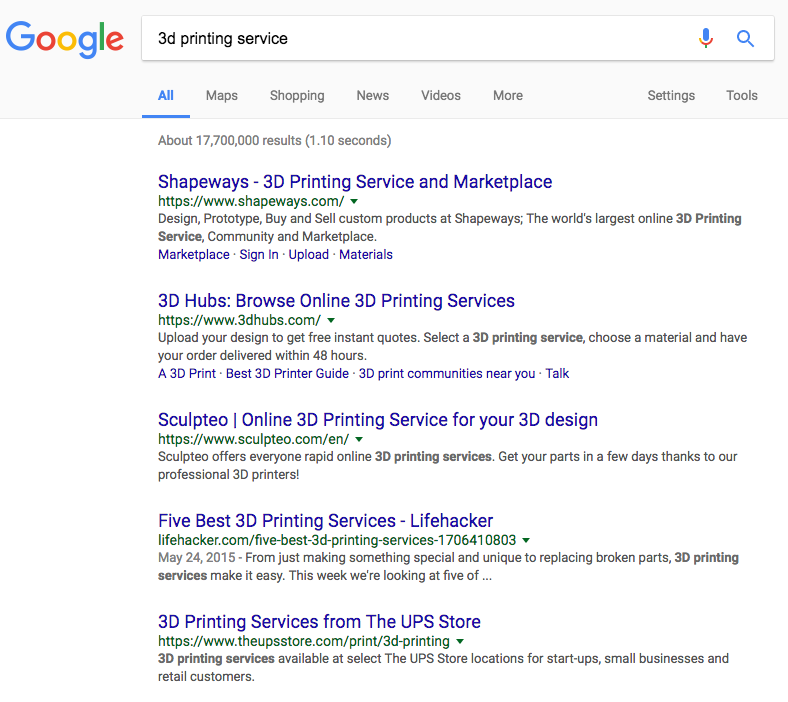 As a general rule of thumb, any result on the first page likely has a high DA. This isn't always the case, but it's true most of the time.
Make a list of all of the domains on page 1 of Google. You can then check their DA using Moz's Open Site Explorer.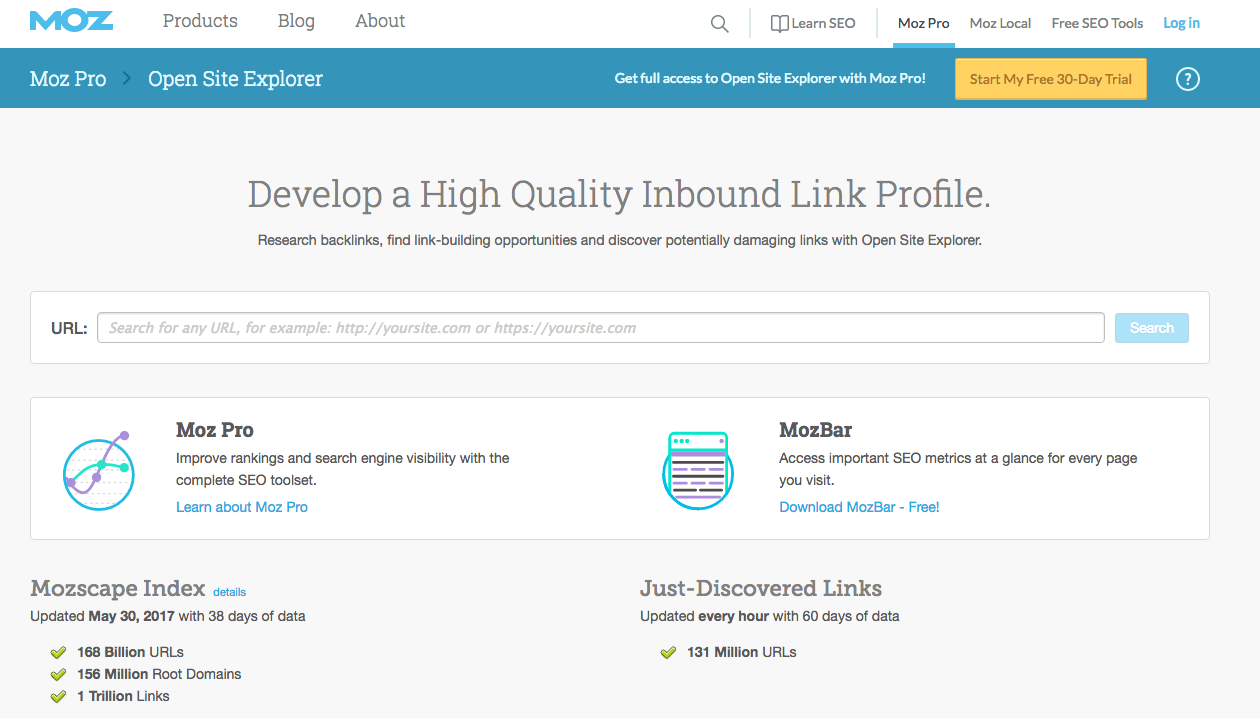 Enter a URL and click "Search." On the results page, you can see the site's DA ranking on the left side of the first box:
If the score is 80 or higher, prioritize that site. You're aiming for the best of the best here.
If you target too many sites at one time, it can be overwhelming. I suggest targeting 5-7 sites to start out with.
Now that you've found your target sites, you're ready to use some backlink strategies.
Fixing broken links
You may have heard about this method before. (Even if you have, keep reading.)
The basic idea is that most sites have at least a handful of links that no longer work.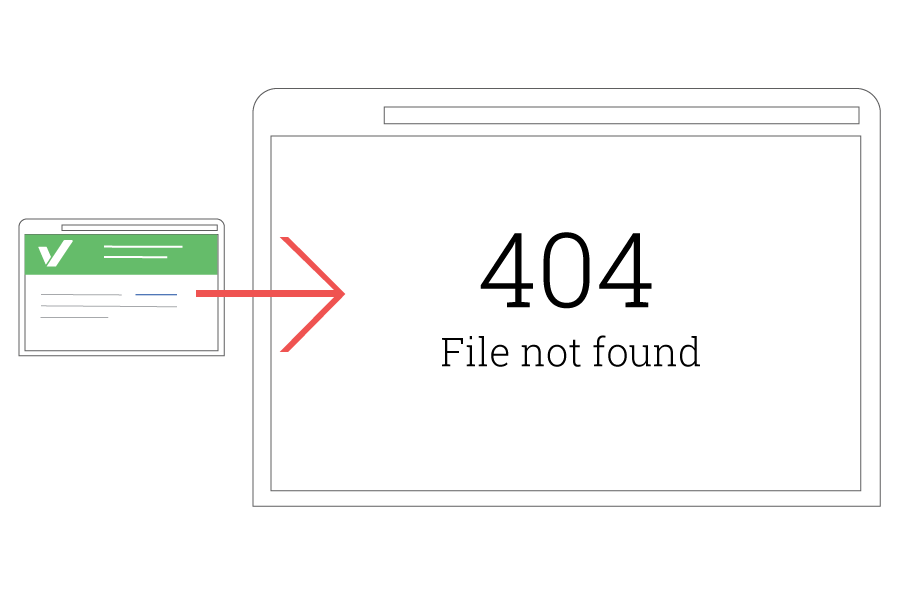 Usually, broken links lead to pages that were deleted a long time ago.
Now think about this in context.
If you owned a huge website, wouldn't you want to ensure your users were able to access everything, including all of your backlinks? Of course, you would!
But there's even more at stake.
Let's say you cite a study to back up a crucial point. When your users click on the link to the study, they get a 404.
Bad for users. Bad for your site.
This can cause your credibility to take a dive, and you may even lose readers.
Can you see why broken links are so bad?
Even though you may not own a high-authority site like Forbes, you can still use this information to your advantage.
If you find a broken link on a site with a high DA score, you can use that opportunity to help the site and dramatically increase your chances of getting a backlink.
How do you do this? You tell the site about the broken link and offer your own content to replace it.
You also simply ask for a backlink in return for the help.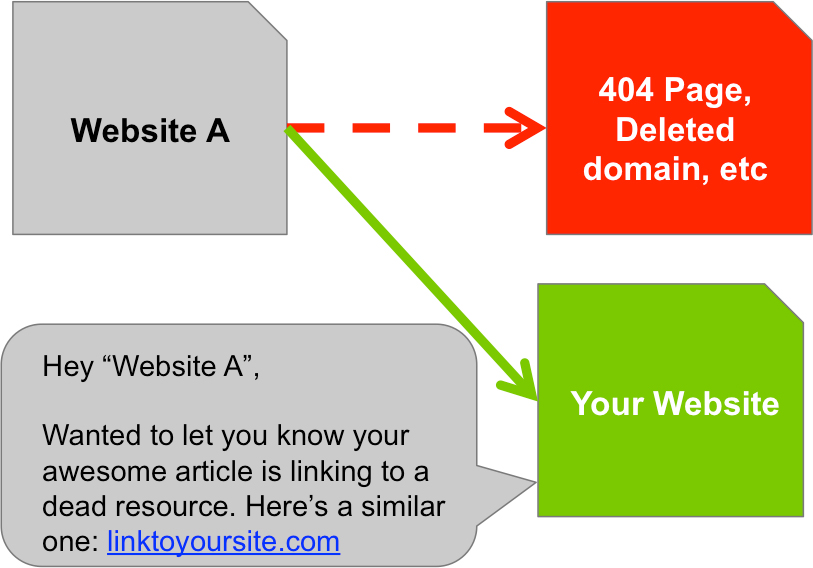 Obviously, you're going to need some rock-solid content on your website in order to qualify for that link.
It's not a complicated strategy, but it's tried and true. You can use it to build your SEO while positioning your own site as an authority.
Interested? Here's how to do it.
First, find broken links on high authority sites. You can use the Screaming Frog SEO Spider (one of my favorite SEO tools) to do this.
First, download the tool here.
Next, enter the URL into the box at the top of the tool and hit "Start."
I recommend finding the URLs of older articles. If you crawl the entire site, you'll have a lot of links to sort through, and that could take a while.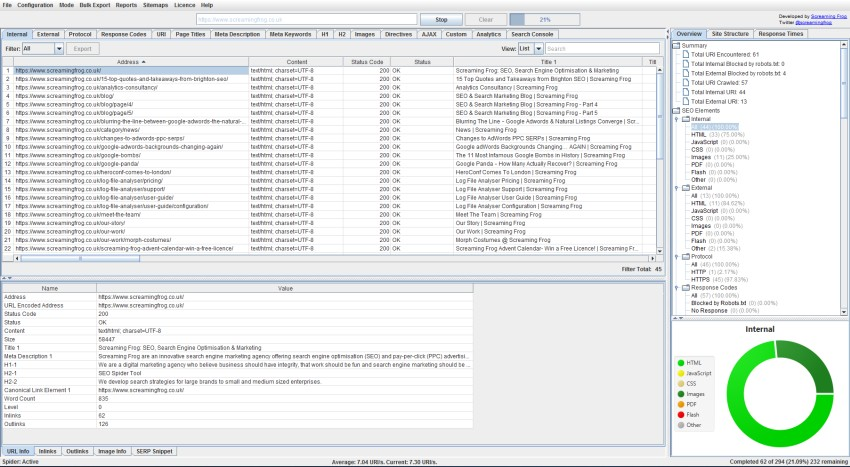 The SEO Spider will crawl the website and get all of the data ready.
When the tool is finished crawling the site, click on the Response Codes tab (fourth from the left).
Then head to the sidebar on the right side and scroll down until you see the "Client Error (4xx)" tree. Click on that.
You'll see a list of all the dead links on that page or site and to see which pages on the site have these broken links, click on any URL and click the "Inlinks" tab at the bottom of the screen.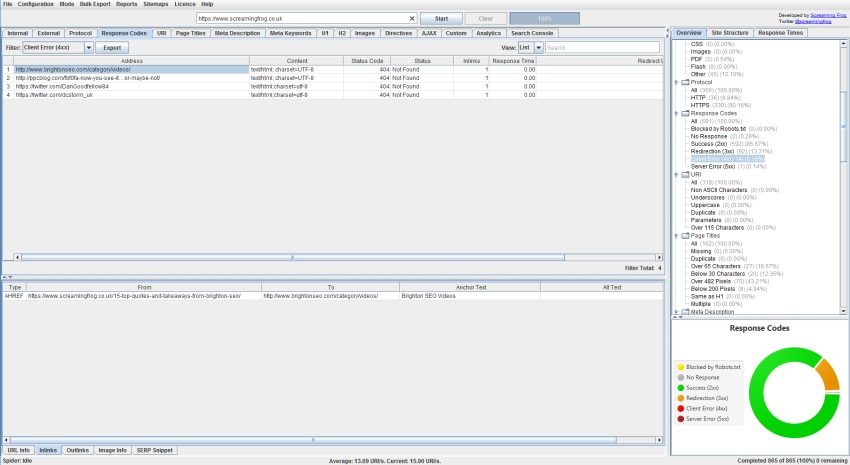 The URL in the "from" column is the page on the site that contains the broken link. That's the URL you'll want to reference when contacting the site.
If it's more convenient for you, you can also export all of this data to a spreadsheet.
Our example broken link will be from this Business Insider article. Business Insider has a DA of 94, making it a perfect candidate for a fantastic backlink.
The dead link points to a report that's no longer available.

Next, access the old content using Archive.org. Archive.org is a wonderful utility that allows you to see web pages that don't exist anymore.
Why would you want to do this? Because you can see exactly what the missing content is and find the most relevant content on your site to replace it.
Sometimes you'll be able to tell what the content is just by looking at the URL, but I sometimes double check anyway.
When you enter the URL into the box on Archive.org, you might see something like this:
If you get the "Hrm" message, don't worry! Click on the link to search all the archived pages.
You might see the correct URL on the next page.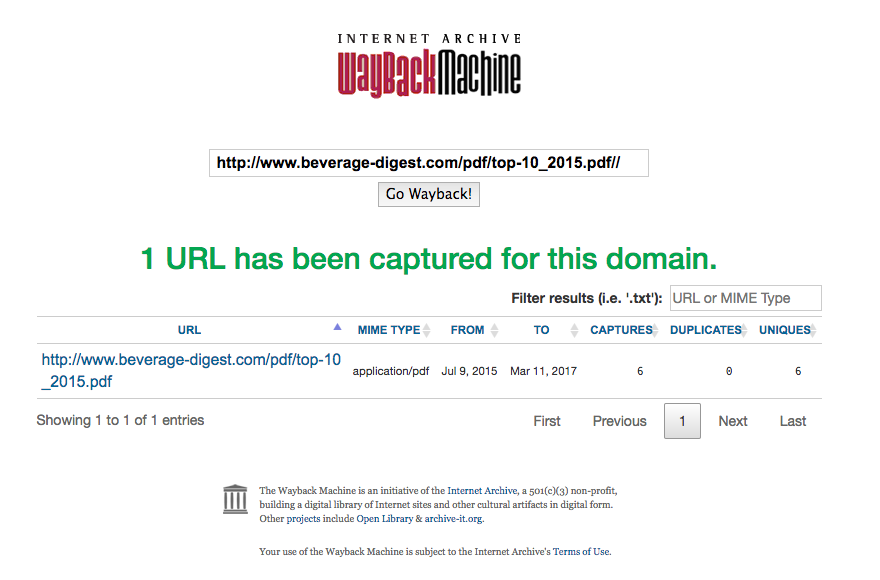 If you see the right link, click on it and find a cached version of the page.
A cached page is represented by a colored dot on a calendar date. Hover over the one you want and click on the timestamp.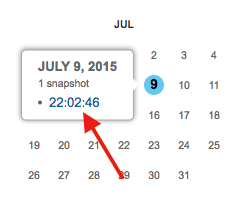 And bam, there's your page!
Now you can view the content directly and analyze it.
If you have content related to this topic, then you have a high chance of gaining a backlink.
Finally, notify the site about the broken link. This is when you march in and ask for a backlink.
You don't want to seem too needy, but you also shouldn't beat around the bush. It's best to be polite and direct.
Here's an example template you can use to implement this method:
Subject: Your site has a dead link.

Hi [name],

I was visiting your site recently and found this page on your site: (URL).

It's a great page, but I found a dead link on it. The link leads to (page URL), which is no longer active.

I wrote an article on (topic), and I think it would be a great fit for your page. I'd really appreciate it if you considered replacing the dead link with a link to my article. I know your readers will love it, and it would be my pleasure to help you out.

Thank you for your time,

(Your name)
This strategy sounds too simple to work, but most of the time, it works so well it's scary.
And here's the best part: Even if you don't have any readers, you can get a backlink using this method and go from 0 to 60 in no time.
If you want to go all the way with this technique, you can even seek out broken links first and create content specifically to replace it.
That's a much more involved technique, but it's well worth it.
Authority sites want content that is perfect for their readers, so custom content will usually have an edge over existing content.
Pitch guest posts
I know you've probably heard this tip before, but I'm going to put a different twist on it.
When people talk about guest posting for backlinks, they usually follow a couple of simple steps.
Step 1: Find a site that accepts guest posts. Step 2: Pitch good content and get published with a link in your author bio.
Yawn, right?
You shouldn't settle for a vague process that doesn't always succeed.
You need a reliable and repeatable formula that works. So here it is.
First, understand the value that outstanding content brings to a site.
Authority sites are crazy about content.
Excellent content is what separates most authority sites from lesser-known sites. It's what brings immense value to readers, and that's why readers keep visiting these authority sites.
If you can provide awesome content, most authority sites will be more than happy to give you a link in exchange.
But your content actually does have to stand out. You shouldn't pitch generic topics or "easy" articles just because they're easy.
The posts you pitch should be highly relevant to the site. That means brainstorming ideas specifically for each individual site.
Yes, it could take a while, and no, it's not the easiest way. But the easiest way and the right way are rarely the same.
So take the time to generate a few ideas that are close to the content a site is already publishing.
Second, the content you create cannot be fluffy.
We're talking about sites with a DA of 80 or higher. These sites mean business.
All too often, big-time blogs (including my own) get bad guest post pitches. The content has little to no value and it's mostly fluff.
Do you think authority sites want that kind of content? Definitely not.
You have to go above and beyond.
The sites you're aiming for receive hundreds or even thousands of offers for guest posts every week.
How is your guest post pitch going to stand out?
Your pitch should be short and informative, and your content should be deep and detailed.
You should also try to nail the style of the site. I recommend spending a few days browsing through the content to get a sense of what the site is all about.
Third, aim for a contextual link instead of an author bio link.
We've all seen author bio boxes.
Here's a great example of one.

That's where backlinks usually go, and there's no doubt they drive traffic.
But contextual links are way better than author bio links.
A contextual link is a link placed within the text of the guest post itself.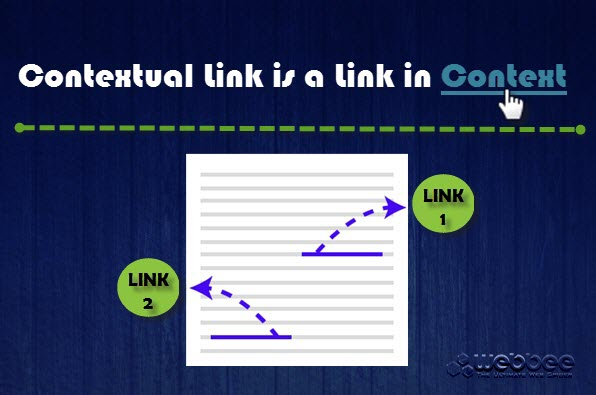 Contextual links are great because readers are more likely to click a contextual link than an author bio link.
If all you get is an author bio link, don't worry. They'll still work for you. But always try to get a contextual link.
The best way to get a contextual link is to ask. Don't overstep your boundaries by including an unsolicited link in the content you send.
Wait until the site has approved your content and then ask for a link.
Once the site owners or editors see the value your content will bring to their site, they'll be more receptive to the idea of giving you a contextual link.
This is easily the most time-consuming process on this list, but it's also the most powerful.
Guest blogging the right way can build your authority and get you authority backlinks. It can be a shortcut to Internet fame, but only if you use it right.
Give a testimonial
Companies love success stories.
They're more than motivational quotes that say good things about a company.
Good testimonials can increase sales, and they look great on home pages and landing pages.
You might think testimonials are only for the company's benefit. Not so!
You've probably never thought of the backlink opportunities testimonials provide.
Many websites give you a backlink in exchange for a glowing testimonial. (Not every testimonial section is like this, however.)
It's similar to guest posting, but it's even less work!
To show you what I'm talking about, here's the testimonial section of Clicky: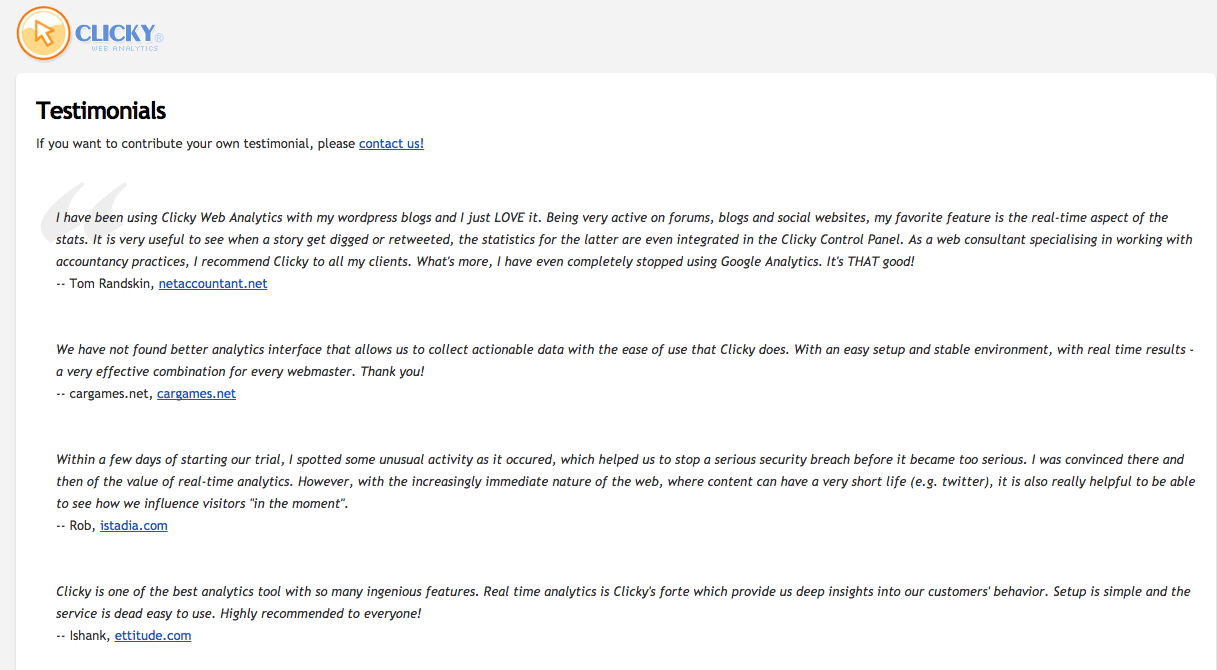 See all of those links?
And in case you were wondering, Clicky has a DA of 83:

So a well-written testimonial could land you on a high DA site. But how do you get there?
First, you need to find famous businesses in your niche.
Always check the site's DA first. There's no reason to find the testimonial sections of sites if they have low DA rankings.
If a site has a DA of 80+, see if they have a testimonials section. Sometimes it's called something different like "Customer Stories" or "Case Studies."
The best way to find the testimonials is by going to a site's home page and scrolling all the way down until you see the footer section (where there's usually lots of links).
Sometimes you'll find the testimonial section in the main navigation menu.
For example, if you use Hubspot (DA 88), you can find their testimonials section by navigating to Software > Case Studies.
Each business featured in a case study gets a backlink in a prominent bio section: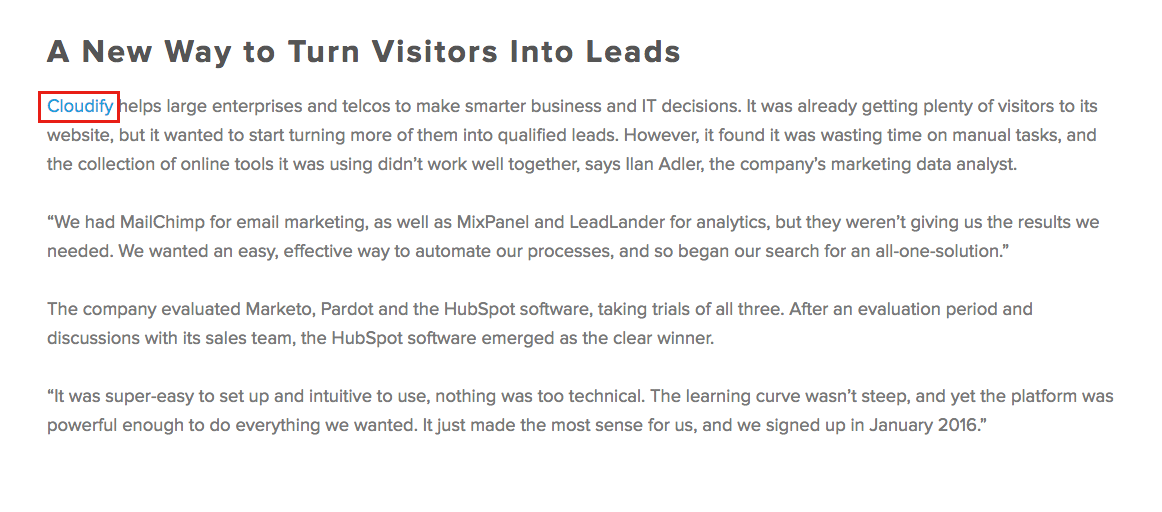 Not bad, right?
You have the potential to get a ton of attention from a trusted site in your niche.
Second, be a user of the product.
Sure, you could try out a product for a few days and write a nice review, but most businesses want stories of how their product helped someone do something amazing.
If you've gotten great results using certain software programs or online services, use those results to create a captivating testimonial.
Third, contact the site about it.
Pretty straightforward. Drop the business an email that tells them all about your success with their product.
Sometimes, the company's site will have submission instructions on their testimonials page, so check there first.
If all goes well, you'll get a nice authority backlink without doing a whole lot of work.
Conclusion
Don't overlook link building.
Lots of people work tirelessly on SEO strategies but completely leave out backlinks. As you might expect, their overall SEO isn't as good as it could be.
Any backlink from a reputable site is going to be good for your SEO.
But if you want big results, you have to look at the upper echelons of the web.
That's why I'm suggesting you focus on sites with a DA of 80 or higher.
These sites can give you a tremendous boost, drive lots of traffic to your site, and help you get more visibility in search engines.
You have to go the extra mile to get these links, but they'll repay you in no time.
I hope this motivates you to create awesome content and expand your online presence.
How are you going to get an authority backlink?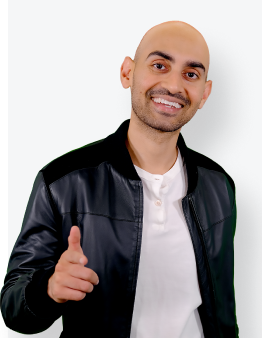 See How My Agency Can Drive More Traffic to Your Website
SEO - unlock more SEO traffic. See real results.
Content Marketing - our team creates epic content that will get shared, get links, and attract traffic.
Paid Media - effective paid strategies with clear ROI.
Are You Using Google Ads? Try Our FREE Ads Grader!
Stop wasting money and unlock the hidden potential of your advertising.
Discover the power of intentional advertising.
Reach your ideal target audience.
Maximize ad spend efficiency.