As an entrepreneur, the move towards e-commerce and digital transformation shouldn't pass you by. The good news is that as a brick-and-mortar business owner, you can promote your website to the foot traffic in and around your store to aid your online visibility and increase digital sales.
Perhaps your biggest advantage is you don't need to spend quite so long building the relationships that turn people into buyers: you've already done that.
Shoppers coming into your store know you, trust you, and are more likely to purchase from you. Also, the surrounding foot traffic is at least familiar with your business, even if they haven't bought anything from you yet.
Now comes the question: How do you turn your foot traffic into more digital sales?
Whether your website is fresh up or you've been running your website for some time, the techniques featured in this article are open to everyone.
First, let's look at the two main different types of retail traffic along with their advantages and disadvantages.
Foot Traffic Vs. Online Traffic: What Are the Pros and Cons
When we talk about foot traffic, we mean the number of people coming into your store and those who walk nearby. It has always been an important measure of retail success, and naturally, the more foot traffic an area has, the more chances there are to make sales.
Each type of traffic has its pros and cons.
With regular foot traffic, the advantages are it:
allows businesses to see and interact with customers personally
can generate word-of-mouth advertising and, in turn, repeat customers through recommendations
enables face-to-face sales, which many consumers are more comfortable with
allows customers to ask questions directly and get immediate answers
However, there are also disadvantages to foot traffic. The most significant disadvantage is the decline. According to RetailNext, recent Black Friday figures were down 48 percent, and this is a trend that's likely to continue as more consumers turn to e-commerce.
There are other disadvantages too, such as:
It's weather dependent. Fewer shoppers are out about when the weather's bad or the heat's too intense.
There are declining brick-and-mortar sales.
Consumers who use e-commerce benefit from the convenience and special offers available online. However, the growth in online sales is good for website owners too.
The main advantages of online traffic include:
There's a constant flow of visitors to your store anytime, even when you're sleeping.
It provides targeted reach.
There are little to no geographical limitations.
Tracking allows you to spot patterns and refine your marketing strategy.
Disadvantages of online traffic include:
It takes time to get established online.
There is over-reliance on technology.
Changing algorithms mean you can lose your position in search engines.
It costs money to keep getting fresh visitors to your store.
8 Ways to Convert Foot Traffic Into Digital Sales
No store owner can afford to ignore the potential of digital sales. E-commerce has dominated the retail sector for years now, and that's not going to change, according to forecasts.
According to statistics, e-commerce sales are likely to reach 563.4 billion dollars by 2025, and your online business can benefit from this surge.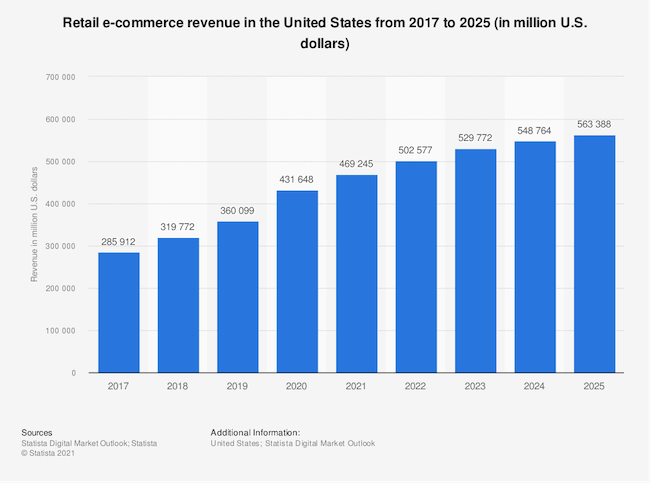 1. Advertise Your Online Presence
You've got customers coming into your store every day. Make sure they know about your website and social media presence by advertising your digital channels around the store.
Don't go too crazy, though.
There's no need for giant banners with "find us online @" written on them. Instead, be a little more discreet. For instance, you could:
Add your website URL and social media pages to receipts.
Include business cards with a discount code when packing bags.
Put your online details on any packaging.
Include small plaques on shelving around the store with your online information.
Advertise details on any outside signage and in your windows for passing foot traffic to see.
Also, if you have any special internet offers, promote them through in-store advertising and handing out promotional materials. Add an incentive to spur interest.
2. Advertise Online-Only Sales
Many people have two things in common: they love a bargain and have a fear of missing out (FOMO). According to the stats:
Sixty-nine percent of millennials have FOMO.
Wealthier households are more likely to experience FOMO.
Social media is a major contributor.
FOMO is a proven psychological tactic for driving sales. That's why offering online-only items or special discounts can be an effective profit booster for your business, especially when you include a time limit on the offers.
E-commerce companies like Sleeknote use this approach, creating a sense of urgency to get consumers to sign up.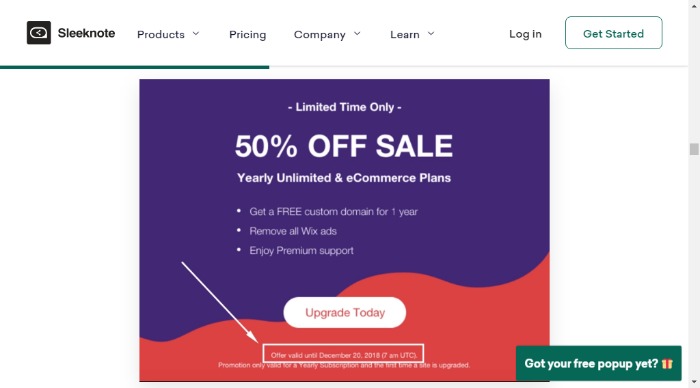 Another benefit of this approach is that buyers are only too keen to tell their friends and families about the great deal they got. This could mean even more visitors to your digital platforms.
When doing this kind of promotion, be sure to spread the word among your offline customers with leaflets or small cards and a promotion code so you can track your campaign's success.
3. Offer Free Shipping Discount Codes
One deal-breaker for consumers is shipping costs. Eighty-two percent of shoppers hate them and prefer free shipping overpaid expedited options.
To overcome this obstacle, why not offer a free shipping discount code?
Once customers get to your website, sign up and register, it's easier to engage them and build relationships by sending targeted offers. They also get to realize the benefits of online shopping.
If it makes sense, you could also offer free shipping on orders of a minimum value for future orders to further engage and encourage your customers to purchase.
4. Offer Incentives for Connecting on Social Media
Sometimes customers just need a nudge. They might have meant to check out your business on social media but just haven't got around to it yet.
What can you do to get buyers to visit your social media platforms? You create incentives. They can be in the form of coupons, freebies, contests, and prizes.
You could also offer points or a percentage off if your customer shares your social media pages with others or gets a friend to sign up to your digital channels.
5. Highlight Exclusive Online-Only Products
Let's go back to FOMO just for a moment.
Arguably, FOMO has done a lot to keep the retail industry alive, especially on major shopping occasions, like Black Friday.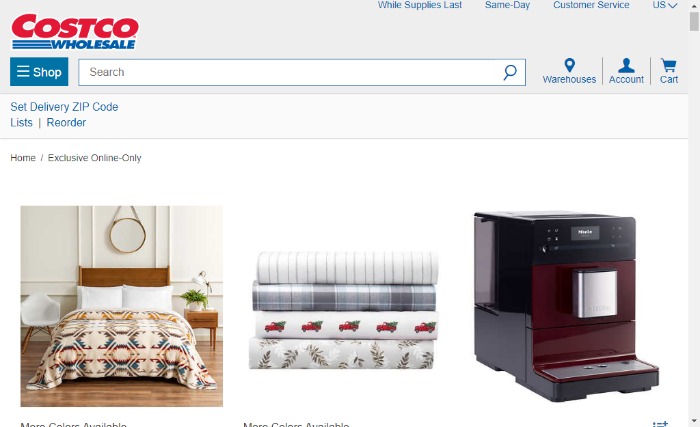 E-commerce store owners often use FOMO to secure more sales, and there are multiple other ways you can use it in your marketing campaigns.
By offering exclusive online-only products, you're giving shoppers the reason they need to head to your website and sign up.
However, FOMO has a downside, too.
It can lead to impulsive buying by consumers. That's not what you or your business needs: you want customers that keep coming back for more.
Also, it could be damaging to the overall customer experience, so use this strategy with care.
6. Cross-promote With Other Store Owners
If another local store has a product that complements yours, then you may find cross-promoting each other's products/services is mutually beneficial.
For example, an organic store selling nutritious foods and natural skincare products could pair with a local beauty salon or a gym.
You promote their online offerings and digital platforms in your store, and they do the same in their premises.
Perhaps take this a step further and collaborate with other local store owners to create a co-branded coupon with local businesses' online details.
This approach can reach a broader scope of foot traffic, potentially leading to more visitors to your website and increased digital sales.
7. Use In-store Events
In-store promotions have been around for years, and they're a staple of retail marketing. The goal of in-store promotion is to:
increase customer traffic
improve brand awareness
create awareness for new products
get people talking
By creating a buzz, an in-store promotion attracts foot traffic from regular customers and possibly from passersby.
These events give consumers the chance to visit a store, check out products, and get to know you. They also give you the opportunity to promote your online channels and give out promotional materials directing people to your website.
Additionally, in-store promotions help with word of mouth, build customer loyalty, and you also have some flexibility regarding the style of the event.
Depending on what you want to achieve, your promotion could be:
educational
luxurious
experimental
holiday-themed
Alternatively, you could take the Ikea approach and create a bring a friend event. Ikea asked people to "like" their Facebook page if they wanted to access the special offers only available to attendees who brought a friend along.
You can use such events to promote your store in other ways too. For example, you could invite visitors to take pictures or videos and share them on your digital channels to promote your brand further online.
8. Hand Out Flyers
Go wider and make the most of the foot traffic outside of your door. Flyers are one of the oldest forms of advertising, and they still work.
Hand out flyers to passersby highlighting your special deals and internet-only products to passersby. However, be sure to check if it's permissible locally before you do.
You can then use this as an opportunity to introduce yourself to potential customers and tell them about your business and the advantages of buying from you online.
You can also:
pin flyers to local community boards
advertise in your store windows
keep a pile of flyers on your counter for shoppers to take
include flyers in your customer's grocery bags
Finally, offer discounts to anyone that signs up and include a code for people to use so you can track success.
Frequently Asked Questions About Foot Traffic
How can I use my website for more foot traffic?
You can use your website to attract extra foot traffic for a further business boost. Consider inviting people to buy online and pick up in-store, providing in-store redeemable coupons, and offering in-store exchanges and returns.
What's the best way to track the success of my campaigns?
You can add codes to any flyers, cards, or other promotional materials that you put out or ask customers how they found you when they registered online.
How can I improve my foot traffic offline?
By using signage, introducing a loyalty program, marketing, and social media. However, remember that these tactics take time, so they may not increase your foot traffic immediately.
How does foot traffic increase sales?
The more foot traffic you have, the greater the opportunity for engagement and sales, helping boost your revenues.
Foot Traffic Conclusion
As a store owner, you're in the unique position to start sending customers directly to your website to increase your digital sales.
You don't need to rely on them finding you by chance, and you don't have to take so much time building trust because these buyers already know you.
That gives you a perfect chance to start actively promoting your website to the foot traffic in and around your store.
There are plenty of strategies you can use to do this. For example, offering incentives to get consumers to sign up to your social channels, holding in-store promotions to highlight online-only products and give demonstrations, and advertising your store on your packaging materials and receipts.
Are you a store owner? How do you get your foot traffic to find you online?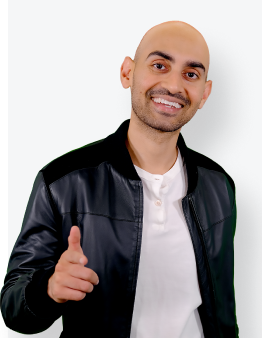 See How My Agency Can Drive More Traffic to Your Website
SEO - unlock more SEO traffic. See real results.
Content Marketing - our team creates epic content that will get shared, get links, and attract traffic.
Paid Media - effective paid strategies with clear ROI.
Are You Using Google Ads? Try Our FREE Ads Grader!
Stop wasting money and unlock the hidden potential of your advertising.
Discover the power of intentional advertising.
Reach your ideal target audience.
Maximize ad spend efficiency.