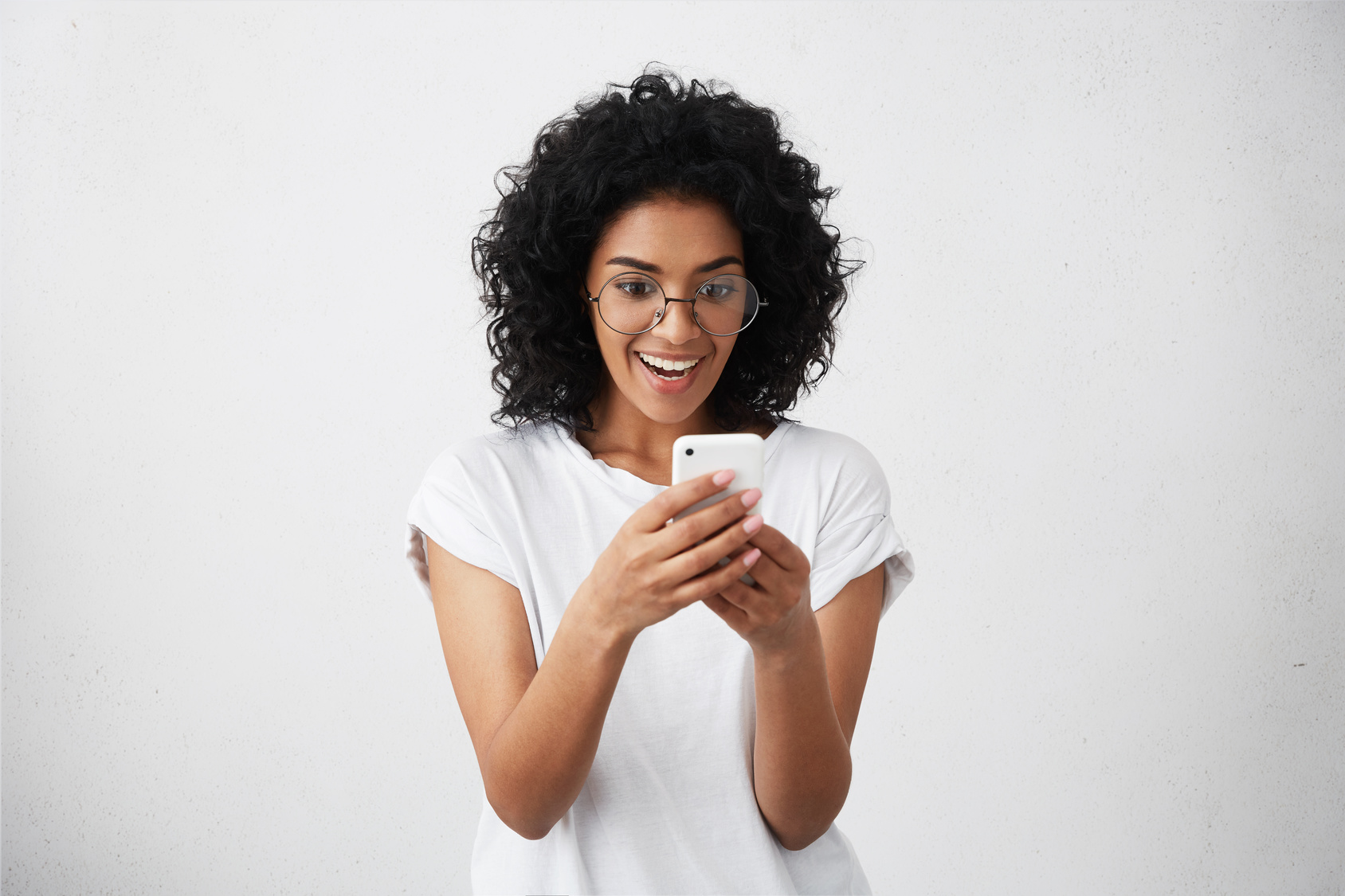 Did you know that we check our phone 85 times per day, on average?
What does that mean for your SMS open rates?
A pretty impressive number: 82.1%.
Even 80% of Millennials say their phone is the first thing they check when they wake up.
The point is that people keep their phones handy and are always ready to use them to find information or check the latest social media updates.
Plus, open rates for texts vastly surpass email (which dwindles at 24%).
It's clear that we've become dependent on our phones, but that opens the door for testing new mediums to reach consumers.
Mobile advertising works, but only if your message makes it to the consumer's inbox, and only if your ad is mobile-optimized.
It's the only way to steer clear of the noise and get a positive return on investment.
Most online marketers laugh at the idea of SMS marketing because they think it's more regulated than email marketing. But that's a myth.
Watered-down, mobile-targeting tactics are costing you conversions, clients, and revenue.
Meanwhile, SMS marketing is lurking in the background, waiting for you to capitalize on it.
Here's why (and how) you should revisit SMS marketing to generate revenue.
The many advantages of SMS
You think Instagram has good engagement numbers?
Wait until you see what text messages get.
Advantage #1. Texting has by far the best engagement rate of any marketing medium.
Emails can sit unread for days, phone calls can go unanswered, but text messages are almost always read immediately after they're sent.
We already talked about the comparatively dismal open rates for email. The average CTR for PPC ads is even worse at 2%.
The point is that SMS marketing is underrated and underappreciated.
Leaders in the space like CDYNE know the likelihood of getting your message to the intended target with an SMS service is vastly higher than with email, PPC, organic, or social.
But nothing great comes without its catch.
It's neither ethical nor legal to send unsolicited messages with text-message marketing.
You need a written opt-in.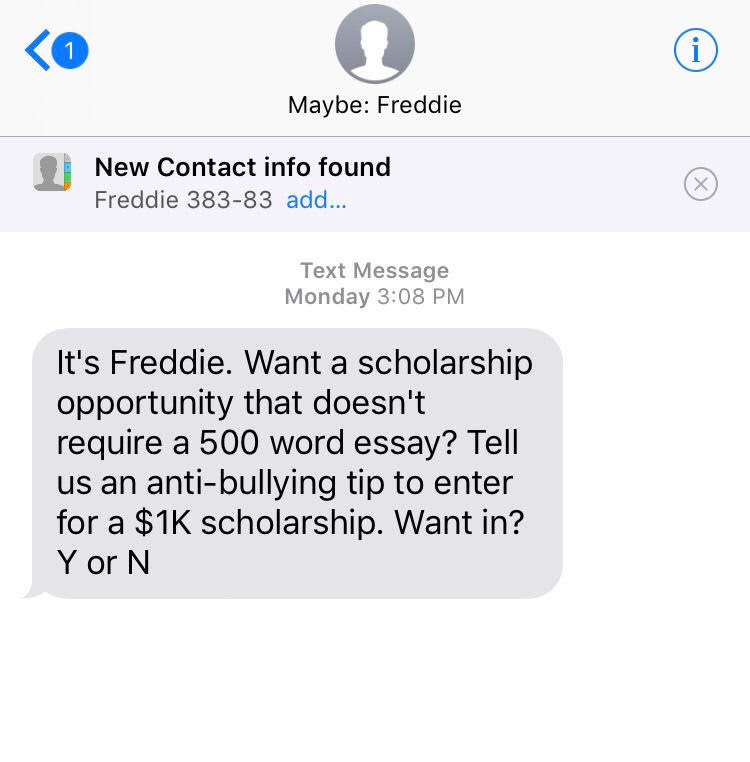 Fortunately, customers have an easy way to opt themselves in — or out — straight from their mobile phones with most text-marketing services.
Here are some of the advantages of mobile text messaging.
Advantage #2. Trackable platform: You can easily track who opened your message, what links they clicked, and who ignored the message.
There are countless texting platforms that allow you to manage your campaign all from your desktop.
Find a solution that will give you access to detailed analytics that lets you track each step in the conversion process starting with the initial delivery and opening.
Advantage #3. Interactive content: Mobile messaging makes it possible to get feedback from your recipients quickly via a quick tap on the 'reply' button or a click on your link.
You can deliver quick, simple messages that direct subscribers back to your site.
For example, Chipotle excels at using mobile messaging to drive sales.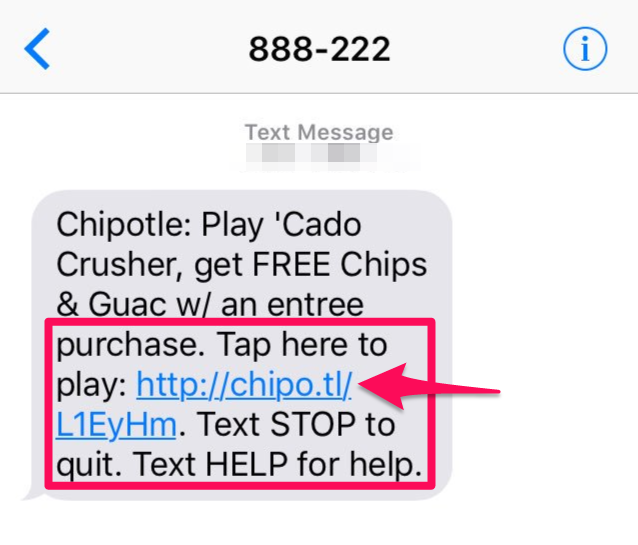 It's short and sweet. It gets straight to the point with "free chips and guac" if you play their game.
Not a bad deal, right?
Especially since they have queso now, too.
And, of course, it's perfectly optimized for mobile.
Get creative with your text-marketing campaigns and take a page out of the Chipotle playbook.
Advantage #4. Immediate delivery: Overall, mobile marketing is fast. Once you press "send," your message goes out instantly.
You can set up a campaign and have hundreds of clicks within minutes.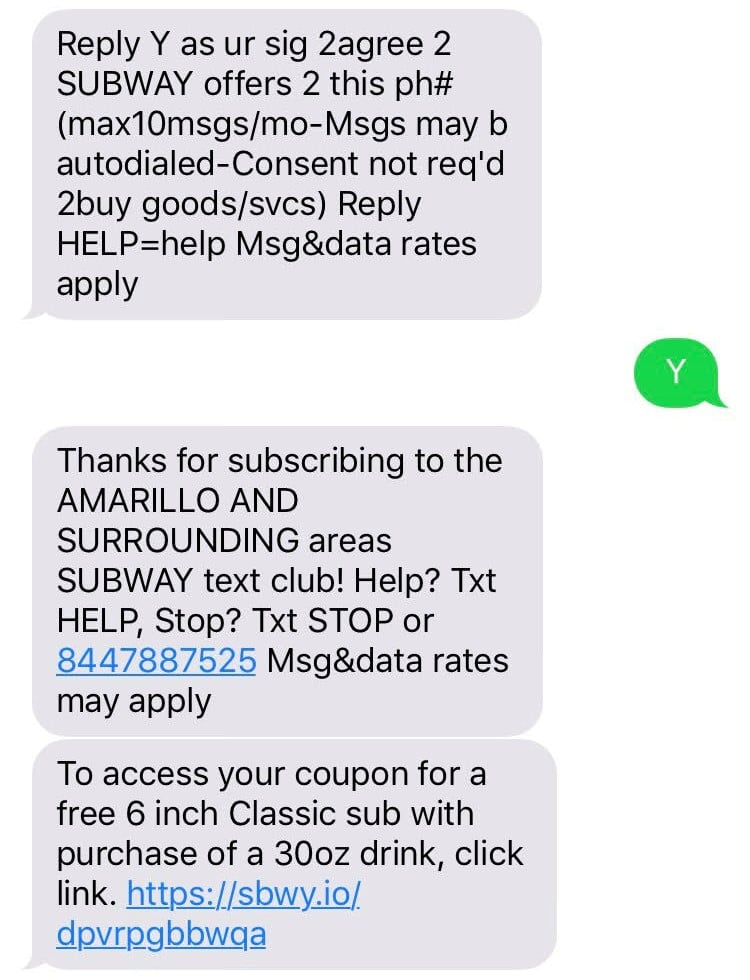 Advantage #5. Personal touch: Sending a text message via your mobile device gives you an informal opportunity to personalize the message.
For example,  the Banana Republic often sends text messages that include words like "friends" and "your."
Using words like "you" and "I" is one of my favorite techniques for driving engagement.
The Banana Republic also does an excellent job of tapping into local events that are relevant to the recipient.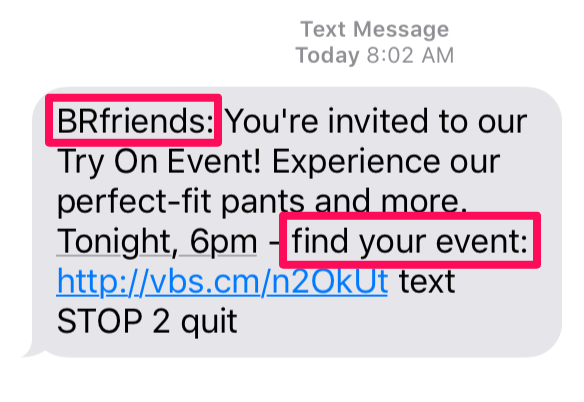 See? The opportunities with SMS are endless.
You can personalize your message, direct users to fun games where they can win coupons, and track every step of the conversion process.
Here's how it works.
The basic components of SMS marketing
The two basic components of a typical SMS-marketing campaign are the keyword and the shortcode. Here's an example:
Text "POPCORN" to 555555 for our weekly list of flavors!
"POPCORN" is the keyword that gets placed in the body of the message.
"555555" is the shortcode that gets put in the recipient box.
When a customer sends that message, they're "opting in" to your campaign. It's as easy as that.
From there you can do a few different things.
Go ahead and send them a single, automated response to follow up and let them know what to expect next. Or you can just add them to a list that will send additional texts over time.
There are other ways to get customers to opt in. Let them check a box on an order form or submit their phone numbers online.
Numbers received this last way have to be confirmed, however, since a customer could always enter a number incorrectly.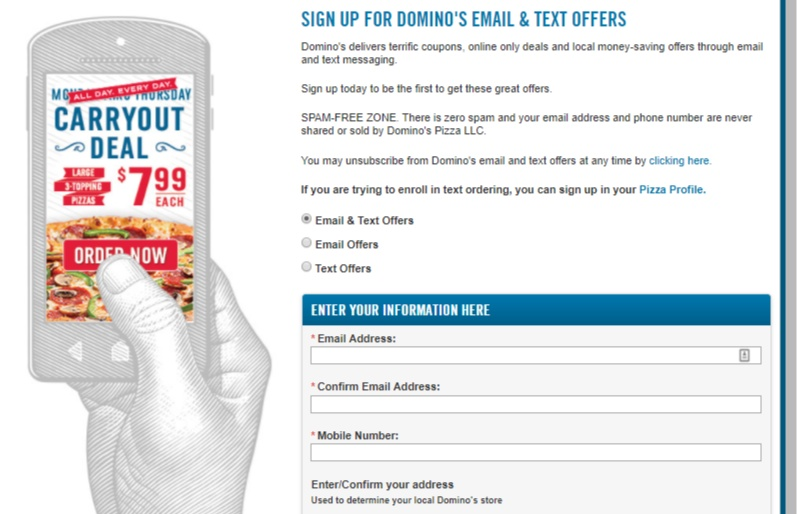 So before you add them to a campaign, you'll have to confirm their participation with another message.
For example, you could send. "Text 'YES' to receive weekly coupons."
Once they've opted in, customers can also respond to your messages with sub-keywords.
For example, sending the phrase "Hours" could trigger an automated text to send business hours and "Stop" could remove the subscriber from the list.
Allowing customers to use sub-keywords gives them a way to interact with your business. It also enables them to opt out of your campaign if they wish to stop receiving messages.
Once you've got the basics down, you can tap into creative ideas — like Chipotle's game, which we covered earlier.
The best SMS marketing tactics
Mobile texting tactics are diverse.
However, they should be pretty familiar if you've already run social promotions and contests.
For example, you can send coupons, drive traffic, or engage people through fun, simple games.
Here are some of the best potential uses for SMS marketing.
Tip #1. Coupons: Send customers exclusive deals.
Start by creating uniquely-generated coupon codes to prevent non-subscribers from taking advantage of your deal.
That way, people have to subscribe to save.
Check out this example from Redbox: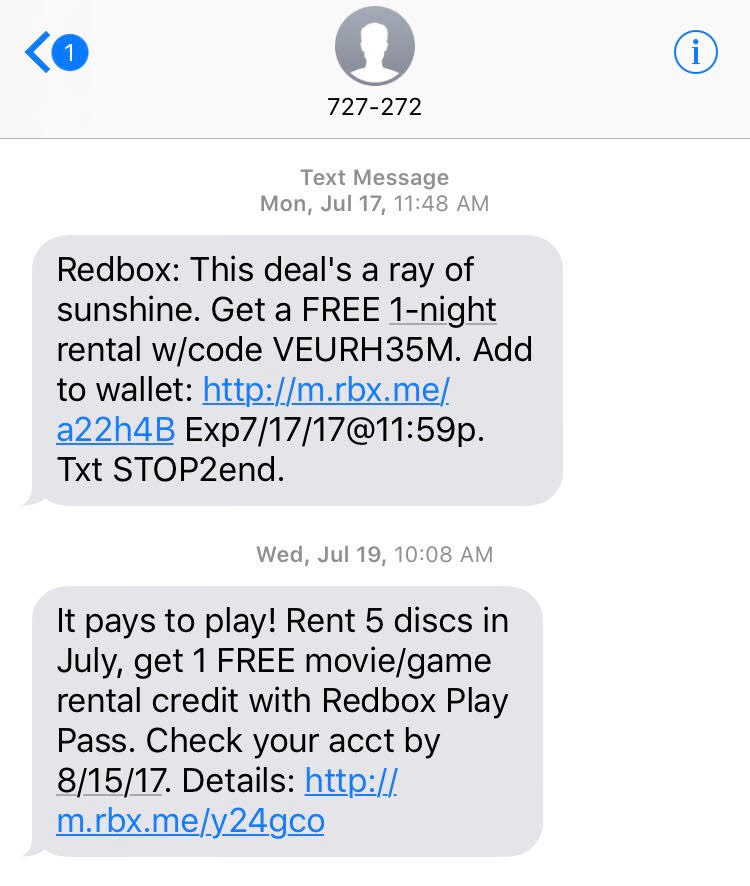 Redbox also takes advantage of "add to wallet."
It's giving you a simple one-click option to hook up your phone's payment system with its offer.
Plus, the subscriber gets an extra incentive for taking this additional step. Customers don't have to take an extra step to pay when they want to rent movies.
Tip #2. Drip campaigns: Send automated messages based on how long customers have been subscribed.
Think of this as just another form of marketing automation.
You can create triggers or tailored responses depending on each individual's status.
In the context of coupons, for example, you could send a 5% off coupon right after a subscriber signs up, a 10% coupon after three weeks, and a 20% off coupon after two months.
The longer they stick around, the bigger the potential bonus. So you're incentivizing the action you want.
Best of all, you can schedule these to run automatically.
One will be sent as soon as a customer signs up or opts in. That way, you don't need to keep sending individual messages.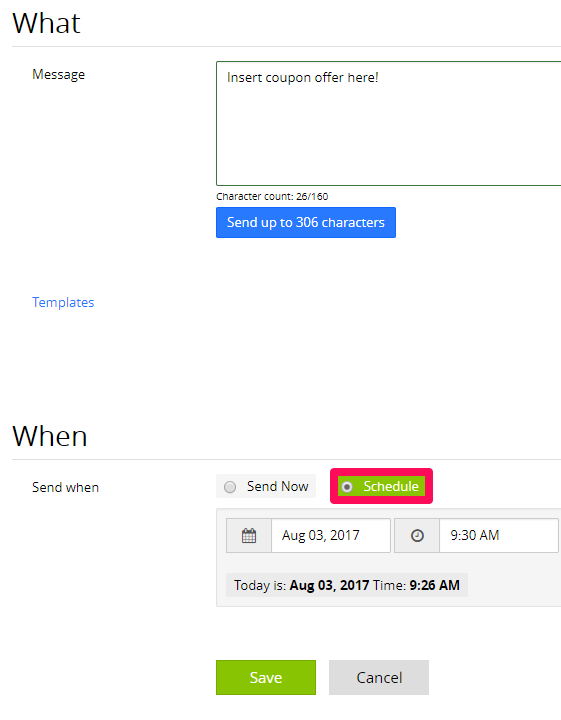 Tip #3. Poll your customers: Let your customers text different keywords to cast a vote.
With most services, you can run polls to collect responses over a period of time and graph the responses from your online dashboard.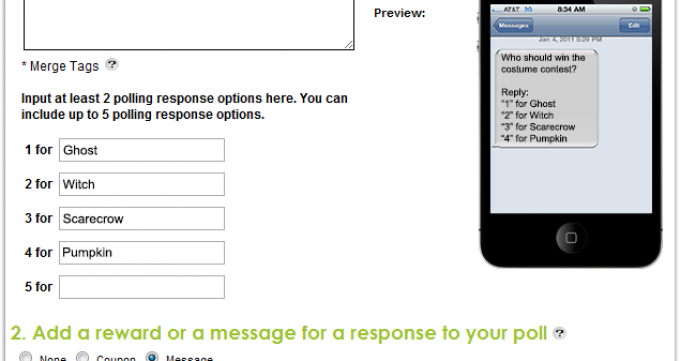 These are relatively simple when you think about it.
However, they offer an interesting content piece.
You can use the results internally to improve your operations.
Or you can reuse the results in both blog and social content to leverage your unique, proprietary information.
The people who left an answer will also be more eager to find out what the eventual results were and even help you share them.
Tip #4. Run a sweepstakes contest: You can have customers sign themselves up for sweepstakes by texting a particular keyword.
Once again, this is a standard promotion tactic.
You can select some winners from everyone who opts in. Or you can also give away a smaller prize to every person who texts your keyword.
You can even use it as an opportunity for cross-promotions.
Sterling Vineyards and Uber did that to give away free rides to Sterling's customer base.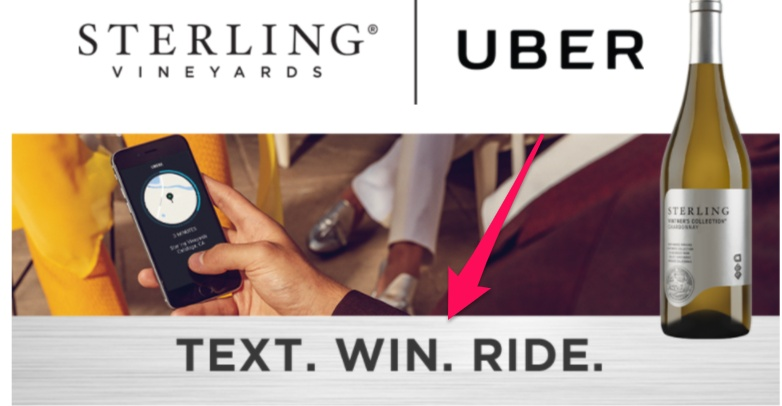 Tip #5. Send photos and videos: In addition to general SMS texting, you can send images.
Here's what I mean.
Let's say you wanted to send an eBook preview or another image-style CTA.
Check out this example I created to see what's possible with just a few minutes worth of work.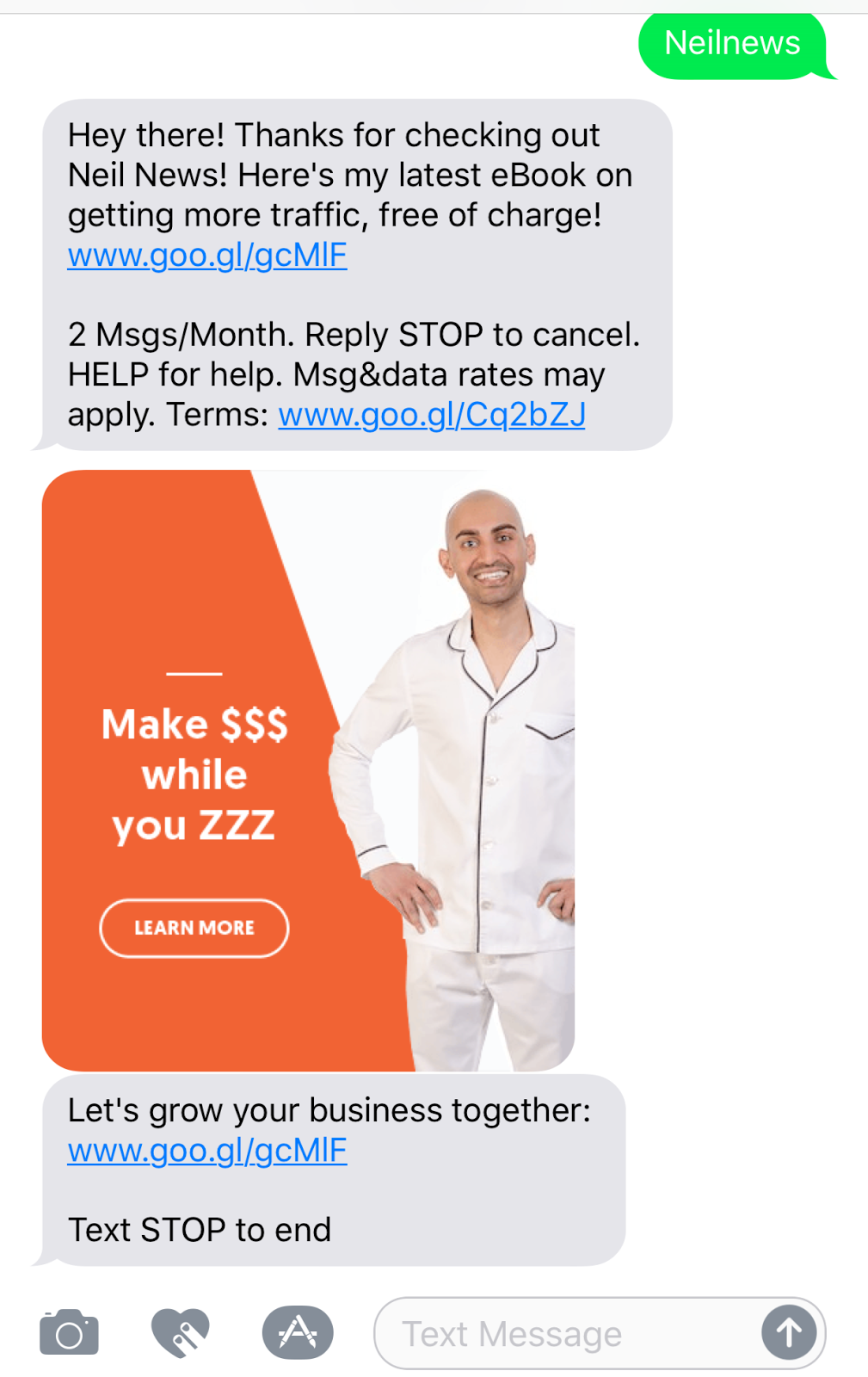 Want to create this type of marketing message? I'll show you how a bit later in this piece.
Use Facebook to grow your SMS list
Instead of putting all of your eggs in one basket, use multiple channels to segment subscribers.
SMS and Facebook Ads are excellent on their own. But they can be even better when you use them together.
I recommend checking out Facebook's lead ads to integrate with your SMS campaigns.
Lead ads are great for collecting data and information to build up a large subscriber base.
Here's how to get started.
Head to the Facebook Ads Manager and create a new ad, selecting lead generation as your objective.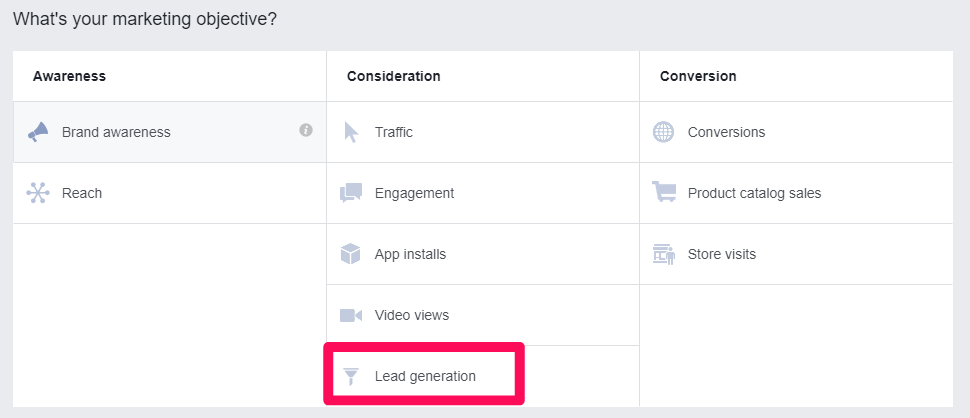 After you've set your target audience, budget, and placements, head down to the lead form option to set up your ad and collect phone numbers.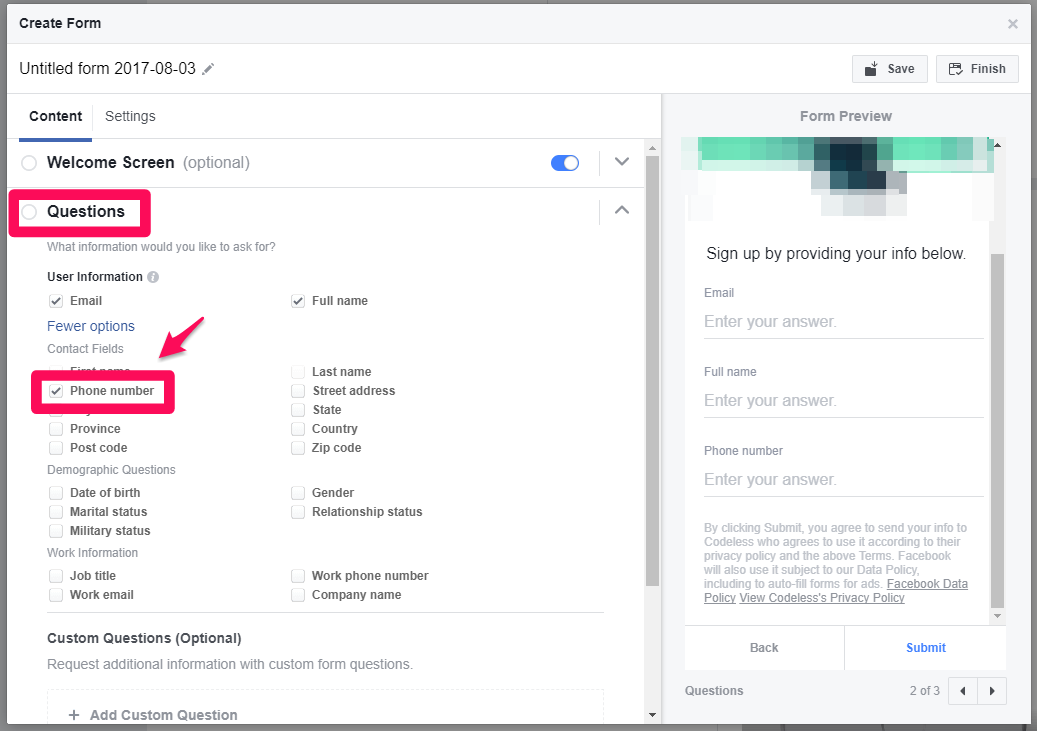 Here's what the finished product should look like.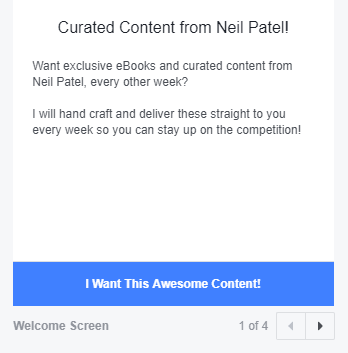 Now you get a multi-step form that doesn't bombard the user with an instant information grab.
Instead, it uses multiple steps to warm them up to your offer.
Pretty cool, right?
Here's what the second step of the form looks like.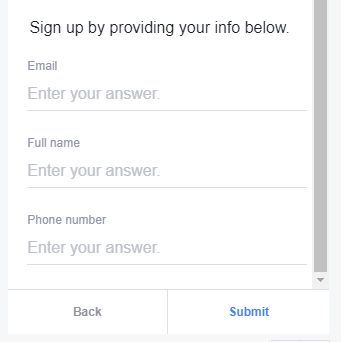 Once you've configured your settings, you've got a simple way to collect phone numbers immediately.
That means you're almost ready to start getting your first SMS campaign off the ground.
How to automate your SMS process
Since we're into the idea of working smarter and not harder, I suggest automating the process.
Let's face it: Marketing automation helps us save precious time.
For example, you don't have to manually export and import lead data. Instead, you can use a tool like Zapier to quickly build out an automated process.
Zapier connects with just about every marketing software you can think of, including MailChimp, Gmail, Facebook Ads, Slack, and many of the biggest CRMs on the market.

So if you get a few people submitting phone numbers in your Facebook lead ads, you can send them directly to your CRM, your messaging platform, and even various SMS marketing platforms. All at the same time!
Here's a quick list of the available texting apps they work with.
Let's dive straight in, shall we?
First, select Facebook Lead Ads from the workflow ideas list.

Next, select it as your trigger.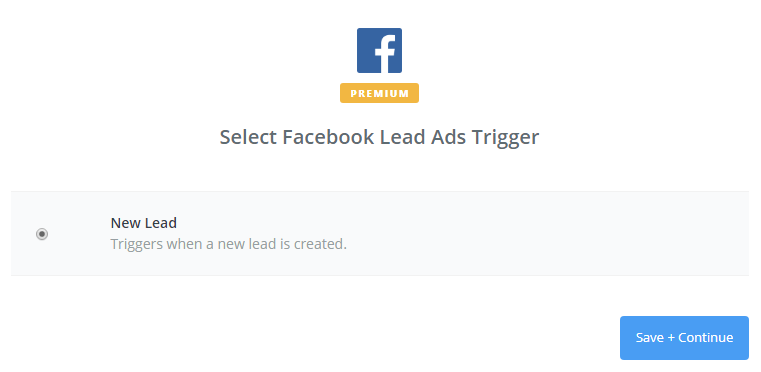 So whenever a lead fills out your lead capture form, it will trigger the following action that you want to set.
I'll show you how to set that up in one second. But it could be anything from sending that lead form information to your CRM to connecting it to your SMS marketing software.
Now, let's select this action once you've connected your Facebook account to Zapier's workflow.
The action determines what happens with the data from your lead forms.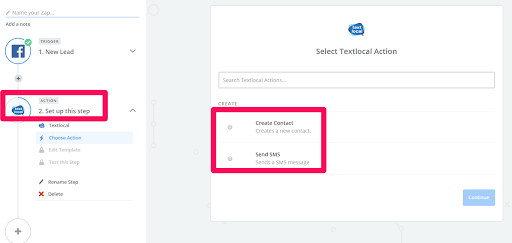 For example, you can instantly add a new lead to your SMS app of choice. Then you can even automate the first message that will go out to them after they're added.
All of this automation saves you countless hours of manually transferring data and information.
Now that you've got a handle on all the different possibilities of SMS marketing, it's time to get your hands dirty.
How to create your first test SMS marketing campaign
If you're ready to get your SMS marketing off the ground, you can sign up for SlickText's Freebie version to give it a go without paying.
You can test your campaigns using the Freebie version to see if SMS marketing is right for your business.
Here, I'll show you how to get your campaigns running to start taking advantage of this under-used marketing medium.
Head over to SlickText and sign up.
That's pretty great, right? You get 50 messages per month for free while you test it out. .
As always, you'll have to confirm you are a real person by entering a phone number.
The first step after creating your account is to set up a keyword, or 'textword' as they call it.
The key to a good keyword (see what I did there?) is making it short and simple!
The keyword is what the audience will text you back to confirm that they've opted in.
Once you've added a keyword, you want to choose how many messages per month to send to subscribers (fewer is better — otherwise you risk looking spammy).
Now set up your first welcome message.
Obviously, you want to offer something of value. You need to give people a compelling reason to subscribe.
Try offering something that your typical customer might find valuable, like an e-book, discount code, or even a free gift card with no strings attached.
You can even give away an 'accessory' product like Chipotle did. They gave away chips and guacamole if you remember.
However, I bet a lot of those people still ordered more items above and beyond the free gift. So Chipotle still comes out ahead!
Once you've set your keyword and welcome message, you can start building out auto-reply messages to give something away to new subscribers.
These templates are exactly what they sound like. You can save different messages to reuse in subsequent campaigns.
Once you start seeing the subscribers flow in, you've also got detailed analytics on the success rates of your campaigns.
And after you've built your opt-in subscriber list, you can send them even more personalized messages with pictures.
You can also schedule them out like you would with social media posts!
Pretty awesome, right? Now get going on your own SMS marketing campaign today!
Conclusion
Let's be honest:
SMS marketing can be kinda spammy.
It has evolved a lot over the past few years, though.
It also helps that people are attached to their phones today.
If you can get them to opt in, they're never going to miss an update or offer from your company ever again.
Start with exclusive offers to generate a huge list of subscribers quickly.
With mobile messages, you can be sure they won't sit unopened or unread for days like emails.
Especially if they're personalized for the recipient!
Use SMS to send coupons, poll your customers, run sweepstakes, send photos, and drive sales. The options are limitless.
Get creative with your text offers and watch your ROI grow fast.
Best of all, you can get started with a free trial to determine if you like it and to determine if it will fit into your existing marketing plan. So, worse case scenario, you're out just a few minutes of time.
Have you received any SMS marketing messages that you just had to respond to?