Facebook is the world's biggest social network.
But did you know you can tap into that massive user base with your own website?
That's right. Using Facebook's social plugins you can include the engagement of Facebook on your own site without the work.
Today, we're going to look at the top official Facebook plugins. By adding a few of these to your site, you can leverage the massive power of Facebook to your own blog.
Let's jump in!
Facebook Group plugin
This is the newest plugin, just released in the spring of 2018.
The Facebook Group plugin lets people click to join a group automatically. If you run a Facebook group for your brand, for example, you can include a signup box on your site.
Another great feature of the Group plugin is that you can include custom text in an email.
This is a particularly powerful feature because it allows you to invite people from an existing list, just by sending them an email.
To use this feature, you can click the "embed invite" link at the top of the members box on your Facebook Group page.
Page plugin
With the Facebook Page plugin, you can promote a Facebook page directly from another website.
When you add this plugin, you'll get a short overview of the Facebook page, including the cover photo, profile picture, like count, and feed.
It looks like a condensed version of your entire Facebook page but is small enough to fit into a sidebar on your website or blog.
This is a great way to build your audience by showing the value you provide on your Facebook page.
To start, just get set up on the Facebook Plugin page. In addition to the basics we already mentioned, you can add custom features like a call to action button and other settings.
Like Button
The Facebook Like Button isn't new, and it isn't fancy. Almost everyone knows what it means and what it does because it's been around for so long.
But that doesn't mean you should ignore it.
Like buttons can be placed on any page of your website and can be targeted to like the page that the button is on, or a URL that you specify.
For example, you can have a Like button on every page of your site that indicates a like for that piece of content.
The like button also adds great social proof when people come to a page or domain. If they see a site has gotten hundreds or thousands of shares, it's a good sign of quality content.
Plus, a user who likes this piece of content will share it on their personal profile and in their news feed to all their friends. Adding the button is a simple way for more Facebook likes.
This is the button responsible for articles that go viral, so be sure to include it on different pieces of content you think could be successful.
But it's not just a benefit for the site owner. For the visitor, it's a great way to show support and share a great piece of content with followers.
To use it, just visit the developer page and copy over a few lines of code. If you're not tech-savvy, you can also find it with a host of other plugins on platforms like WordPress.
It's used on most of the major blogs and websites you visit every day, and there's no reason not to include it on your site if you haven't already.
Comments
The Facebook Comments plugin has been one of the most popular plugins from Facebook, and it's changed interaction across the internet.
The way the plugin works is by connecting Facebook's powerful commenting feature with any website page online. This allows people to comment quickly and easily.
That said, you might be wondering what the advantages are for using Facebook's plugin. If you already use a platform like WordPress or plugin like Disqus, what's the advantage?
Well, one major advantage is that users don't have to create a separate account. For anyone on Facebook, they can start commenting without needing to sign up or register.
Even better, the comment thread is available on Facebook's platform, which boosts engagement and visibility for what you publish.
To get started with Facebook Comments, check out the developer's page and follow the instructions there. You'll need to include plenty of details on the page and site.
There are lots of customization options available for the plugin, but you don't need to worry about them when you're just getting started.
Login Button
This is without a doubt the most complex Facebook plugin to implement, but it can be really powerful for the right type of site owner or app developer.
The way the Login feature works is that instead of having users sign up to use your site, you allow them to sign in through Facebook.
A lot of social networks, including Google and Twitter, offer this feature. But Facebook is the favored platform according to 2016 data, with 53% of polled users preferring it.
This style of logins has a few advantages. First, since most Internet users are on Facebook, it's easy to get people to sign up with that account instead of creating a new registration.
Plus, you get access to a lot more user data, including things like a profile picture.
And finally, you don't have to worry quite so much about security, since the world-class security team at Facebook is responsible for handling most of the user data.
Of course, with all of that comes lots of red tape and requirements. You need to prove you're trustworthy and work with Facebook's guidelines to include the feature on your site.
If technology scares you, this probably isn't the Facebook plugin to use. But if you're developing an app or subscription website and want simplified logins, this is the way to go.
Embedded Posts and Embedded Video Player
Ever wanted to include a Facebook post or video on your site?
With the Embedded Posts and Embedded Video Player plugins, you can do just that. The advantage of these Facebook plugins is that, unlike screenshots, they're interactive.
That means you can still generate more likes, comments, and shares simply by posting something you've already written.
The Embedded Video plugin, in particular, can be helpful if you've chosen to host video on Facebook instead (or in addition to) YouTube.
Since video is a great way to engage followers and customers, this can be a quick and simple way to boost engagement without extensive coding knowledge.
Just like you'd embed a video from YouTube, you can pull the code from Facebook and include a player on your site.
One of the neat parts about this feature is that you can even include Facebook Live Video on your site, so people can watch streaming video on Facebook without leaving your site.
Messenger plugins
One of the newer categories of Facebook plugins is their new suite of plugins for Messenger.
You can do a lot of things with these plugins, from adding a simple "Message Us" button to creating a custom live chat or chatbot to interact with customers on your site.
Many of the basic functions available on other apps, like subscribing and sharing, are also available with Messenger. These can be helpful depending on your goals.
The advantage of Messenger is that it's a great channel for promotions and outgoing messages since it's similar to a text or chat inbox for most people.
The downside of sharing is that instead of posting your content to the whole Facebook network, the user can only share with a single person (or small group) at a time.
If you work heavily with one-on-one communication or want a more personal touch for website visitors, check out the Messenger plugins on the development page.
Deprecated plugins
Before we wrap up, we should explain a few plugins that don't work anymore. If you've included these on your site or were surprised they didn't make the list, this is why.
According to the official Facebook documentation, these plugins were all deprecated at the same time and stopped working in June of 2015.
Activity feed
The activity feed plugin used to show all of the recent activity on a website whether they were logged onto Facebook or not. It showed new content, likes, and friends if logged in.
Facepile
The Facepile plugin used to show a row of users who liked a page or were connected with the page or app.
Like Box
The Like Box plugin was replaced with the new Page plugin. The Like Box showed a short overview feed of the current content along with an option to like the featured page.
Recommendations Feed
The Recommendations Feed plugin showed the most popular (liked and shared) content on your Facebook page.
It was shown to users whether or not they were logged into Facebook. If they were logged in, it would show friend activity if available.
Conclusion
There you have it—some of the best Facebook plugins to use on your website.
If you aren't already using the power of Facebook to drive engagement on your site, now's the time to start.
In just a few minutes and with a few lines of code, you can start getting your existing readers interacting with your page through their Facebook account.
And if you're already using a content management system like WordPress, that process might be even faster and easier with the WordPress plugins you're using.
Social media plugins are a simple and fast way to increase engagement on your company website or blog.
What Facebook social plugins have you tried?
About the Author: Kristi Hines is a freelance writer, blogger, and social media enthusiast. Her blog Kikolani focuses on blog marketing, including social networking strategies and blogging tips.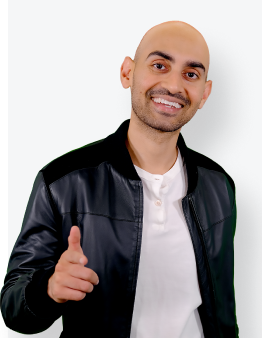 See How My Agency Can Drive More Traffic to Your Website
SEO - unlock more SEO traffic. See real results.
Content Marketing - our team creates epic content that will get shared, get links, and attract traffic.
Paid Media - effective paid strategies with clear ROI.
Are You Using Google Ads? Try Our FREE Ads Grader!
Stop wasting money and unlock the hidden potential of your advertising.
Discover the power of intentional advertising.
Reach your ideal target audience.
Maximize ad spend efficiency.