Are you using blog commenting to increase your online visibility? If you're not, perhaps you should.
The advantages of blog commenting include improved SEO through backlinks and referral traffic. Then there's social proof. When you craft well-written comments that add value, it helps you cement your reputation as an authority.
It doesn't matter if you're responding to something on your blog or blog commenting to boost your presence on someone else's. It's a valuable strategy for promoting yourself, and it works.
Some years ago, I shared 25 ways to get more blog comments; the post has generated over 100 blog comments and hundreds of social media shares.
Not that long ago, I left 249 comments and generated $25,000. I believe I could make more by avoiding common blog commenting mistakes, like writing generic comments, not connecting a Gravatar, and not including your full name.
However, it's easy to make mistakes and miss out on the momentum that blog commenting can give you.
Most entries in an average comments section on the web are spam. Anti-spam comment tool Akismet says it's removed over 500 billion pieces of spam from the web.
I'm confident that once you implement some of the following steps. you'll see dramatic results, too.
Ready to find out more? Then let's get started with the basics.
Why Allow Comments on Your Blogs?
I can understand why you might not want to open your blog up to comments. You don't want to manage endless spam; however, the pros far outweigh the cons. Leveraging blog commenting for SEO purposes can be highly beneficial.
Allowing blog commenting encourages a sense of community. When you respond, your visitors feel like they get to know you better, and they can interact with other readers too.
Commenting also has multiple advantages, like:
Allowing you to demonstrate your expertise when you respond.
Creating backlinks to other articles on your blog and improving SEO.
Offering valuable insights to readers.
Building relationships with your audience.
Getting ideas for new content.
Building blog credibility with a thriving comments section.
I could go on, but you get an idea of what blog comments can do for you.
Tips For Managing Comments On Your Blogs
With the importance of engagement metrics in SEO, having a well-managed comment section is more important than ever. However, it's easy to make some common mistakes that can sour the experience for both you and your readers.
Here are some guidelines for managing blog comments and encouraging helpful contributions.
Always moderate comments before publishing to prevent spam and inappropriate content.
Respond to comments promptly to show readers that you value their input and engage with them.
Encourage constructive criticism and discussion by asking open-ended questions and providing thought-provoking content.
Use a friendly and conversational tone when responding to comments to create a welcoming environment.
Allow differing opinions, but set guidelines for respectful communication and moderate any hateful or offensive comments.
Make these guidelines around blog commenting visible so visitors know what's acceptable; likewise, read other blog owners' policies before responding to their articles.
Mistakes to Avoid When Managing Comments on Your Blog
Blog comments are an incredibly valuable asset for your website by encouraging engagement, feedback, and building relationships with your readers. However, managing comments can be a delicate balancing act. On one hand, you want to promote discussion, but you also want to avoid the spammy comments or negativity that can deter your readers.
Here are some common mistakes to avoid when managing blog commenting:
Not having moderation policies: Failing to moderate your comments section on your blog can often lead to spammy comments, irrelevant or inappropriate comments, or an unsavory atmosphere. Set some guidelines, monitor comments regularly, and take prompt action when necessary.
Being too heavy-handed with your moderation: On the other hand, being too heavy-handed with your moderation can drive away potential commenters and hurt your blog's reputation for censorship. You don't want to stifle debate or hinder discussion. Be transparent about your moderation practices; only remove comments when essential, and always provide constructive criticism.
Ignoring comments altogether: Ignored comments can be costly, as this can discourage your readers from commenting in the future. Respond promptly, thank the commenter, and engage in a conversation to foster healthy relationships with your readers.
Finally, remember that managing blog commenting requires flexibility, clear guidance, and some moderation controls to prevent spam or inappropriate comments from getting out of hand.
Why Post Comments on Blogs?
We've already explained why you'd want to allow comments on your blogs. However, why should you seek out blogs and comment on them?
One extremely good reason is relationship building. Growing your blog depends on getting recognized by others for your expertise. Blog commenting is an excellent way to show people you have something to add to the conversation. By leaving insightful, helpful comments you can demonstrate your knowledge without looking spammy.
Blog commenting can also be excellent for backlinks. You should never leave spam links. However, if you're offering valuable insights, and links are permitted, you can gain a quality backlink.
Then there's the sheer fun of it. If it's a subject you're passionate about, why not share your thoughts?
Tips For Posting Comments on Other Blogs
Posting comments on other blogs is a great way to start establishing yourself. However, unfortunately, many bloggers don't put much effort into their comments, resulting in missed opportunities or even negative reactions from other bloggers/blog owners.
To get the most from posting, follow these guidelines:
Understand the purpose of blog commenting: The primary goal of blog commenting is to provide value to the blog's author and its readers. Read the post and try to leave a relevant and insightful comment that drives the conversation forward.
Keep it simple and concise: Try to keep your comments brief and to the point. Use simple language, and avoid excessive self-promotion or jargon.
Stay on topic: Keep your comments relevant to the blog post you're commenting on. Avoid using the comments section for unrelated topics or spammy links.
Engage in meaningful conversation: Leave thoughtful, insightful, and constructive comments that start or continue a conversation. Engage with other commenters and the author to build relationships and establish yourself as a trusted authority.
Follow up: Consider following up on your comment with further insights or responses. This can help deepen the conversation, demonstrate your expertise, and build relationships with other readers and the author.
Mistakes to Avoid When Commenting on Blogs
If you're not careful, your comments could backfire, leaving you looking like a spammer or worse. In the following section, we'll look at some common mistakes bloggers make when commenting on other people's posts and how to avoid them.
1. Over-Optimizing With Your Keyword in the "Name" Section
I'm sure you have seen comments with over-optimized keywords in the "name" section. It's annoying, right?
Let's see an example.
Although the comment below adds value, it's a mistake. It has an exact match keyword in the name section, instead of the blog owner's real name.
What's wrong with that? It looks like spam and a blog owner is likely to treat it as such.
Over-optimizing like this was once a popular tactic when blackhat SEO was so popular, but it's not a tactic I'd suggest using today.
If you want to improve your chances of your blog commenting paying off, use your name. That limits the possibility of your comment getting flagged as spam or a moderator blocking your comment.
To reiterate, don't use blog comments to improve your backlink profile in any manner.
And, when you leave a comment on industry blogs, make sure that it's topical/relevant and has your full name.
Instead, use your name when placing comments on blogs. Having a comment system in place by itself isn't a bad practice, unless you're doing it for the sole purpose of manipulating your search engine rankings.
Google isn't against blog comments and comment systems, so long as they're valuable.
According to Google's Matt Cutts, blog comments and comment systems are okay as long as they add value He personally leaves relevant comments on sites that cover relevant topics, pointing out errors or providing official information if necessary. Many others do this too and it's acceptable to represent oneself rather than Google.
2. Not Using a Full Name in Your Comments
We've already touched on this in the last section, and explained adding your name to comments can help stop your contribution getting flagged as spam. However, as we'll discuss below, there are plenty more reasons to include your full name.
Bloggers and writers love receiving personalized comments from readers who use their full name; It's an excellent opportunity to engage with them. However, many individuals miss out on this prospect by not using their full names when commenting on industry blogs.
Here's why using your full name is vital:
Writing valuable comments on industry blogs can help you get qualified leads and customers, making it an excellent content marketing tactic.
Not using your full name in comments can make you miss out on potential customers.
Using your full name when commenting on blogs is the equivalent of introducing yourself, giving a solid impression, and opening a gateway for potential discussion.
Let me ask you something.
Would you start selling your product/service to someone you just met at a conference without introducing yourself? Probably not.
Instead, you start by introducing yourself with your full name. The new acquaintance does the same, and a discussion ensues. This sounds simple, but many people neglect to follow the same rules online.
After a blogger has published a post, they expect people to read it, leave a comment, and share it on social media. However, they also hope readers will engage with them.
Whenever I leave a comment, I make sure the blog owner or particular author of the post in question sees my full name first.
You'll always see my full name when I respond to comments on my blog, too.
3. Using a Fake or Inactive Email Address
Using a fake or inactive email address when blog commenting may seem like an easy way to save time and protect your privacy. However, it can harm your digital reputation and hinder your ability to build backlinks and drive traffic.
Whether you did it mistakenly or deliberately, the effect is always terrible. A fake email address breaks the communication avenue between the commenter and the author.
However, there are other reasons why you'd want to avoid using a fake/inactive email address, like:
Credibility: When you use an email address that is clearly fake or inactive, you undermine your credibility and raise doubts about your identity and intentions. This can make it harder for other bloggers and readers to take you seriously and engage with your content.
Missed Opportunities: Bloggers and readers who are interested in your content or blog comments may want to contact you or engage with you further, but if they can't, you may miss out on potential collaborations, partnerships, or networking opportunities.
Spam Filters: When you use a fake or inactive email address, your comments may be flagged as spam, or you may be unable to verify your identity and complete the commenting process.
Reputation Management: By associating your brand or business with a fake or inactive email address, you risk damaging your digital reputation and hindering your ability to establish yourself as a trusted authority.
What should you do instead?
One solution is to register a new email address. You can have one purely for your blog commenting with no worries of getting spammed at your usual address.
4. Using an email address that's not connected to a Gravatar
If you're serious about using WordPress blog commenting to drive visitors to your blog, generate leads, get email subscribers and get more sales, you need to connect your email address to a Gravatar (a web application developed by Automattic) first.
Why use one? Because according to the site:
Your Gravatar is an image that follows you from site to site appearing beside your name when you do things like comment or post on a blog. Avatars help identify your posts on blogs and web forums, so why not on any site?
A typical example of a Gravatar image is:
Joe Biden on Facebook:
Joe Biden on Instagram:
Your Gravatar image says a lot about you. At a glance, you can see that President Biden's gravatar is his real photograph.
Many blogs today access the Gravatar system, so when you write WordPress comments on a blog post or post in a forum, the icon next to your comment is the image that you want it to. From experience, I can tell you that it absolutely helps shape a more customized, branded web experience for yourself and others.
In addition, Gravatars create consistency across all platforms and ensure that your profile picture is consistent throughout the internet. This makes it easier for people to remember who you are and increases brand recognition.
If you don't have a Gravatar to use alongside your blog commenting, it's simple enough to set one up. Just follow these simple steps:
i). First step: Go to Gravatar.com. Then click the "Create Your Gravatar" button:
ii). Second step: Add new image. Select your personal photo from your computer.
Next, follow the step-by-step prompts, and you'll be done in just a few minutes.
The next time you leave a comment using the email address that's attached to a Gravatar, your comment will appear next to your Gravatar.
5. Leaving Comments on Non-Industry Blogs
Do you want to do your utmost to annoy a blog owner? Then leave a completely unrelated comment on their blog.
Seriously. You've probably seen it yourself. You visit a blog, browse through the comments, and all of a sudden, there's a ton of unrelated/non-industry comments. It's usually spam, and if it's not, this type of blog commenting doesn't reach its target audience.
Remember that blog post about how I generated $25,000 from 249 comments? Out of these comments, about 3,973 visitors clicked on my link and landed on my blog. I converted six consulting leads and turned one of them into a $25k speaking gig.
That's the difference making industry-specific blog commenting makes.
I wasn't just throwing my comments up on any blog I happened to run across. I was very selective and there was a strategy behind my comments.
The moral of this case study is it really matters which blogs you read and leave comments on.
I generated decent traffic to my site and increased my income because out of the 224 comments that were truly useful, 100 of them were on industry blogs, while 52 were on mainstream blogs such as Huffington Post, Mashable, etc.
The truth of these blog commenting tips is that if you're leaving comments only on non-industry blogs, you won't drive a lot of traffic to your blog, because the people who will read your comment aren't targeted to your offers.
To find industry blogs that can drive targeted visitors and leads to your blog from your valuable comments, follow these simple steps:
i). First step: Go to SEMrush.com – On the homepage, input your blog URL (e.g., quicksprout.com). Click the search button:
ii). Second step: Analyze your competitors – On the results page, scroll down and you'll find your "main organic competitors." Those are the industry blogs you should start leaving useful comments on.
6. Writing Comments That Aren't Relevant to the Topic
Have you ever spotted a blog comment that's out of context? They stand out like a sore thumb, don't they?
While these types of comments do get attention, it's not the right kind. You'll frustrate blog owners and other readers, and you'll give yourself a reputation for spammy comments too.
The major reason why a lot of brands don't activate the comment system on their blogs or actively comment on other blogs is because of comment spam like this: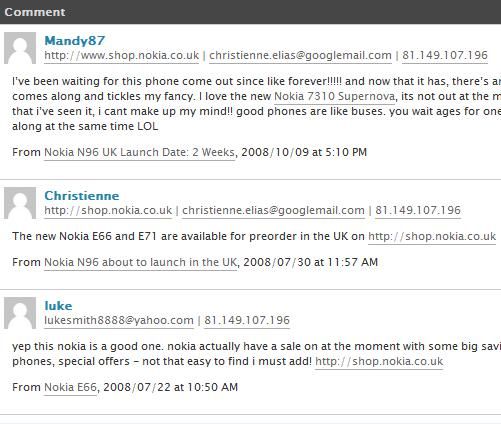 When I read some comments, I begin to wonder what the commenters were thinking at the time. Trust me, nothing annoys a content writer or blogger more than an unrelated comment.
That's why you should never make the mistake of writing comments that are unrelated to the topic.
When you read success stories of people who have used blog comments to grow their business, you should dig deeper to know how they did it. Here's an example.
Ryan Biddulph from Blogging From Paradise has successfully used blogging for SEO purposes; He gets credit for leaving quality comments on other blogs. By leaving insightful and helpful comments on other blogs, he was able to attract new readers to his own blog and build relationships with other bloggers.
In addition, his comments often included his blog's URL, which helped him gain backlinks to improve his blog's SEO.
In fact, blog commenting was so successful for Ryan that he eventually wrote a book called "Blogging from Paradise".
7. Posting Generic Comments
Generic comments like the one below don't offer anything to the conversation. The commenter might mean well. However, remarks like these fail to move the topic along or demonstrate any expertise.
Of course, you might be leaving comments on vast amounts of blogs and not have time to write carefully considered responses for each one. In that case, remember that less is more. Instead of leaving loads of blog comments, concentrate on a few at a time and write something worthwhile on each one.
Think of blog commenting like cold pitching. Yes, you could send hundreds of emails and rarely hear back from anyone. Alternatively, you could reach out to fewer leads and personalize your emails to each prospect, increasing your chances of a response. Or, in this case of blog commenting, a strong backlink.
The other reason you'll want to avoid comments like this is that Google thinks it's spam, especially when you put your website links alongside it.
8. Asking Questions Instead of Contributing and Vice Versa
Now here's a minor dilemma. Should you ask questions when you're blog commenting or should you contribute more generally?
Well, it all depends on what you want. For example, if you read a post on a topic you're not an expert on, it would be unwise to assert your own opinion as fact.
In that situation, you should simply ask a question.
There's nothing wrong with that. It shows you have a genuine interest and allows the blog owner to show their expertise. That's definitely a win-win.
For instance, I recently got an important question from a reader. Take a look:
Meanwhile, here's another instance where the reader shares his experience. As you can see, his comment contributes to the discussion, and provides insights that are helpful to others.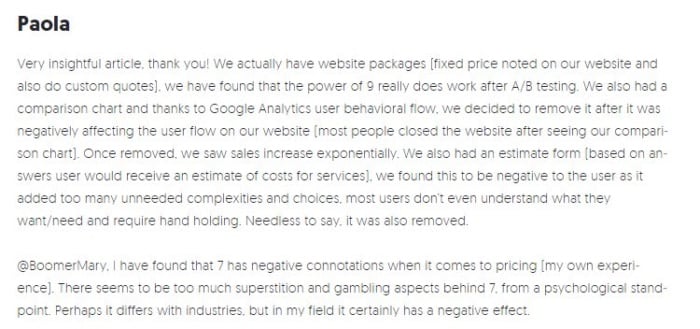 That's exactly what blog commenting should look like.
In a nutshell, if you're knowledgeable about the topic, then add your contribution (e.g., make a suggestion, recommend a tool or a resource). If you're a beginner, don't be shy about asking a question.
9. Writing a Spammy Comment
It's tempting, isn't it? There's a blog with thousands of visitors and an extremely active comments section. If you add a quick comment and a link back, that's a ton of potential traffic right back to your site, right? Maybe.
You may intend for your comment to be useful, but others won't necessarily see it that way. You see, "spammy" is something of a vague word. It goes beyond what robots spread throughout the web. Even well-intentioned humans can sometimes disagree over what exactly constitutes comment spam.
Whether it's email, links, web pages, or comments, spam is all around us. In fact, it's estimated that 45% of global email traffic is spam.
So what's the accurate definition of "spammy"?
Let's allow Google to pull an answer from its index:
When it comes to blog commenting, you must do your best to eliminate comment spam. If you're going to contribute, ask a question, or add your own opinion, do it like a real human being who cares.
Use your real name
Use your full name
Use a valid email address
Use and updated Gravatar
Link out to a relevant page (this is optional)
Address the author or blogger by their first name before leaving your comments
Don't write a one-phrase comment (e.g., great post Neil)
Don't copy and paste an article and use it as your comment
Stick to the topic
Comment on industry blogs more often
Don't ignore mainstream blogs (e.g., Mashable, Forbes)
As a blog owner, you can limit spam by:
Using a blocklist to stop regular spammers
Adding spam blockers, like Akismet
Looking for spam patterns (repeated signups from the same IP address, etc.)
Using noindex robots meta tags on comments from new users
In summary, commenting on blogs by following the site's guidelines is a great way to drive referral traffic, social media signals, and leads to your business.
However, if you don't have the time, consider hiring someone to do it for you, because every marketing tool or channel is an integral part of your content strategy.
10. Failing to Read the Post Before Commenting
When it comes to blog commenting, it's important to remember that every blog post is the product of the author's work and dedication. Before you comment, it's crucial to read the post in its entirety so that you can fully understand the context and purpose of the post. This shows respect for the author's work and time and allows you to contribute meaningfully to the discussion in the comments section.
Moreover, taking the time to read the blog post shows that you're genuinely interested in the topic and can contribute to a more thoughtful discussion, improving the value of the blog post for everyone involved.
As you might expect, it shows when you comment on an article without reading it first. By doing this, you annoy blog owners. However, that's not all. You risk:
Ending up asking questions that are already answered in the post.
Making irrelevant comments.
Getting abuse from other commenters.
Looking uninformed or lazy, which can hurt your own credibility.
Inadvertently contribute to a stale debate that gets little traffic.
Finally, your comment may not provide any value to the author or other readers, and you don't want to be that person.
For blog owners, you can do what Scary Mom did and write a blog post urging visitors to read posts first, or perhaps build something into your commenting policy.
Blog commenting FAQs
How to deal with negative comments on my blog?
When responding to negative comments, it's important to remain calm, collected, and professional, even if you don't always feel like it.
Usually, the best way to deal with such comments is to acknowledge the commenter's perspective and thank them for sharing their thoughts.
Should you delete negative comments?
It's a personal decision. Have terms and conditions in place, and if the blog comment goes against these, then maybe remove it. For instance, if the comment is promoting an affiliate link or using language that others may find offensive.
However, if the comment is merely critical of your piece, removing it can make you look over- sensitive. 
Should you have comments on your blog?
This is a personal decision. Some feel that blog commenting helps build a community and it can certainly help build relationships with your regular visitors.
Others feel that comment sections encourage toxic remarks. If this happens to you, then you might want to take another look at your comment policies.
Conclusion
Along with blogging itself, blog commenting is a truly unique way to start driving visitors to your blog and improve your overall search engine optimization. People who don't see results probably haven't been doing it the right way.
The rules aren't set in stone, but that doesn't mean you can throw comment spam up anywhere and everywhere and expect people to come to your site.
The type of comments you leave speaks volumes about you, and the same goes for visitors leaving comments on your blog.
Again, if you want your comment to stand out, you should do everything within your power to comment early in a blog post's life cycle. Subscribe to top industry blogs and be alert. Whenever you receive an email for a new post, be the first to write a high-value comment.
Other comments will fall below your own, and you'll drive more targeted visitors, leads, and customers to your business.
Which other blog commenting mistakes do you see people make on a daily basis?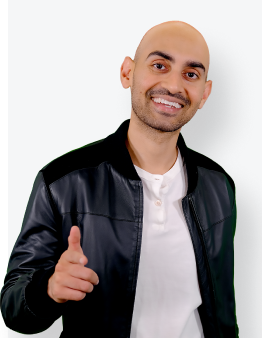 See How My Agency Can Drive More Traffic to Your Website
SEO - unlock more SEO traffic. See real results.
Content Marketing - our team creates epic content that will get shared, get links, and attract traffic.
Paid Media - effective paid strategies with clear ROI.
Are You Using Google Ads? Try Our FREE Ads Grader!
Stop wasting money and unlock the hidden potential of your advertising.
Discover the power of intentional advertising.
Reach your ideal target audience.
Maximize ad spend efficiency.