Disclosure: This content is reader-supported, which means if you click on some of our links that we may earn a commission.
Building a solid online reputation can take years. A few negative reviews (even fake ones) can threaten your good name in heartbeat. What do you do?
If you're already managing a lot, your best bet is outsourcing it to an ORM, or an online reputation manager.
There's a lot to know. Handling negative reviews on Yelp, Google, and Glassdoor is a lot of work. Each platform has different rules and procedures. Responding to a public relations crisis requires yet another skill set.
It can be far more cost-effective to have a professional resolve the issue quickly.
To help you put your best foot forward, I've compiled a list of the very best online reputation management companies. Along with in-depth reviews of each option, I've included a short buyer's guide to help you approach your decision.
#1 – Podium Review — The Best for Instantly Generating Positive Reviews
Reputation management can be proactive or reactive. A lot of people think of this service as cleaning up bad reviews or navigating bad press. But a proactive approach focuses on generating high-quality customer reviews to keep your reputation sterling.
Podium is the best tool for doing that, because it is foremost a messaging platform that gets happy customers to leave Google and Facebook reviews through texting.
See, getting five-star feedback every time is a matter of striking while the iron is hot. With Podium, you can capitalize on positive customer interactions instantly, ending the conversation with a simple message and link.
As I said, Podium is foremost a messaging platform. Within it, you manage customer messages across several platforms—like Facebook messages and SMS—in one convenient interface. Podium throws in a free, textable business number for each of its clients.
That's why the software is so effective at seizing upon opportunities to scoop up good reviews. You can respond to customers across all the major channels, so your team is always prompt to help. Then, they can finish with an invitation to review your company, complete with a short, safe link that will take the customer to any of your review pages.
Podium automates this process for you, which is important because your team isn't always going to have a free minute between customers to send an invitation to review. It also makes it easier on the customer, so they only need to take a few seconds to leave a review and improve your reputation.
So, maybe you're interacting on Facebook Messenger, but you can point folks to review you on Angi (formerly Angie's List) or Capterra.
You can also use the software to set up a live chat widget on your websites to add another convenient channel for customer messaging.
Podium's paid plan allows you to generate and send customer surveys. Identify pain points and get some insights about what's making your customers happy.
Podium Starter is the way to try this platform out for free. It comes with the following essential features:
Reviews
Webchat
Unified messaging dashboard
Textable business number
Podium doesn't have any set paid packages, but you can easily request a quote to get an idea of the cost and full feature set.
Don't waste any more time chasing down customer reviews. Wield Podium and improve your reputation and overall messaging capabilities today.
#2 – Go Fish Digital Review — The Best for Managing Reviews
I've listed Go Fish Digital as the best agency for managing reviews, and while that's true, Go Fish Digital also wows with the option of full-service reputation management used by the likes of Geico, Ford, and Airbnb.
With Go Fish, you can gain thorough insight into your customers' reviews and comments online.
They work closely with huge review sites like Yelp to manage negative reviews by advocating for review removal on your behalf through their agency tools. They also work to get your best Yelp reviews to the top for more visibility.
They're exhaustive in their brand monitoring abilities and monitor all corners of the internet like Wikipedia and Reddit threads to create a plan of action in your favor.
Go Fish's review management works by pushing positive content to higher visibility with SEO, adjusting copy in public places where you're mentioned, cleaning up Google autocomplete, and even promoting positive information about your business wherever your target audience is.
As they create results, they keep you up to date with a relevant score you can see on their dashboard.
To be clear, Go Fish is a reputable ORM that does not post false reviews for you. Still, their Yelp review management service is one of their strong suits.
Some of their best review management features are:
Managing negative Google reviews
Negative auto-complete cleanup often generated from those reviews
A dashboard that keeps you updated on your brand's daily search results
Crafting a strategy for your business to encourage the best reviews possible
Creating and delivering a strong case on your behalf for negative review removal to the Yelp team
For pricing, you'll have to contact them directly to get a quote.
As with most ORMs, their prices change depending on the size of your business and the specific services you're looking for.
Get in touch with Go Fish to get an initial quote.
#3 – Reputation Rhino Review — The Best for Individuals and Small businesses
If you're wondering who exactly needs reputation management, Reputation Rhino's answer is 'everyone.' That's why it's the best ORM for solopreneurs and small businesses.
Reputation Rhino is a leading online reputation manager based in New York with clients like Disney, Microsoft, and Nestle. They offer a number of reputation solutions for almost any scenario imaginable, including ones that cater impressively to an individual and their personal brand.
It doesn't matter if you're a doctor, university, hotel, or contractor, Reputation Rhino helps you with Glassdoor, Yelp, and YouTube review removals, social media management, and even an SEO strategy to put the best parts of your brand (or yourself) front and center.
Do you have terrible images that need to get removed from Google? They can do that. Do you need to fight against libel and personal defamation? Their team of public relations specialists can do that, too. These are services an individual or small business may not know how to do or not have time to take care of.
Their best ORM services for individuals include:
A personalized strategy to defend against smear campaigns
Suppressing negative online search results
Adding an extra layer of protection to your personal privacy
Eliminating news articles, forum comments, and negative content
As an individual or SMB, you might be nervous about investing money into an ORM. To help, Reputation Rhino offers a 30-day money-back guarantee that can ease your worries about whether they'll deliver. If you need a more personal approach to reputation management, Reputation Rhino is happy to work with you individually.
Their pricing starts at $1,000. But you'll have to contact them for a personalized package.
Get started with Reputation Rhino and request more information.
#4 – Reputation Resolutions Review — The Best for Crisis Management
Unlike other ORMs out there, Reputation Resolutions is the go-to agency for crisis management that can start working on your behalf in 24-72 hours.
A combination of their speedy response, team of attorneys, wide array of solutions, and seasoned professional team makes them the best ORM for enterprise-level reputation and crisis management.
Maybe your business is an established corporation, but there's been a sudden increase of negative reviews, you're dealing with a handful of loud, angry customers online, or there is negative propaganda about you in the media. Ouch. Reputation Resolutions provides everything you need to turn a crisis around.
Here's a quick rundown of their top-tier crisis management features:
Cyber forensic investigation
News article removal
Court record removal
Thorough and ongoing reputation monitoring
Private information removal
Unwanted image removal
If you're an smaller or mid-sized business looking for a management agency to simply take care of negative reviews, Reputation Solutions isn't the agency for you.
Alternatively, if you're an established, well-known business in need of comprehensive PR management, attorneys, or copyright infringement services, then look no further than what Reputation Solutions can offer you.
To get a pricing quote, email or call them for a free consultation, and they will learn more about you and tailor their services to your specific needs.
#5 – Big Leap Review — The Best for SEO And Content Management
Big Leap's ORM services are designed around one thing: content management. Their award-winning content marketing strategy centers around burying the negative and growing the positive.
This is fantastic news for you if you're looking for an ORM that cares deeply about gaining customer trust through a long-term strategy.
If your marketing strategy is mainly through content, you're not as concerned about a sudden PR crisis, or Yelp reviews are mostly irrelevant to your sales success, then Big Leap's trust-building approach can help you create results.
They begin by scouring the internet for every mention of your business. They do social media and search audits, along with a competitive analysis, to give them the bigger picture of where your reputation lies.
Then they create a positive content strategy tailored specifically for you through brand-strengthening content and social media campaigns. As they execute their content strategy, Big Leap regularly reports back to you with updated results.
Some of their best ORM content management features include:
Brand name monitoring
Content strategy, creation, and promotion
Site optimization
Constant workflow updates on content strategy execution
Big Leap doesn't list their prices publicly, but you can request a quote on their site.
#6 – NetReputation Review — The Best for Improving Reputation with Content Development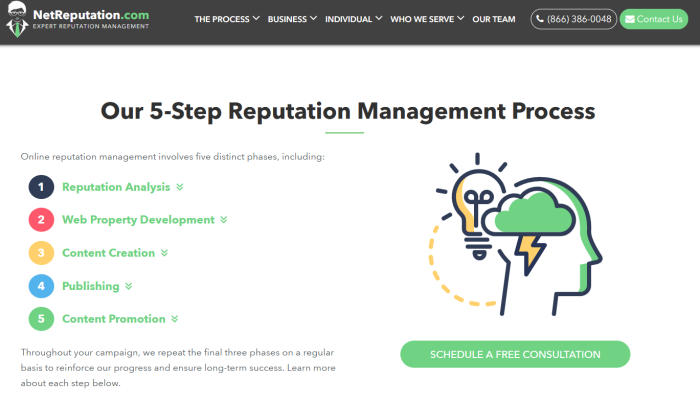 Some companies have damage control as their foremost priority with reputation management. Others are starting as unknowns that want to become more recognizable brand names.
In either case, one of most potent solutions is building out your content and web properties, which is what NetReputation excels at.
Their five-step process creates an end-to-end strategy for building up your reputation.
Start with NetReputation's thorough analysis of your content, websites, social media profiles and pages, search results, reviews, and more. Then, let them guide you through creating better web properties and content and promoting them both.
And while that's a great offering, you may have heard similar promises before. "Content is king" and all. But, NetReputation shows their work along the way, so you can have full confidence you're not just screaming into the void.
Indeed, you can rest assured that you not only have full visibility into your reputation-improving content campaigns—NetReputation builds it with you and lends their expertise to plan strategy and allocate efforts with Swiss watch precision.
Here are just a few aspects they can integrate into your company's ORM strategy after their initial analysis:
Social media profile creation and optimization
Website and Schema development
Wikipedia page creation, monitoring, and editing
Blog posting and scheduling
Content updates and optimization
Cross-channel promotion
Guest/expert posts
Content removal
General and local SEO strategy
They'll keep you in the loop every step of the way. So if you want to deemphasize one effort in favor of another, they'll listen and work with you to adjust plans and action items.
With content being produced to fit all the aspects listed above and more, you and NetReputation can improve digital sentiment about your brand across the board.
NetReputation goes deep into this process for every client. Get your free consultation today and see for yourself how far they'll go to make your organization's online reputation sterling.
#7 – InternetReputation.com Review — The Best for Eradicating Private Information
Reputation management for individuals is an emerging use case for reputation management platforms and one that is becoming more useful for a wider swath of people.
Within personal brand management is the need to carefully share enough about you to build your presence and reputation without divulging private information.
InternetReputation.com handles personal reputation management and privacy monitoring with aplomb.
Individuals, from entrepreneurs and business owners to budding public figures or influencers, can utilize their Reputation Station tool to monitor digital sentiment and online information about their personal brand.
It's an insightful, centralized dashboard for gauging reputation, tracking ORM campaign progress, and ordering services to boost your standing. Tasks, assets, files, goals, metrics, and resources are all kept in one handy area to give you a 360-degree view of your reputation.
But privacy monitoring is where InternetReputation.com separates itself more from the rest of the ORM pack.
Have personal details online you don't want to be on public listings? Remove addresses, phone numbers, full names, and more.
You get a customized, all-encompassing package from InternetReputation.com to help keeping your private information away from everyone's eyes. Their proprietary tool removes sensitive information from data sharing sites in a blink and makes sure it isn't propagated any further.
Plus, you get access to Infosweep to append your privacy monitoring efforts with your reputation monitoring ones. Infosweep notifies you of new mentions and instances of your details becoming publicly visible online.
Altogether, this presents a wide-ranging tool for individuals looking for full visibility and improvements to their personal brands and reputations. Reach out to IntenetReputation.com for a quote for your bespoke ORM solution today.
What I Looked at to Find the Best Online Reputation Management
Unfortunately, there isn't a singular "best" reputation manager that fits every business like a glove. If there was, then this guide wouldn't be necessary.
Different ORMs cater to different services. This can mean some are better than others at crisis management, online monitoring, online review management, SEO focused branded content strategy, or even supplying attorneys to advocate on your behalf.
First, are you building a new online reputation from scratch? Maybe you're trying to improve a negative reputation? Or are you being proactive and investing in maintaining a good one?
You have to determine where you are on your reputation management journey. Then you can think about a few factors that can refine your search even more.
Business Size and Type
Your company size generally correlates with the size of your reputation. Obviously, the bigger and more varied your sales channels, the more work you'll have managing how you look online.
Your business's size can also dictate the amount you'll want to invest in ORM services. Some questions to consider are: What is your estimated current business reach? What types of distribution channels do you sell through or publish content on? Are you a service-based business, an organization, or an e-commerce store?
When choosing the best ORM for you, these are some key questions to consider before moving forward. If your business isn't a complex enterprise, you won't need a costly ORM that specializes in litigation, video removal, or a team of expert attorneys.
Marketing Strategy
Your marketing strategy also determines the type of online reputation management you need.
Do you primarily sell via a content creation strategy? Do you sell on multiple e-commerce platforms? Is your business big enough that it sells through on-air advertising? Do you already have a strong social media presence that drives sales?
Go Fish is a great choice if you want to manage reviews, whereas Big Leap is going to be more effective for managing content. Which is more important for your business's reputation?
Outlining how you primarily reach your customers will help you narrow down your search. If you don't, it might affect how well your ORM can deliver results.
Long-Term Crisis Management
Think about the future of your business and its reputation. Sure, at some point you might need to put out a reputation fire that caught you by surprise ASAP. Or maybe you're only getting started and want your name out there in the short-term in a positive light to drive more sales.
But do you have a long-term plan for managing reputation crises that will inevitably come up in the future?
This will determine which ORM can deliver on either your short-term or long-term goals. Each one is built differently to cater to your business goals, as we'll see further in this guide.
Conclusion
You don't have to suffer from a bad reputation that only seems to be out of your hands. There are plenty of agencies out there that can help lighten your reputation management load once you've reached out and established a relationship with them.
Here are all my top recommendations to get the help you need today:
Online reputation management agencies can indeed offer a lot of the same services. But look closer to find what they specialize in. Hopefully, this in-depth guide helped shed light on which of the top ORMs can work for you.
Check out each agency on this list and get a quote from the one that fits you best to start managing your online reputation now.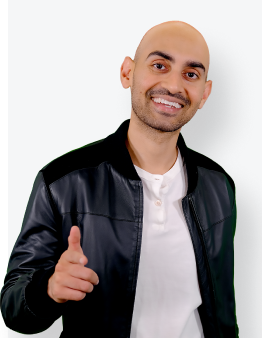 See How My Agency Can Drive More Traffic to Your Website
SEO - unlock more SEO traffic. See real results.
Content Marketing - our team creates epic content that will get shared, get links, and attract traffic.
Paid Media - effective paid strategies with clear ROI.