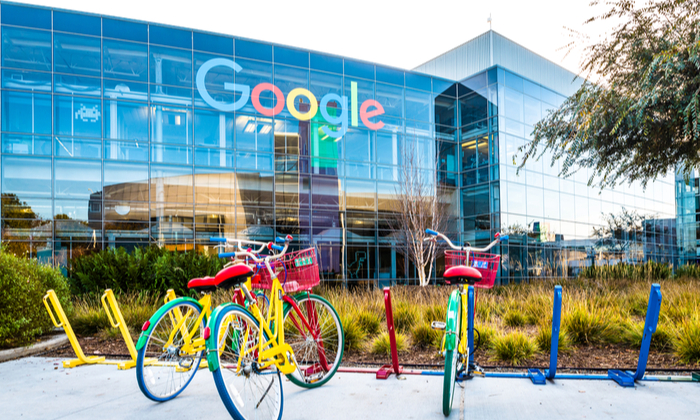 Whether you love Google or love to hate Google, you have to admit one thing. Google offers a lot of free tools to use with the convenience of being able to access them with one login.
Marketers in particular should take advantage of these tools to get more out of their search engine and social media marketing experience. The following are some of the top Google tools marketers should embrace from A to (almost) Z!
1. Google AdSense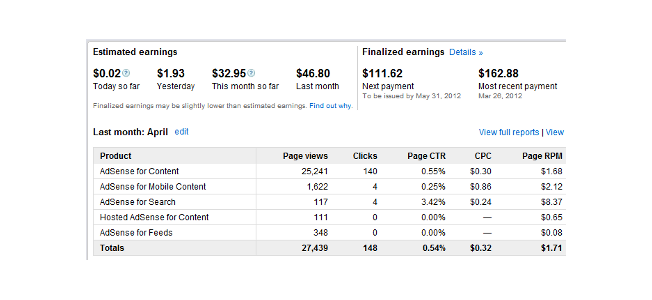 Ever created a niche website for linking purposes, affiliate marketing, content development, or another reason that never panned out? If the website gets even a moderate amount of traffic, and you have no other use for it for the time being, why not earn a little income off of it using Google AdSense? By simply placing some ad code in the header, content, and sidebar of the website, you can earn some passive income. The amount you earn will depend on the topic of the website and the amount of visitors it receives.
2. Google AdWords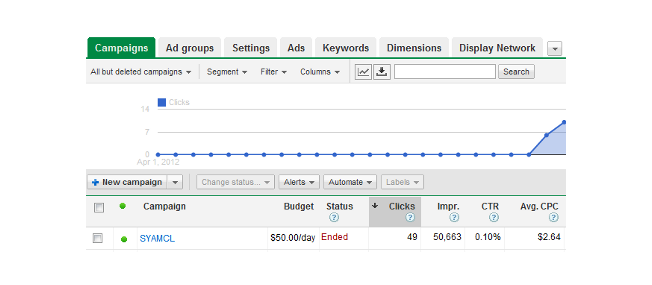 If you're not getting good enough traction with organic search traffic, then you might want to consider a paid search campaign using Google AdWords. By bidding for the right keywords, you can gain a considerable amount of qualified traffic where the conversions will meet or exceed the value you pay for your ads. Be sure to use advanced targeting options for location, mobile or desktop browsers, and other criteria to get the target audience you want.
3. Google AdWords Keyword Tool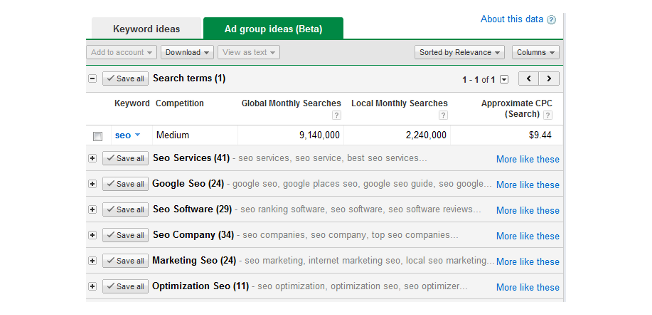 Need keyword ideas for your search engine marketing campaign or paid search advertising? Try the Google AdWords Keyword Tool. When you enter a term that offers a wide range of ideas, like SEO, you will get groupings of keyword ideas that you can dig deeper into. While the total of the global searches is not always spot on, it can give you an idea of whether one keyword is more or less popular than another. You can also see an approximate cost per click (CPC) amount, if you were trying to target the keyword using Google AdWords.
4. Google Alerts
Want to keep on top of the latest news, mentions of your brand, or other items in Google search? Then set up your Google Alerts. When you enter a search query, you will get a sample of the results you would receive and the option to have them delivered regularly to your email inbox or RSS reader. You can use this to keep up with your competition as well to see where they are getting mentioned or are building profiles.
5. Google Analytics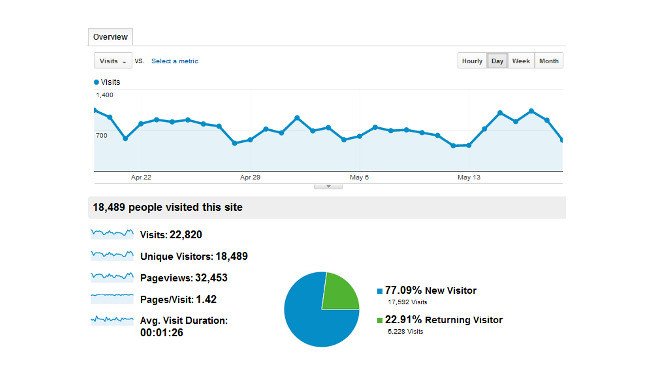 Google Analytics is probably one of the most powerful Google tools that you can use a as a marketer. You can learn so much about your website's visitors including, but not limited to, the following:
Demographics – Learn more about your audience, including their location and language.
Social Engagement – See what social networks visitors come from and how they interact with your website's social plugins (custom coding must be implemented).
Technology Used – Find out what browsers, operating systems, and networks your visitors are using to view your website.
Mobile Information – Curious if you need a mobile website? Find out how many of your visitors are using mobile technology.
Traffic Sources – Analyze what websites, keywords, search engines, and other referrers send traffic to your website.
Top Content – Get a handle on how effective your content is by seeing your top entry and exit pages.
What Leads to Conversions – Set up goals in Google Analytics to find out which visitors complete conversions such as purchasing a product or signing up for a mailing list.
So really, there is no excuse for not using this powerful and, best of all, free tool on your website.
6. Google Blogger
If you want to start a blog, but you're not ready to commit to a self-hosted blogging platform such as WordPress, then you might want to consider Blogger. If it's been awhile since you last took a look at it, you might be interested in some of the latest improvements noted in the above video. There have been rumors in the past that getting links on Google-owned properties can help with the indexing of your website, so don't overlook the power of Blogger!
7. Google Blog Search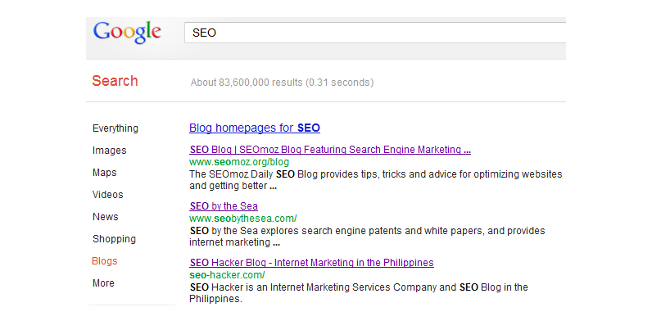 You may be wondering exactly what is so special about Google Blog Search that merits a mention as a powerful Google tool. It's not necessarily the search itself, but the fact that you can turn the search results into an RSS feed. Why is this so great? If you take the following URL:
Then replace domain.com with your website, you can get an RSS feed of the latest links to your website on a blog.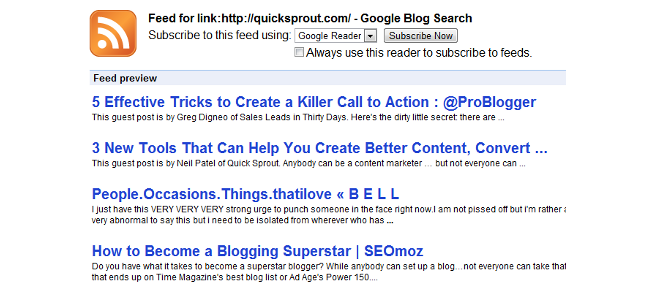 You can use this to keep up with mentions of your website on blogs, or you can use this to keep up with your competitors. For example, if you are looking for guest posting opportunities, seeing what your competitors can get might lead you to some good places to submit to yourself.
8. Google Books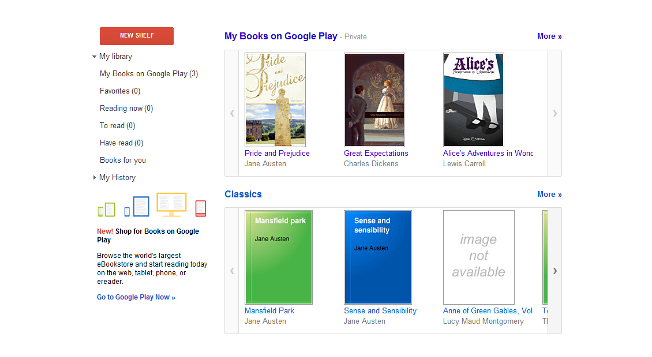 If you love reading, then Google Books can be a good place to go to find books online in all genres, some of which you can read for free. But from a marketing perspective, if you have a book, then you will want to get it listed on Google Books so that you can sell it to an even larger audience, especially now that Google is competing with iTunes and other online media retailers with their new Google Play store for music, books, movies, and Android apps.
9. Google Calendar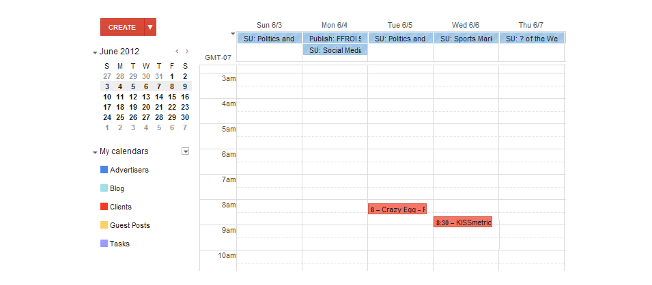 Want to keep up with important events in your daily schedule? Then Google Calendar is the answer. You can share your calendar with other users or even to the public and embed it onto your website. You can even set reminder alerts to be sent as a popup when you're logged in to your Google account or via email. Use it to keep track of guest posting opportunities, Twitter chats, advertising expiration dates, editorial calendars, and much, much more.
10. Google Chrome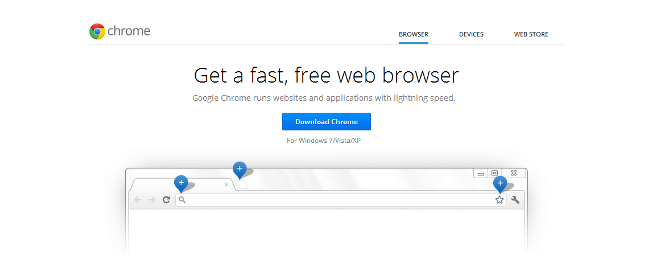 If you're not using Google Chrome, then you're missing out. This browser really is fast and has a ton of extensions, apps, and themes that you can install to increase your marketing productivity including some favorites such as:
Google +1 Button – +1 and share a web page to your Google+ profile anywhere using this extension.
Google+ Notifications – See your Google+ notifications on your browser (when logged in to your Google account).
Klout – Addicted to knowing Klout scores? Use this to see Klout scores next to users while using Twitter.com.
SEO Site Tools – Learn a lot of valuable on-site search engine optimization information about any website you are browsing (including Google PageRank) using this extension.
Simple Social Metrics – Install this extension to quickly see the number of tweets, likes, and +1s for any page you are browsing.
11. Google Docs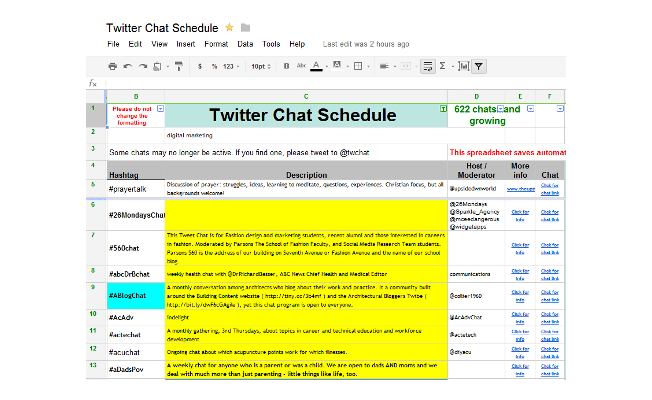 Want to share documents, spreadsheets, presentations, drawings, and tables with other users to view online or download? Then Google Docs is for you. You can collaborate with multiple users or just give access to a read-only version of documents like the publicly accessible Twitter Chat Schedule spreadsheet. You can even create forms and send them via a link or directly in an email to collect survey answers, crowdsource post information, and other data.
12. Google DoubleClick Ad Planner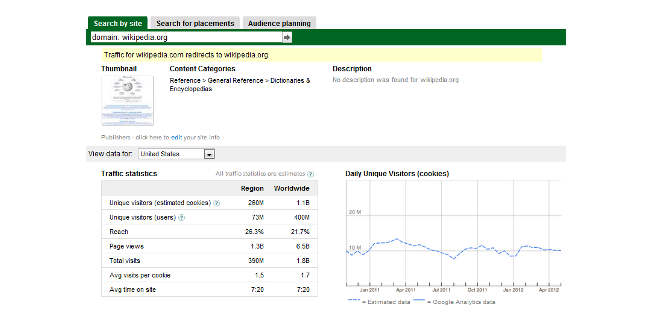 Need some quick traffic or demographics information for a website? Get it using Google DoubleClick Ad Planner. The larger the website, the more information you will be able to find about it including the average visitor's age, gender, education, household income, other sites visited, interests, and keywords searched for.
13. Google Drive
Want to share files online? Then Google Drive might be worth a try. You can currently store 5GB in Google Drive, 1GB in Picasa, and 10GB in Gmail for free. Pricing begins at $2.49 per month for 25GB and goes all the way up to $799 per month for 16TB. Welcome to the Google cloud!
14. Google Gadgets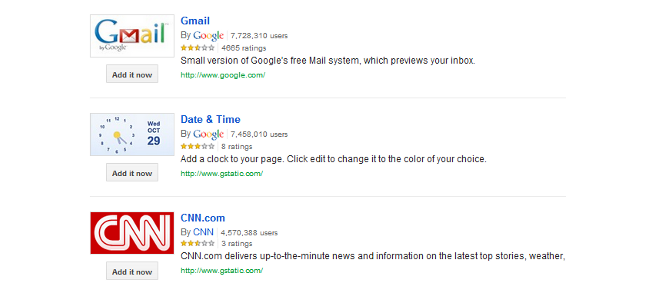 Want to extend the functionality of your website, browser, or Google Account? Check out the line of freebie Google Gadgets available at your disposal. Gadgets are organized in categories including news, tools, communication, games, finance, sports, lifestyle, technology, and politics.
15. Google Insights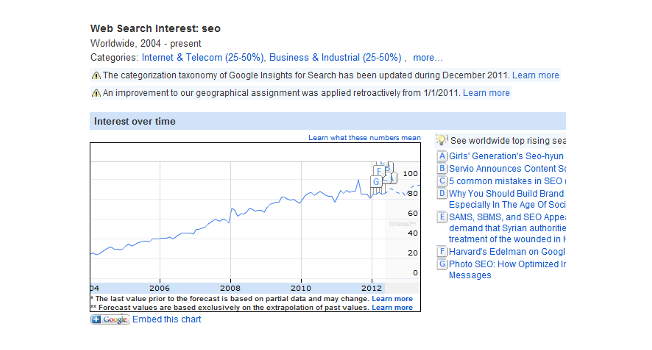 Google Insights allows you to search for keywords to see their trends over time. This way, you can see whether a keyword is gaining in popularity, see worldwide search trends over the course of a year to find popular months or seasons for a search, see search volume by region, and find a list of top ten related searches and rising searches.
16. Google Mail (Gmail)
Need email with a smart filtering system? Gmail might be the answer. One of the best features in Gmail is the ability to filter messages into multiple labels and have them skip the inbox or simply label them for easy archiving. Using your Gmail filters wisely can help you keep your inbox clean and organized. Plus, the search function on Gmail is not too shabby either.
17. Google Places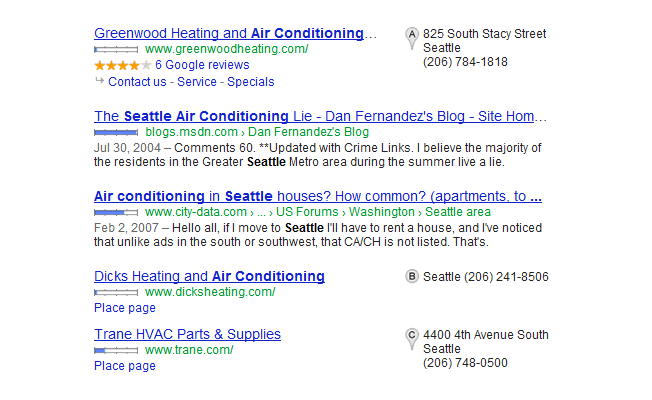 Want your local business to show up before organic search results? For some keywords, it can thanks to Google Places. Be sure that you claim or add your listing on Google Places, complete your profile, add photos & videos, and encourage reviews so that your business will make it to the first page of search results.
18. Google+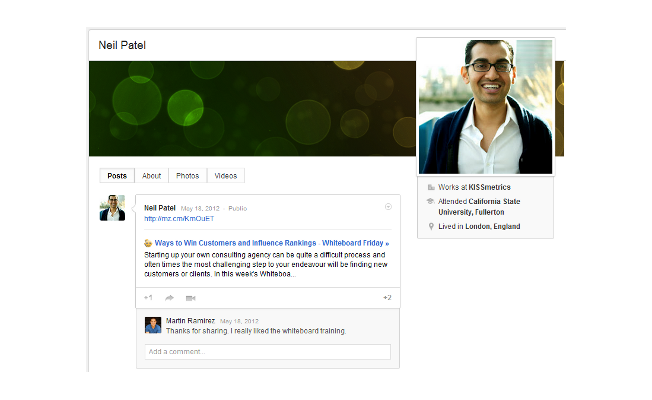 Google+ is Google's latest and, to date, most successful foray into the social networking world. They have not only created a thriving social network, but they have incorporated it into almost every aspect of the Google experience, including Google search results themselves. Thanks to personalized search results, you can actually rank higher than normal in search results for those you are connected with on the network. Be sure to check out this quick guide to learn why you should be on Google+!
19. Google +1 Button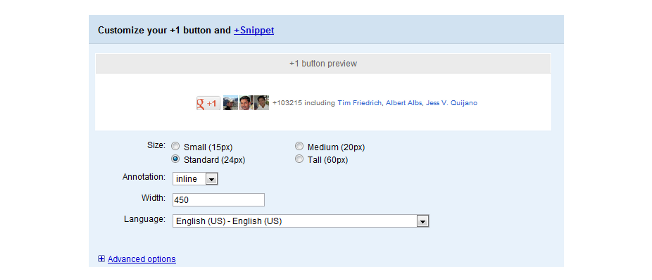 With +1 counts showing up in search results, you might want to go ahead and install the Google +1 Button on your website and content. This will make it easier to share on Google+ as well as add to its social engagement numbers. In addition, when someone +1s your website, their connections might see it placed higher in search results as well.
20. Google Reader
Google Reader allows you to view and organize your RSS feeds all in one place. If you're already using your Google Account for Gmail and Google+ on a regular basis, why not keep track of your favorite blog's RSS feeds, Google Alerts, and other feeds in the same account.
21. Google Translate
If you run into an email, blog comment, or webpage in another language, use Google Translate to quickly translate it into yours. The best part is you don't even need to know what language it is in thanks to the auto-detect features. It may not be a perfect translation, but it will get the main point across.
22. Google Trends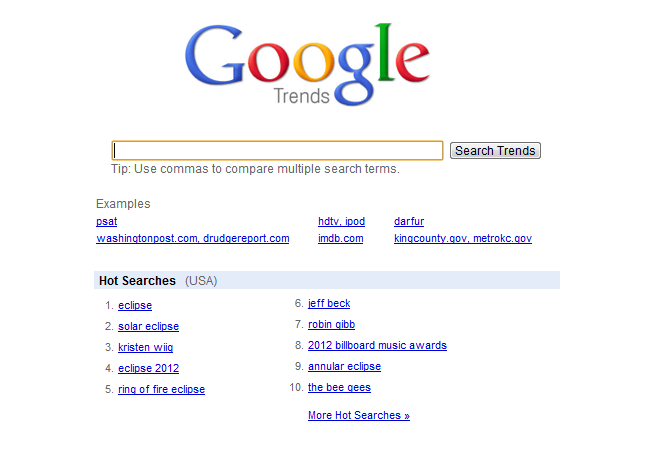 Google Trends offers a variety of information such as the searches that are currently popular, Google Insights data for keywords, and traffic trends for websites if you search for a particular domain.com. You can even enter multiple domains, separated by a comma, to compare traffic. Note that traffic trends are only available for websites with a high volume of traffic.
23. Google Voice

Google Voice allows you to create a phone number to make and receive phone calls and text. You can view your messages in an interface similar to your Gmail. It's a good alternative if you don't want to give out your office or cell phone number for particular contacts!
Another cool little trick with Google Voice is that you can set up a Google Voice number specifically for tracking how effective your phone number placement on your website is. Every time someone calls in using your Google Voice number, you can count the calls in your Google Voice account. This will allow you to test the size, location and color of your website phone number.
24. Google Webmaster Tools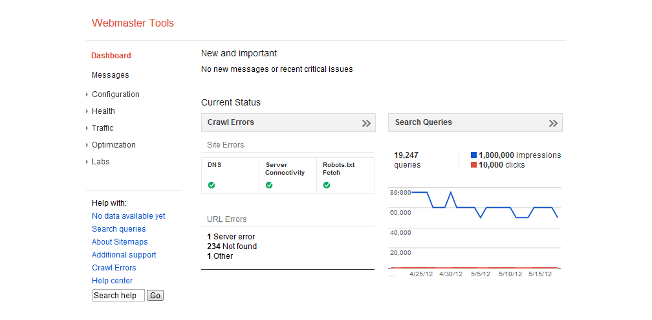 Google Webmaster Tools is another Google product that puts a large amount of valuable data at your fingertips. If you have already set up your website with Google Analytics, you can easily add it to Google Webmaster Tools to start learning the following.
Site Configuration – This section checks your website's settings on the web, including preferred domain canonicalization, sitelinks, URL parameters, change of address, and users who have access.
Site Health – This section includes crawl errors, stats, blocked URLs, and malware alerts.
Site Traffic – This section includes search queries (aka, possibly some of the keywords omitted from Google Analytics thanks to the keyword not provided, links to your website (a comprehensive view of your backlink profile), internal links, and +1 reports. +1 reports tells you the search impact of results showing your website's +1 count vs. without showing it, +1 activity on your website, and audience demographics.
Site Optimization – This section includes your sitemaps, HTML improvement suggestions, content keywords, and other resources.
Also, be sure to keep an eye on the Labs section at the end. It changes with new, experimental Google Webmaster Tools features. One Labs feature that I would like to see return is statistics on any pages for which you are the author using Google authorship.
25. Google (Owned) YouTube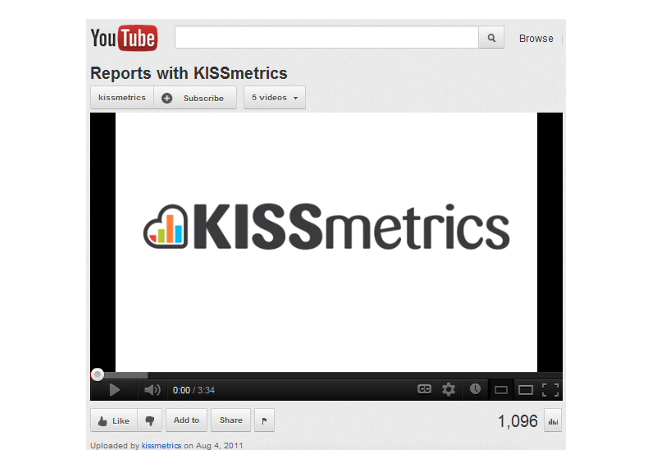 Last, but not least, if you want to dominate the video market, then start with Google-owned YouTube. Not only will your video be available to YouTube's millions upon millions of visitors, but it will also be on prime real estate for showing up in search results. Even if you can't get your website on the first page of search results through traditional SEO, you might be able to get there with video!
Google Tools Frequently Asked Questions
How can I use free Google tools?
You must create a free Google account to use Google Tools. This also gives you a free Google email address.
What are the most popular free Google tools?
The most popular are likely Gmail, YouTube, Google Calendar, and Google Drive.
How can I reset my Google tools password?
Currently, you can get password reset requests sent to another email address, through text messages, or via a phone call.
Looking for more marketing tools? Then check out this video:
There you have it – some of the most powerful Google applications and tools on the web. What are your favorites?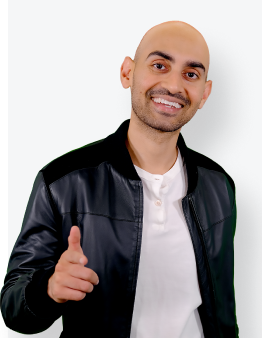 See How My Agency Can Drive More Traffic to Your Website
SEO - unlock more SEO traffic. See real results.
Content Marketing - our team creates epic content that will get shared, get links, and attract traffic.
Paid Media - effective paid strategies with clear ROI.
Are You Using Google Ads? Try Our FREE Ads Grader!
Stop wasting money and unlock the hidden potential of your advertising.
Discover the power of intentional advertising.
Reach your ideal target audience.
Maximize ad spend efficiency.