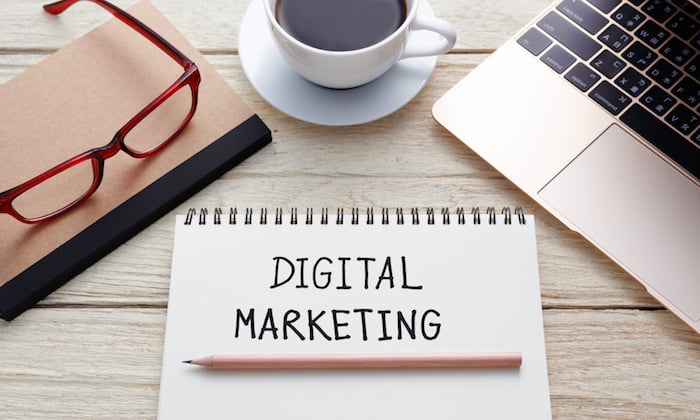 The first-ever TV ad was for Bulova Watches and was broadcasted in 1941 on American screens long before social media was even a brainchild of computer experts.
But, do you know how digital marketing started?
Commercially available desktop PCs started to enter homes in the 1980s. And, in the 1990s, web 1.0 platforms and the internet started to take shape.
Soon enough, Google and Blogger were founded in 1998 and 1999 respectively. Online marketing has evolved rapidly ever since the early days for pure email marketing campaigns. Social media and content marketing are dynamically changing all the time.
Small and large businesses alike must have a digital marketing platform to expect to compete.
And while the digital marketing landscape is getting more competitive, it's still possible to succeed.
The good news is that you can perform your marketing much more efficiently. You need to observe the digital landscape intently and adapt to fulfill your audience demands.
Here goes number 1. 
1. Over one-third of CMOs believe that digital will account for 75% of marketing spend in the next five years (Source: AdWeek)
Are you still solely relying on generating business with traditional advertising outlets?
Then, you need to add digital marketing to the mix – It's an extremely effective channel for getting global exposure at little cost. And, you can keep track of your ROI in real-time, adapting a marketing strategy quickly to results.
The best part is that online marketing works for all kinds of businesses whether a large corporation or a small business. Even if you're in a boring industry, only serve locally or are a brick and mortar business.
For a first-timer, online and social media marketing can be daunting. Launching a new website does not guarantee a rise in customers. You might try shiny social traffic sources, like Facebook and Twitter, but end up attracting zero leads perhaps concluding that digital marketing doesn't work. It does, but you need a well thought out media marketing strategy.
Start with a goal of driving targeted organic traffic by targeting long-tail keywords and performing SEO. You'll start to see real results within 3 months.  Sometimes, it happens faster.
Dinkum transitioned one of its clients from traditional to digital marketing by using SEO strategies. And, they started seeing surge in traffic in a month.

2. 87% of internet users now have a smartphone (Source: Global Web Index)
Do you know that there are 9 new mobile users added every second?
Mobiles are not the future, they're already revolutionizing business. As per comScore, we've crossed the mobile tipping point.
Google has started favoring mobile-friendly websites in its search results.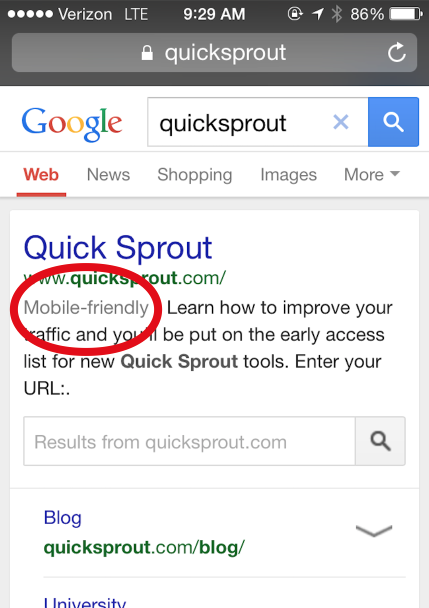 So, ensure that your website is responsive and serves relevant content to your customers. Start with plugging your website url into Google's Mobile Friendly tool.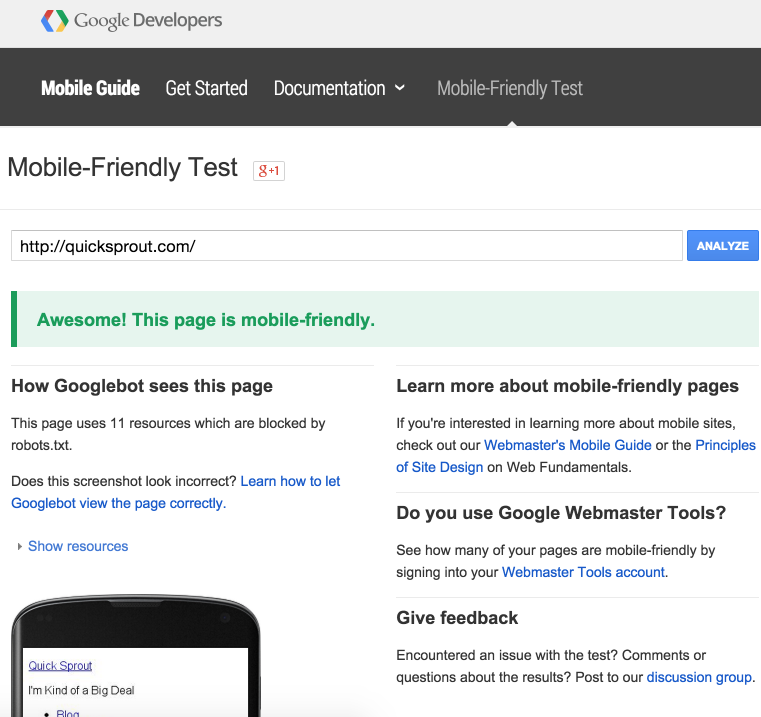 You get feedback to improve the mobile experience, if your website isn't user-friendly for the small screen. A lot of social media marketing (and sales) happens on consumer mobile phones.
Next, confirm that you're using a mobile-friendly email service provider. If your newsletter isn't optimized for mobile, 69% of users will delete your mail without reading it.
Finally, don't assume that your customers don't checkout from mobile devices. Mobile marketing is a valuable component of your digital marketing.
In the 2015 holiday season, shoppers spent almost the same amount on mobile ($140) as they did on desktop ($150).
Mobile eCommerce is on the rise. So, follow these 14 mobile marketing tips for generating sales.

3. The spending on digital ads will surpass that on search ads in the US (Source: eMarketer)
Google's search ads were the go-to destination for brands to advertise their products and improve their reach throughout social media and digital marketing. They were effective because they targeted people with buyer intent.
Now, native ads and social media advertisements will account for 47.9% of the total ad spending – worth $32.17 billion. This is the first time that search engine display ads will eclipse search ads.
The reason for this is that social media platforms have seen tremendous adoption. An average internet user has 5 social media accounts and spends 1 hour and 40 minutes browsing various networks everyday.
Moreover, social media advertising can be cheaper than AdWords. You generally don't push your product using social ads. Instead, you use them to expand your brand's reach, attract leads and build a relationship with your audience.
If you have a long sales funnel, then social media ads are a better bet than search.
Also, if your target audience hangs out on a smaller social network, then advertising on the social media network can yield a great ROI.
4. By 2019, 80% of world's internet traffic will be video. In the US, video will account for 85% of the total. (Source: Cisco)
People love to see videos. They're entertaining, easily digestible and can significantly improve your conversions. Content marketing is not always text in the digital marketing world.
After I created an exclusive library of online marketing video training:
I've significantly improved my loyal following, besides getting a lot of praise and "thank you" mails.
At CrazyEgg, an explainer video increased our conversions by 64% and our monthly revenue by $21,000.
As per Treepodia, product videos can improve your conversions in any niche. For instance – in the gifts niche, they increase conversions by 113%.
If you want to create an explainer video, you can choose from the following 12 types, based on your budget.
Further, video consumption has seen a tremendous rise on mobile (844% growth since 2012).
Also, social platforms Facebook and Snapchat receive 8 billion and 6 billion video views every day, respectively. So, you need video content to engage with your audience and build a relationship on social media marketing platforms.
Dollar Shave Club has used video storytelling to hack its growth. They launched the following entertaining video to launch their service.
It struck a chord with their audience and has exceeded 20 million views. The video helped DSC cross $120 million in sales. I talk about using videos to hack growth in more detail in this article.
You can also read this article at Quick Sprout for 4 more techniques to attract customers with videos.
5. The average eCommerce spending of a repeat customer is twice that of new customers 
I've always advocated collecting emails from your website visitors by offering them an incentive. It fosters a relationship with your customers and can substantially increase your income, because people like to get emails. Wait, email marketing where people don't automatically mark it as 'junk?' Yes!
But, the important ingredient in an email marketing strategy to get repeat business is personalization, not special offers.
Sure, your customers will be thrilled to receive discounts. But, use your data to find the email frequency at which your different customer segments are comfortable and the time after the purchase when you should send your first mail to the customer.
Pull out the list of your top 1% customers and ensure that you spend a majority of your budget on them. The top 1% of e-commerce customers have 30x more lifetime value than an average customer.
Kevin Kelly calls them your 1,000 true fans. They're sufficient to sustain your life expenses.
6. Three million advertisers now use Facebook to reach their customers (Source: AdWeek).
With a dismal organic reach, you've got to pay to reach your target audience on Facebook. But, it's an effective digital marketing channel that can yield a tremendous ROI. For example, Matthew Woodward launched two advertising campaigns with a combined spend of $599.91 and got over a 2,500% ROI on both occasions.
The social giant has 1.59 billion active monthly users and its sophisticated advertising technology offers you targeting across 1,500 user data points. Here's a snapshot of the criterion available to you for targeting.
With a huge audience, Facebook is a go-to place to get customers for every kind of business. Even an attorney earned a $100,000 case from Facebook advertising by spending a few hundred dollars.
You can target users inside the newsfeed on mobile/desktop or in the right sidebar on desktop. And, there are a wealth of objectives you can choose from for starting your campaign.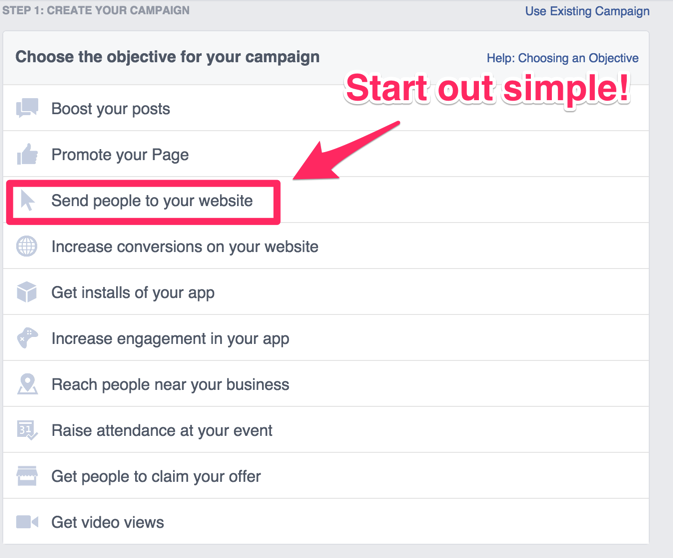 I recommend that you start with sending people to a landing page (with a budget of $100). My beginner's guide will walk you through the entire process of setting up your first campaign.
7. Instagram has grown to 200,000 advertisers within 5 months of opening advertising on its platform to marketers (Source: AdWeek)
There are 400 million active users on the visual social network, presenting a huge business opportunity for businesses. I, myself have spent $57,000 on Instagram to gain followers and generate leads. If you're a fashion brand (large or small business), you cannot afford to not market on the network.
UWheels generated over a million dollars in revenue by getting popular Instagram models and celebrities to post about their product.
If you're already advertising on Facebook, then simultaneously advertising on Instagram can help in lowering your costs, like MVMT Watches – who managed to get 20% lower costs per conversion.
If you want to tap into the immense business potential of this social media platform, then my article on generating sales with Instagram is a good place to start.
8. 93% of shoppers' buying decisions are influenced by social media (Source: Ironpaper)
Social Media is usually seen as a platform for expressing aspirational intent.
Or to exhibit brand hate.
But, social media users also engage in discussions around brands and products. Pinterest and Instagram specifically present a huge commercial opportunity for brands.
A terrific example of the effectiveness of social advertising is Ezra. He made 520 eCommerce sales worth $41,254.34 in revenue by spending $775.50 on promoted pins.
Wouldn't you love that kind of ROI?
Now, the increase in interest around products on social media will give birth to social commerce. You'll see 'buy now' buttons on all major social platforms to smooth mobile transactions.
9. Just 1 out of 8 social messages is answered by most brands in 72 hours. (Source: Sprout Social)
Communicating with the customer after selling your product is a critical component of customer service. But, with only one message being answered by brands in under 72 hours, they are failing to fulfill their responsibility of engaging with their customers. Social media can't make engagement any easier.
I ensure that none of the comments by you on my posts go unanswered. It's hard work, but it helps in increasing traffic, social shares and sales by building a deep relationship with you.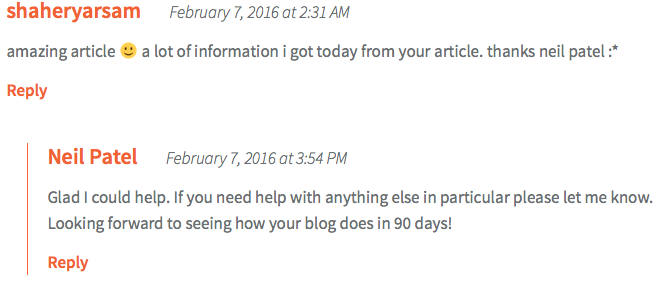 Poor customer service costs US companies $41 billion every year. Don't be one of those companies. All their content marketing efforts go to waste quickly because of it.
Pick one social media listening tool from this article to closely monitor your brand mentions and stay on top of brand conversations.
10. Marketers who have prioritized blogging are 13x more likely to enjoy positive ROI (Source: Hubspot)
I already told you that content marketing costs 3x less than traditional marketing.
A blog on your website helps in getting more pages indexed, building a relationship with your audience and driving more traffic to your website.
It also helps in establishing you as an authority in your industry and generates long-term business results.
If you're new to blogging, then refer to my guide on building a blog audience.
11. 56% of customers are more likely to buy with a personalized experience (Source: Usabilla)
Product recommendations are a great opportunity for brands to increase customer loyalty, by cross-selling, up selling and presenting products based on user behavior. But, only 39% of retailers send personalized recommendations via email.
Here are the results EyeBuyDirect.com saw after adding personalized product recommendations to their email newsletters.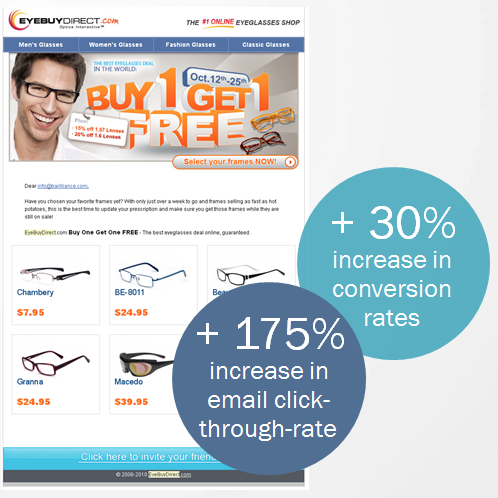 Personalization isn't limited to eCommerce or email marketing. You can craft personalized landing pages (based on the source of your visitor), serve personalized content on social media and much more.
Explore the personalization possibilities to create compelling customer experiences in this article.
Conclusion
If you want your business to prosper, you need to rely on hard data and statistics. The 11 stats that I shared in this article should have helped you to understand where online marketing is headed. I've also shared resources to help you take action in digital marketing and on social media platforms.
There's a caveat though – the final call for modifying your strategy should be on your business vision and not industry stats or A/B test results.
This happened with Ramit Sethi from IWillTeachYouToBeRich.com. He went against the A/B test data results favoring a lower price for his product, because that would have meant attracting the wrong type of customers.
Think critically before leveraging the information shared in the article to adjust your online marketing strategy.
Which online marketing statistic from the article shocked you? And how do you plan to modify your strategy based on it?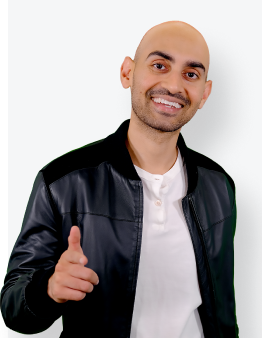 See How My Agency Can Drive More Traffic to Your Website
SEO - unlock more SEO traffic. See real results.
Content Marketing - our team creates epic content that will get shared, get links, and attract traffic.
Paid Media - effective paid strategies with clear ROI.