Hey, this is Neil!

I want to help you with your marketing.

After founding CrazyEgg, Kissmetrics, and other multimillion dollar companies, today I work to grow Ubersuggest and my agency NP Digital. As a marketer I've also helped companies like Amazon, NBC, GM, HP and Viacom grow their revenue.

The Wall Street Journal calls me a top influencer on the web. Forbes says I'm one of the top 10 online marketers, and Entrepreneur Magazine says I created one of the 100 most brilliant companies in the world.

I was recognized as a top 100 entrepreneur under the age of 30 by President Obama and one of the top 100 entrepreneurs under the age of 35 by the United Nations. I had also been awarded Congressional Recognition from the United States House of Representatives.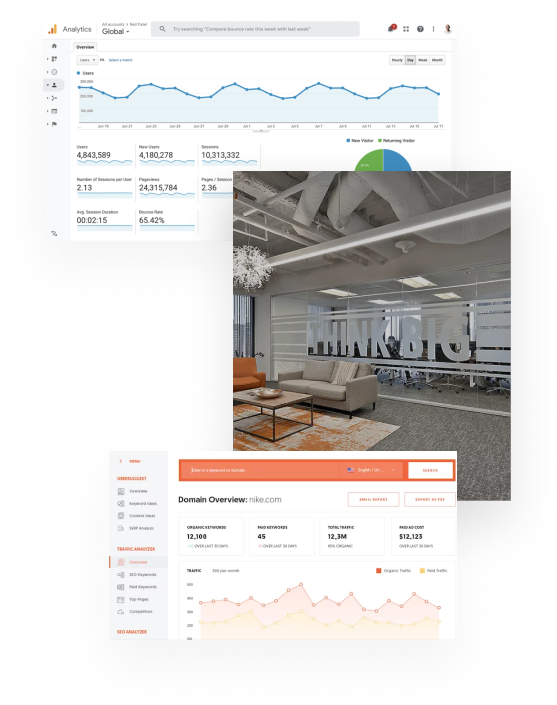 With more than 10 million visitors a month and an audience from 180 countries, I know what it takes to help your online presence grow quickly and effectively.
My team and I do this in three ways:
We help our enterprise and small business clients at NP Digital with paid campaigns, SEO, social media, and content marketing.
We let anyone use my SEO tool, Ubersuggest, which has almost 300k daily users and is free for anyone to use (with a paid subscription option for more features). It also has a Chrome extension that makes keyword research easy.
I produce free content that gets published regularly, from blog posts to free webinars, conferences, podcast episodes, videos, and online digital marketing training courses.
Follow me on social media

Join millions of people worldwide.
One of the things I'm often asked is

"What is your story? How did you get started?"
My life story
I was born in England in 1985. Two years later my parents decided to move to California. At first, we struggled. However, because of my mom's tenacious nature and my dad's work ethic, my sister and I were able to live a middle-class lifestyle.
Early Entrepreneurship
Throughout my childhood, I was surrounded by entrepreneurs. Several of my uncles had multiple businesses.
Growing up, I was always thinking about what I could do to become an entrepreneur. I sold CDs and automotive parts for a little profit before deciding to get my first "real" job at Knott's Berry Farm at age 15. After working there for three months, I quit and found a job at Quality Systems selling Kirby vacuums door to door.
Realizing that an average American could not afford to buy a $1,600 vacuum, I decided to look for other career opportunities. I started with Monster.com.
.COM boom Era
Instead of finding a job on Monster.com, I learned about Monster.com's business model and that they were making hundreds of millions of dollars. This led me to start my own job board called Advice Monkey. After spending $5,000.00 to build the job board, I launched it and learned that I have to market a site for it to be successful.
Knowing that I needed some help with marketing, I hired an internet marketing firm. Within a few months, I realized that they were taking my money and doing nothing valuable in exchange, so I fired them. I then hired two more firms, who also provided disappointing results.
Because the internet marketers I had hired had taken all my money, I decided to learn internet marketing myself. Within a few months, I became pretty good at it. Advice Monkey started to become popular, but it never succeeded because the site was not set up to take credit card transactions.
A New Life
Next, I decided to open my own Oracle consulting company. Unfortunately, I had two major roadblocks in my way: I was nowhere near 18 years old, and I didn't have a college degree.
With my sister's help, I started taking general education college courses at Cypress Community College while in high school. My goal was to finish college in 2.5 years.
My first college class was Speech 101, in which I gave a speech about how search engines work. After hearing my speech, one of my classmates asked if I wanted to consult Elpac Electronics on their internet marketing strategy.
Using the sales skills I learned from selling vacuums door to door, I was able to lock them into a consulting gig. Realizing that I could make a lot of money and change my lifestyle by doing internet marketing for companies, I decided to start up my own company with a business partner.
The Creation of Crazy Egg
My business partner and I got a bit lucky, as the owner of Elpac had a son who owned an ad agency. The son heard about the results we provided for his father's company, and soon enough, more marketing contracts started coming our way.
With the money I made, I started investing in a few other companies. One was a company called Vision Web Hosting, but unfortunately, that never worked out; sadly, I lost all of the money I invested into it.
After realizing investing wasn't for us, my business partner and I took the rest of the money we made and created another company called Crazy Egg. Crazy Egg created a lot of buzz when it came out.
After pitching Crazy Egg to venture capitalists for six months, I realized no one was going to invest in it. Because of this, we had no choice but to figure out how to make Crazy Egg profitable.
Because we needed income to make up for the losses in Crazy Egg, we continued to run our internet marketing agency. I was attending college full time while working 60+ hours a week. To top it off, I was traveling almost every week and speaking at over 50 conferences a year.
Luckily enough, Crazy Egg started to do well financially, and we quickly learned how lucrative software companies could be due to the recurring income. You just have to give each software company a few years to take off. We decided to get back into creating more software companies.
Finding Our True Calling
We decided to create and invest in software that solved problems companies were facing. Our ideas ranged from software applications that could help manage companies' marketing budgets to the first podcast advertising business.
Unlike our Crazy Egg startup, our newer software ventures didn't seem to work out.
Eventually, we learned that Crazy Egg succeeded while our other software companies didn't because of two reasons: not only does it solve a unique problem that enough businesses are experiencing, but it does so in a very simple way.
With our newfound knowledge, we decided to create another analytics company that would solve a much larger problem than what Crazy Egg solved.
The product that we happened to come up with was KISSmetrics. Funny enough, we were able to get funding for it through True Ventures to whom I once pitched Crazy Egg and who decided not to fund that company. KISSmetrics has since been acquired.
Today
NeilPatel.com has continued to be a valued resource for businesses and marketers that are looking to market their products and services online. We publish 10-20 posts weekly and also are continuously improving our SEO software, Ubersuggest. Along with its desktop platform, Ubersuggest's chrome plugin also has about 300k daily users.
To help more people succeed with online marketing, we launched digital marketing agencies around the world to help businesses first hand. We now have over 400 employees worldwide and are growing every day.
The Future
Now, while I still invest in a few other companies, I am focusing on expanding my global digital marketing agency and growing Ubersuggest. We help enterprise and SMB clients alike and pride ourselves on helping our clients increase their revenue through our marketing and SEO tactics.
We currently have agencies in the US, Brazil, and India, and our UK and Australian agencies are also taking off.
I hope my story inspires you to do something with your life. You don't have to be rich to be happy. You just need to love what you do.
Best of luck with your entrepreneurial career! And feel free to leave a comment if you have any questions.
Expand To Read More
Partnerships, Speaking Engagements,

and other Sponsorships

Yes, I also do sponsored content — but, I'm very selective. If I found some great company that has great product that meet my high level criteria of engagement, I will deliver the advertiser messages to meet my best audience. Also I am disclosing that I've included certain products and links to those products on this site that I will earn an affiliate commission for any purchases you make.

All brands, companies and professionals that appear on the Neilpatel.com website and in my social network channels are carefully tested and chosen by me and my team of professional marketers.

Want to showcase your product/service to thousands of potential client? Get in touch…
Are you a marketer or business owner? If so, this is the right place for you to seek real marketing knowledge. Enjoy!