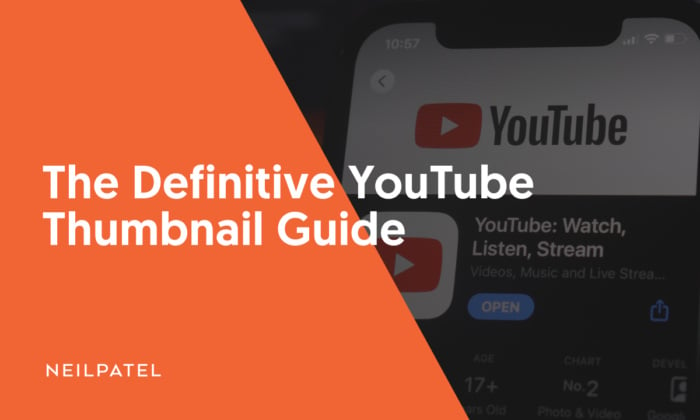 Everyone is flocking to YouTube. Okay, so not quite everyone, but 122 million visitors every day is pretty good going, don't you think?
There's no doubting the success of the video channel, which leaves you with just one problem. How can you get noticed among the crowd?
Well, it's not complicated. A YouTube thumbnail can help you stand out and help your video gain significant traction.
And I mean "significant."
According to Google, 90 percent of the best-performing YouTube videos have custom thumbnails. A coincidence? I doubt it.
That's how important a YouTube thumbnail is, and that's what I'm discussing today.
Ready to learn more? Then let's go.
How to Make a YouTube Thumbnail
There are plenty of free tools available for making a YouTube thumbnail. I'll explain how to make YouTube thumbnails using Canva.
You can create a blank YouTube thumbnail template or choose from a ready-made one.
The quickest way is to click on a template you want to use, then choose the "Customize this template" option. This takes you to the editing page, where you can change wording, elements, and fonts, etc.
You can also change backgrounds and colors to match your branding.
Canva also suggests using a pull quote from your video and your picture to help with recognition.
To make a YouTube thumbnail from scratch in Canva:
Click on "Create a new YouTube thumbnail"
Next, add a color from the palette that matches your branding
Add a video title and a pull quote or a benefit of watching your video
Now, include a subscribe button if you're working on building subscribers
Add some elements from Canva
Download your YouTube thumbnail and then upload it to YouTube
To upload your YouTube thumbnail to an existing video, or change a YouTube thumbnail, go to YouTube Studio, then:
Choose "Content" from the menu on the left
Click the video's thumbnail you want to update
Go to the Thumbnail section and choose "Upload thumbnail"
Upload your image file and click "Save"
That's it! You're good to go!
Why Eye-Catching Thumbnails Matter
The most obvious benefit of including an eye-catching YouTube thumbnail is the additional attention it can bring.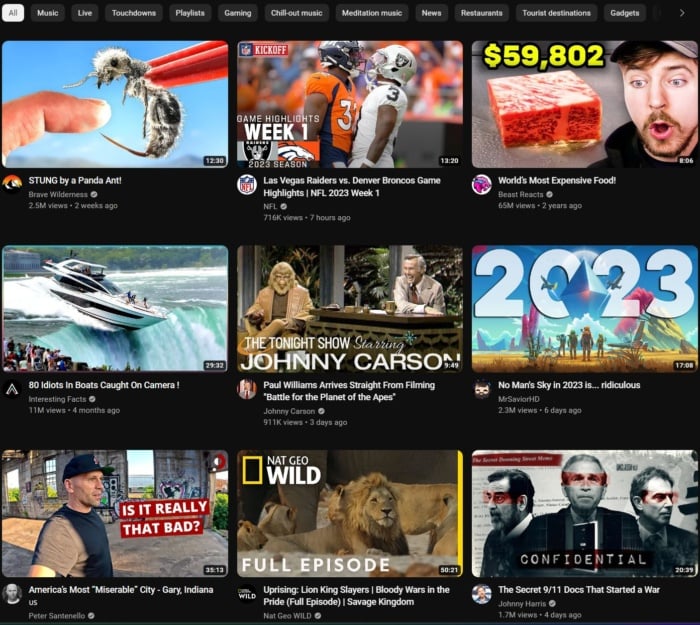 Attention-grabbing YouTube video or YouTube shorts thumbnails can also increase search rankings and watch time.
According to YouTube, its recommendation system finds videos for viewers rather than vice versa. This means the algorithm evaluates a video based on metrics such as watch time, amount of views, likes, thumbnail click-through rates, comments, and shares to inform the ranking, then tries to match those with vectors such as titles, tags, content, and descriptions to incoming search queries.
Creating striking YouTube thumbnails can help provoke engagement and increase your video's visibility in the search results by:
Attracting Viewers: Your YouTube thumbnail is the first thing viewers see. To grab searchers' attention and get them to click through, you must use a compelling image to convince them.
Getting Attention: Competition on YouTube is fierce. An engaging thumbnail helps your YouTube marketing stand out among millions of other videos and increases the chance of a searcher clicking on your video over others.
Setting Expectations: A clear YouTube thumbnail gives a free content preview. Searchers can see what to expect from your video.
Branding: Using consistent branding helps create or develop your brand and builds brand recognition.
How to Make Great Thumbnails for YouTube
Now you understand how thumbnails drive engagement, are you excited to jump in and start creating some images? Great! Here are some tips detailing how to make some amazing-looking thumbnails for YouTube.
1. Choose High-Quality Images
Quality counts, especially with online images.
Low-resolution images appear blurry online, and they look unprofessional. On the contrary, a high-quality image with a clutter-free background might be all it takes to grab a searcher's interest.
That's not all.
Using high-quality images to attract more viewers can also help to keep them watching for longer. This can positively influence the YouTube algorithm recommendation process as it generates recommendations from user engagement signals, such as watch time and viewer satisfaction.
Let's take YouTube's own channel for content creators as a good example. Their Rules of the road series uses high-quality images and consistent branding, which stands out clearly on any shape or size screen.

If you're not confident creating your images, then you can use a free tool. Be careful to ensure the image and elements you include aren't generic, and use elements, graphics, colors, and fonts that are consistent with your brand.
2. Include Descriptive Text
Text on your YouTube thumbnail is another opportunity to give the algorithm and viewers some context about your video. Creating visually appealing and attention-grabbing thumbnails can entice viewers to click on your videos, and the right copy on your thumbnail can help with this. There are a few considerations for great on-image copy:
Choose your text wisely: Thumbnails are small so it's best to keep your text snappy and to-the-point. Too much can make your thumbnail hard to read so include only the most important in formation that will grab viewer's aggention. Perhaps a question to pique interest, or an attention grabbing word, phrase, or statistic.
Consider using SEO keywords: Incorporating keywords into your thumbnails that users may search for can help to improve the visibility of your video in the SERPs. Remember to place them in a way that flows naturally with the overall design of the thumbnails and doesn't come across as spammy.
Think about aesthetics, too: Render Forest suggests paying extra attention to fonts as they help set the tone of your thumbnails. For example, you'd use Serif fonts for a simple, traditional style.
3. Consider Color Psychology
I'm only guessing, but I'm willing to bet many YouTubers don't put too much thought into their YouTube thumbnail's color psychology (how colors can affect human behavior, emotions, and perceptions).
It comes down to this: the color you choose can make searchers feel a certain way or make them more likely to make a particular action (Clicking on your thumbnail, for instance).
Some examples of colors and their effects are:
Red to grab attention and encourage action like decision-making
White for purity and cleanliness
Black gives a feel of sophistication and luxury
Blue, to provide a sense of calm
Orange to create a sense of fun and excitement
Whatever feeling you want to create, there's a color that can help you achieve it.
Here's an example from the Angry Birds YouTube channel:
With over six million subscribers, Angry Birds makes excellent use of consistent branding and colors for their Slingshot stories. Each thumbnail follows suit regarding its color palette for background, text, and logo.
Chanel on the other hand, opts for black and white images as a theme for their connects feature, tied together with consistent use of font size, colour, and position on the thumbnail and use of black and white images throughout the series.

4. Remember Technical Guidelines
The larger your thumbnail, the better it will look on devices like mobile.
Google has some technical tips for YouTube thumbnails. They include:
Keeping videos below 2 MB for videos and 10MB for podcasts
Using formats like JPG, GIF, or PNG to upload your images
Use a YouTube thumbnail aspect ratio of 16.9
Podcast playlists should use a YouTube thumbnail aspect ratio of 1:1
Customized thumbnails should have a 1,280 x 720 resolution and a minimum width of 640 pixels
The thumbnail size for YouTube Shorts is 1920 x 1080 resolution with a 9:16 ratio.
YouTube Thumbnail Mistakes to Avoid
As your thumbnail is the first thing searchers see, you must get it right. Below are some YouTube thumbnail mistakes to avoid.
1. Overcrowding
Don't overwhelm searchers with too much information. Crowding out your YouTube thumbnail with images, text, and no context makes it difficult to understand what it's about.
Here's an example of overkill:

See what I mean?
The title is unclear, and the image is cluttered.
For clarity's sake, keep your YouTube thumbnail design simple. Stick to a high-quality image, include a short amount of text in a large, clear font, and add some expression, like I do in my YouTube thumbnails.
Simple.
2. Misleading Information
Everyone's heard of clickbait, where the headline serves to entice clicks. You've probably clicked through plenty of articles that don't deliver what they claim to. It's frustrating when you don't get what you were looking for.
It's the same on YouTube.
Creating YouTube thumbnails that mislead viewers disappoints your target audience and could be against Google's misinformation policy.
Google states not to post content manipulated or misattributed content. If you violate this policy, you're likely to get a warning. This could lead to a suspension if you continued to post similar content.
For instance, this YouTube thumbnail shows an abnormally large plane.
In case you're wondering, this is what the plane looks like: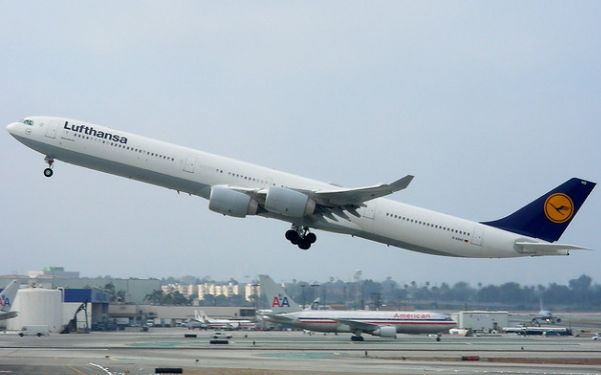 3. Inconsistent Branding
It's an easy mistake, but you should avoid inconsistent branding.
When you're consistent with your colors, fonts, and themes, it makes your videos easier to identify from others.
This is especially essential when you're just getting started on YouTube and for standing out against the millions of other videos posted on YouTube daily.
Here's a couple of examples:
Photographer and entrepreneur Chase Jarvis regularly posts exciting content, but the fonts, colors, and overall look have no cohesiveness.

In contrast, E-commerce host Shopify gets ten out of ten for consistency and clear branding.
4. Ignoring Mobile Users
It's all about mobile these days. With 6.92 billion smartphone users, it's essential that you meet their needs.
If you don't optimize your YouTube thumbnails for mobile phones, it's likely they won't display clearly. The result is a blurry image that lacks context and fails to attract clicks.
The fix?
Stick with YouTube recommendations of 1280×720 pixels, with a minimum width of 640 pixels. Use high-quality images, keep images uncluttered, and include contrasting colors for captivating thumbnails.
Additionally, add closed captions and write mobile-friendly headlines.
Tools for Creating Thumbnails
Earlier, I mentioned using tools for creating YouTube thumbnails. Below is a list of some of the top tools around.
Canva
Canva is one of the most popular free image tools, and yes, you can use it to create a YouTube thumbnail, too.
Free Canva users can select from fonts, elements, imagery, etc., to make attention-grabbing thumbnails.
The Pro account is $12.99 per month or $99 a year, giving you unlimited access to premium templates, photos, videos, and graphics.
Whether using the free or pro version of Canva, enter "YouTube thumbnail templates," and you'll soon find yourself spoilt for choice.
FotoJet.com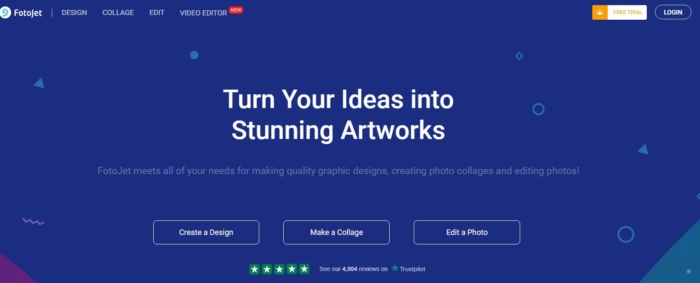 With FotoJet, you can create collages, photos, and designs.
Click the "design" heading at the top for several options, including templates. If you want a YouTube thumbnail template for a particular niche, click "All," and you'll get a dropdown list of niches, like lifestyle and business.
Pixlr
Pixlr is a free online photo editor, AI image generator, and design tool.
Click on the "Template" image link at the bottom of the page, and you'll get taken to a selection of social media and Etsy templates. Click on the "Youtube Thumb" option.
For more templates, you might want the paid subscription starting from .75 cents a month.
Great Thumbnails for Inspiration
In need of inspiration? I'll share some of the most effective YouTube thumbnails I've seen to give you some ideas.
Jamie Oliver
Whether it's his best-selling books or TV shows, British chef Jamie Oliver knows how to get attention.
He's achieved the same with his YouTube thumbnails by using sharp, enticing images.
The thumbnails include branding consistency and use uncluttered backgrounds to highlight the food images at their best.
And it works.
Within one day, one video had already gained 71k views.
Adriene Mishler
With 12.2 million followers, Adriene Mishler is one of YouTube's most popular yoga instructors.

I can't say for sure that the YouTube thumbnails she uses are the secret to her success, but they help.
As the show's star, it makes sense for Mishler to feature in the thumbnail, and a pose from the video gives you a hint of what to expect.
The clean, subtle color scheme and clear white lettering all add to the overall serene feel.
Cocomelon
Can you imagine having 165 million subscribers? That's precisely what Cocomelon – Nursery Rhymes channel has achieved.
With bright primary colors and images of the show's main characters, it's tempting for children and parents alike to click through.
It's an approach that seems to work, with videos attracting millions of views just days after posting.
FAQs
What size is a YouTube Thumbnail?
YouTube thumbnail dimensions are 1280 pixels wide and 720 pixels too. The minimum width is 640 pixels. The ideal YouTube thumbnail aspect ratio is 16:9.
What is a thumbnail on YouTube?
Think of a YouTube thumbnail as a meta description.
Your meta descriptions give context for your article and help sell it. Ultimately, they help searchers decide if they want to click through.
Likewise, a YouTube thumbnail gives context for your video. Using enticing, high-quality images shows viewers what the video is about and can convince searchers to watch.
What makes a good thumbnail?
The most effective YouTube thumbnails have a transparent background and consistent branding and meet Google's ideal resolution size.
Awesome YouTube thumbnails also include high-quality images, and they are mobile-friendly, too.
Conclusion
If your video marketing on YouTube isn't gaining traction, it might be time to give your thumbnails a second look.
Well-designed YouTube thumbnails grab viewers' attention and help your content stand out in the crowded world of online videos.
They can also help your YouTube SEO by increasing click-throughs and view time.
Following the tips in this definitive guide gives you all the information you need to create click-worthy thumbnails.
When creating thumbnails for YouTube, be clear and consistent, and don't forget branding. When you do that, you can't go far wrong. Also, ensure you use the right thumbnail size for YouTube to get the best results on all devices.
Feel free to experiment to see what works best; soon, you might see those all-important views and subscribers soaring upwards.
If you enjoyed this piece, you might want to get some inspiration on how to get YouTube content ideas.
Do you have any tips for YouTube Thumbnails? Share them below.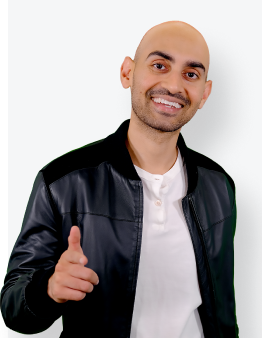 See How My Agency Can Drive More Traffic to Your Website
SEO - unlock more SEO traffic. See real results.
Content Marketing - our team creates epic content that will get shared, get links, and attract traffic.
Paid Media - effective paid strategies with clear ROI.
Are You Using Google Ads? Try Our FREE Ads Grader!
Stop wasting money and unlock the hidden potential of your advertising.
Discover the power of intentional advertising.
Reach your ideal target audience.
Maximize ad spend efficiency.