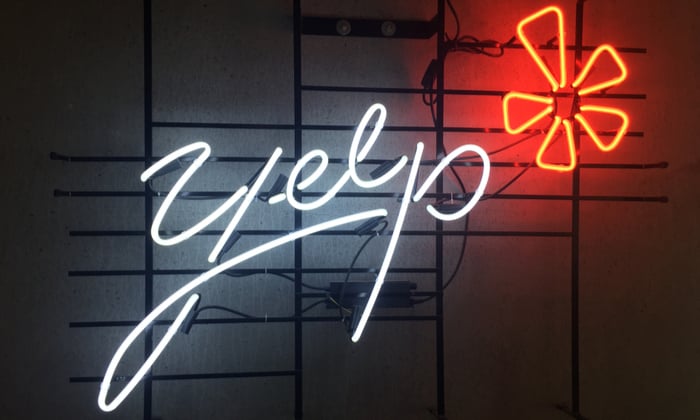 If you own a business, you know word of mouth is vital to your success. Yelp, and more specifically Yelp ads, can help your business make the most of those critical online reviews.
A glowing review from a handful of customers, or even just one influential somebody, can put your business on the map. And a bad review? Well, that can ruin your reputation. Or at least put a good dent in it.
Before you worry about good or bad, you first need a place to get those reviews.
Here are a few questions to ponder:
How can you, as a local business, stand out among your competitors?
How can you attract the customer base you want, while also collecting reviews and ratings in one place?
Most importantly, how can you interact with consumer reviews to put your business in the best possible light?
Let's take a closer look at Yelp Ads, Yelp's various other services, and how they may help.
What is Yelp?
A crowd-sourced business review platform for consumers, Yelp is also an excellent place for businesses to be found online.
Yelp prides itself on being the leading social network for consumer ratings and reviews.
In its earlier days, the platform was solely consumer-focused. It was a place for customers to leave their reviews without any expectation of a business's response.
Yelp has expanded its platform in recent years with Yelp for Business, which gives business owners like you greater control over your listings and consumer interactions. These features go beyond the free page listing that any business can claim.
Yelp for Business Options
Yelp for Business offers two options: self-service and a contract plan.
Self-service is an à la carte offering that allows you to choose from Yelp's premium business tools. These include:
Yelp Ads
Yelp Deals
Yelp Reservations
Business Highlights
Profile upgrades
If you choose the contract plan, you'll work with a Yelp sales representative to create an advertising program that fits your business's needs. You pay a monthly fee for all the services included in your plan.
Why Yelp for Business May Be Right for Your Business
There's no doubt that Yelp's higher-than-average cost per click (CPC) and cost per mille (CPM) have garnered some negative press.
So why might you consider Yelp as part of your overall marketing strategy?
Yelp users are at a later stage in the buying cycle than those on Google or Bing. Consumers on Yelp are no longer looking for information about a service or product; they're narrowing their focus to local businesses to make a purchase.
According to a Nielsen study, a whopping 82 percent of Yelp users intend to buy a service or product. So even if only a few hundred consumers per month see your ad, the likelihood of your ad being displayed to a potential customer is high.
Let's look more closely at one of Yelp for Business's key offerings: Yelp Ads.
What is Yelp Ads?
An advertising service exclusively targeting Yelp users, this feature displays advertisements to consumers on the platform's search results pages and business pages, via desktop and mobile.
How Does Yelp Ads Work?
You can create standard or custom ads linked to your business listing.
The standard ad looks like any search result on Yelp. The difference is it will appear at the top of search page results and on competitors' profiles: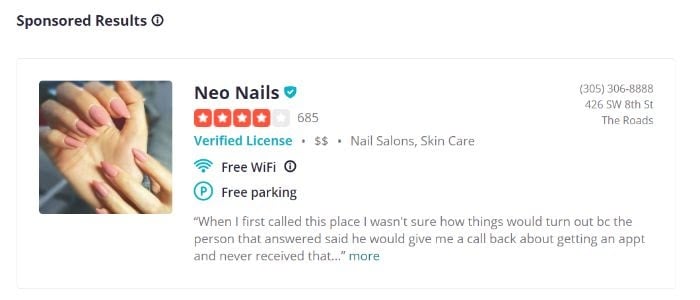 With custom ads, you can add text snippets, choose a photo, and select the customer review you'd like to feature: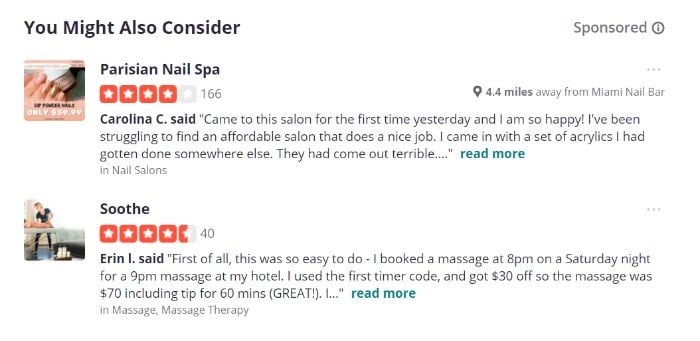 You can also add value propositions to the bottom of your advertisements, such as sale and deal details or average response time. These are called Business Highlights, and they may be included in your Yelp for Business package or purchased separately.
Don't forget your call to action (CTA). With this add-on feature, you can customize the CTA buttons on your listing page and at the bottom of your search result listings. This allows you to link directly to a relevant page or form on your website.
Like Google or Bing, your ads will display based on search terms, location, and other parameters determined by Yelp's ranking algorithm.
Your ads can appear on relevant search result pages or competitor business pages across all Yelp platforms. These include the desktop site, the mobile site, and the mobile application (available on iOS and Android).
How to Get Started with Yelp Ads
Do you think Yelp Ads might be right for your business? Here's how to get started.
Step 1: Claim Your Free Business Listing
If your business is well established, the odds are good that a listing already exists. To claim an existing listing, follow Yelp's step-by-step instructions.
If your business doesn't have a listing, it's easy to register.
Step 2: Improve Your Yelp Profile
Your profile, also known as a Business Page, is your way to provide accurate information about your business to local consumers. Available fields include business hours, address, phone number, and a list of services and products.
The more accurate your profile is, the greater your chances of converting consumers who find your listing.
Step 3: Moderate Ratings and Reviews
As a verified business owner, you can respond to ratings and reviews publicly or privately. While you may be tempted to ignore a negative review, this can have a detrimental effect on how consumers view your business.
Start by working to get more Yelp reviews for your business, which I discuss in the video below.
Once you earn reviews, make sure to respond to positive and negative reviews promptly.
With 71 percent of consumers saying they're more likely to do business with a company that has responded to reviews, you can't afford to miss out on this opportunity.
Step 4: Reach Out to a Yelp Sales Representative
When you choose the self-service option, you can immediately begin using Yelp Ads and other premium features. If you'd prefer a customized plan, you'll need to work with a sales representative.
How to Optimize Yelp Ads for Your Local e-Commerce Business
In its early years, Yelp gained popularity in the restaurant industry. But as of June 2020, restaurants make up just 18 percent of businesses on the platform. Shopping isn't too far behind, with 16 percent of companies categorized as such.
As a local e-commerce business, you, too, can benefit from Yelp's various features.
Run Location-Targeted Yelp Ads
If you're not reaching the right audience, what's the point?
With Yelp Ads, you can run targeted ads based on consumer location.
As a local business, why might you want to target non-local as well as local consumers? I'm glad you asked!
Let's say you own a hybrid business, online and in-store. Your physical storefront is in Connecticut, but your dropshipping warehouse is in Texas.
Instead of mentioning delivery times, a local Connecticut ad might focus on customers' ability to purchase online and pick up in-store:
Order online. Pick up in-store today.
But a local Texas ad aimed at customers within a few hundred miles of your warehouse location may read:
Delivery within two business days. Guaranteed.
The same can apply to local businesses like florists and bookstores. Even if you don't ship to locations outside your local area, you can still appeal to non-local consumers with services you do offer.
Let's say you're a florist who offers local delivery services in Albany, NY. Your ads to non-local consumers may look something like this:
Call now for free, next-day delivery within Albany, NY.
But how can you advertise to the right audience?
Target larger metropolitan areas around your locale, or use existing customer data to determine the most likely locations for your non-local consumers.
Keep Your Business Page Updated
With full control over your business page, include as much relevant information as possible.
What does this look like?
Did your business hours change? Or maybe you're running a sale over the next week. This insight is the kind of information potential customers want to know.

Don't have a physical storefront? You still have plenty of opportunities to flesh out your profile. For example, you can update your business's:
Customer service hours
Refund and replacement policy
Quality guarantee
Shipping and handling timeframes.
Your customers will appreciate the transparency.
Tweak Your Yelp Ads Strategy As Needed
Whether your business is brick-and-mortar or online, adaptability is crucial to success. How are you adapting to the results from your latest Yelp Ads campaign?
You may already use analytics software such as Google Analytics on your website. As a Yelp Ads user, you also have insight into campaign metrics, including:
user views
customer leads
mobile calls
CTA clicks
directions and map views
clicks to your website.
Keep track of campaign metrics, and use that data to adjust your ads and overall strategy. The key is to take a solutions-based approach to your advertising campaign. Here are a few examples.
Low Conversion Rate on Yelp Ads
You've started a new targeted campaign for a nearby metropolitan area. The CTA clicks are the highest you've ever seen on a campaign, but the conversion rate is abysmal.
The good news? Your campaign is sending people to your website. The bad news? The likely culprit is the landing page itself. You have three options:
Tweak the CTA text to reflect the information on your landing page more accurately
Link to a more relevant landing page on your website
Rewrite the copy on your landing page to encourage more conversions
Remember that Yelp Ads is just one step on your journey toward conversions.
Targeted ads can help drive relevant traffic to your website, but if your website is lacking, you're more likely to lose the conversion.
Low Customer Lead Rate on Yelp Ads
Now let's say user views are high, but customer leads are low. What's the deal?
First, rule out the usual suspects such as out-of-date profile information and poor ratings or reviews.
Next, consider that your potential customers may be drawn away by sponsored ads on your business profile.
One way to combat this is to purchase a package that enables you to remove sponsored ads from your business page. You may also want to place additional value propositions and CTAs higher on your page, so users are more likely to interact with your website before they even see the sponsored ads below.
Conclusion
For many consumers, Yelp is more than just a ratings and reviews platform. It's the search engine of choice when it comes to finding a local business for their needs.
You may be thinking, "It's too late in the game to rank anywhere near the first page in Yelp local results. What's the point?"
But that's the beauty of Yelp Ads!
You can ensure your listing is at the top of the search page results every time. And you can experiment with the content in custom ads to see how leads respond. And if you need help setting up paid ad campaigns, set up an initial consulting call.
Even if you don't intend to use Yelp's premium services, you can get control of your business page and interact with consumers just by claiming your free business listing.
That leaves me with just one question:
Have you taken advantage of your free Yelp business listing yet?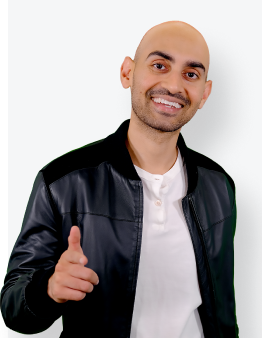 See How My Agency Can Drive More Traffic to Your Website
SEO - unlock more SEO traffic. See real results.
Content Marketing - our team creates epic content that will get shared, get links, and attract traffic.
Paid Media - effective paid strategies with clear ROI.
Are You Using Google Ads? Try Our FREE Ads Grader!
Stop wasting money and unlock the hidden potential of your advertising.
Discover the power of intentional advertising.
Reach your ideal target audience.
Maximize ad spend efficiency.