User personas are fictional characters which are typically used in the user-centered design process to represent the different user types of a website. They can, however, be useful in your online marketing campaigns and in this post I'm going to talk about how they can be applied to your SEO. They can help you to find the right keywords for your target audience and create the right content, and they can also be a useful tool when identifying targets for building links.
Developing Personas
To give you an idea of what you are aiming for when you create user personas, here are a couple of examples: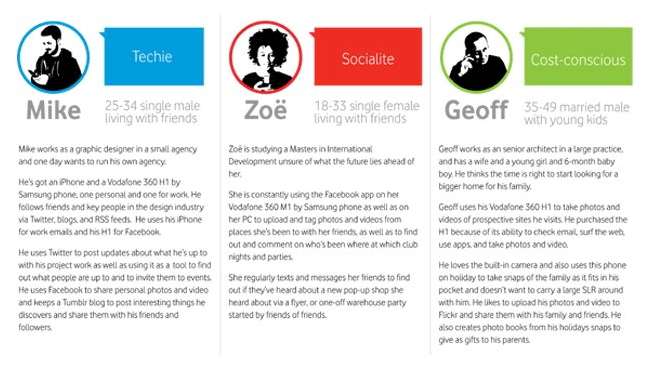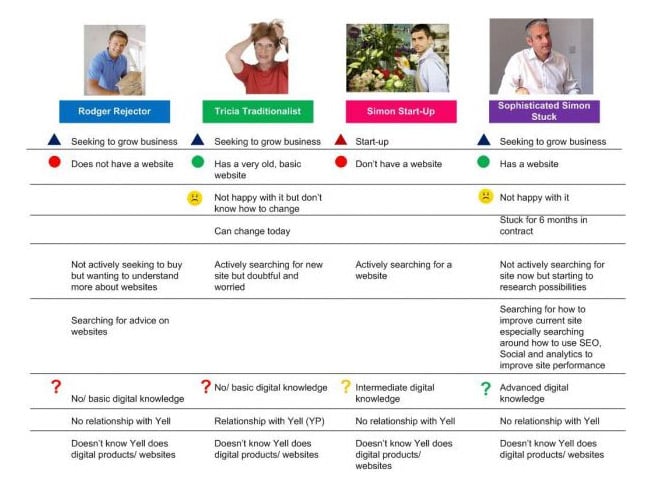 Getting Started
Before starting a project to develop user personas, you should check whether or not they already exist within your organization – they might be archived with other documents produced the last time your site had a redesign, or they may sit with another team such as design or development. Either way, this could be a great time saver.
But if you do decide to develop your own, you're going to need to start by getting some information about your users. You could do this by running a survey on your site or you might want to run interviews with a group of your users if possible.
You might also have existing data that will give you insights into the different user groups on your site – registration and login details, purchase history, email newsletter lists.
What To Look For
Once you have this information, you should be able create personas. Generally 2-4 is a good amount. You might also want to pick a primary persona if there is a specific user group that is particularly prominent in your research – this persona should be prioritized when applying personas to decision making.
Information that you might want to use as part of your user persona includes:
Who – age, location, gender, education, job title
Environment – when and where are they using your site? What device are they using?
Tasks – what tasks are they trying to complete on your site?
Motivation – what is their broader desired outcome?
Name or nickname
A photo
Once you've created the multiple personas, it might be useful to create a document similar to those in the examples above so that they can easily be shared and referenced.
Keyword Research
If you aren't familiar with keyword research, it's the practice of using tools to find terms that users search for, along with associated information such as search demand and competitiveness. From this, we select the most relevant and potentially rewarding terms to target on our site.
A typical keyword research process might look something like this:
Brainstorming: At the earliest stage you need to come up with some broad ideas of what users might search for within your niche. Consider searches that might be used to reach pages at all levels of your site's hierarchy. This brainstorm should give you seed terms that you can enter into keyword research tools (such as the Google Keyword Tool) to generate further search terms.
Gathering Data: As mentioned above, you'll need to gather information from keyword research tools – as well as getting volumes and competitiveness from Google's Keyword Tool, you might also export your own keywords from Google Analytics and combine the data in Excel using the VLOOKUP() function to see if you're already getting traffic for any of the terms. If you are, how much? And is the quality of the traffic good?
Filtering, Sorting: At this stage, I typically use Excel for a range of filtering, such as cutting out keywords that are too low in search volumes, too competitive, not relevant enough. I might also use the likes of the FIND() function to look for themes in the keywords by which I can categorize them.
Decision Making: Once you have all of the facts in front of you, it's time to do some manual work and pick out the phrases that you want to target with the different pages on your site.
Implementation: Finally, you need to implement your new keyword choices by writing them into the most important SEO elements on page (page title, meta description, H1, strong tags) and you might even think about rewriting the page's content so that it is relevant to the target search term.
Regardless of what your process entails, a tool like Ubersuggest can save you time while helping you uncover the right keywords.
Start by entering your primary keyword into the search box. In this example, we'll use "iPhone features."

From there, I want you to gather data for your primary keyword, as well as long-tail keywords. You'll do this by clicking "Keyword Ideas" in the left sidebar.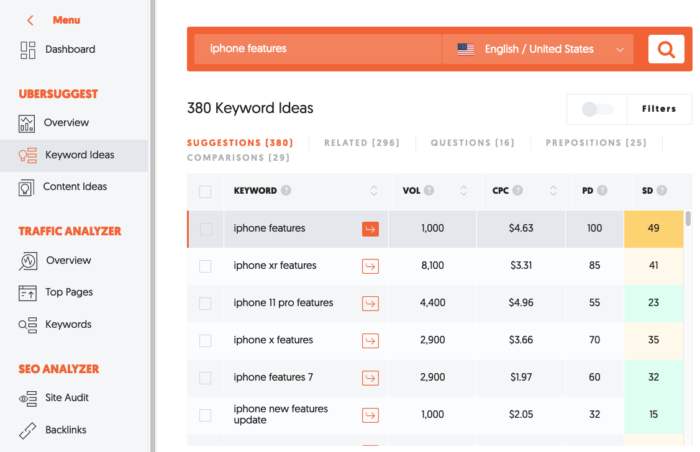 Now, you have a long list of keywords, along with data for helping you decide which ones to target.
When filtering and searching, focus on keywords with a high search volume and low SD (search difficulty).
For example, you could add filters that look like this: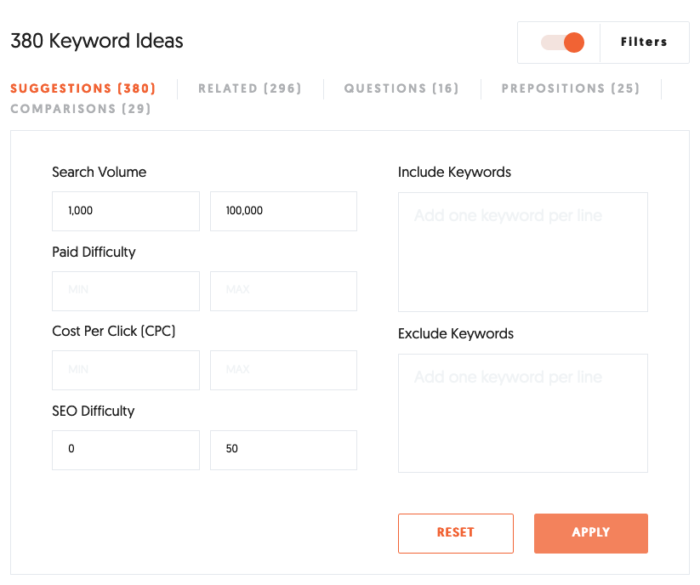 This ensures that your list only includes high volume, low competition keywords. Here are the results.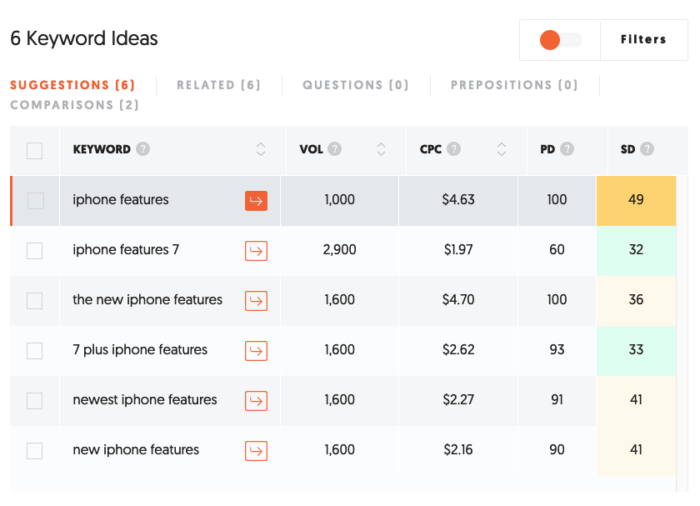 While there are only six keywords left, they're super targeted to your search, have a volume of 1,000+ and a low SD. This makes them well worth trying to rank for.
How Personas Can Be Applied To Keyword Research
User personas can be used at 3 of the points in this process – firstly, the brainstorm. If you're generating seed terms, it's useful to keep your personas in your mind – do they reflect the need and intentions of all of the potential users of your site?
Take the personas from the Vodafone example – what sort of seed terms would you come up with for them? How do their intentions differ?
When researching a new phone, Mike the Techie might be more interested in searching for the likes of "htc desire specification" or looking for the highest spec between two phones such as "htc desire camera vs iphone camera".
Zoe the Socialite might be more interested in how many minutes she can get, how many texts, or which social apps are available, in which case she could be searching for the likes of "vodafone unlimited texts" or "facebook android app".
Finally, Cost-Conscious Geoff would likely be more concerned with price comparison, such as "cheapest iphone contract" or "cheapest htc desire handset only".
Once you've generated seed terms, personas don't really come into it again until you're making decisions about target keywords. Again, when you're creating your final list of keywords, do they reflect your user personas accurately? Look back at the seed terms and consider whether the final terms you've selected indicate the same intention.
Personas might also be applied in the final stage of the keyword research process – Implementation. This might be less important for on-page SEO elements, but think more about the tone and direction of the content on the landing page. If you're targeting Cost-Conscious Geoff with a "cheapest iphone contract" page, make sure you answer his query and offer a clear next step.
Considering your users at these 3 stages will help to give you a comprehensive set of target keywords which accurately represent the needs and intentions of your users.
Link Building
User personas can also be a useful tool when creating and implementing a link building strategy. When link building, the basic goal is to create and promote content that you think your target audience would like to share.
Personas For Link Bait
They could be used as part of a link bait brainstorm. Start by identifying some blogs that fit your user personas – Mike the Techie, for example, might be likely to own a gadget blog, or is at least highly likely to be a reader of similar sites. What sort of content do gadget sites link out to? Think both about the substance of the content, but also the format (videos, guides, infographics etc.)
You might also wish to use your personas as a test when you have a tighter brief for your piece of link bait – "Would Mike be interested in this? Would he share it?"
When outreaching your link bait, or any other outreach for that matter, keep the persona in mind and consider what their interests are, and how you might be able to leverage those things to build a relationship. Also consider what their goals are, and think about what you can provide that may help them to achieve those goals. Talk in their language!
Personas For Guest Posting
Finally, user personas are a great way to think of guest post topic ideas. Think about what sort of sites your personas might use and what sort of content they might want to read when they get there. Take Cost-Conscious Geoff for example – he might like to read money saving blogs. In which case, try to identify targets by searching Google for the likes of money saving "guest post"|"guest blog"|"write for us".
An obvious guest post to pitch might be "How to save money on your mobile phone contract" or "How to get the cheapest mobile phone deals". I've found that pitching specific guest post titles which are well thought out and relevant to the target blog and their readership results in a much higher rate of publishing.
Until Next Time…
I hope that gives you some idea about how this relatively quick and easy technique can be applied to your SEO efforts – I'm sure there are even more than I've mentioned above. Next time round I'll be focusing on how to use personas to get these visitors to convert into customers by looking at how you can integrate them into your CRO strategy.
Image Credit:
About the Author: Rob Millard is an SEO Consultant for Distilled, a leading SEO agency based in London, New York and Seattle.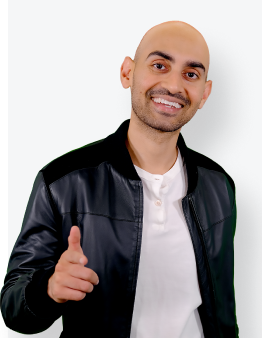 See How My Agency Can Drive More Traffic to Your Website
SEO - unlock more SEO traffic. See real results.
Content Marketing - our team creates epic content that will get shared, get links, and attract traffic.
Paid Media - effective paid strategies with clear ROI.
Are You Using Google Ads? Try Our FREE Ads Grader!
Stop wasting money and unlock the hidden potential of your advertising.
Discover the power of intentional advertising.
Reach your ideal target audience.
Maximize ad spend efficiency.